Free money, we all love free money–right?
As part of the CARES Act (Coronavirus Aid, Relief, and Economic Security Act) almost every American is getting a stimulus check and for the majority of us that check will be for at least $1,200.
While many Americans have lost their jobs or had hours reduced due to COVID-19 and need that money to pay their bills, some of us are lucky.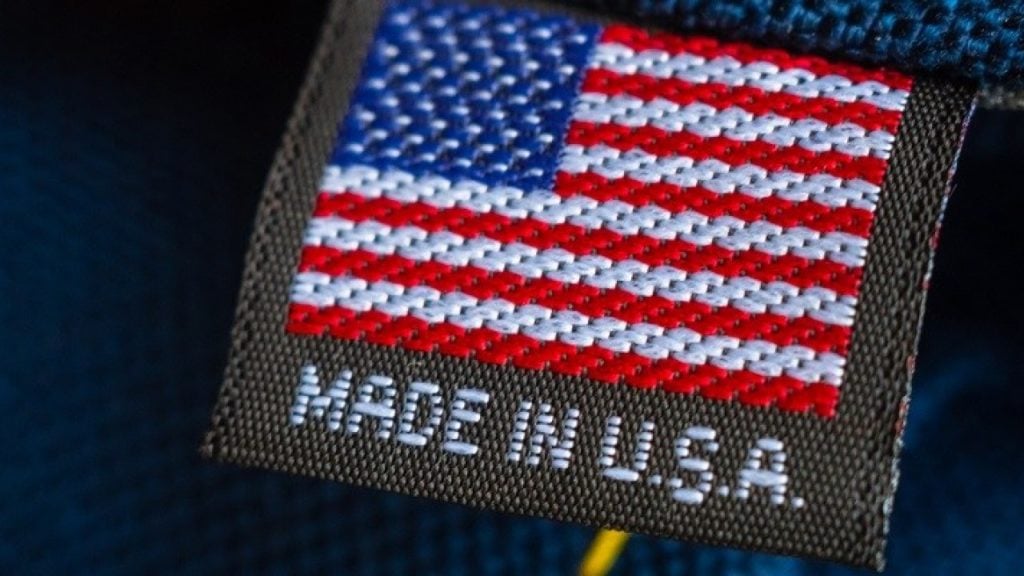 If you are still working, then you might want to use this money to stimulate the economy in the best way possible–buy stuff. Or better yet, buy American stuff.
Here are just a few ways you can responsibly spend those Trumpbucks, from firearms to accessories. All of these are from American companies and many are also American made.
Best Ways To Spend A Stimulus Check
1. BCM Recce-16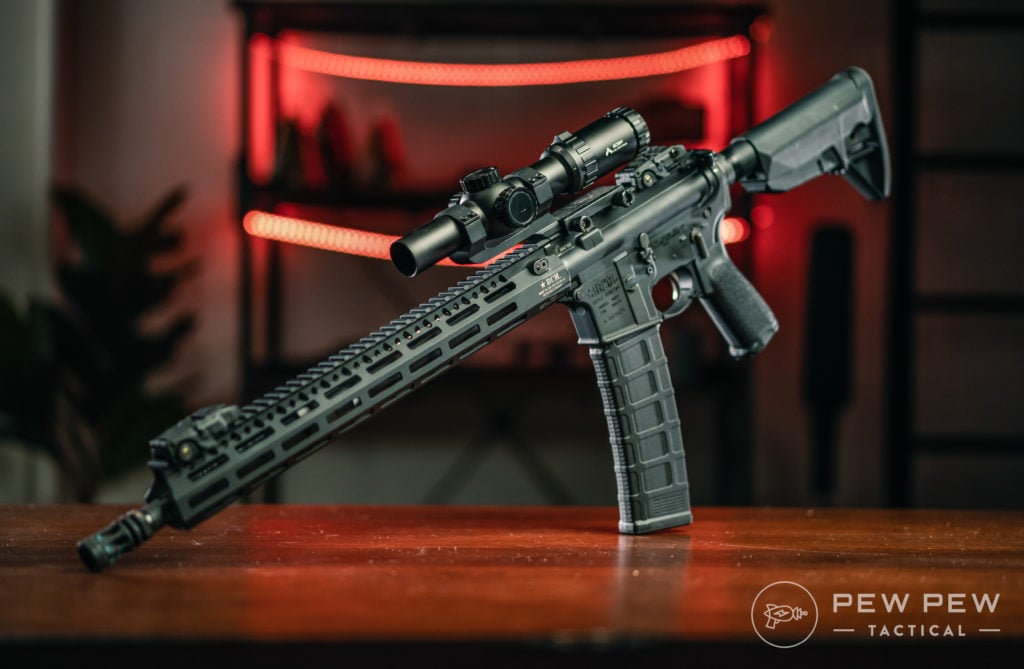 Okay, technically this is a little over $1,200 but the extra benny is worth it. If you're in the market for a new AR and are ready to get yourself something nice, this is the rifle for you.
This isn't a safe queen or a budget beater, this is a workhorse. If you want a SHTF rifle to trust your life to, a shooter that will be reliable and dependable though dozens of long classes, this is it.
All BCM rifles are made in Heartland, Wisconsin and are held to some of the tightest quality control found in the AR industry.
Sure, the fit and finish is top tier–but it's the guts of the rifle that matter most. Bravo Company's BCGs are legendary for their durability and reliability and the RECCE-16 comes with a chrome-lined chamber and bore for maximum longevity.
We've got a complete review with a ton more details, don't miss out!
The only downside is that this is just the rifle. If you don't already have an optic, light, sling, mags, and ammo–you might need to hold on to that check for a moment longer.
2. Build-A-Gun Aero/PSA/Brownells AR-15
If you need a whole package, we got you covered. This took some time but in our opinion here is the best "Total Package" AR-15 build you can make that costs 1 Trumpbucks.
Depending on shipping and tax, you should either come out right under or right at $1,200-ish.
Aero M4E1 16″ Complete Upper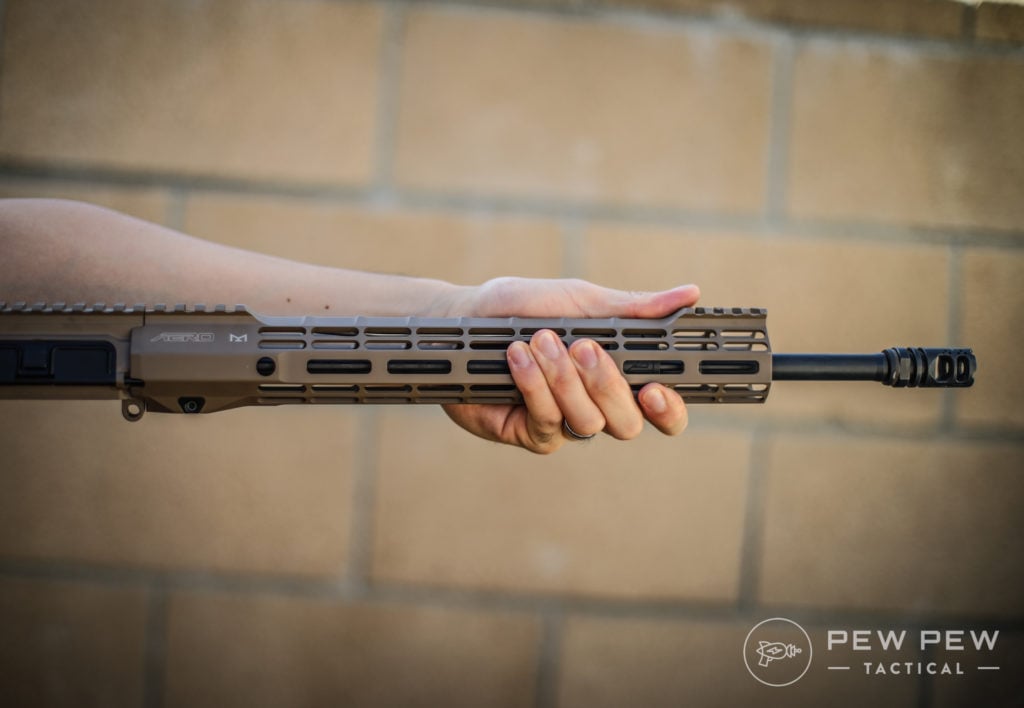 This might be a little hard to find in stock, but give it a shot. It's very close to the upper I use in my home defense AR, that's why I trust it. This is a solid base to build a rifle you need to depend on.
Palmetto State Armory Complete Lower
The lower is surprisingly not an incredible important part of the AR-15. While this only comes with a milspec trigger, that's really all you need and it's a well made milspec trigger.
If you want to pinch pennies, get a Classic Lower. But personally I recommend one featuring a Magpul stock like the MOE or ACS. A bit comfier and a decent upgrade for only a few bucks.
Premium 5.56 Nickel Boron BCG with Carpenter 158 Bolt
Always remember, the two most important parts on an AR are the BCG and the barrel. PSA's Premium Nickel Boron BCG is one of the best for the money that you can find.
Durable, well made, and the NiB coating makes it slick to improve function and to be easier to clean.
Charging Handle
Yeah… it's milspec. Not my favorite by a long shot but it works and we're on a budget.
If you're willing to throw a little bit more than 1 Trumpbucks at this build I would highly recommend a Radian Raptor LT, but honestly, a milspec charging handle gets the job done.
Sig Sauer Romeo5
Just about the whole PPT team has run a Romeo5 on at least one rifle and we've all been impressed.
We've torture-tested them, dropped them, and really beaten the crap out of them and they still perform.
For the price it's impossible to beat.
Viking Tactics Sling
My favorite sling. It's comfy and it works outstandingly well. Right now I literally have 5 of them across my rifles and I need to pick up a couple more for rifles that are currently sling-less.
If you don't believe you don't need a sling, you're wrong. If this is a duty/SHTF/HD rifle then you need to have the option of having your hands free while maintaining retention. Get a sling!
INFORCE WMLx White Light
The exact light I run on my HD/SHTF rifle, I love it. It's proven to be durable, bright, and handy. If you get the Aero rifle or any rifle that has M-LOK handguard then you'll need a Picatinny rail to mount this light.
Magazines
My top recommendation is always PMAGs because they are amazing. There really isn't much else to say, make sure you get at least 3!
3. Trijicon TA02 ACOG or Credo HX 1-8×28 FFP Rifle Scope
If you already have a rifle, maybe it's time to get a top tier optic for it. Our picks would be either the Trijicon TA02 or the Trijicon Credo HX 1-8×28 FFP LPVO.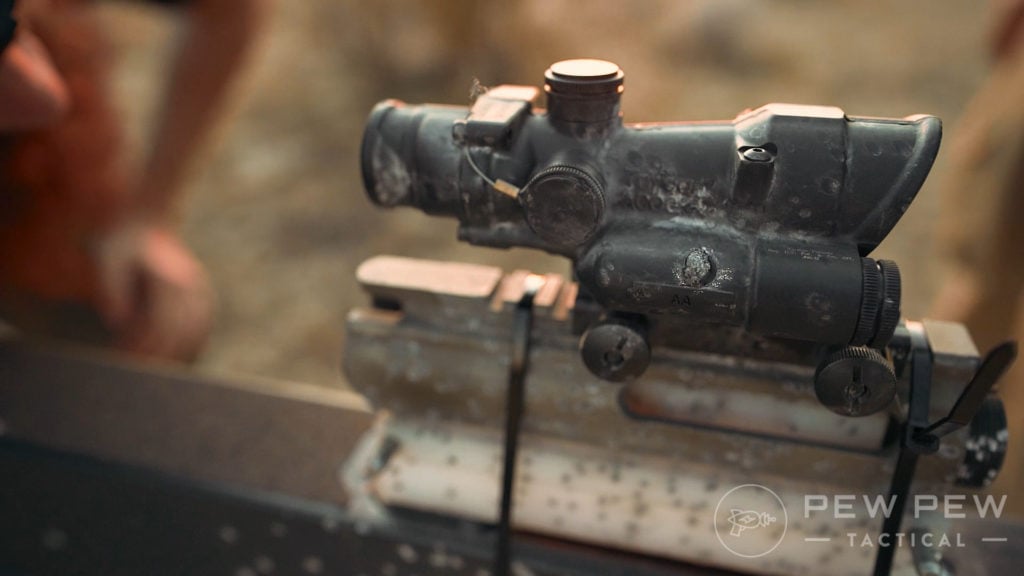 The TA02 was the ONLY optic to survive our diabolically unfair high-end optic torture test. It is truly built to last through the most brutal conditions you can face.
One of the few optic brands these days that are still making their products in America, Trijicon has a long history of producing some of the best and most durable combat-ready scopes in the world. The TA02 is one of their finest ACOGs.
If fixed magnification isn't your thing though, check out their Credo HX 1-8×28 FFP LPVO. Also built like a tank and made in America the Credo is just outstanding.
Clear glass, great turrets, and the FFP reticle makes ranging your target and getting accurate hits just a matter of fieldcraft. You won't regret putting this on your SHTF rifle!
4. Savage 11 Lightweight Hunter + SWFA SS Ultralight
A lightweight, dependable, accurate hunting rifle should be a part of everyone's armory. And here we have just the thing for you with the Savage 11 Lightweight Hunter in .308 Win and the SWFA SS 2.5-10×32 Ultralight Rifle Scope.
Savage is as American as apple pie building American made rifles since 1894, including some of my favorite milsurp rifles from WWI and WWII. SWFA has been providing optics for the US Military since the early 1990s.
The Savage 11 Lightweight is a gold standard for hunting rifles and this model is a nicer than average one at that.
Flex at the deer camp with a spiral-fluted bolt, American walnut stock stock, AccuTrigger, and a drilled and tapped receiver ready for optics.
For a lightweight scope, it's hard to beat the SWFA Ultralight. It's a little low on magnification, but the glass is super clear, the turrets are loud and feel great, and the reticle is everything you need with nothing you don't.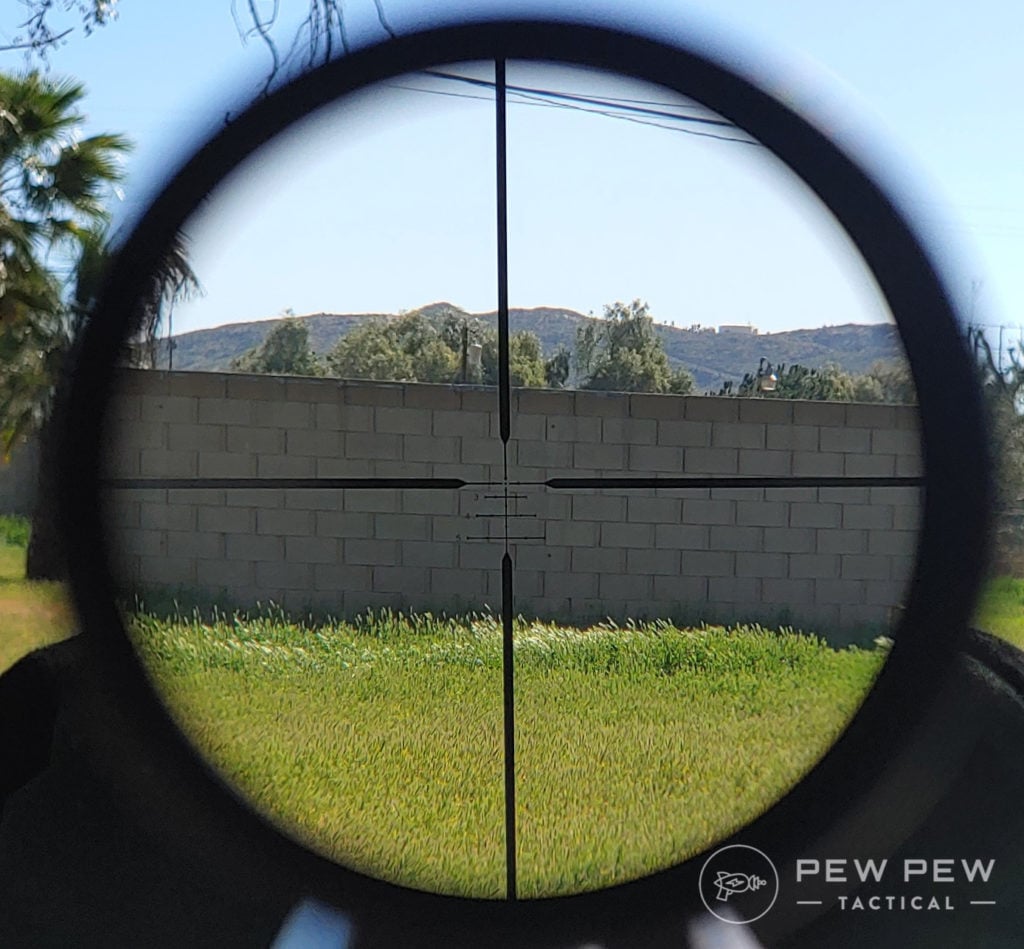 Plus… it's just so lightweight. Really, this comes in at just 9.5 ounces and feels amazing. Take a peek at the complete review!
5. Ruger Precision Rifle
The world of long range precision shooting is one of the hardest and most rewarding shooting disciplines. And I'm not just saying that because it's my favorite.
This is a great time to get into the hobby, and the Ruger Precision Rifle is one of the best starter rifles on the market.
We have a full review on the RPR in 6.5 Creedmoor, but the highlights are that this is the third generation of the rifle and each generation has been better than the last.
A huge selling point of the RPR is that out of the box it's a great rifle, but it is also designed to be upgraded with the shooter.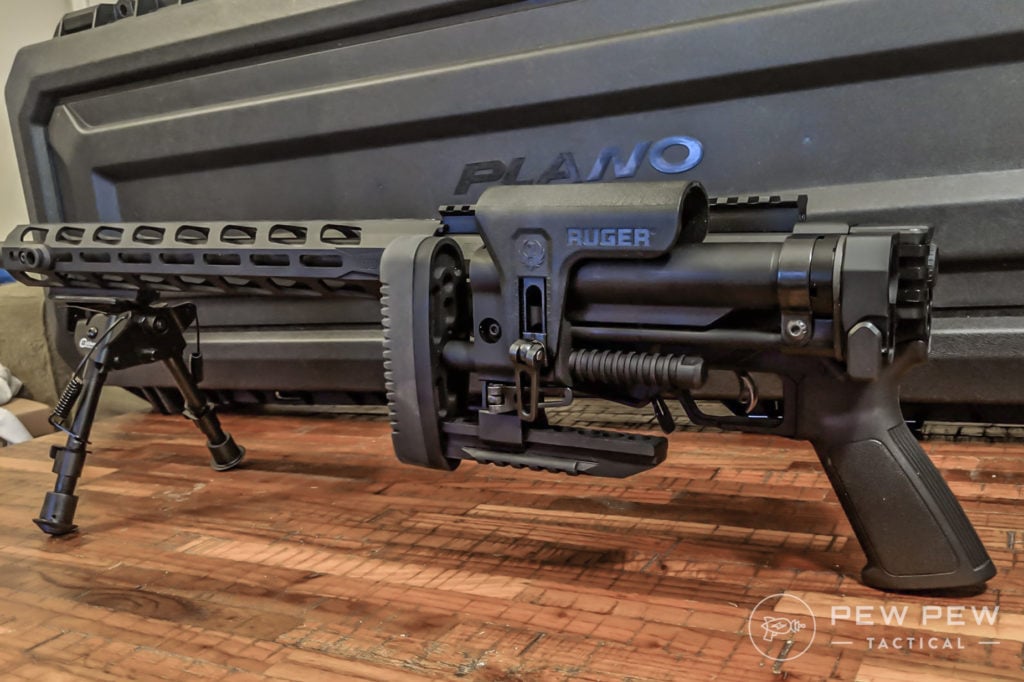 It has the ability to take AR-15 grips, accepts both AICS and SR25 magazines, will work with any buffer-tube based stock like the Magpul PRS or Luth MBA, and has a M-LOK handguard that is easy to swap out.
Personally, my advice would be that if you're looking to use this to complete in local matches — grab a Catalyst Arms FAST TRACK Arca Rail handguard for your RPR.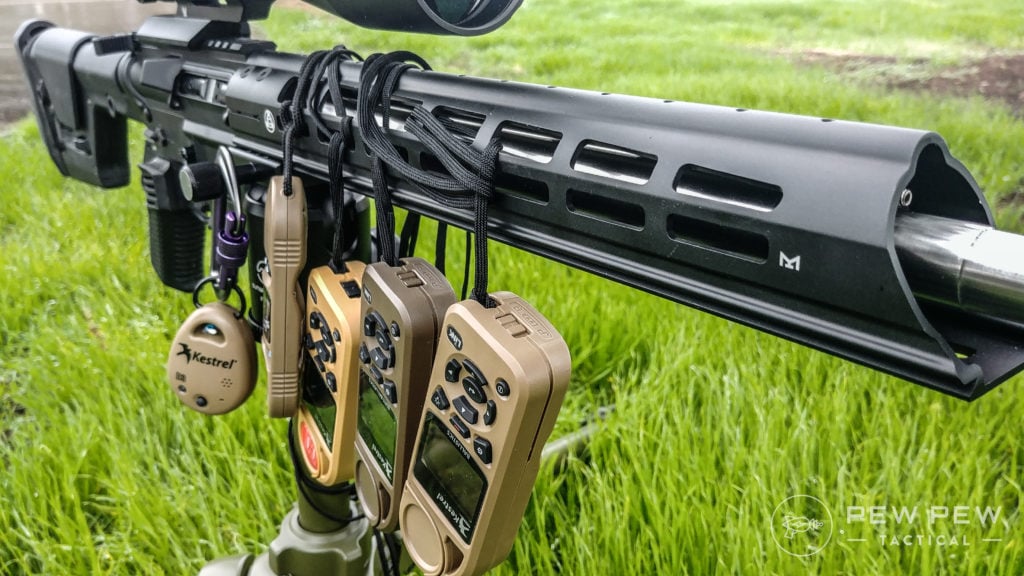 This will open up some of the best options for bipods and tripods and give you a flat, firm base to shoot off bags with.
6. CZ Shadow 2
CZ itself isn't American, but CZ-USA has been making guns in the USA for several years now. So your money is still going to American workers. We kind of have to admit it, we love CZ guns. The P-01 is one of my CCW guns, and our boss's 3-gun pistol is a CZ SP-01.
The Shadow 2 is one of the best competition guns on the market, period. It's based off the CZ SP-01 but has a boatload of upgrades straight from the factory.
A higher beavertail, undercut trigger guard, heavier slide for recoil control, swappable mag release, and an improved trigger for an even smoother and lighter pull in both DA and SA.
Top it off it has a fiber optic front sight, serrated HAJO rear adjustable sight, and some snazy blue grip panels. This is one fine piece of steel.
Personally, this is on my short list for what I'll do with my Trumpbucks.
7. Dan Wesson Vigil
Make a list of the top 5 most American guns and the 1911 will be in the top place every time. With the huge range of great 1911s on the market right now, it's hard to narrow it down to just one. But for me, for $1,200, my pick is the Dan Wesson Vigil.
Dan Wesson is now owned by CZ, but they are still American run and American made.
DW has been making outstanding 1911s for a long time and are one of the top names in great guns. Smooth as glass and for a reasonable price. Well… "reasonable" for the quality at least.
The Vigil wins my vote because it comes with a threaded barrel and suppressor height night sights. .45 ACP is a great caliber for loads of things, but something it does best is be suppressed.
Maybe you already have .45 ACP pistol can, maybe you need a reason to get one. Well, after you buy the Vigil–you will.
8. Burris XTR2 5-25x50mm
Get the deep-dive review on the Burris XTR2 here, but the short version is that this is a serious piece of glass. If you already have a long range rifle and are ready to put the glass on it that it deserves, this is a great option.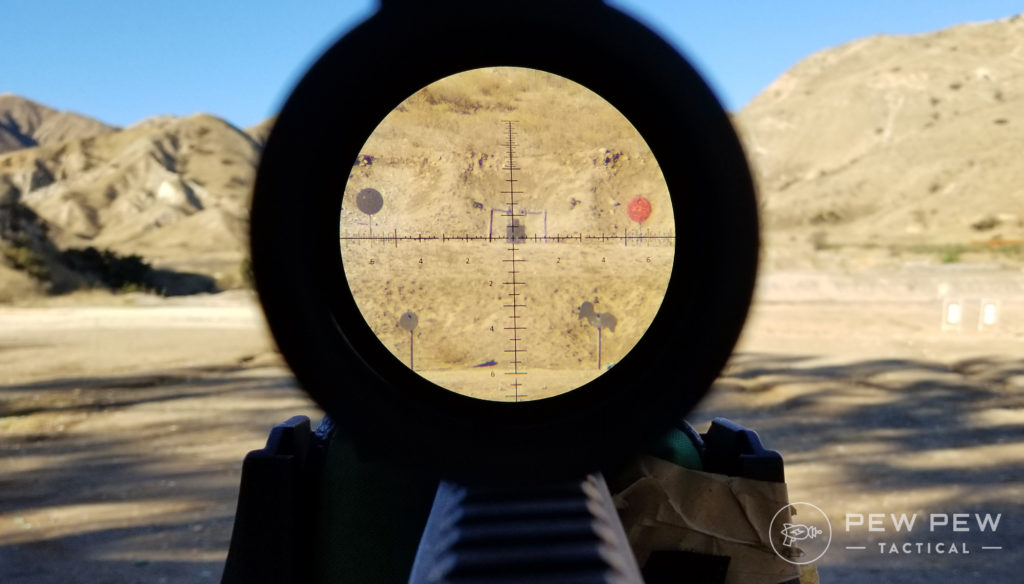 Tracking is perfect, turrets are strong, glass is clear.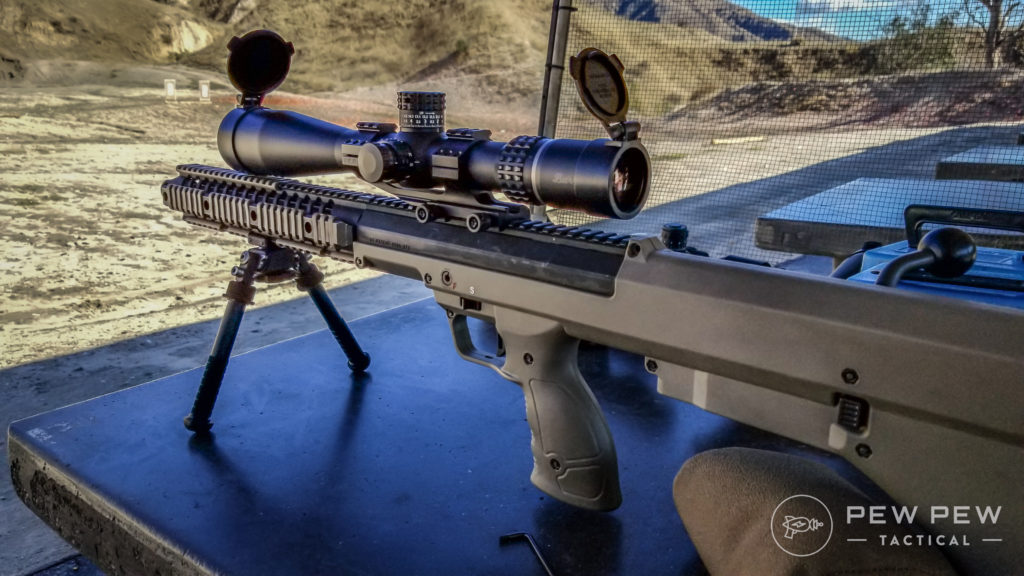 The eye box is a little unforgiving and the turrets can be considered stiff, but the selling point is the glass and overall build quality.
9. Hard Head Veteran + AR500 Armor
Body armor is generally not something most of us will ever need… but if you're looking at really upping your SHTF kit, it's a logical choice to make.
AR500 Armor and Hard Head Veterans are two top of the line brands for your body armor needs. We've tested AR500 Armor plates first hand and have great results. Their plate carries are also well made, well designed, and comfy… as much as wearing a dozen or more pounds of armor can be comfy at least.
HHV only sells two helmets, an ATE option, and a MICH/ACH option, and they aren't too flashy. What they are is high quality and produced by a company you can trust and feel good supporting.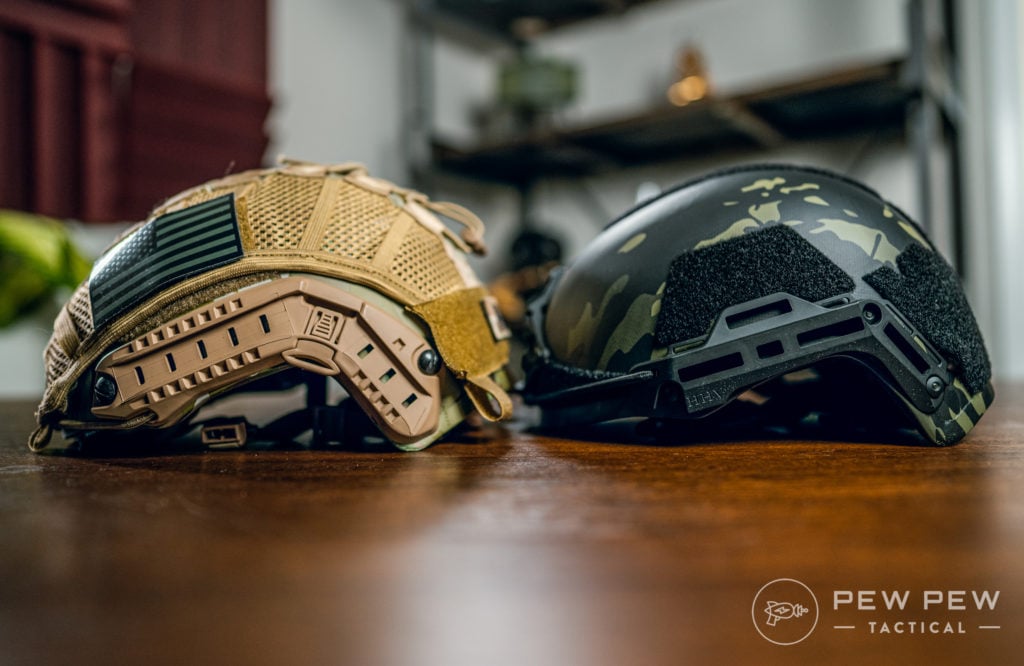 You can mix and match the armor and carrier you want, but I did the napkin math and a maxed out, top of the line Testudo Fully Loaded Package with level III+ Lightweight plates, side plates, trauma pad, pistol holster, magazine pouches, and more plus a HHV Ballistic ATE Helmet combined comes to just under $1,200.
Perfect for the Apocalypse.
10. Mossberg JM 940 Pro Series
There are SO MANY awesome shotguns on the market, but for the best American shotgun you can find–Mossberg is the clear winner. Since 1919 Mossberg has been producing some of the best shotguns on the market and all of them made in America.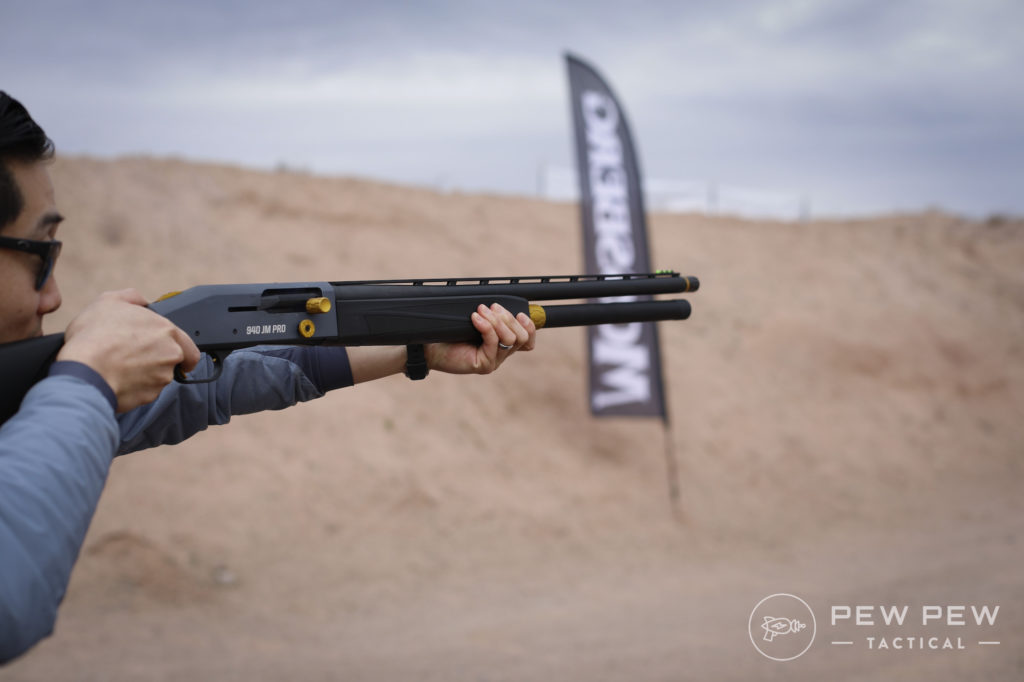 The JM 940 Pro actually comes in at a good bit under our price cap leaving you lots of room for ammo! But finding one in stock right now is going to be… well, good luck with that.
This is the latest and greatest version of the JM Pro Series, Mossberg teamed up with legendary Jerry Miculek to design the best out-of-the-box competition shotgun they could and wow did they do it!
We got to play with one for a bit at SHOT this year and were very impressed, especially for the price.
A quick rundown on this shotty is the redesigned gas system allowing for upto 1500 rounds fired before cleaning, nickel boron coated internal parts for durability and smooth function, competition-sized loading port, elevator, and follow for quick and easy quad-loading.
Find one in stock and buy it on first sight. You'll love it.
11. 80% Project Guns
If you're not totally sick of DIY projects and finishing off that "honey-do" list you've been letting build-up for the past… forever, then you might be interested in building some 80% firearms!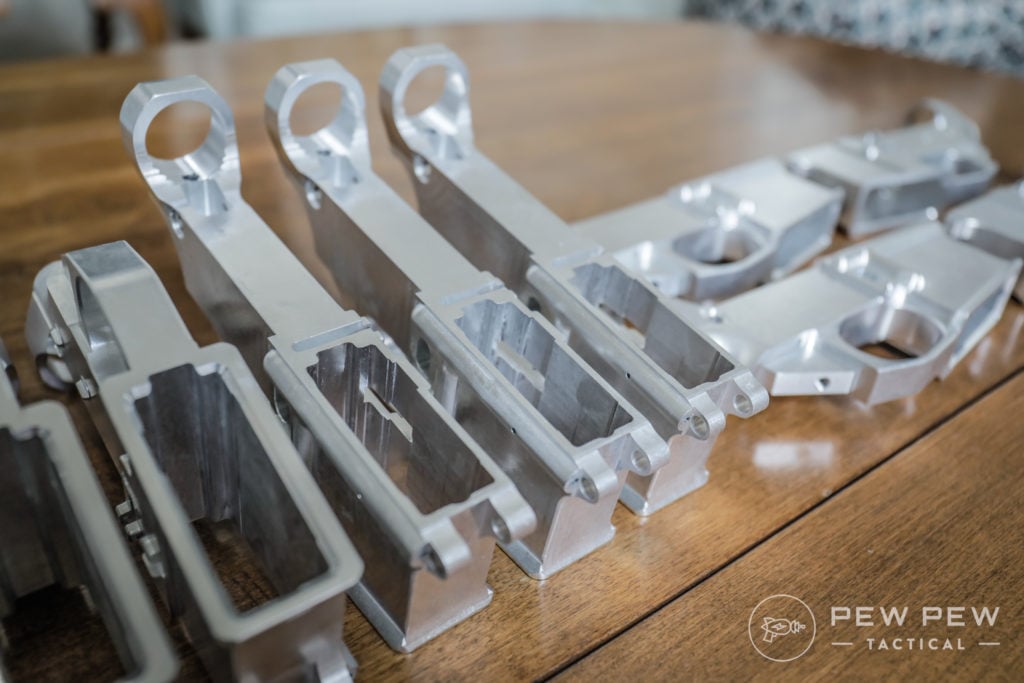 When it comes to 80% firearms your two major options are the AR-15 and Glock pattern guns, plus some extras like AR-10s.
For an AR-15 or AR-10 build our top pick is always 80% Arms. What really sets them apart from the pack is the Easy Jig Gen 2, perfect for multiple projects!
Polymer80 has everything you need for any polymer based build, both AR and Glock platform. Personally, we love their Glock lowers!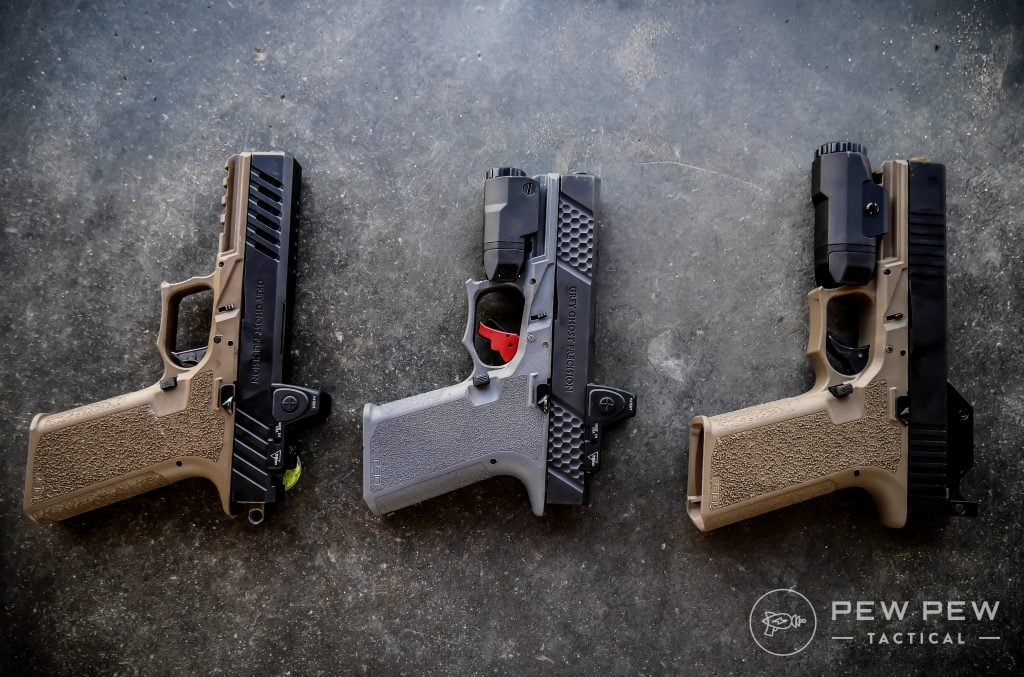 We've built just a few of them, and every single one has run outstanding. Plus there is almost as much customization for them as there is for the AR platform. Full P80 guide here.
From Faxon to Zev, slides to sights, lights to triggers, you can turn out as many custom Gucci builds as your budget allows. Go wild!
12. O2 Tactical TR2 Tactical Respirator
Since masks are looking like they are going to be in fashion for the foreseeable future, you might want to drop some of that stimulus check on getting the Cadillac of face masks.
O2 Tactical's TR2 is a new to the market tactical respirator with some major upgrades over what is available now.
Specially designed with operators in mind, this respirator is shaped and sized to allow you to still wear eye protection, ear protection, and to have a good cheek-weld on a rifle.
And if you're like us and shaving has gone by the wayside during quarantine (okay, not like we shaved much before either…) the TR2's face seal is designed to work with facial hair and still provide a seal.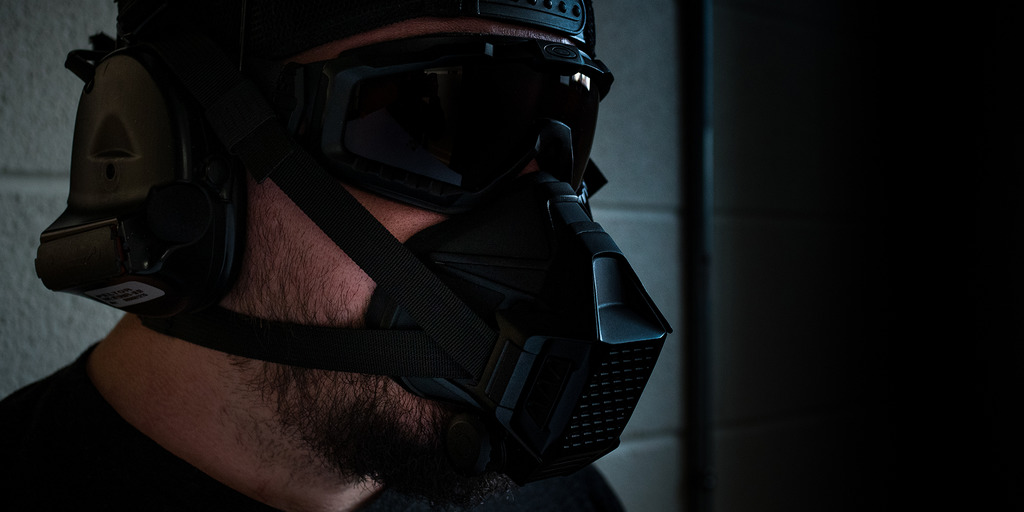 Best of all this is uses an easy to replace filter cartridge, so it's going to last. O2 Tactical is the tactical arm of O2 Canada, a well-established mask and respirator manufacture.
We'll have a complete review of O2 Tactical's TR2 soon!
Charitable Contributions
A much-overlooked part of the CARES act was an expansion of the charitable contribution tax breaks for this year.
There are some special rules and options for business and individuals who take an itemized deduction, but the one that will apply to most of us who take the Standard Deduction is the $300 Above-The-Line Deduction.
If you take a Standard Deduction, the CARES act allows you to give up to $300 cash in charitable contributions and get a tax break on your 2020 Adjusted Gross Income.
Many of us, our friends, family, and neighbors are going to have some very rough times ahead. If you have the room in your budget, consider donating to some good causes. For the first $300 you'll also get a tax break, so that's nice.
Parting Shots
These are most of the cool ideas we had for ways to spend a stimulus check, but there are lots more!
Stay safe out there everyone, wash your hands, and be a good neighbor when you can.
What are your ideas to stimulate the economy? Planing on buying American? Let us know in the comments! To stay up-to-date with the best ways to blow your money, check the Daily Deals–we add awesome deals and sales we find every day!
And here's some more popular big categories: