More companies are coming into the market with optics at price points that are within reach of more consumers.
There are a lot of people that at the drop of a hat will scream, "YOU GET WHAT YOU PAY FOR!"
While that can be the case with many options on the market, I spent the last few months finding out if it is true with the red dot line-up from Swampfox Tactical Optics.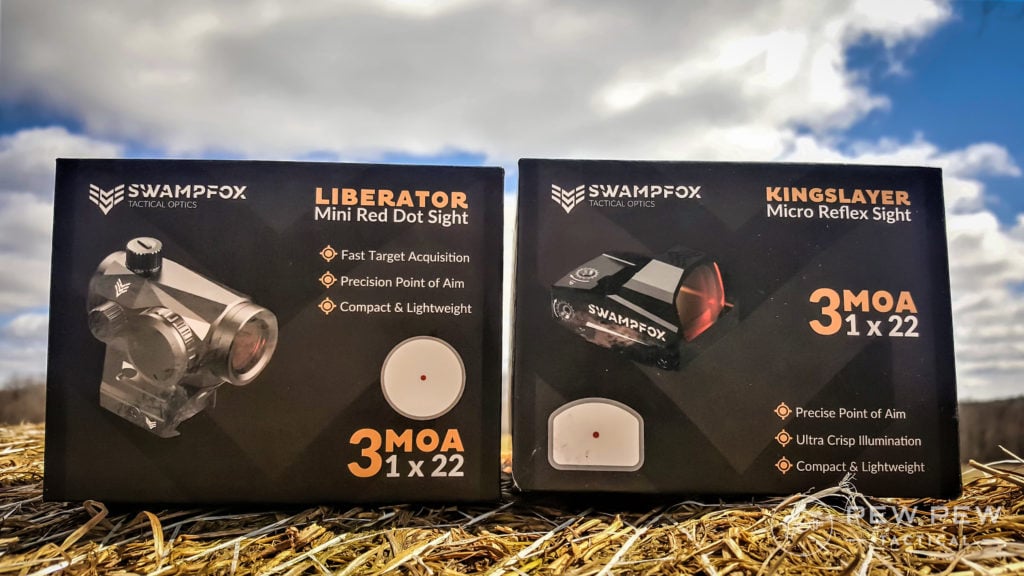 Full disclosure, these two optics were given to me for free by Swampfox Tactical Optics.
I received zero compensation from them for this written review, and I will be going over everything.
The good and the bad.
125
at OpticsPlanet
Prices accurate at time of writing
Prices accurate at time of writing
A Short BIO
Swampfox Tactical Optics is a Colorado-based company. It was established in July of 2018 and, at the time of this writing, is less than a year old.
Their red dot optics are the Liberator and Kingslayer, respectively. They are made off-shore by a Chinese manufacturer and imported into the United States, like other companies such as Sig, Vortex, and many more.
Their name harkens back to the Revolutionary War with Francis Marion. His nickname was "Swamp Fox", and he liberally brought hate and discontent to the British forces while America was desperately trying to gain independence.
I am a nerd for history, so it is always cool when a company resurrects a historical figure's stories.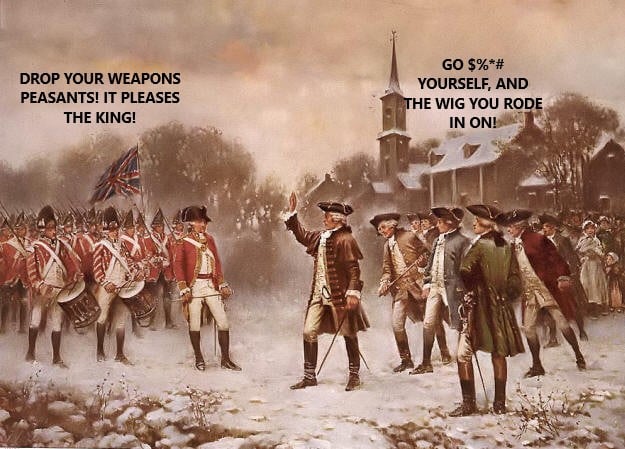 The company offers a 50,000-round guarantee, which essentially is a limited lifetime warranty.
They obviously cannot verify a round count with the optic, but they use a "warrior's honor". Basically, if the optic fails through no fault of your own, they have you covered.
Loss, theft, deliberate damage, or cosmetic damage is not covered under their warranty.
Apples and Oranges
The Liberator and the Kingslayer are two very different optics. The Liberator is a typical "tube-style" red-dot with a visible LED emitter within the tube and the shooter's field of view. The Kingslayer is a miniature reflex-type optic with a very small footprint. It is roughly the same size as a Trijicon RMR, or a Vortex Viper.
The Liberator weighs in at 3.49 oz. and comes with a skeletonized absolute-cowitness mount.
124
at OpticsPlanet
Prices accurate at time of writing
Prices accurate at time of writing
Also, in the box comes a low picatinny mount for use on shotguns, or perhaps an AK that would not need a riser mount. The box also includes a lens cloth, lens covers, 2032 battery, and double-sided wrench for installation. The MSRP is $199.99 at the time of this writing.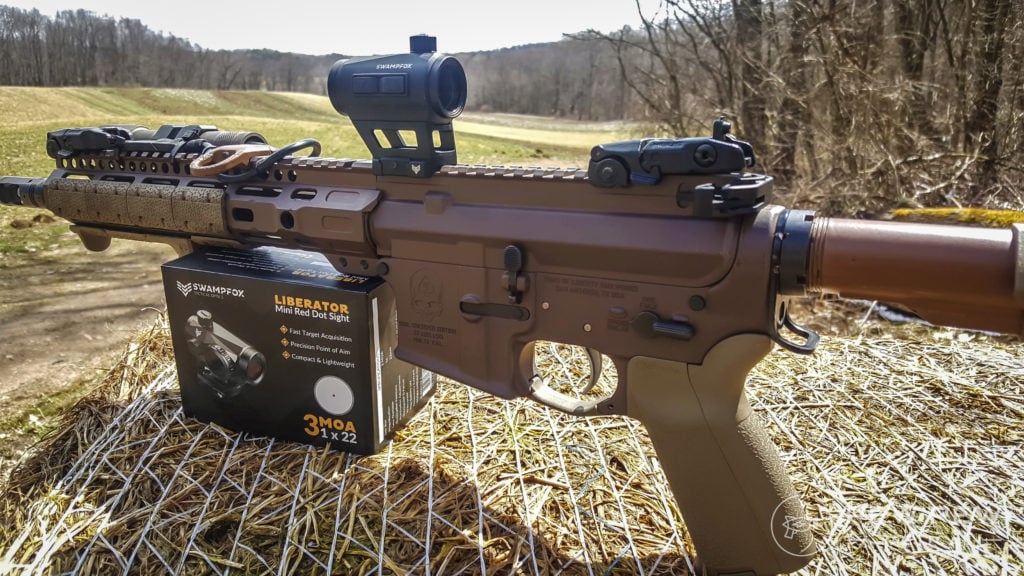 The controls are a rubberized push-button system to increase or decrease the brightness levels and turn off/on the optic.
There are 10 illumination settings, which at its brightest setting is more than adequate, even on a bright, cloudless day.
Battery life is measured at 3,000 hours at a medium setting. The body looks more like a typical black oxide finish instead of an anodizing.
Adjustments at the windage and elevation knobs are easily changed with the back of the caps. Clicks are audible and tactile.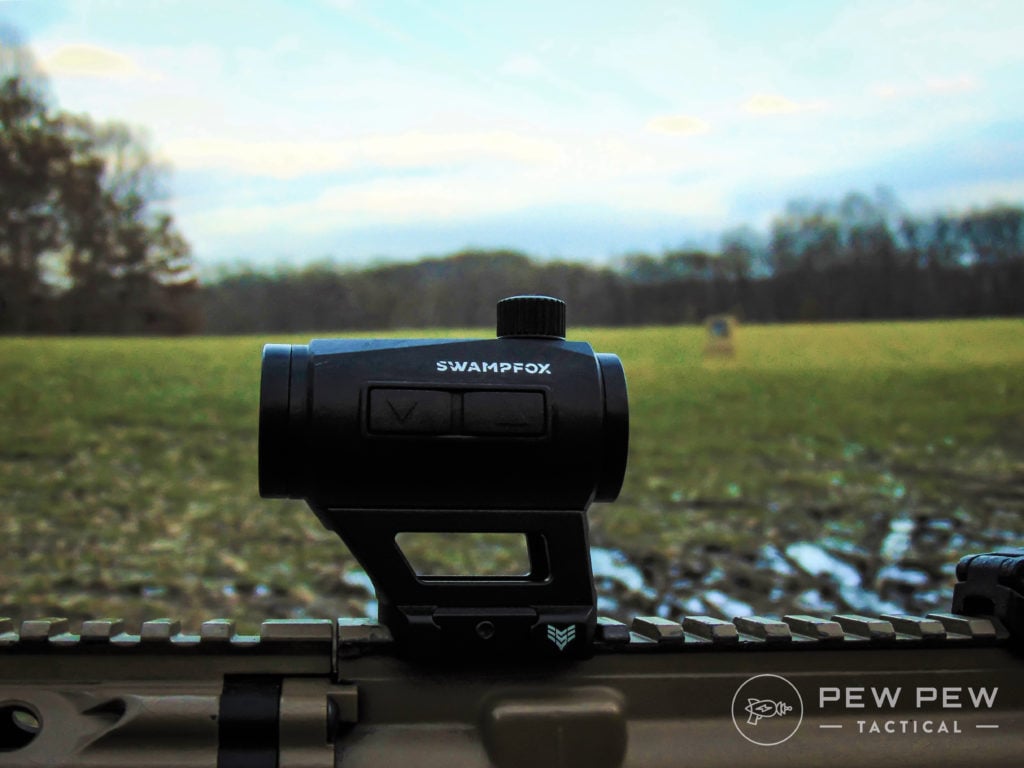 Looking through the glass of the Liberator shows a clear and distortion-free field of view. The lens diameter is 22mm and is not heavily tinted like other models.
The dot is clear and concise, and their claim of 3 MOA seems to be accurate. The emitter is slightly more in the field of view than I would like, but with both eyes open, the tube and emitter fade away.
The Kingslayer weighs in at a feather-weight 1 oz. It is preassembled with a Picatinny compatible mount but it also can be mounted on a slide with an RMR cutout with their newest generation.
180
at OpticsPlanet
Prices accurate at time of writing
Prices accurate at time of writing
The optic that I received and tested is not compatible with an RMR footprint.
Just like the Liberator, inside the box come the standard items, and a rubberized sheath for the Kingslayer.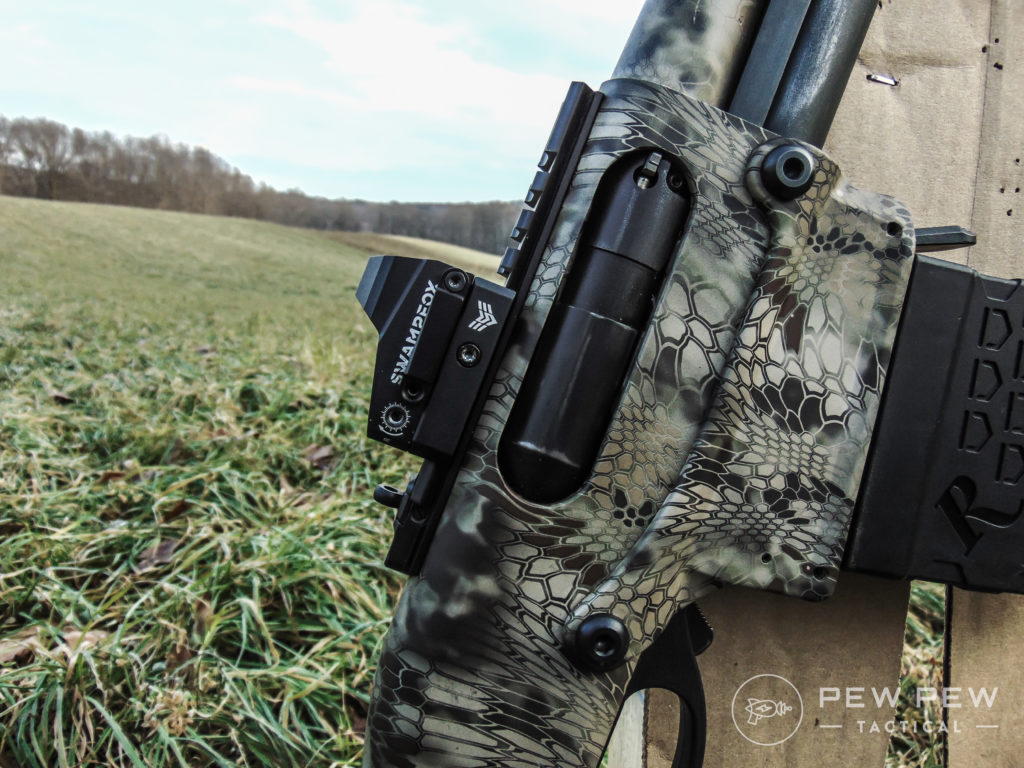 The main body is low profiled with angled cuts. It appears to share the same black oxide finish on the aluminum body and features the same kind of rubberized push-button controls on the Liberator are on the Kingslayer, albeit smaller.
It also has 10 different levels of brightness and a 22mm lens diameter. The battery used in the newest generation is a 3-volt 1620.
The glass on the Kingslayer does have a slightly more tinted lens, but it isn't nearly as bad as the Trijicon RMR.
That comes with a price though for battery life, as the Kingslayer's maximum battery life is at 1,500 hours or roughly 4 months. When you look at an RMR, you can expect 4 years of continuous battery life.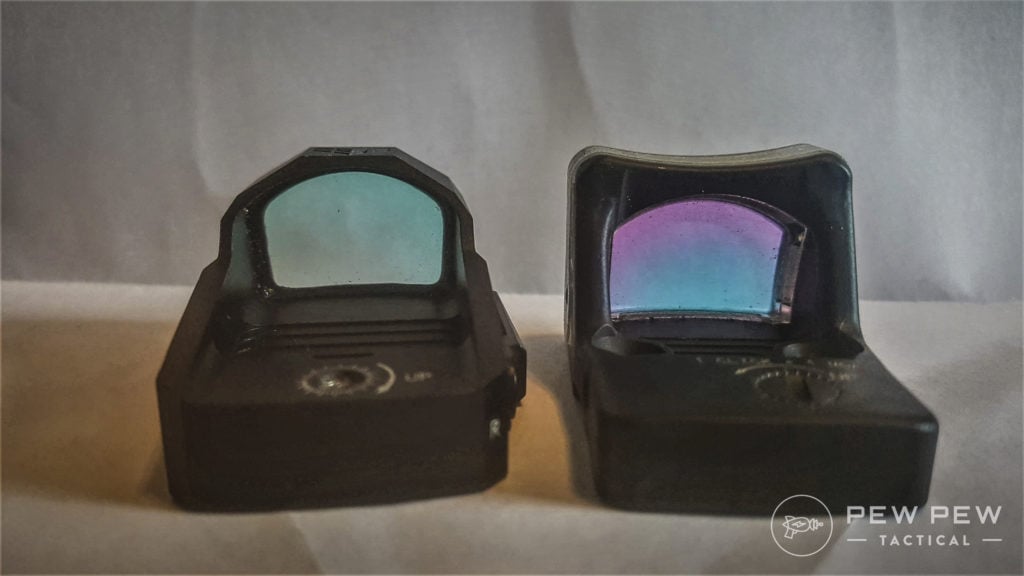 Practical Application
Over the course of nearly 6 months, both optics provided to me by Swampfox Tactical were shot, abused, water-tested, and impact tested.
They also went on hunting trips with me, including a turkey hunt in Texas to the Spike Box Ranch. Not once did I have an issue with either model once I got them in the field or on the range.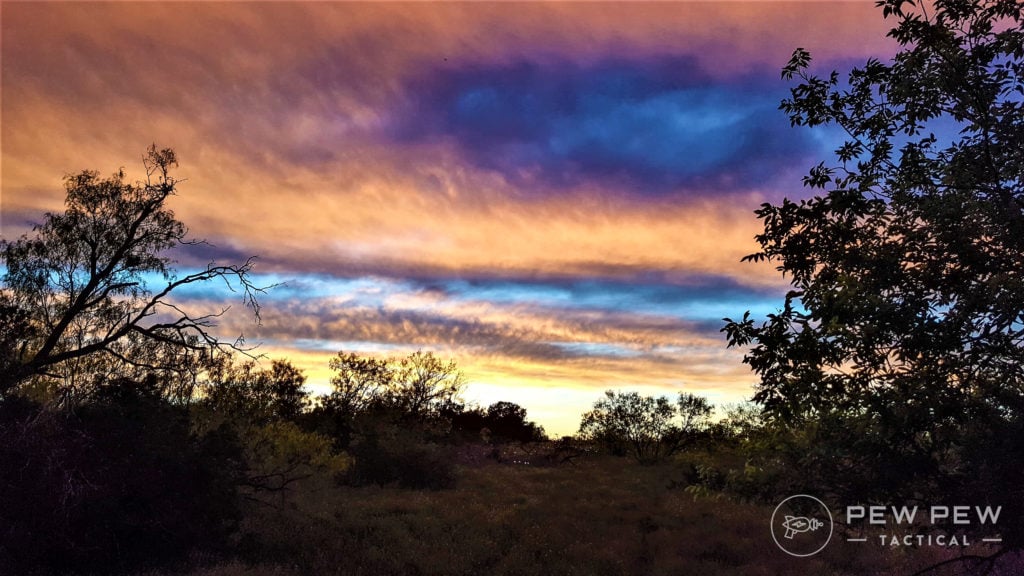 There was one issue with the Kingslayer before I even get it on the range. While installing the battery, I snapped the head of the mounting bolt on the battery tray.
Without putting much torque on the bolt, I immediately felt it release. Upon inspection, the head was obviously out of spec for the bolt.
Once I notified Swampfox, they immediately sent me out a new set of hardware and assured me that they were looking into better hardware.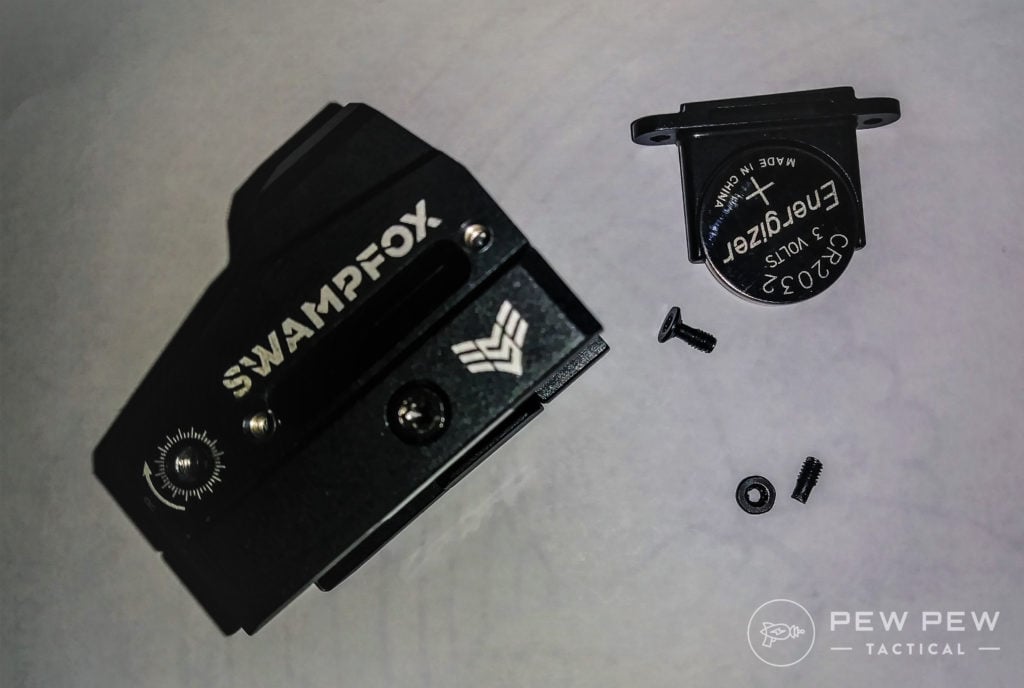 The Liberator was shot on multiple ARs, including 5.56 NATO, .300 BLK and .308 Win.
It was also shot on an 870 DM Predator to test for recoil. Loads consisted of 2 ¾" and 3" magnums, varying in birdshot, turkey loads, 00-Buck, and slugs.
Zero did not seem to walk at all, and when placed back onto an AR, function stayed the same once I easily rezeroed the optic.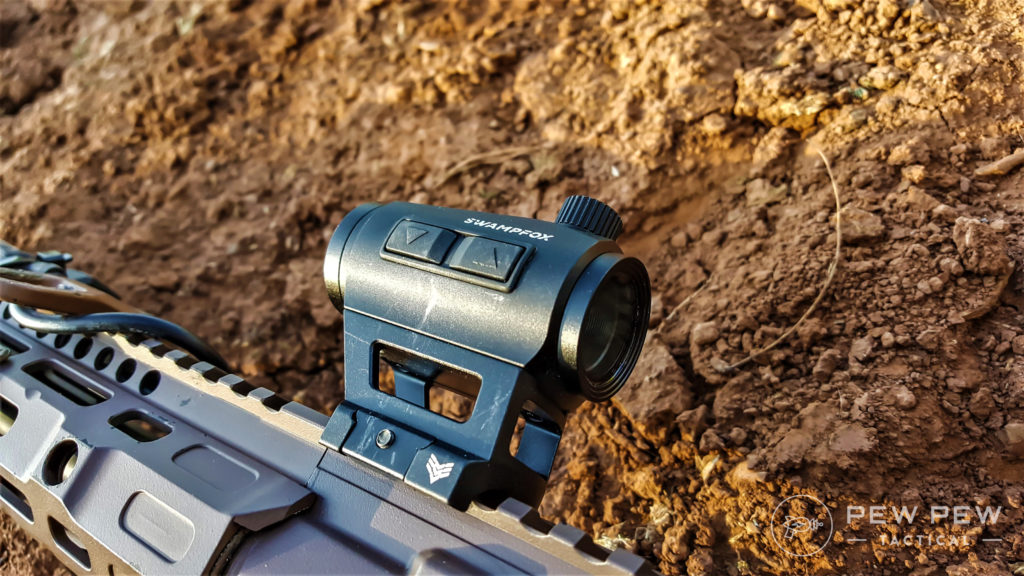 Impact testing from knee height, up to shoulder height showed that the companies impact resistant claims may be accurate. Each optic is rated by the manufacturer to be impact resistant up to 800Gs.
Dropping onto different surfaces over multiple range sessions showed that both optics retain zero and continue to function.
The Kingslayer was mounted on ARs of the same calibers, and the shotgun. To really test this bite-sized optic though, I mounted it on a Desert Eagle in .429 Magnum from Magnum Research Inc.
The iconic Desert Eagle has always been a formidable handgun that is an absolute hand cannon.
With a cartridge 40% more powerful than a .44 Magnum, what can possibly go wrong?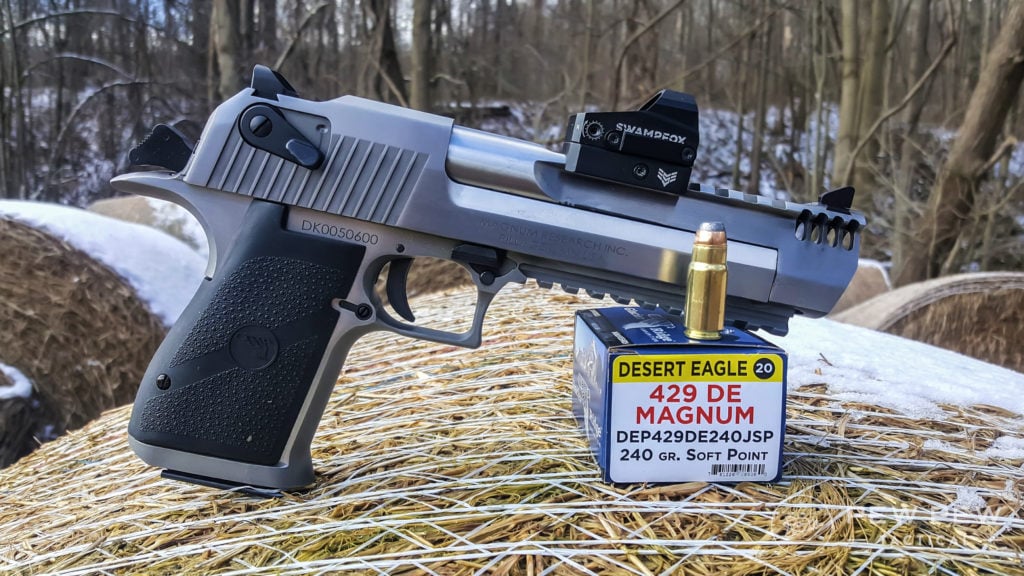 After going through a few boxes of ammunition to zero the Desert Eagle for my hunting trip, the tiny Kingslayer performed well.
Adjustments were positive with both windage and elevation, although not audible or tactile like the Liberator. Round after round, after zeroing, I was able to keep rounds on target.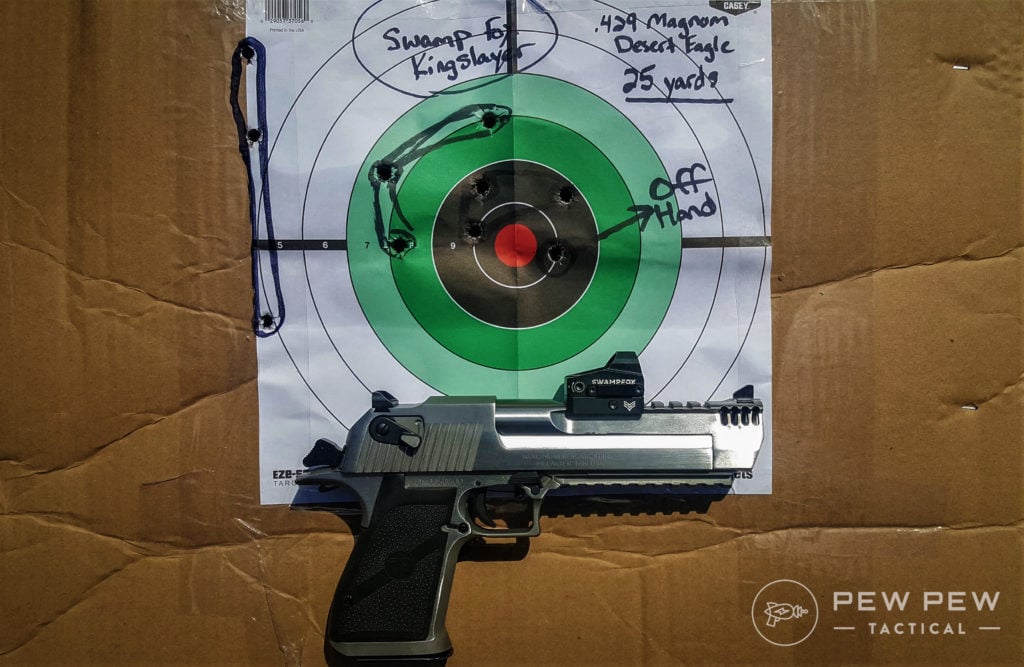 During my time in Texas, I was able to take a respectable Tom at roughly 22 yards. After setting up in a spot where gobblers were known to roost, I patiently waited inside of my ground blind with my Kingslayer mounted .429 Magnum Desert Eagle.
After getting a response from two gobblers looking for a good time, once they caught sight of my Flambeau breeding hen and tom, they marched right in looking for a fight.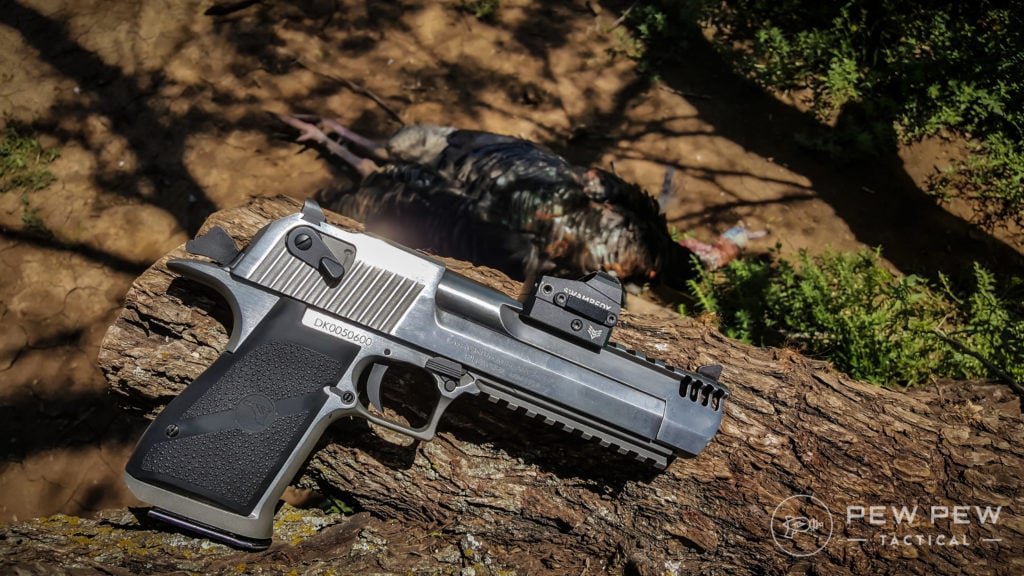 Unfortunately for the one tom, he only found me waiting for him.
Once he stepped within range, and gave me a clean center mass shot, I centerered the Kingslayer's 3 MOA dot. Pulling the trigger, I sent a 240-grain JSP from the Desert Eagle on target.
Between the Kingslayer and .429 Magnum loads, the gobbler didn't have a chance.
The Run Down
First, the Liberator.
The lens coating is typical of other red dots within its price range and does a good job of keeping the glare down. Additionally, the lens multi-coated for light transparency and to resist scratching and shed moisture on the outside of the lens.
Finally, the whole system is nitrogen purged and O-ring sealed.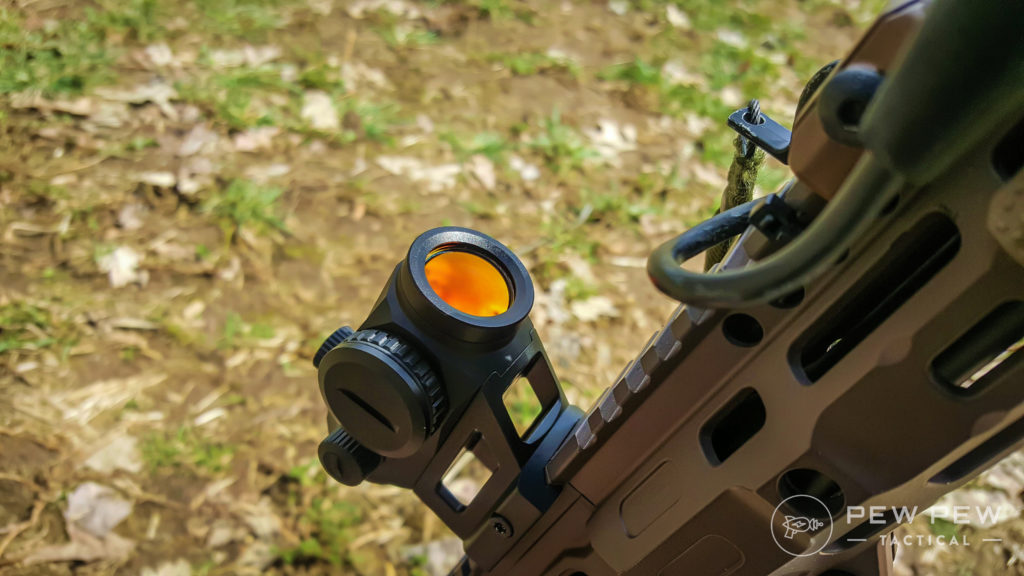 The skeletonized riser mount is a nice design and sheds some weight. It puts the red dot slightly forward compared to the basic Picatinny low-mount, but it is not drastically forward.
Angled cuts give it its own look and they separate it from other typical "tube-style" red dots. The side mounted battery compartment protrudes a good bit and does affect the field of view though.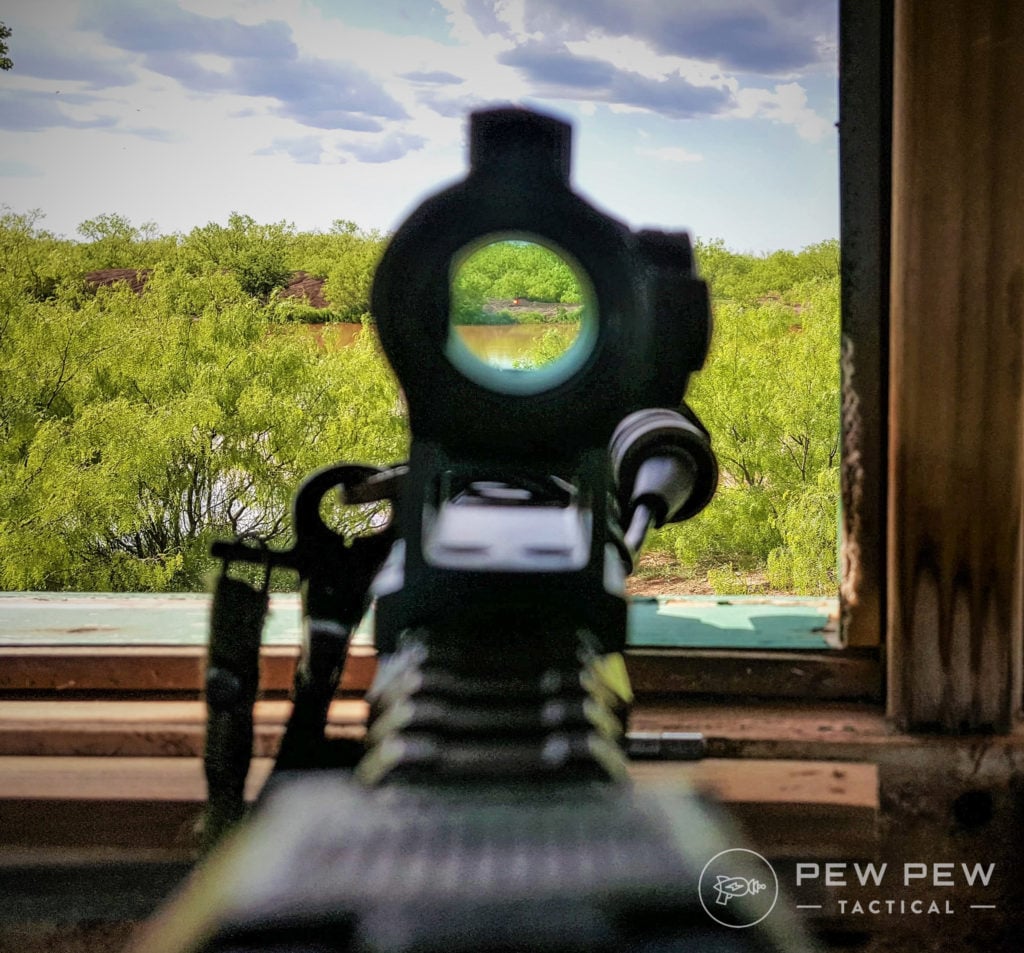 One gripe that I have with the red dot is battery life. At 3,000 hours with a medium setting, the optic is poor compared to other models within its price range.
It does have an auto-off feature that will turn off the optic after 4 hours without motion.
Overall, the actual red dot is incredibly bright and concise. At its highest setting, on a cloudless sunny day, the dot is incredibly bright.
Like Aimpoint bright. Visibility is not an issue with this red dot.
Now on to the mini-reflex red dot, the Kingslayer!
As stated earlier, this one had an issue with a battery mount bolt.
While the situation was remedied quickly, the hardware between both models did seem to be less than ideal, and in my opinion, should be reevaluated by Swampfox.
The Kingslayer, and the Liberator though, did mount securely to any rail I attached it to, and zero was maintained through rough use.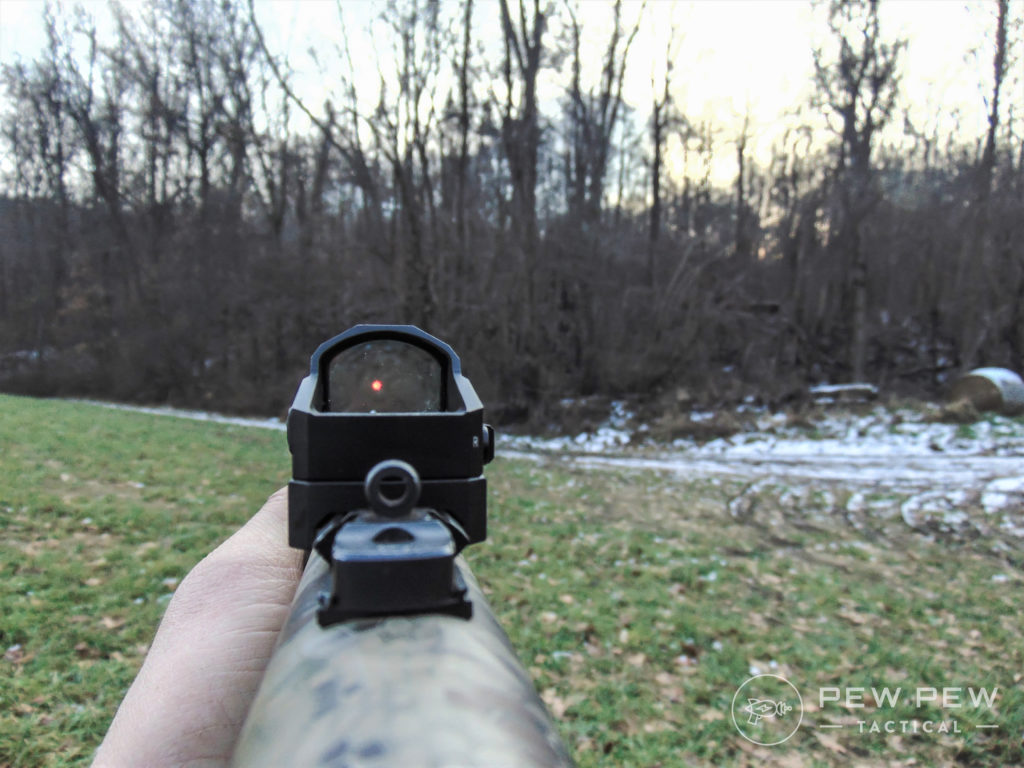 The field of view with the Kingslayer is great for its price point. Glass quality is great, and only a very slight tint is noticeable if you look for it.
Although my test sample is not RMR compatible, the newer generation shares the same RMR footprint per their website.
This is a very smart move going forward and will give shooters a cheaper alternative compared to the Trijicon RMR.
The Kingslayer, like the Liberator, has a multi-coated lens that is scratch resistant and hydrophobic. The unit is waterproof as well and is also listed at 800Gs impact resistant.
Battery life though is its major drawback. Their website lists the optic being able to last up to 1,500 hours, while their competition can be measured in years with the Vortex Venom, or Burris Fastfire3.
Brightness level for the dot is impressive with the model I tested, and visibility was perfectly fine throughout all lighting conditions.
Even at high noon in the Lonestar State, the 3 MOA dot refused to wash out against different terrain.
The Kingslayer has a 4-hour auto-off feature as well, and while hunting, I took notice of it a few times.
By the Numbers
Liberator
180
at OpticsPlanet
Prices accurate at time of writing
Prices accurate at time of writing
Affordability: 3.5/5
For the price, the Liberator is not a bad option for someone looking for a recreational optic or for light use or in a home defense situation.
I would be disingenuous though if I did not point out that other models within the price range of the Liberator have better battery life and can be found cheaper than the $150-200 street price of the Liberator.
Example being the Sig Sauer Romeo5 with its 40,000-hour battery life and average street price of $120.
Looks: 4/5
Aesthetically, the Liberator looks like most "tube-style" red dots, but it has its own design that separates from the pack.
The black oxide surface finish does tend to look cheaper than anodizing, but it does work as its designed.
The skeletonized riser mount is a nice touch and functions well.
Reliability: 4/5
The optic worked exactly as intended, and the 3 MOA dot is fantastic in any lighting condition.
It truly is Aimpoint bright and visibility with the 10 different settings won't be an issue. Hardware on the other hand though needs to be reevaluated.
More durable, and better-quality bolts would be nicer for the price point.
Overall: 3.5/5
Overall, the Liberator is not a bad red-dot. For recreational use, it will hold up fine and can handle getting thrown around, or getting submerged in water.
The brightness levels are great, but you do sacrifice battery life with this model. The 4-hour shut off is a nice perk, but a shake-wake system would be much better.
Kingslayer
124
at OpticsPlanet
Prices accurate at time of writing
Prices accurate at time of writing
Affordability: 4/5
The Kingslayer is a decent deal for what the red-dot offers. For someone looking for a mini reflex optic, the Kingslayer would be a good choice.
But, I have to again point out that the Vortex Viper is only slightly more expensive at around $230 on Amazon and features a max battery-life of 30,000-hours compared to the Kingslayer's 1,500 max.
Looks: 4/5
The angled cuts on the Kingslayer set it apart from its competition. Its small footprint and RMR compatibility with the newer generation is a smart choice. The side-mounted battery tray is also a nice touch, especially when you don't have to re-zero the optic when the battery dies.
Reliability: 3.5/5
The Kingslayer ran great on both a shotgun with stout 3" magnum loads and with the .429 Magnum Desert Eagle from Magnum Research Inc. It did not falter at all. The reason for the 3.5 rating is strictly due to my lack of confidence in the hardware and mounting bolts for the optic.
Overall: 4/5
I really enjoyed the pint-sized optic while I ran it for the past several months. Using it on a hunting trip on such a big bore handgun, showed me that internally the red dot could handle punches and keep chugging along.
For the price point, it would be a good choice, although battery life leaves a lot to be desired.
Parting Shots
While I may be a bit critical overall with these two red dots from Swampfox, they both performed well with all testing and are still going strong.
Is battery life important for you? Even for a recreational optic? Let us know in the comments below! For a lot more awesome optic options, take a look at the Best AR-15 Scopes & Optics!