Primary Arms is known for producing a wide variety of red dots, rifle scopes, and prism sights.
They have grown from a relatively small company into an industry leader in the optics market. Heck, their reticles have made them famous enough to get some use by SOCOM.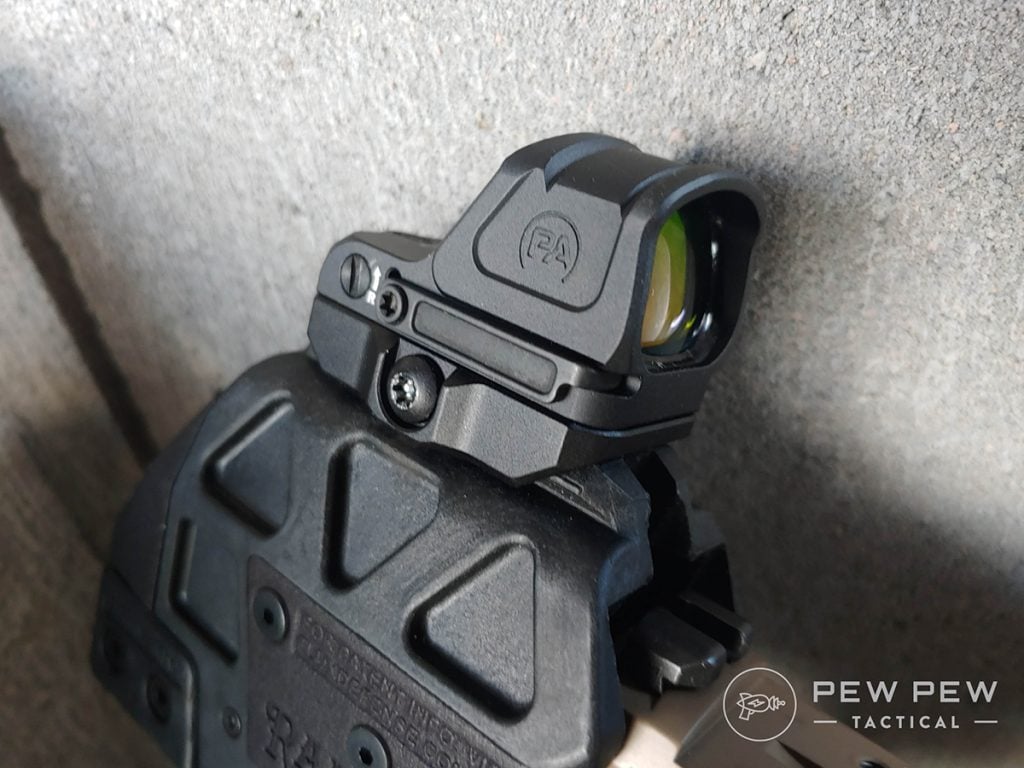 Only recently have they released their first mini-reflex sight, which was designed entirely in-house by Primary Arms — the result was the RS-10
As part of the SLx lineup that focuses on affordability and performance, it exhibits a flash of brilliance in the basics. It's not full of fancy features but excels in functioning as a rock-solid optic.
Does the RS-10 meet the reputation of the SLx series? With only one way to find out, we tossed one on a Flux Raider and hit the range.
Table of Contents
Loading...
Primary Arms RS-10 at a Glance
Pros
Affordable
Side loading battery
Bright and crisp reticle
Ruggedized design
Lightweight
Long battery life
Cons
Clarity Issues In extreme light conditions
Difficult to remove battery
Weird reflection in sight window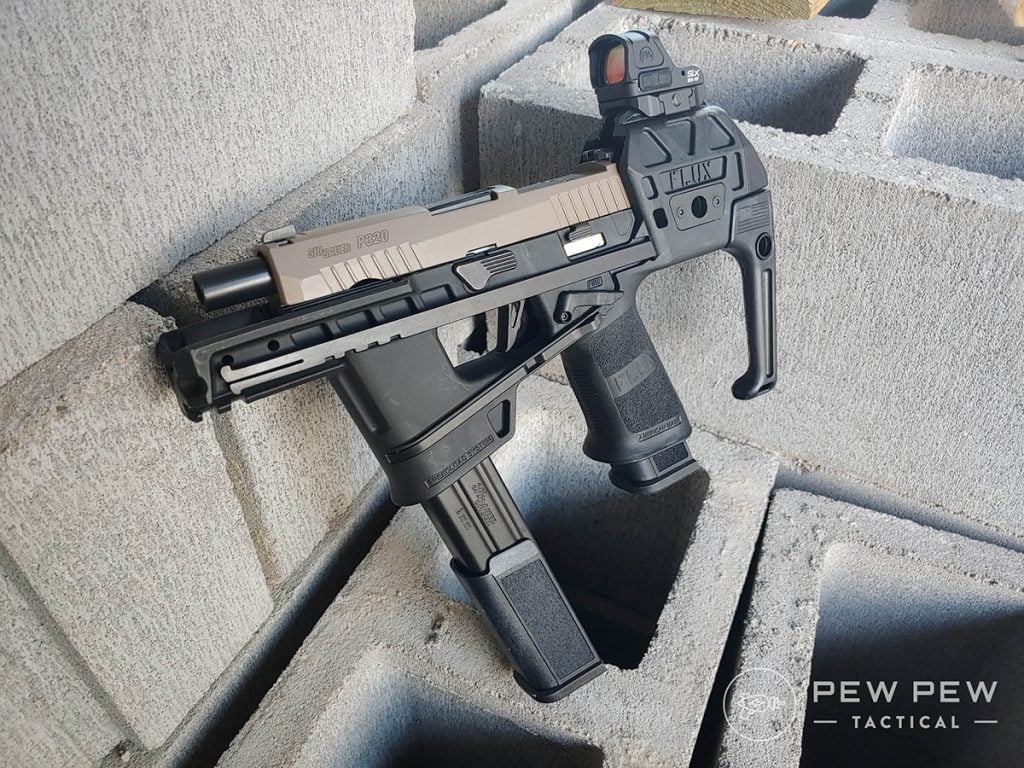 Primary Arms RS-10 Specs & Features
Specs
Battery Life – 25,000 – 50,000 hours
Battery Type – CR2032 3V lithium coin
Finish – Hardcoat anodized
Material – 7075 Aluminum
Brightness Settings – 11 settings (night vision compatible)
Reticle – 3 MOA dot
Reticle Color – Red
Weight – 1.07 Oz
Features
Side-loading battery slot
Multi-coated lenses
Docter/Noblex footprint (Adapter plate for Glock MOS included)
Comprehensive lifetime warranty
Source: Primary Arms
The Bottom Line
I had a little trouble with tinting and reflections when shooting with PCCs and rifles, but on handguns the issues were non-existant. The RS-10 from Primary Arms is seemingly the best optic I've ever handled for $200. The value is fantastic at the price point especially if you need a handgun optic.
199
at Primary Arms
Prices accurate at time of writing
Prices accurate at time of writing
What's Special About This?
Pistol red dots aren't exactly cheap, especially those geared toward defensive usage. Luckily, Primary Arms has always been willing to find ways to drop prices to make the optics more affordable.
Primary Arms designed the RS-10 entirely in-house to provide the most affordable red dot sight in the defensive market. For $200, you can get a Burris Fastfire 3, but that's not a defensive-ready optic.
It's a mid-size optic designed for the typical doublestack platform like the Glock 19 or Smith & Wesson M&P…not your Sig P365.
RS-10 Rundown: Clarity, Tint & Buttons
The RS-10 SLx is made entirely from 7075 aluminum, durable for a $200 optic. Typically at his price point, we see hobby red dot aimed at the competition, but the RS-10 is a concealed carry, defensive red dot.
It has an Auto-Live feature which is basically a fancy way to say shake awake. This means the optic will shut off after three minutes when it fails to detect movement. At the slightest vibration, the reticle will spring back to life.
Battery Life
You can toss it in the gun safe and not have to worry about turning it on or off to save battery or fumbling to have it ready when you need it. It's a handy feature that helps extend battery life to 40,000 hours or beyond.
While the battery life is excellent, and I love a side-loading battery, I was perplexed about how to get the battery out.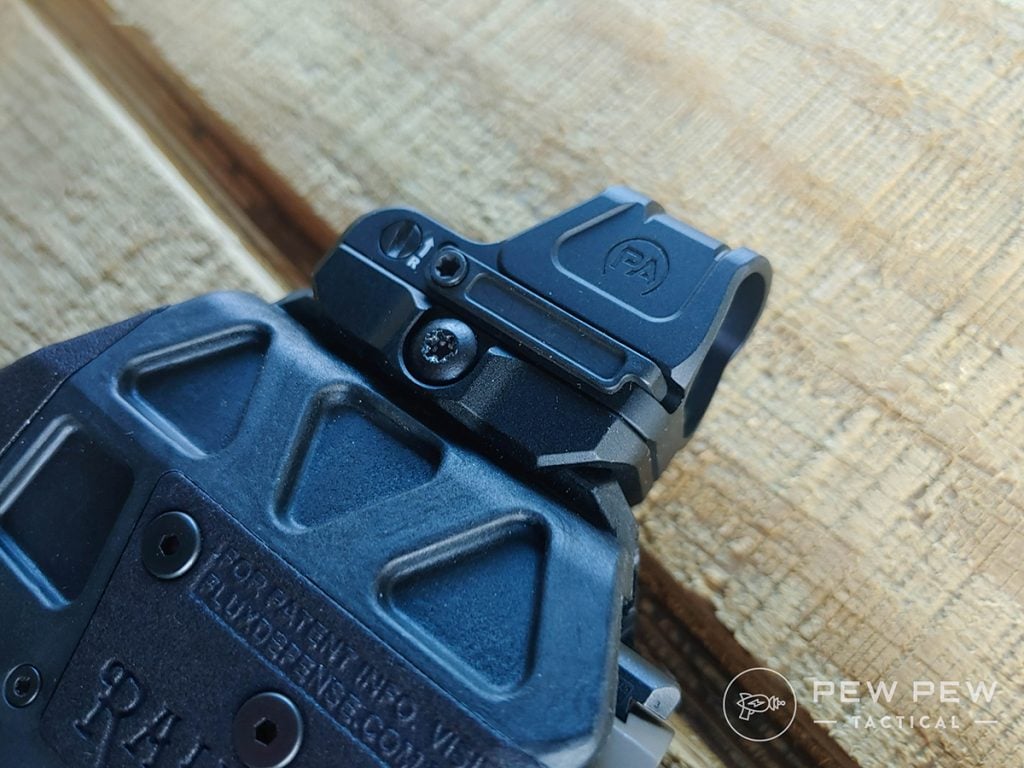 You open the door, and the battery is just sitting in there. A small flathead screwdriver makes it a bit easier to remove; it's a bit of a pain but workable.
Luckily with a 40,000-hour battery life, you won't have to swap batteries all too often.
The RS-10 has a Docter/Noblex pattern for mounting to various guns and plate systems. Primary Arms even includes a low-profile Picatinny mount to make it easy to toss on my Flux Raider.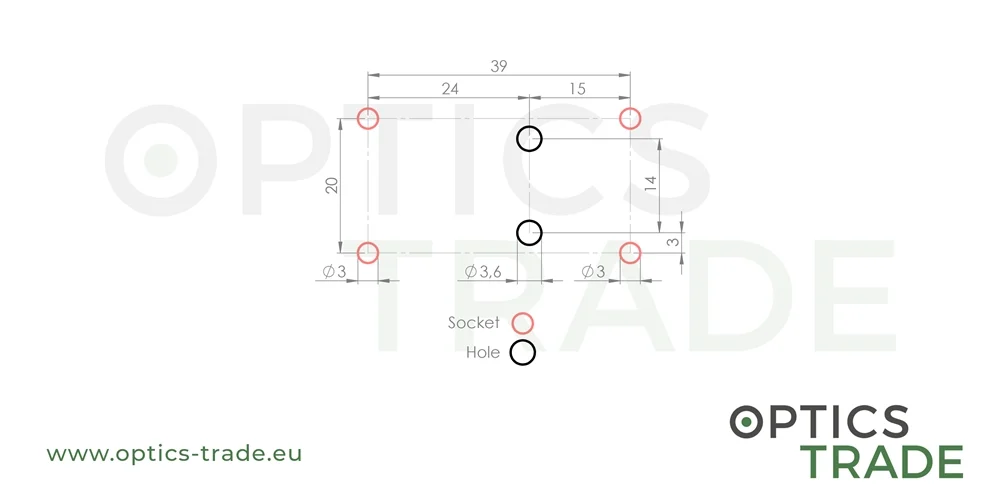 I also want to mention the lightweight design. At 1.07 ounces, the RS-10 comes in a fair bit lighter than other options.
Every fraction of an ounce helps on a handgun. The RMR weighs 1.17 ounces, the Holosun 507 weighs 1.5 ounces, and the Leupold DPP weighs 2 ounces.
Clarity & Tint
There is a noticeable blue tint when looking through the glass. Tinting is fairly common in red dots and even more so in affordable options. The RS-10 tint felt no worse than the Holosun series or any other red dot.
What is worse is the reflection of the U and arrow designating up adjustments. It hangs out just above the dot and will catch your eye. You can shrug it off, but once you see it, you never stop seeing it.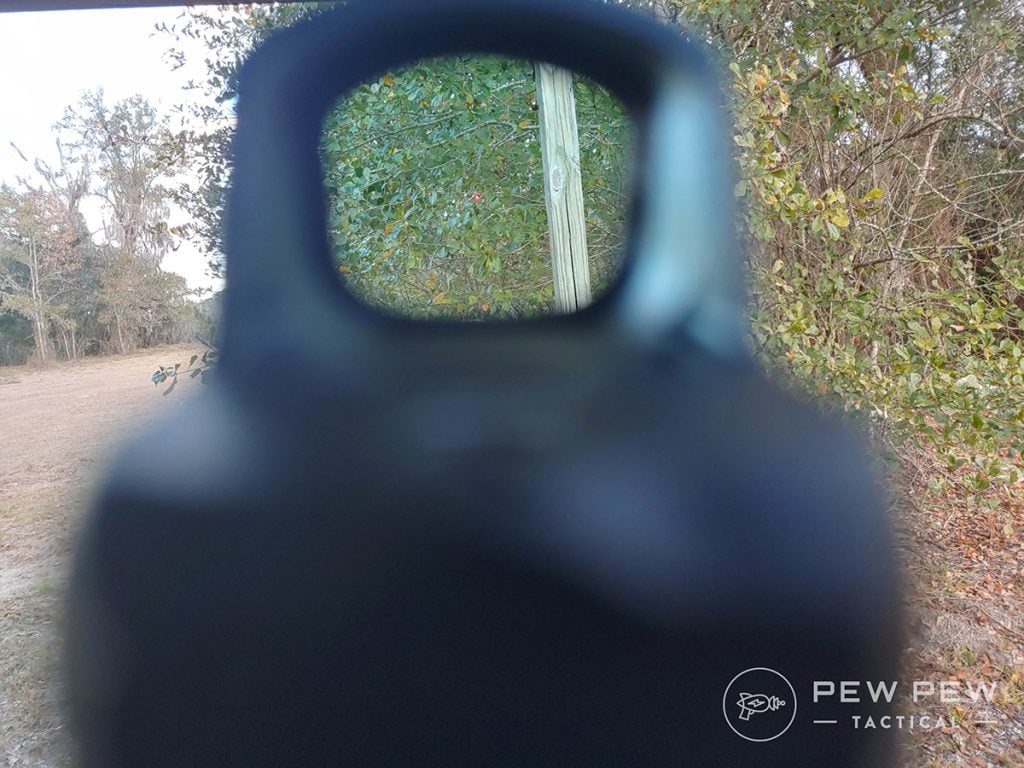 With that in mind, the RS-10 is still fairly clear, and easy to get the dot on the target. The 3 MOA dot can get super bright.
Bright enough to see on the most sun-filled day in Florida. It also dims down low enough to be easy to use indoors.
The clarity of the dot is also impressive. It's nearly a perfect little circle that's crisp and clean all around, making it easy to see the target.
Reflections
My main issue with the RS-10 is the reflection of the U and arrow. If you can get past that and ignore it, the RS-10 is a great optic.
After shooting the optic on the Flux a good bit, I moved it to a more traditional handgun.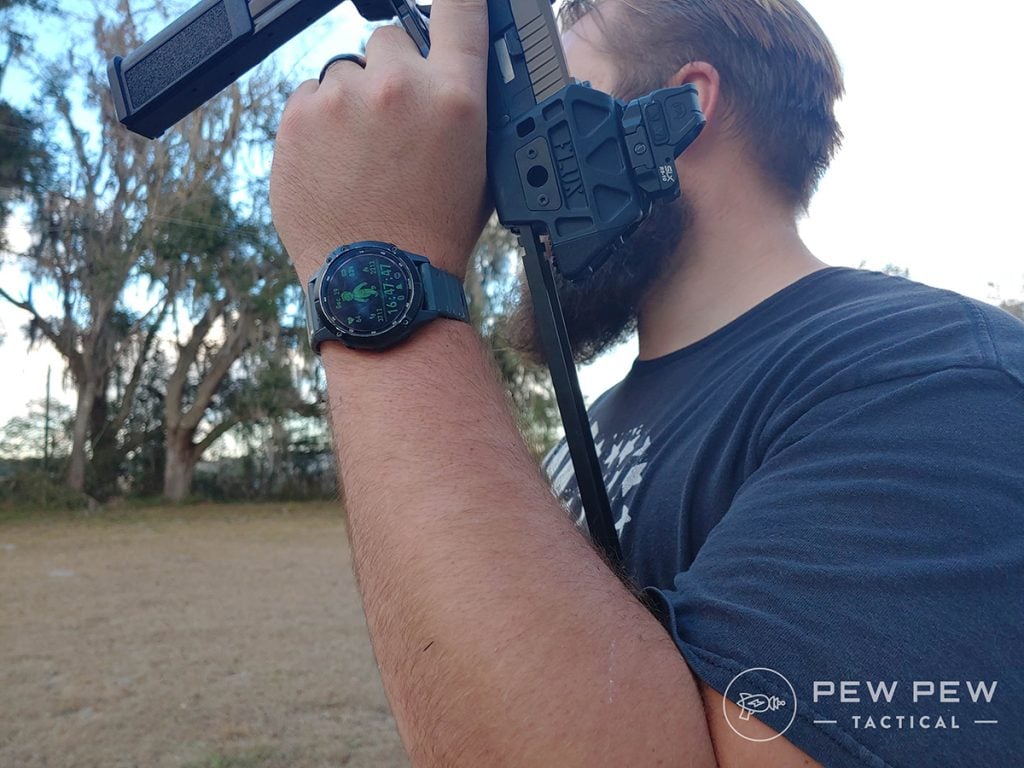 On a handgun, the reflection isn't visible since the weapon is held so far from the eye; it disappears entirely and isn't an issue.
If you plan to use this optic on a rifle or a larger subgun, the reflection may become an issue.
RS-10 at the Range
Adapting the RS-10 to fit various handguns isn't tough to do. I chose the Flux, well, because it's so dang fun to shoot, and I needed a red dot for it anyway. It seemed like a natural fit.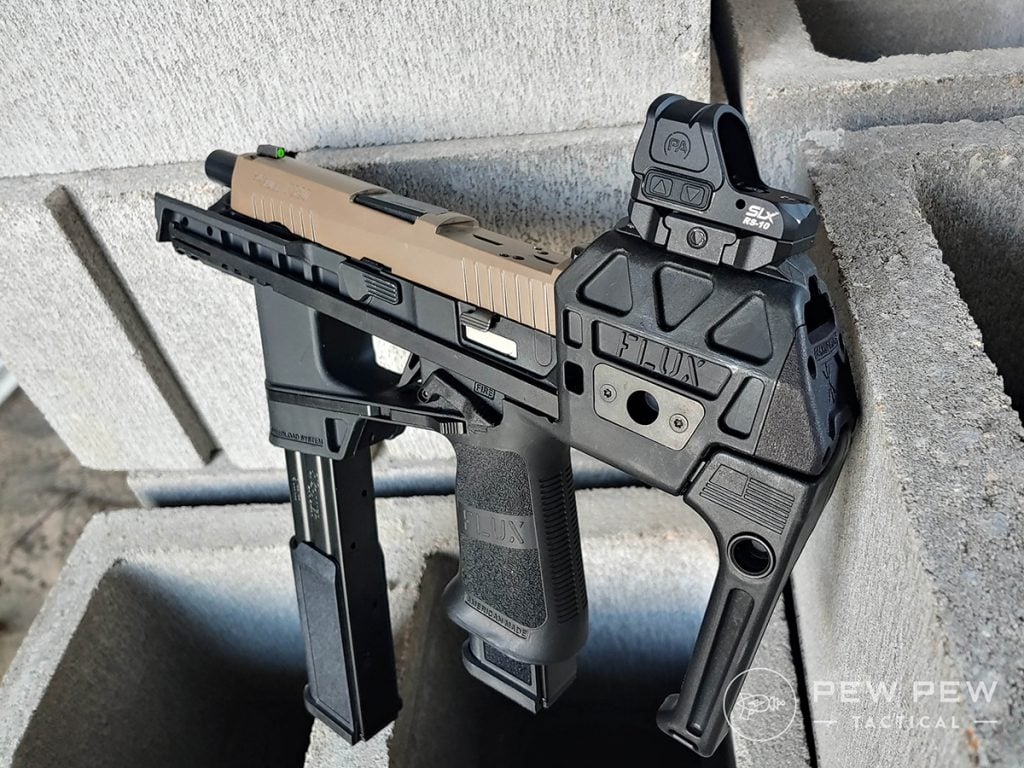 With the RS-10 mounted, I set up shop at 15 yards with a bench and rest set up and got a few shots on target. With a well-supported position, I began zeroing the weapon and optic.
Now let's talk clicks…
I love clicks, and with the RS-10, you get clicky clicks…real clicky clicks. Even with ear protection on, I could feel those clicks, so I knew when I was making adjustments.
Every adjustment is 1 MOA, which is perfect for handgun-oriented red dot optics. Zeroing wasn't tough. After I zeroed at 15, I moved back to 25 yards and refined my zero for better accuracy at range.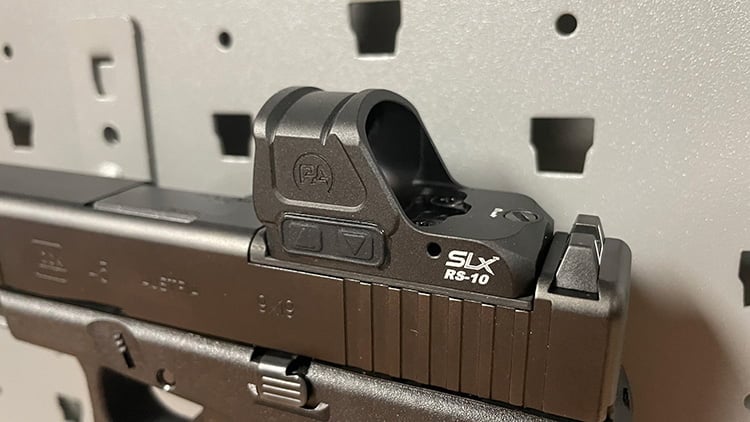 Since we are talking clicks, let's mention the up and down buttons to adjust the reticle's brightness level.
A rubber membrane covers these buttons, but they are quite tactile, and you know when you've made a successful button press.
Blasting Away
Once the RS-10 was perfectly zeroed, or as perfect as I could get it, I loaded my magazines and hit the ground running.
With a half dozen magazines loaded with 9mm, I began shooting through various drills and thrills.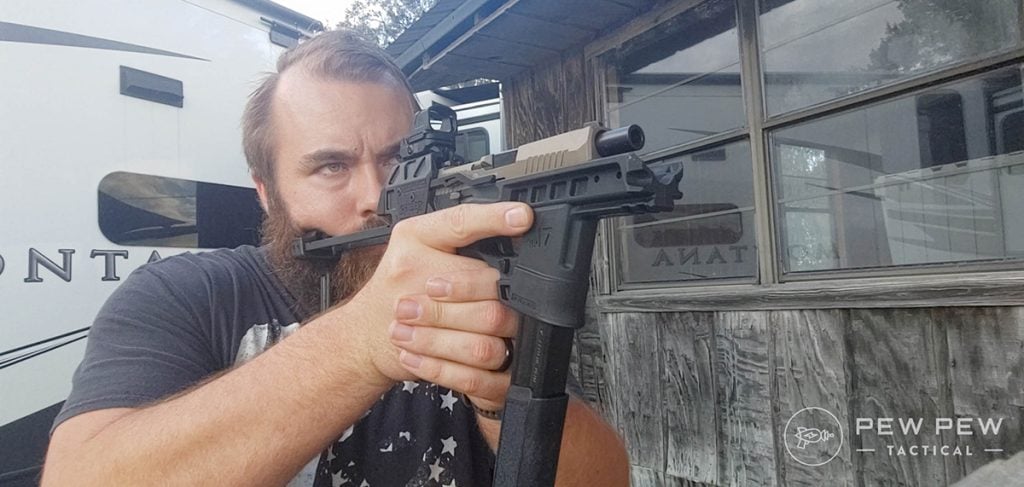 This includes your typical failure-to-stop drills, 1-5 drills, and even some slow-fire precision shooting. Well, as precise as a handgun gets.
A dot torture target provided 10 different 2-inch targets and plenty of opportunities to place round after round into those little circles.
Throughout all this shooting, the RS-10 never flickered, fluttered, or even came close to anything akin to zero loss. It shrugged its way through each and every round without complaint.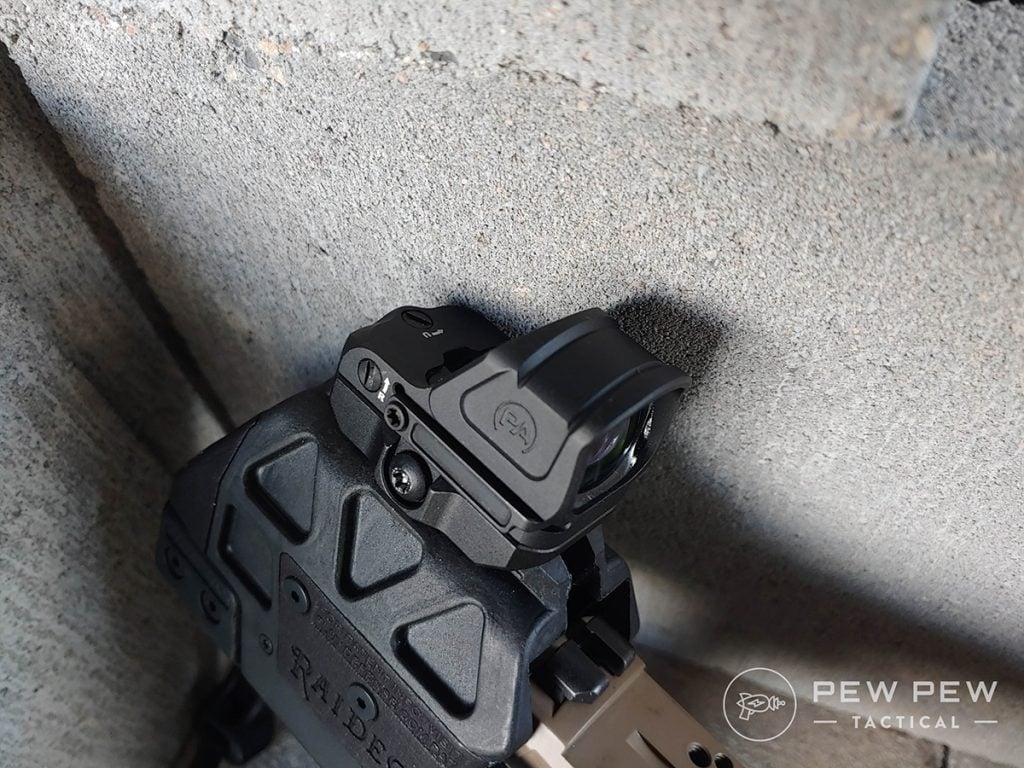 The dot was easy to use, even with the ever-present annoying reflection.
I dropped back to 50 yards with the Flux Raider and RS-10 and began dropping rounds without complaint into a 10-inch gong.
Standard recoil did nothing to make the optic stumble, but what if I dropped it?
Durability
I'm only borrowing the Flux Raider, so I can't drop it. I did, however, attach the optic to a red training gun from ASP and dropped the hell out of it, nine times to be exact.
399
at Armament Systems and Procedures
Prices accurate at time of writing
Prices accurate at time of writing
It was dropped three times on the right side, three on the left side, and three on the top of the optic. Never once did the optic flinch or flex in its ability to hold zero. It's impressive in its design and ate up some random abuse without issue.
Dropping it on the ground got the sight dirty, so I sprayed it with a little water to clean it up and see if it had any effect. The optic washed right up without any ill effect.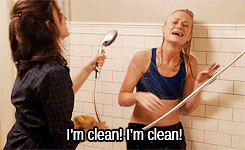 By the Numbers
Reliability: 5/5
Some drops and some water didn't stop the RS-10 from working. It's impressively durable for $200.
Ergonomics: 5/5
The optic is lightweight for its class and is still made from 7075 aluminum. The controls are placed nicely for easy access, and both the buttons and adjustments are tactile and audible
Clarity: 3/5
I could deal with the blue tint, but the reflection of the U and arrow really takes the optic down a notch. This is a non-issue on normal handguns. If you can get past that on rifles or PCCs, then the RS-10 is pretty dang clear.
Ease of Use: 4/5
Two mounting options and a common footprint make it easy to attach the optic to your firearm of choice. I took off a single point for how hard it is to remove the battery from the optic.
Overall: 4/5
199
at Primary Arms
Prices accurate at time of writing
Prices accurate at time of writing
Final Thoughts on the RS-10
If you are tossing the RS-10 on a handgun, then you'll have zero issues. On larger guns, the reflection might get to you — it got to me.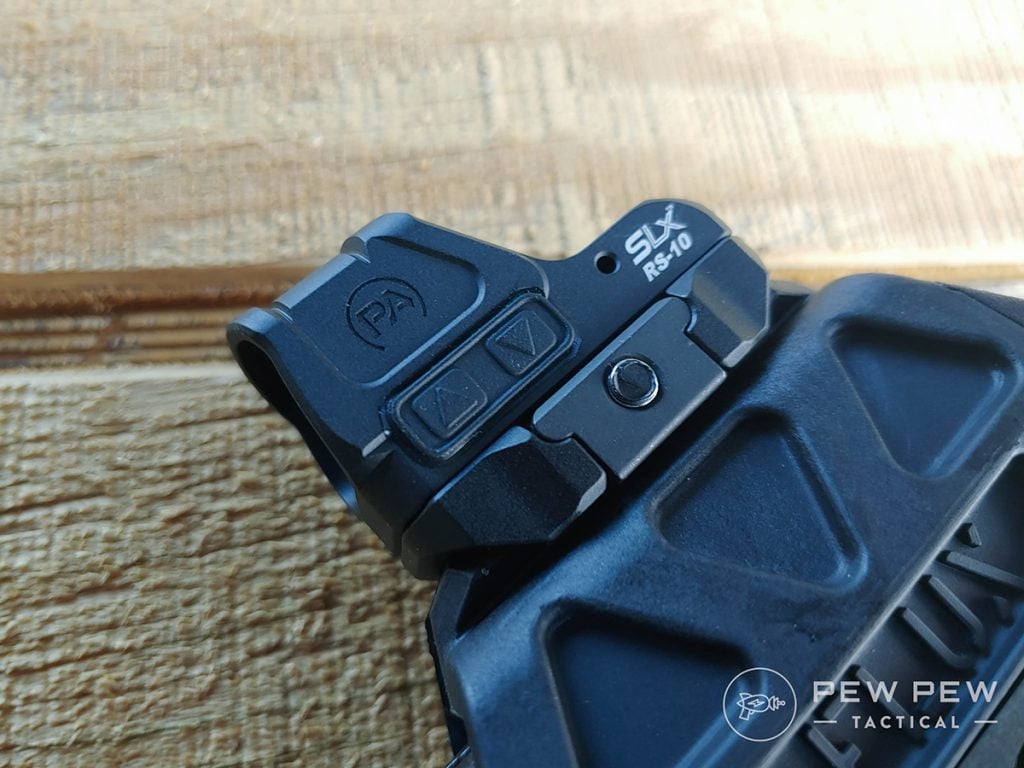 Aside from that, the RS-10 is a fine optic that's affordable, well-made, and designed to last. It's the best optic at that price point that I've ever experienced, especially in the red dot world.
Primary Arms has opened up a new class of optics, and the future is promising.
What are your thoughts on the RS-10? Let us know in the comments below! Still want more options? Check out our article, the 11 Best Pistol Red Dot Sights [Real-Views + Video].