While I definitely prefer our modern firearms for things like home defense and concealed carry, sometimes you just can't beat a good 'ole throwback.
And today, we're kicking it WWII style with the Pioneer Arms PPS43-C, a Polish pistol-style firearm.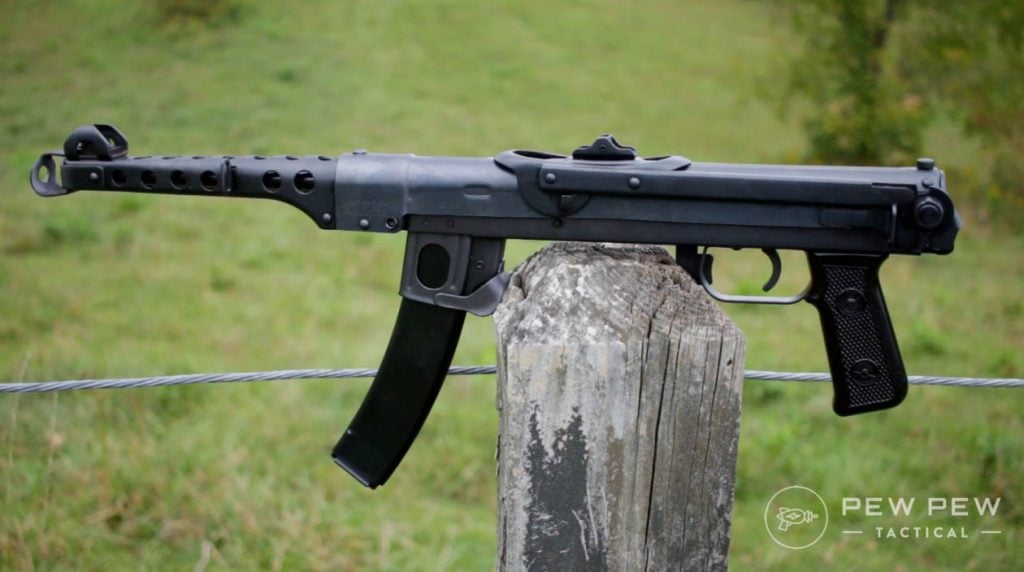 It's weird and clunky…but I like it, and I'm going to tell you why. We'll run you through the specs and get it out to the range. Hopefully, I'll help you decide if you need a little historical fun in your arsenal.
So, keep reading to jump into some Eastern European fun!
Feel free to check out my full video review to see it at the range.
As always, make sure to check out Pew Pew Tactical on YouTube for more guns and gear.
Table of Contents
Loading...
What's the PPS43-C Anyway?
The PPS43, otherwise known as the Pistolet-Pulemet Sudayeva model of 1943, came from the Soviets needing a compact, mobile gun.
Its predecessor, the PPSh-41 was a bit too long for tank crews and some ground troops like mobile recon. So, the Soviets went on the hunt for a smaller SMG.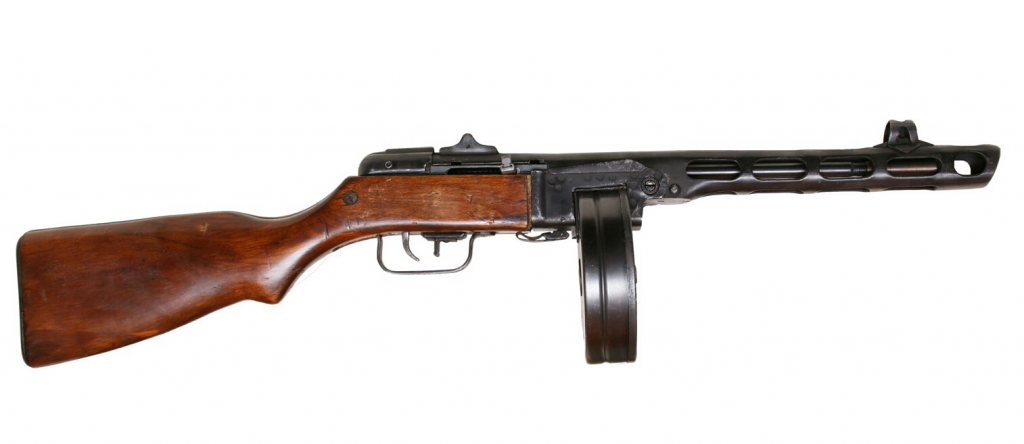 The result was the PPS42, created by Alexei Sudayev and launched in 1942. The following year in, you guessed it, 1943 Sudayev launched a newer version with some minor tweaks known as the PPS43.
Ultimately, the design was pretty successful with nearly 2 million PPS43 firearms made in just three years.
It was license-produced in Poland in 1946 and Pioneer Arms continues to make these cool WWII-era guns in the famed Radom Plant.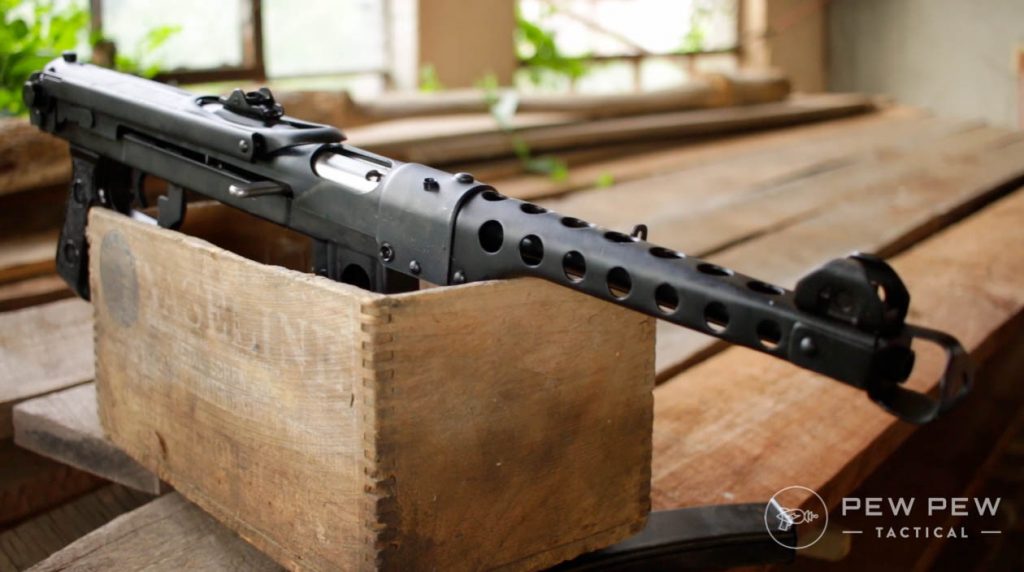 Give Me the Specs
The PPS43-C comes straight from Poland, courtesy of Pioneer Arms.
It offers a pistol-style…and let's go ahead and get this out of the way right now…
598
at Gunprime
Prices accurate at time of writing
Prices accurate at time of writing
It ships with a gorgeous folding stock that is welded into a closed position.
To meet ATF standards for a pistol, it can't have a stock. If it had a stock, it would be a short-barreled rifle and subject to the National Firearms Act. So…no stock it is. Thanks, ATF.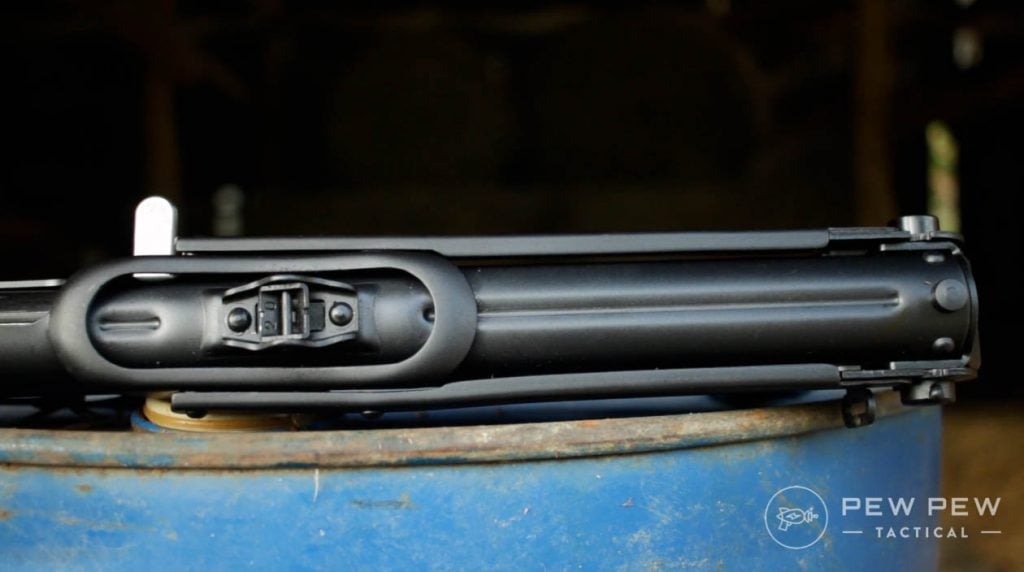 Unlike its grand-daddy — the original PPS — this model features a closed-bolt, blowback design. And, of course, it's semi-automatic, chambered in 7.62 x 25 Tokarev.
That said, I got the other model chambered in 9mm.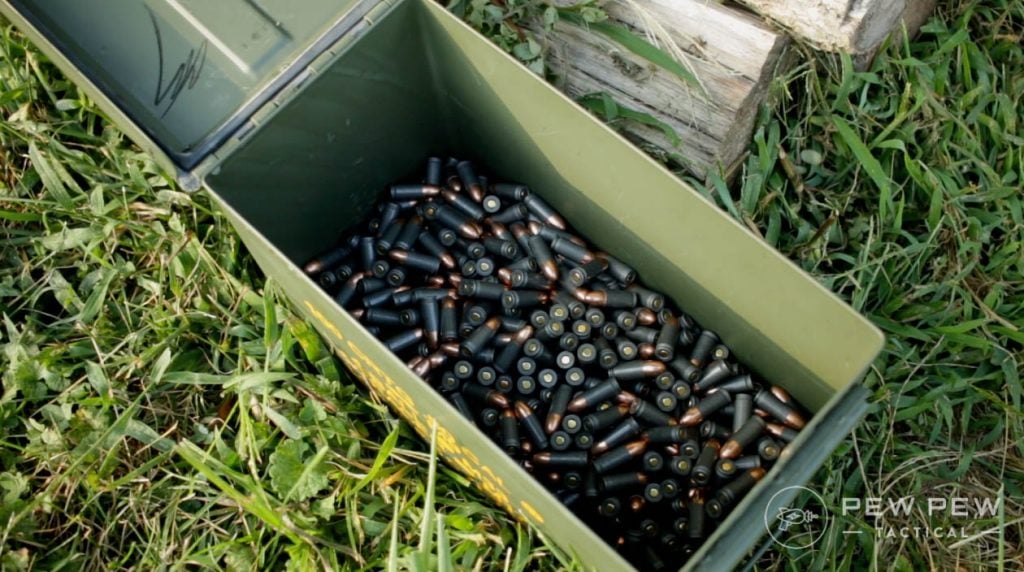 The barrel measures 10-inches and comes shrouded. Also, import marks are super minimal.
Most of the gun is stamped steel, not a big surprise.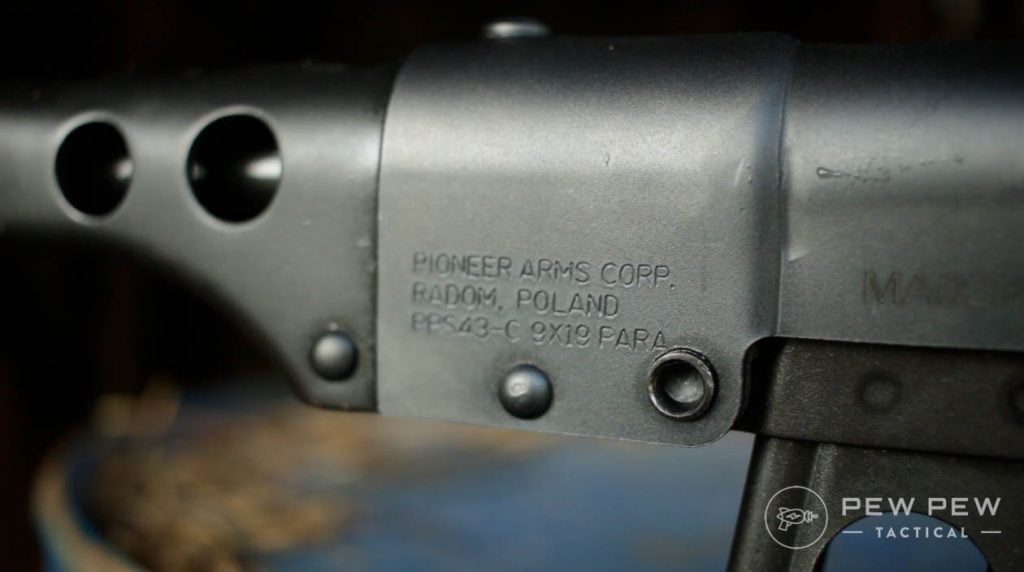 I said it was clunky and, yeah, it is. But that means it's pretty durable and robust.
Legit apocalypse gun.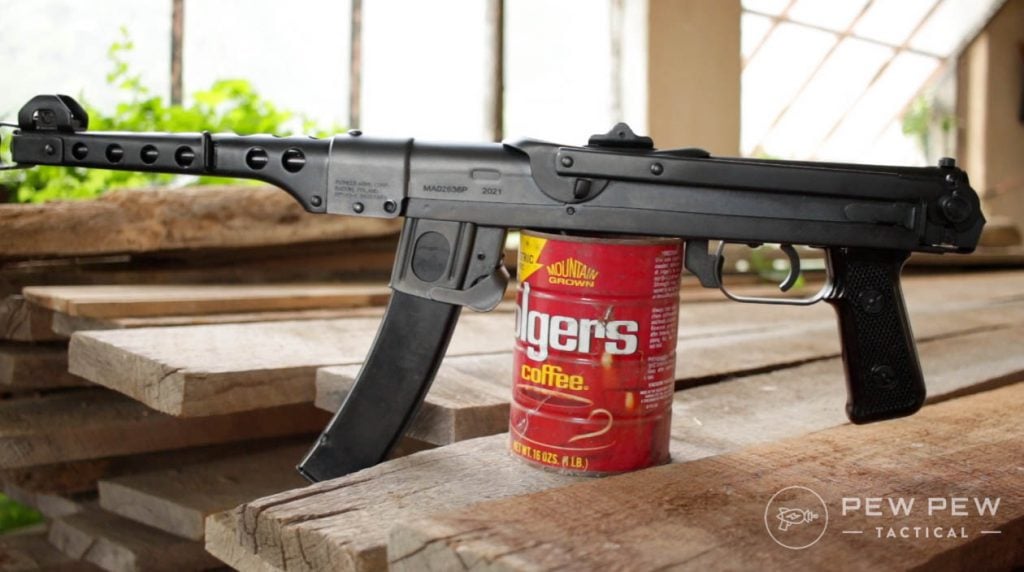 Ergonomics or Lack Thereof
Lesson number one that is incredibly important: barrel shroud is not a grip. At all. Ask me how I know…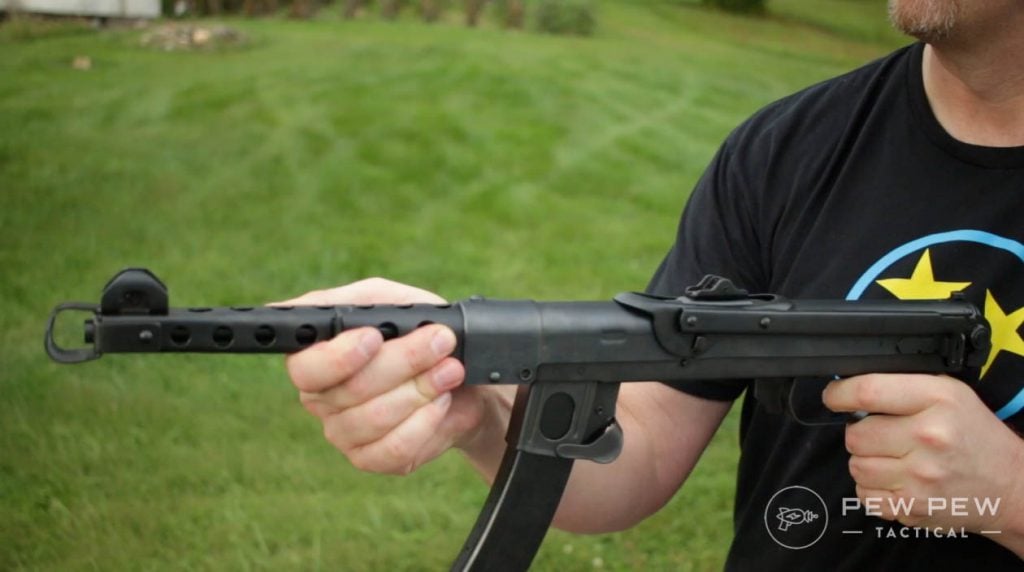 The only place to set your offhand is the magazine – just imagine you're in Stalingrad.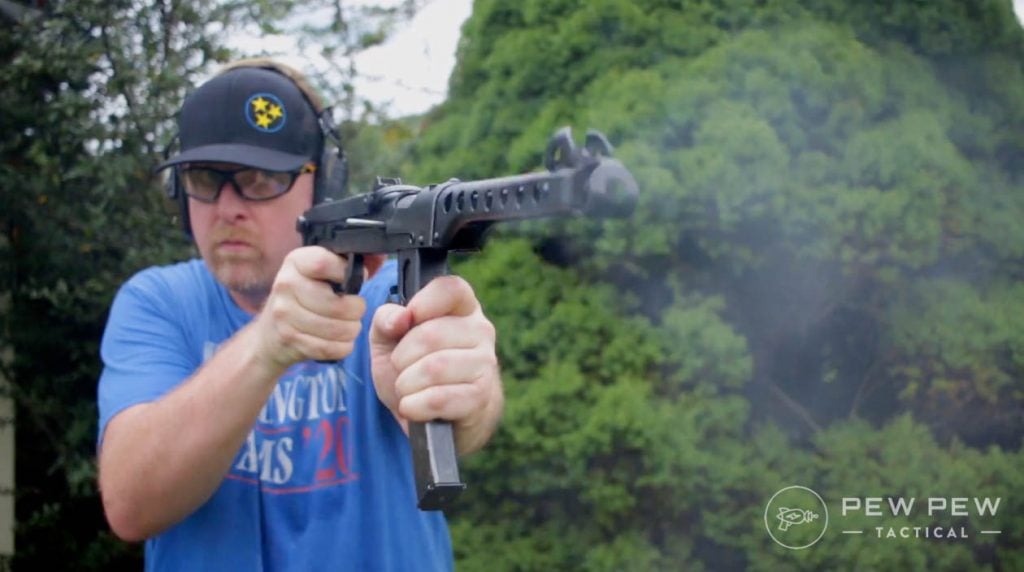 The grip opts for that Comm Bloc rectangle of plastic, while the charging handle is not a handle at all. It's just a piece of steel or maybe aluminum.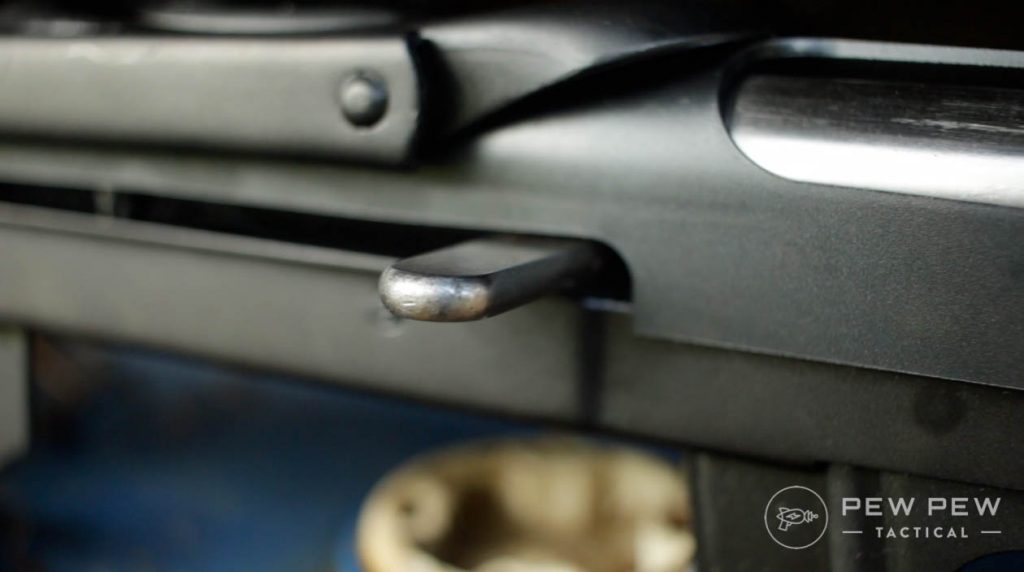 Ergonomics…yeah, not so much. But that's not really why you get one of these things, is it?
Looks go a long way, and, boy, does she have some looks.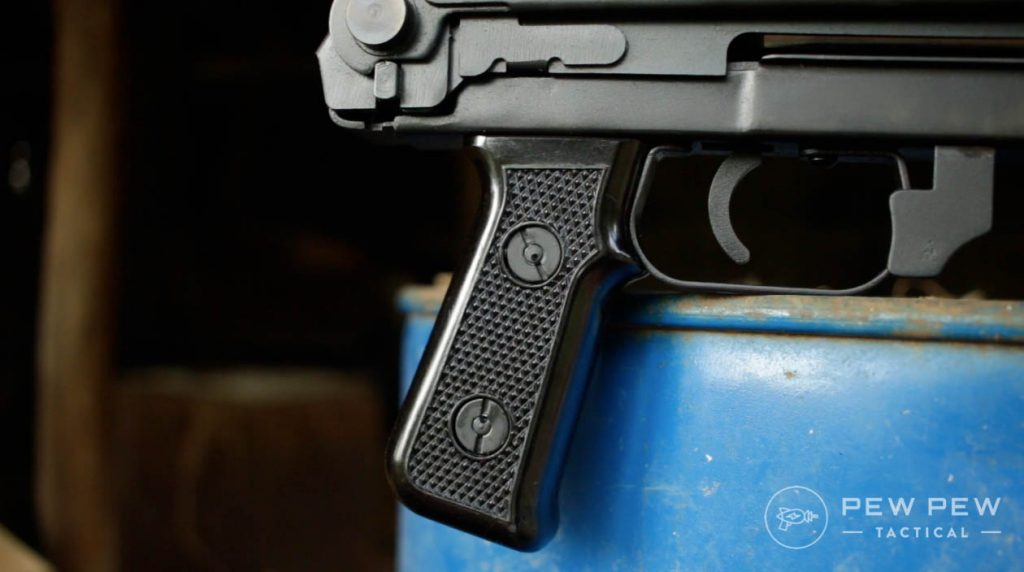 As far as aesthetics, holy smokes, I love this one.
Like I said in my Draco review, we live in the AR age, but I enjoy something different every now and then.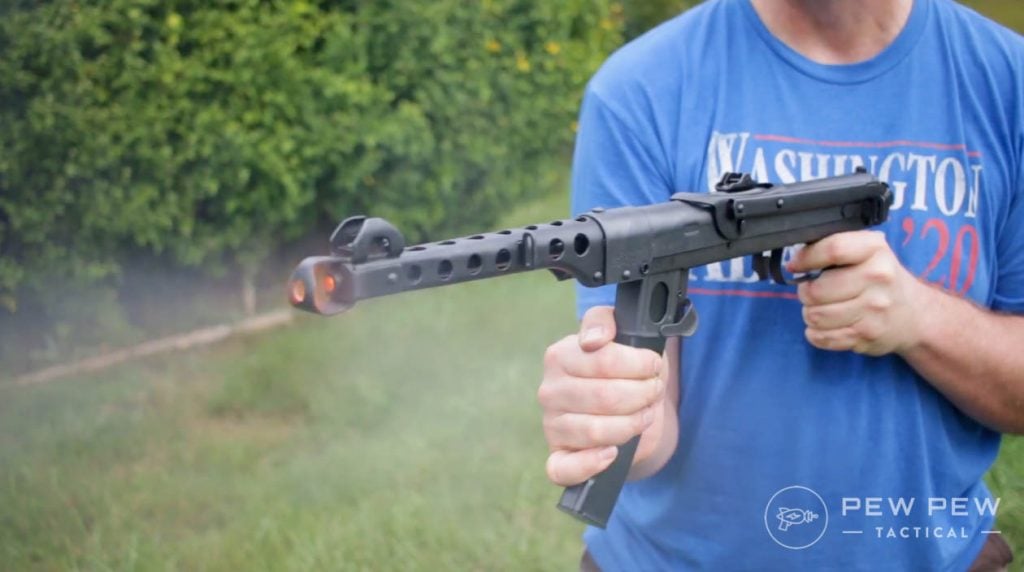 The PPS43-C…she's certainly different.

It comes in a cardboard box with two steel box 35-round magazines.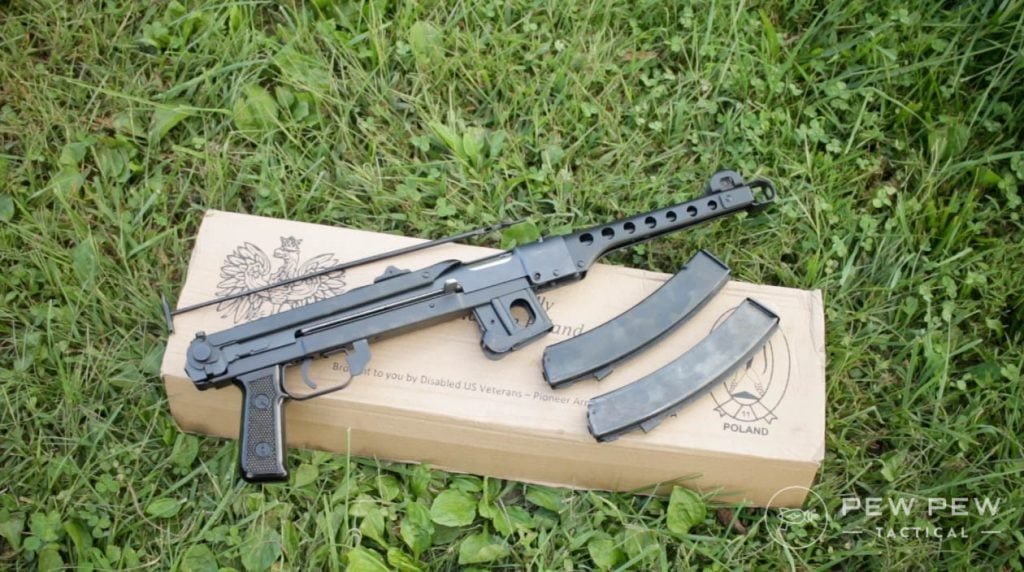 Mine have electric pen serial numbers. Welcome to Poland, y'all.
MSRP is around $750. Honestly, it's hard to get info on European guns, but the street price looks to be around $598.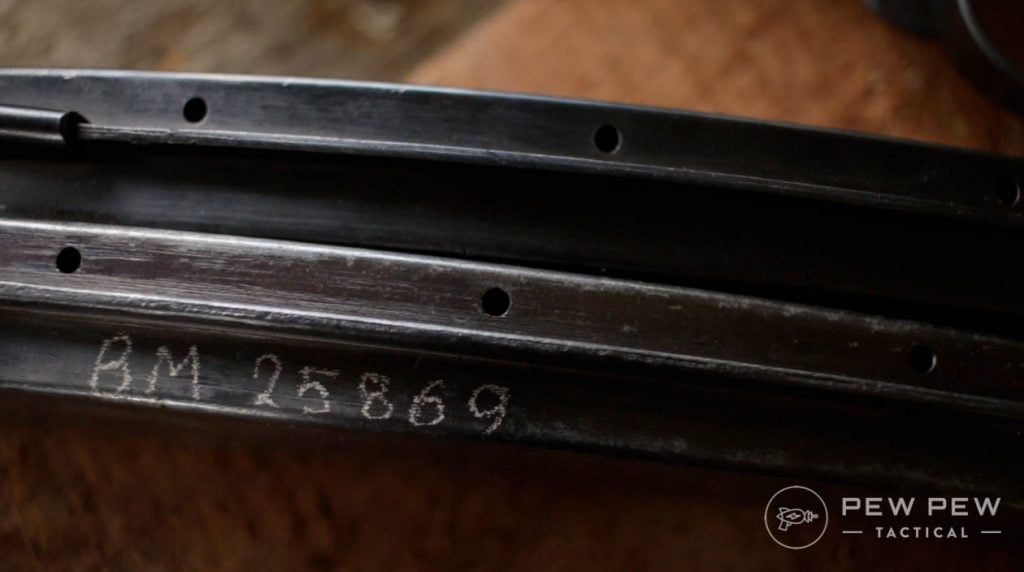 To the Range!
For this test, I ran it with only Russian steel-cased ammo, and she did great!

No lie, it was fun to shoot.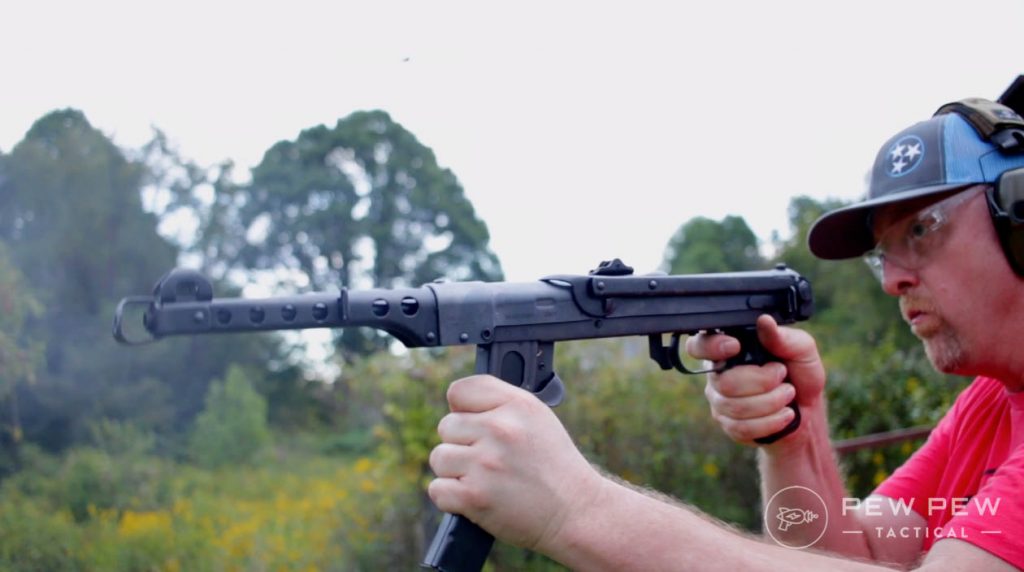 Fully loaded, it weighs the better part of 9-pounds, and that means it eats up recoil.
The sights are what you'd expect — a flippable box in the back and a post up front.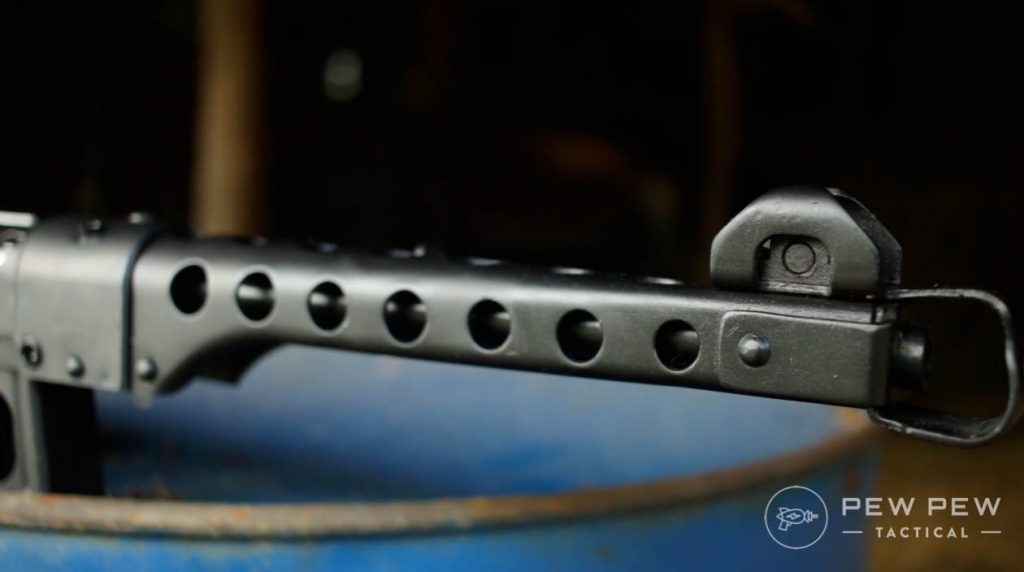 Trigger is what I'm going to call weird. It's got no take-up…just BANG. But it's serviceable and totally utilitarian.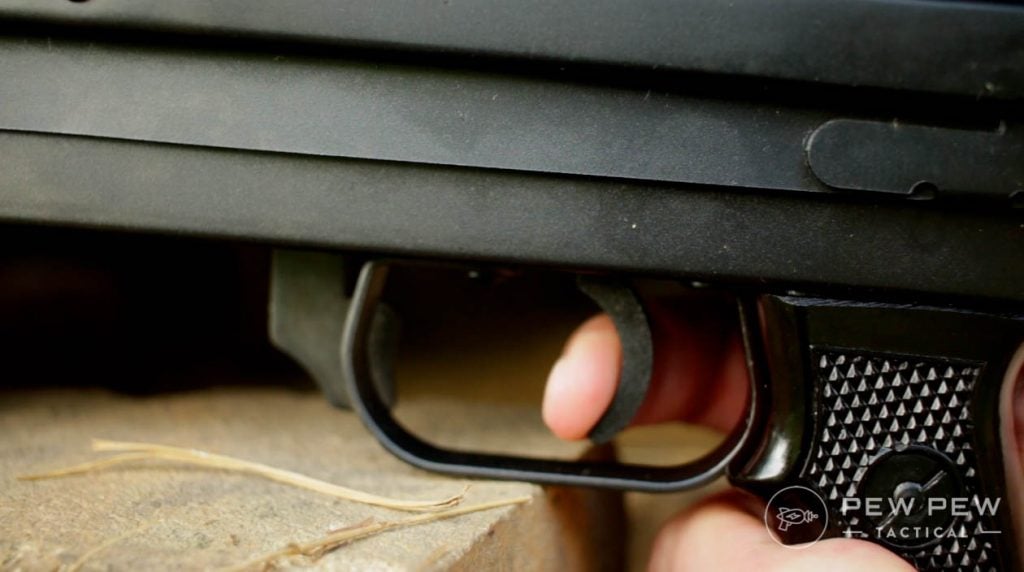 Without a good way to really hold this, I basically shot from the hip the entire time. So, we're not focused on groups here.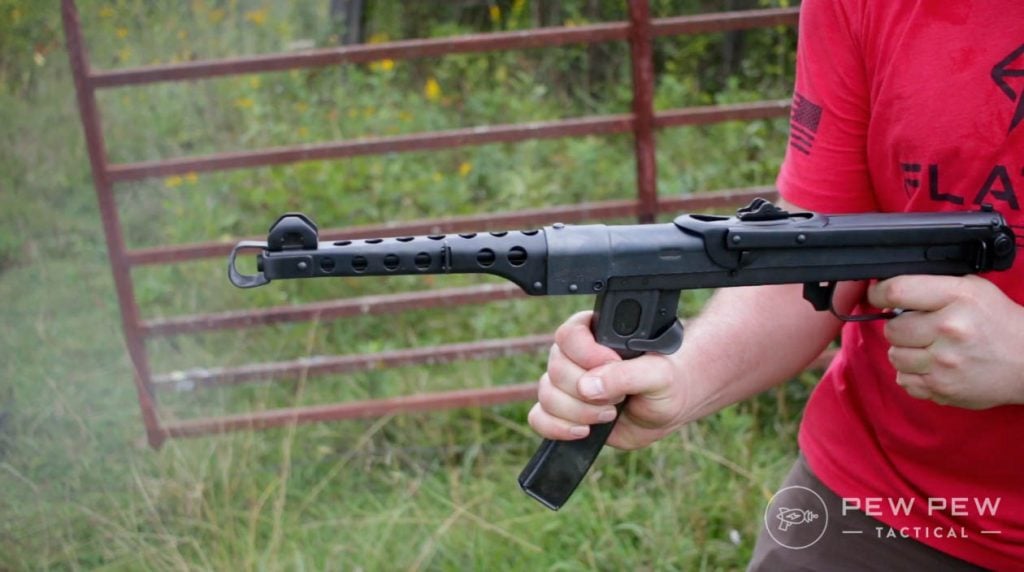 But that's not why you get a gun like this, is it? Nope, you get one to do exactly what I did…let 'er rip!
I had a blast at the farm watching my shots up on the hill. And it's got this weird POP POP POP sound that I think is neat-o.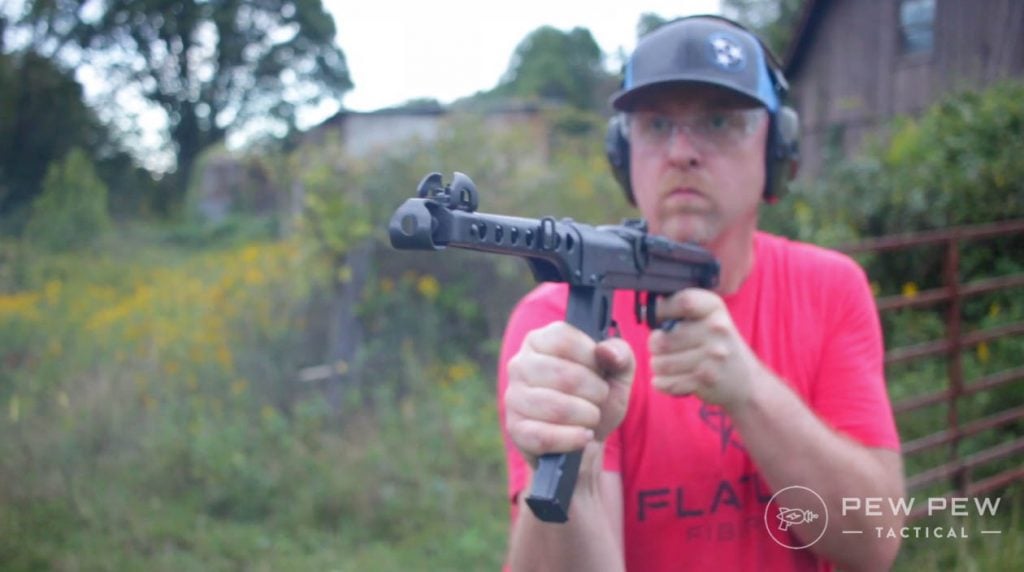 Overall, it fed, fired, and ejected, but I did encounter one hiccup…
Downside
As far as shortcomings, I did a 500-round test with a brand-new gun out of the box.
Twice, the gun fired, loaded a new round…but the trigger didn't reset.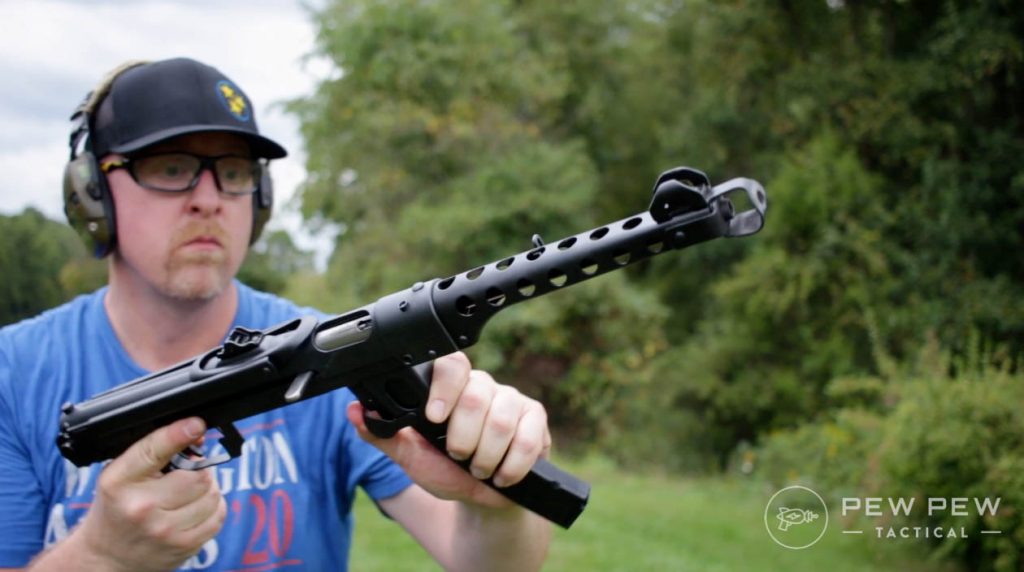 But I racked the charging handle, and it solved the problem.
I don't claim to be an expert on Polish guns, so PPT audience… is the trigger thing a known issue? Or is it just this sample size of one? Let me know in the comments below.
By the Numbers
Reliability: 4/5
Again, not sure if this is just a new gun or it needs some lube, but the trigger didn't reset twice. That aside, she runs like a champ.
Ergonomics: 1/5
Ergonomics on the PPS43? LOL.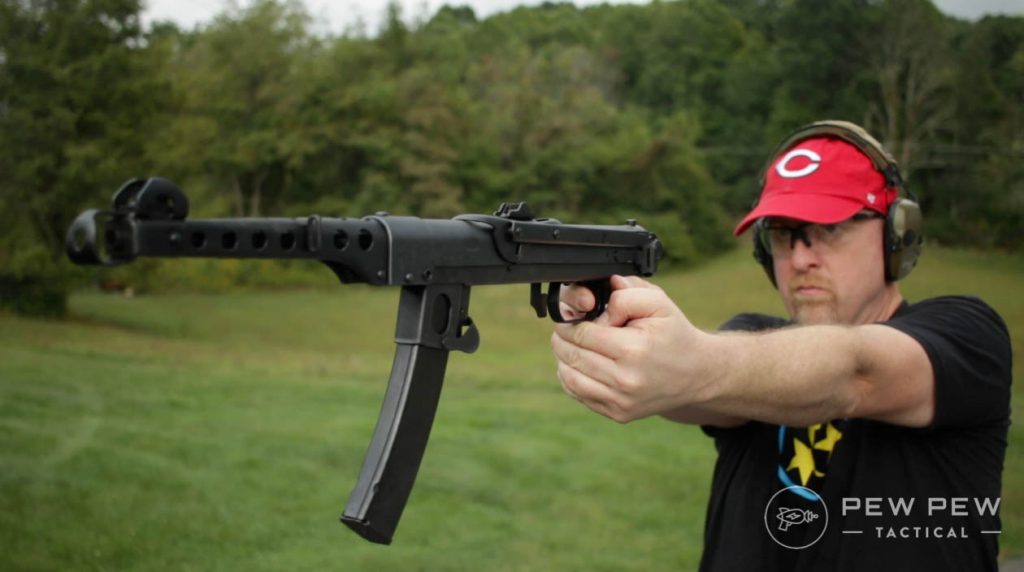 Accuracy: ?/5
I shot from the hip. While gripping the magazine. I have no idea on accuracy…but it was fun.
Customization: 1/5
Uhhh, you could paint it?
Value: 5/5
WWII history, big cool factor, a blast to shoot, and two steel mags? You can't put a price on fun like this. Well, you can…it's $598.
598
at Gunprime
Prices accurate at time of writing
Prices accurate at time of writing
Overall: 3/5
This number is misleading. Ergos and customization drag it down. But that's because we're grading a 1940s gun with a 2020s scale. Don't be disheartened, this one is rad.
Conclusion
Overall, I had a great time with the Pioneer Arms PPS43-C. It's weird, but boy, it runs great and is a welcome change of pace at the range.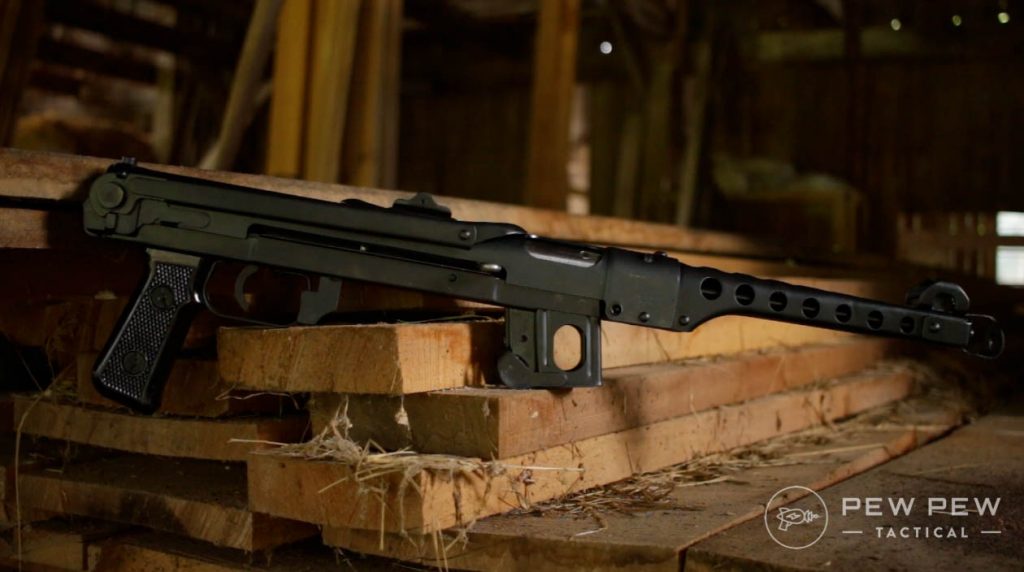 Not to mention, you get a lot of value here. This gun will go through the apocalypse; you get two steel magazines with a total capacity of 70 rounds, all in the $600 range. Not bad.
598
at Gunprime
Prices accurate at time of writing
Prices accurate at time of writing
Again, you can see it in action in the video below!
What do you think of the Pioneer Arms PPS43-C? Let us know in the comments. Dig throwback guns? Check out our review on the Swiss Luger!