Looking for the lightest barrel possible for your AR-15?  Or not sure exactly how to permanently attach a muzzle device to a 14.5″ barrel?
Then the Faxon 14.5″ Pencil Barrel with a Permanently Attached 3 Port Brake ($260) is the key.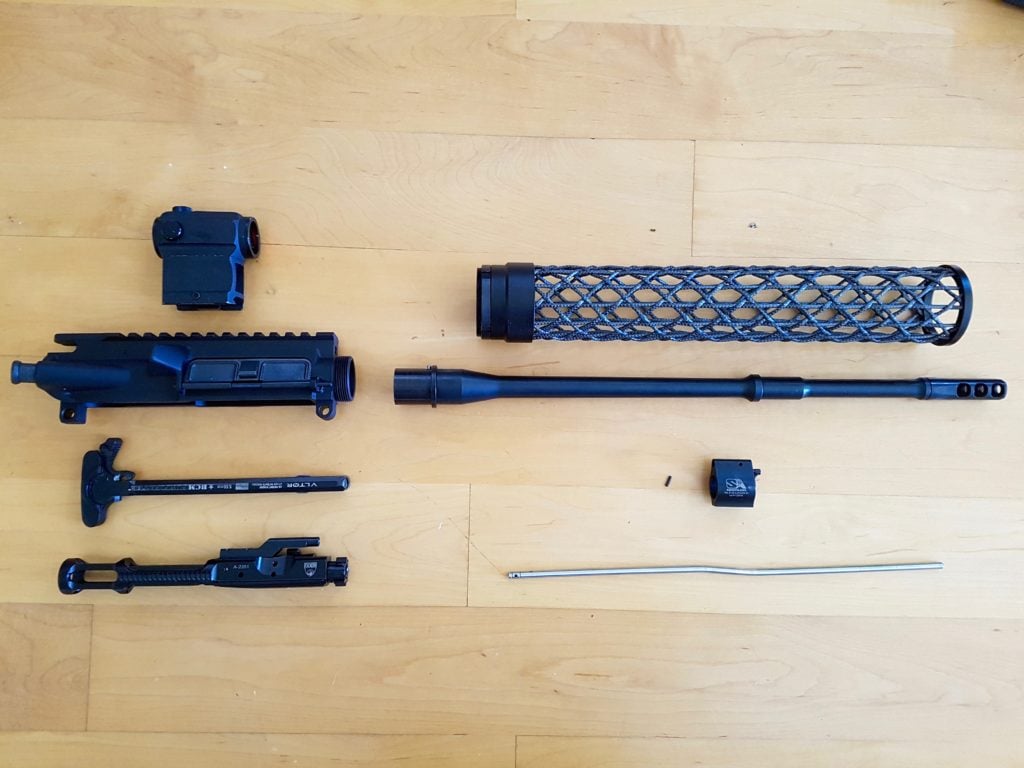 I'll walk through my lightweight build, why the Faxon barrel is so awesome in terms of weight savings and pinning, accuracy tests, general shootability, and more.
About the Faxon 14.5″ Pencil Barrel
For me, the Faxon barrel solves three big problems all at once…
1.  Ultimate Weight Savings
A normal 16″ profile barrel (Government) can weigh up to 2 lbs (32 oz), but by going the "pencil" profile you dramatically shave off tons of weight.  Losing weight from heavy steel is a lot easier than losing aluminum in your upper and lower.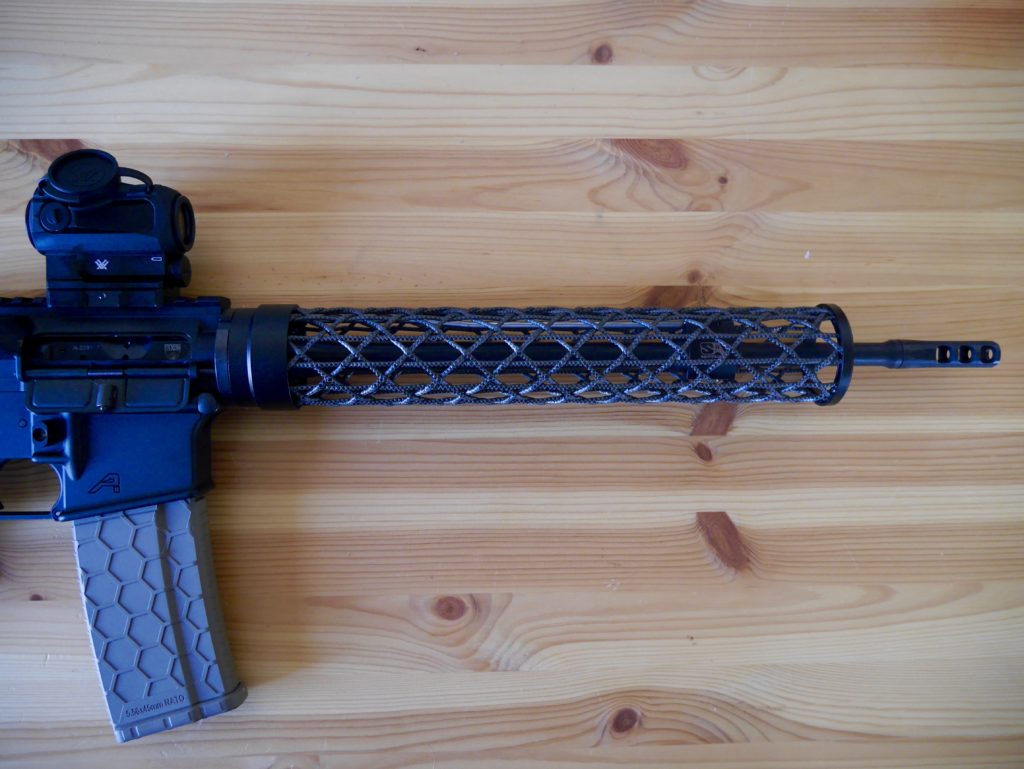 The 14.5″ barrel weighs in at 18.4 oz!!!
And when combined with the Brigand Arms Carbon Fiber Handguard ($300, 4 oz)…you've got some serious weight savings.  See our Lightest Handguards article for more choices.
2.  Minimum Length
However…when you go 14.5″ you can run afoul of laws which require minimum length to be 16″.  Sometimes even owning a sub 16″ barrel without adequate paperwork is illegal.
That's why it's so great that Faxon offers already pinned/welded 14.5″ barrels with muzzle devices that bring it up to that magical 16″ number.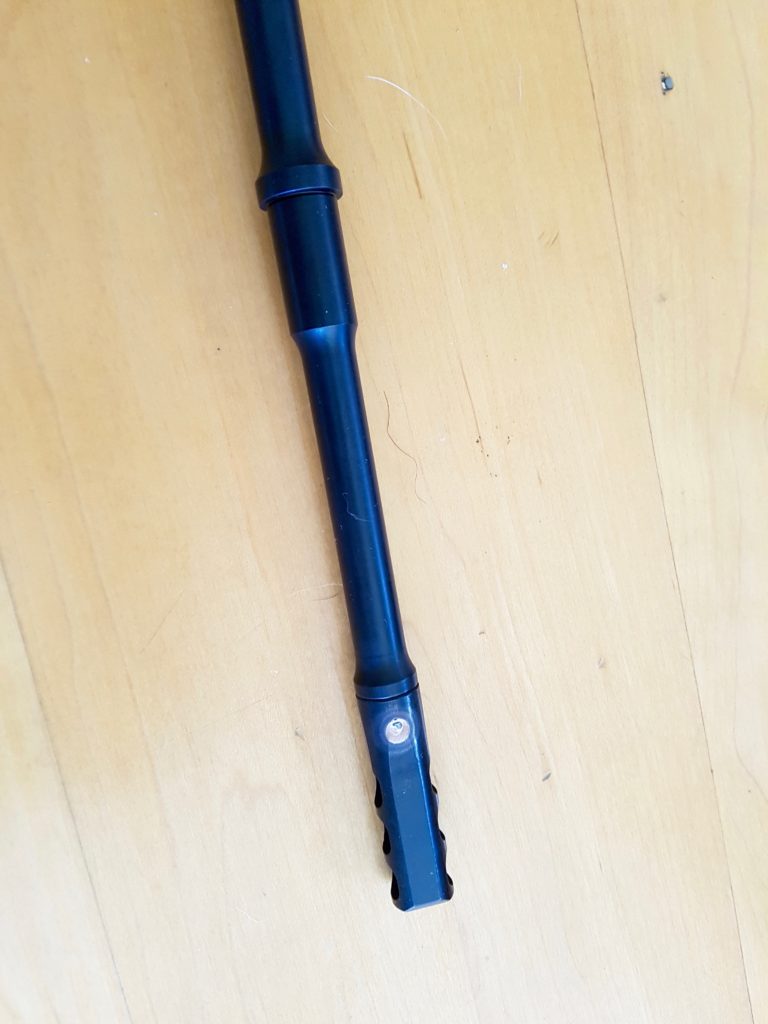 With a muzzle brake it weighs in at 19.52 oz.  There's also the option of flash hider too.
And I actually like how the weld is not covered up…makes it much easier to show that it is indeed permanently attached.
3.  Changing of Gas Blocks & Barrel Nuts
And when you have a permanently attached muzzle device…it's usually too thick to allow re-installation of a new gas block.  So the one you have when you attached it is the one you're stuck with forever.  Same thing with some barrel nuts.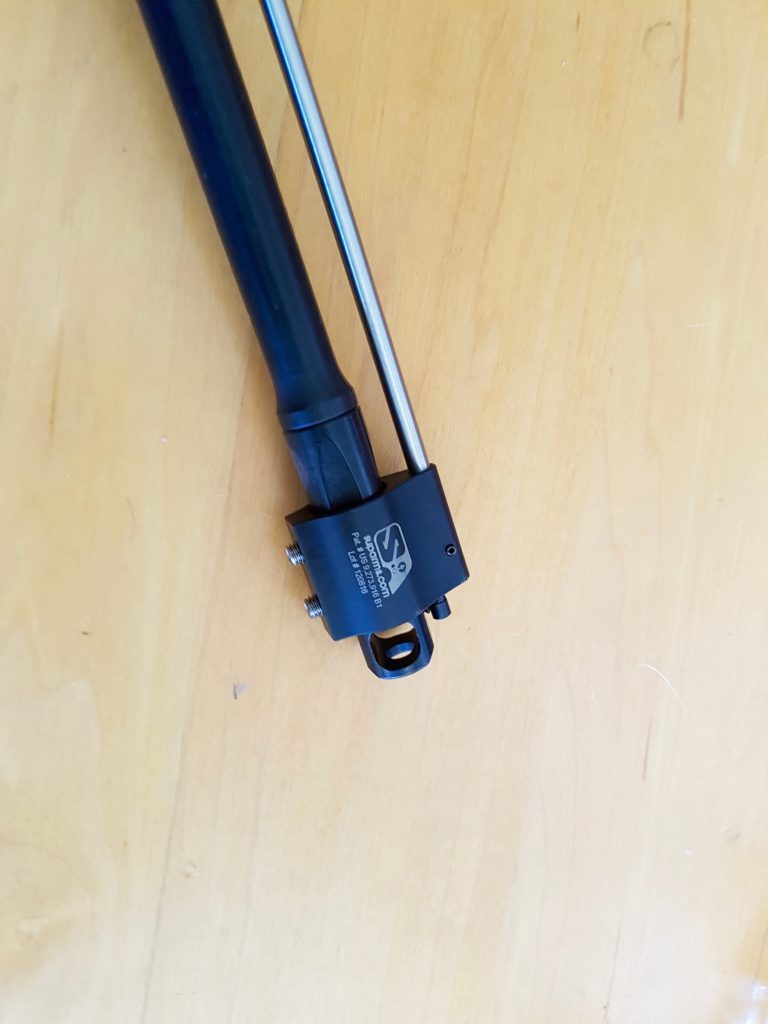 Faxon had the genius idea to make the muzzle device the same thickness as everything else you'd add…so now you can change up your gas blocks and nuts all you want.  Shown with a .625 inch Superlative Arms adjustable gas block (full review).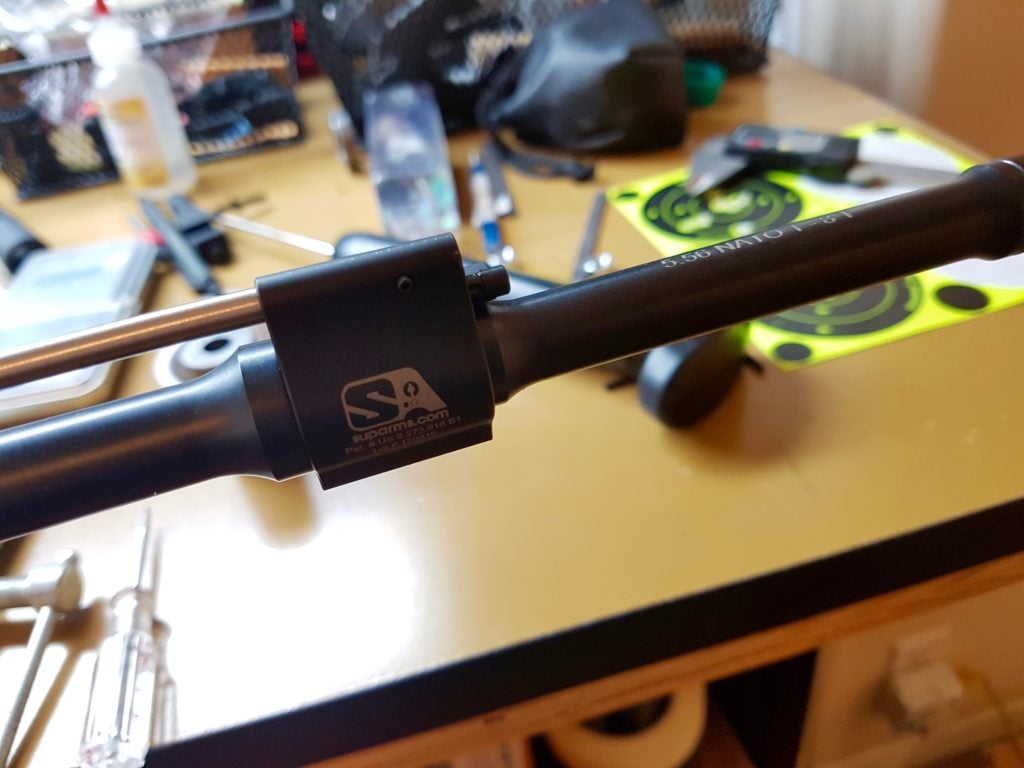 Who Is It For?
To sum up, the Faxon is perfect if you are…
Looking for the lightest barrel
Looking for the shortest barrel without having to deal with regulatory stuff
Don't want to permanently attach a muzzle device yourself
Want the freedom to change up gas blocks or handguards on a pinned 14.5″ barrel
Check out our full review of Faxon's 16″ pencil barrel if you want a more "regular" lightweight solution.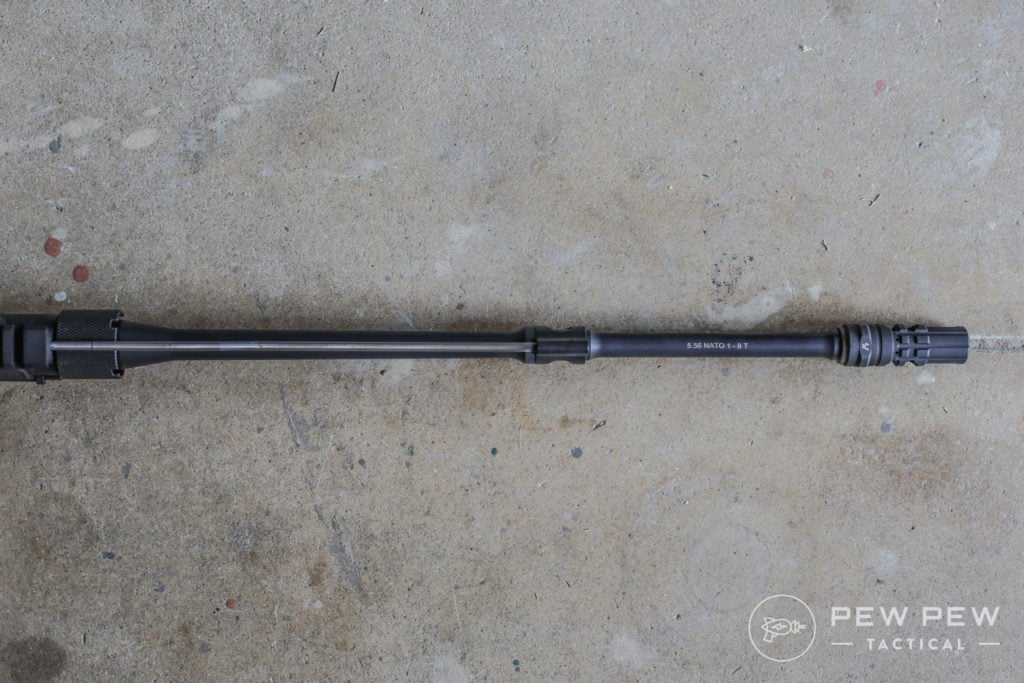 Or their proprietary profile…the Gunner which pulls together the best of the standard M4/Government profile and pencil characteristics.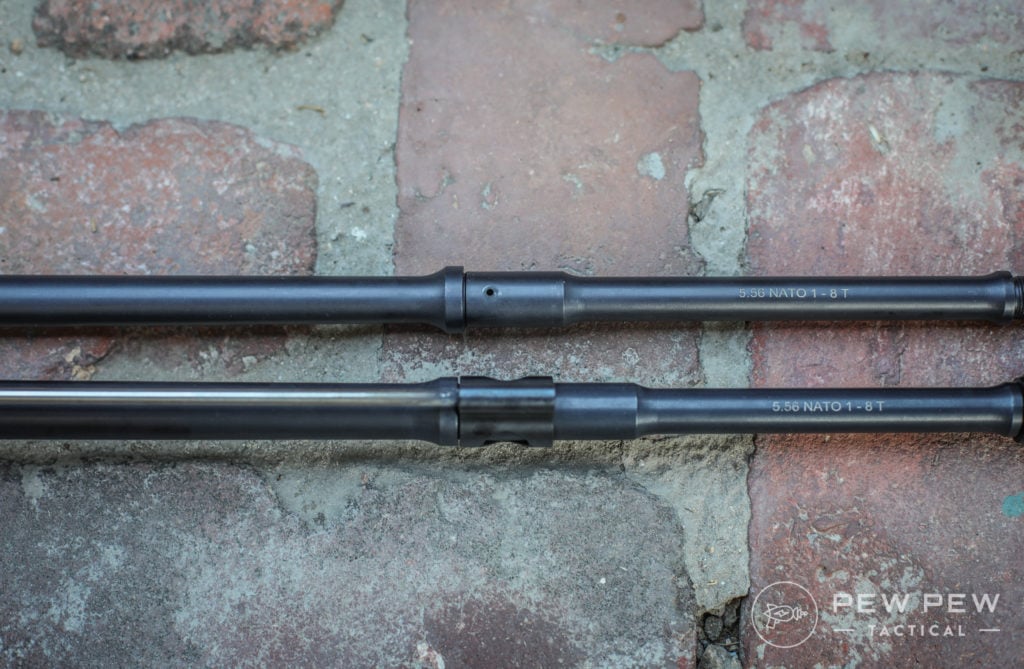 Fit, Feel, & Install
It is so tiny and light…my wife thought it was for a toy gun when it came in the mail.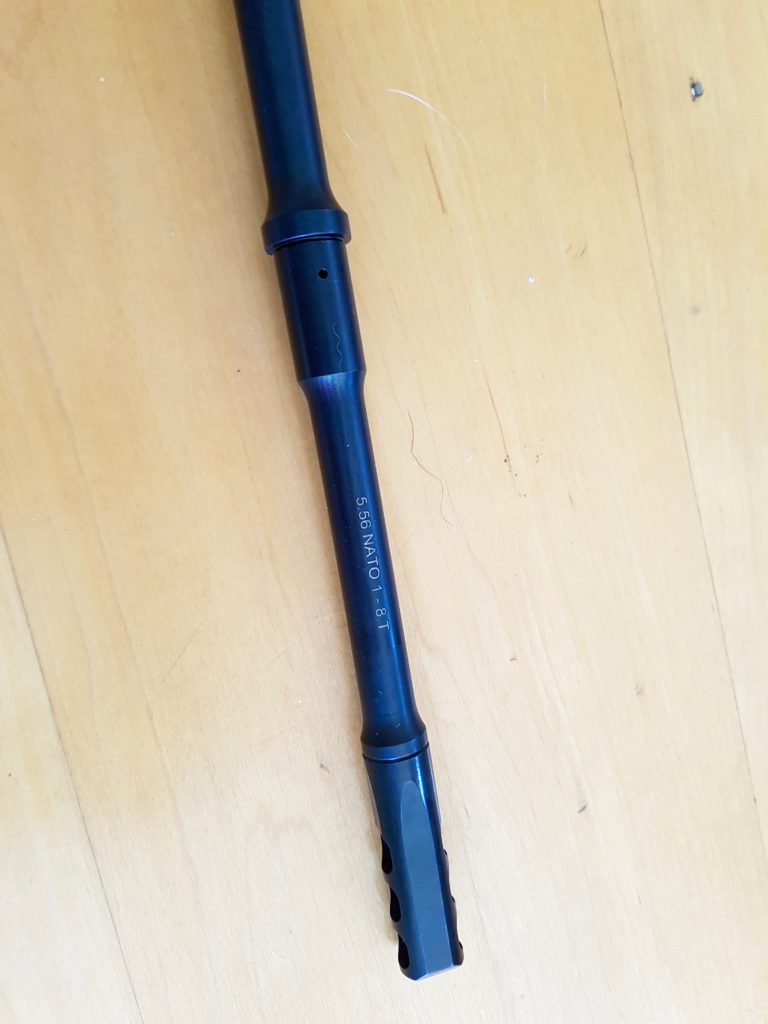 Cosmetically it was perfect (unless you count the weld), and it was a breeze to install if you have the right tools and instructions (How to Build an AR Upper).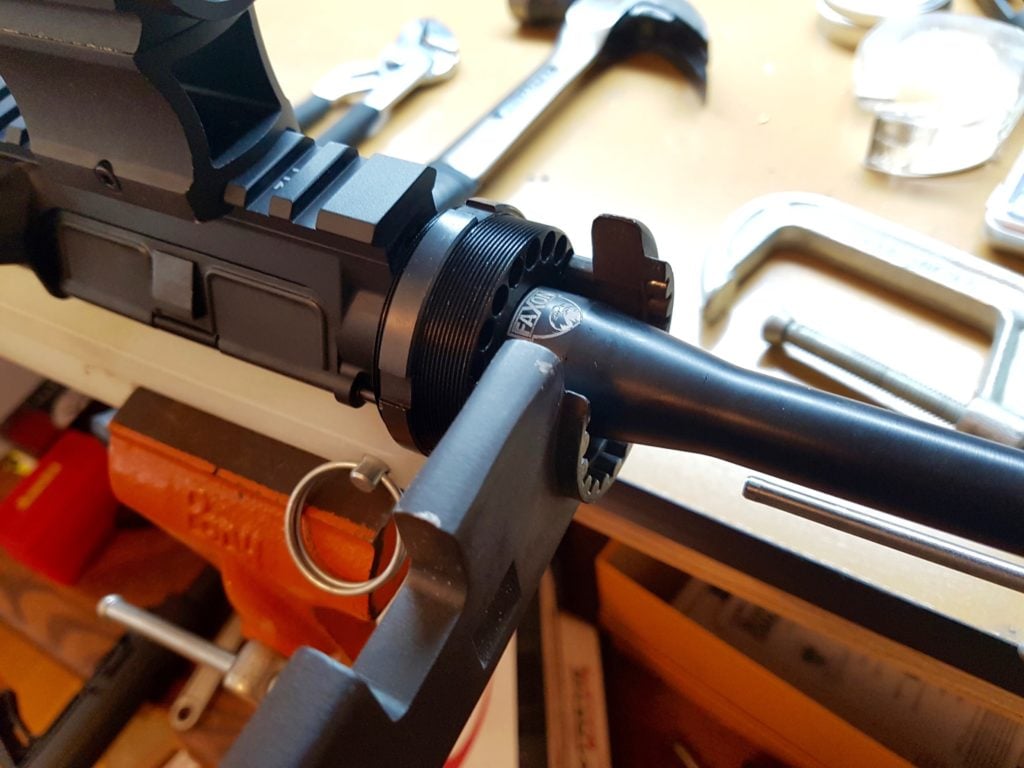 Now on to the good stuff!
How it Shoots
I cleaned the barrel the night before to get rid of any oil/preservatives from the factory.  And shot 80 rounds of PMC Bronze while standing and using a Sparc AR red dot ($199) on my special edition Pew Pew Aero Lower ($105).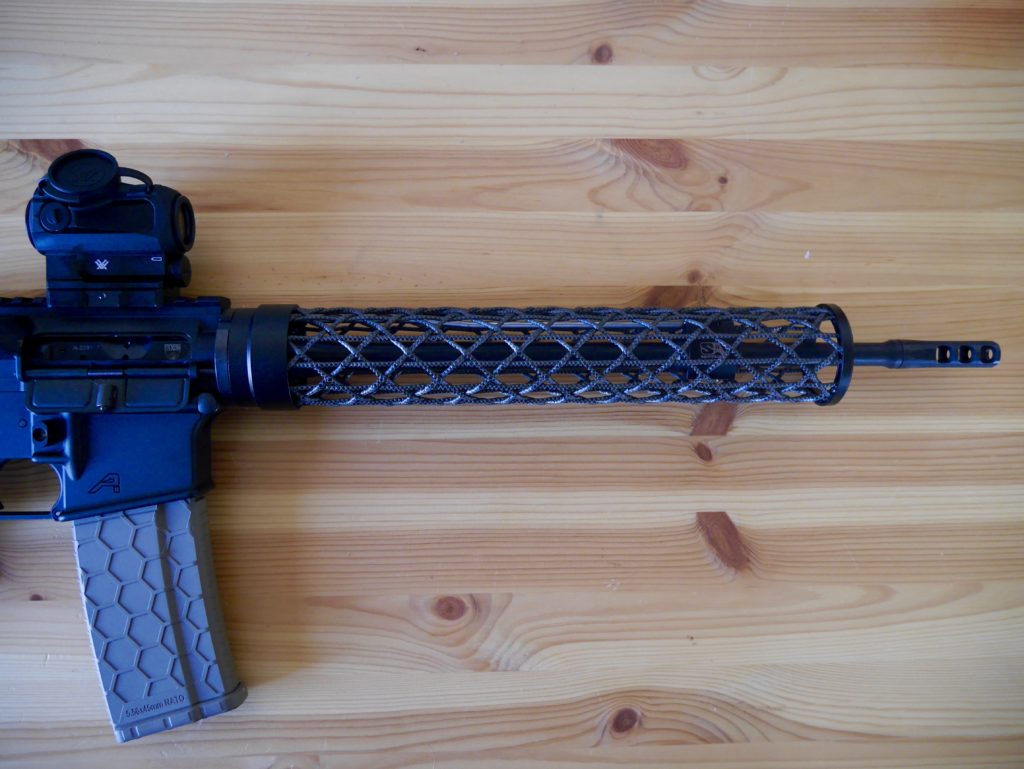 I tweaked the adjustable gas block which greatly helped lower the felt recoil…since one of the negatives of going super lightweight is less mass to absorb recoil.  Having a lightweight BCG ($250) and mid-length gas system doesn't hurt either.
It took a few 10 round mags to get used to the lightweight-ness…but soon I was able to nail the 100 yard gong with ease.
I didn't have a chance to run and gun (I'll be using it for my next comp) but standing and making transitions was soo much easier with the weight reduction.
Accuracy
After some breaking in, I went with my standard testing equipment that tries to take all my shooting skill out of the equation: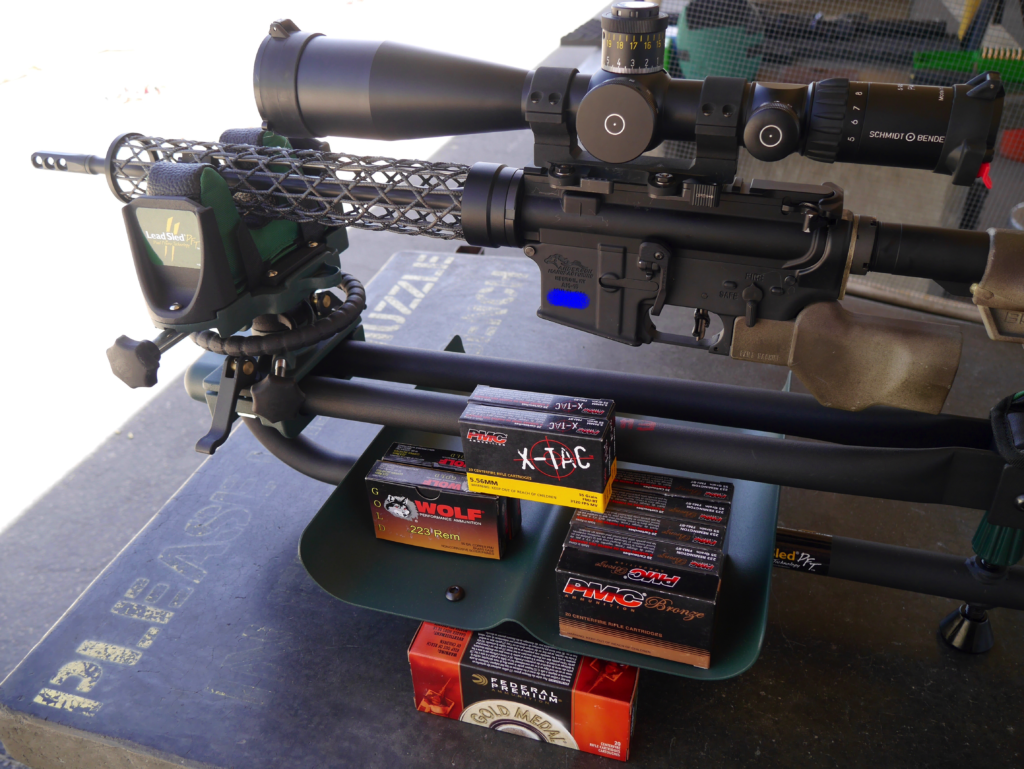 I zeroed in on the 25 yard line, did some 10 round chronograph testing, waited for the barrel to be cool enough to hold, and then shot 10 rounds at 100 yard targets.
I shot at a leisurely pace of roughly 1 shot every 10 seconds.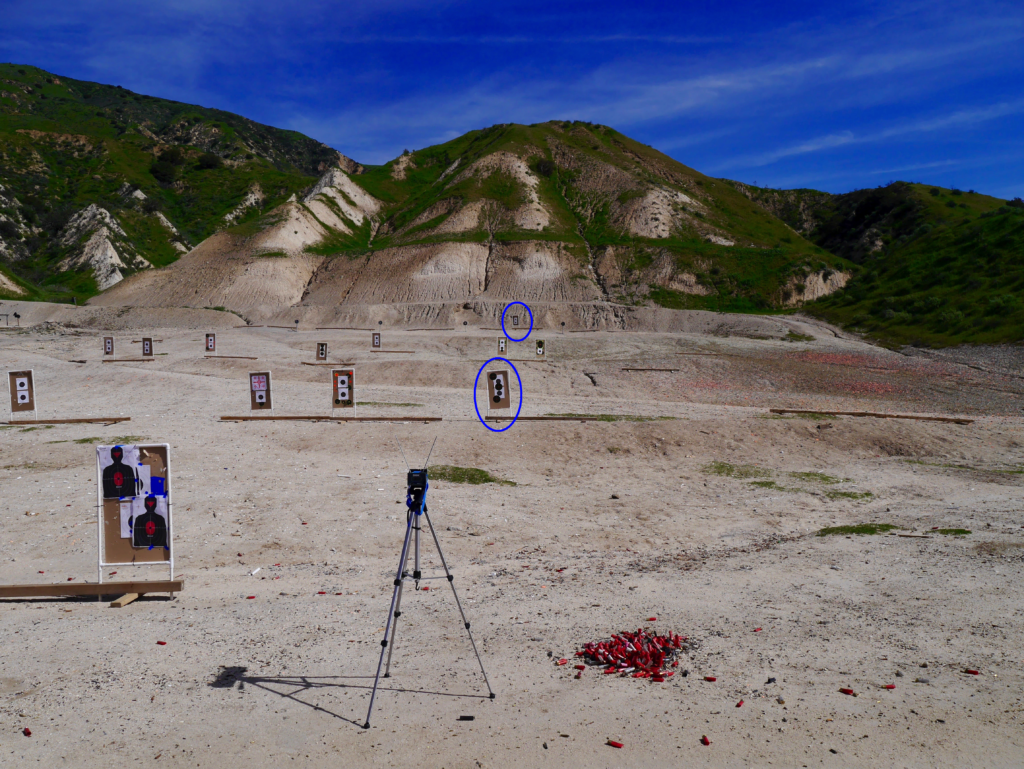 I waited for the barrel to cool down between each set of different ammo.  One thing I must say with pencil barrels is that it really heats up fast!  But it also cools down pretty quickly too (I'd estimate 3-5 minutes).
Results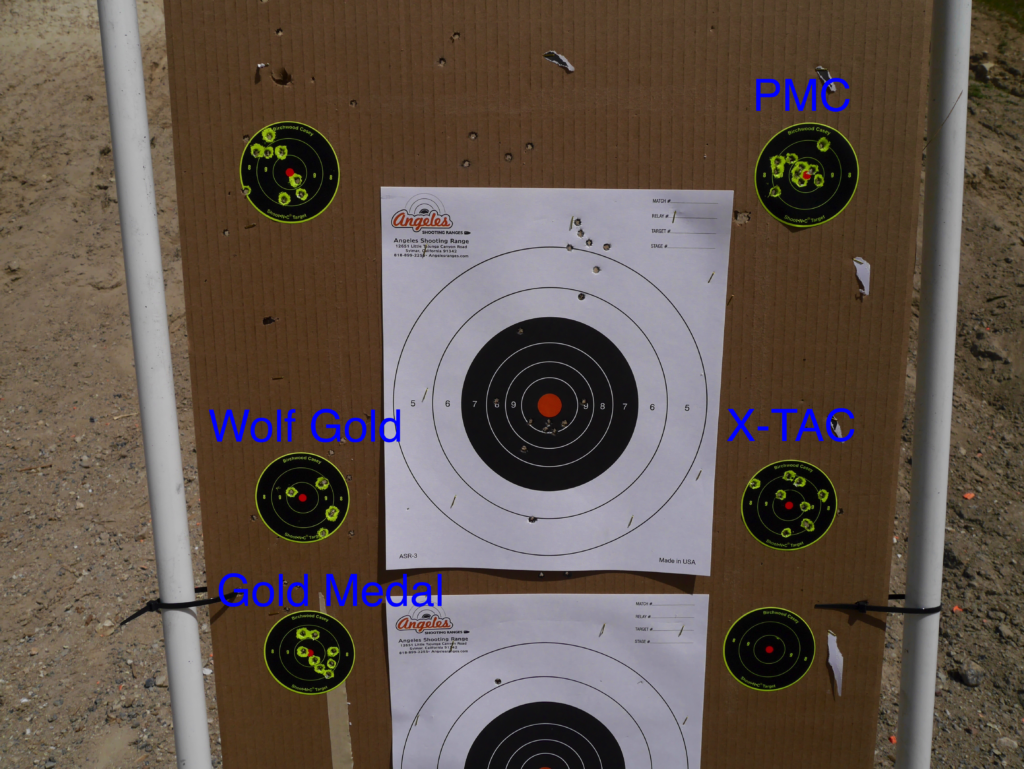 Just by looking, it seems that PMC Bronze takes the lead in terms of accuracy…even beating out the much more expensive Gold Medal match ammo.  It seems the 1/8 barrel twist likes the normal 55 gr instead of the heavier 69 gr.
One thing to note is that with Wolf Gold (which usually shoots hotter than PMC), there's missing shots on the target.  I remember being confused on my last few shots until I looked closer…
It looks like the groups really opened up and started hitting the cardboard.
X-TAC was ok and Gold Medal faired a little better.  Looks like the barrel likes the slightly slower .223 compared to 5.56 rounds.  US Quarter is ~1 inch.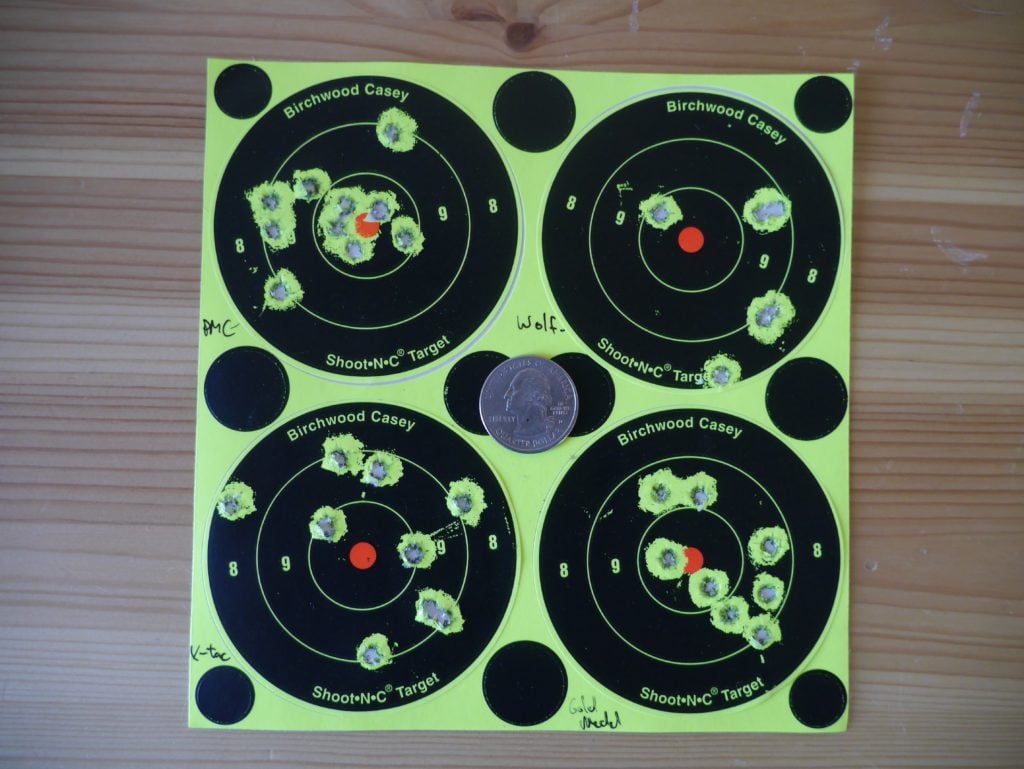 Velocity
I also wanted to see how much velocity was lost by going to the shorter 14.5″ barrel.
PMC: Average 2742 ft/sec, Standard Deviation: 24 ft/sec.  Compared to my average of 2900 ft/sec in a 16″ barrel
X-TAC: Average 2885 ft/sec, Standard Deviation: 31 ft/sec.  No previous averages for my other barrels.
Wolf Gold: Couldn't get any readings…it was super weird…I tried Wolf right after the PMC and again after X-TAC and got errors on my chronograph.  Too fast man, too fast.
Verdict: There's decent loss that will have drop-off issues at longer ranges (300 yards+).
Specifications
• Barrel Material: 4150 GBQ Steel
• Barrel Type: Button Rifled
• Barrel Caliber: 5.56
• Barrel Twist: 1:8
• Barrel Length: 16.1"
• Barrel Profile: Pencil
• Barrel Gas System: Mid
• Inside/Outside Finish: QPQ Nitride
• Gas Block Diameter: .625″
• Barrel Extension: M4
• Weight: 19.52 Ounces
• Magnetic Particle Inspected
Conclusion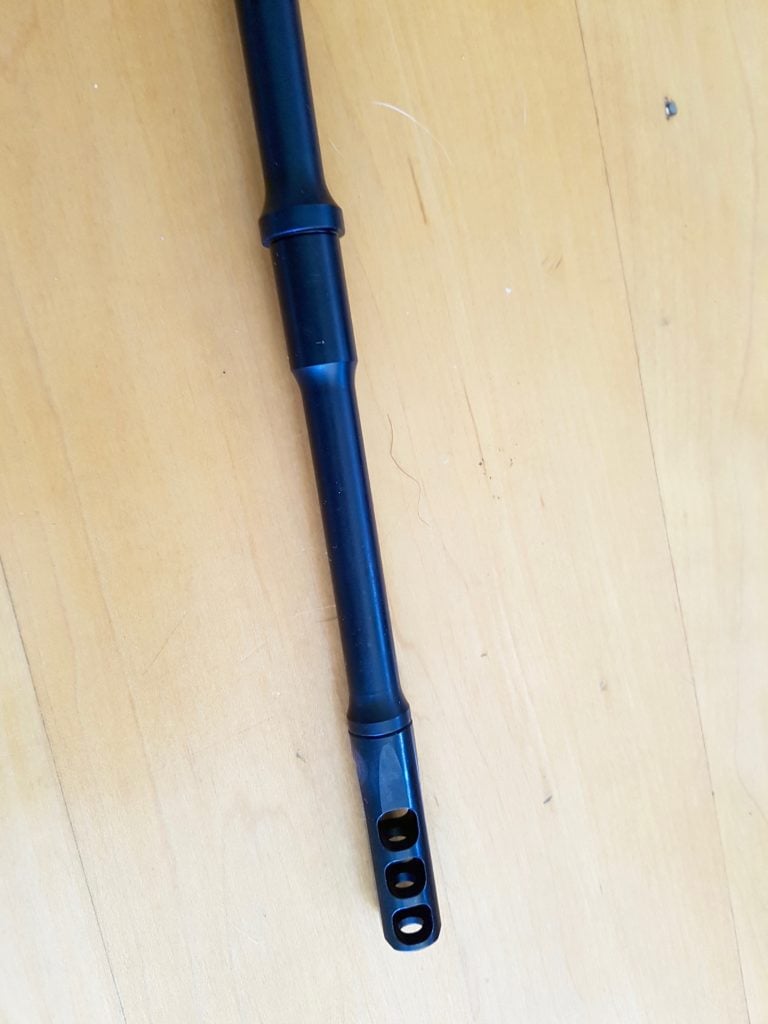 To sum up…the Faxon 14.5″ Pencil Barrel solves a lot of problems if you're looking for a lightweight/short build.  Unless you're shooting bench for accuracy or really far distances, the Faxon's positives should outweigh the negatives.
I'm pretty happy with the results..especially since Faxon is affordable.
And to thank you for reading to the end…Faxon is hooking up readers with a 10% off barrels code:  FXPPTBARREL10
I initially was "meh" about them but I've only heard good things about them from fellow competitors.  Mostly it was along the lines of "great prices and good performance."
So it looks like they were right.
How have your experiences with Faxon been…anyone also try out their pinned series?