Odds are if you have built an AR-15, or a few dozen, you have looked at purchasing a barrel from Faxon Firearms.
Maybe you have looked at their rifles, or accessories for the Glock. Either way, Faxon Firearms is a well-known name within the firearm industry.
Faxon sent me one of their new caliber offerings in a 16" Gunner profile .350 Legend barrel along with their 3-chamber muzzle device.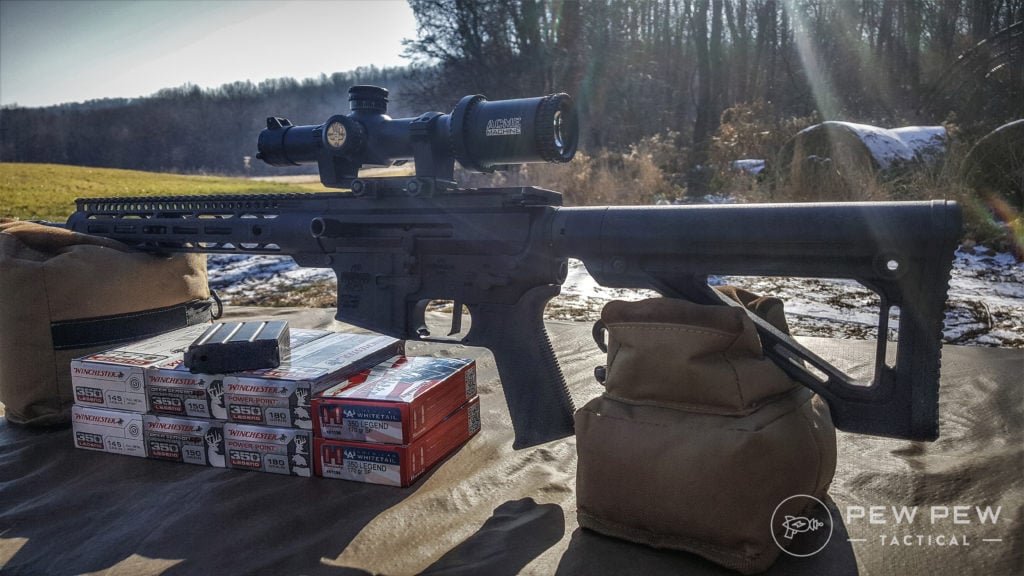 I built a complete upper receiver, ran the straight wall cartridge with the best offerings in ammo, and spent time in the field on a whitetail deer hunt.
Does Faxon's pedigree for accurate barrels hold true?
What use does the .350 Legend have in an ocean of established rifle cartridges?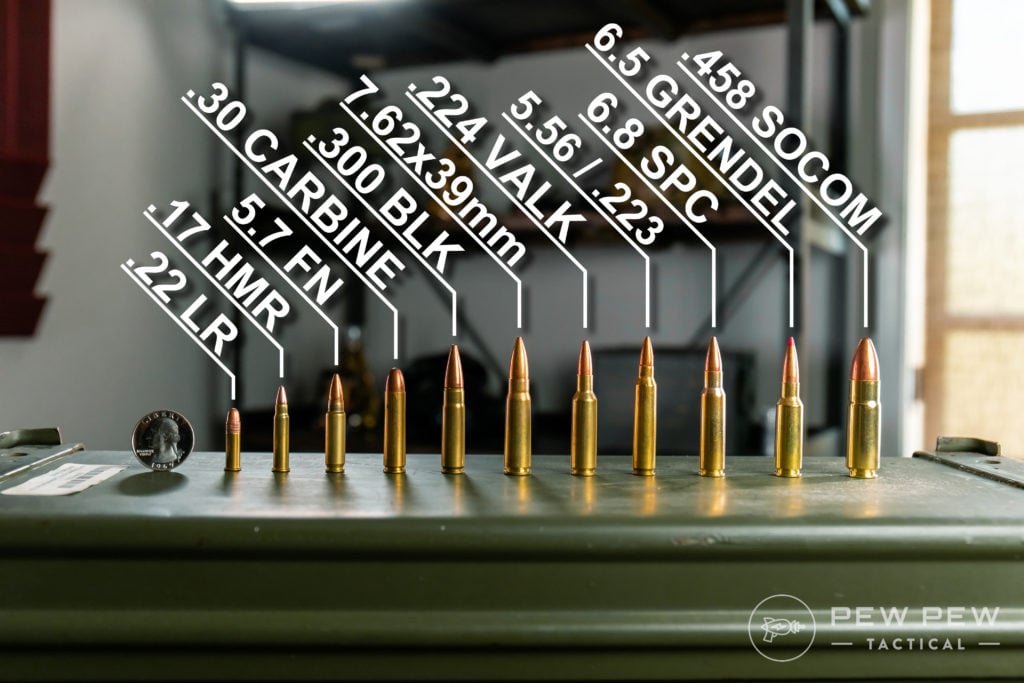 Will I fill my freezer during rifle season with free-range venison?
Stick with me and let's find out!
Table of Contents
Loading...
Barrel Specs
The Gunner profile is a great balance of strength and sheds weight well. It's like a SOCOM profile and pencil barrel made sweet love, and the Gunner profile was its prodigy.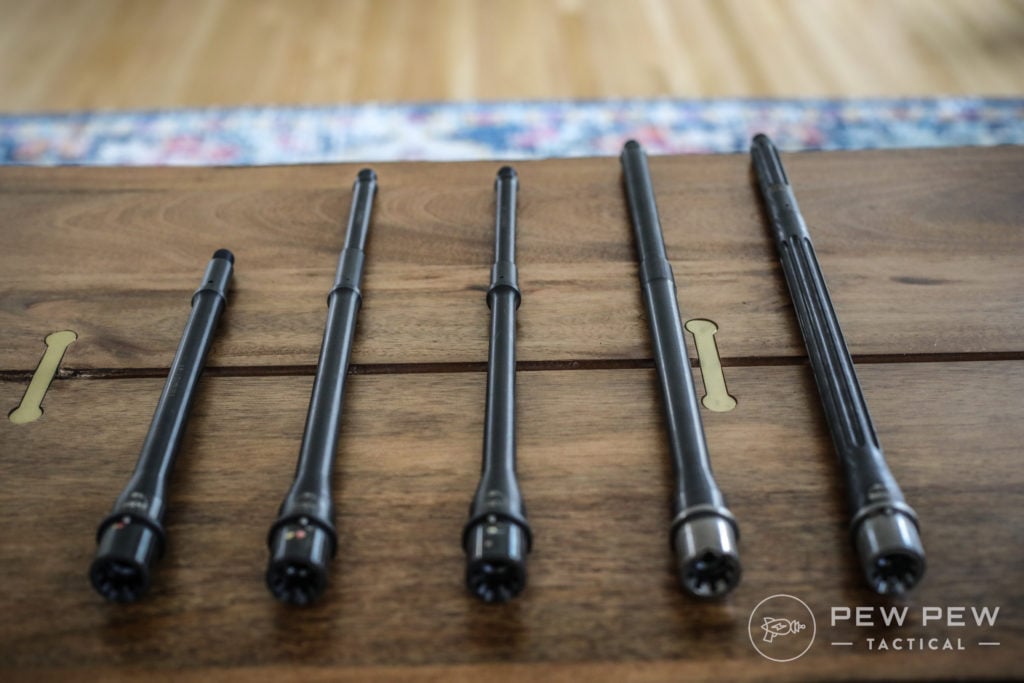 It's a great compromise. The barrel is made of 4150 CMV steel and is nitrided.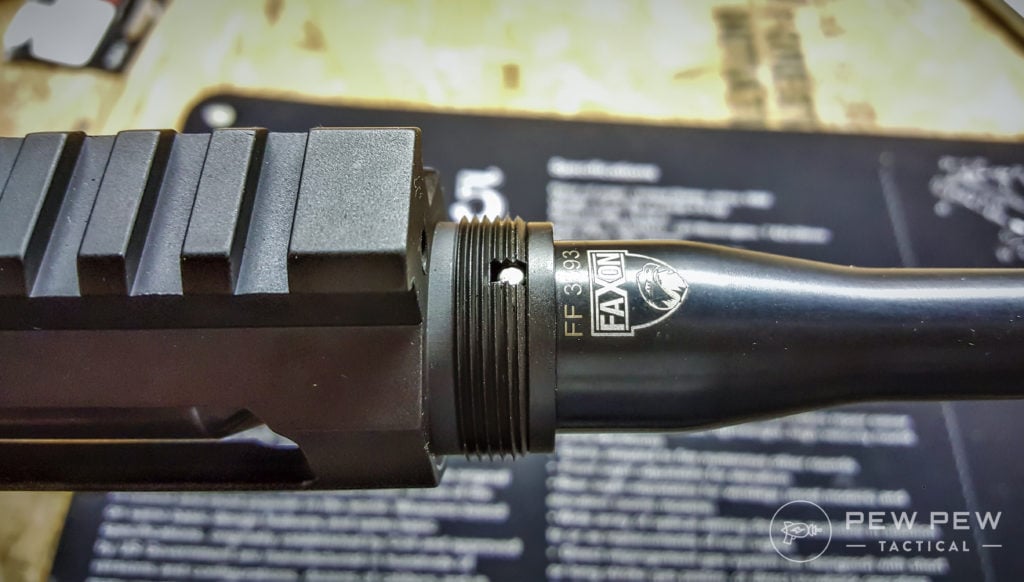 The rifle twist rate is 1:16" to better stabilize the shorter .357 caliber projectiles.
Like most Faxon rifle barrels, the lands and grooves are button rifled and to maximize mechanical accuracy the muzzle has an 11° target crown.
Each individual barrel is headspaced with a PTG gauge before it leaves the Cincinnati, OH facility.
185
at Faxon
Prices accurate at time of writing
Prices accurate at time of writing
The muzzle is threaded at 1/2×28 TPI.
Keep in mind, that is a typical pattern for rifles chambered in 5.56/.223 Remington and .224 Valkyrie!
You are going to have a very bad day if you try to shoot a .350 Legend using your favorite muzzle device from a 5.56 NATO rifle. Verify that your muzzle device can shoot this larger diameter projectile!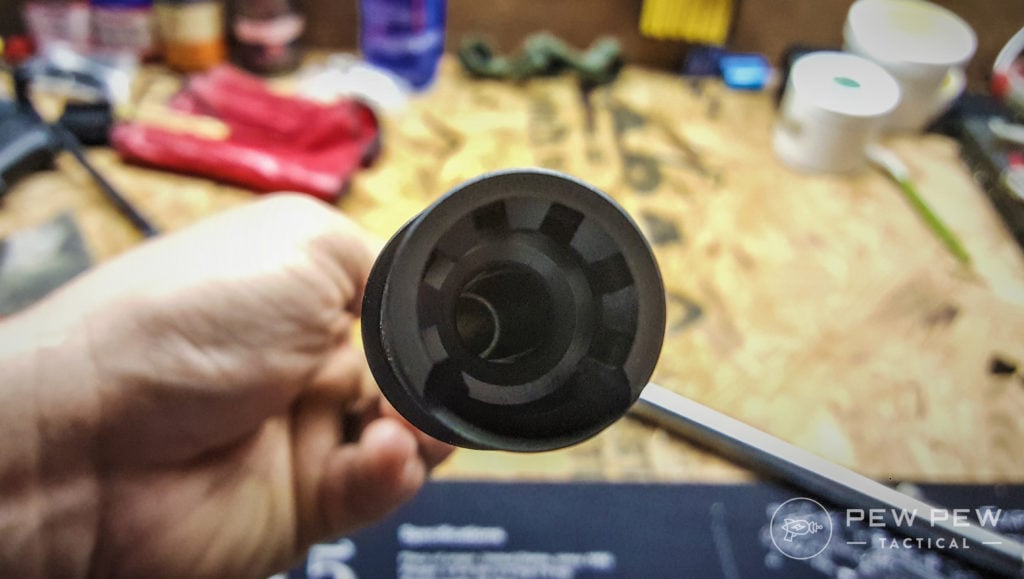 The barrel uses a carbine length gas system with a .750" gas block journal. This is typical with larger calibers. Longer dwell time is needed for reliability.
To round out the stats, the barrel uses a modified M4 extension with an enlarged feed ramp to aid proper feeding.
Built For Precision
To give this barrel every chance to succeed, I paired it with an Eisenach Arms side charging upper receiver and their BCG.
It is their left charging, right eject model and I have been impressed by their quality. You can't go wrong with Eisenach for a custom side charger.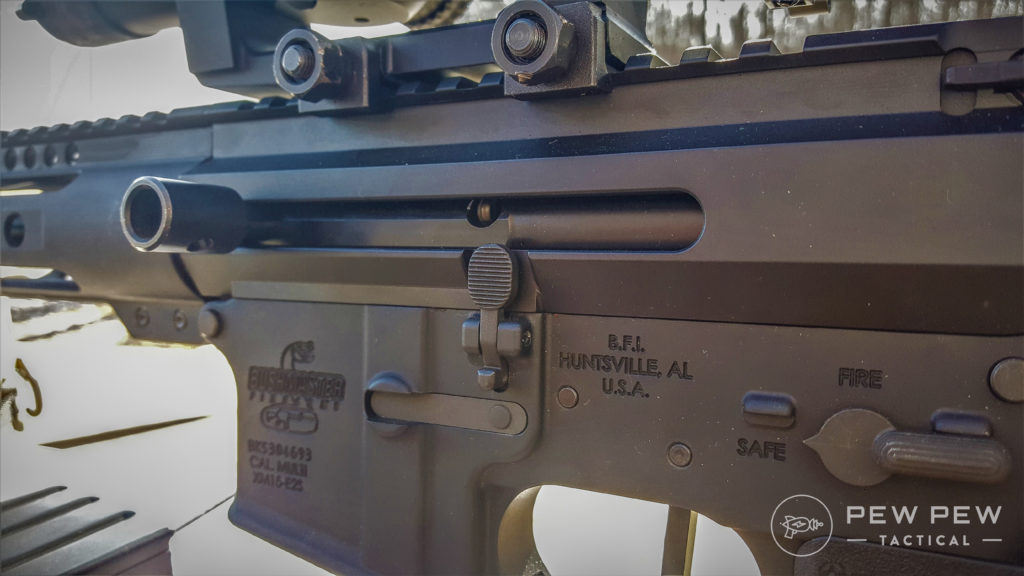 The SLH Model handguard was sent to me by Midwest Industries. I have used their handguards on a few builds, and I can't speak highly enough. I did have to grind down the anti-rotation tabs since the upper was not a mil-spec forged receiver.
150
at Brownells
Prices accurate at time of writing
Prices accurate at time of writing
A quick visit to my bench grinder made short work of that.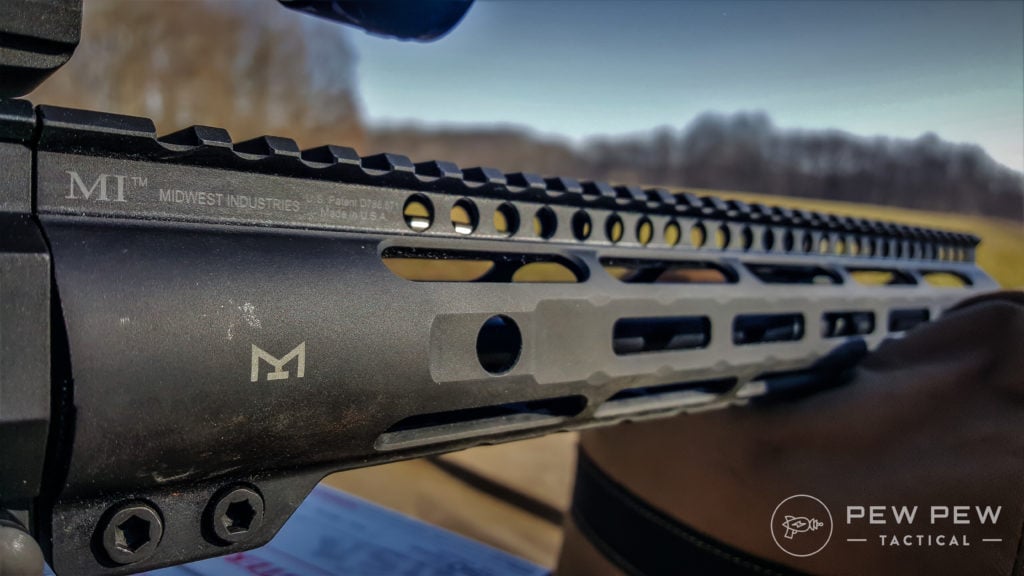 The muzzle device sent to me by Faxon Firearms aesthetically looks great and function wise performed well.
Muzzle blast was not an issue like other typical 3 chamber compensators. The best part is the design which integrates a locking mechanism to act as a jam nut. It never loosened during testing.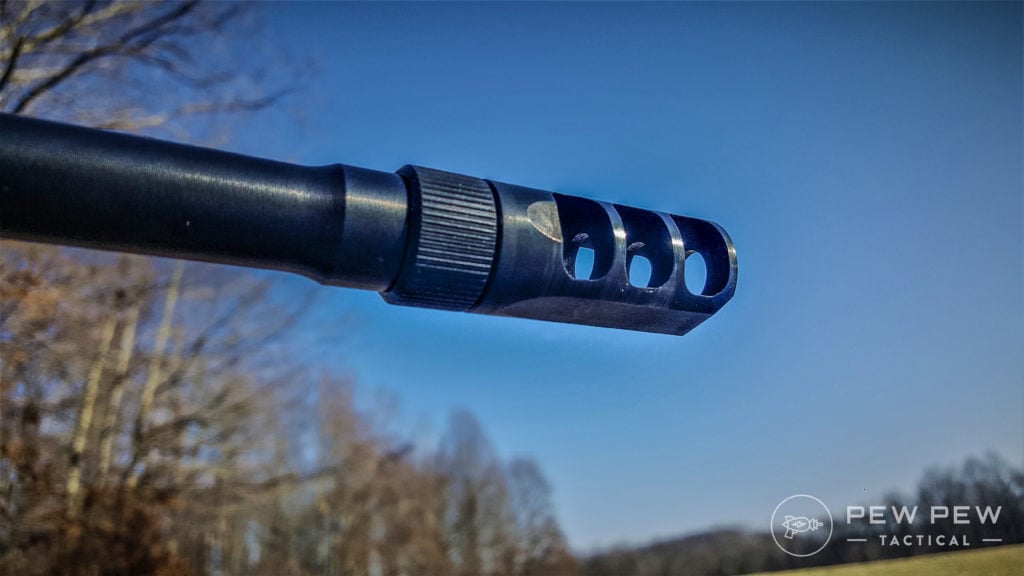 The lower was a mix of random spare parts I had with exception to the Velocity 3lb. trigger sent to me.
150
at Brownells
Prices accurate at time of writing
Prices accurate at time of writing
Velocity is doing great things with triggers at competitive prices. It breaks like a glass rod and I was confident that this setup was going to be a hell of a shooter.
Accuracy Trials
I set up shop at my cousin's farm using a bench with sandbag rests. A target was placed at 100 yards, and I ran 5 types of ammunition.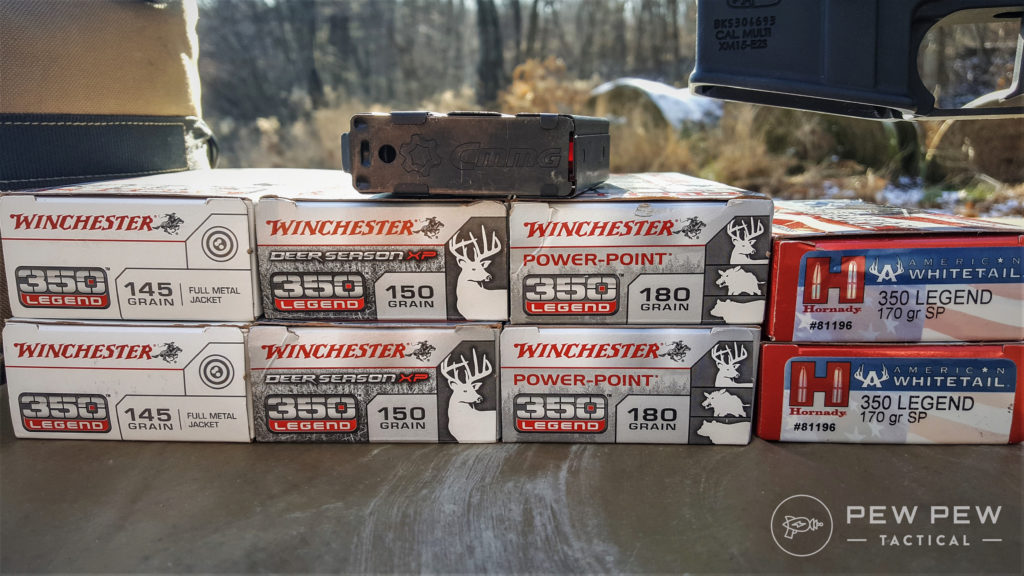 Accuracy testing was done with a Primary Arms 1-8x SLx LPVO. Check out the full review here.
The list of ammo is as follows.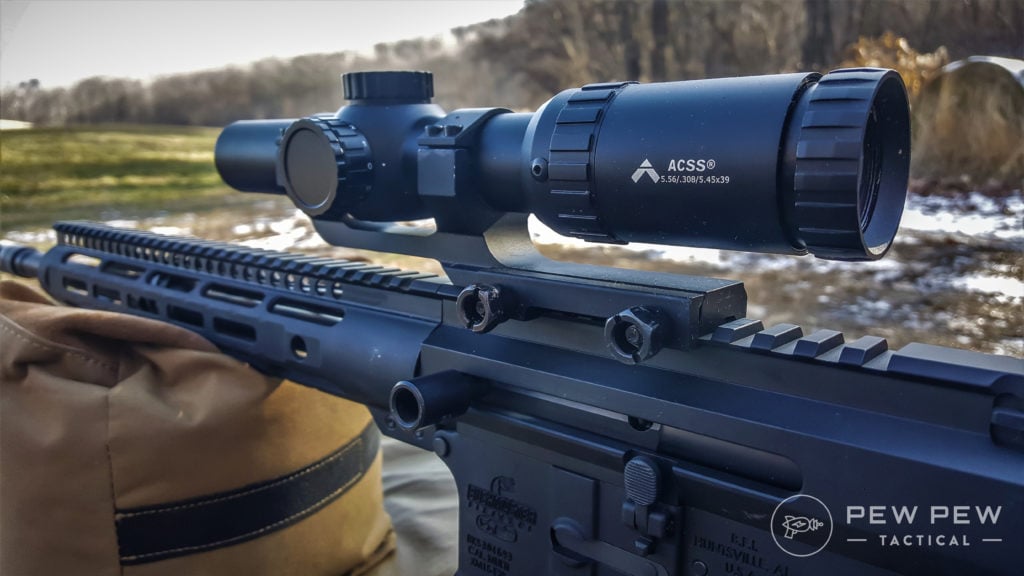 After getting on paper with the FMJs, I dialed in with the 150 grain Deer Season XPs. I was pleasantly surprised, and the Faxon barrel immediately got my attention.
389
at Primary Arms
Prices accurate at time of writing
Prices accurate at time of writing
The groups were VERY consistent with a 1.2 MOA average with .9 being the best group.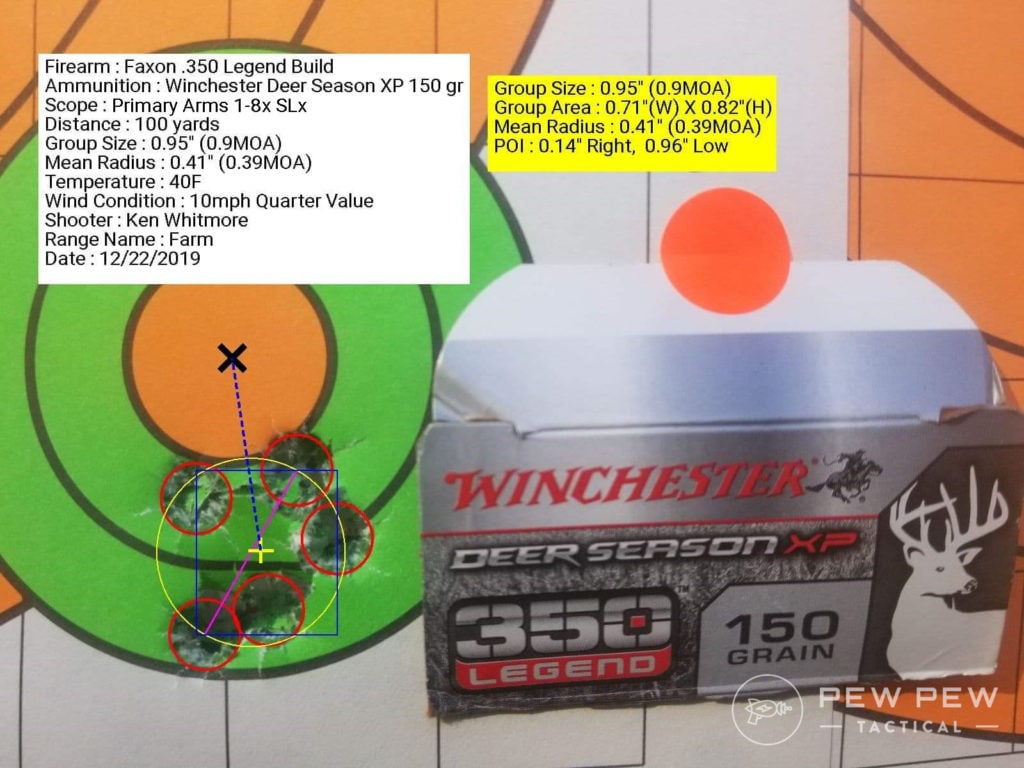 24
at Lucky Gunner
Prices accurate at time of writing
Prices accurate at time of writing
For something a little heavier, I finished off the Winchester ammunition with their tried and true Power-Point line in 180 grain.
A LOT of deer have seen their end by the terminal ballistics of a Winchester Power-Point. Accuracy was better than expected with a consistent average of 1.73 MOA and the best group measuring at 1.57 MOA.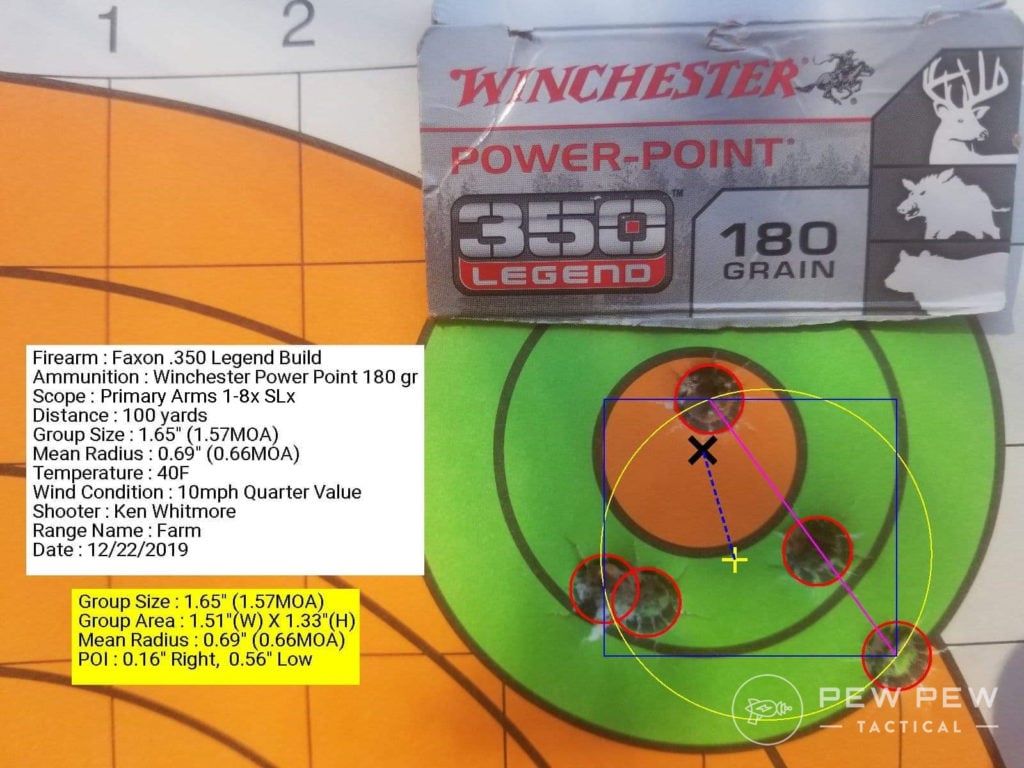 At this point I was feeling optimistic about the Faxon barrel. Keep in mind, these are NOT match-grade options. These options, with exception of the FMJs, are quality hunting loads, so when a barrel can shoot near 1 MOA 5-shot groups, it's a shooter.
Now, onto the Hornady.
Hornady has yet to fail me in shooting. This was no exception. The Hornady Custom 165 FTX ammunition sent to me performed to my high expectations.
The average of all groups fired came in at 1.11 MOA, averaging the best of all the ammo. The best group came in at a sub-MOA 5-shot group with .88 MOA!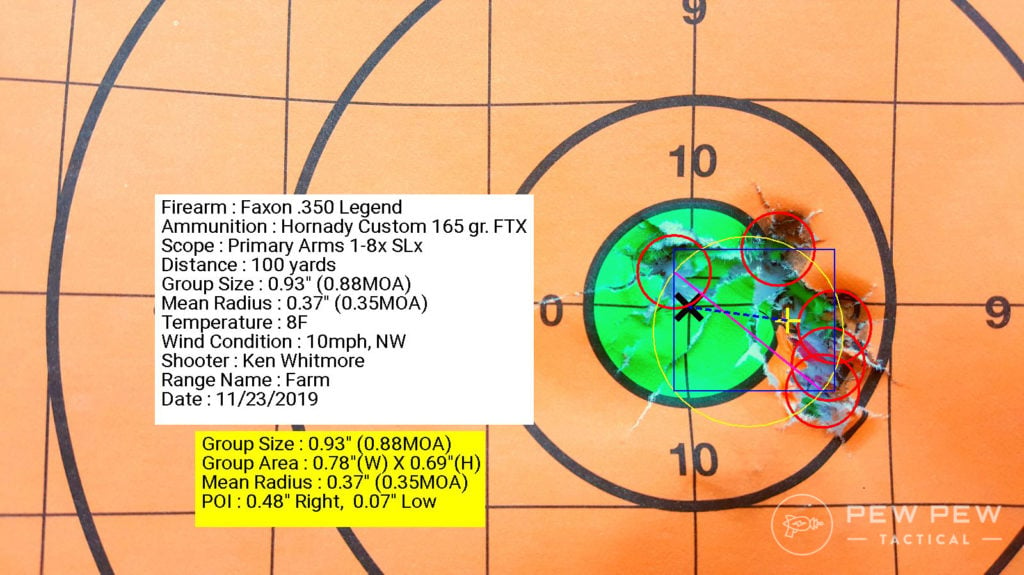 Finally, the Hornady American Whitetail came in third overall. The average of all my groups came in at 1.32 MOA with the best group measuring in at 1.15 MOA.
22
at Brownells
Prices accurate at time of writing
Prices accurate at time of writing
If you are looking for quality hunting ammo, you cannot go wrong with these popular options for the .350 Legend.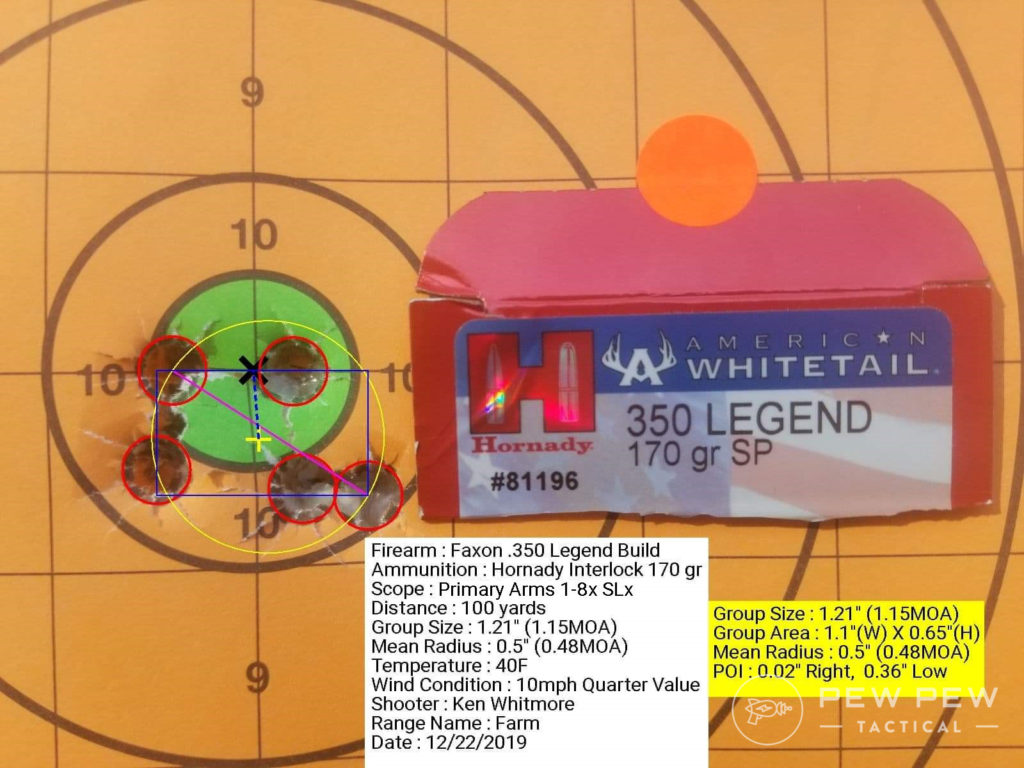 21
at Brownells
Prices accurate at time of writing
Prices accurate at time of writing
This Dog Can Hunt
Speaking of deer hunting, calling it my passion is a bit of an understatement.
I have been chasing deer for over 2 decades now. During rifle season, I decided to take the Faxon barreled .350 Legend out and see if I could anchor a buck for my freezer.
I decided to load up some Winchester Deer Season XP's and get into my favorite spot for a morning hunt. I switched over to an ACME Machine 1-6x LPVO due to its first focal plane reticle.
The ACSS reticle is great with the Primary Arms SLx, but the FFP design of the ACME made more sense for hunting and using different magnifications in the woods.
As the woods started to come alive and turn gray, I immediately had deer movement. Between some smaller buck and doe, nothing was legal to shoot.
That was until a respectable 7 point snuck in behind me at 25 yards.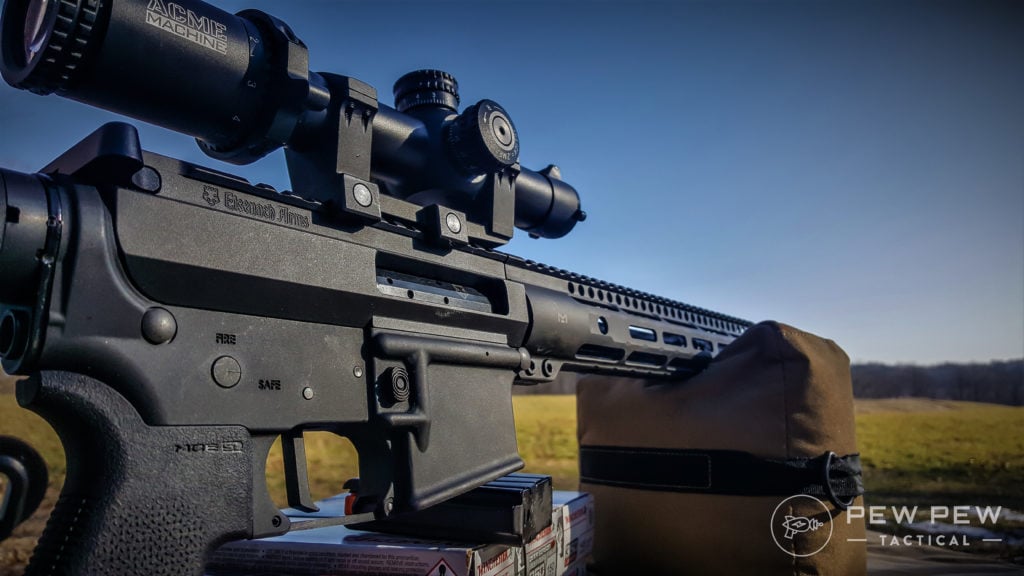 He busted me, but all hope wasn't lost. At 6x magnification, I knew I had to crank it down and with the throw lever installed, it was quick and easy.
Without looking, I managed to put the power down to 3x as I shouldered the .350 Legend.
With both eyes open, I tracked the buck to a small opening as he quartered away from me. Having 20 years of experience with deer anatomy, I placed the reticle further back to catch the off lung.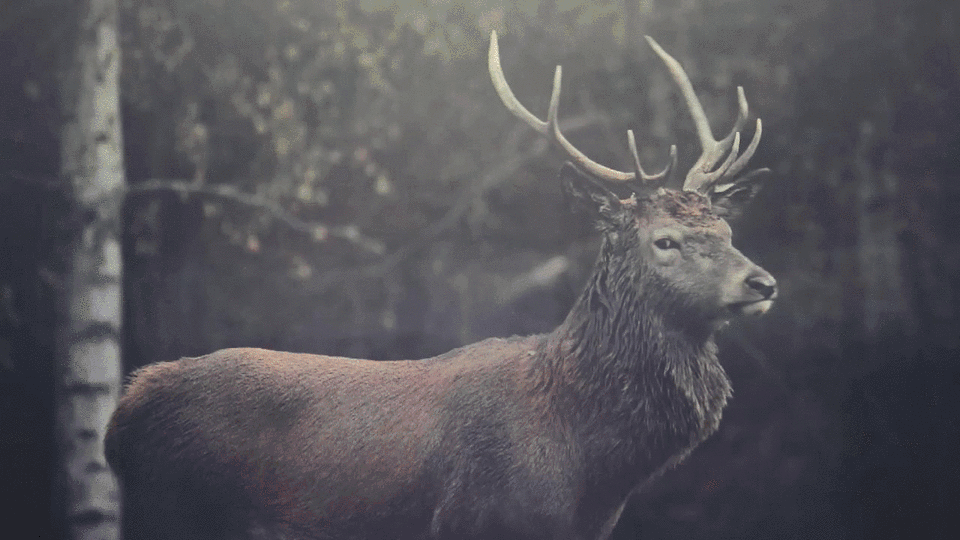 The bullet hit its mark and the buck staggered into some brush as I lost visual. The woods went silent.
After keeping my composure and giving the deer 15 minutes, I decided to pick up his trail. Blood was immediately on the ground and the bubbles in the blood told me the story.
That deer was down.
As I crested a small hill, I found him. He didn't make it 50 yards from the shot.
Unfortunately, I did not recover the bullet even though there wasn't an exit wound. The slug traveled every bit of 18" of quartering away deer and it had immediate rapid expansion.
It tore a massive hole in the diaphragm and shredded the off-side lung. One lung hit, and under 50 yards of travel? Color me impressed.
What It Is
So, do you need a .350 Legend? That's going to depend on where you are located or what you plan on doing.
The .350 Legend is not a fast cartridge for the AR15 platform. Muzzle velocity depending on bullet weight ranges from 2100-2350 fps per manufacturer's stats.
That means it drops relatively quickly, especially because of low ballistic coefficients.
This is a short-range cartridge, but it doesn't claim to be anything more. If you want faster cartridges for longer range, the .350 Legend is not for you.
Look more into the 6.5 Grendel and 6.8 SPC.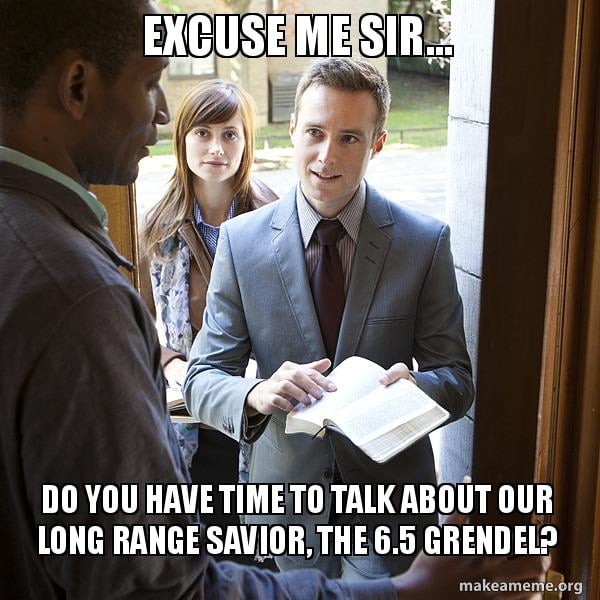 In some parts of the country though, rifle cartridges can not be used for deer hunting purposes, unless it is a "straight-wall" design.
That means, the casing of the cartridge can not be shouldered. For most people, that leaves the .50 Beowulf or .450 Bushmaster for the AR15 platform.
That is where the .350 Legend makes its money. If you are living in a state, like Ohio, where there are "straight-wall" regulations, the .350 Legend is going to provide a great option.
185
at Faxon
Prices accurate at time of writing
Prices accurate at time of writing
It has much less recoil than its big-bore brothers, and from my testing with the Faxon barrel, it's a damn tack-driver.
In short, the .350 Legend is a niche cartridge, but it fills that niche incredibly well.
If you are a hunter that spends time in the hardwoods where 150-yard shots are long, the .350 Legend would be my choice for filling my freezer with my AR.
Conclusion
The 16" .350 Legend barrel from Faxon did not disappoint. With an MSRP of $199, I feel it's worth it due to the consistent accuracy I was getting. Pairing it with quality ammunition like Winchester or Hornady will yield great results for a large bore AR-15.
Not only that, but it is without a doubt a deer dropping cartridge within the appropriate yardage.
My buck was every bit of 175 lbs. field dressed. Traveling only 50 yards from the shot without tagging both lungs goes to show that bigger can be better.
Do you have a .350 Legend? Have you built an AR15 using a Faxon barrel? Let us know in the comments below! If you want a crash course in how to deer hunting, take a look at the Introduction to Deer Hunting and Where to Shoot a Deer!