10mm. CMMG. AR-15 pistol.
The project has been CIA-level secret for some time.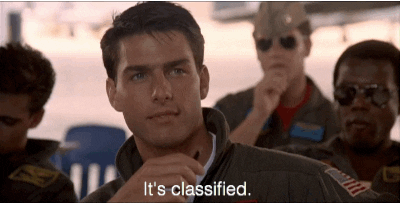 At the NRA show last Spring the CMMG guys pulled me into the booth to covertly show me the 10mm Banshee, and I was so energetic (think spastic) that they sent me one.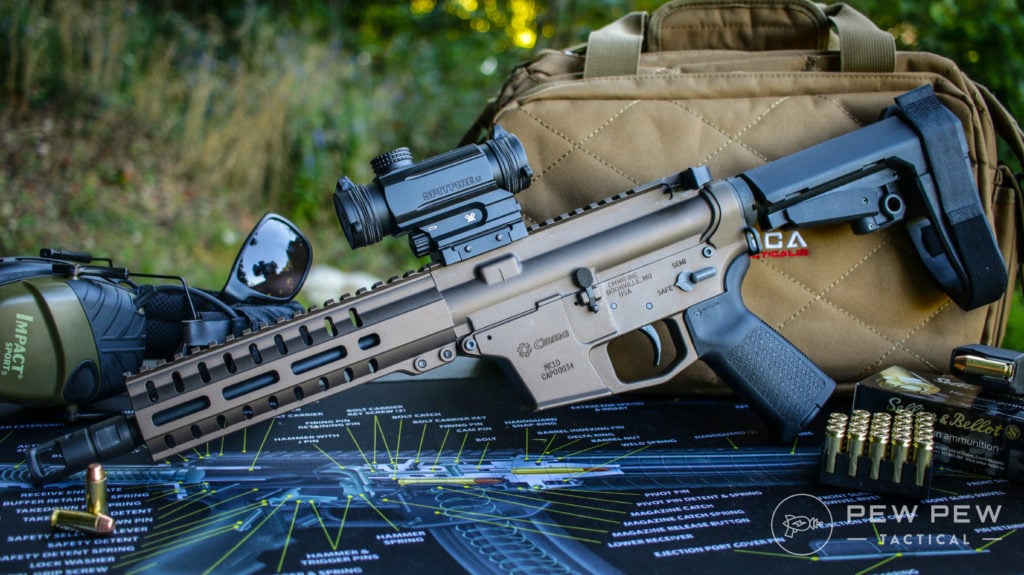 Caffeine for the win.
I got it out for a full range test and I'm going to tell you everything you need to know about the best millimeter Banshee.
1719
at Palmetto State Armory
Prices accurate at time of writing
Prices accurate at time of writing
For the full video review, here it is from my channel:
Now, for the written review!
Table of Contents
Loading...
What Are The Banshees?
The Banshees are huge line of pistols and SBRs chambered in everything from .22LR to .458 SOCOM. But as of today, they have a new offering: the long-awaited 10mm.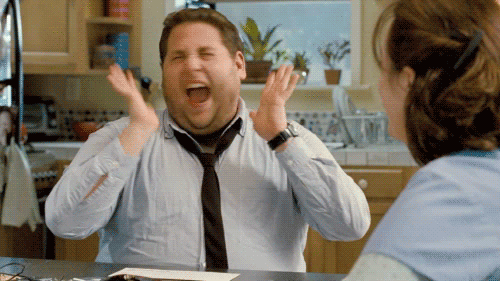 There are three levels of Banshees: 100, 200, and (any guesses?) 300. I got the 300 with all the features.
But Most Importantly…
Yes, it takes Glock magazines.
23
at GunMag Warehouse
Prices accurate at time of writing
Prices accurate at time of writing
Engineering And Stuff
This isn't just another pistol caliber carbine in an AR package. The Banshee uses CMMG's proprietary "radial delayed blowback" operating system.
The short version of what that means is when the big boom happens, the bolt carrier group is forced to rotate just a wiggle before traveling rearward.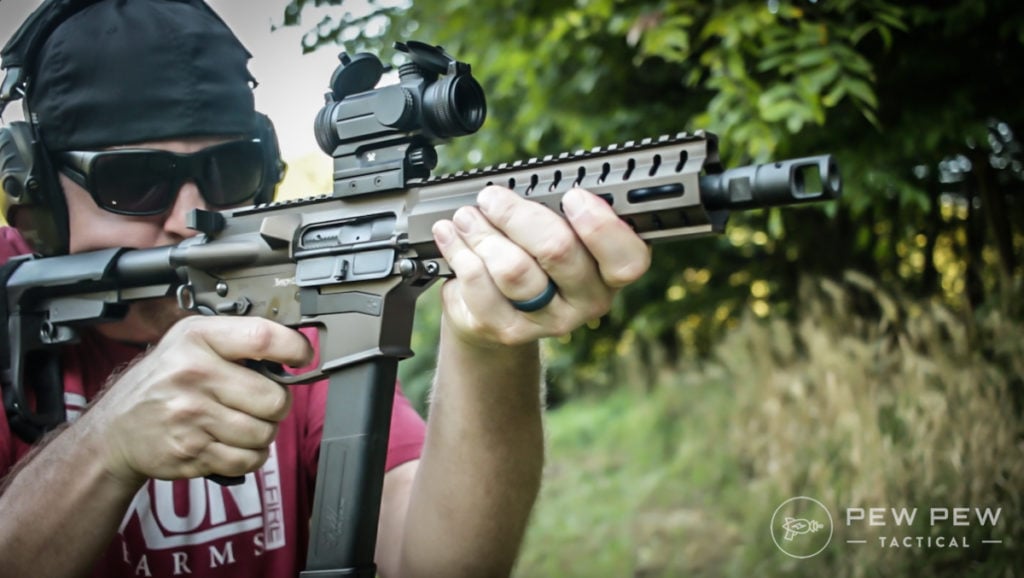 This pause gets the gas down the barrel, lowers the pressure in the chamber, reduces felt recoil, and helps big time if you're running the gun suppressed.
Bottom line, the radial delayed blowback does a bunch of stuff to make things better.
It's Pretty!
The Banshee I got has a gorgeous bronze finish. Y'all know I like guns that look good, and this one is top shelf. The Cerakote is thick and even, and the CMMG branding is clean.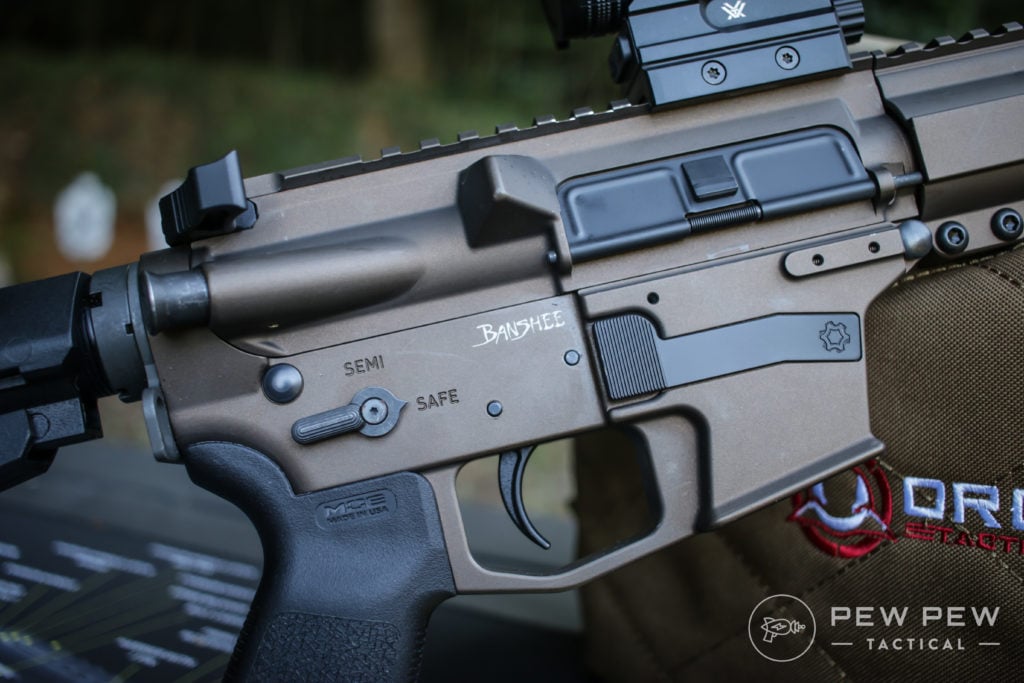 How It Ships
What it comes with is an OK cardboard box, and this part is really cool: it ships with a 30 round SMG magazine and 2 buffers. One buffer is for regular ammo, and the other is for lighter rounds.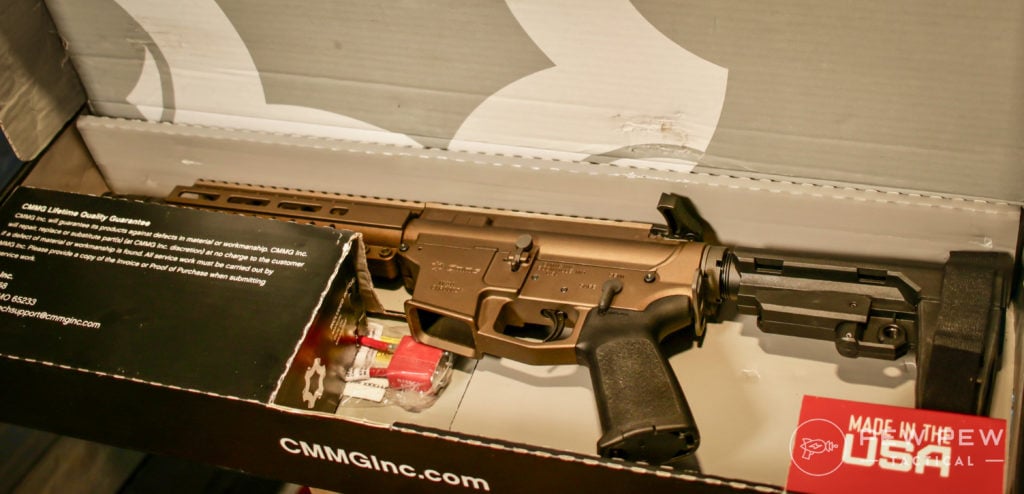 CMMG also offers a third buffer option for running suppressed.
Range Time
I did a boatload of mag dumps to test functionality, and the Banshee runs like a scalded dog. I had zero problems.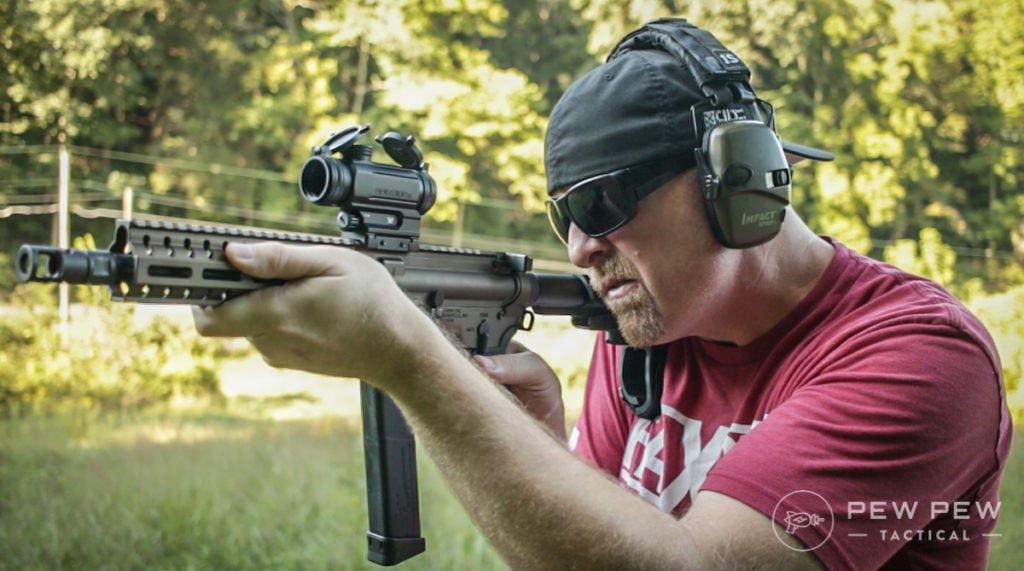 It fed great, ejected great, and locked back on empty. Spoiler alert: I have absolutely nothing negative to report to you.
I ran Sellier & Bellot ammo and overall for accuracy I was able to stack rounds on torso steel from 10 to 75 yards.
18.25
at Lucky Gunner
Prices accurate at time of writing
Prices accurate at time of writing
Soft?
I don't have any measurable way of explaining this to you, but the gun shoots soft. It absorbs the punch and the felt recoil is minimal. It's a genuine pleasure to shoot.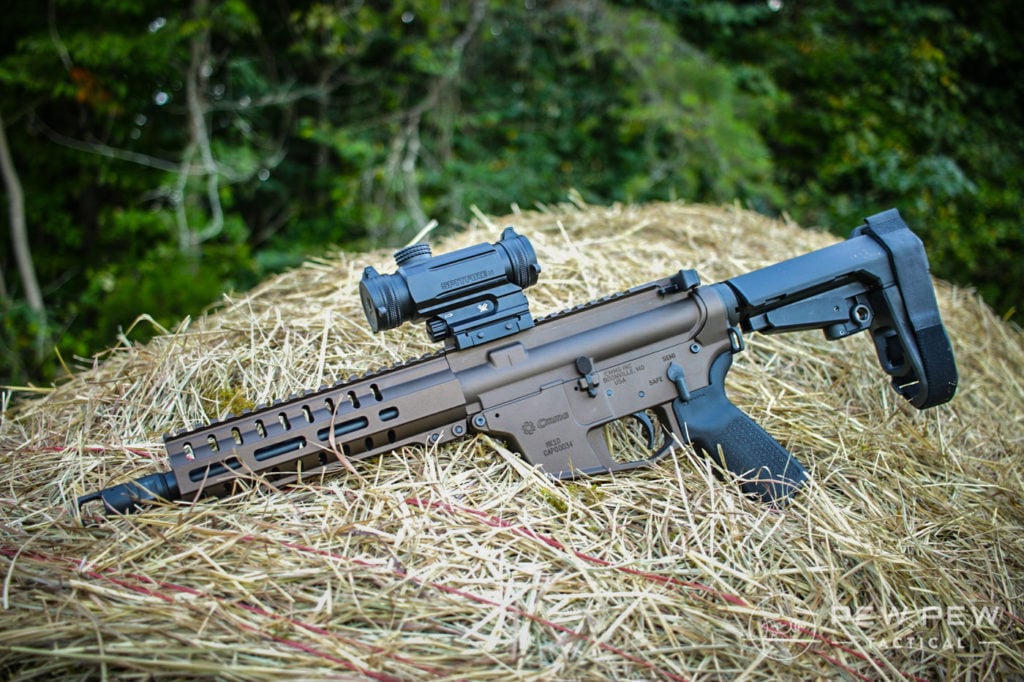 I tested it head to head with another PCC 10mm and the Banshee was remarkably softer.
Range Report
Few numbers for you. The Banshee weighs in at about five and a half pounds before glass and ammo, and it's 24" inches long.
It has an M-Lock hand guard, a Magpul grip, and an adjustable SB Tactical brace. It also features a threaded barrel for those of you who have suffered through the suppressor tax stamp nightmare.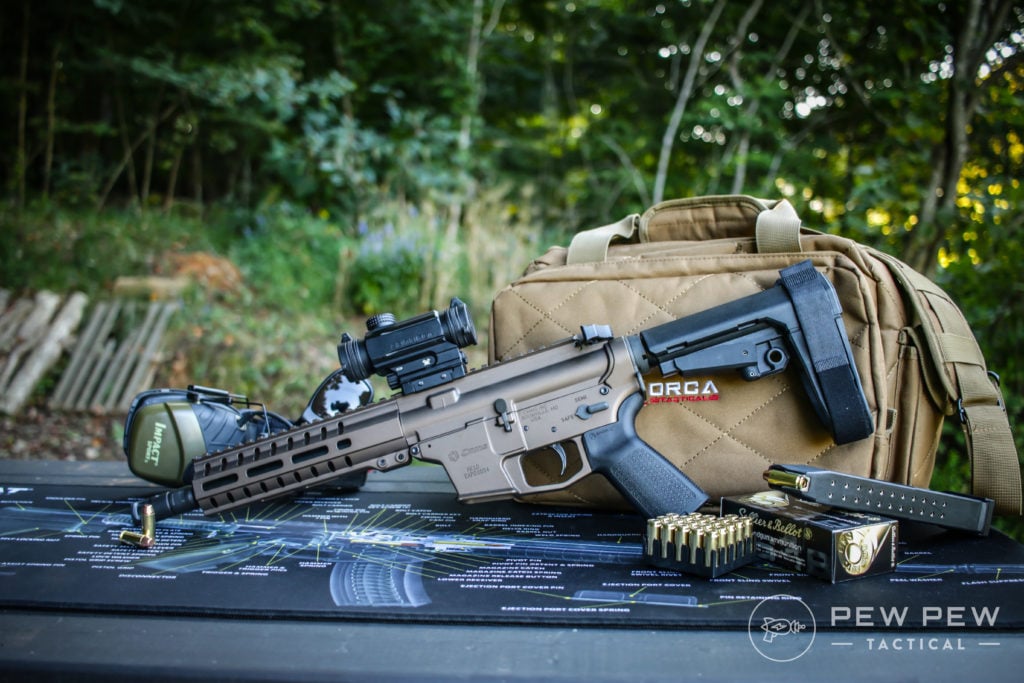 As for price, as of this writing CMMG has not released an MSRP on this pistol, but the 9mm Banshees are between $1199 and $1399, and I suspect the 10mm will be in that ballpark.
What I Like
Five things I like. First, this charging handle is doggone perfect. I shoot ambi, and it felt great from both sides.
Second, I like the trigger. It's crisp and even though I love trigger upgrades, this trigger is a keeper.
Third, the finish is gorgeous.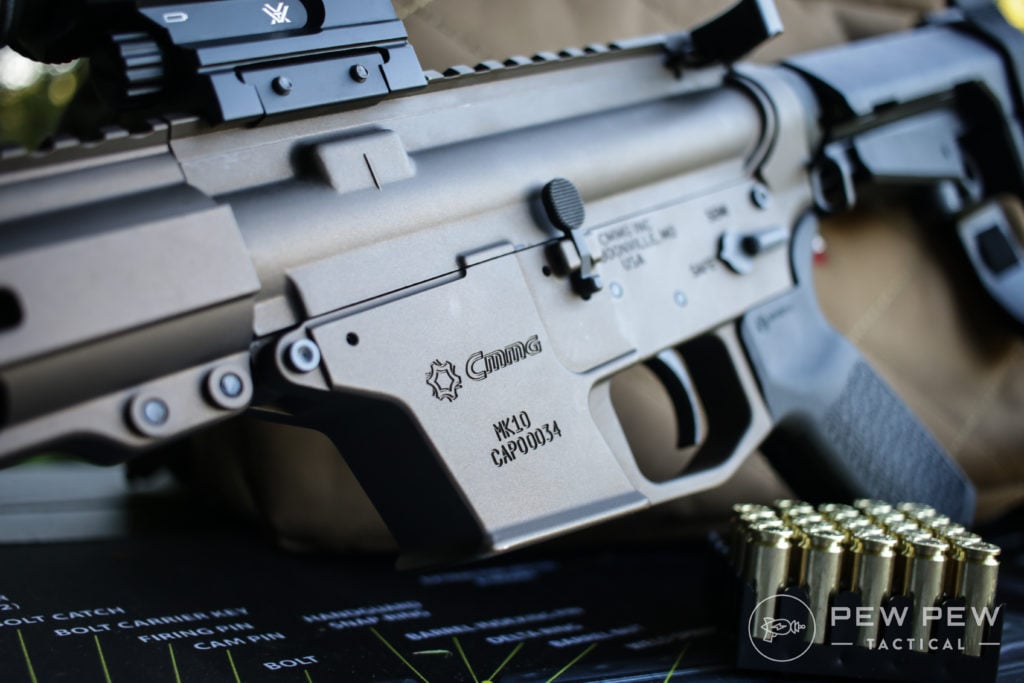 Fourth, I love the last round hold open. The system CMMG engineered to make this happen is proprietary and I don't understand the science, but it works and I like it.
Finally, CMMG has a lifetime warranty which is a huge plus for me.
Concerns
No major negatives, just a couple things to consider.
First, I don't like Velcro straps on braces, and I'd like to try an SBR version instead of a pistol. Kind of nit-picky I know, but I find straps to be tacky.
Second, I'm not sure how this one is going to be to maintain. I didn't get ten thousand rounds through it to see how dirty it gets, and I didn't run it suppressed.
So we'll see down the road how it is in the carbon category.
By The Numbers
Reliability: 5/5
I could not make this gun fail. It runs.
Ergonomics: 4/5
I like the Magpul grip, the handguard feels good, and the adjustable brace let me dial in where I wanted it. The other ergonomics are standard AR fare.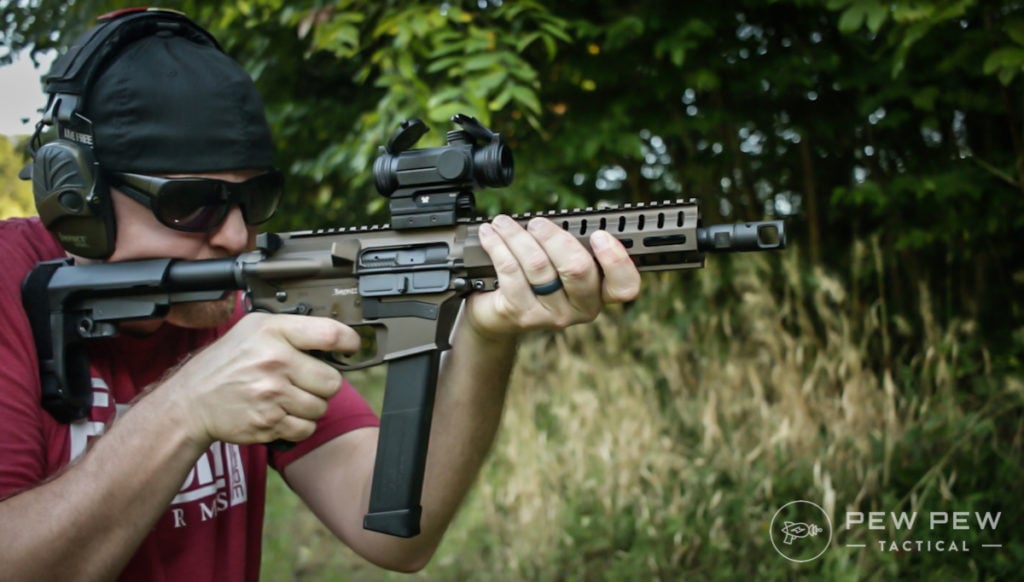 Accuracy: 4/5
It will put rounds where you want them, but you're only going to get 4/5 accuracy from a shoulder-fired pistol. It's a fun range toy or back country bear gun, not a sniper rifle.
Customization: 5/5
Like all guns on the AR platform, mall ninjas can customize their Banshees to infinity and beyond.
Value: 5/5
None of CMMGs offerings are remotely budget-friendly, but for the price you do get a top-shelf pistol with all the features you would expect. No upgrades needed, just add an optic head to the range.
Overall: 4/5
The Banshee does everything it is supposed to do. I like it.
Parting Shots
Overall I had a blast with the 10mm Banshee.
1719
at Palmetto State Armory
Prices accurate at time of writing
Prices accurate at time of writing
Looks great.
Runs great.
And it's fun to get 10mm freedom seeds planted all over East Tennessee.
One more time if you haven't watched the video yet!
What is your go-to Pistol-Caliber Carbine? Have you tried 10mm in one yet? Let us know in the comments! Don't forget to take a look at the Best Pistol-Caliber Carbines!