In the world of guns "tactical" gets thrown around a lot and sometimes things claiming to be tactical can be a little overhyped, or downright useless.
The same goes for the knife world.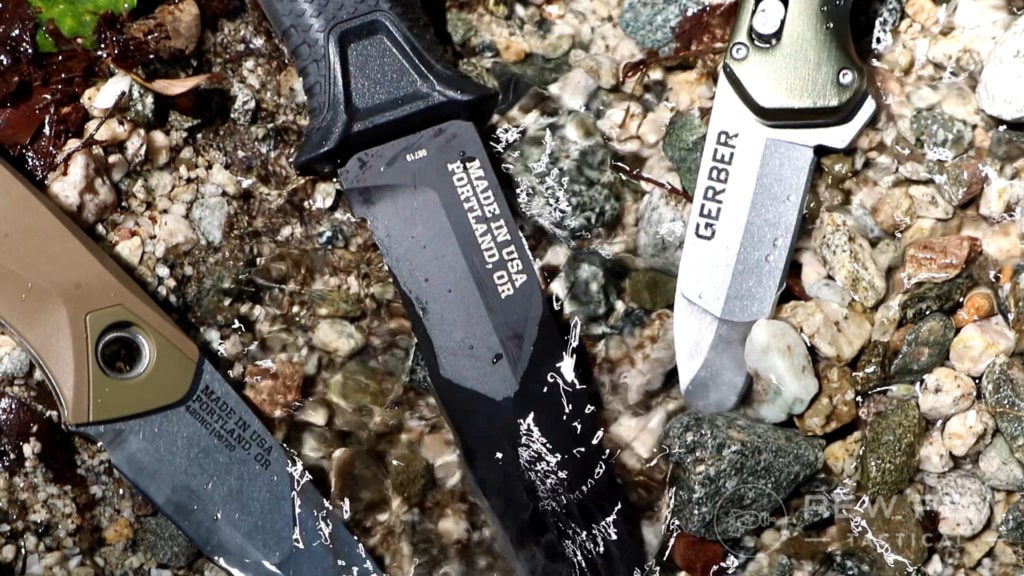 So what makes a tactical knife? Well, we're going to tell you…and give you a few models we recommend.
Then follow up with why you should carry a tactical knife and if you should go serrated.
Disclaimer: Each state has its own laws regarding knives so be sure to check the laws in your area. Not all knives are legal in all areas.
Summary of Our Top Picks
Table of Contents
Loading...
Best Tactical Knives
1. Kershaw Emerson CQC-7
First…our definition of a "tactical knife" is one that has:
Aggressive grip material
Speedy one-handed opening
Purpose-built blades
I like the Kershaw Emerson CQC-7 because it is an inexpensive production knife based on a time-tested Ernest Emerson Design.
Usually, the words "inexpensive" mixed with a designer's name should make you run for the hills, but this CQC-7 is a rare exception.
Best Budget Folder
49
at Blade HQ
Prices accurate at time of writing
Prices accurate at time of writing
The hollow ground clip point blade is perfect for self-defense as well as EDC tasks. Its thumb disk on the spine of the blade acts as an easy opener for normal uses.
The wave on the back of the blade, known as the Emerson Wave, was designed specifically for Navy Seals in self-defense situations.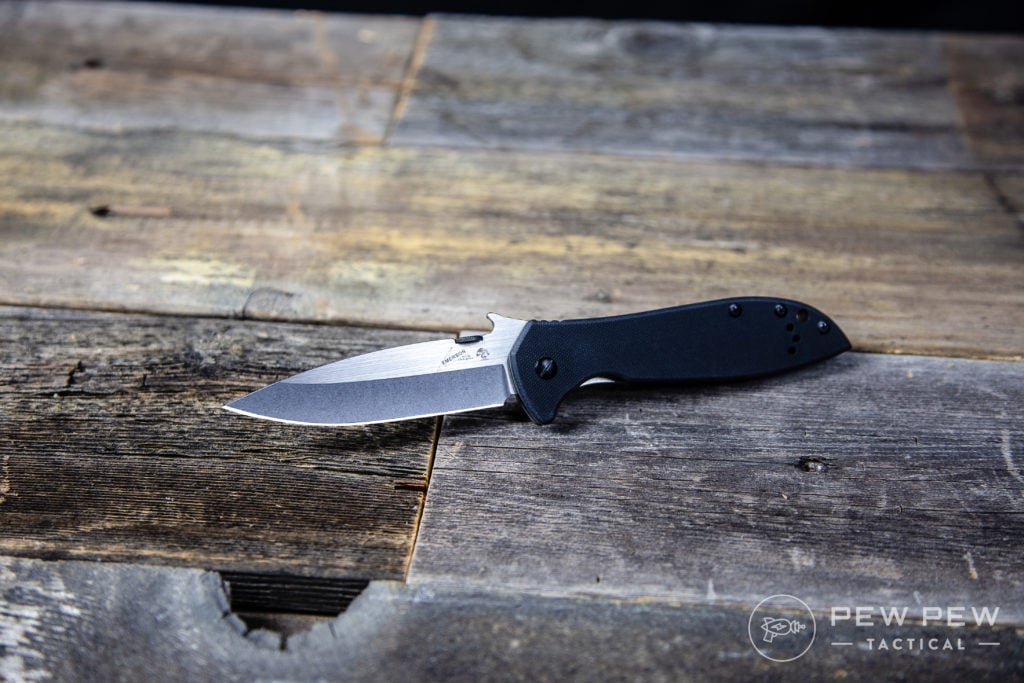 When pulled correctly from your pocket, the wave will catch on the side of the pocket and pull the knife open and lock in a matter of seconds, leaving one hand free while still deploying your blade.
Even if you never use it in self-defense, it is a great way to impress your buddies.
2. Boker Plus Strike Automatic
The Boker Strike is an incredibly well-built, solid automatic knife for the price.
It comes with an aluminum textured handle and burly drop point blade with plain or partially serrated edge options.
Best Budget Auto Open
55
at Blade HQ
Prices accurate at time of writing
Prices accurate at time of writing
The Strike is big enough to use with a gloved hand yet compact enough that it doesn't take up all of your pocket.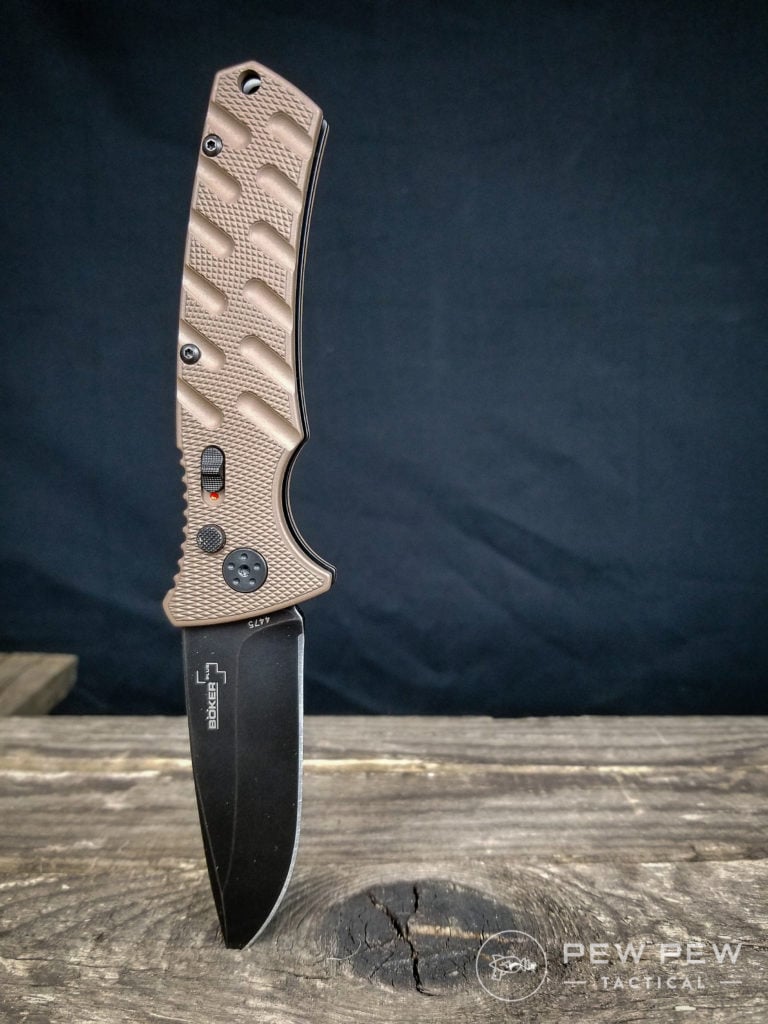 With the built-in slide lock safety, you'll never have to worry about a misfire in a pocket or in hand. The Strike walks a pretty perfect line between reliable, usable, and affordable.
3. Cold Steel Safe Maker 1
The Cold Steel Safe Maker 1 is a self-defense push dagger through and through.
Many LEO carry one behind their magazine holsters on their duty belt.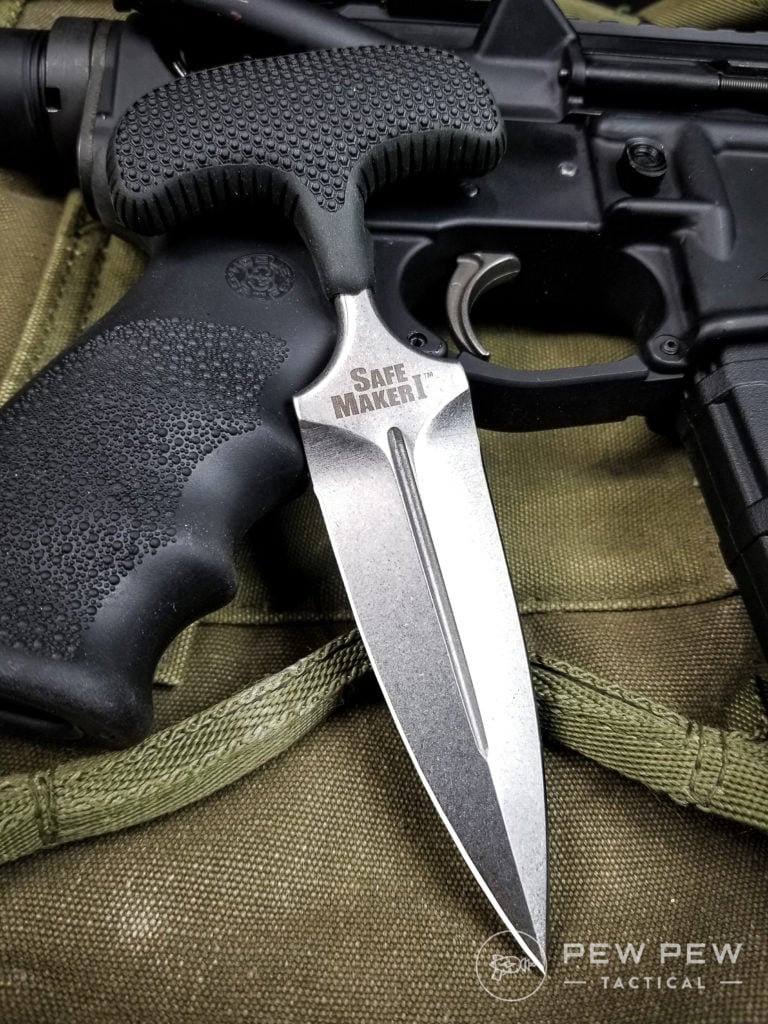 If someone were to go for the officer's gun, the officer could put a control hand over their gun and pull the push dagger with their other hand to neutralize the threat.
44
at BladeHQ
Prices accurate at time of writing
Prices accurate at time of writing
Short of full-on self-defense, the push dagger does not have much use. A lot of people will carry push daggers as backup blades. As you know, one is none two is one.
4. Cold Steel Recon 1
The Recon 1 is an overbuilt workhorse.
Outfitted with Cold Steel's Tri-Ad Lock, you can trust this folder will perform under any stress you can throw at it.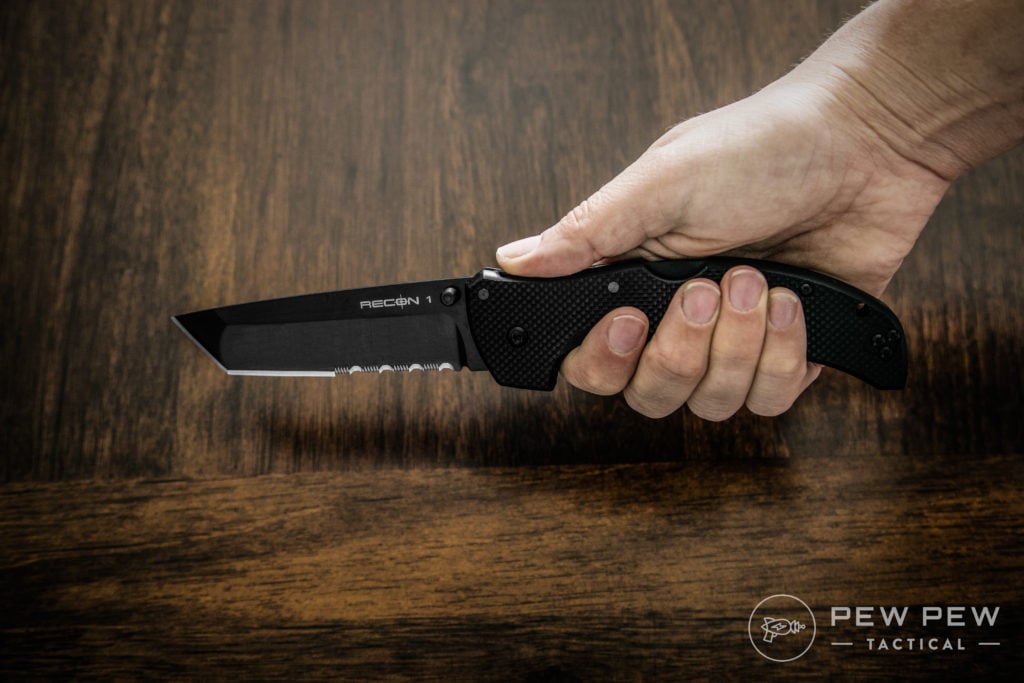 The Recon 1 comes in a few different blade patterns, but my personal favorite is the tanto, especially for tactical applications.
124
at BladeHQ
Prices accurate at time of writing
Prices accurate at time of writing
With all of its strong qualities, this Cold Steel is not lacking in refinement — premium steel, grippy G-10 handle scales, and fully ambidextrous design make the Recon 1 a pretty sweet package for the money.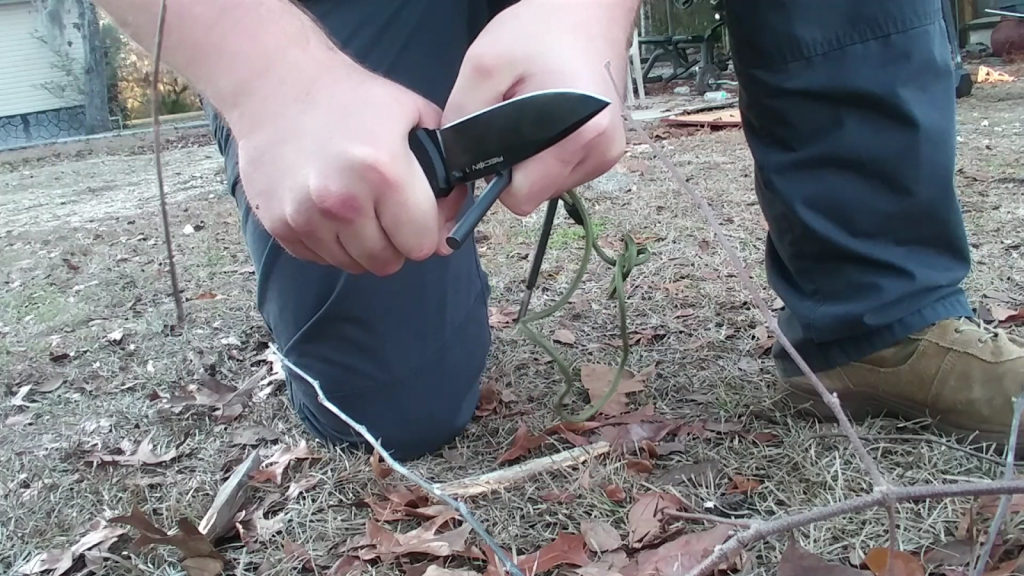 We also loved it in our Best EDC Knives article.
5. Spyderco Yojimbo 2
The Yojimbo 2 is a serious self-defense knife designed and perfected by close-quarter combat expert Michael Janich.
The unique Wharncliffe blade shape is designed to ensure maximum surface contact in any situation. The iconic hole in the blade (also known as the "Spydie Hole") makes for fast one-handed opening and manipulation.
184
at BladeHQ
Prices accurate at time of writing
Prices accurate at time of writing
The Yojimbo 2 pairs amazing handle ergonomics with grippy G-10 scales to ensure a secure purchase regardless of how you are holding the knife.
While purpose-built for self-defense, the Yojimbo 2 is the perfect size for EDC which allows you to keep it close at hand all the time.
6. Benchmade Claymore
The Benchmade Claymore delivers a rugged, out-the-side automatic knife for the toughest missions in life.
Unlike other automatic knives, this is a blade that's not sensitive to rough and tumble use. While most automatic knives might be best used for self-defense tasks, this is a working man's or woman's knife.
Most Rugged
207
at BladeHQ
Prices accurate at time of writing
Prices accurate at time of writing
Benchmade used CPM-D2 steel — D2 doesn't hold back. You can work it to the nub, but it'll take you a decade or two. It won't bend, chip, or break easily.
The Claymore earns its name as a beefy knife with its 3.6-inch blade. Users can pick between a serrated or straight blade. I'm partial to a straight blade, personally but to each their own.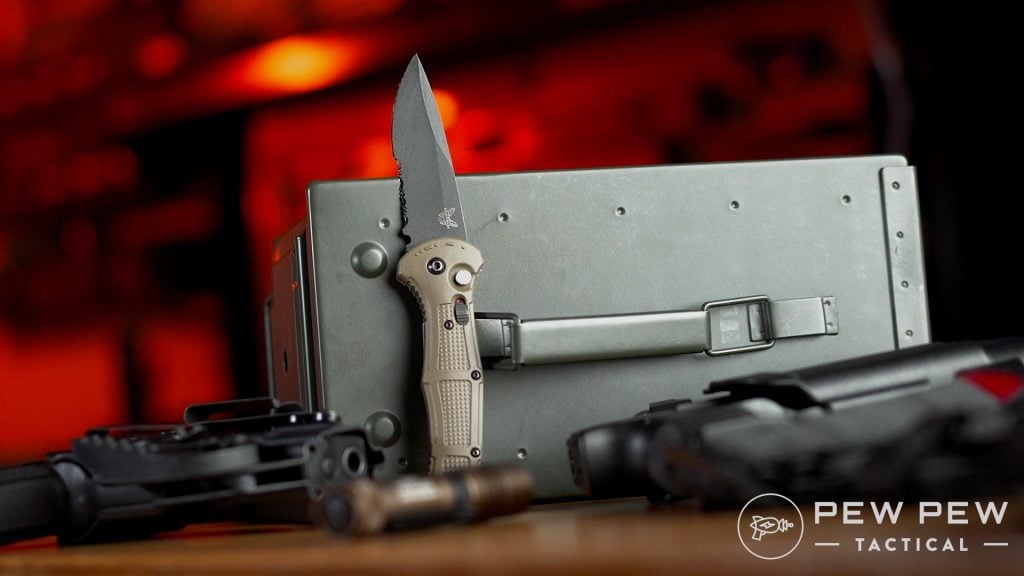 It's not the easiest to sharpen, but the blade keeps its edge for a long period of time.
Hit the button and watch your fingers as it flies out the side and locks in place. A safety keeps it from opening in your pocket, and it allows the blade to keep locked in place.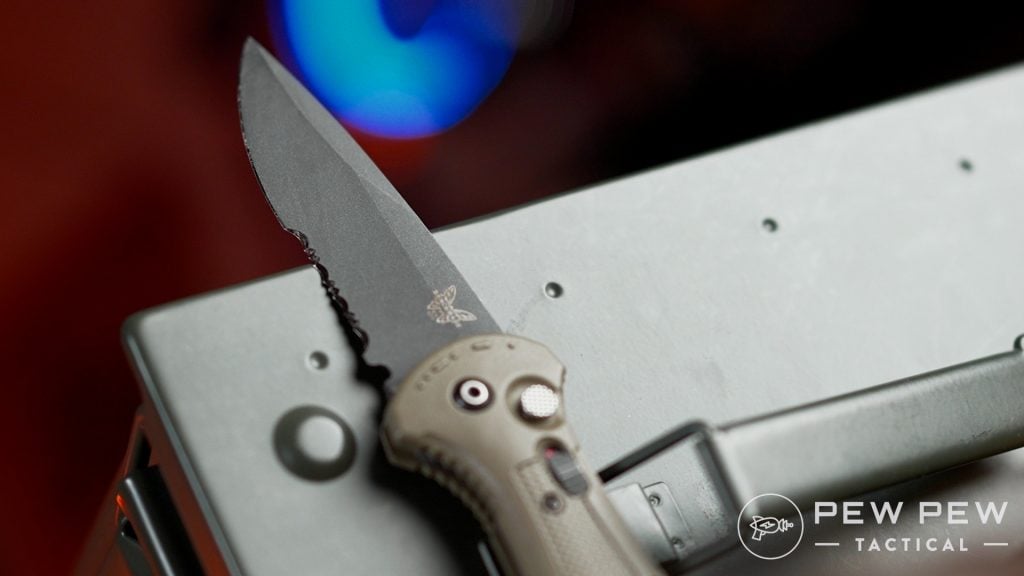 7. The Classic Ka-Bar
The Ka-Bar isn't the most modern knife on the market, but it remains one of the most versatile knives on the market.
What do you need a tactical knife for? Fighting and self-defense? Camping? Hiking, hunting, all the other tasks you could ever face in this big mean world?
The OG
96
at BladeHQ
Prices accurate at time of writing
Prices accurate at time of writing
Well, the Ka-Bar can handle it. This tool has proven itself throughout several wars, including World War II, Vietnam, and the Global War on Terror.
The Ka-Bar's 7-inch blade features a small section of serration that allows you to rip and tear into thicker materials.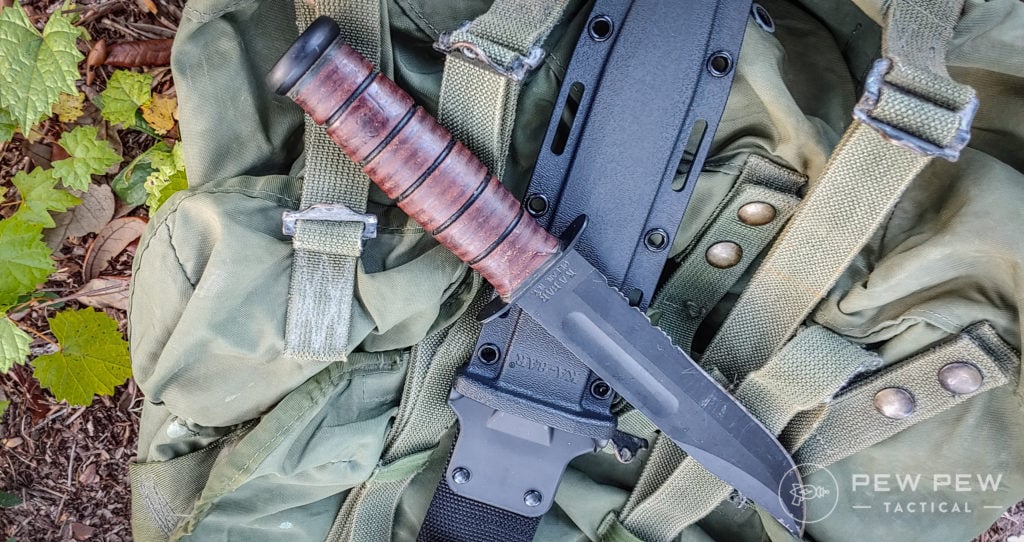 The blade sports a big belly allowing for deep cuts and solid slices. You can skin game, sharpen stakes, and cut deep without a ton of effort.
Its handle is wrapped in leather for a sure grip, and the clip-point blade makes it fairly versatile.
The classic Ka-Bar has stuck around for decades for a reason, and it's still a solid, multi-use tactical knife.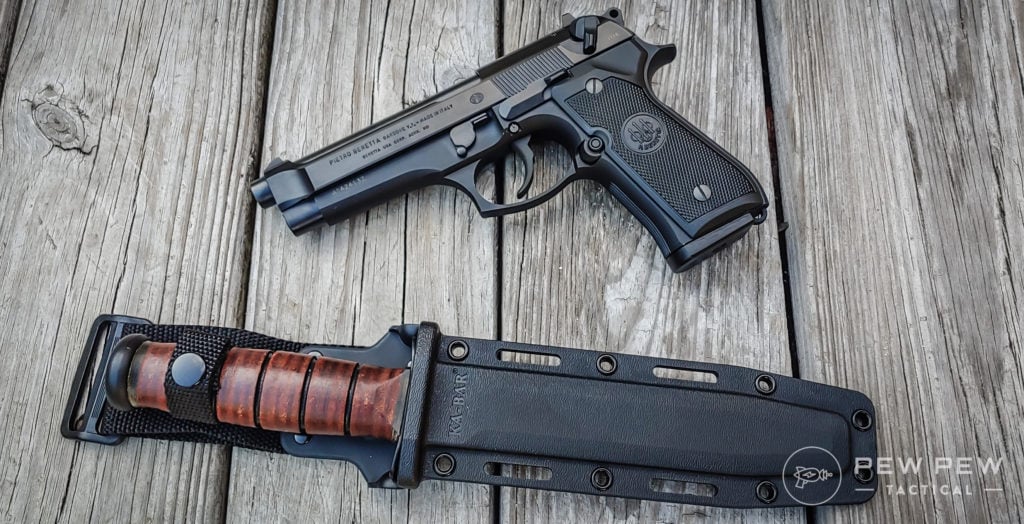 What do you think of the KA-BAR? Rate it below!
8. Gerber StrongArm
You don't need to spend a fortune to get a good, solid tactical knife.
I own two Gerber StrongArm knives and only own two because it was a BOGO deal. I've never needed to even use the second because the first one I've opened has taken a beating without complaint.
Best Fixed Blade
56
at Amazon
Prices accurate at time of writing
Prices accurate at time of writing
The Gerber StrongArm is a simple but affordable fixed-blade tactical knife that features a 420HC, 4.8-inch blade that's also a full tang blade. At the end of the handle sits a lanyard loop and a glass or skull-breaking pommel, depending on your needs.
The StrongArm sheath can be oriented vertically or horizontally, or even on a MOLLE platform. Plenty of options make the Strongarm easy to carry, regardless of how you're planning to carry it.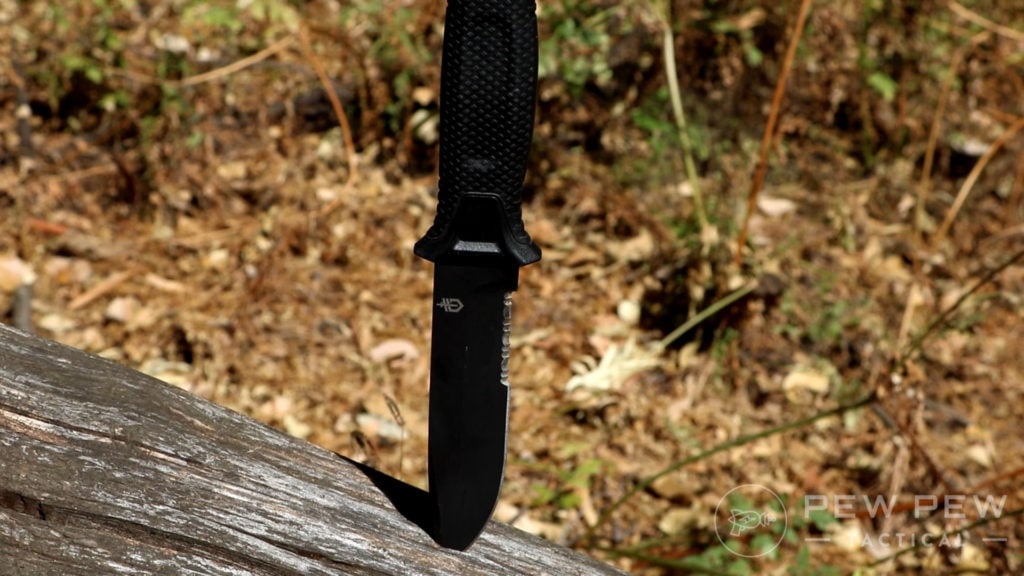 The StrongArm uses a rubberized diamond coating that's plenty comfortable but also provides a solid grip when in use.
It features a ceramic coating on the blade for better durability, and it's fairly capable of resisting the world. Hell, mine has been used as a knife, shovel, pry bar, and more, and it just keeps on keeping on.
9. CRKT Goken
James Williams, one of the most respected American martial artists, helped CRKT design a simple but effective knife known as the Goken.
The blade features a unique shape that allows for both deep slashes and quick stabs. CRKT uses a 3.69-inch blade made from 1.4116 stainless steel.
59
at BladeHQ
Prices accurate at time of writing
Prices accurate at time of writing
This steel is plenty tough, with excellent corrosion resistance and great wear resistance. Altogether, it makes a dependable and tough blade for all your slicing and dicing needs.
CRKT describes the blade as an Osoraku Zukuri Modified Tanto Style Blade. I can tell you it's got a nice corner for deep cuts and a scalpel-like tip that will dive deep and cut into whatever needs cutting.
That blade disappears into the handle and folds away for a nice and tight fit into the pocket. The flipper design ensures the blade opens with swiftness when needed, and the liner lock stands in place regardless of how dirty things get.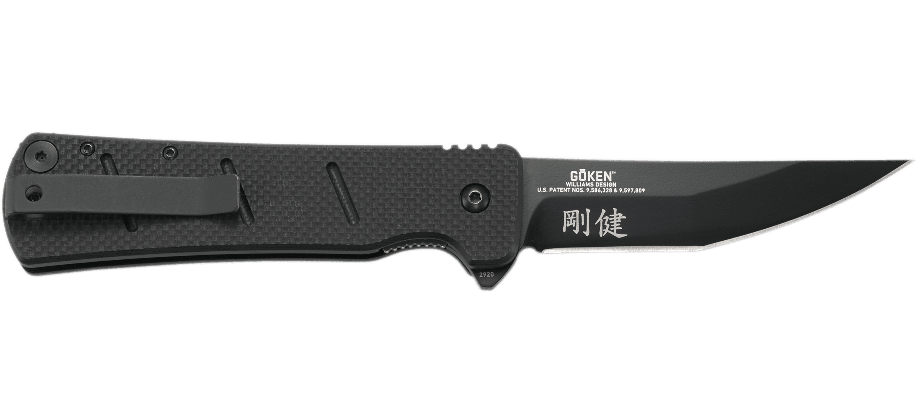 The grip itself grips back with an aggressive texturing that keeps the blade locked into your hand.
Who needs a big, sharp knife slipping around when it comes time to slice and dice? It's clear that practical use was the goal of the Goken. Plus, it's not a wallet killer, either.
10. SOG Pentagon FX
Daggers have always been an awesome option for the tactical knife. The dual edges make it easy to cut one way or another and to change direction quite quickly.
SOG's Pentagon FX utilizes a dual-sided dagger blade with a modern design from tip to hilt. S35VN steel is used for a durable blade that is absurdly sharp.
Best Dagger Blade
189
at BladeHQ
Prices accurate at time of writing
Prices accurate at time of writing
A dagger doesn't offer the same versatility as other knives, but it's one heckuva knife for self-defense and fighting.
That blade is a full tang design with a set of G10 grips. G1 is a heated and compressed fiberglass-derived material that is strong and also super grippy by nature. It clings to your hand and doesn't slip from your grip.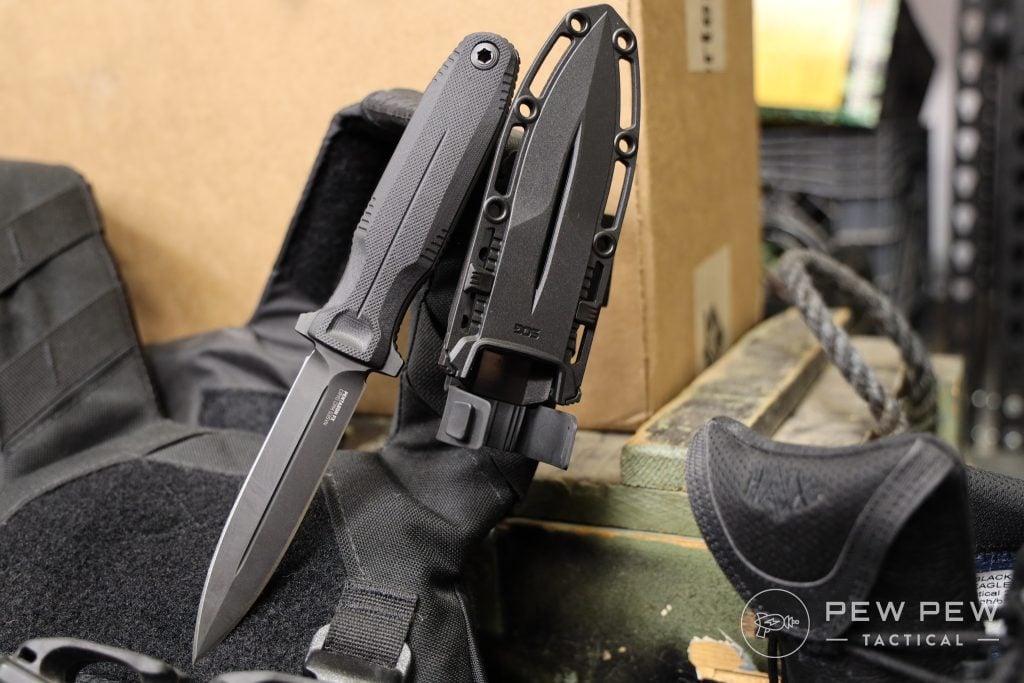 If you need to reduce the size, the grips can be removed for a thinner, more concealable knife.
The Benchmade Pentagon FX shows what a dagger should be in 2022 and stays sharp, ready, and eternally useful. Just don't cut yourself…
Why Carry a Tactical Knife?
When looking for a tactical knife you want to consider a few things.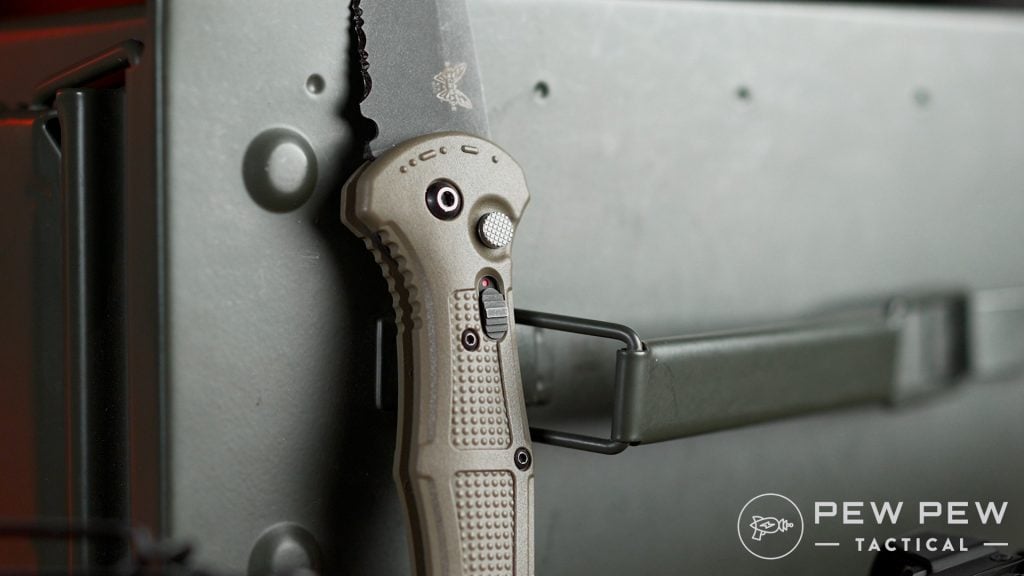 First, what will you primarily be using the knife for?
Second, what tactical conditions will the knife need to perform under, and finally, how does it fit in your hand? Just like anything in life, the coolest, most expensive gear does you no good if it doesn't fit you and your needs.
But why carry one? It boils down to preparedness and/or occupation. LEO, first responders, and the military understand the importance of a good duty-built knife.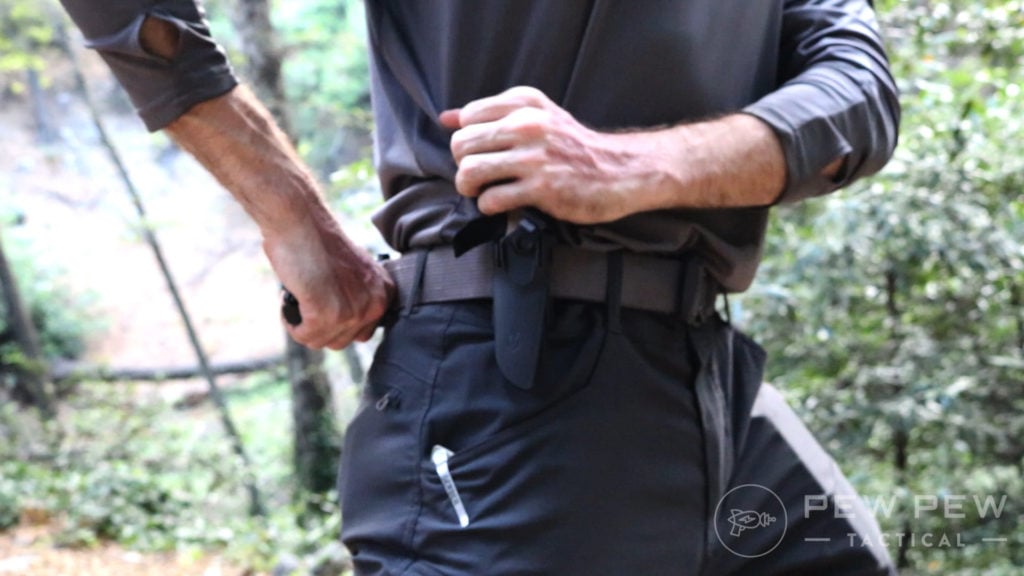 Tactical knives still have an important place for those that are not on the front lines daily. A good tactical knife can be the difference between escaping a car crash, defending yourself, and helping others in distress, or not.
Obviously, you don't want to bring a knife to a gunfight, but as a last line of defense, it could make the difference when it counts.
So while there are many great knives in the world, not all are built to perform under strenuous situations. The last thing you want is for your knife to fail when trying to perform some critical task.
To Serrate or Not to Serrate?
This is the question.
Normally this would boil down to preference, but with a tactical knife, it boils down to use.
If you are going to be cutting through the webbing or rough material, or won't be near a sharpener for a long time, then a serrated or partially serrated edge is for you.
But if you want a good slicer and self-defense knife, then the plain edge will be your jam. You want the right tool for the job.
Now that you know what a tactical knife is and how to choose the best one for you, let's dive into the top tactical knives.
Final Thoughts
While tactical everything is all the rage, these knives stand out as truly "tactical" options that can cover you for most situations you'll encounter.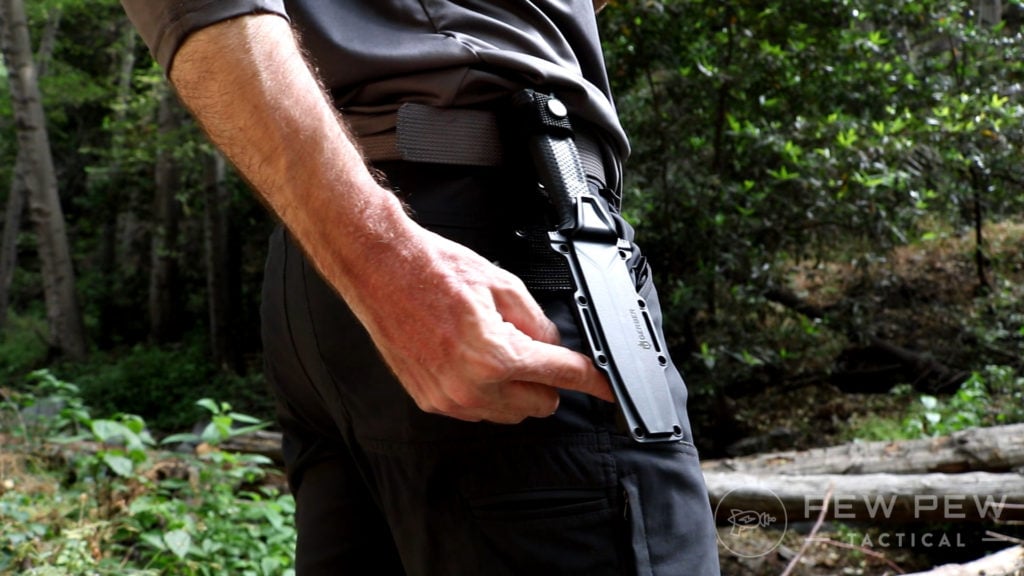 Now that you're a pro on what the best tactical knives are, which one are you going to get? Did we forget the one you think should have made it? Check out our favorites in Best EDC Knives.