In 1962 Remington introduced the Model 700 to the shooting public. It quickly became a hit with its Monte Carlo cheekpiece, sharp checkering, deep bluing, and incredible out-of-the-box accuracy.
The Model 700 has since been produced in just about every imaginable configuration and 700 actions are often the basis for many custom rifle builds.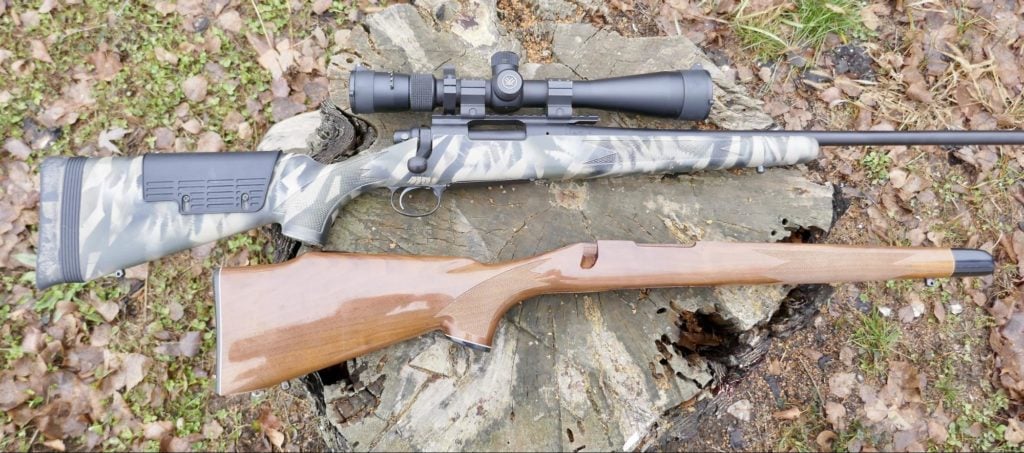 Check out Best Remington 700 Models for an in-depth look a the models available.
In 2012 when the Model 700 celebrated its 50th Anniversary, over 5 million rifles had been produced at that time. Now, seven years later, sales are still brisk and the 700 just keep growing in popularity.
Even though the Model 700 is such an accurate and versatile platform…there's still ways to make it better.
Let's take a look some of the best options for stocks to help you create the perfect Model 700 for you…from competition to tactical or hunting.
Best Remington 700 Stocks
Hunting Stocks
The Model 700 started off as a hunting rifle and has a huge following among hunters for everything from prairie dogs to Cape Buffalo.
However, that beautiful BDL stock is hard for some folks to drag through the willows of coastal Alaska, or bounce around in the back of a dusty safari truck in Africa.
For those looking to preserve their beautiful high-gloss factory stock, there are lots of options to consider.
Hogue offers a great drop-in option in their OverMolded line. These stocks are durable and help maintain that famous Model 700 accuracy with a choice of pillar bedding or a full bedding block.
130
at Brownells
Prices accurate at time of writing
Prices accurate at time of writing
You also will find options for standard barrels, heavy barrels, short or long actions and new option cut for use with removable magazines.
The OverMolded™ rubber texture provides a great grip and keeps the gun quiet when stalking that trophy of a lifetime.
Magpul offers a bunch of options for the hunter who wants to have some tactical accessory options available. This stock is a true drop-in with an aluminum bedding block. The stock is adjustable for length of pull and comb height.
BEST BANG-FOR-THE-BUCK
245
at Brownells
Prices accurate at time of writing
Prices accurate at time of writing
In addition, the stock will accept M-LOK accessories if desired. For those wanting to use a removable magazine, a
Bolt Action Magazine Well kit is available for all action lengths.
McMillan is synonymous with quality and innovation. The Hunter stock has a Monte Carlo cheek piece and a small palm swell. It weighs only two pounds and is available in over 20 different color schemes.

You can order the stock with no inletting, semi-inlet or full inlet options. This is only one of half a dozen McMillan stocks you could choose for your hunting rifle.
HS Precision is known for its excellent rifles, but part of the reason they shoot so well is that they are mated to hand-laminated stocks with machined aluminum bedding blocks. These stocks will ensure your rifle maintains zero regardless of the weather you encounter.
390
at Brownells
Prices accurate at time of writing
Prices accurate at time of writing
Available in short and long action models as well as those with blind or hinged floorplates.
Tactical Stocks
This aluminum chassis locks your 700 action in v-shaped bedding block and aligns your bore and buttstock in a straight line to help control recoil, much like the AR platform. The chassis is built to be compatible with AR furniture and hardware so you will have a familiar platform to work.
680
at MDT
Prices accurate at time of writing
Prices accurate at time of writing
You will need to add a buttstock, pistol grip and forearm of your choice to complete your rifle.
We have some experience with MDT chassis and can highly recommend them. Our Howa 1500 in the MDT ESS shot 1/5th MOA!
What's your take on the MDT?
This is a full-featured stock that could be used in the tactical and competition worlds. It has an adjustable length of pull, cheek piece and the butt plate can be adjusted for left or right cant.
Best Competition Stock
490
at Brownells
Prices accurate at time of writing
Prices accurate at time of writing
The action is mated to an aluminum pillar bedding system and there is a full-length dovetailed rail in the forearm for accessories like bipods and tripod plates.
Competition Stocks
With the growing interest in PRS (Precision Rifle Series) matches and long-range shooting in general, there are a lot of new stocks being introduced to help shooters overcome the barricades and field shooting challenges that each match presents.
A person could certainly do well with any of the stocks we've already looked at, but the specialty stocks in the competition world are what drive our improved choices in the hunting world. Let's take a look at a few options.
In a survey of the top 100 PRS shooters in 2014, 2015, and 2016 Manners stocks come out on top as far as the stock used by the top shooters.
The PRS1 was specifically designed for PRS format competition with an adjustable cheek piece and a hook on the buttstock to allow precise control of the rifle. The forearm is wide and flat to help with shooting off barricades.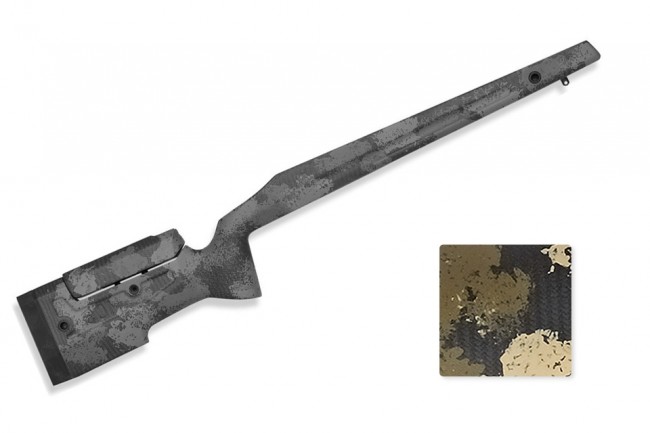 The Manners stocks are hand laid carbon and fiberglass so you know you are getting a very precise stock for your competition rifle. The price is a bit steep, but if you're going to shoot for a Top 100 placing in the PRS Series the $1249 is probably a good investment.
The ACC (Adjustable Core Competition) Chassis is made especially for PRS type shooting and is designed to allow the shooter to add weight as needed to fine-tune their rifle system.
Best Competition Chassis
999
at MDT
Prices accurate at time of writing
Prices accurate at time of writing
Weight can be added to the buttstock as well as the interior and exterior forearm. The chassis starts at 5.9 pounds but can be taken all the way up to 12.3 pounds before the barreled action, optics, mounts, and other accessories are added.
The stock is M-LOK compatible and has a full-length ARCA rail to accommodate bipods, barricade stops and quick release plates for mounting to tripods.

A complete review of the MDT ACC combined with a Howa 1500 Action is coming soon, but the early reports from our editor are VERY positive!
Final Thoughts
The stocks listed above are just scratching the surface of what's available for the Remington Model 700. Hopefully, this article has given you a glimpse of what is possible for this most excellent rifle platform.
All of the stocks are excellent and even the hunting style stocks could be used as entry-level platforms if you want to dip your toes into the competition world.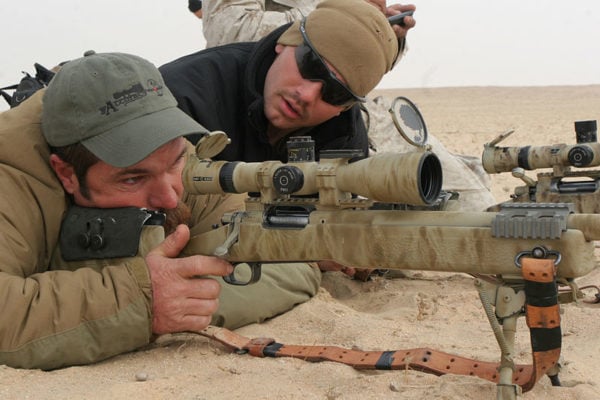 The 700 is capable of extreme accuracy just as it comes from the factory, but the addition of a composite stock with a pillar bedding system or v-block type system will serve to make your favorite rifle even more consistent and accurate.
Tell what you like and use for Model 700's. We'd love to see your rifle setups and some pictures of the groups you are shooting! Need an optic? Take a look at our 9 Best Long Range Scopes!