I've been left-handed since I made my appearance into this world, and I do most everything left-handed.
The world has conspired against lefties since antiquity. As a matter of fact, the Latin word for left is "sinister" – 'nuff said. It seems gun manufacturers have gone along with that, as well.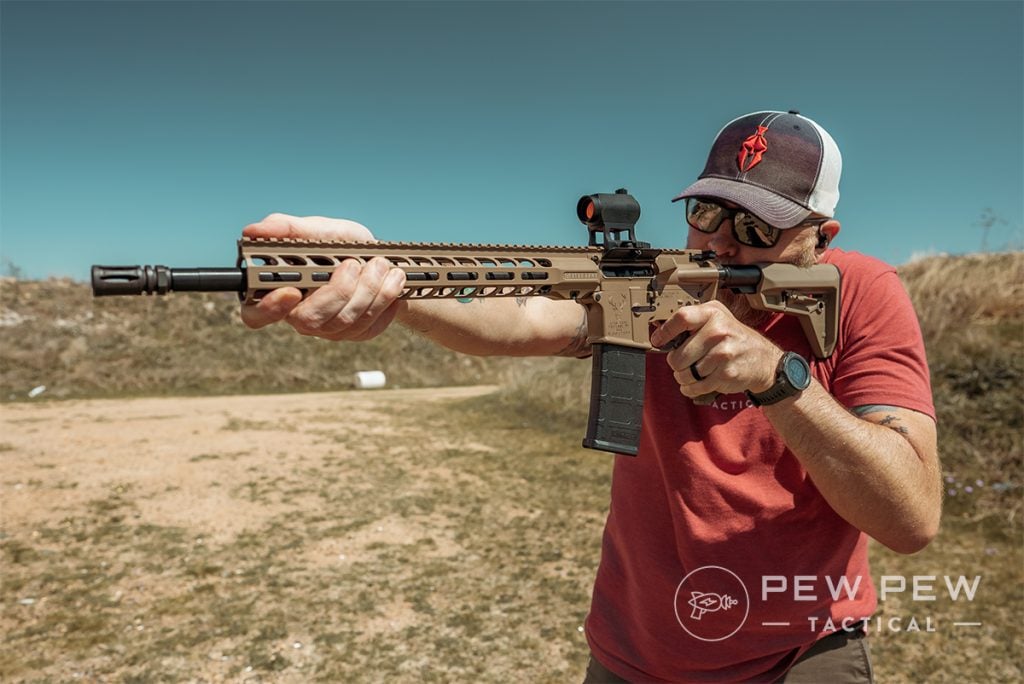 There are few guns out there that are truly lefty friendly…but don't worry, lefty models exist.
And that's what we're exploring today – left-handed rifles and pistols. So, follow along as I tell you my favorites models and why they make this list.
Summary of Our Top Picks
Table of Contents
Loading...
What Makes a Gun Left-Handed?
Before I start throwing photos of guns at you, we need to define a left-handed gun. The way I see it that could include two families of firearms.
The first (and most obvious) would be those guns manufactured from the get-go to be left-handed.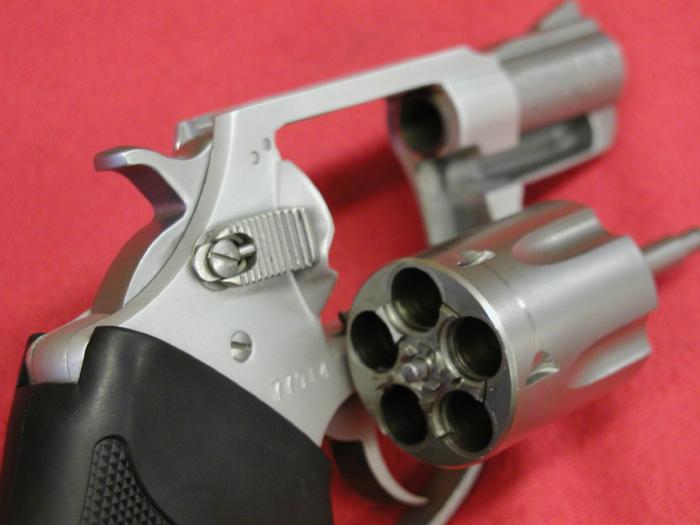 Those would include rifles with the bolt handle or ejection ports on the left side. There are even 1911 pistols set up in mirror images of traditional ones.
In terms of bullpup rifles, don't get me started… unless the ejection port is moveable to the other side, those are out for most of us wrong handers. Hot brass zipping past your face or arm is not my idea of a good time.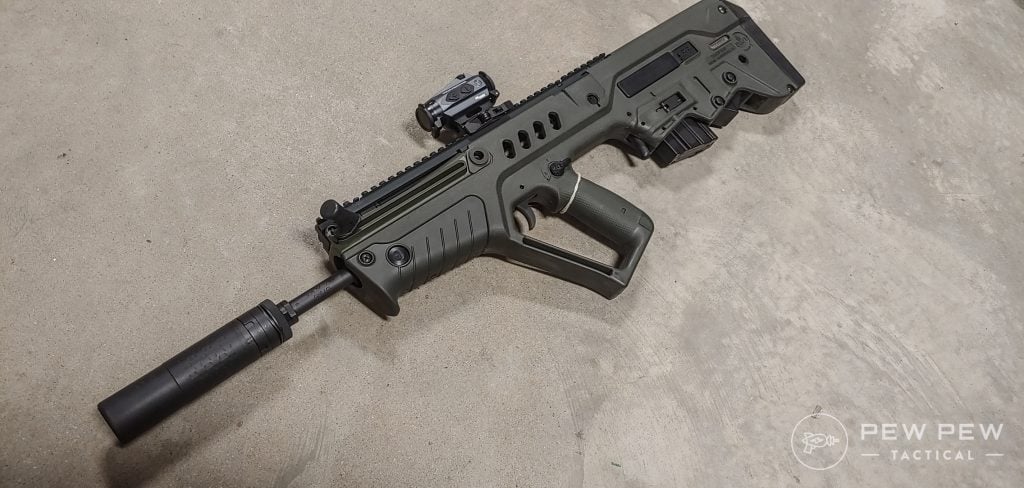 The second family of guns is those that can be made left-friendly. I'm talking about semi-auto pistols with reversible magazine releases and similar features.
These guns are not out-of-the-box left-friendly but can be made that way with a few swappable parts.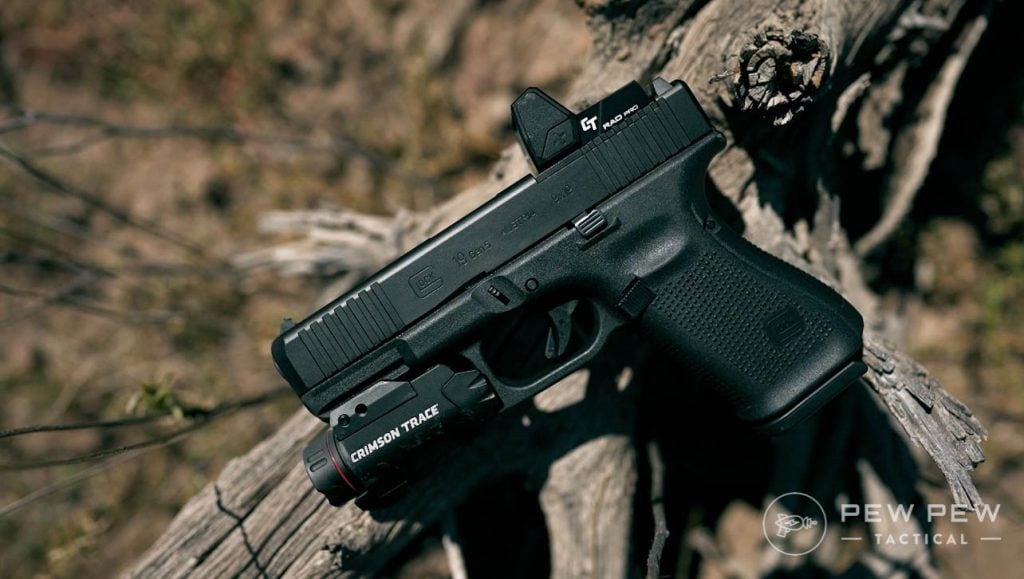 With that out of the way, let's get down to business – rifle and handgun business, that is.
Best Rifles for Left-Handed Shooters
We have two main actions in this category – bolt and semi-auto. Notice I didn't mention lever-action rifles. They are pretty much already ambidextrous, so we don't need to discuss them.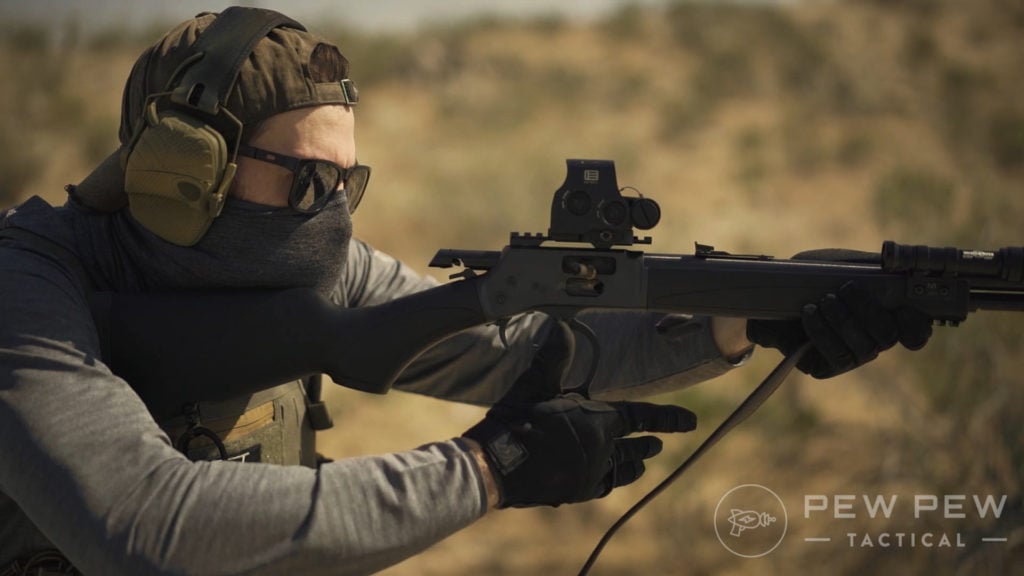 Worth mentioning that right-handed bolt-action guns are a bit easier to shoot by lefties than righty semi-autos –the whiz-bang ejection of the empty case out of a semi-auto makes for interesting range trips.
Unlike pistol makers, many rifle manufacturers make left-hand versions of their more popular models, so let's dig into some of my favorites.
1. Savage Arms Rascal
If you're looking for an easy plinker or a trainer for the new shooter in your life, you can't beat this single-shot .22 LR from Savage.
There aren't too many teaching-type rifles for lefties, but the Rascal is one of the best.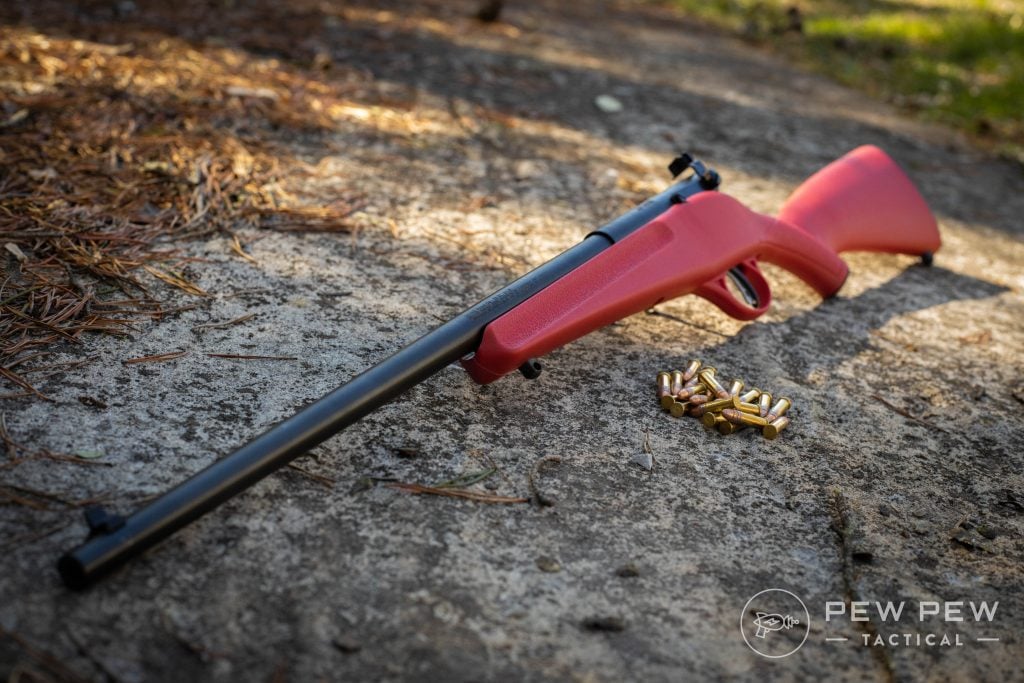 It features the Savage AccuTrigger, scope bases, and a manual safety. Not to mention, sling swivels, a lock, and a free set of earplugs round out the package.
If you have a pint-sized southpaw who is clamoring to shoot, the Rascal offers a perfect option for him or her.
Best for Beginners
173
at Palmetto State Armory
Prices accurate at time of writing
Prices accurate at time of writing
2. Browning X-Bolt Stainless Medallion
Who hasn't heard of Browning guns? I could spend this whole writing venture on that storied company alone. But I won't. Instead, let's talk about the X-Bolt Medallion – specifically the left-handed model.
Browning's X-Bolt opts for a three-lever Feather Trigger. This brings a crisp pull with no take-up or creep and minimal overtravel. That's a win in my book!

The gun's X-Lock scope mounts provide a new four screw per base design that replaces the traditional two-screw system. This is a good thing as it secures the bases at all four corners.
New for Browning is the detachable rotary magazine on the Medallion. The magazine is designed to feed cartridges directly in-line with the bolt, which should help avoid any feeding issues.
1079
at Sportsman's Warehouse
Prices accurate at time of writing
Prices accurate at time of writing
And did I mention, this is a good-looking rifle? OK, this is subjective and not official, but when I see a polished blue rifle with a high-grade walnut stock and rosewood accents, I take notice. There aren't too many of them around anymore!
This rifle was once available in 15 calibers, but that has since been pared down to seven. I could see this rifle going on a deer hunt in .243, .308, or .270. Other calibers include .30-06 and magnums for those that need stronger medicine.
3. Ruger Gunsite Scout
Ruger makes more guns than any other American gunmaker, so it's not surprising that they would make left-handed versions of their popular sellers.
I did a quick website survey and counted 25 left-hand models in calibers from .22 LR to Africa-ready. But the cream of the crop is the Gunsite Scout in .308. Some folks call it the do-it-all rifle – they aren't wrong.
1479
at Palmetto State Armory
Prices accurate at time of writing
Prices accurate at time of writing
When I tested this gun out, I was able to get decent groups. And it's a sweet rifle to shoot!
Based on Jeff Cooper's visualization of the perfect scout rifle — short barrel, box magazine for quick reloads, open aperture rear sight, all in a serious caliber — the Scout performs well and looks great.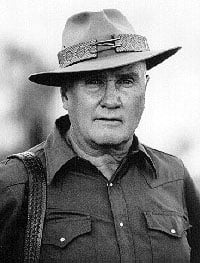 Its laminated stock is set off by the stainless barrel.
In addition to its looks, the Gunsite Scout has a few other features going for it. A flash suppressor helps "tame the flame," while a long Picatinny rail allows you to mount whatever optic you want on it

The front blade sight is surrounded by "ears" to protect it, and the adjustable ghost ring aperture rear allows you to adjust the sight for different loads.
Ruger offers variations on the Gunsite Scout to include different calibers (.308 Win, .350 Legend, .450 Bushmaster) and blue or stainless finish and stocks.
4. Weatherby Mark V Backcountry
Weatherby has earned a reputation for building high-end, top-quality rifles since 1945.
Essentially custom guns, the Weatherby rifle was available in proprietary calibers early on, which are still available today. Production was moved at various times in the company's history to Germany and then Japan.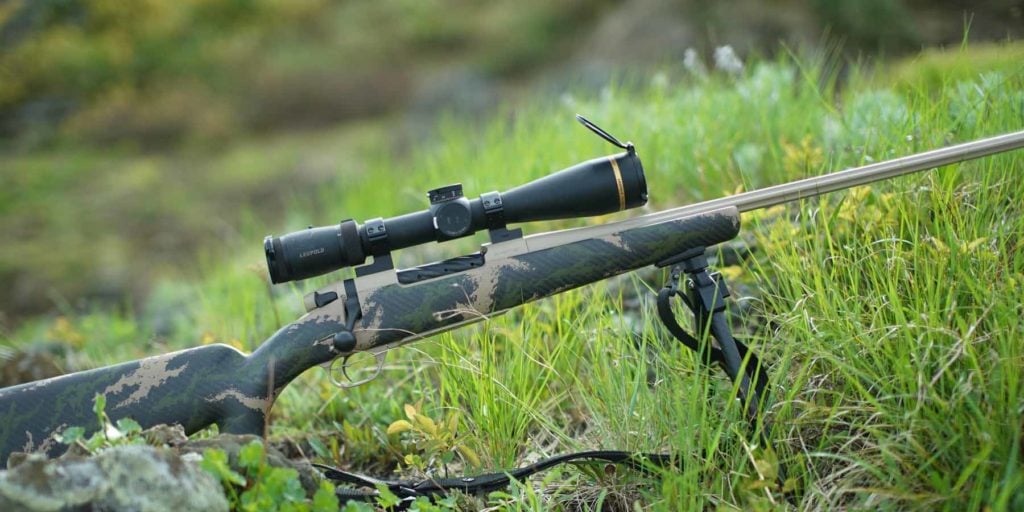 Today, Weatherby makes two models: the Mark V and the Vanguard, a lesser-expensive rifle.
The Weatherby Mark V utilizes either a 6- or 9-lug, push-feed action. It's also proven to withstand 100,000 lbs./sq. ft. pressure.
The Mark V offers a short, 54-degree bolt throw — one of the lowest in the industry.
Best for Hunters
2099
at Palmetto State Armory
Prices accurate at time of writing
Prices accurate at time of writing
And there are 15 available Weatherby calibers – that ought to cover hunting just about everything from mouse to moose.
According to Weatherby, any 9-lug action can be ordered in left hand, but not the 6, so that's worth keeping in mind.
5. Stag Arms STAG-15
Stag Arms makes beaucoup ARs, several of which are left-handed — 38 left-hand ARs, in fact.
The Stag Arms STAG-15 comes with a few nifty features, including a nitride 16-inch barrel with a mid-length gas system, an A2 flash hider, Stag 13.5-inch M-LOK handguard, and Magpul furniture.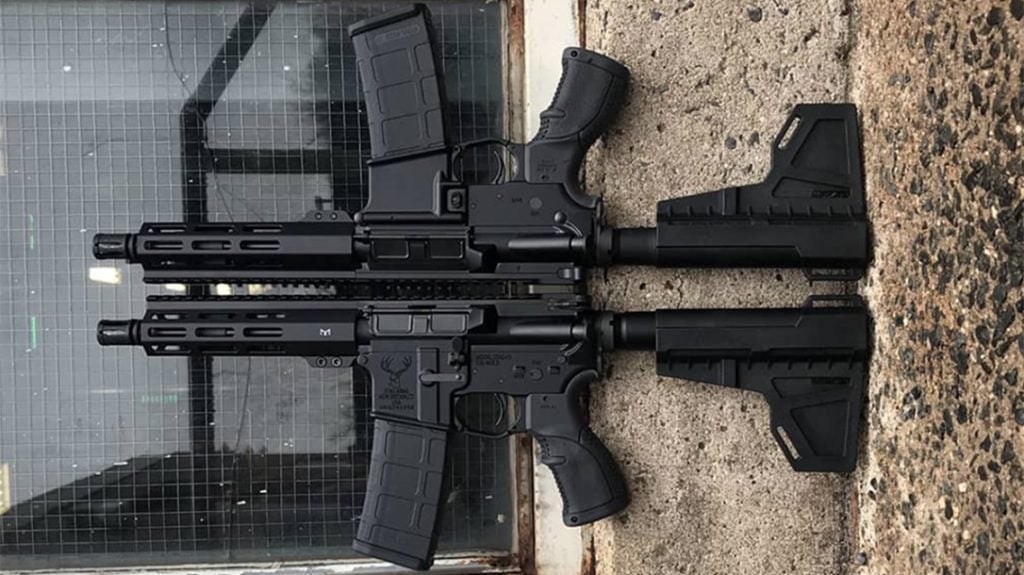 A long Picatinny rail on top allows you to put almost any sighting gizmo on it, while a multi-position buttstock lets you bring it in close if desired.
Best Tactical Rifle
1139
at Stag Arms
Prices accurate at time of writing
Prices accurate at time of writing
The mag release, bolt release, and safety are on the correct sides of the gun for lefties. Empties will zip off to the left, away from your face — so no Hot Brass Two-Step need be performed.
Best Handguns for Left-Handed Shooters
6. Charter Arms Southpaw
Before we get into listing the pistols that work for lefties, I feel the need to tell you about one revolver that is set up for us wrong handers…the Charter Arms Southpaw.
The cylinder swings out to the right, with its release on the same side, which just makes sense.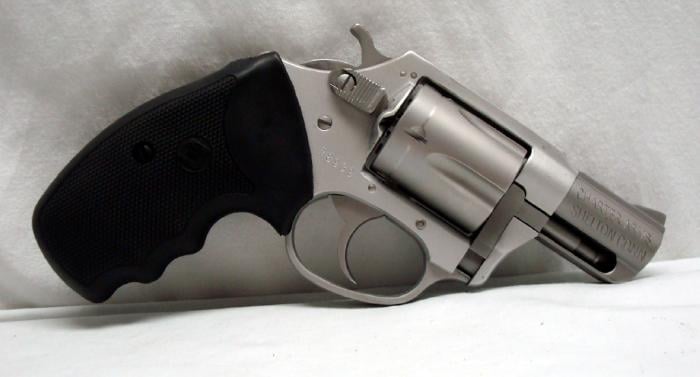 This 12-ounce, 2-inch-barreled .38 Special is based on Charter Arm's Undercover Lite — only in mirror image.
If you are looking for a decent revolver in left hand, check this little guy out.
Best Revolver
340
at Kentucky Gun Co
Prices accurate at time of writing
Prices accurate at time of writing
For $435, you could do worse. I've owned two different Charter Arms revolvers, and they work as advertised.
Now for a few pistols…
7. Beretta APX Centurion
For $400, this gun is a steal. Made with Beretta's legendary quality, this carry gun exemplifies what a left-handed pistol should be.
Features include an ambidextrous slide stop and reversible mag release. Serrations run across the whole of the slide.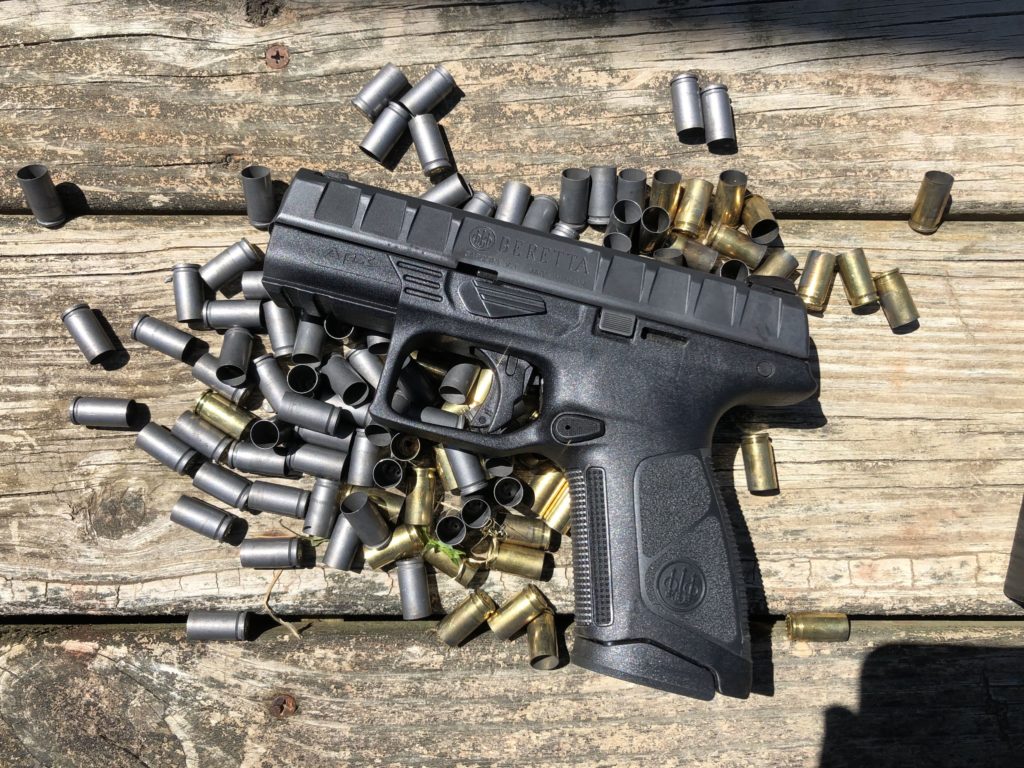 The APX Centurion is the 15-round version, with smaller and larger guns available.
For Beretta fans, this pistol is definitely a great option.
410
at Guns.com
Prices accurate at time of writing
Prices accurate at time of writing
8. H&K VP9
I really like the VP9. This is one truly ambidextrous pistol.
Given its lineage and H&K's many years of proven manufacturing prowess, the VP9 is the answer to many questions asked about what constitutes a top-quality carry pistol.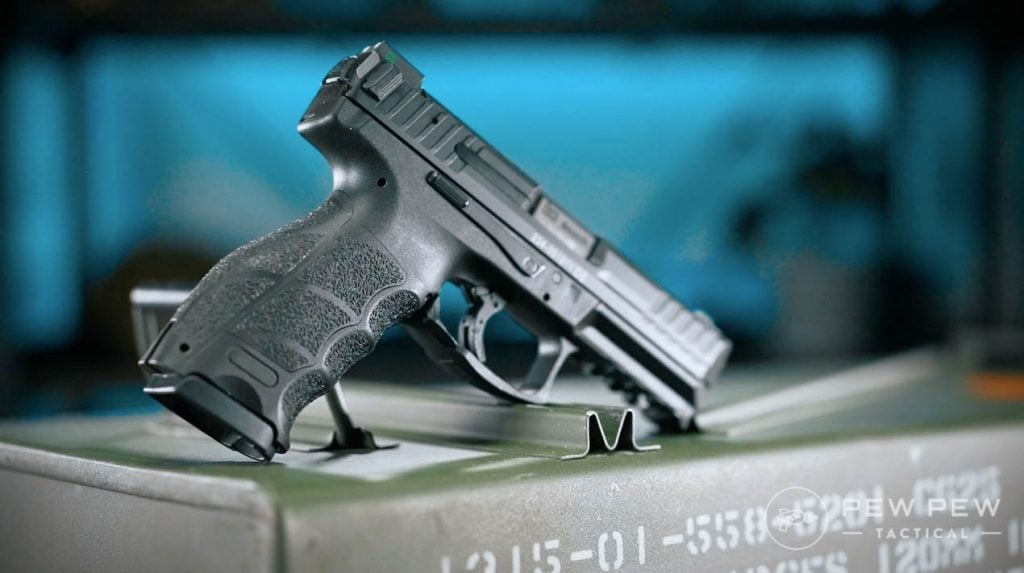 The paddle mag release works equally well from both sides. And you have a long, right-side lever to drop the slide.
Switch out the back strap and change the palm swell side panels for a custom fit. — three backstraps and two grip panels accompany the VP9. With 16 configurations, there's something for everyone.
Best Semi-Auto Pistol
689
at Kygunco
Prices accurate at time of writing
Prices accurate at time of writing
Check out our full review of the HK VP9 or peep the video review below.
9. Glock 19, Gen 5
Of course, I have to include a Glock.
With the Gen 5, the company added a slide release to the right side of the frame and made the mag release reversible.
Even though I'm not a strong fan of the Austrian pistol, I acknowledge its popularity and reliability.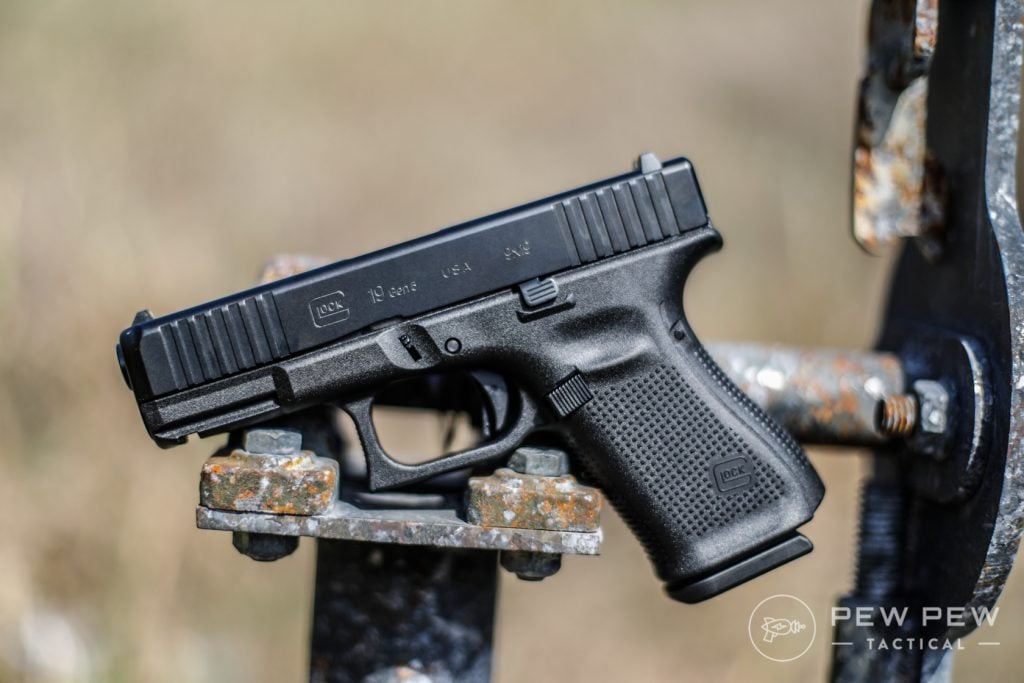 The Gen 5 G19 ditches the finger grooves and introduces a newer, textured grip. In terms of left-friendly features, the gun sports a reversible mag release and ambidextrous slide release.
You can't go wrong with a Glock when all is said and done.
539
at Palmetto State Armory
Prices accurate at time of writing
Prices accurate at time of writing
Their chambers are just a touch larger to provide functioning and reliability with different ammo types, three mags are included, and the ambi slide release is very appreciated.
Whether I'm a fan or not, 65% of American police agencies use Glock for a reason – they tend to work.
Check out our full review on the Glock G19, Gen 5 here!
10. CZ P07
The Czech company Česká Zbrojovka has long been known for manufacturing guns popular with many types of shooters. This includes their extensive number of pistol models, one of which is the P-07.
Introduced in 2009, the P-07 was their modern interpretation of the venerable CZ-75. This iconic DA/SA pistol captured the hearts of many shooters, including legendary 1911 aficionado Jeff Cooper. If you go to many pistol competitions, you will see derivatives of that pistol in competitors' hands to this day.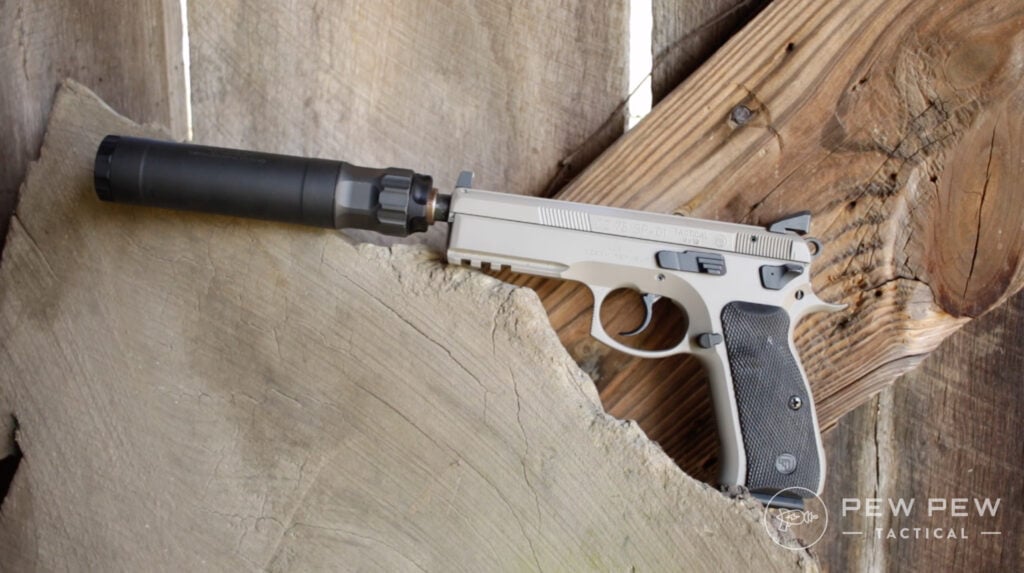 So, CZ upped the ante by bringing out the P-07.
The gun is not truly ambidextrous, to be fair – the slide lever is port-side only. But I'm sure most of you lefty shooters have learned, as I have, to operate the slide release lever with your strong-hand index finger. So, it's not a big deal.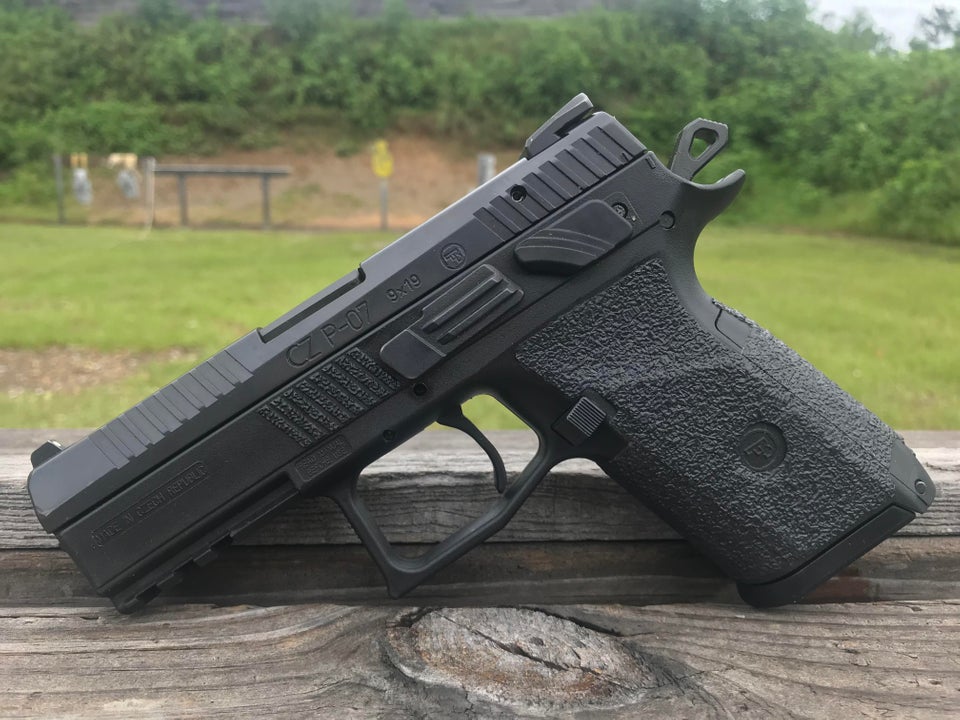 Other factors outweigh that design feature. The guns ship with two safety levers. One lever is a safety that allows cocked and locked carry. The other is a decocker. It's a simple switch-out of the ambidextrous lever to whichever one you want.
Worth mentioning that the slide rides in the frame, not on it – this lowers the bore axis, which can help with recoil and accuracy.
Best DA/SA Pistol
551
at Brownells
Prices accurate at time of writing
Prices accurate at time of writing
Other features include metal sights, a new trigger, and "de-horning" for a comfortable carry gun. Interchangeable backstraps allow custom fitting of the gun to the shooter. Rounding this gun out are 15-round magazines and tritium night sights.
If you are a fan of traditional DA/SA pistols, you might want to check out the P-07 or one of its many variants from CZ – they are truly well-built guns.
11. Walther PDP
The Walther PDP (Personal Defense Pistol) is available in several configurations. The 4-inch barreled, 24-ounce, 18-round 9mm hits most of the buttons where southpaw pistols are concerned.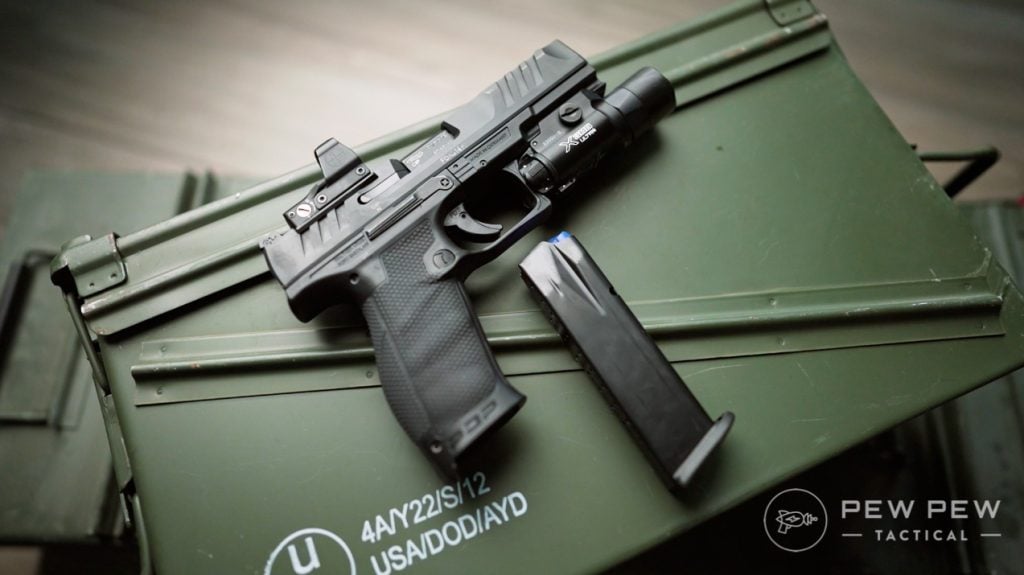 Offering a truly ambidextrous, long-lever slide release and reversible mag release, this gun works well in the hands of lefties.
It also brings an easy takedown experience. The takedown lever in front of the trigger guard makes the process painless.
Slide serrations go over the top of the slide, and it provides an optics cut for the addition of a red dot.
Best Compact 9mm Pistol
586
at GrabAGun
Prices accurate at time of writing
Prices accurate at time of writing
Sean took the PDP for a test drive. Read up on his thoughts or watch the full video review below.
Conclusion
As a left-handed shooter, I have adapted to a right-handed world of guns. So, it's nice that more and more guns can now be enjoyed by everyone – not just righties.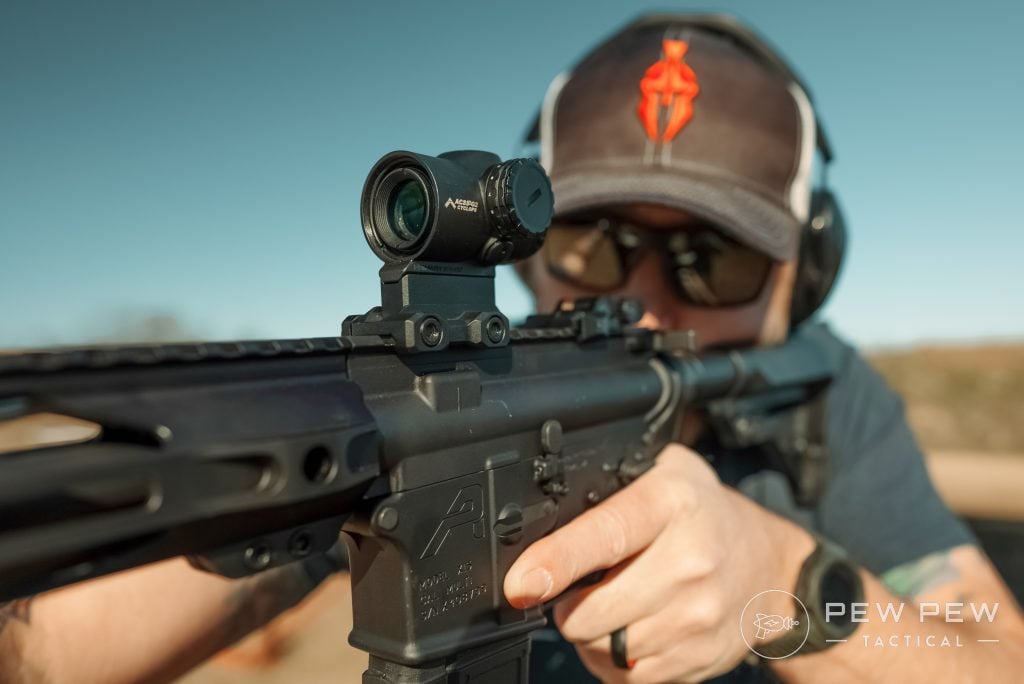 Whether you need a hunting rifle or home defense gun, any of the above models would make a great addition to your gun safe.
Are you a Southpaw? What are your favorite gun models? Let us know in the comments below. Want more lefty-friendly models? Check out our round-up of the Best Left-Handed AR-15s.