Can you name a single platform as adaptable as the AR-15?
I certainly can't.
The AR-15 started as a relatively simple rifle, but back in the 1960s, it was a piece of space-age technology.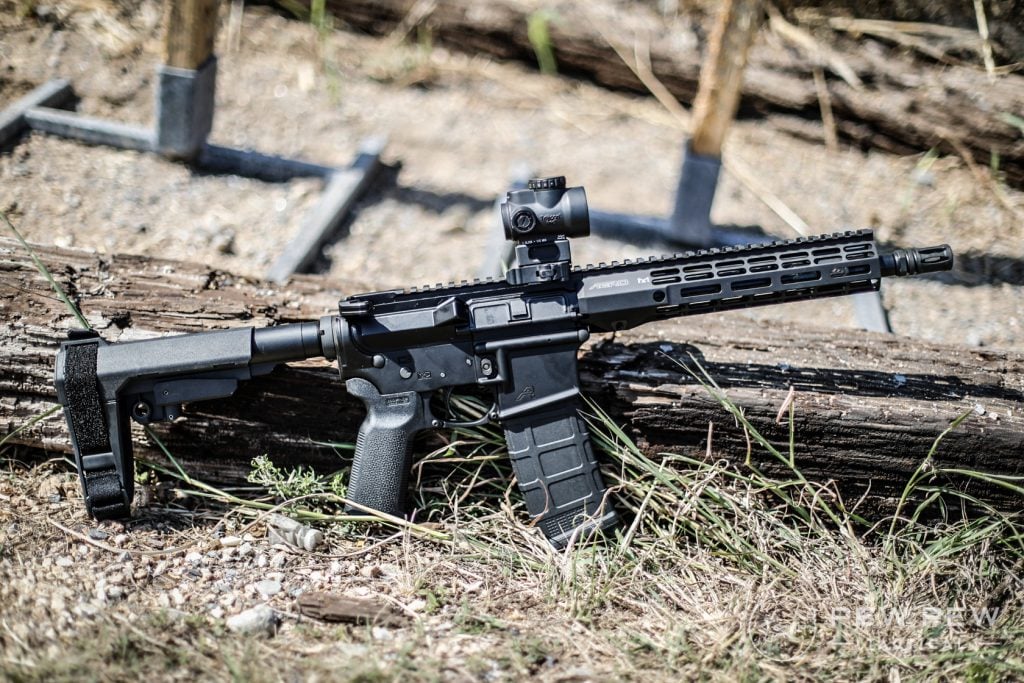 As times changed, so did the rifle. It keeps changing and evolving, and most modern rifles take their design cues from the AR-15.
That's the good thing about mass production, the products require little craftsmanship, and that allows them to be adaptable en masse.
With the AR-15, the actual legal firearm portion of the firearm is the lower receiver.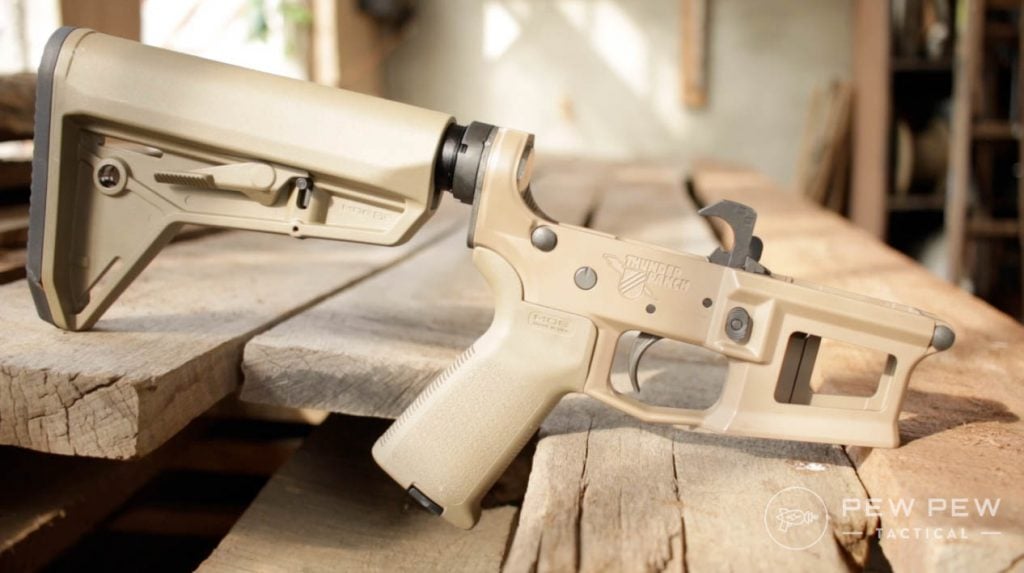 Like every other part of the AR-15, the lower has evolved.
One of the larger evolutions has been the creation of ambidextrous lowers.
The AR-15 has been more modular than most, but the standard receiver layout has always gone more or less the same way. It also favored righties.
We've gathered some of our favorites at a variety of price points and from our favorite manufacturers.
Summary of Our Top Picks
Table of Contents
Loading...
Why an Ambidextrous Lower?
The most obvious answer for using an ambidextrous lower is that you are left-handed. It gives your left-handed shooter the ability to control their rifle like a right-handed shooter.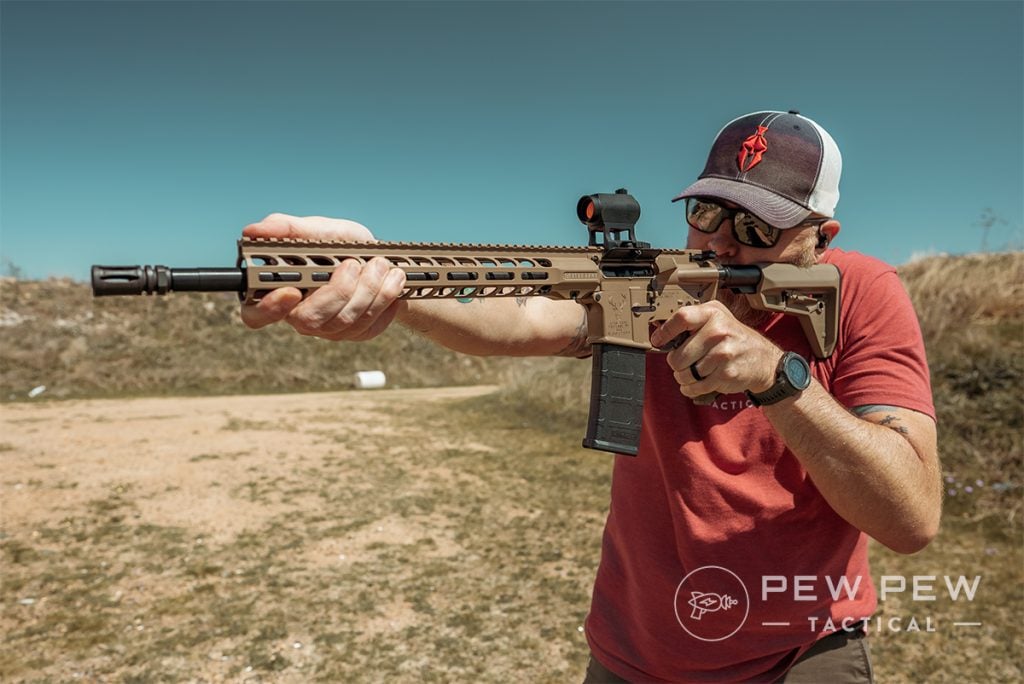 A major advantage of the AR-15 system is that due to the brass defector and the design of the rifle, even wrong-handed shooters using a right-hand ejection AR-15 won't get brass in their face.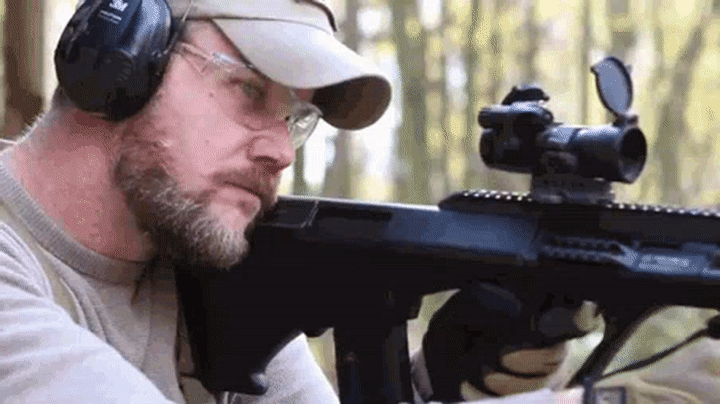 There is no need to learn an odd or different manual of arms to control your weapon. An ambidextrous lower will grant you the ability to easily manipulate your rifle.
Beyond accommodating lefties, we can also point out that any shooter, regardless of their dominant side, can better control their weapon in various situations.
Modern shooting techniques have seen shooters learning how to shoot better when accommodating for cover. Part of this is learning to shoot around cover and switch shoulders.
Sometimes it makes sense to switch shoulders to fire around an obstacle and to make the most of your cover.
An ambidextrous lower allows you to establish good cover regardless of your dominant shoulder and still maintain total control over your weapon. Speaking of cover and odd shooting positions, an ambidextrous lower simply offers you more options to get the job done.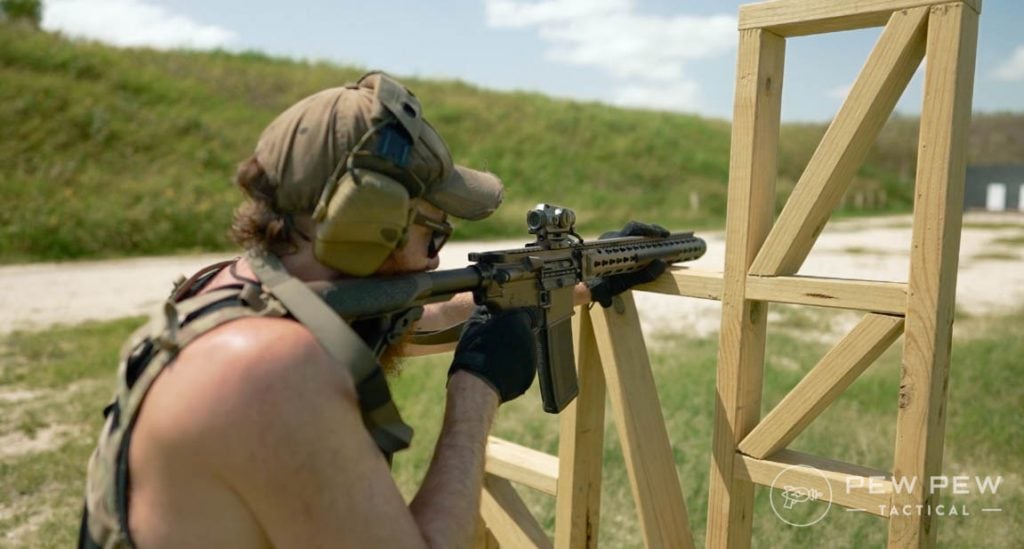 If you are in a state like California and you are looking to do a featureless build, then an ambi lower can make handling the rifle much easier due to the different ergonomics attached to featureless builds.
Ambi controls, especially ambi safety levers, are better designed for featureless builds.
Downsides?
Everything has a downside, right? Ambidextrous lowers have a couple, at least two I can think of.
The first is going to be the price associated with ambi lowers.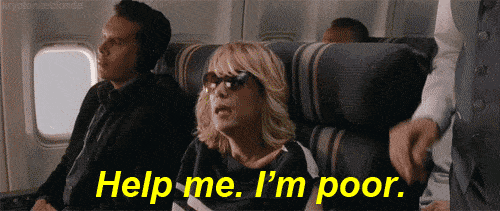 They are certainly a lot more expensive than your standard lower. We live in an age where even extremely high-quality lowers have dropped a lot in price.
Ambi lowers haven't dropped much in price and are quite expensive.
More than that, they are often built by high-end companies that tend to already be on the expensive side.
The only other thing close to a downside is the fact you are going to have to learn how to utilize the ambidextrous controls. You'll have to retrain to make the most of these controls, but training means more shooting, so I'm not sure how exactly that is a bad thing.
Best Ambidextrous AR-15 Lowers
1. Seekins Precision SP223 Gen 2 Billet Ambi Lower
Seekins Precision is well known for their high-end AR parts, and their SP223 ambi lower is no exception.
For starters, the lower is machined from a solid block of 7075-T6 aluminum.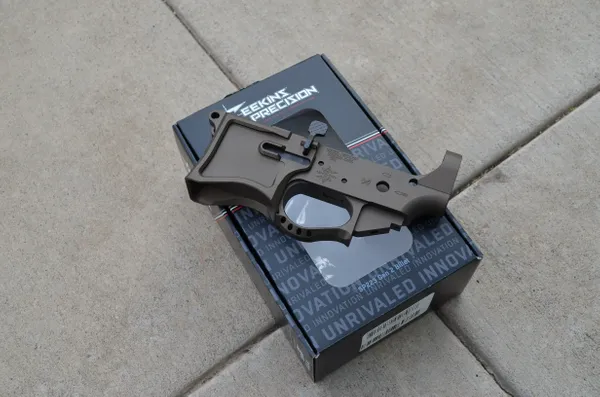 Enhanced features include an ambidextrous bolt release, an oversized winter trigger guard, and a flared magwell.
A few other things that set this lower apart are the elimination of roll pins in favor of custom dowel pins and the inclusion of a tensioning screw to remove any play between the upper and lower receiver.
266
at Primary Arms
Prices accurate at time of writing
Prices accurate at time of writing
The good news? All of this comes in at a relatively reasonable price of under $300, making it one of the more affordable options on this list.
2. Rainier Arms Ultramatch Billet Ambi Lower & Upper Set
A slight step up in the cool factor when it comes to ambi lowers is the Rainier Arms Ultramatch. It's not a forged upper but a billet cut upper and lower set.
This gives it sharper and cleaner lines and a sleeker overall appearance.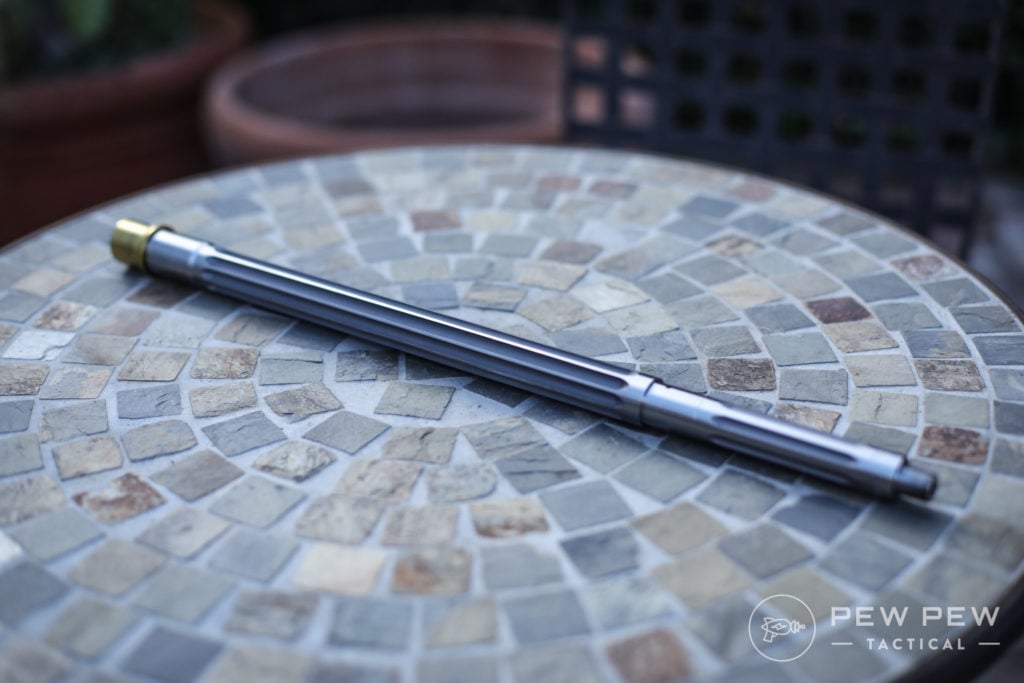 There is a slight step in price versus the Aero model, but there is an undeniable cool factor when it comes to billet lowers.
The Ultramatch billet lower allows you to install any ambi lower parts you choose, including both standard and 45-degree short-throw safeties.
The lower sports a flared mag well, making reloads slightly faster and more intuitive. It's a nice touch that I appreciate. Additionally, there is a tensioning screw that will allow for a better upper and lower fit, but if you purchase a quality upper, the fit will probably be solid regardless.
Best Billet Lower
434
at Rainier Arms
Prices accurate at time of writing
Prices accurate at time of writing
Like most billet uppers, it also has an integral trigger guard and is made from 7075 aluminum. It's finished with black anodization and is perfect for all your lefty needs.
3. Lewis Machine and Tool MARS-L Lower Receiver
Lewis Machine and Tool is a well-respected and well-renowned AR-15 manufacturer that produces some extremely awesome AR-15s. They are always on the cutting edge of weapon development, and the MARS-L lower is a testament to that development.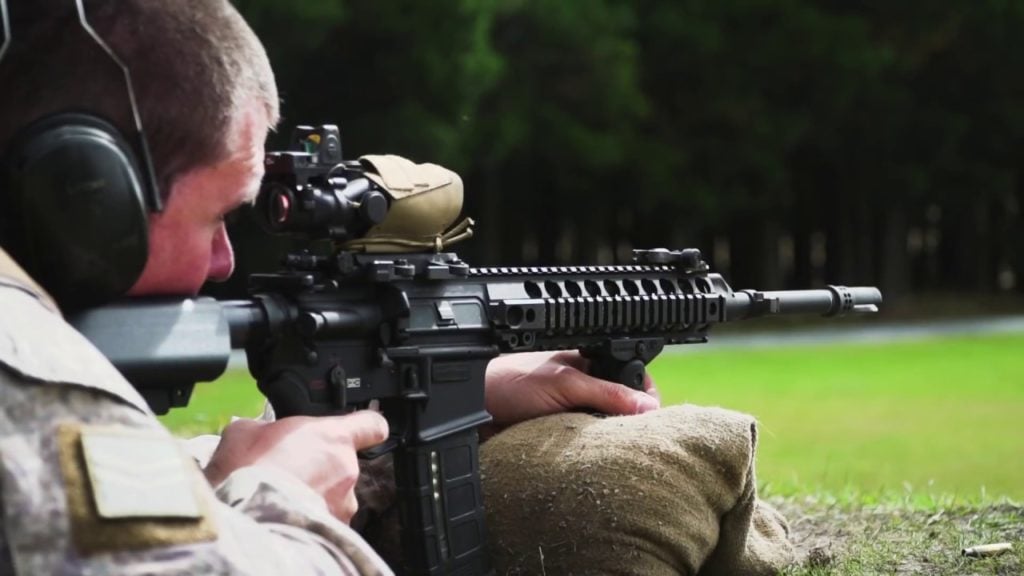 The MARS-L lower receiver is a fully ambidextrous lower that offers an ambidextrous selector, magazine release, and of course, an ambi bolt catch and release. Its magazine and bolt catch components are machined into the lower itself.
The MARS-L comes in both stripped and complete variants, but even the stripped variants come with the ambi components installed. Its ambi controls are nearly identical to a standard AR.
The bolt releases are both vertical — separated slightly by placing the right-side bolt release slightly rearward.
Best Fully Ambi Model
314
at Primary Arms
Prices accurate at time of writing
Prices accurate at time of writing
The magazine release is placed slightly lower on the left side of the lower. This is about close as you can get to standard AR controls on an ambidextrous lower receiver.
This is one of the most ergonomic ambidextrous lowers out there. It's expensive, but also well made.
4. Knight's Armament SR-15 IWS
Bombproof, that's probably the best way to describe Knight's Armament rifles and accessories. Knight's is a legend in the business and has been making a wide variety of weapons for the special op's community for decades.
As a company, they've pushed the AR series forward time and time again. Knight's is still a relatively small, independent company that continues to innovate.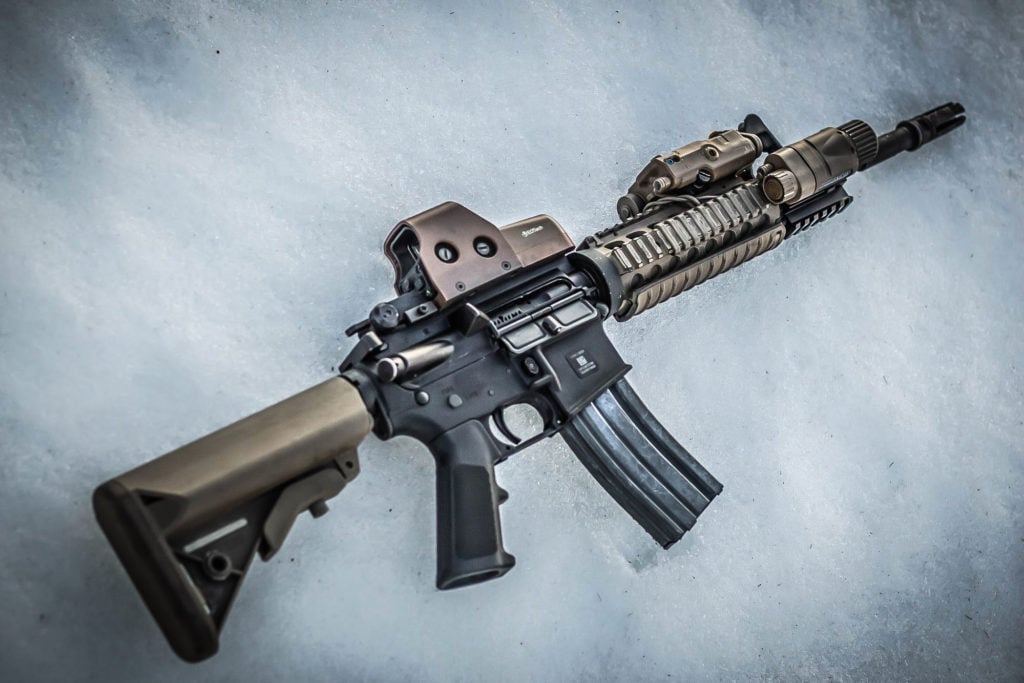 Their lowers are outstanding, and as far as I know, all they produce is ambi lowers.
The SR-15 ambidextrous lowers are built to some of the most demanding specs imaginable. If you go the Knight's route for your ambidextrous lower, I'd go with a complete lower versus a stripped lower.
You get all Knight's Armament lower parts if you do with a complete lower. This includes the Knight's ambi safety selector, magazine release, and bolt release.
The Knight's Armament lower receiver positions the magazine release almost identically on each side, and the bolt release on the right side runs vertically instead of horizontally. The entire setup has set the standard for ambi lower receivers.
Most Durable
856
at Primary Arms
Prices accurate at time of writing
Prices accurate at time of writing
Knight's provides some of the highest levels of quality control possible. Knight's ambi lowers are far from cheap, but they are likely the best you can possibly obtain. They are forged lowers with black anodizing for that mil-spec look.
5. Radian Weapons A-DAC 15 Ambi Lower
Bringing a fully ambi lower to the table, the Radian A-DAC 15 is another model the PPT staff dig.
It offers up a Talon Ambidextrous Safety Selector, left-side magazine release, and right-side bolt release to deliver options to those that need them.
Best Mid-Tier
489
at Primary Arms
Prices accurate at time of writing
Prices accurate at time of writing
Billet-machined from 7075-T6 aluminum, the R-15 is a reliable lower that brings a nice touch to any AR-15 build.
What do you think of Radian? Rate them below!
What If I Want to Mod My Regular Lower?
Maybe you already have an AR built and ready, and you love it. You've already spent the money to build a great lower receiver but you want to make it ambidextrous.
The good news is that this is an option. Admittedly these options are not as intuitive as a true ambidextrous lower but they do add a good degree of ambidextrous design to any old standard MIL-SPEC lower.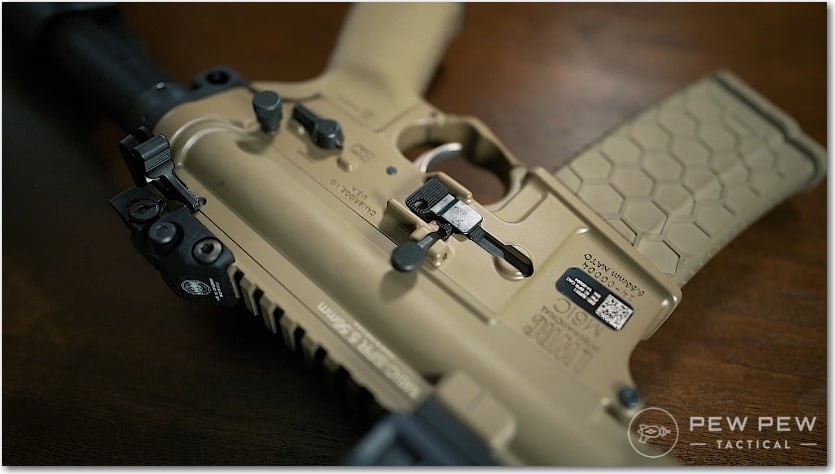 Take note; I said MIL-Spec lower. There are lots of different crazy types of lowers out there, and some of these parts may not fit in polymer lowers, custom-built billet lowers, etc.
Best AR-15 Ambi Conversion Parts
1. Norgon Mag Release
The Norgon mag release is the original, often copied, ambidextrous magazine release. It's easy to install and allows for quick and easy mag swaps with either hand. One side is your normal AR magazine release, allowing you to use something crazy like a Battle Arms Development enhanced mag release.
124
at Brownells
Prices accurate at time of writing
Prices accurate at time of writing
Installation is easy and is not much different than a standard AR-15 magazine release. Once installed, you're ready to rock and roll with either hand, and you'll have no problems as a lefty.
2. Knight's Armament Ambi Magazine Release
The Knight's ambi magazine release is a bit different than the Norgon. It extends a second arm rearward on the left side of the receiver. This second arm has a textured pad that is used to drop the magazine. It allows you to easily manipulate the weapon with any hand and in any situation.
69
at Brownells
Prices accurate at time of writing
Prices accurate at time of writing
The Knight's system is an all-in-one kit that replaces your standard magazine release in any standard AR-15 lower receiver. It's quick and easy to install, and before you know it, you'll have an ambidextrous magazine release.
3. Battle Arms Development Safety
Ambidextrous safeties are all the rage and are the easiest ambidextrous additions to any AR-15. The Battle Arms Development or BAD Safeties come in various configurations and colors. This includes the standard and lightweight models.
39
at Primary Arms
Prices accurate at time of writing
Prices accurate at time of writing
The BAD safeties are all ambidextrous and very easy to install. They install like an average selector switch, and then you attach the other side to the main mount with an Allen key. Don't forget to add Loc-Tite to keep everything good.
4. Knight's Armament Ambidextrous Safety Kit
The BAD safeties are great but a lot of people dislike the fact that left-handed safety portions are smaller than the normal safety lever.
Some prefer some; some don't. If you want two full-sized safety selectors, go with Knight's Armament.
64
at Brownells
Prices accurate at time of writing
Prices accurate at time of writing
This Ambi safety kit comes with a short and a long lever, so you still run a shorter lever if you so choose. It drops in and installs very easily. The levers are textured and made of steel.
The Knight's Armament drop-in safety kit is a quick and easy way to convert your lower to an ambi safety.
5. Troy Ambidextrous Bolt Release
The bolt release isn't as simple as switching out the magazine release and safety. You can machine the receiver and install a PDQ device, or you can install the Troy ambi bolt release.
50
at OpticsPlanet
Prices accurate at time of writing
Prices accurate at time of writing
The Troy ambi bolt release replaces the standard bolt release and then pushes a lever into the trigger guard.
A simple press of this lever shoots the bolt closed. The lever sits inside the trigger guard and makes it easy for either hand to accentuate the bolt release. A simple movement of your trigger finger makes it easy to send the bolt home.
Final Thoughts
While there are plenty of complete ambi rifles on the market, it's still nice to have options — especially if you're building your own AR-15.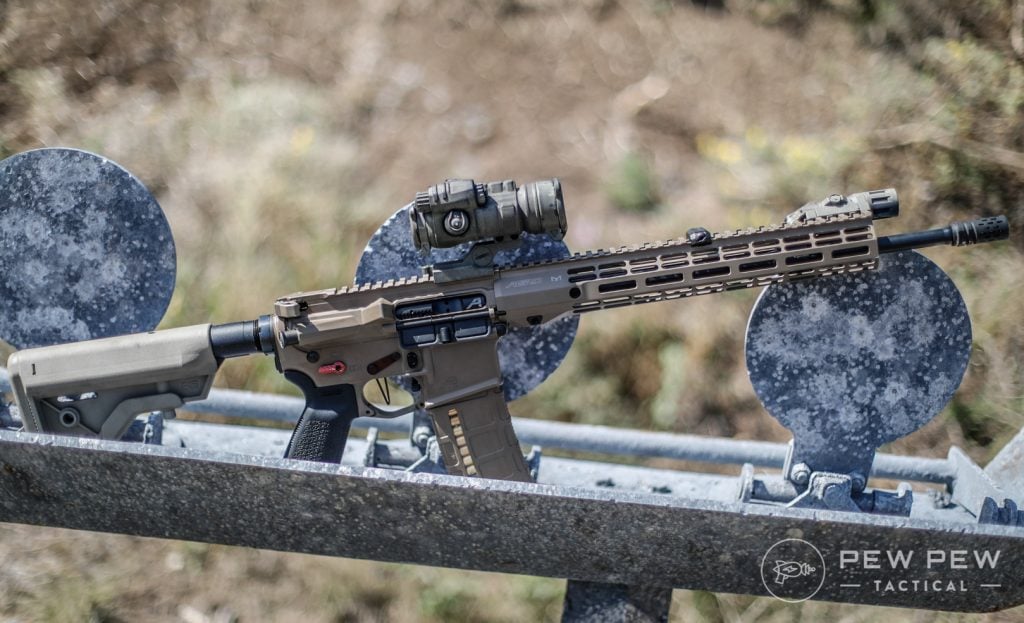 Whether you choose Knight's Armament, Radian, or Aero, you're in good hands.
Are ambi lowers worth it to you? Let us know below! For more awesome ways of improving your AR-15, take a look at the Best AR-15 Upgrades!