Sometimes people want some quiet time, and pistol caliber carbines are easy to suppress. However, at the end of the day, they still only fire a pistol caliber.
That's where the .300 Blackout comes in.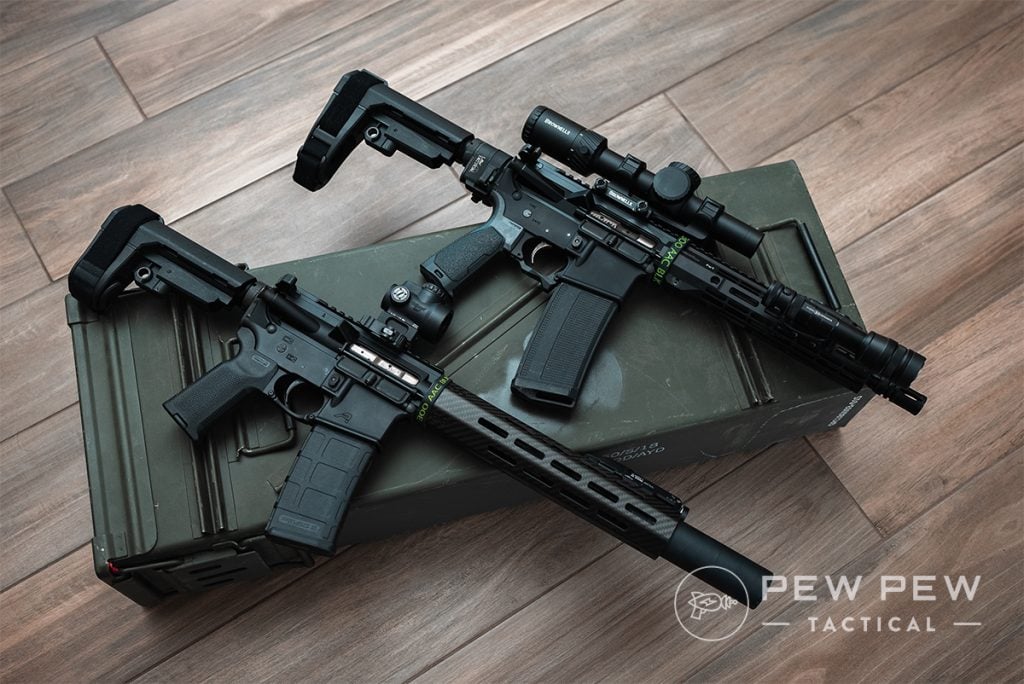 The .300 Blackout cartridge was designed explicitly for short barrels. Where 5.56 only reaches its full velocity potential at 20 inches, the fatter .300 Blackout does it from a mere 9-inch barrel.
One of the other benefits of .300 Blackout is that it can pack a supersonic cartridge for better range and velocity or heavier subsonic cartridges for maximum suppression.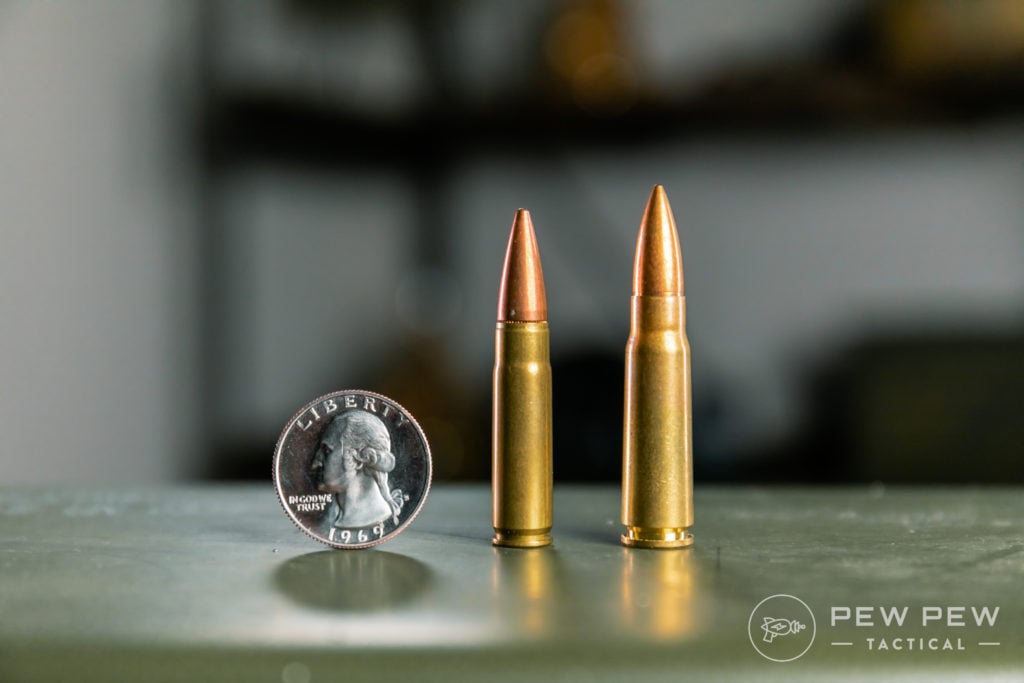 Plenty of cartridges have come and gone, but .300 Blackout is enjoying success because it doesn't try to beat 5.56 — it complements it.
With that in mind, we've gathered some of the top-tier .300 Blackout rifles on the market that aim to provide you with a platform that's quiet, maybe short, or both.
Let's dive in and find out.
Editor's Note: Recent ATF regulations have reclassified some AR pistols as SBRs under the NFA. To read more about these regulations and what impact they might have on your purchasing decisions, check in on Pistol Braces vs. the ATF.
Summary of Our Top Picks
Best .300 BLK Rifles & Pistols
1. Palmetto State Armory Custom .300 Blackout
PSA's Custom series gets slept on, even by fans of the brand.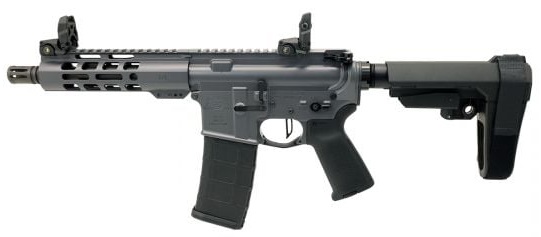 Typically those who want a fancier rifle from PSA will turn to their Lead Star series of rifles. Still, the Custom series presents a capable tactical rifle with several fancy features.
The Custom .300 Blackout is available in both rifle and braced pistol configurations. They come with free-floated M-LOK rails, a 3.5-pound flat-face trigger, Magpul furniture, and a set of MBUS sights to top it off.
What you end up getting is a well-made, practical rifle that's just waiting for a suppressor.
999
at Palmetto State Armory
Prices accurate at time of writing
Prices accurate at time of writing
While it may not be the fanciest thing on the block, it has enough bells and whistles to satisfy most shooters.
2. Ruger American Ranch .300 Blackout
When we think of .300 Blackout, it's natural to think of suppressed use.
While the round was designed with AR-type rifles in mind, it's become increasingly popular in a multitude of platforms, including bolt action rifles.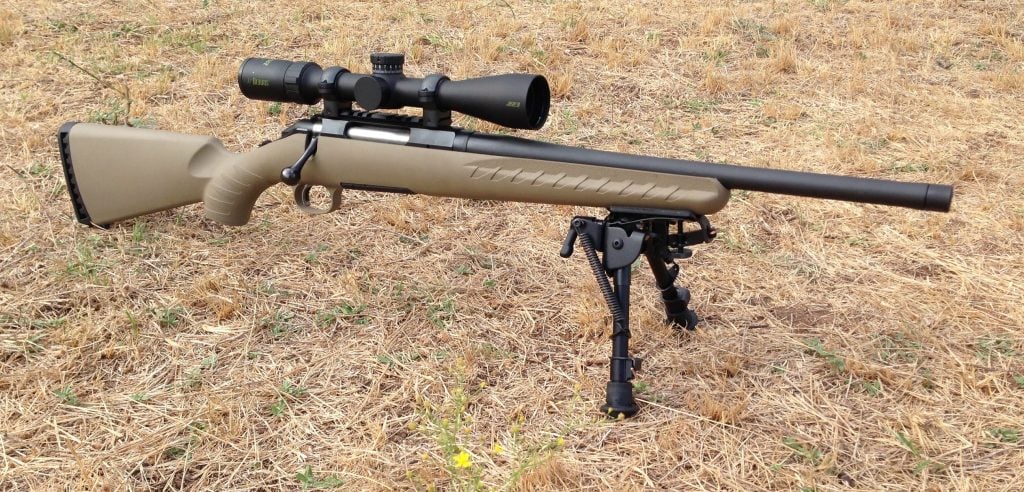 The Ruger American Ranch .300 Blackout offers shooters a bolt-action option for suppressed usage. With a bolt gun, we lose the clack-clack noise of a standard AR-type semi-auto rifle.
No reciprocating bolt and gas system means the weapon is quieter and more efficient when suppressed.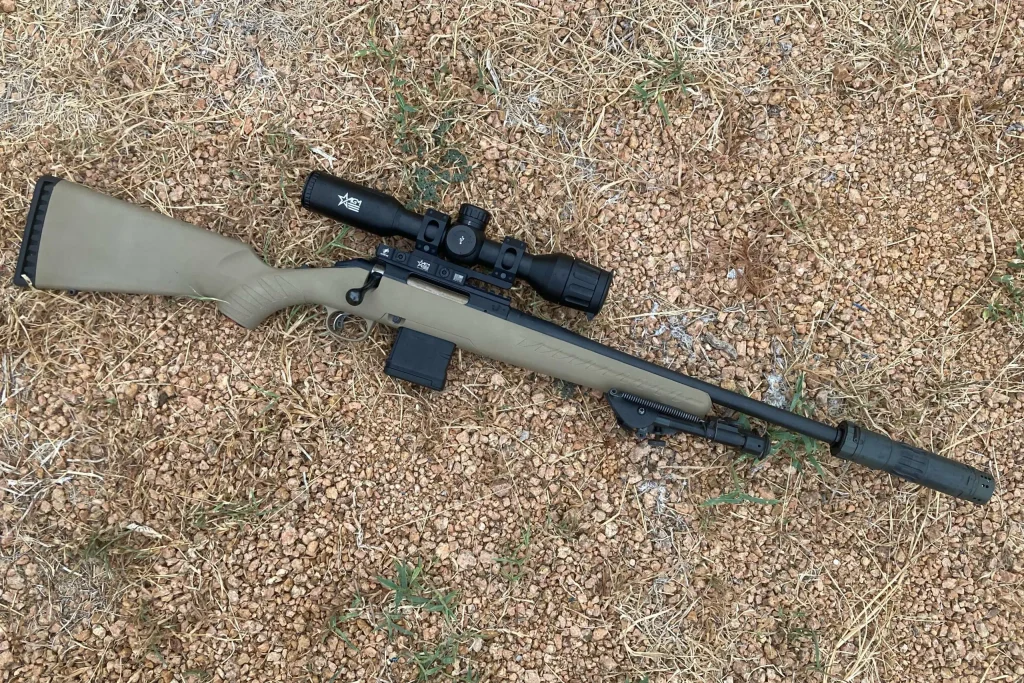 Ruger wisely threaded the barrel to make suppressed use easy and accessible, and a built-in Picatinny rail makes adding optics easy. A cold hammer-forged barrel and Ruger's Power Bedding system keep things shooting straight.
They also added the Marksman trigger to help increase accuracy. Additionally, the rifle is designed to accept standard AR-15 magazines, which makes finding spares and differing capacities easier.
Best .300 BLK Bolt-Action
564
at Guns.com
Prices accurate at time of writing
Prices accurate at time of writing
The Ruger American Ranch rifle is an awesome and affordable option for those who might not need a semi-auto action.
It's a very accurate choice, and at around $500-600, it will outshoot almost any AR in that price range.
3. Q Honey Badger SBR
With tax stamps, once you get one, it's likely for a product you plan on keeping forever. If you purchase a factory SBR in .300 Blackout, why not spend a little extra money to get the most gun possible?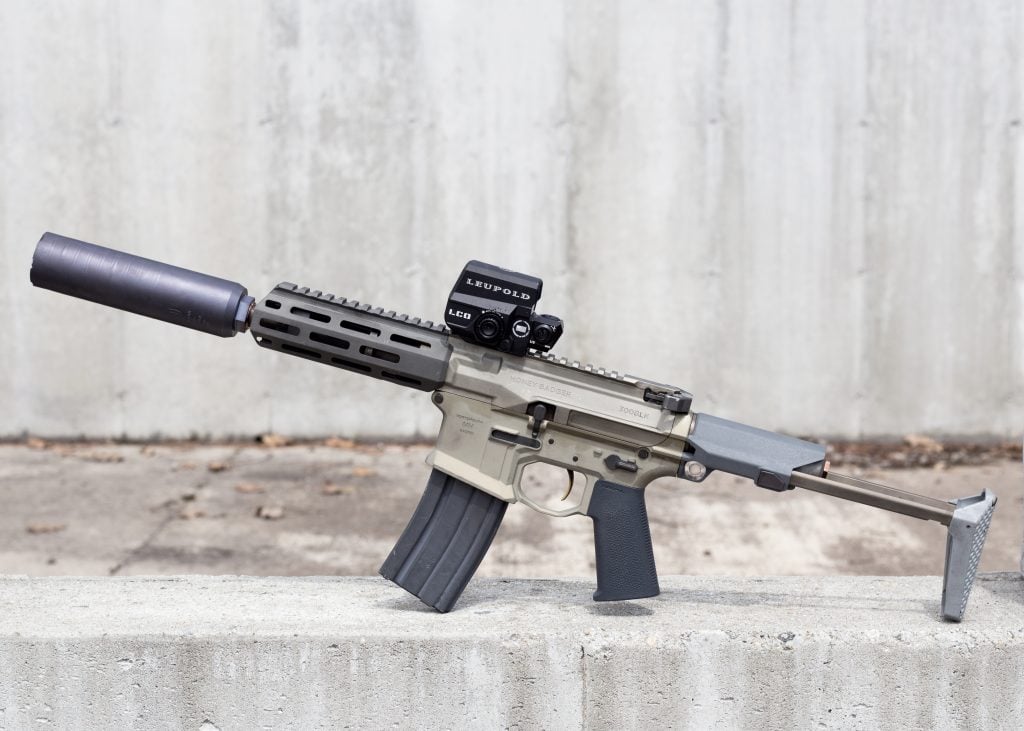 The Q Honey Badger is a PDW-sized premier option for those seeking a gun in .300 Blackout.
If the SBR and tax stamp aren't for you, you can purchase a pistol variant of the gun and have a braced .300 Blackout pistol. Either way, you are getting a fantastic option for home defense and the range.
The guys at Q used to be at AAC, and AAC invented the .300 Blackout round.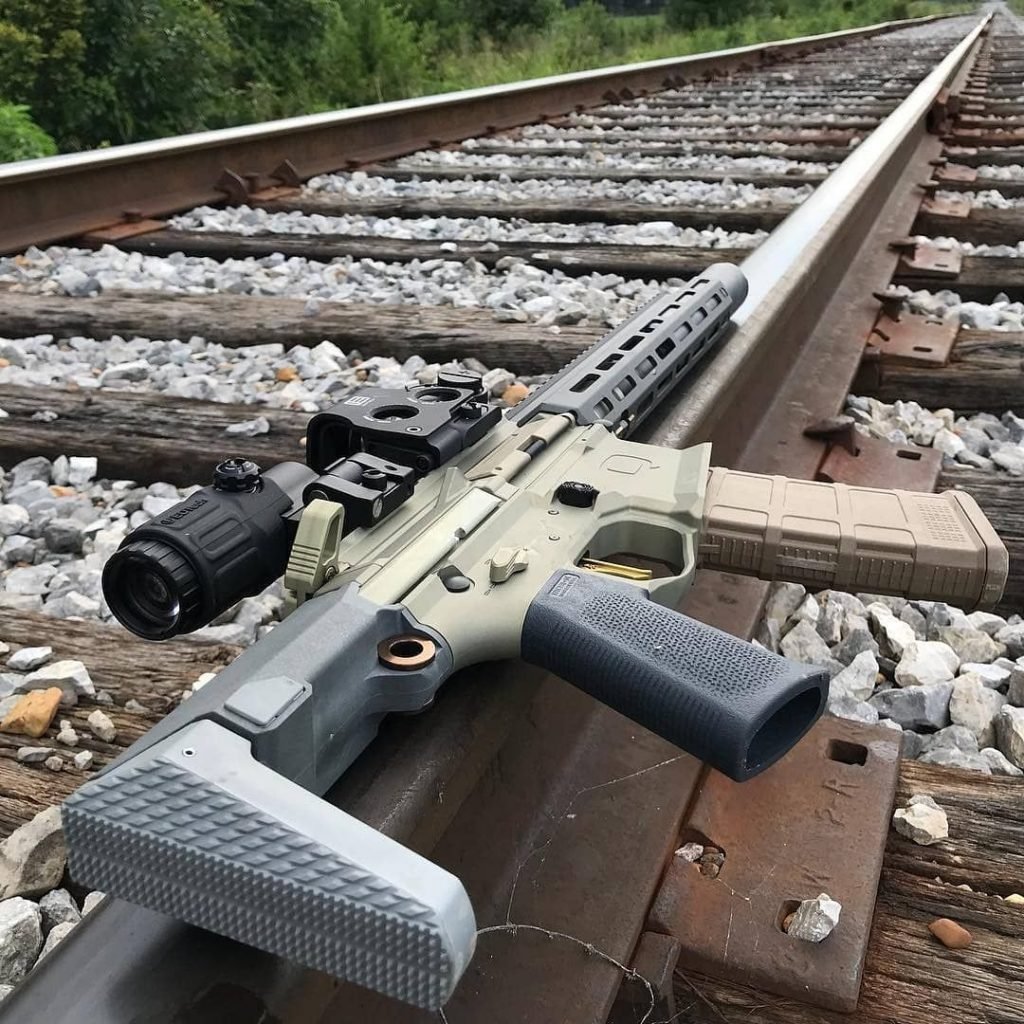 With the Honey Badger, they've taken the AR platform and shrunk it to nearly SMG size. The barrel is a mere 7 inches long, and with a can, you still have a barrel shorter than most carbine-sized rifles.
Its PDW-sized stock (or brace) gives you an ultra-small platform, keeping the gun's overall length at only 25 inches when fully extended.
At the shortest length, the gun is only 20 inches and weighs 4.5 pounds. For comparison, the MP5SD is 9mm, and is 23.62 inches at its shortest length, and weighs 7.5 pounds.
2499
at Gunprime
Prices accurate at time of writing
Prices accurate at time of writing
The Honey Badger offers plenty of features to make it desirable, in addition to the outstanding build quality and parts quality that make it a true elite-tier AR rifle.
4. Daniel Defense M4ISR
Oh boy, let's say you want a suppressed SBR, but the idea of a two-stamp AR is too much of a headache. Heck, that's $400 just in tax stamps. No one wants that.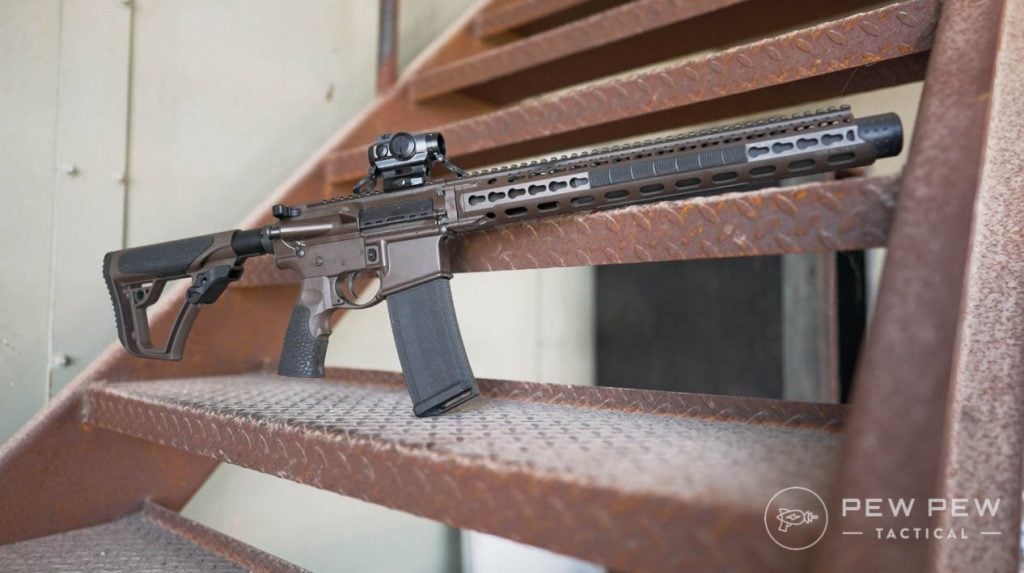 Daniel Defense produced the all too often overlooked M4ISR for shooters who want the combination of a short barrel and a suppressor without two stamps.
The M4ISR features an integrally suppressed design with a 9-inch barrel paired with a permanently attached suppressor that brings the total length to 16 inches.
You get a short-barreled rifle and a suppressor with only one tax stamp. The 9-inch barrel allows you to reach the max potential of the .300 Blackout cartridge while retaining a shorter length when suppressed.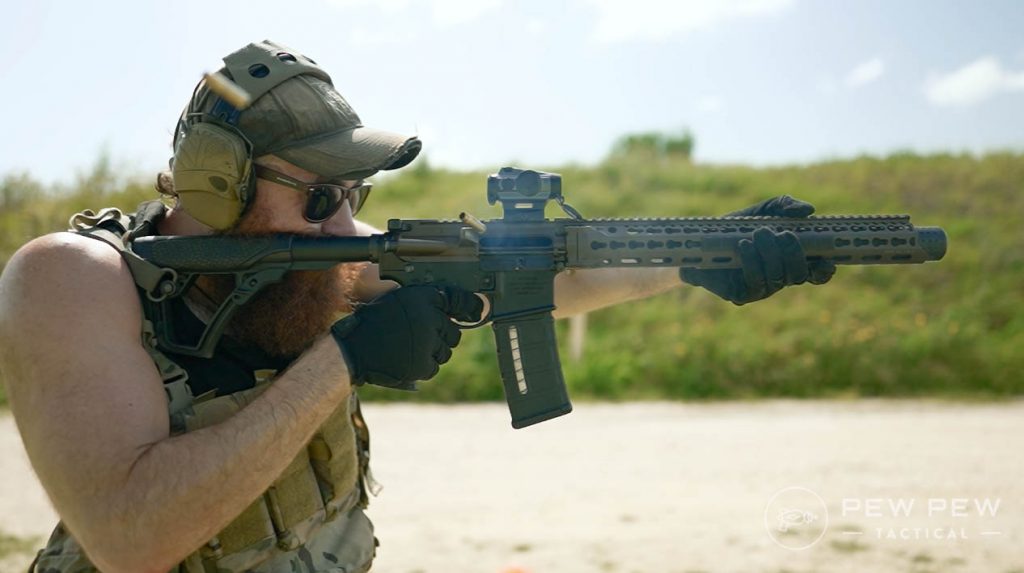 This results in a very quiet but effective platform for self-defense and home defense.
Daniel Defense also provides a modern rifle platform with almost all of the accouterments, including an ambidextrous safety, Daniel Defense furniture, and a .300 Blackout PMAG.
What's odd is that Daniel Defense kept the Keymod rails — maybe they just invested heavily into Keymod and are looking for a way to get rid of all those rails.
Best .300 Blackout AR-15
3458
at Daniel Defense
Prices accurate at time of writing
Prices accurate at time of writing
Regardless, the DDM4ISR offers you a one-stamp option with only a 16-inch overall barrel for a light and handy platform.
Be sure to check out our video and full review of the DDM4ISR.
5. Sig MCX Rattler SBR
Sig blended the AR-15 ergonomics and the performance of a short-stroke piston rifle to produce a reliable and versatile platform they called the MCX.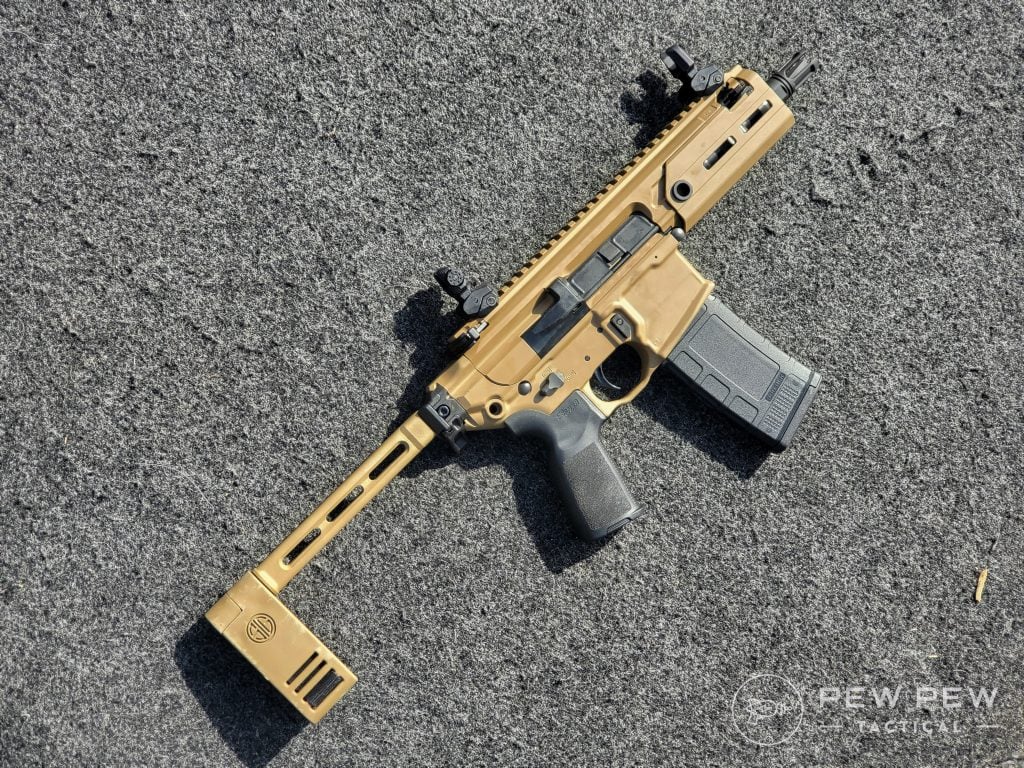 One of the joys of a short-stroke gas piston system is that the gun doesn't care much about barrel length, so you can shrink the barrel without much of a problem.
With that in mind, Sig produced the Rattler to provide the shortest MCX platform out there. The MCX Rattler comes as both an SBR model and a PCB model, which is a braced pistol.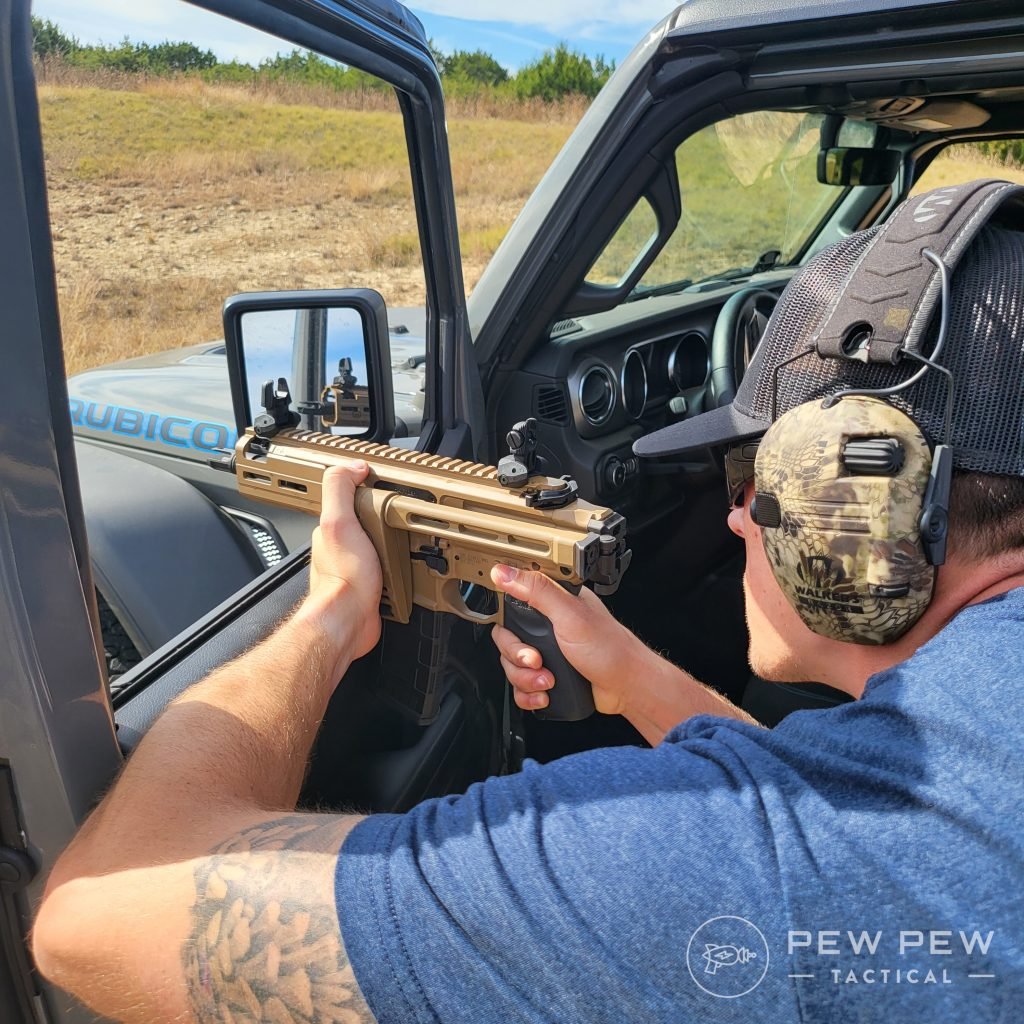 Short barrels and .300 Blackout go hand in hand, and the short 5.5-inch barrel keeps the weapon ultra small and light, and this gun is absolutely begging for a suppressor.
The Rattler platform has been adopted by SOCOM as their PDW of choice, and it's easy to see why. In .300 Blackout, these guns are the size of SMGs, even suppressed, but pack the power of a carbine.
Best Compact .300 BLK
2699
at Kygunco
Prices accurate at time of writing
Prices accurate at time of writing
Sig's mini Rattler also provides a collapsing stock, a short M-LOK handguard, a reduced-sized grip, and ambidextrous AR-15 controls.
Want to know more about this small guy? You can read our full review!
6. Tavor X95 .300 Blackout
Tax stamps are a real pain in the butt, so it's easy to see why you'd want a stamp for a can but not one for your rifle platform. At the same time, you want a super maneuverable platform, so what can you do?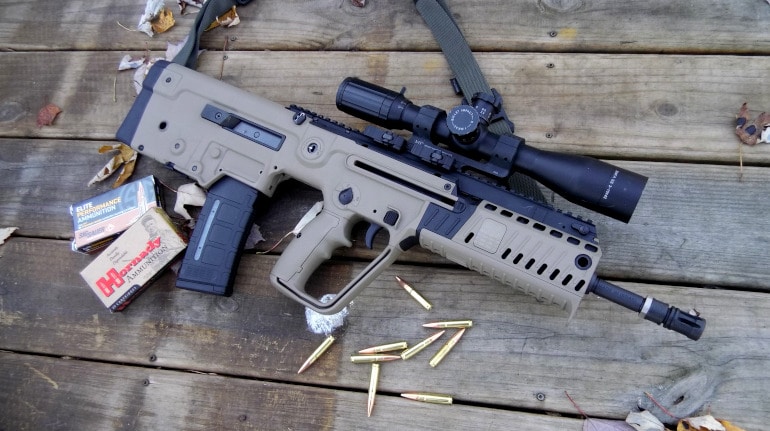 Well, allow me to introduce you to the idea of a bullpup.
Bullpups come and go, but the IWI Tavor X95 platform has endured as a solid performer. In .300 Blackout, you get a very short overall platform with a barrel length of 16.25 inches but an overall length of only 26.125 inches.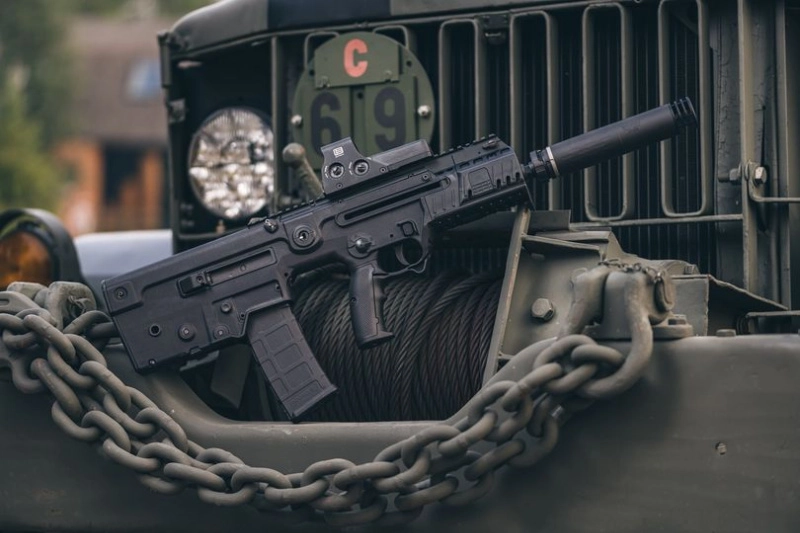 It's the size of an SBR but doesn't require a tax stamp, giving you the best of the best worlds without needing two stamps. Toss a can on, and it's still a fair bit shorter than a standard rifle.
Bullpups are typically designed for right-handed shooters. However, you can have the weapon swapped to a left-handed configuration by IWI. The Tavor platform features a mix of ambidextrous controls to make this even easier
1799
at Gunprime
Prices accurate at time of writing
Prices accurate at time of writing
You also get a modular design, a bevy of rails, and sweet futuristic looks.
Overall, the Tavor provides one of the most modular and easy-handling bullpup platforms on the market and is a prime candidate for a .300 Blackout build.
7. B&T SPR300 PRO
Who says bolt action rifles can't be cool? The B&T SPR300 PRO is a bolt action .300 Blackout rifle platform with a 9.8-inch barrel, and it is just downright cool.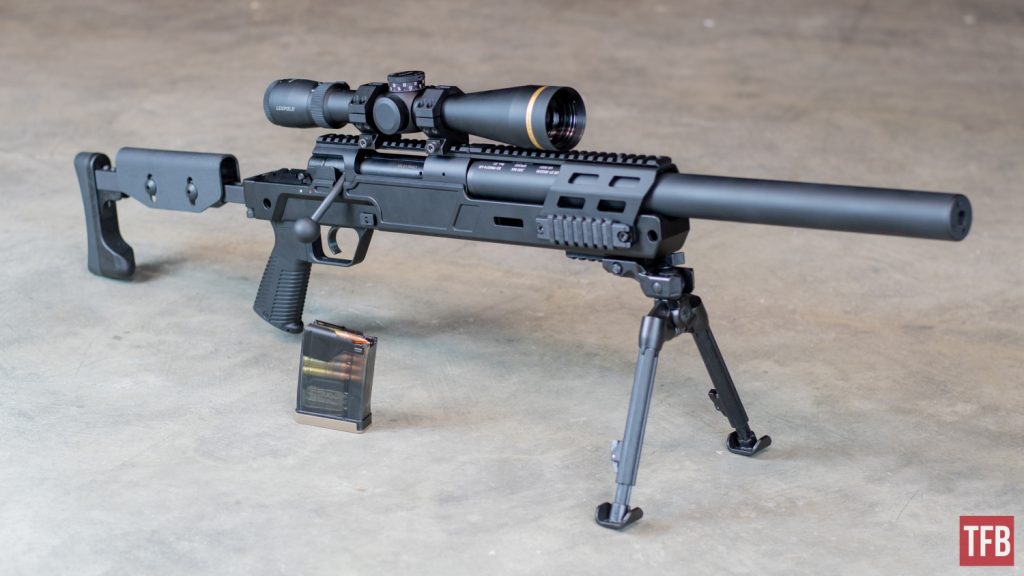 It is available as a rifle platform with a minimalist folding stock or as a pistol variant.
The stocked SBR model featured an adjustable cheek riser and folds tight to the left side to make for a very compact package. The barrel length is great for squeezing the most out of the .300 Blackout with a suppressor while still being shorter than most conventional rifles.
This rifle boasts some impressive accuracy and has a sub-MOA reputation, and is designed for close-range precision — or, as B&T describes it, "discretion."
4588
at Kygunco
Prices accurate at time of writing
Prices accurate at time of writing
Here, you get a rifle and suppressor combination that promises Hollywood-style performance in terms of suppression. In the short time I spent with the gun, the loudest part was the projectile hitting the target.
B&T's ultra-compact and ultra-accurate SPR300 isn't cheap, but it's dang sure impressive.
Final Thoughts
The .300 Blackout is superbly capable, versatile, and efficient. It's big, heavy, and capable of being used in short platforms without a huge velocity penalty.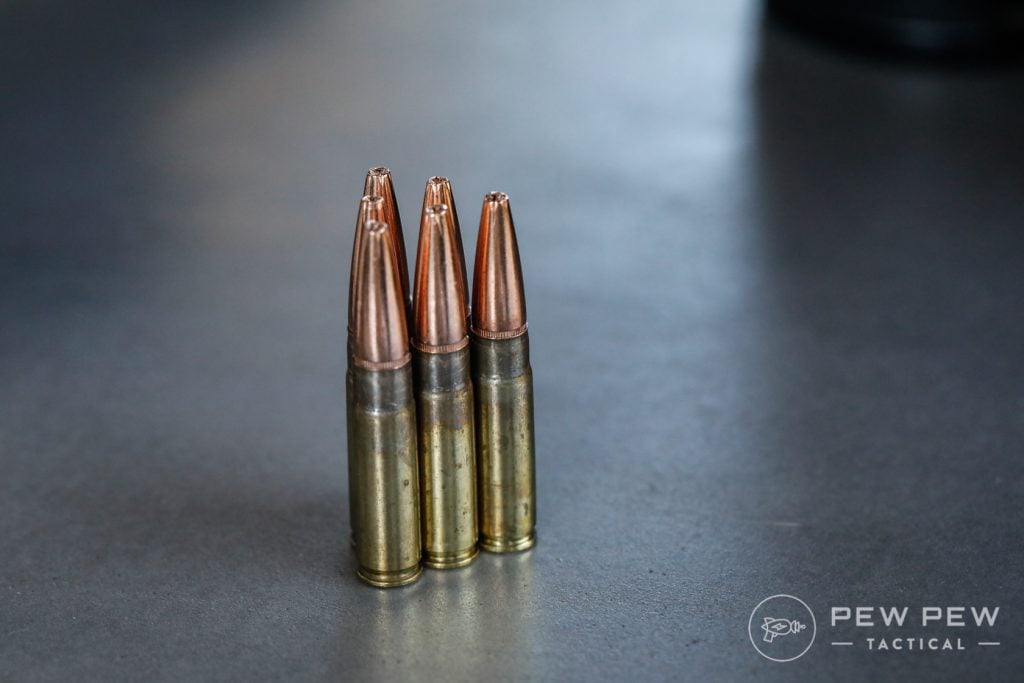 It really is a wonder round that compliments the weaknesses of the 5.56 caliber. A .300 Blackout may not replace your 5.56 rifle, but it will do some things that your 5.56 can't.
These are some of my favorite .300 Blackout rifles, but what are yours? Let us know in the comments below! Don't forget to also check out our article on the 5 Best .300 Blackout Scopes and Optics: Correct Drops!