As a gun guy or gal, this quarantine has been hard.
Besides quarantine sucking in general, the ranges are closed, gun and ammo shelves are picked clean, and Out of Stock items desperately need a filter at Brownells.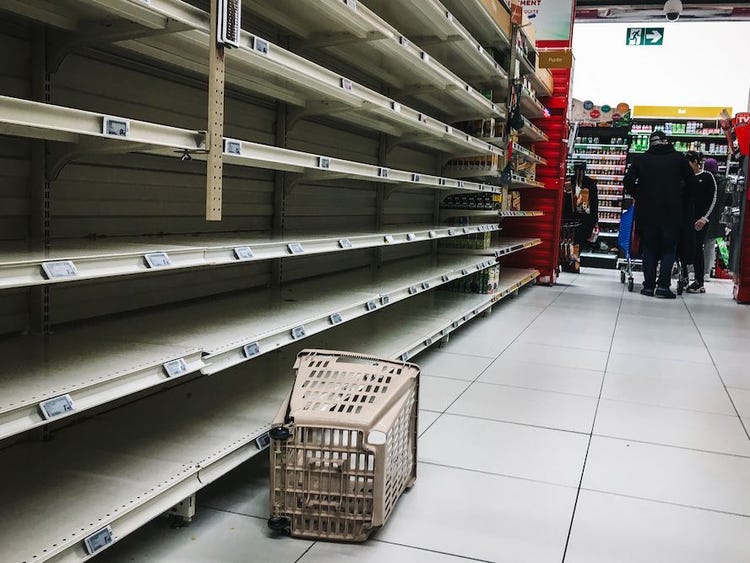 Keeping up your training regiment isn't easy, and items like the MantisX, dry fire laser targets, and various training systems are helping. Sometimes you still want to get out and launch a projectile downrange, though, right?
Well, there is a solution I've been exploring since being isolated in a house with three kids under 10.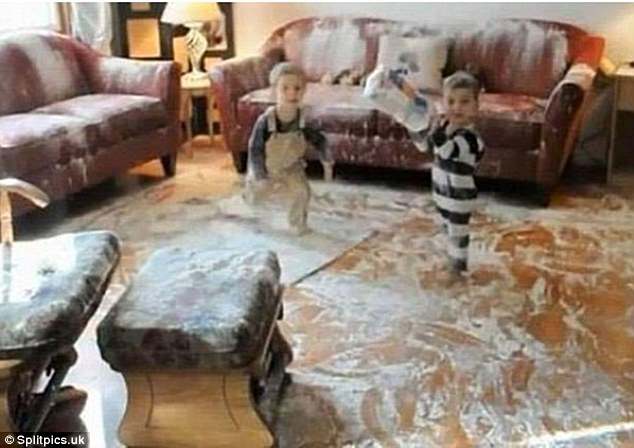 That's airguns. Since being of age to purchase actual firearms, I haven't thought about airguns. I had a few as a kid and since then have barely kept up with the technology.
My last airgun was purchased at Kmart if that tells you anything.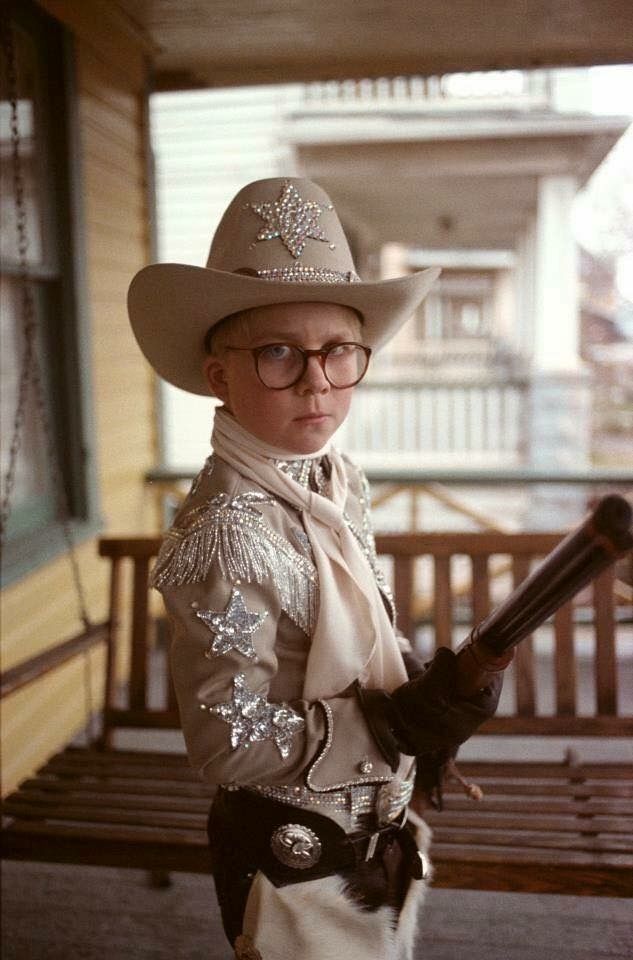 Amazon lightning deals showed me a screaming good deal on the SIG Sauer P365 BB gun. It was cheap enough to strike my curiosity, and I hit the one-click buy button, and it was on the way. It showed up shortly after, and I had a number of holsters, BBs, and CO2 cartridges set aside for it.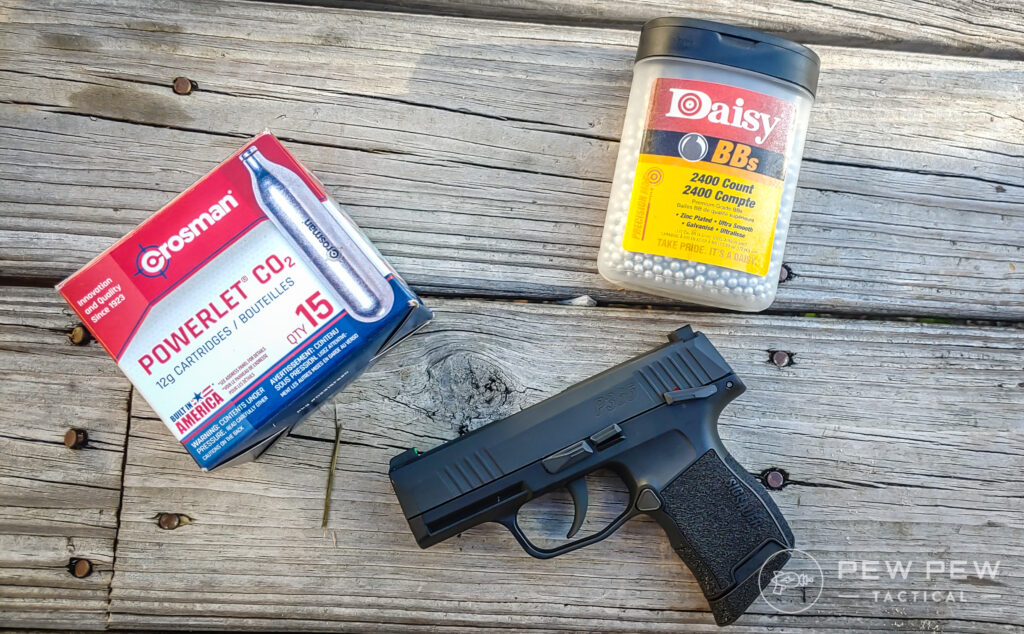 I was pleasantly surprised at the quality and price. It was a near-perfect replica of my P365. It featured a manual safety and was a few ounces lighter than the real P365, and it doesn't pack night sights.
The magazine carried both the 12 round magazine and CO2 cartridge. The gun and magazine fit perfectly in my variety of holsters and as long as the P365 holster can handle the safety model of the P365.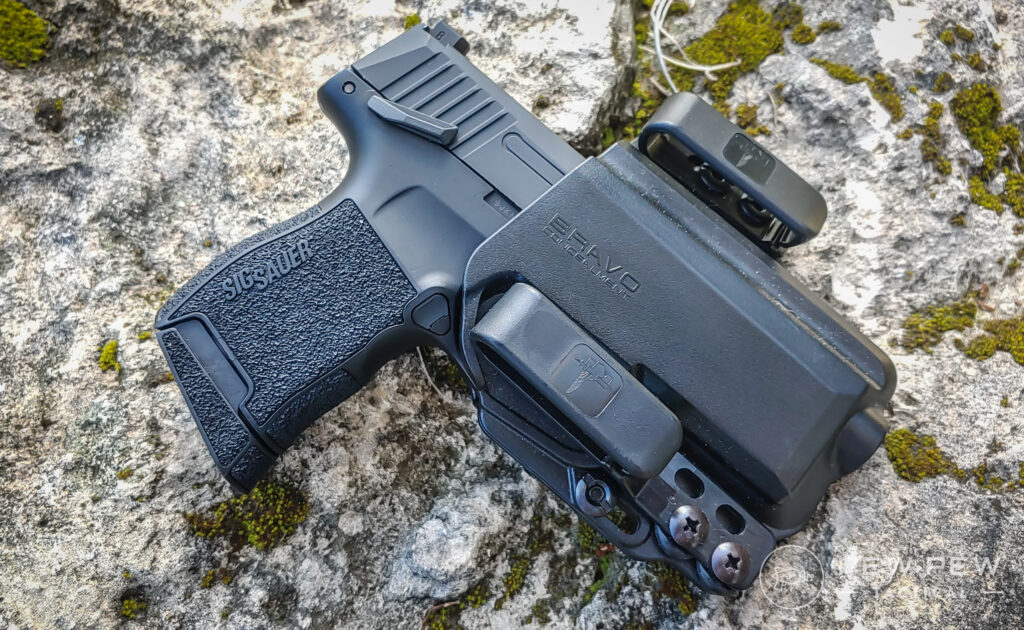 The mag fit without issue in my mag pouches and spare magazines are affordable and available for reloading drills.
I commenced to shoot, move, blast away with a small range built under my barn. I could do so as the kids played outside without issue, and they took to shooting the little P365 airgun frequently.
PPE is also limited to a set of glasses because the thing is quite quiet.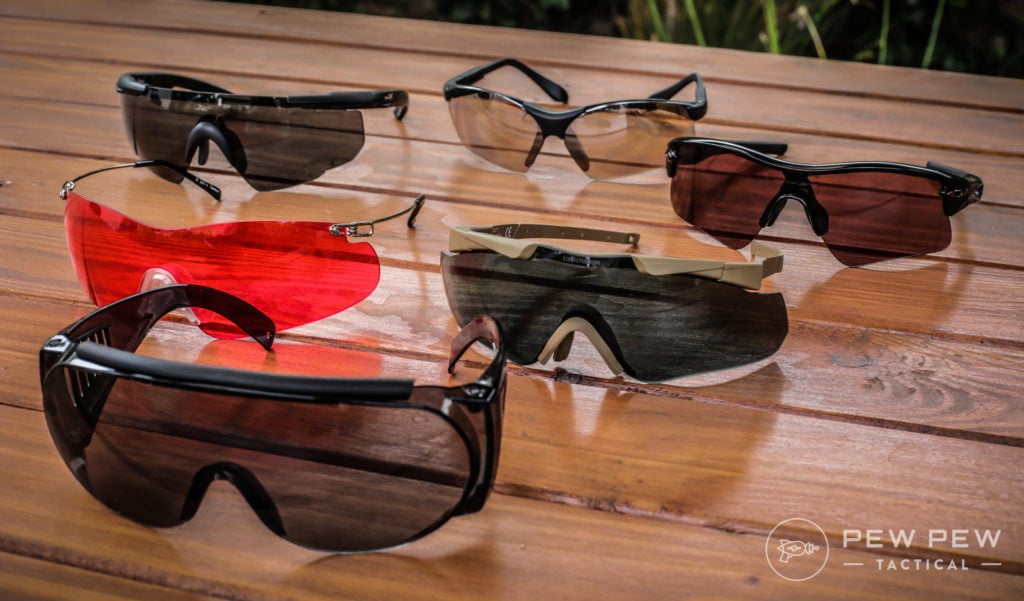 Check out our hands-on test review of the Best Shooting Glasses!
Table of Contents
Loading...
Why Air Guns?
Guns win battles, but logistics win wars. Right now, we are in a logistical nightmare for guns and ammo. Air guns, CO2 cartridges, and BBs seem plenty common as of right now, and I can get some training in that's much more entertaining than my eight-millionth dry fire rep.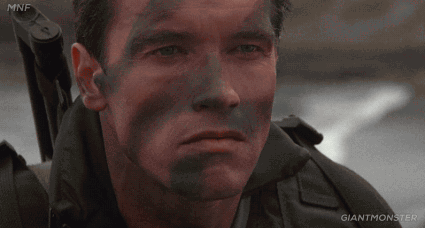 It is a lot more fun, and because it matches my daily carry rig, I can replicate and practice my draw, multiple target engagements, and multiple shots on target. I can race against a shot timer and do everything I can with a gun at a lower price and with simpler logistics.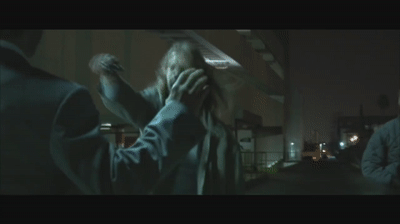 An air gun won't replace a firearm for training but will supplement it. I can also do it in my backyard or even inside my house with a good backstop set up to catch BBs. For outside the house, a good tarp works wonderfully.
Air guns have also gotten much more realistic and implementing or mocking features on real guns. This makes them more than toys and allows them to be realistic training devices at a fraction of the cost of actual guns, ammo, and range time.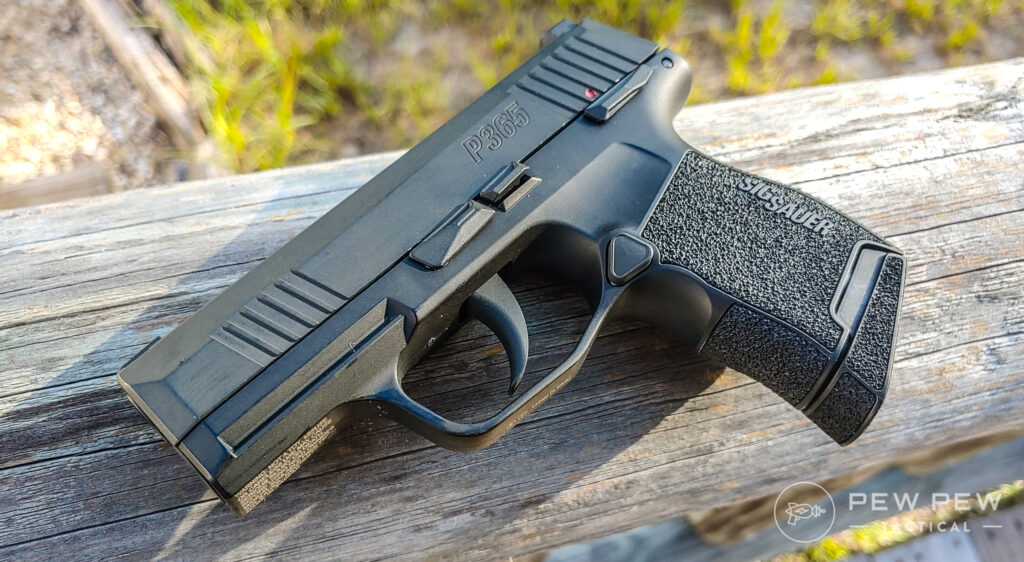 Maximizing Training
In choosing an air gun, you should pick one that best replicates your carry gun. Most gun manufacturers are happy to license their designs to air gun companies so you can find a replica of your gun. These replicas are often 1 for 1 on controls and design.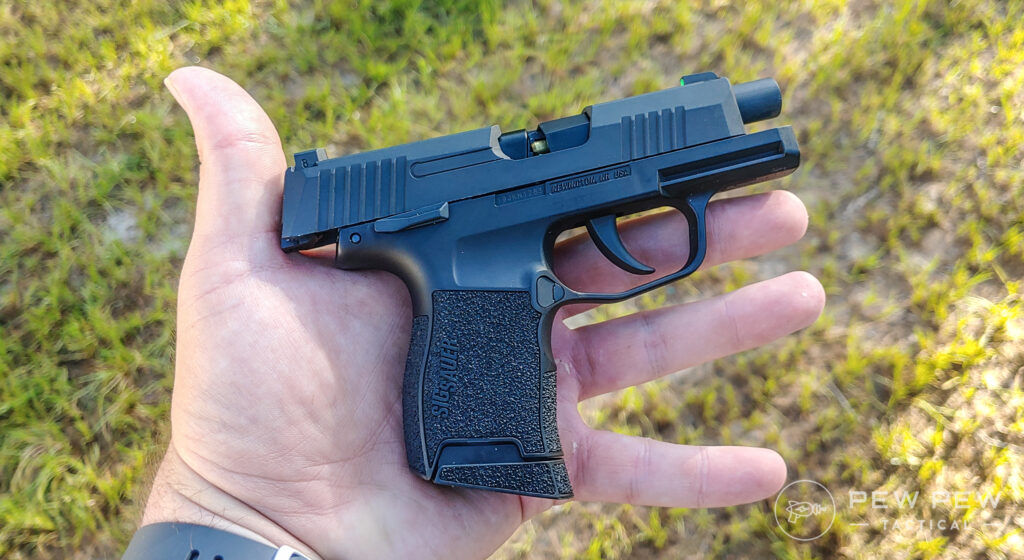 My SIG P365, for example, mimics the controls of my actual firearm down to the slide lock and the last round slide holding open. It also replicates my issue with slide locks and fat thumbs, so hey, it's realistic.
The next feature I recommend is a version with a removable magazine and available spare magazines. This way, you can practice reloads.
A blowback-operated slide is also an excellent thing to have. This allows you to learn to track your sights and build real-world sight tracking skills. It also helps with the realism of integrated slide locks and reloads.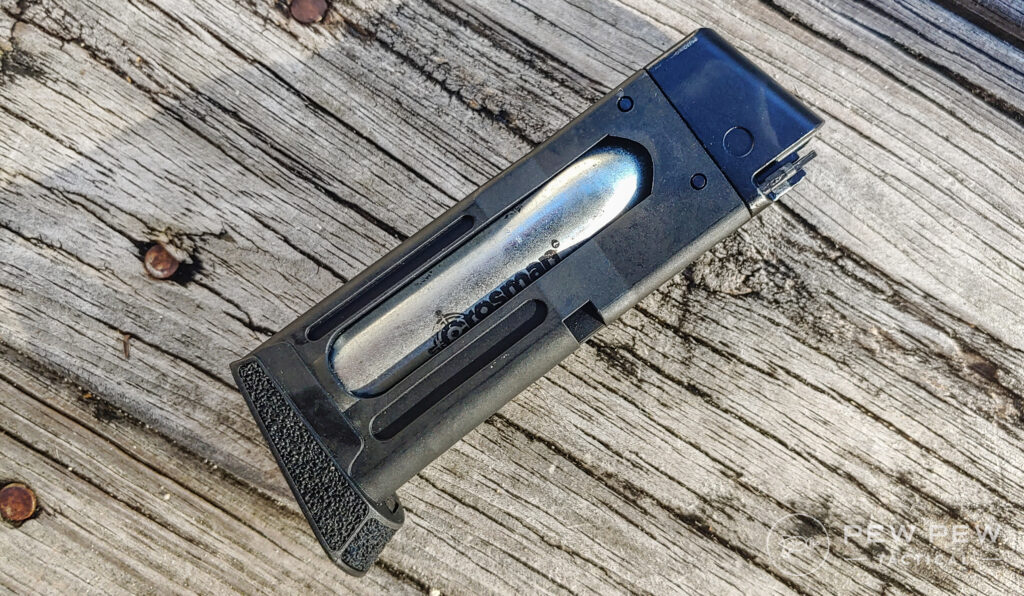 Another big must-have is a semi-automatic design. Unless your handgun is a single-shot pistol, then go ahead and take that route, I guess. A semi-auto design ensures you can practice fail drills, double taps, and all that fun jazz.
Also, like always, it goes back to replicating your actual gun. Do that as much as possible to maximize your airgun training.
Ammo Type
Air guns are a broad term, and it can refer to guns with varying ammunition types. Ammo type isn't super important as far as training goes. None of these will replicate the ballistics of an actual handgun.
The different ammo types should be considered for your basic range setup.
6mm Plastic BBs
Airsoft guns commonly use 6mm airsoft pellets of various grains. These plastic pellets are safe to shoot other consenting adults with. This makes them perfect for force on force training with friends, but um, use PPE, please.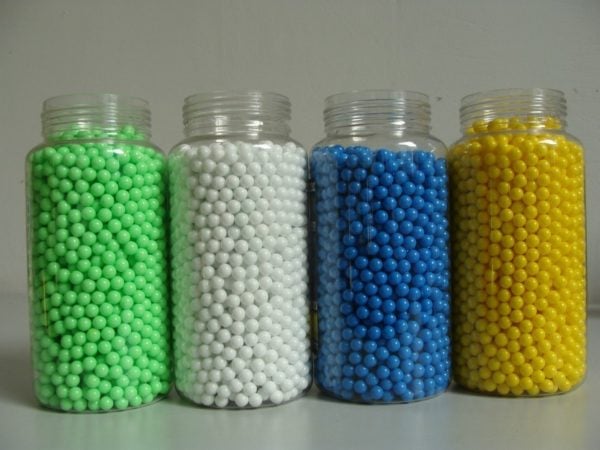 These 6mm pellets are great for inside the home ranges and are less likely to damage the walls, pictures, and all that fun stuff. These 6mm airsoft pellets tend to be the cheapest ammo type.
Steel BBs
BBs, the same type used in your Daisy Red Rider, are still popular in airguns. They ding nicely, are very common, and very cheap as well. They aren't as indoor safe as plastic BBs, but with a proper backstop, you're plenty safe.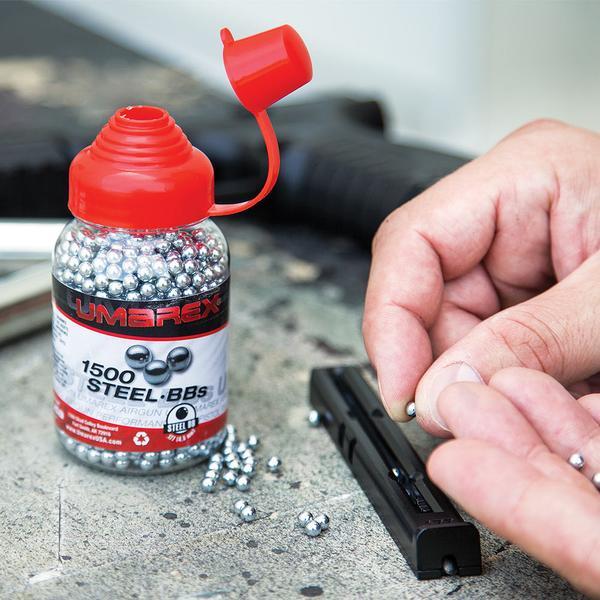 Smaller air guns are typically BB guns. They have less room to store pellets due to their size, so BBs make more sense. BB guns can be more efficient for CO2 consumption due to their lighter weight.
Pellets
Pellets are the heavy-duty ammo for these guns. They tend to fly the furthest and hit the hardest. These are perfect for metal target training and tend to ding steel targets nicely. Some companies make fun spring-loaded pellet gun shooting galleries, and that can appeal to the hobby side of shooting airguns.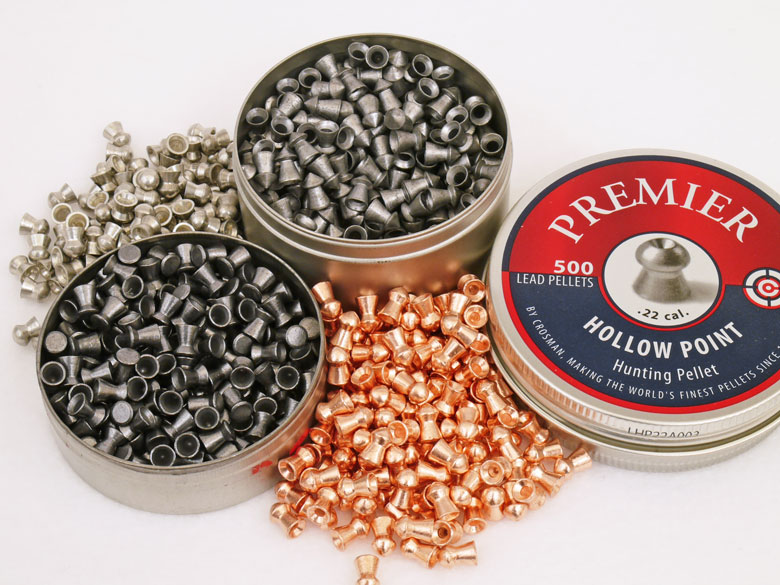 Pellets are also the most expensive ammo source out there and tend to be the most accurate too.
The Top 5 Airguns
1. SIG Sauer P365 BB Gun
Duh, if you can't tell, I really like this air gun, and I've put a lot of BBs downrange in the last three or so months. I've chewed through boxes of CO2 cartridges and way more BBs than I'd like to admit. The good news is that this was super cheap to train with.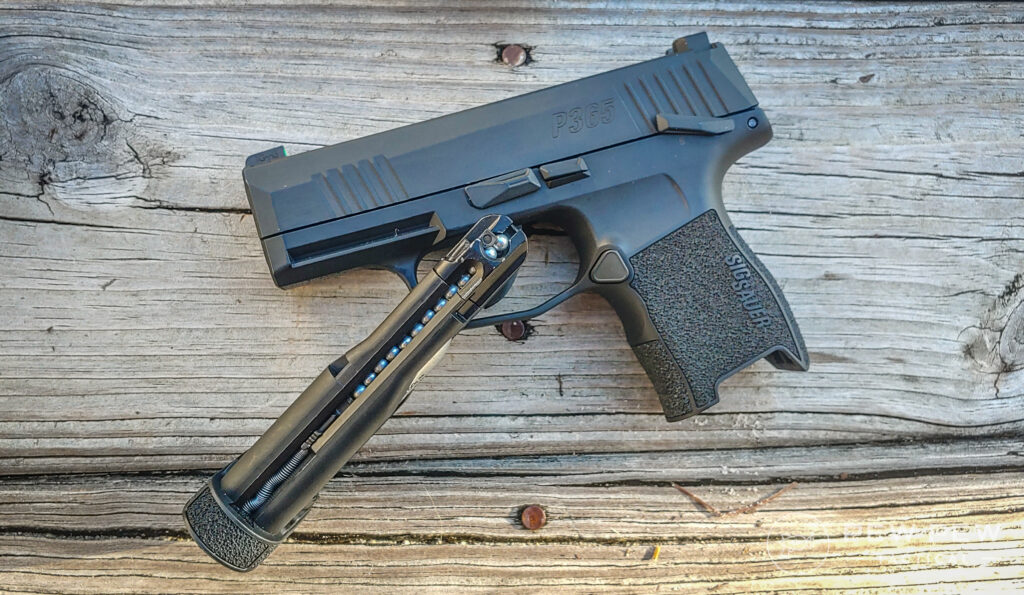 The SIG Sauer P365 BB gun does an outstanding job of mimicking the P365. It fits in every holster I have for the P365 and looks and feels almost identical. It's a convincing clone of the famed carry gun.
The P365 is a slick and sleek carry gun, and the BB gun is no different. It's highly reliable, and like most SIG brand air guns, it's surprisingly affordable and robust. The trigger is almost identical, but the reset is much longer.
180
at Amazon
Prices accurate at time of writing
Prices accurate at time of writing
2. Umarex Glock 19 Gen 3
The Glock 19 proved to be a highly popular Glock model, and the Umarex Airgun is a perfect replica of it. Umarex is the only licensed air gun manufacturer for Glock, so keep that in mind.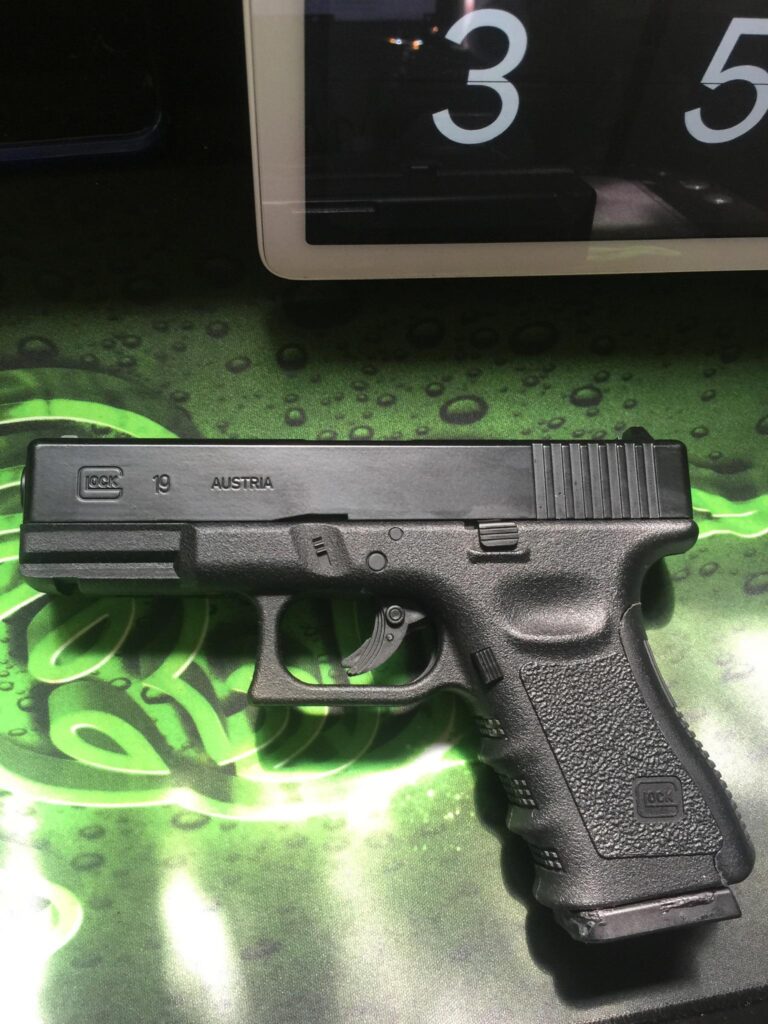 The Umarex Glock 19 Gen 3 is an airsoft gun and fires 6mm plastic pellets. The magazine holds an inaccurate 14 rounds, although 20 round magazines are available. The slide is a blowback design, and the sights are realistic Glock style sights.
The slide is all metal, and the frame is polymer. The grip texture, controls, and look and feel of the Glock 19 is also captured here as you'd imagine its also a little lighter than a real 19.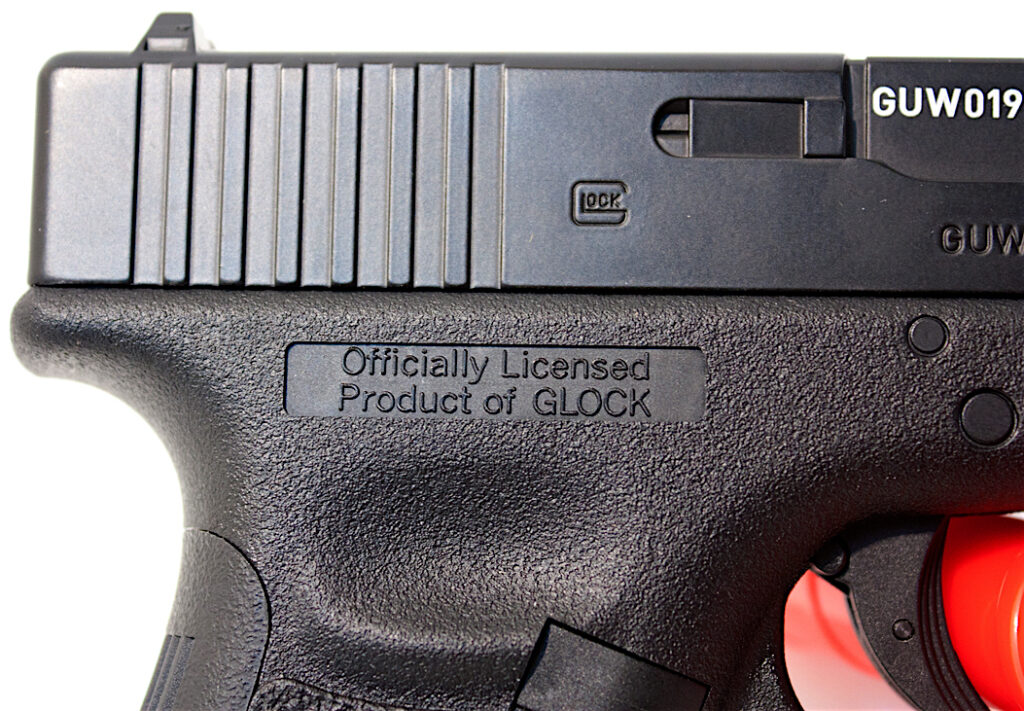 It is compatible with Glock 19 holsters, and the rail is identical to a Glock's so you can squeeze on a light, or even a training light to allow the air gun to work with your holster for realistic training.
70
at Amazon
Prices accurate at time of writing
Prices accurate at time of writing
3. SIG Sauer P320 Pellet Gun
Another SIG brand air gun is the P320 or, more accurately, the M17 pellet gun. SIG blew up recently, and their air gun division turned out to be pretty flipping awesome. This full-sized air gun packs .177 pellets and shoots them at 430 feet per second.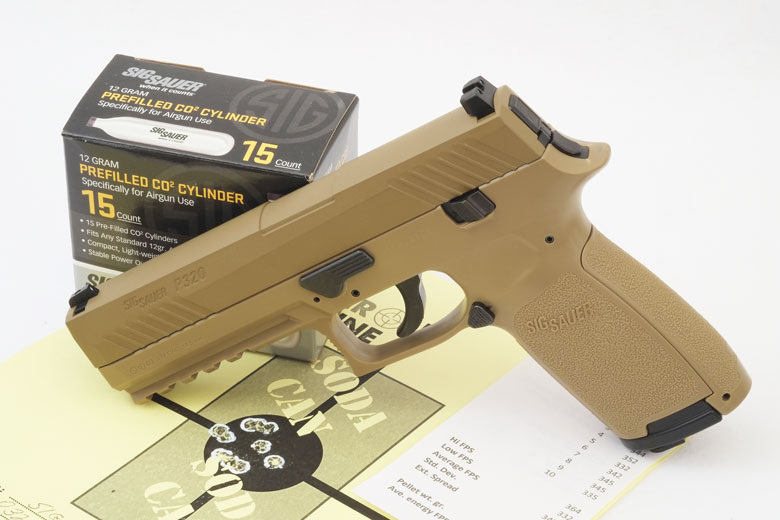 This is a powerful little air gun, at least for an air gun. SIG also makes a little shooting gallery and air gun trap for recycling shots that will work perfectly with the M17 air gun. The magazine holds 20 rounds of .177 pellets, and the gun comes with a single magazine.
Speaking of, spare magazines are available cheaply, and they drop free from the gun without issue. It came to my attention SIG is producing an Air Reflex Sight mounting plate in the near future to make red dot reflex sights a thing on this air gun.
The M17 air gun is a blowback action powered by a CO2 cartridge. The gun features an all-metal slide and polymer frame and works perfectly with M17/P320 holsters. Oddly enough, this air gun weighs more than the actual M17.
220
at Amazon
Prices accurate at time of writing
Prices accurate at time of writing
4. Elite Force 1911
Everyone loves 1911s, and I couldn't make a list on any handgun without including at least one. The Elite Force 1911 is a modern "tactical" 1911. It features all-metal construction for realistic weight, a rail, and modern Novak-Esque sights.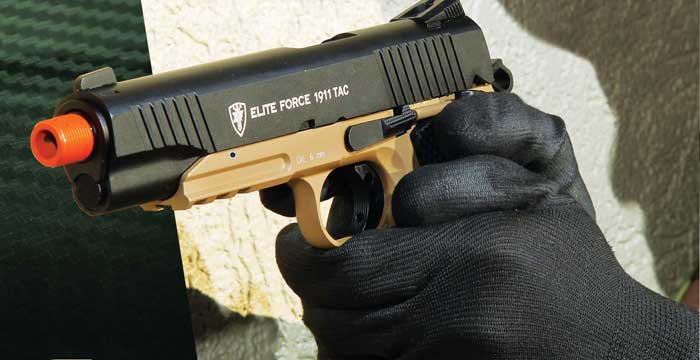 It's hefty for an airsoft gun, but light for a 1911. This is an airsoft gun that shoots classic 6mm BBs. It's a CO2 powered gun with a full blowback slide. It looks and feels like it could accept real aftermarket 1911 parts, but I wouldn't recommend it.
The Elite Force 1911 is a fun gun that squeezes into 1911 holster with easy. The grip safety, side safety, hammer, and design all feel so utterly 1911 like its downright impressive. The most non-1911-like aspect is the trigger.
125
at Amazon
Prices accurate at time of writing
Prices accurate at time of writing
Let's be real. An air gun can't replicate a good 1911 trigger, but this isn't a bad attempt. If you like all metal guns like me, then I couldn't help but love an all-metal airgun for less than $150. 
And check out Orange Tip Tactical (lol) for more recommendations on gas powered airsoft handguns to semi-simulate some recoil during training.
5. Combat Zone Enforcer [Most Budget-Friendly]
Most of the above guns are somewhat expensive, at least for air guns. I get why many may not want to part ways with that much cash. For those folks, I give you the Combat Zone Enforcer.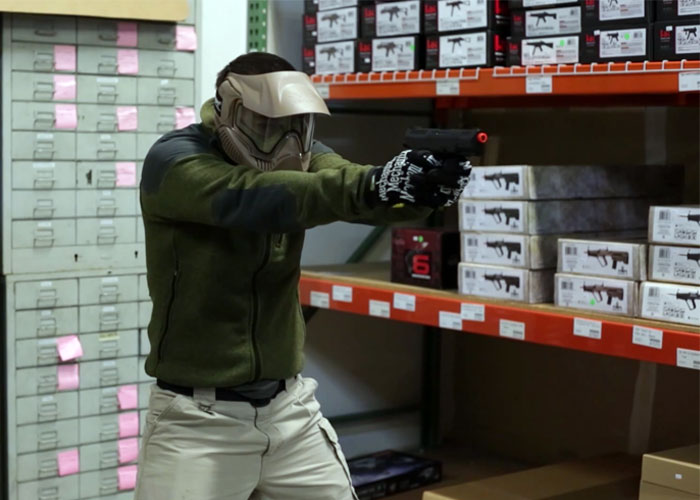 The Enforcer is not modeled after any particular gun, but you could replicate basically any striker-fired polymer frame pistol with it. It's simple, and robust and powered by Co2 and fires 6mm plastic BBs.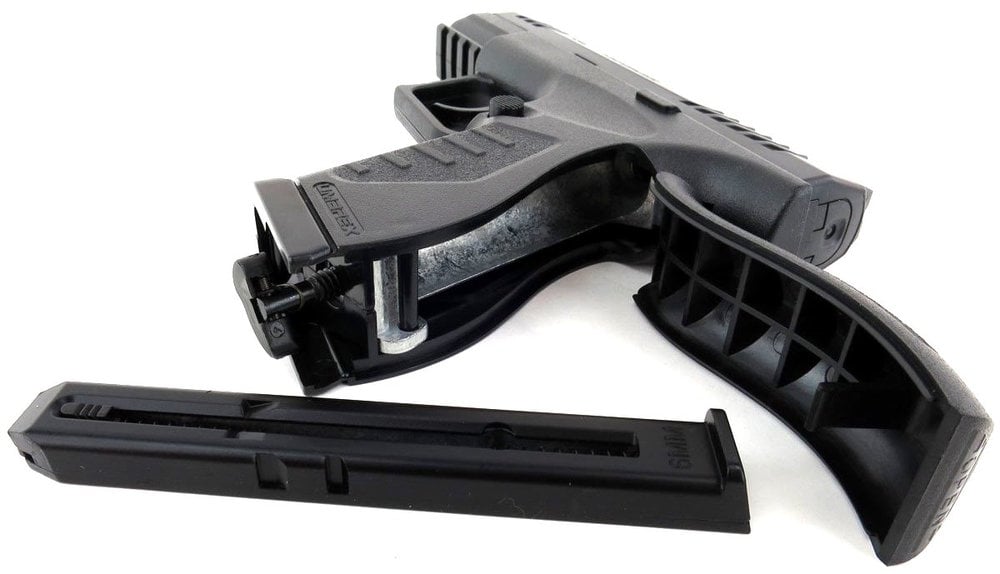 The slide is not a blowback action, and the controls are not like a real firearm, but for the price, it's not a bad choice. You can certainly squeeze out a little bit of practice and training from the Enforcer.
Even if its just safety aspects, then you're better than when you started.
30
at Sportsman's Warehouse
Prices accurate at time of writing
Prices accurate at time of writing
6. Umarex Legends M712 Mauser Broomhandle [Most Fun Option]
Umarex Legends make lots of fun old school guns. Some practical like the Walther PP series and some silly like the M712, which is a broomhandle Mauser.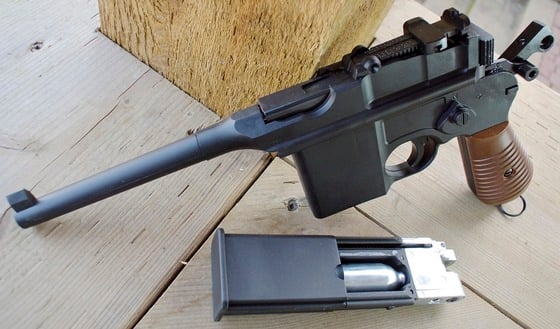 The M712 is a C96 variant and a Co2 powered steel BB gun. It's not practical unless you carry a C96, and if you do, call me. The M712 is a fun BB gun that also has a full auto mode.
It's silly, a waste of BBs, but man o man is it a lot of fun. This BB gun has a removable magazine that holds 18 rounds. It's an all-metal design and while silly its a lot of fun.
Most Unique Airgun
162
at Amazon
Prices accurate at time of writing
Prices accurate at time of writing
Air Gun Training Regiment
You got your air gun, your ammo, Co2 cartridges, and you might be wondering now what?
Well, I would leave you without a few drills to do. Air guns aren't as accurate or as consistent as real guns, so drills like Dot Torture are out the question.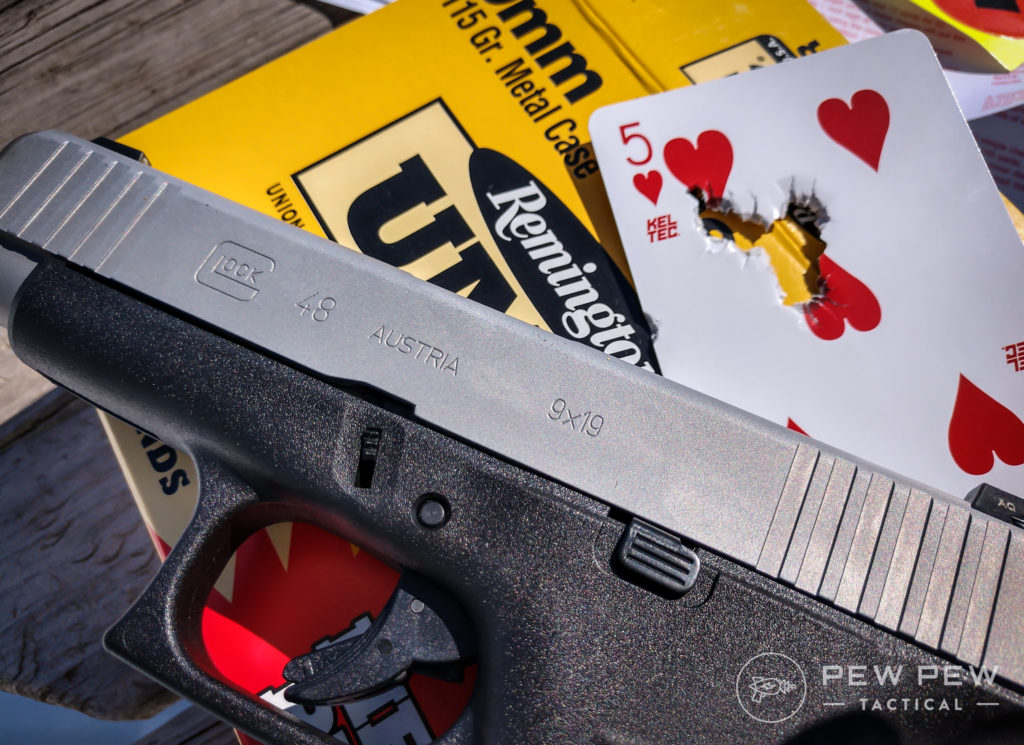 Well, if you aren't creative anyway.
Dot torture can be done, minus the dots. Set up two silhouette targets and run through the drills on the dot torture target. It's still great training and gives you good control of the fundamentals.
Failure to Stop Drill
The classic failure to stop drill is two shots to the chest, and a well-aimed shot to the head. Perfect for air gun training, and even better if you practice with an integrated draw. The failure to stop is a lot of fun and great training for double taps and well-aimed shots.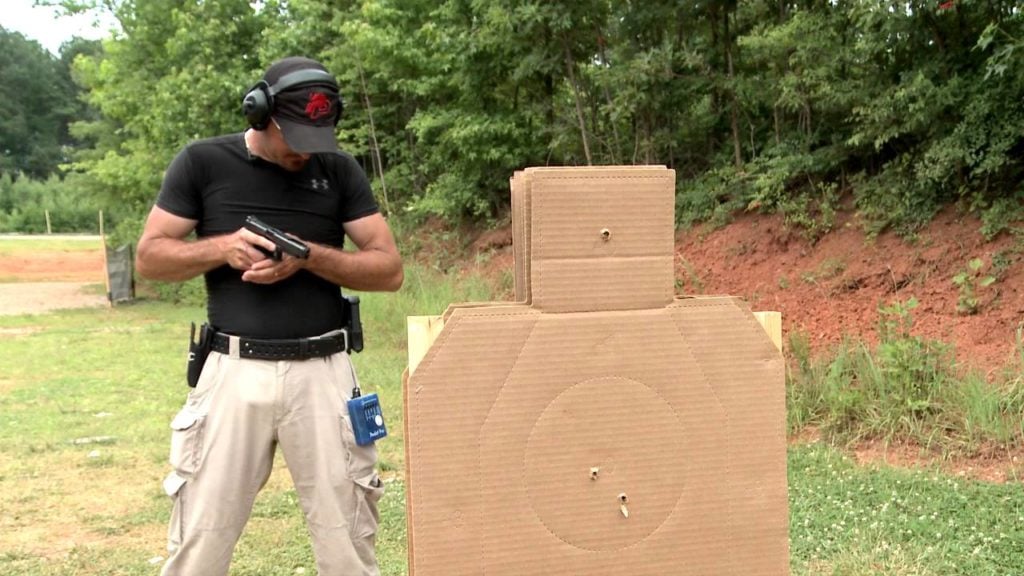 Box Drill
The box drill is a modified failure to stop drill on two targets. It's simple. Set up two silhouette targets set up about a yard apart. On the go, signal draw and fire two shots to the chest of one target, transition, and fire two shots to the chest of the second target.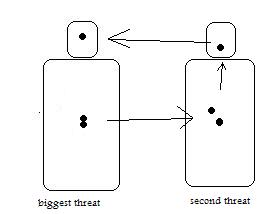 Remain on the second target and transition to a headshot, then once more transition to the first target for a final headshot.
El Presidente
The El Presidente is a simple drill that requires you to have a second magazine for your air gun. Load your airgun with six rounds and place six rounds in your spare magazine.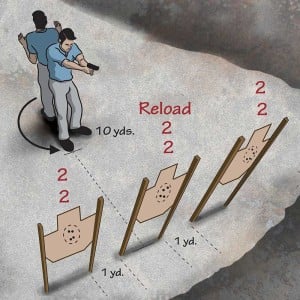 You set up three targets a yard apart and stand seven yards away from the target. Your back is to the targets, and on the go signal, you turn and fire two shots into each target. Once you run dry, you do a magazine change and fire two shots into each target once more.
You have ten seconds to do it all. It's a fun and classic drill that's challenging to. Lots to learn with a draw, multiple target engagement, and a reload.
Air Guns for All
Air guns are a lot of fun, but more importantly, they might be the solution to your COVID training issue. They aren't a perfect replacement for an actual gun, but are more involved than dry fire.
Air guns are an affordable option for training and get you out of the house for just a little bit.
Unless you live in New Jersey where they regulate air guns as actual firearms or New York City where they are basically treated the same as a real gun.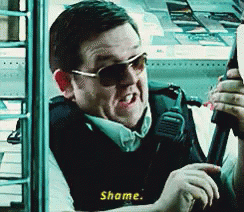 In most places, an air gun is perfect for training purposes and likely perfect for you.
What do you folks think? Is air gun training for you? Let us know below. Need more drill ideas? Check out the 6 Best Shooting Drills!