Looking for one of the best accessories to pair with a pistol, rifle, or PCC?
Why not a suppressor?
Suppressors keep shooting fun and hearing safe. And I'm a big fan of both!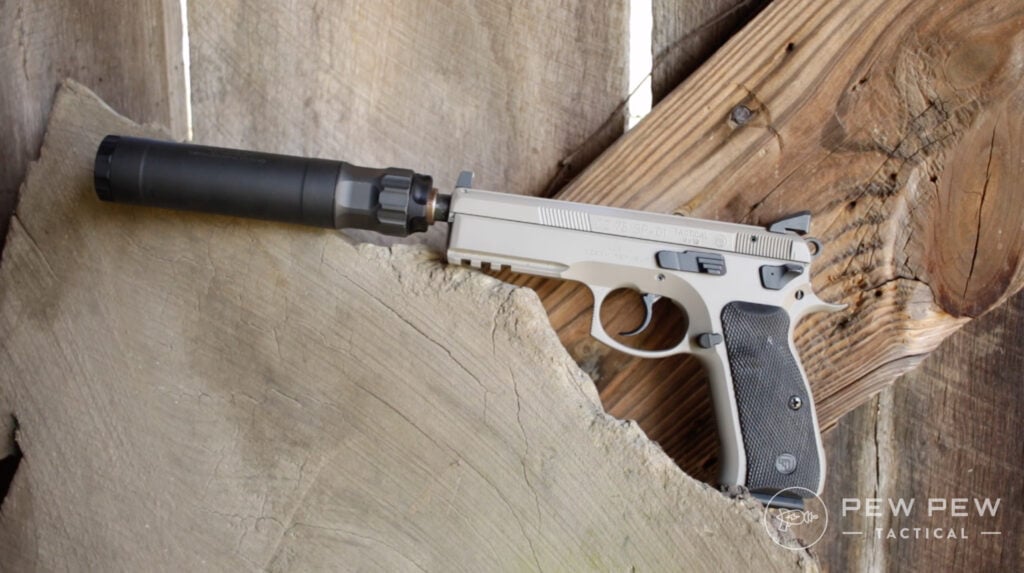 For me, I need a hearing safe bedside gun in case trouble lights off in the middle of the night. Can't be digging around for hearing pro while a bad guy is waiting.
So anytime I get my hands on a new suppressor to put through the wringer, I'm pumped.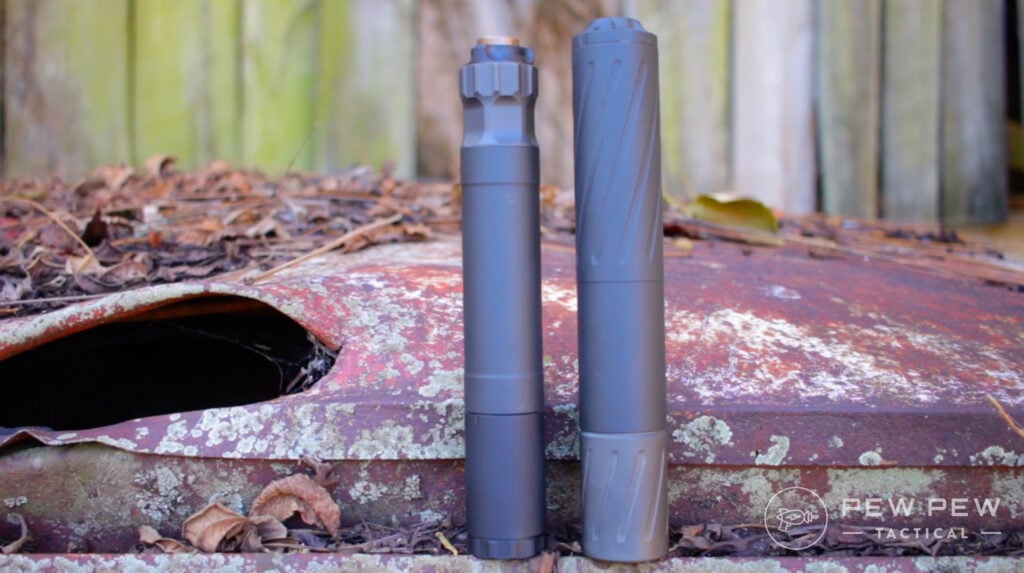 A while ago, we took a look at the Silencer Central Banish 30 (you can read that article here).
Today, I'm diving into its sister – the Banish 45.
Looking at these two, you'll get a sense of déjà vu. They are eerily similar, but nevertheless, I still wanted to take the Banish 45 for a ride to see if it holds up as well as the Banish 30.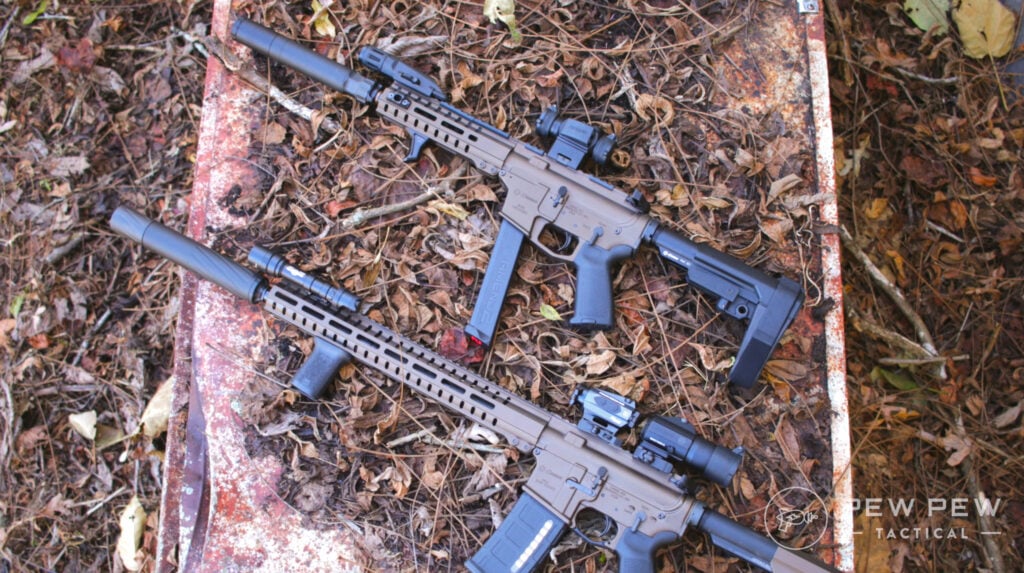 So, let's get to know the Banish 45 a little better. From specs to actual range time, we're going to examine the Banish 45 from top to bottom and help you decide if you need less racket while shooting.
If you want to skip the words and see the Banish in action, check out the video below.
As always, for more great video content, head over to Pew Pew Tactical on YouTube.
949
at Silencer Central
Prices accurate at time of writing
Prices accurate at time of writing
Table of Contents
Loading...
Let's Talk Specs
The Banish 45 is a can designed specifically for pistols. It comes courtesy of Silencer Central and is rated for everything from rimfire up to .45 ACP.
It's a do-all suppressor in the sense that it tackles a variety of calibers — including 10mm. Not many cans can say the same.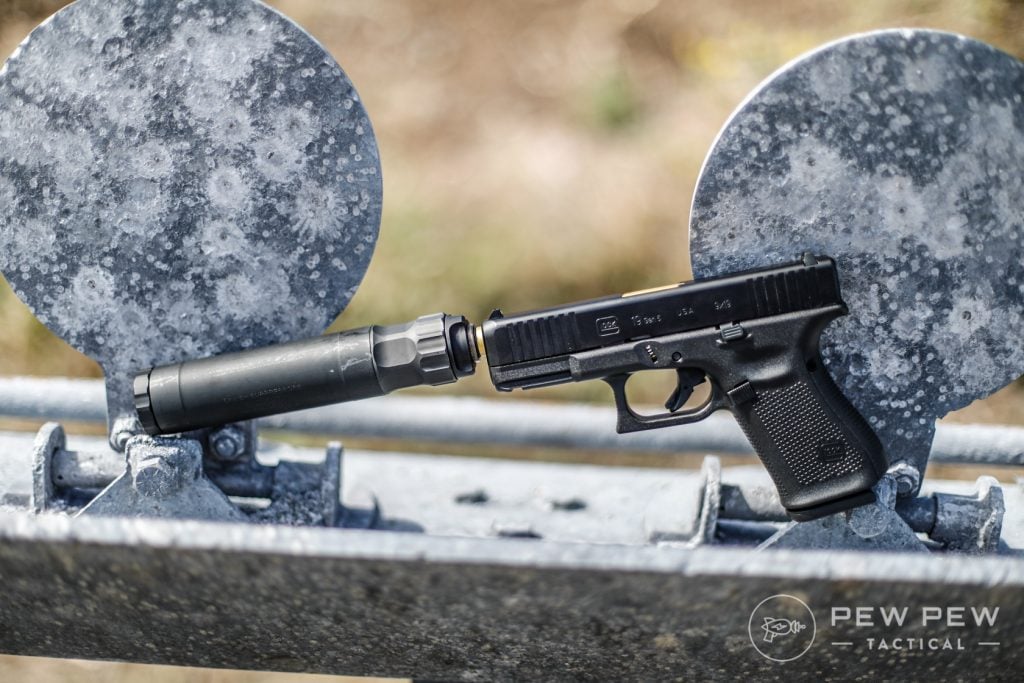 Rated for full-auto use, it also comes with a lifetime warranty.
Setting up in either a 6.5-inch or 8.5-inch configuration, I ran it full-sized on a PCC as well as some pistols.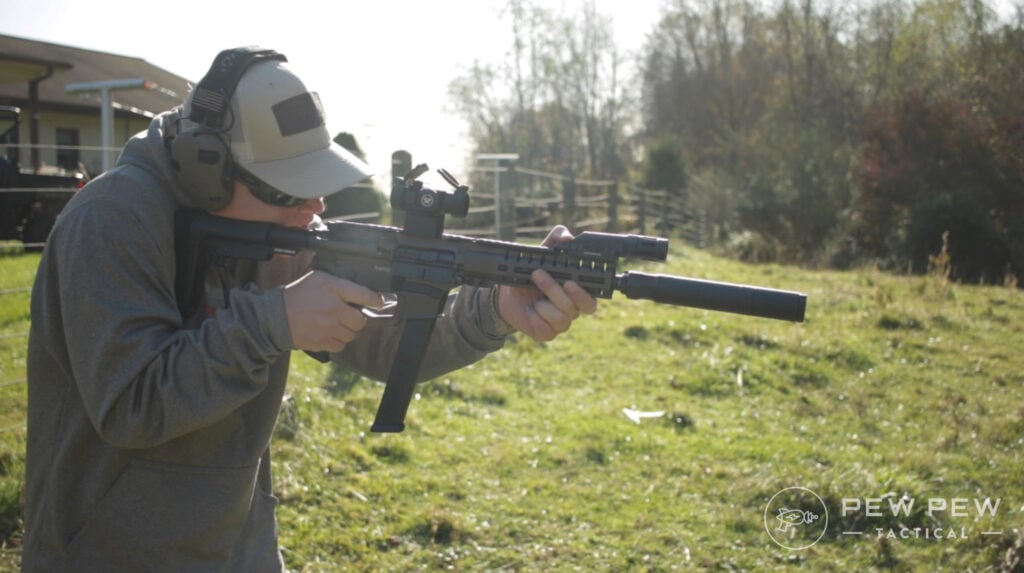 First thing I noticed was weight. It's light!
A lot of cans today use steel or aluminum, but this bad boy opts for titanium – which shaves the ounces off.
Depending on which setup you run, it weighs either 9.5- or 11-ounces. Did I mention, aside from being lightweight, titanium is CRAZY durable. You likely won't break this thing.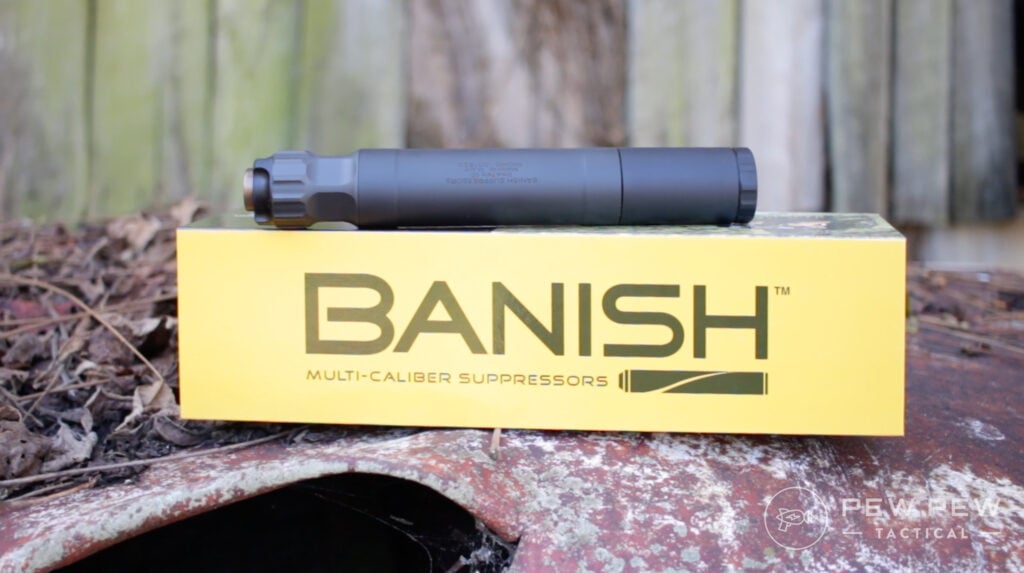 As far as aesthetics, Silencer Central went with an all-black look. Though simple, I do like the curves at the base. It's what I call nice looking.
While the outside may seem plain, the good stuff is on the inside. By this I mean, the entire suppressor comes apart so you can clean it yourself.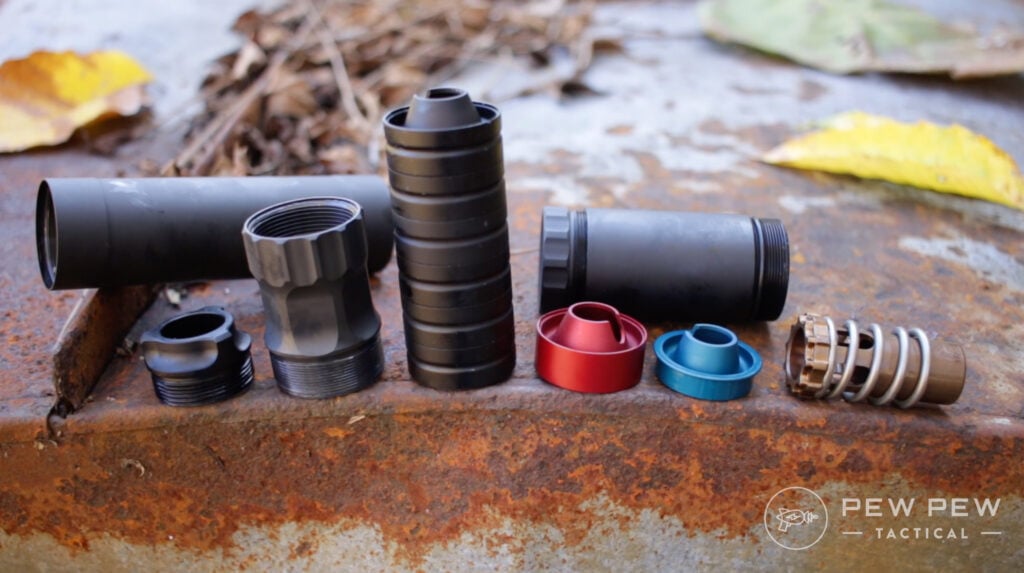 Why is this a big deal? Because it keeps you from having to send it in every so often to be cleaned.
Now, I dig the ability to clean, but I'm not a huge fan of the direct thread mount.
Prepare yourself to do a lot of twisting and turning to get this seated on the end of the barrel.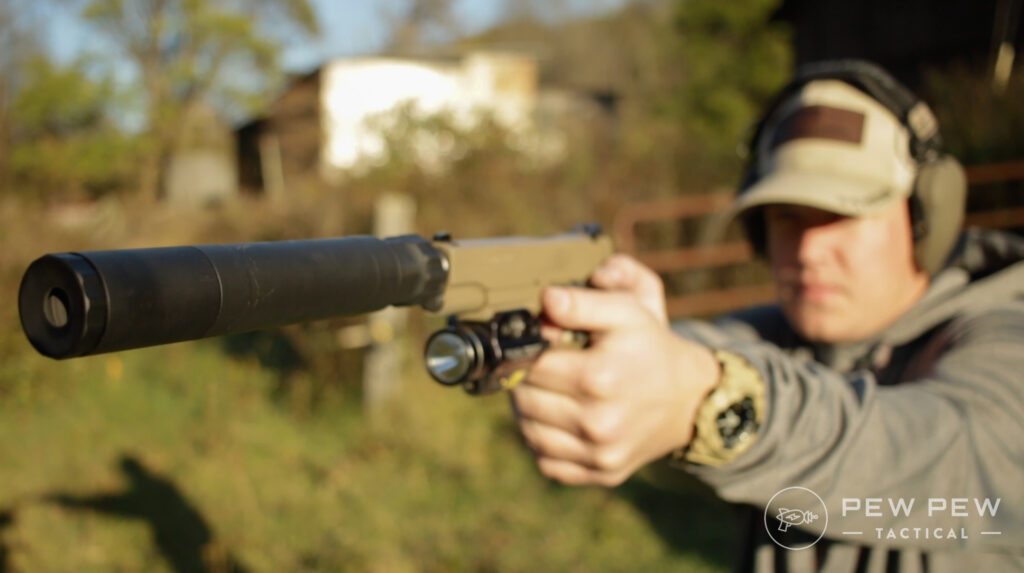 Let's be real, QD mounts are sooo much easier to deal with and require less effort.
Is the direct thread situation a dealbreaker on the Banish 45?
Not really, but if you are loyal to QD mounts, you will find yourself frustrated at direct thread mounting.
And be sure to have the correct adapter on the end of yours…Nielsen device (spring) for most pistols and a fixed spacer for PCCs.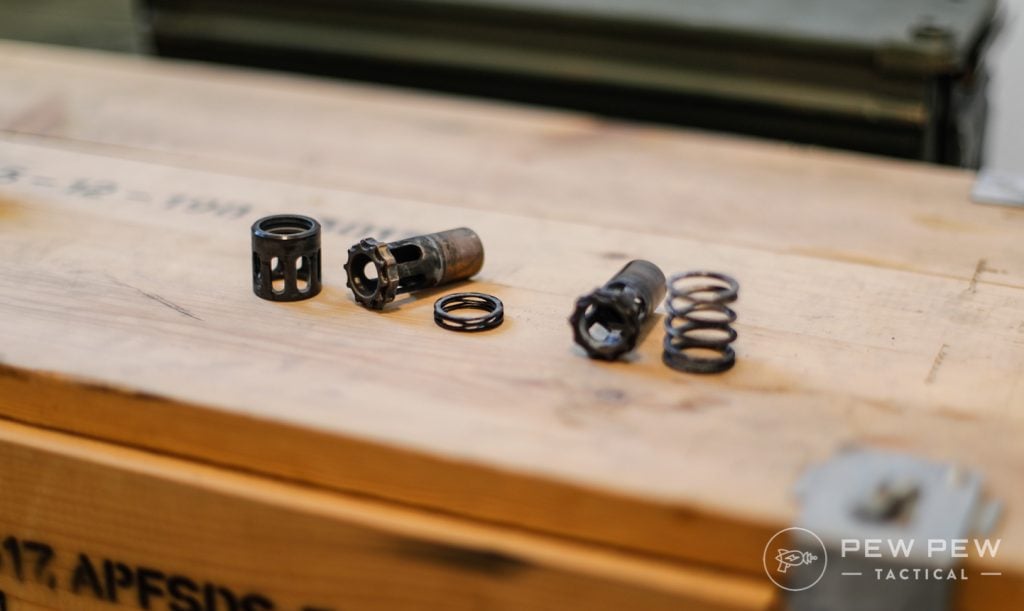 MSRP right now as tested is $949. But keep in mind that does NOT include paying Uncle Sam for the $200 tax stamp.
Why Silencer Central?
Let's be real; there are plenty of cans on the market, so what makes this one unique? Aside from its cool break-down feature, the company itself brings a lot to the table.
Namely, if you pick up a Banish 45 (or any of their silencers), Silencer Central handles ALL the paperwork. Yeah, that's cool.
I touched on this in my Banish 30 review, so make sure to take a look at that video below.
But, in a nutshell, Silencer Center is set up in all 42 states where suppressors are legal, and they ship the can to your door once you get your tax stamp from the ATF.
Having someone take point on the paperwork alone is worth buying!
Let's Go to the Range
I headed to the range to test the Banish 45 alongside Ryan from Silencer Central.
He spent the day with me since cans are NFA items, and neither the 30 nor 45 are in my name.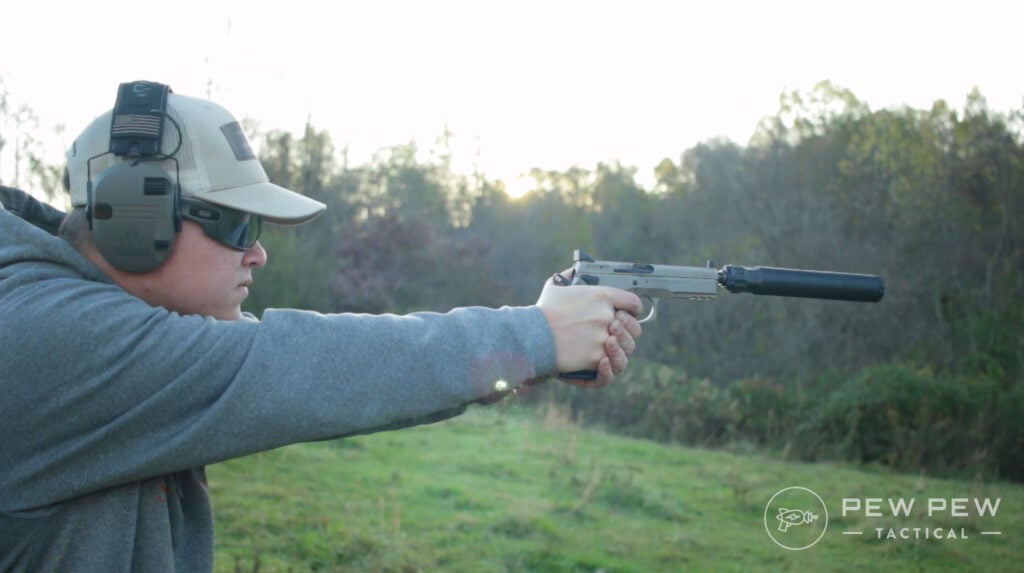 We fired a boatload of HSM, both 9mm and .45 ACP, through a pistol and PCC.
And I mean, we really let 'er rip.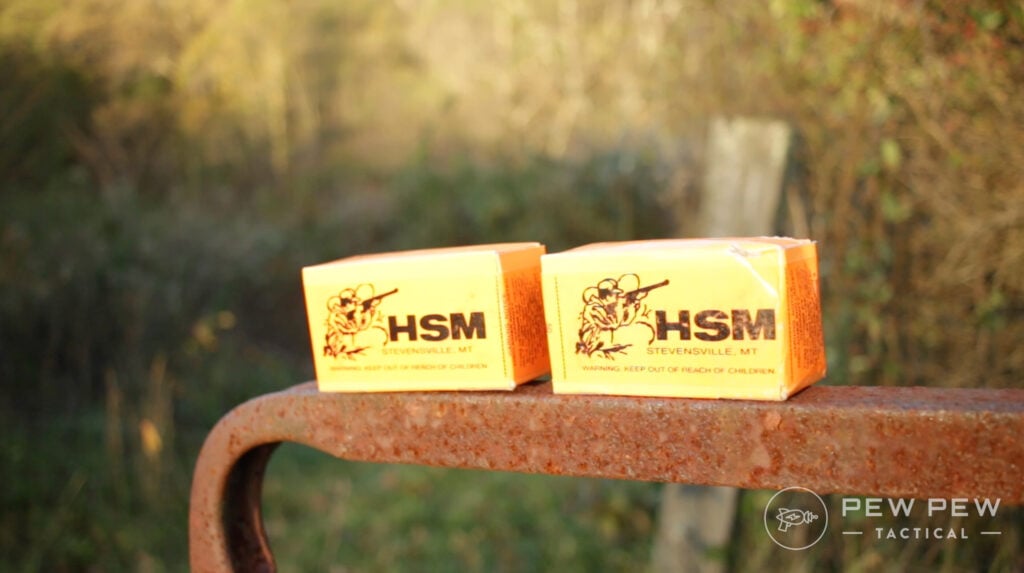 Silencer Central assures its customer the cans are guaranteed hearing sage, bringing pistols down to OSHA standards. And they don't lie.
The Banish 45 is QUIET — like instant quiet at the range.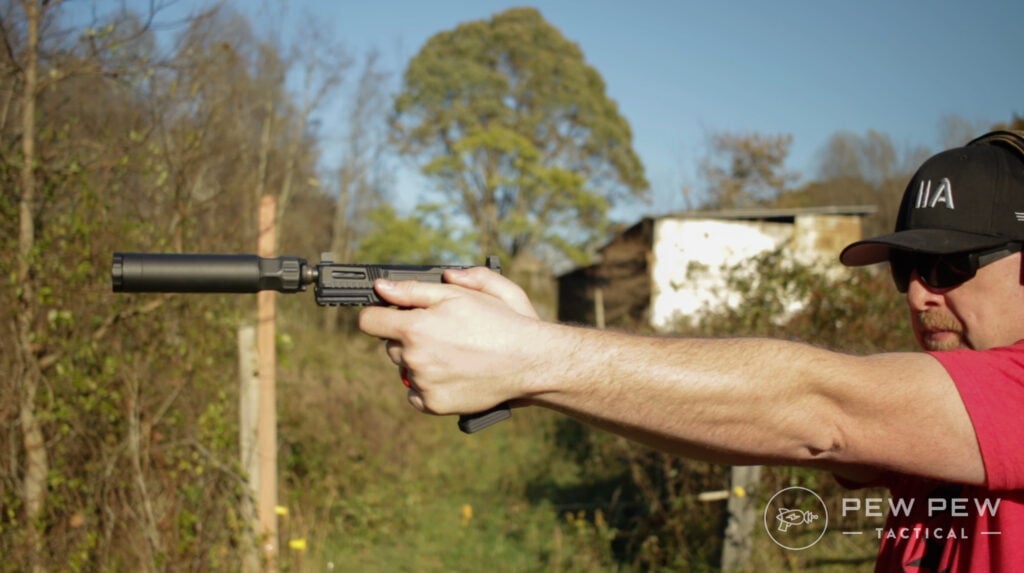 I shoot a lot of cans, and I can say with confidence, this one is solid.
The can is rated at -36 decibels, and Ryan brought along his fancy science machine so I could see the sound reduction myself.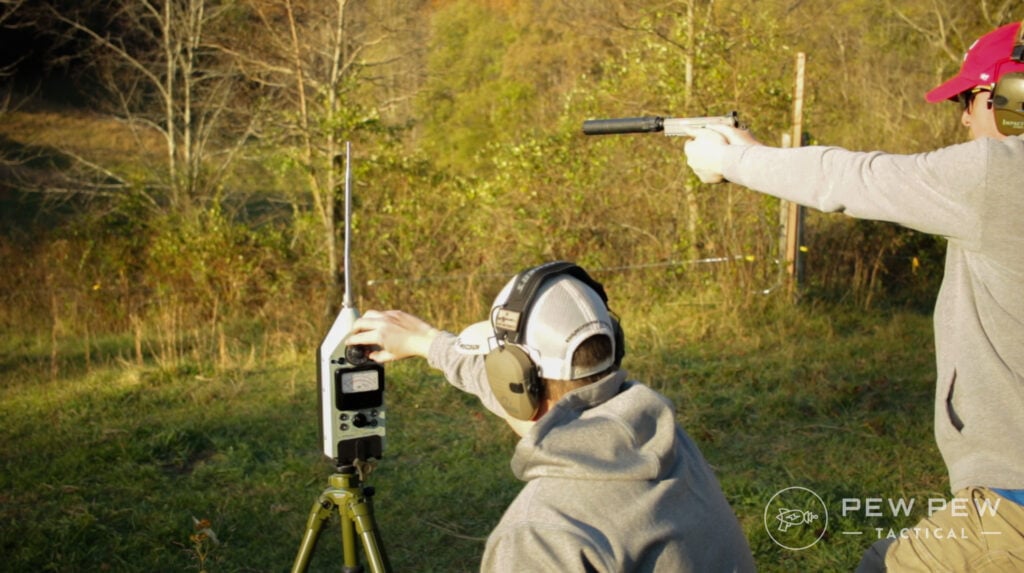 Yep, it's in the minus mid-30s consistently.
We did another test in our Best 9mm and .45 ACP Suppressors article and here's our baseline with a Sig M18 with 9mm Sellier Bellot subsonic ammo.
And it's great in both short…
and long configurations.
Simply put, it makes less boom-boom at the range. That's always a good thing!
25
at Sportsman's Warehouse
Prices accurate at time of writing
Prices accurate at time of writing
By the Numbers
Quietness: 5/5
Reduces range racket by 36 DB. BAM! Or maybe we say, "bam."
Reliability: 5/5
It's titanium. Try and hurt it. No, really, try.
Usability: 3/5
The entire Banish line is direct thread. So, if you change pistols a lot, you're gonna be turning left more than a Nascar driver.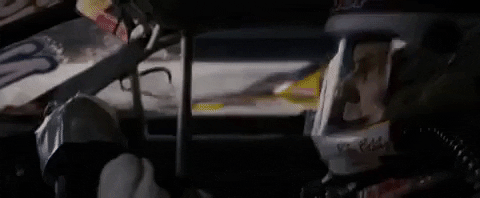 Weight: 4.5/5
Again, it's titanium…so it's legit light.
Maintenance: 5/5
100% self-service…breaks down for easy cleaning (especially if you have an ultrasonic cleaner). That Nascar joke up there was lame. Sorry.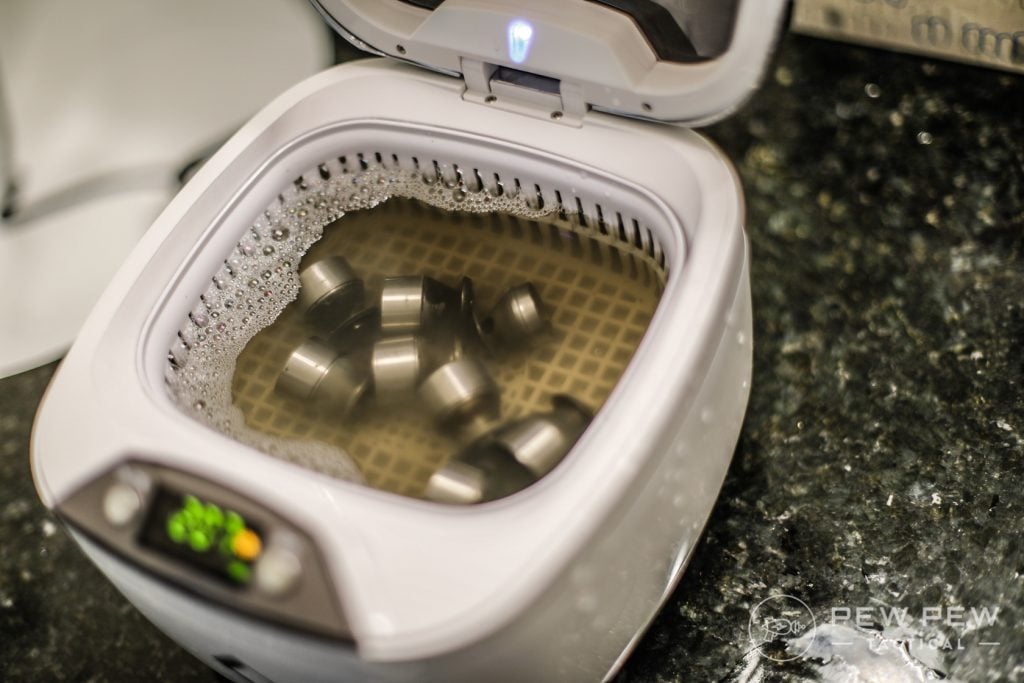 Value: 4/5
It's a crazy solid can, but at $949, cheap it ain't. And don't forget to budget for your tax stamp.
949
at Silencer Central
Prices accurate at time of writing
Prices accurate at time of writing
Overall: 4.75/5
Super quiet. Super tough. And it looks good. Top shelf can. Plus, Silencer Center takes the headache out of the ATF paperwork. Ginormous feature.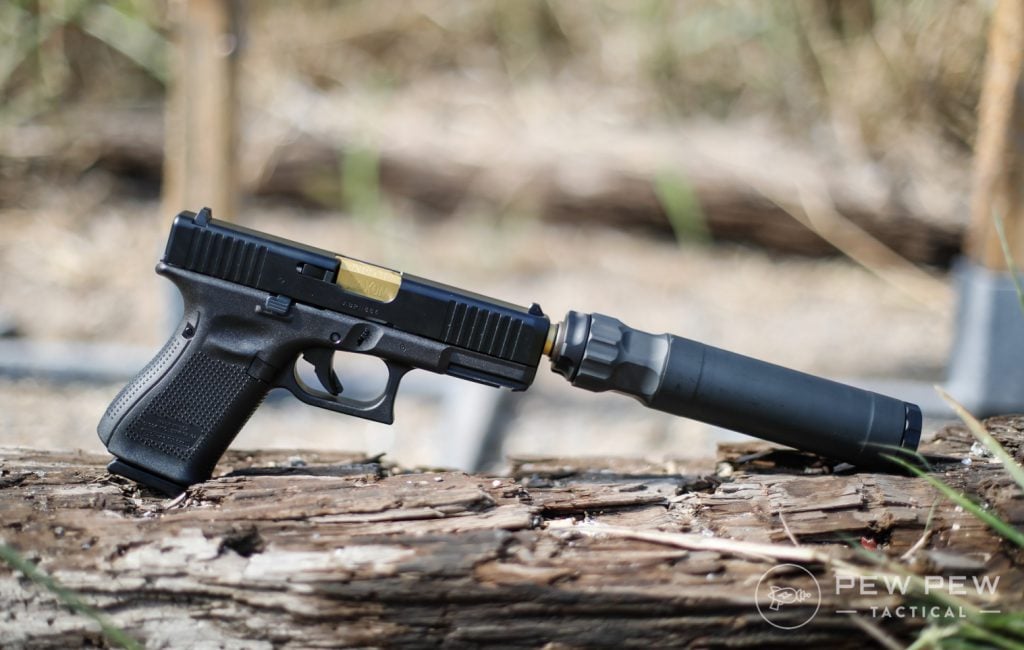 Ok…one more clip of it in action:
Conclusion
The Banish 45 achieves its goal of providing fun on the range and migrating into a home defense plan. It's quiet, measuring consistently in the minus mid-30 decibel range.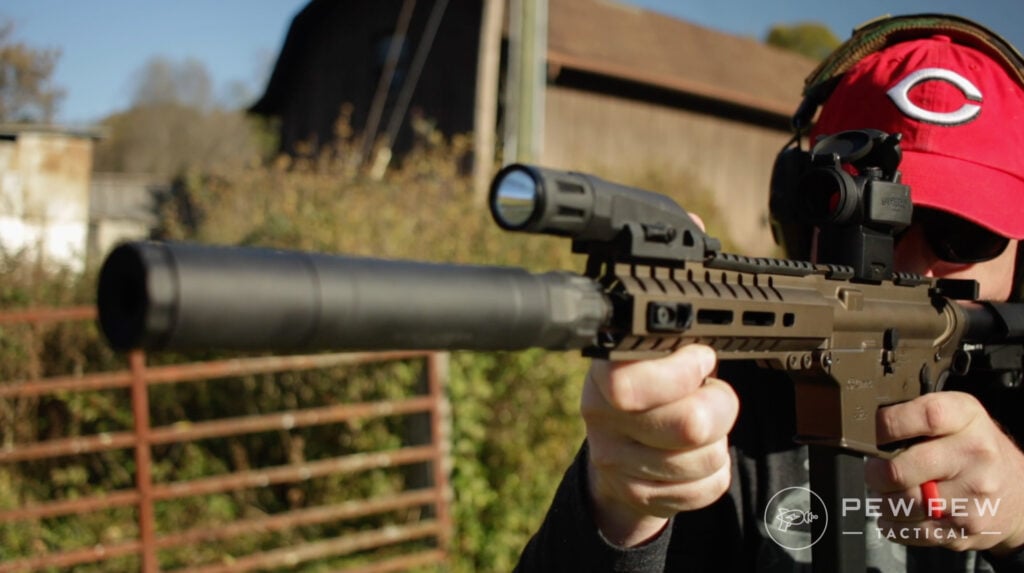 Not to mention, the quick break-down feature and Silencer Central's commitment to ATF paperwork make this a no-brainer.
If you don't have a suppressor already, now may be the time to change that.
949
at Silencer Central
Prices accurate at time of writing
Prices accurate at time of writing
The Banish 45 is a solid choice for those dipping their toes into the suppressor arena or looking to expand their silencer collection.
What do you think of the Banish 45? Let us know below. Ready to buy a suppressor but don't want to brave the crowds at your local store? Check out our guide to buying a suppressor online.