Looking for the best budget red dot?
Well…we've been testing the Sig Sauer Romeo 5 for over 4 years and we still whole-heartedly agree that it is still the best red dot under $200.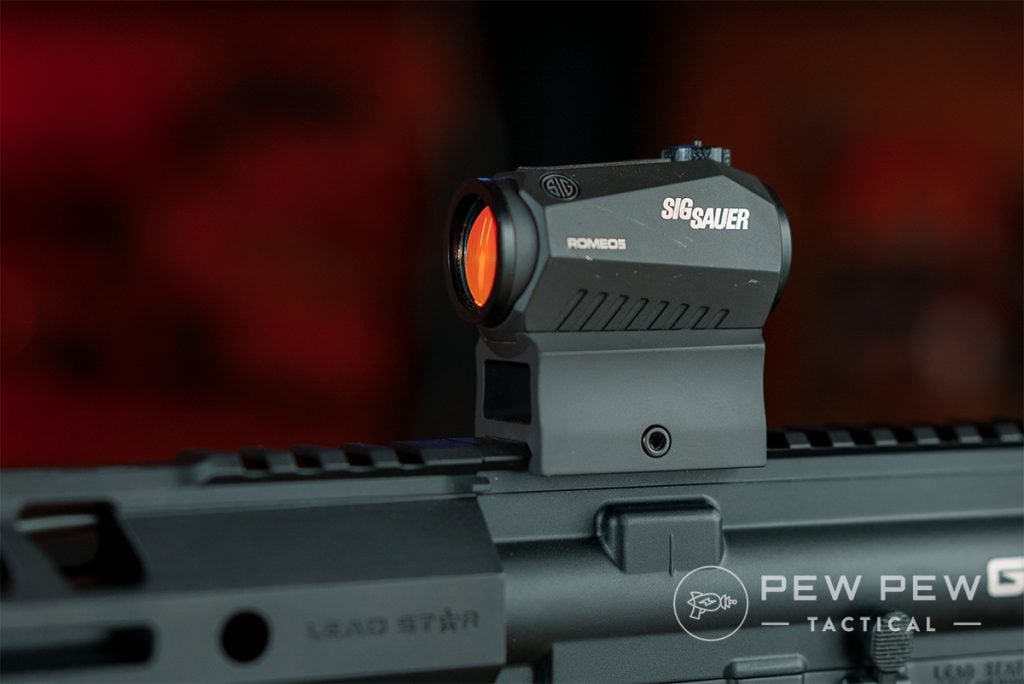 We'll cover specs and then dive into our real-world torture and hard-use tests. By the end you'll know if it's the right red dot for you.
Brutally Tested Budget Red Dot
119
at Palmetto State Armory
Prices accurate at time of writing
Prices accurate at time of writing
Sig Romeo 5 Red Dot Pros & Cons
Pros
40,000 hours battery life

Shake-awake function

10 illumination settings

Comes with decent mount
Cons
Slight tinge of blue

Mount could be nicer
The Bottom Line
Best under $200 red dot right now
Sig Romeo5 Specs
Weight: 5.1 oz
Battery Life: 40,000 Hours (4.5 Years)
Illumination Settings: 8 Daytime & 2 Night Vision
Dot Size: 2 MOA
Objective Lens: 20mm
Waterproof: IPX 7
Footprint: Aimpoint T2
Battery: CR2032
Price: $120
Sig Romeo 5 Features
Street price is under $120 and for that price you expect a no-frills red dot.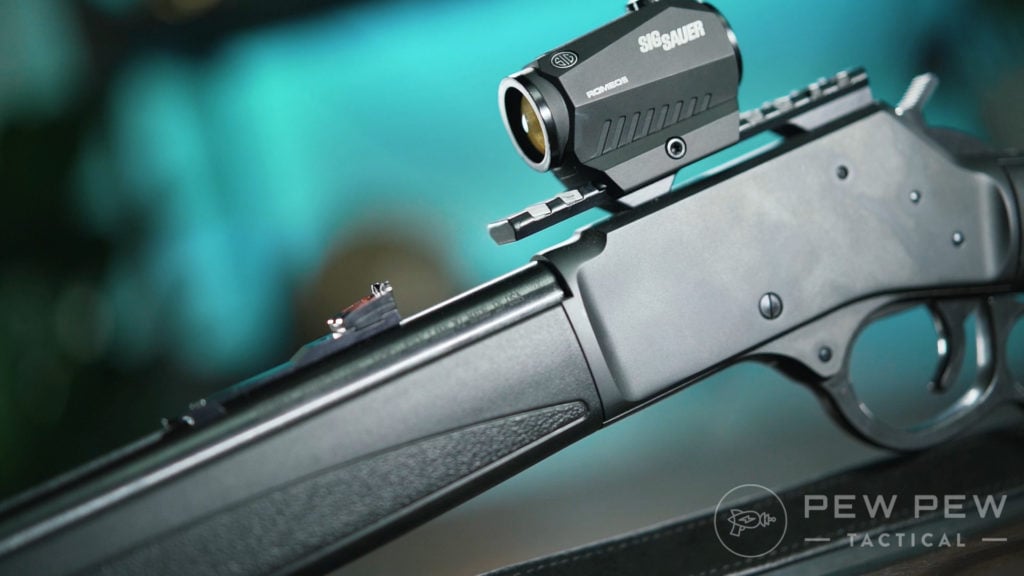 But the Romeo5 surprises you with an awesome 40,000 hour battery life off of one common CR2023 battery.
Plus…it has a shake-awake function that Sig is calling Motac (motion activated illumination) that increases it even more by shutting it off after 2 minutes of being idle. And turns on again with any motion.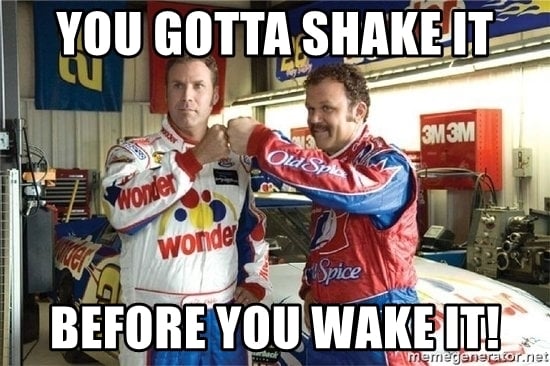 This was normally something only found in higher-end optics but now you get it with the Romeo5.
Once the firearm is stored, the optic can be left on, but will not use battery power unless picked up and moved.
On top of the Motac motion activation system the Romeo5 also has a specialized Spectracoat lens coating.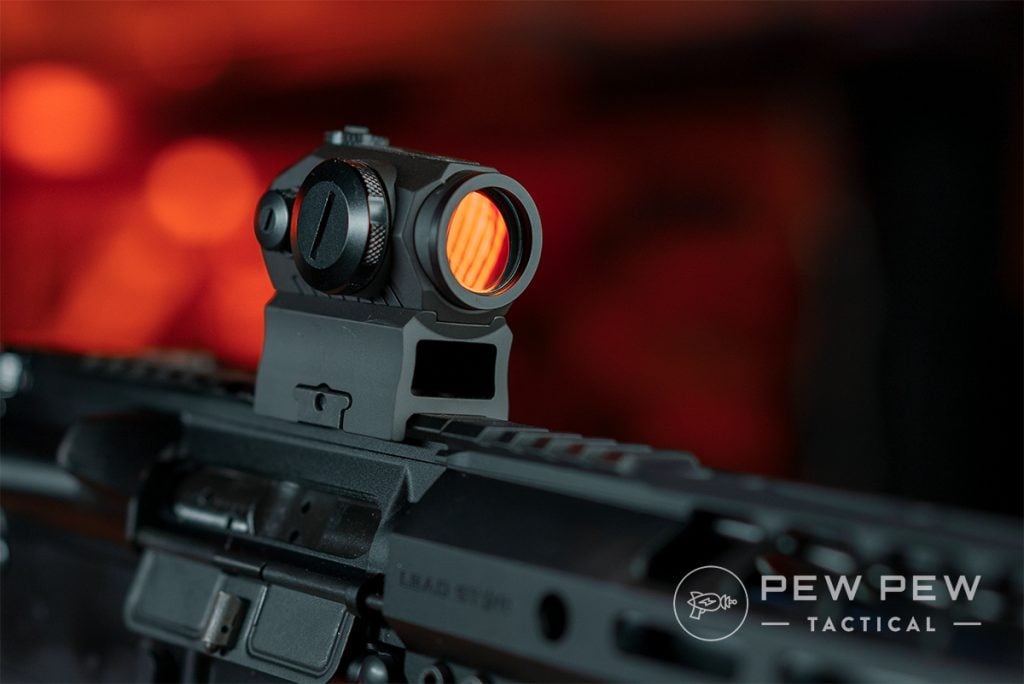 This coating helps increase battery life by allowing a shooter to keep the brightness level on a lower setting but still allowing maximum visibility of the 2 MOA dot.
Fit & Feel
Over the years we've used our stable of several units on AR15s, PCCs, lever guns, shotguns, and even full-autos.
The Romeo5 has an included "high" mount that provides for an absolute co-witness with AR-15 iron sights that keeps the irons centered within the field of view.
It is lightweight but is rather basic. While this will work for a lot of people, some people prefer a better mount using a QD lever, or a skeletonized mount to shave off weight.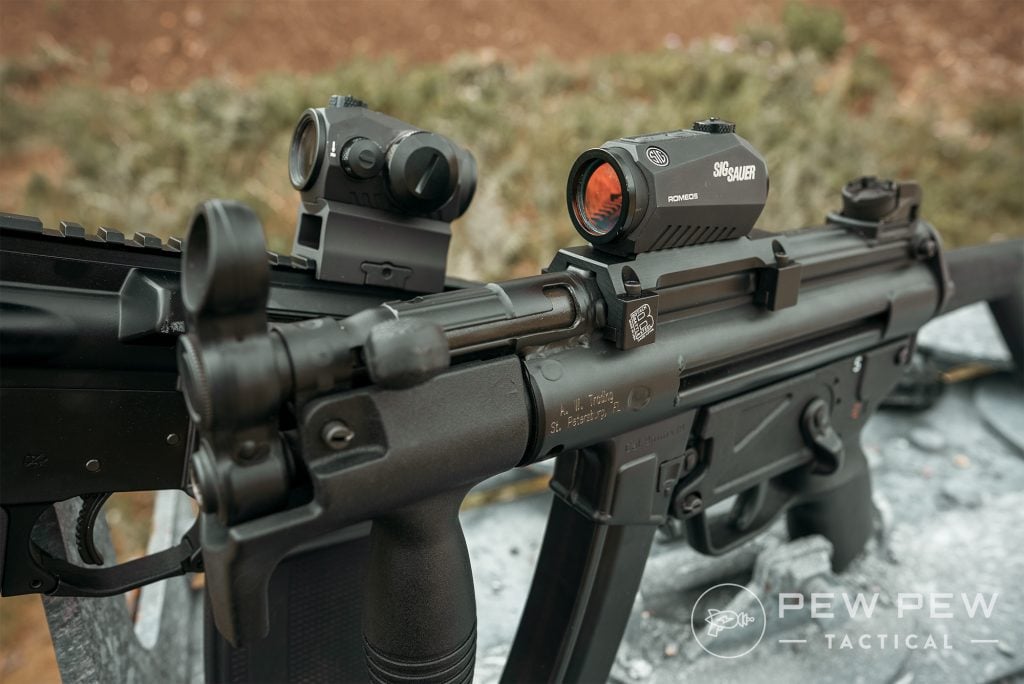 You can also remove that for a lower-profile mount depending on your gun or use its Aimpoint T2 footprint to directly mount to something else.
Aesthetically, the Romeo5 is a typical 20mm tube-style red dot with adjustable brightness settings using a push-button system, instead of a rotating knob located at the battery compartment.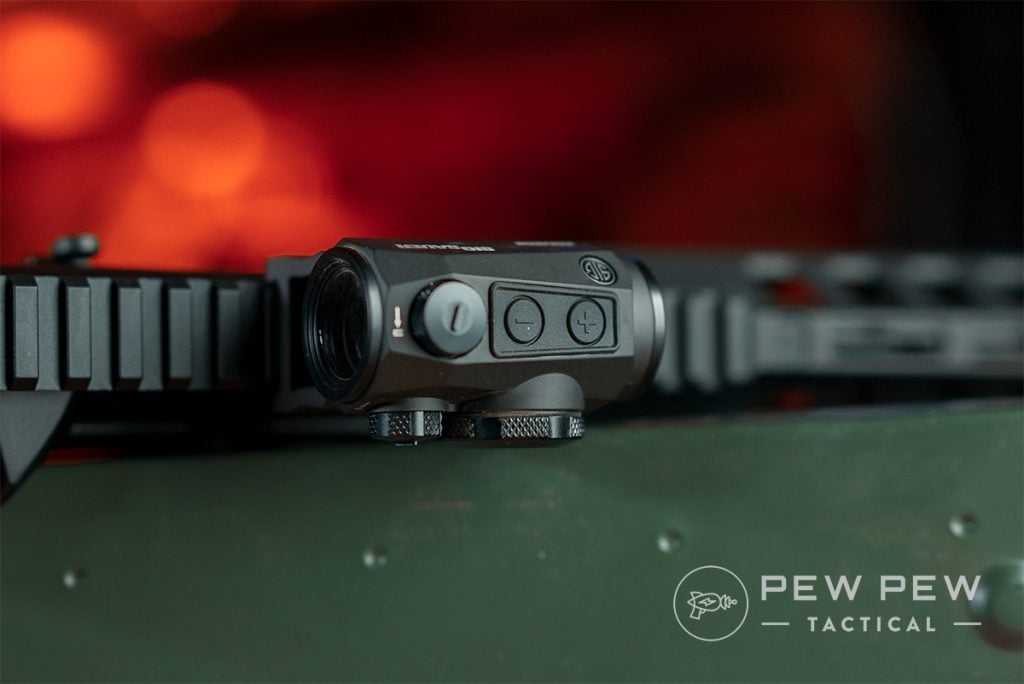 Turn it on by holding either button for a few seconds. If you want to take advantage of the shake-awake function…you're done!
Just leave it alone for around 2 minutes and the dot will automatically turn off. With some motion it will turn back on.
However, you can also manually turn it off by pressing and holding either button for a few seconds again. Note that this turns off shake-awake (lesson learned the hard way).
View Through
Ok, we get that it's affordable, comes with a decent mount, and has shake-awake. But how does it look through the glass?
Check it out indoors…pretty clear lens with only a slight tinge of blue. Once you're using it you'll hardly be able to tell.
And outdoors…bright enough for almost everything you're going to face. I've used it in the scorching desert and at the highest illumination you're still good to go.
No glue clump at the bottom like in other affordable optics like the TRS-25 nor halo-ing effect.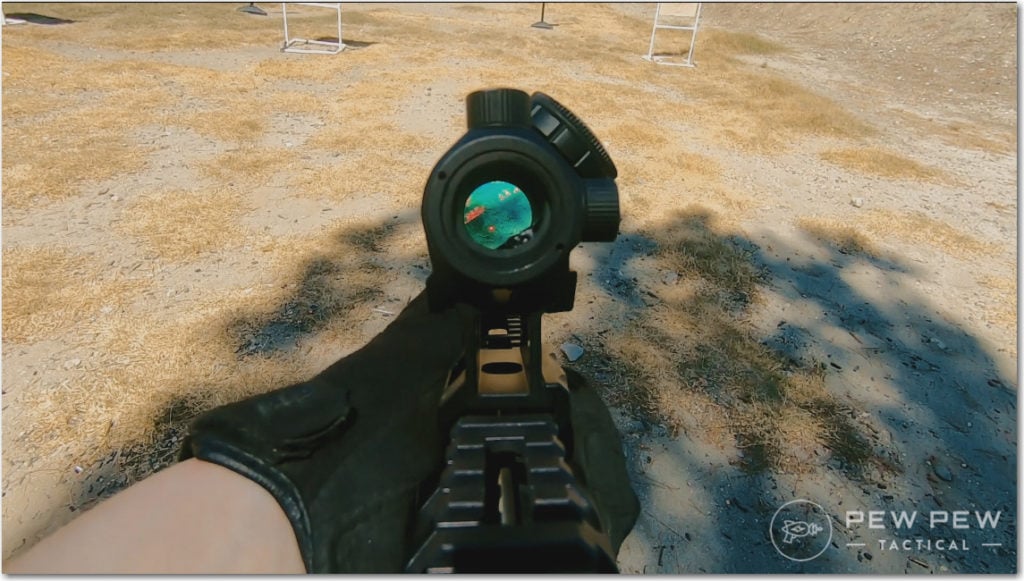 And the 2 MOA dot? Perfect for both quick acquisition and more precise shots.
Illumination settings are plenty bright for any purpose from indoors to the blazing summer sun.
Adjustment is also easy with two protective caps that come off and tactile enough clicks.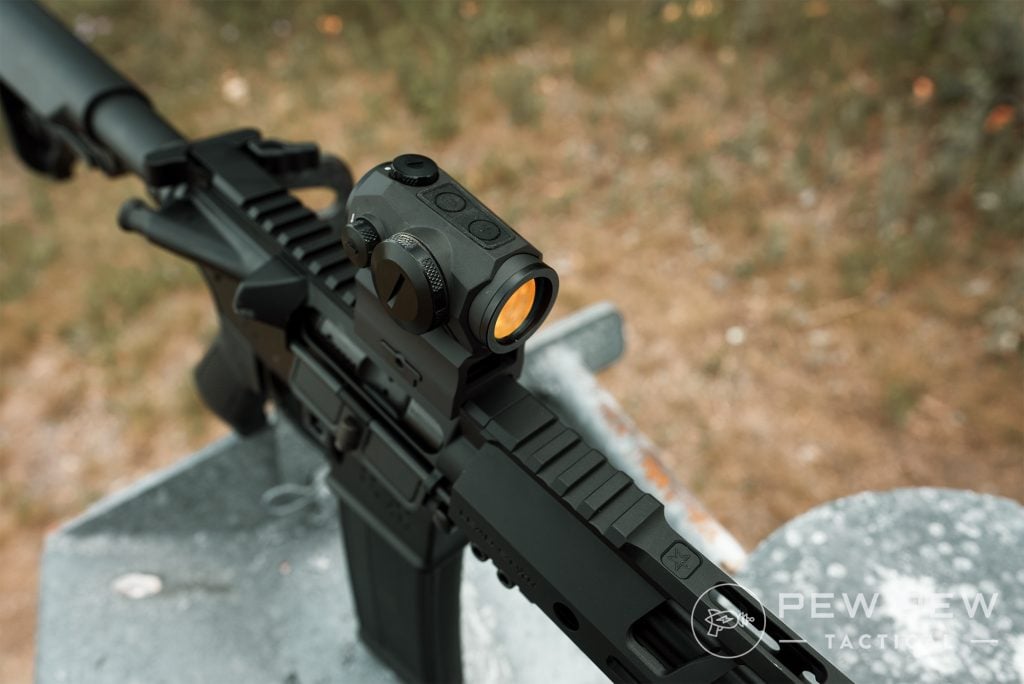 We also used it with a 3x Juliet Magnifier which greatly increases the range of the red dot from about 100-200 yards to 300+ yards.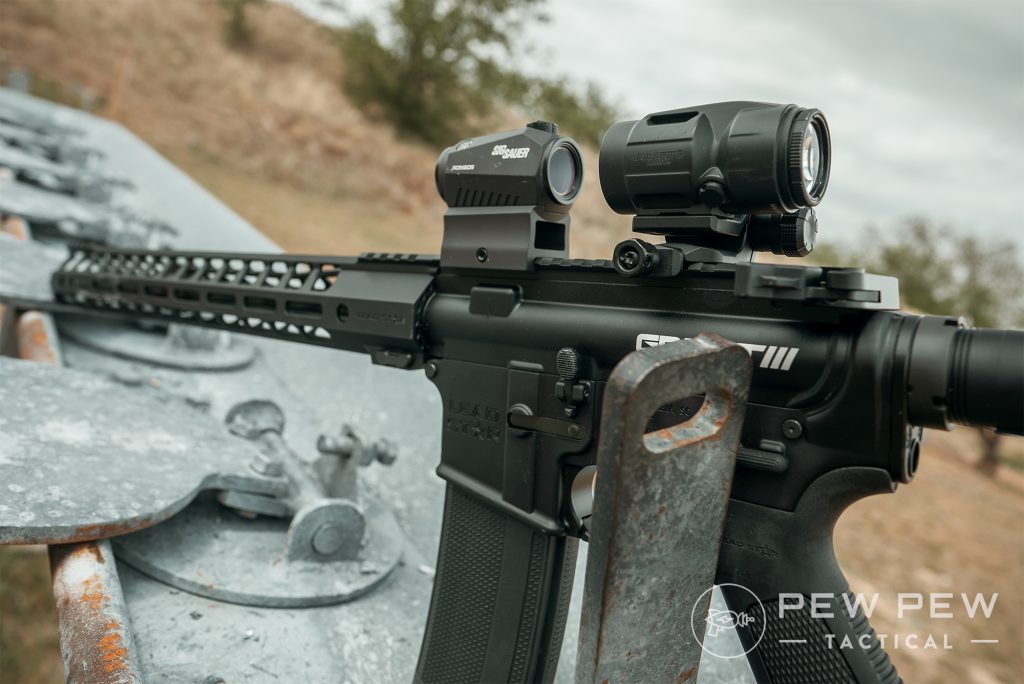 169
at Palmetto State Armory
Prices accurate at time of writing
Prices accurate at time of writing
Torture Testing
Besides years of testing with shotguns and full-autos…we decided to submerge, drop, and chill down the optics.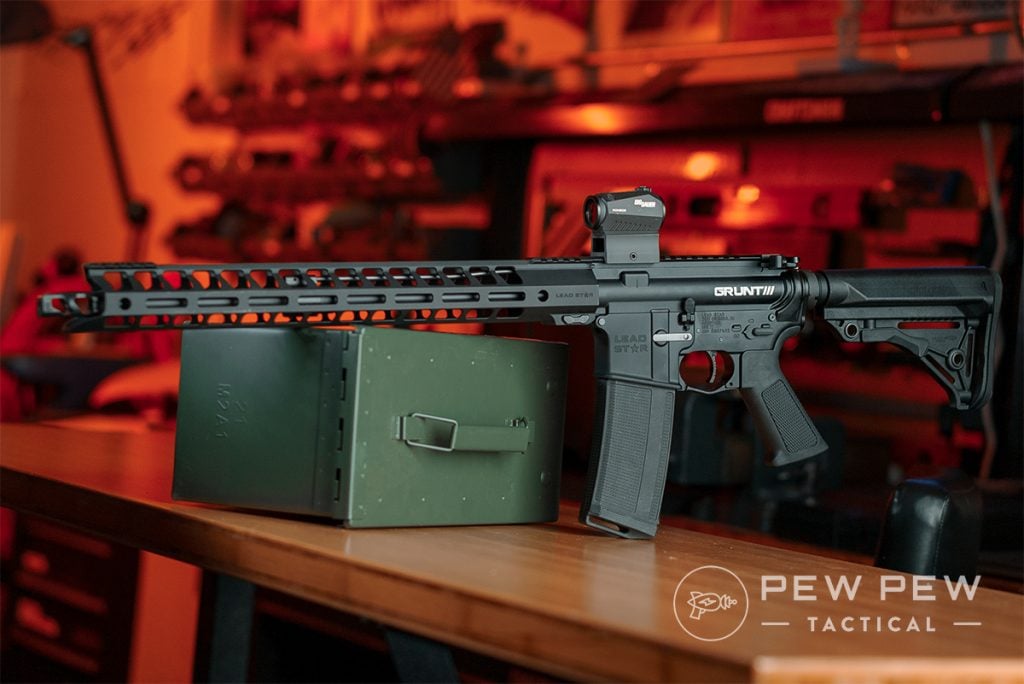 They were submerged for 10 minutes, and once pulled out and the exterior dried off, no water or fogging was visible within the tube of the Romeo5.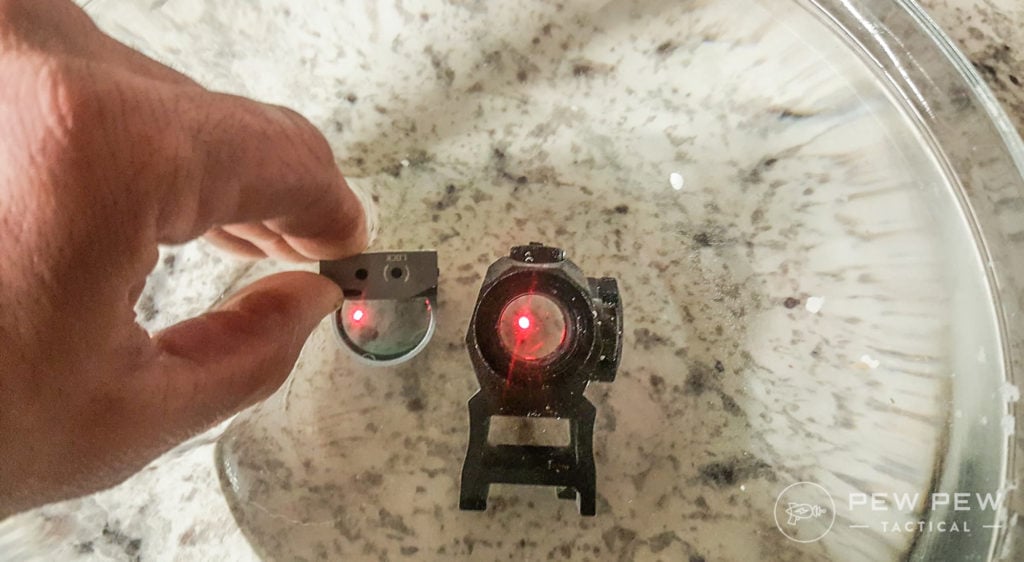 Dropping the optics while mounted showed no signs of zero being disturbed. Dropping was done at knee to shoulder height on different types of terrain including dirt, grass, and rocky terrain.
No damage besides minor scuff marks appeared.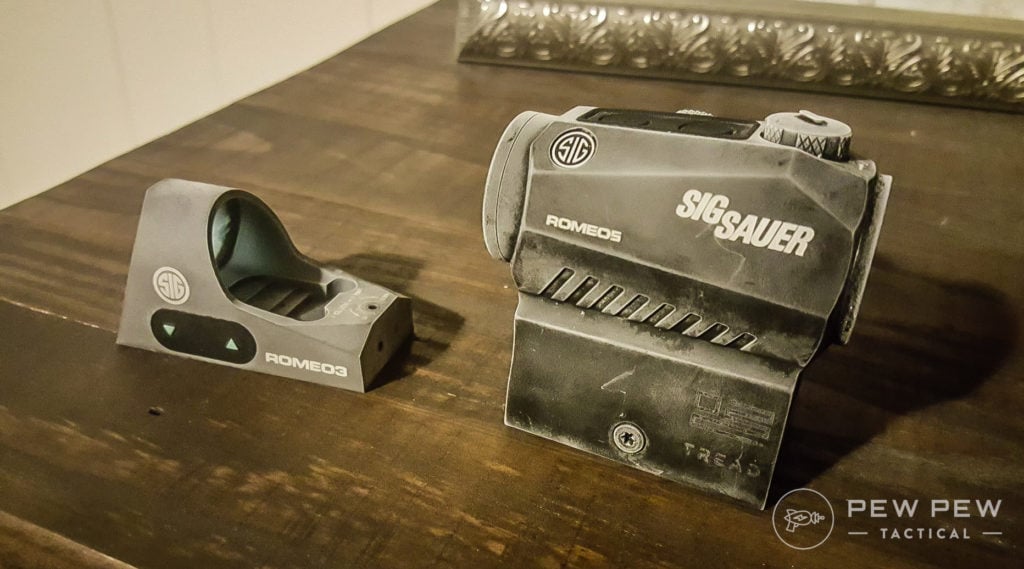 Finally, after being left in the freezer at -5 degrees Fahrenheit for 3 hours, both optics showed no overall dimness with their red dot brightness.
After doing testing with imported red dots of lesser quality, usually with extreme cold, the electronics could not perform at subzero temperatures. Usually, the dot will go very dim and choke itself out until it gets warmer.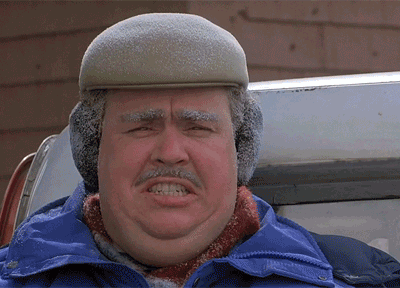 Both Sigs proved to handle the cold perfectly fine…great news for those of you in colder states.
Who Is It For?
Anyone looking for a red dot that's affordable and still has some nice features like shake-awake…excuse me, Motac.
Plus an included high-mount for ARs that's ready out of the box. And also an industry-standard footprint for other mounts.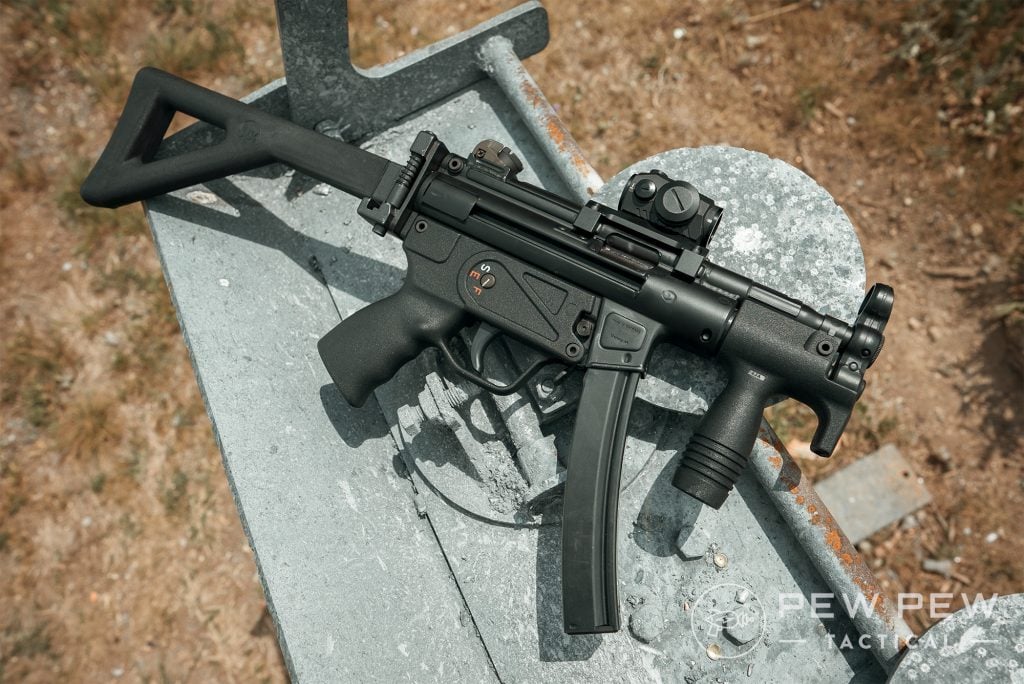 We've been stressing out one unit on a full-auto MP5K and it's held up great. See our YouTube Short:
This is good enough for a duty weapon if you can't go up to a Holosun or Aimpoint. And the battery life is very good at 40,000 hours combined with shake-awake.
I'd still change out batteries every year but it's nice knowing that you can leave it completely on for 4 years.
Brutally Tested Budget Red Dot
119
at Palmetto State Armory
Prices accurate at time of writing
Prices accurate at time of writing
By The Numbers
Affordability: 5/5
Durable, clear dot & glass, 40K hours, and shake-awake. All with a street price around $120…you can't beat it right now.
Looks: 4/5
The Romeo5 is a solid looking red dot. Much like the higher priced Aimpoints, the smaller tube style red dots offer a lot of strength in a relatively small package. The mount is a little too plain for my liking, but it does offer a solid attachment point.
Reliability: 5/5
We've tested several Romeo5s through the years and none failed me or any of our writers. The "Motac" system worked every single time and I left the optic constantly on. Even after multiple drops on varying terrain, the optic refused to quit.
Overall: 5/5
Brutally Tested Budget Red Dot
119
at Palmetto State Armory
Prices accurate at time of writing
Prices accurate at time of writing
Upgrades
There's not too many upgrades for a red dot but you can get a nicer quick-disconnect mount.
95
at Optics Planet
Prices accurate at time of writing
Prices accurate at time of writing
Or add on a 3x magnifier to reach out further.
169
at Palmetto State Armory
Prices accurate at time of writing
Prices accurate at time of writing
Final Verdict
I would highly recommend the Romeo5 for someone on a smaller budget but wants to maximize their purchase.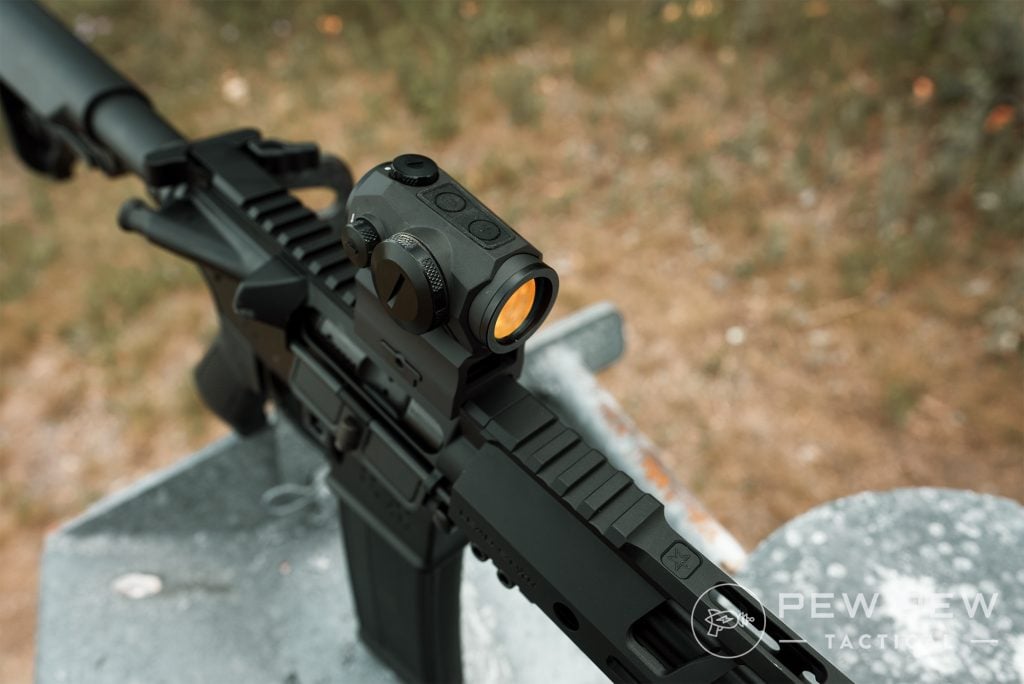 Battery life is fantastic.
The "Motac" system should be an industry standard, and the 2 MOA dot is precise enough to stretch out to extended ranges when properly zeroed.
That said, for the price – the Romeo5 might be the best red dot on the market right now.
Do you run the Romeo5? How do you like it? For some more awesome optics, take a look at the Best AR-15 Scopes & Optics!