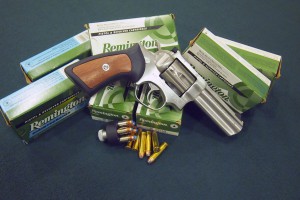 There's something viscerally satisfying about holding a magnum revolver.
Polymer pistols like the FNP-9 or the Glock are lighter and FEEL like you're holding a "plastic" gun, something toy-like.
When you pick up a .357 magnum revolver like the Ruger GP100, you KNOW you're holding a weapon.
At 40 oz., it weighs nearly twice as much as an FNP-9.
Shoot, if you run out of bullets it's actually possible to throw it at someone and knock them cold with it.
The .357 magnum round is nothing to laugh at.
People put that same bullet in a rifle and hunt deer with it. And as far as quality goes, it's a Ruger revolver.  Among the things Ruger does very well, it makes great revolvers.
So how is it for a noob?  Let's find out.
Breakdown
Let's not mince words.  It's a pain in the ass.  The good news is that you don't have to disassemble it to lubricate it.  According to the manual, a few drops of oil in the frame openings will make its way to the internal mechanisms.  If you're not comfortable taking this thing apart, don't.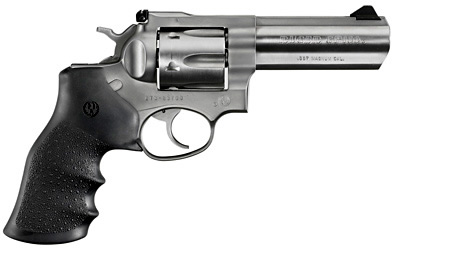 Maintenance
The good thing about maintaining this gun is that it's pretty easy to do.  You don't have to disassemble this weapon to do a routine cleaning.  Cleaning consists of swinging the cylinder out and running a patch and a bore brush through the barrel and the chambers.  Some light lube and you're done.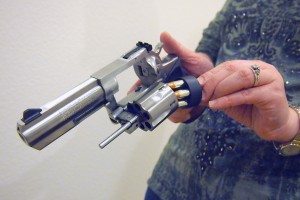 Safety and Reliability
Ruger makes a fine revolver, I'll give them that.
Pull the trigger, it goes bang.
In regards to safety, the GP100 has no manual safety on it, but it does have a transfer bar safety system which prevents the hammer from hitting the firing pin without the trigger first being pulled all the way to the rear.
What does this mean?
It means you can drop it without it going off.  The only other thing you can really call a safety feature is the double-action trigger pull, which comes in at about a quarter-mile.  When you're pulling the trigger without first pulling the hammer back, it's like the gun is asking you, "Are you suuuuuuuuuuuuuuuuuuuuureBANG!"
Comfort and Recoil
This is a heavy gun, so there's an upside and a downside.
The downside is that it's heavy.
Not heavy enough to where you have a hard time holding it up, but heavy enough to know you're holding a block of steel in your hands.
The upside is that a heavy gun has less recoil. Shooting .38 specials out of this thing is like shooting a .22.  You barely feel it.  On the other hand, you WILL feel the recoil of .357 mags.

Starter Kit
It comes with a hard plastic case.  What?  It's a gun, not an aquarium.
Accessories and Upgrades
The grips and the sights can be swapped out, and that's pretty much it.  You can change the springs to give it an easier trigger, but unlike an automatic there's not much you can do to this weapon.  You can't buy extended magazines, for instance.
It is what it is.
Final Word
A GP100 and indeed any .357 magnum revolver has a lot of advantages.
It's powerful enough to put down an assailant… or a bear.  And you can use .38 specials if you don't like the recoil or just for cheap training.
And make no mistake, having one trained on you is an intimidating experience.  No one in history has ever turned to a mob he was leading and said, "Let's rush him! It's just a .357!"
It's also easy to load, operate and conduct routine maintenance.  As a first gun, you might be put off by the lack of a manual safety, but if you're looking for something that's easy to use and has enough raw  firepower to repel just about any threat, man or beast, the GP100 might be for you.