Want to keep your guns or valuables in plain sight?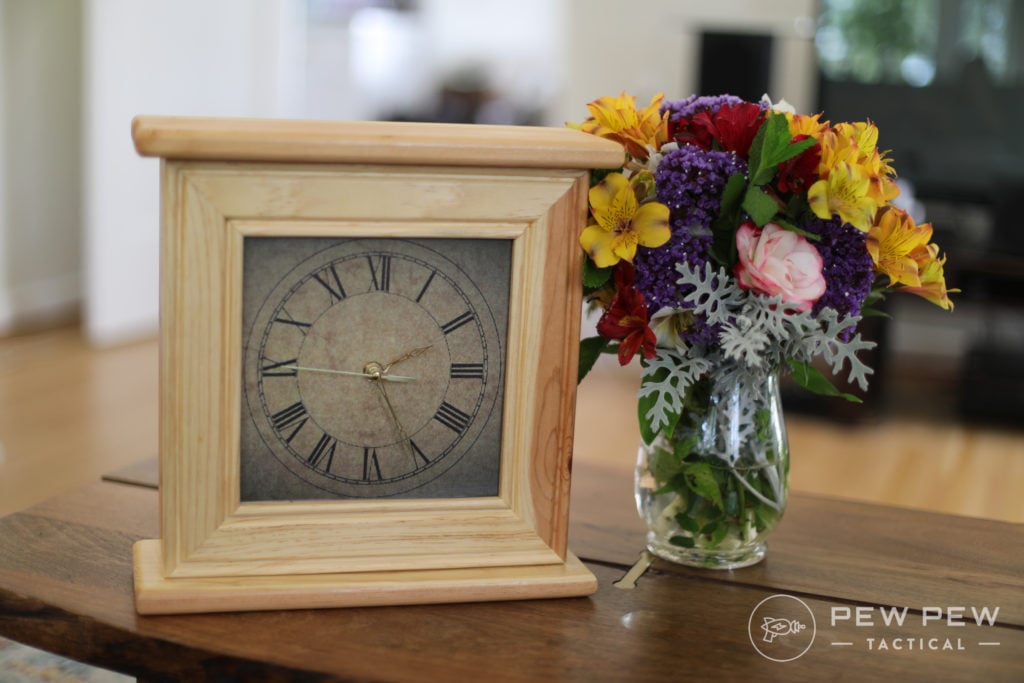 But still quickly accessible if needed?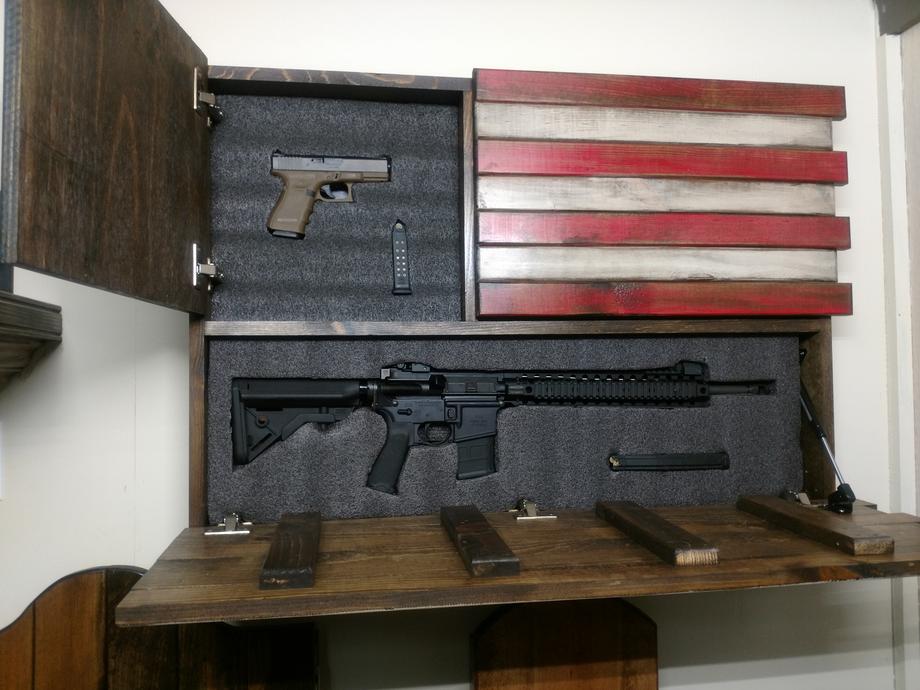 I review two options from Liberty Home Concealment that I've been testing over the last few months.
Table of Contents
Loading...
About Liberty Home Concealment
They are a family-owned business that makes everything in the US.  For a long time they were creating concealment options for other brands, but now they have their own line.
They reached out to me last year and sent me two concealment options for me to test.
One of their most popular options is their American flag.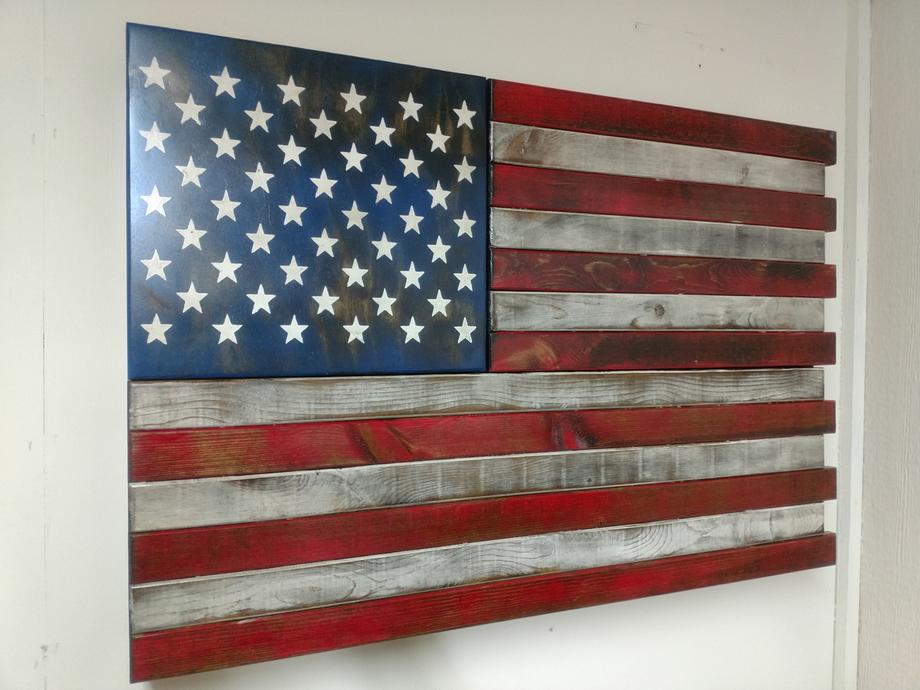 But I opted for something more discreet…
Concealment Clock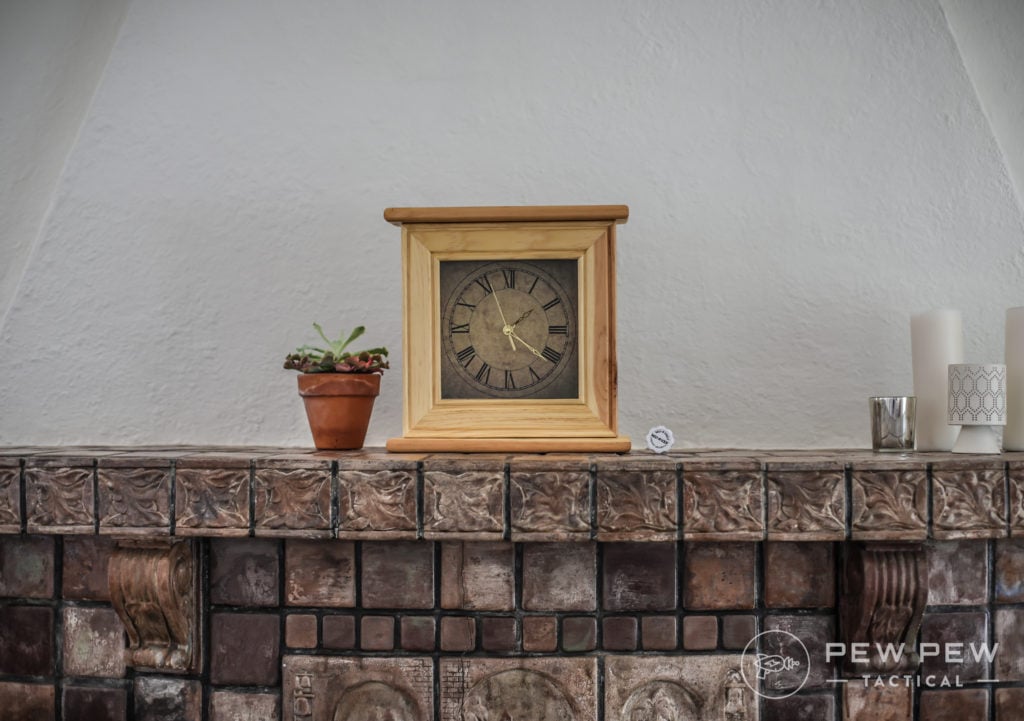 This is Liberty's Mantle Concealment Clock ($109).  I got it originally in unfinished color.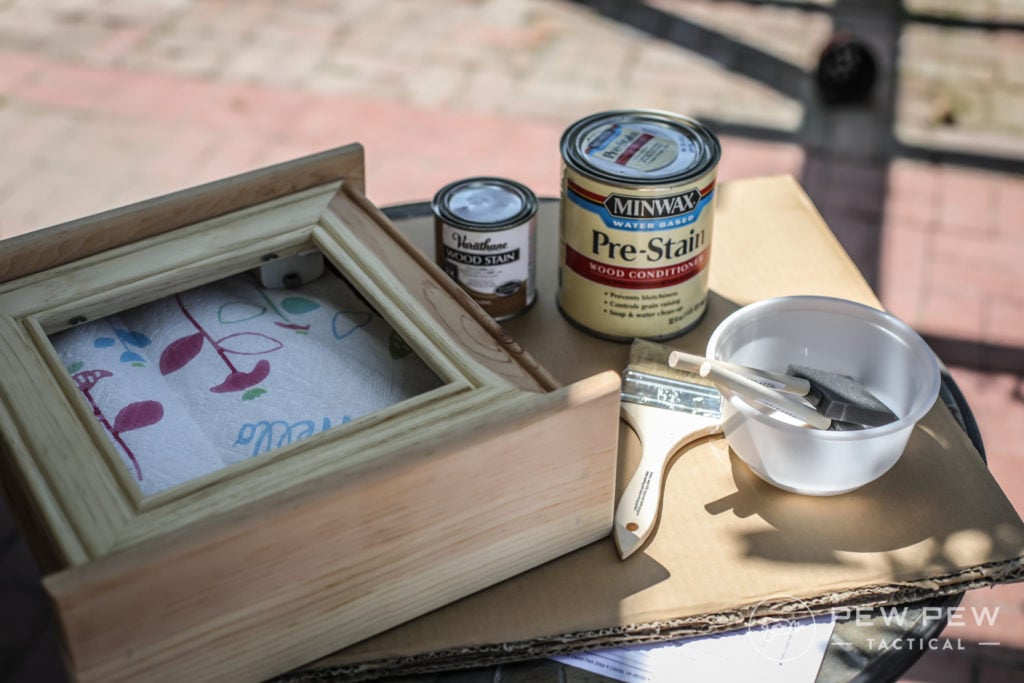 And stained it myself.  I thought about doing some crazier color but decided against it and went with something very natural.  Unless you know you want a color that's not listed (and they have a lot)…I'd get it done from them.
The concealment option has a lock inside that is opened by a little magnet doohickey at the right spot.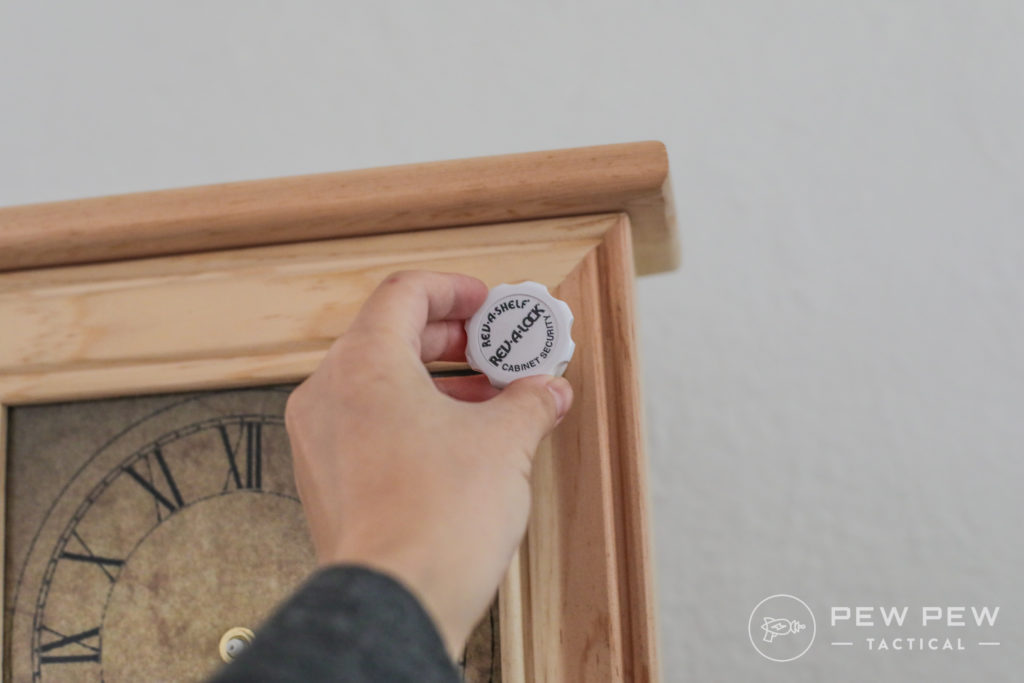 He is it in action:
And inside is some nice foam that you can either leave alone or cut to your handgun.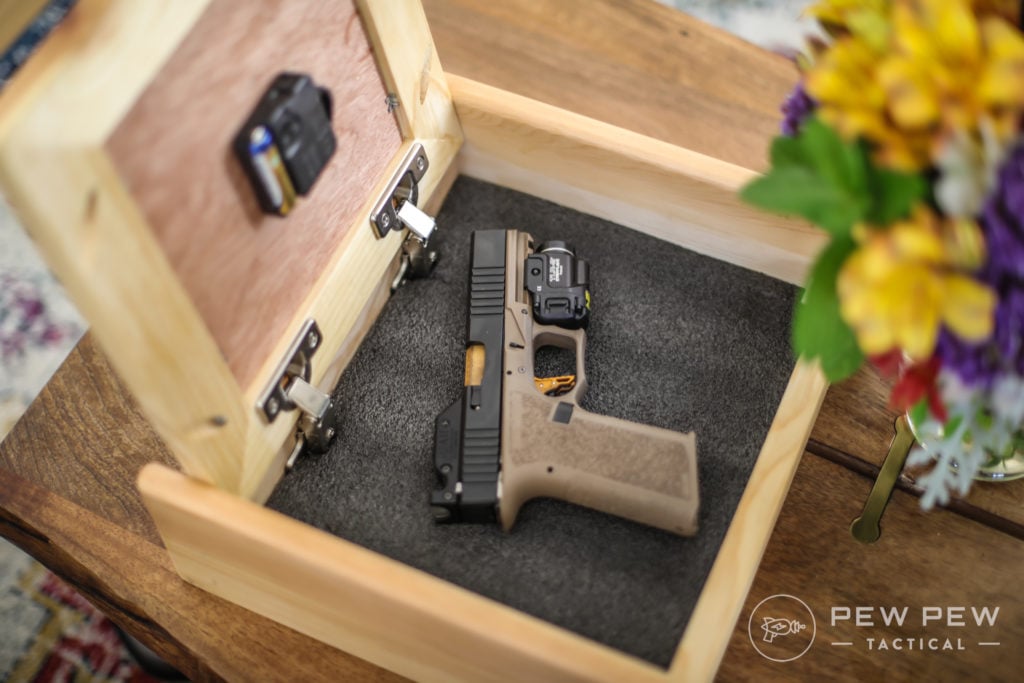 I'm still deciding which to leave in there so it's currently uncut.  Good thing is that there's enough space to leave it alone too.  Just note that whatever you put in there then will be on the bottom (thanks gravity).
You can also choose to have the locking mechanism on or off.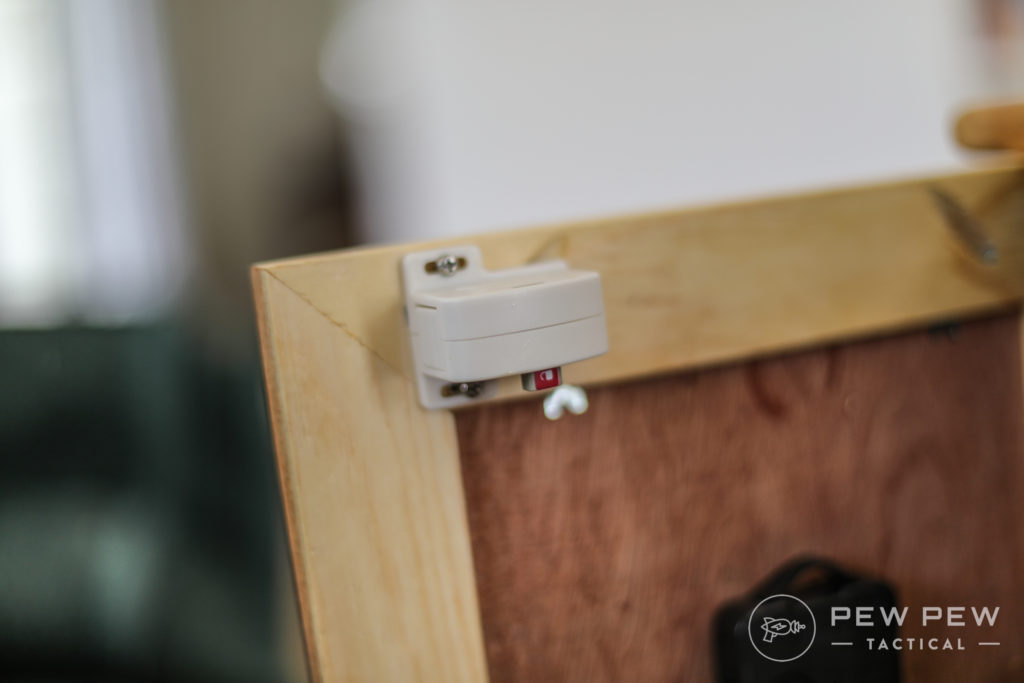 Overall I really do like the clock…it's aesthetically pleasing, smooth to open, and hides whatever handgun I can throw at it.  Time keeps well too.
Liberty Concealment Mirror
I'm pretty excited about the Concealment Mirror ($375), though it's sadly been discontinued by Liberty at this time.  Although a little on the expensive side when compared to Ikea…you get something actually useful and that can hold a long gun.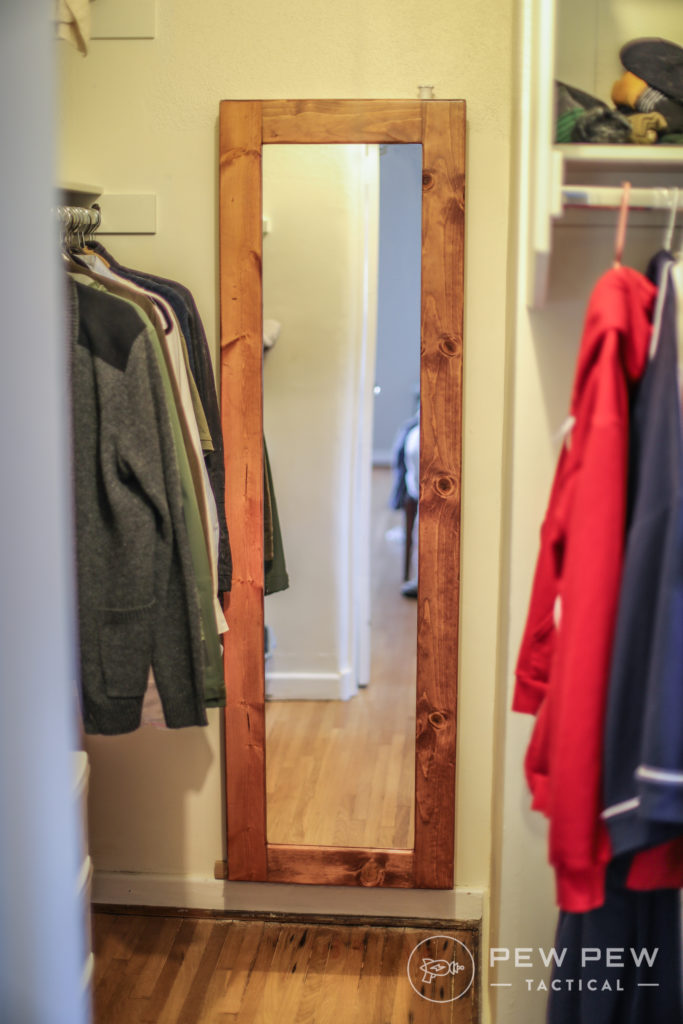 This one is their Cherry color and ended up really matching our floors…so the wife is happy!
It works the same way with the magnetic key.  I had to make a minor mark on the wood so I could remember where the lock was.
And for this one I cut away the foam.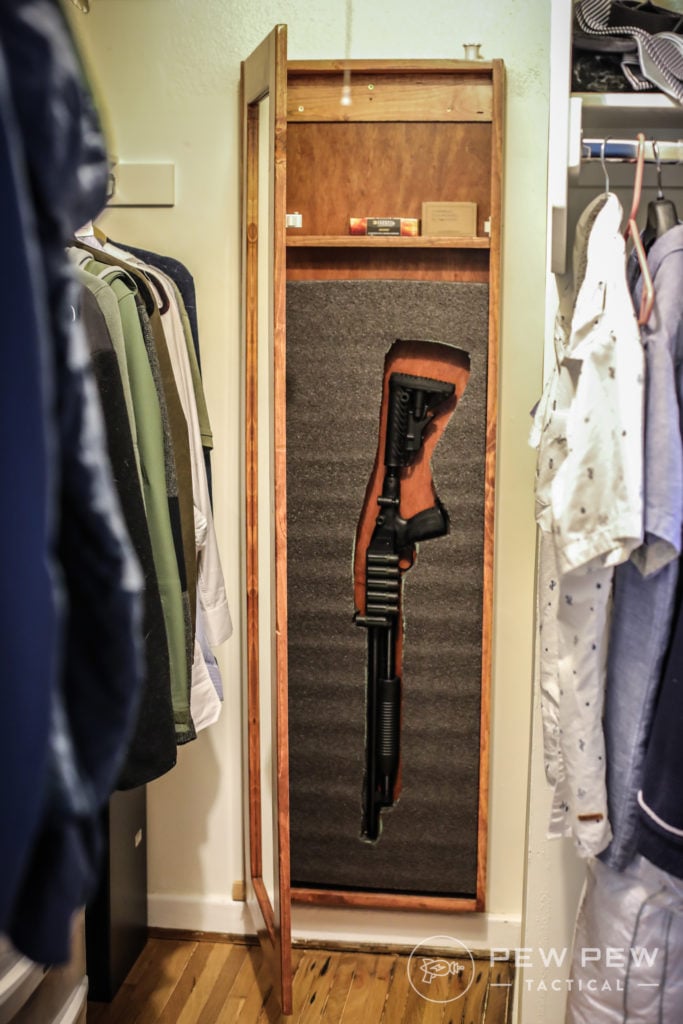 It's a little more space at the top so I can retrieve it more quickly…and I'm swapping between shotguns that have a more traditional buttstock.
Here it is in action:
Note that for my mirror I ended up having to press in to fully lock it…and to press it in to release.
Mirror is distortion-free and there's also plenty of space inside at the top for ammo or valuables.
By the Numbers
Reliability: 5/5
After I figured out I had to press to release the mirror…everything has worked 100% reliably.
Looks: 4.5/5
Wood looks great and the stains really bring out the grain.  Cherry color was true to what was shown on the site.  Only nit-picky thing is that I'd wish the clock face had more robust hour and minute hands (I bent one of them when painting and had to bend it back).
Customization: 4/5
Lots of colors for the wood…and also many options for flag based concealment.
Bang for the Buck: 4/5
Reasonably priced for something to conceal your guns and valuables.  Quality and heavy build for the mirror.
Overall Rating: 4.5/5
Conclusion
If you decide to go with concealment options for hiding your guns, Liberty Home Concealment is a great option.  They've been making them for a long time and there's a lot of things to choose from to fit any home decor and budget.
Check out more locked options with Best Bedside Gun Safes and Best Biometric Gun Safes.