Firearms and wood go together like chips and salsa.
Despite the revolutions of plastics and the growth of space-age alloys – there is something about a good wooden stock that just cannot be replicated or imitated by anything else.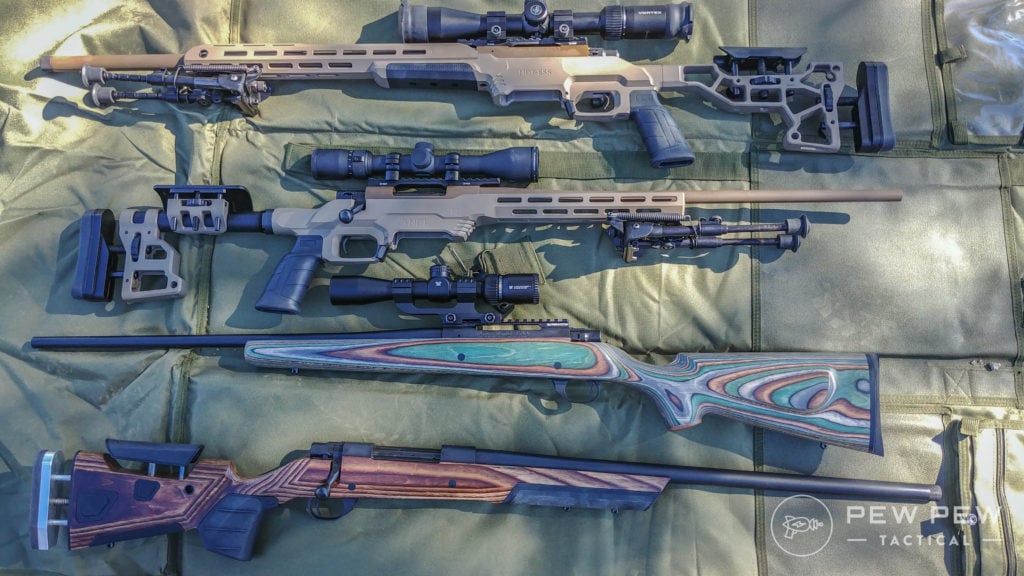 But custom cut wood is often prohibitively expensive and metal chassis aren't what you want to carry when on a long hunting trip.
What you need is wood. Warm, natural wood – but at a price that won't break you.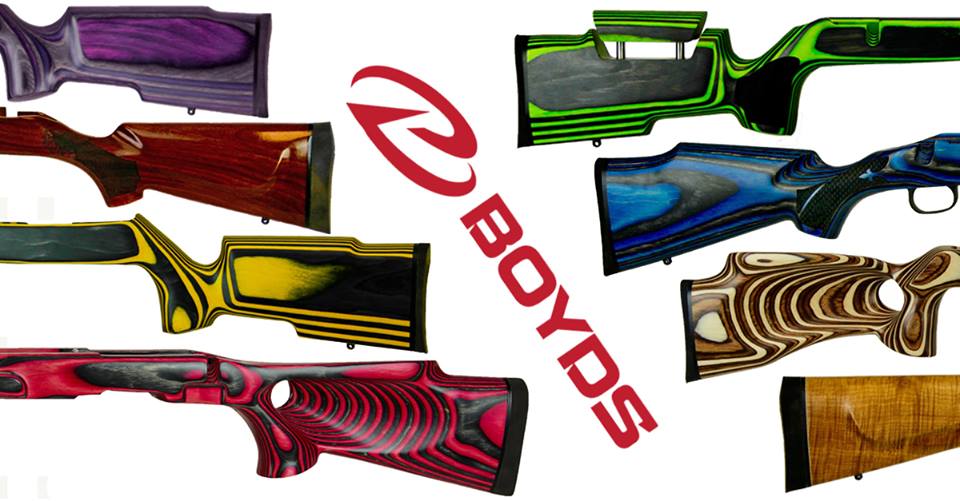 Boyds Gun Stocks are made of laminated layers of wood that are precision machined to fit almost any rifle action on the market. From Ruger 10/22s to AK-47s and AR-15s to the Howa 1500 Barreled Action – Boyds has a stock for you.
They also come in a wide range of colors, styles, grips, fore ends, coatings, and more!
Basically – it's like having a custom carpenter for your rifle, but at the price point of mass-produced plastic. Starting at under $140, Boyds delivers major value for their price.
Table of Contents
Loading...
What are Boyds Gun Stocks?
When you visit Boyds site, you can't get something with same day shipping. That's because everything they offer they custom make after you order it. While this means that shipping isn't Amazon Prime fast, it also means that you get your stock.
Not something that fell off a shelf.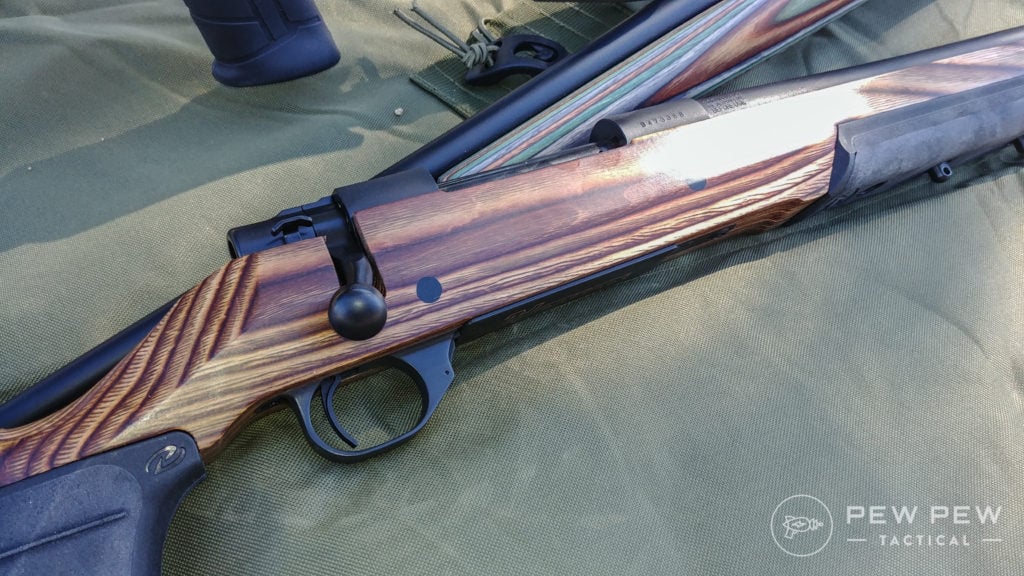 Every stock Boyds makes is made from laminated hardwood (layers of hardwood that have been pressed together using heat, pressure, and resin). This keeps them lightweight, strong, and delivers that warm wood feel that you're looking for.
They've also been doing it since 1981, so they've had time to get really good at it.
Like many people, I was interested in Boyds stocks for a while before actually getting one to test out, the recent Howa 1500 Barreled Actions that were sent to me provided me the perfect opportunity!
Boyds sent me two of their stocks, their highly-popular AT-One stock, and a Platinum profile stock – I got the AT-One in Nutmeg Laminate and the Platinum in Forest Camo Laminate, both are gorgeous!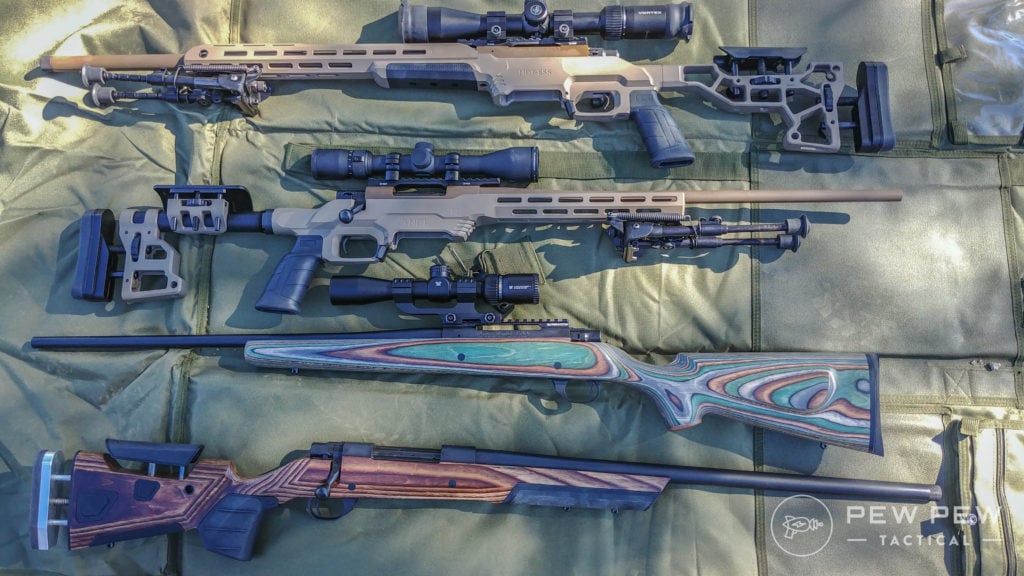 Boyds AT-One
I'll just say it – I like this stock. If you're looking for a stock that crosses the bridge between a custom precision stock and an easy-to-use hunting stock, this one is for you.
However, it does both roles decently without doing either role outstandingly.
Most of the stocks Boyds makes are non-adjustable, the AT-One is the exception with an adjustable length-of-pull and adjustable cheek rest.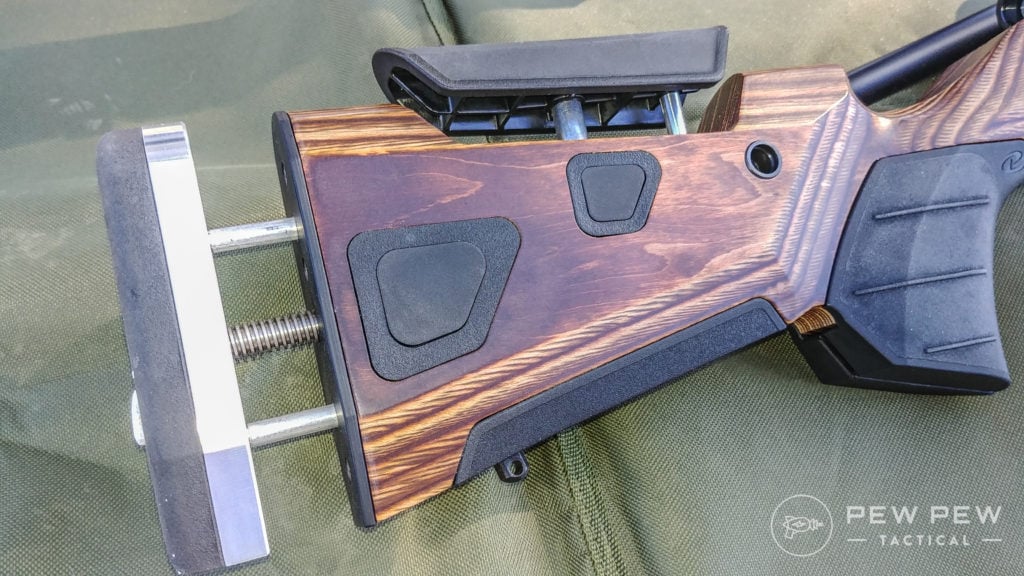 Both are easy and quick to change, just push a button and move the part. Easy!
This is a nice addition to have – but it isn't perfect as the adjustment points offered aren't as precise as I would have liked.
While for the LoP it isn't a big deal, you notice it a bit more with the cheek rest. For hunting, plinking, or even casual long-range shooting – the adjustments offered are perfectly adequate.
But if you wanted to turn this into a bench rest precision rifle, then the options offered on the cheek weld leave something to be desired.
I mounted a 300 Win Mag Howa 1500 Barreled Action in my AT-One because I wanted to make sure it could take the heavy pounding that comes with a 300 Win Mag.
350
at Brownells
Prices accurate at time of writing
Prices accurate at time of writing
After several range trips, I'm happy to say that even using hot 300 Win mag loads – this stock is holding up just fine. Better than my shoulder is at least!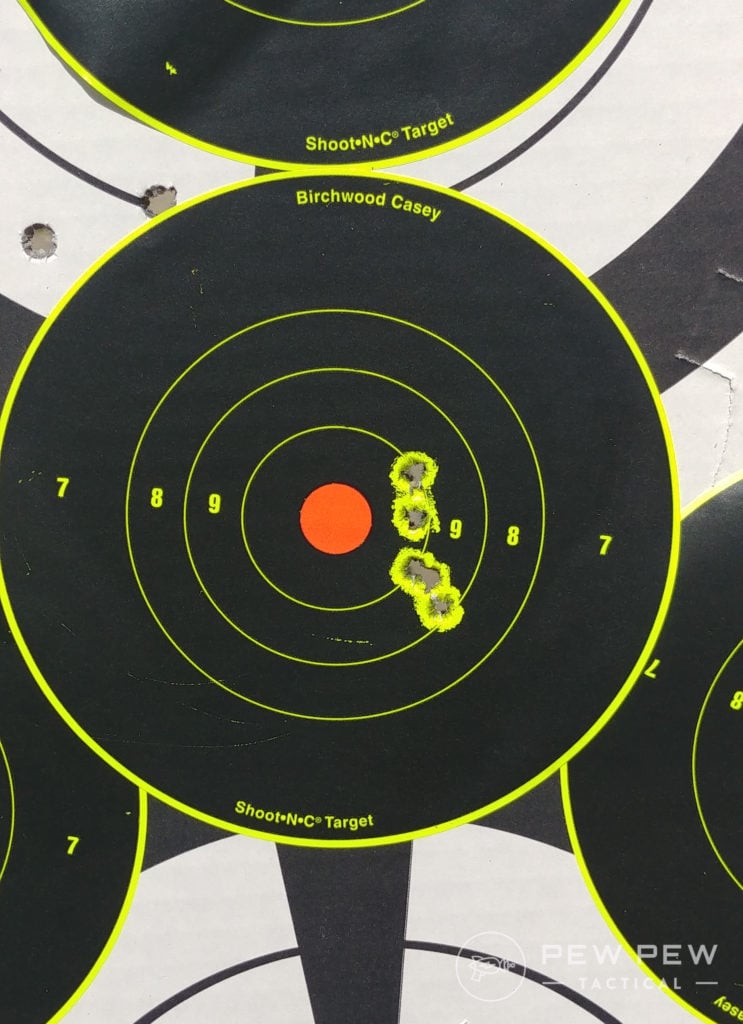 The AT-One also makes for a good shooting rifle – the Howa 1500 BA I had mounted in it is a great rifle action, but the free floated Boyds stock allowed me to shoot this 3/4 MOA group at 150 yards.
Who is it for?
While the AT-One is a jack-of-all-trades, it does each role very well – just not perfectly. But that is exactly what many of us need in a stock, something that just works no matter what it is we're doing.
If I want to work on my shooting at the range, the AT-One has enough adjustments to let me do that in almost any stance or configuration I want. If I want to let a friend use my rifle for the day, they can quickly adjust the settings to suit them.
It's also great for my "do-all" hunting rifle. California summers mean thin clothing, but Montana mountains mean thick jackets.
The AT-One lets me go hunting in either without an issue since I can easily change the settings to match what I'm wearing, doing, or hunting.
In the interest of full disclosure…
I have to mention that this wasn't the first AT-One sent to me, it's actually the second. The first wasn't cut correctly and was off by about 2.5mm, while that doesn't sound like a lot – it was enough so that the action wouldn't mount in it.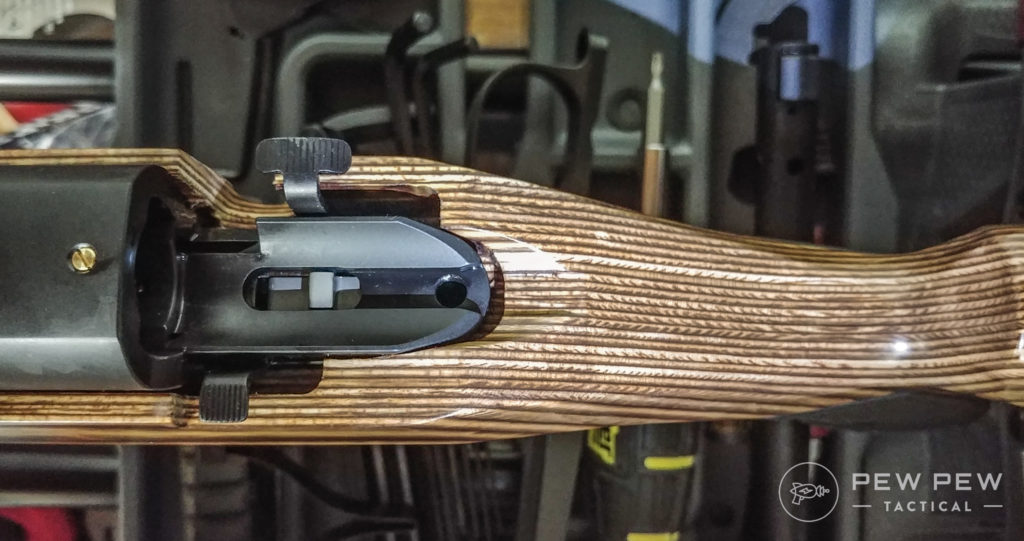 Boyds was on the ball though and had a new one shipped out to me in short order, the new stock had zero problems. Everything dropped in just perfectly.
Boyds Platinum
This is the classic, the wood stock that you think of when you think of "wood stock". It's also the stock that I would choose 9 times out of 10.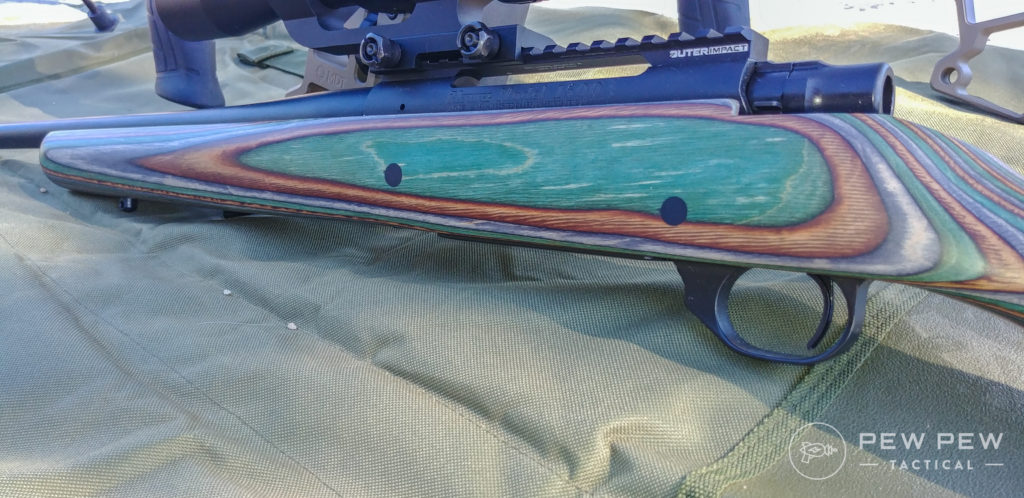 While it doesn't offer the in-the-field adjustment ability of the AT-One, it can be customized when you order it for length of pull, grip, color, type, and a bunch more options. Boyds makes it really easy to get the stock you want right from the start.
It's beautiful, strong, and lightweight. Everything you want from a good stock.
Don't let the basic look of the Platinum fool you, either.
Boyds stocks are free-floated, have multiple attachment points for slings or bipods, and feel solid in your hands – something that is sorely lacking from most standard stocks these days.
Who is it for?
Everyone. Really, everyone.
From the new shooter with their Ruger 10/22 to the grandfather hunting his 1,000th deer, this is a great stock for you.
It doesn't matter if you're building your rifle from the ground up or if you're just looking for an easy upgrade for a rifle you bought at a big box store, this is a great stock for you.
I think that is what I love most about the Platinum. Between the price point, the options offered, and the ease of installation – throwing almost any rifle you have into a Boyds is not only possible but can be realized without breaking into your piggy bank.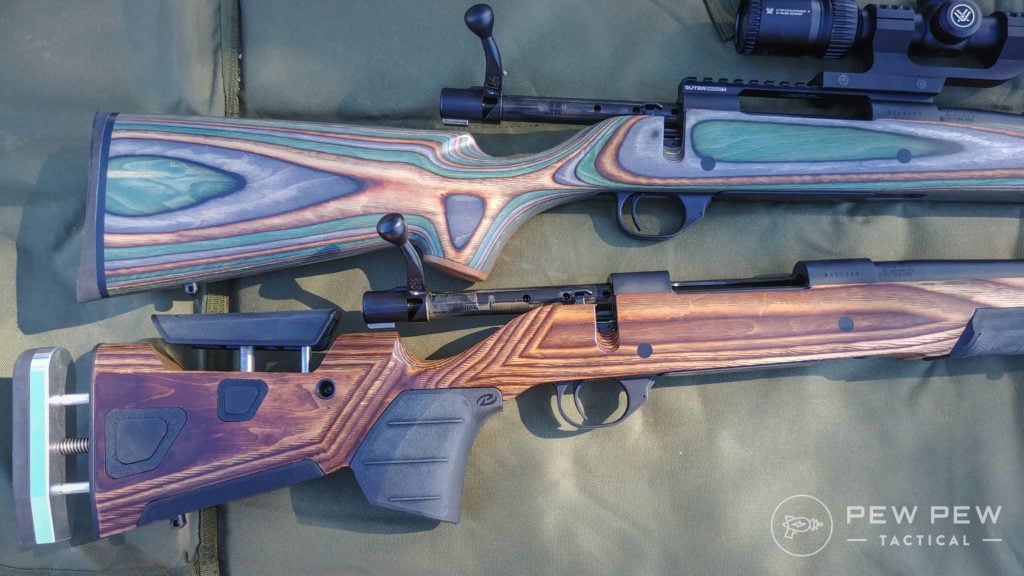 Take a close look at the picture above and you might be wondering why I have the scope mounted like that. I decided to use the Platinum to build a sort of scout-rifle -ish build.
Why? Well, because I picked up a Vortex 2-6x Scout scope on sale and wanted to play with it.
It actually worked a lot better than I thought it would! I've never been impressed with the Scout-Rifle Concept, but after building a sort of kind of version of it – I can dig it.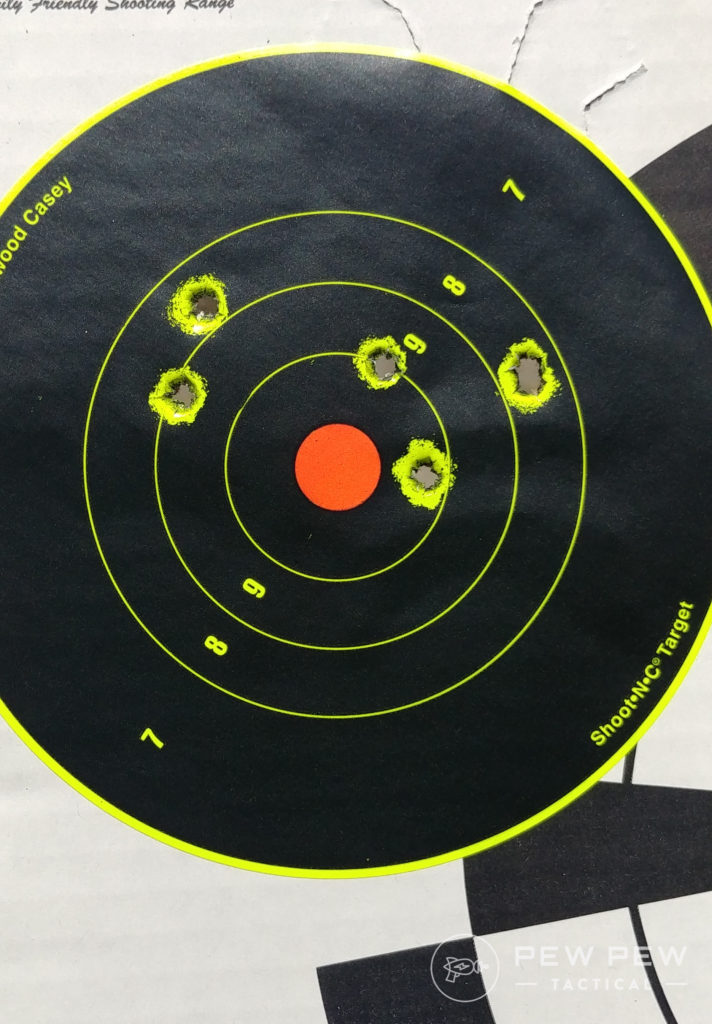 Shooting standing with a sort-of tree branch for support, my little Scout build put a respectable group at 75 yards. This is clearly nowhere near what the real accuracy of the rifle is (sub-MOA when shot off a bench with front and rear bags), but for standing and only slight support – I was happy with it.
Definitely proved to be minute-of-deer at least!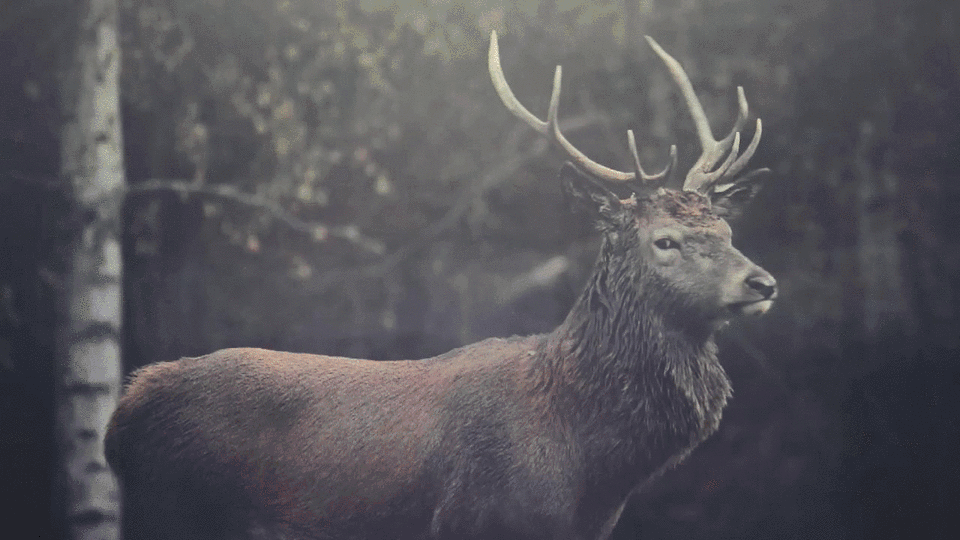 By the Numbers
Reliability 5/5
Zero issues at all with either stock, both allowed the rifle to work exactly as intended with no hiccups.
Accuracy 4/5
Both the AT-One and the Platinum were free-floated and that helped give me the accuracy I wanted, but since the stocks are wood and aren't bedded I didn't have as much accuracy as I know is possible with the Howa 1500. That said – both were still 1 MOA or better with every group using decent ammo, and that is more than enough accuracy for 99% of applications.
If you wanted though you could glass bed your action and improve accuracy by a small margin.
Ergonomics 5/5
Ergonomics are going to rely on you as much as it does on Boyds, since they give you the options of ordering the length of pull and other measurements that you want, you need to know those numbers before ordering. As long as you take the time to know what you want, Boyds will deliver right on the money for you.
Looks 5/5
If I could give a 10 out of 5 I would! These stocks look and feel even better in person than they do in pictures. If you want to see a boatload of options for style and color, I strongly recommend looking through the Boyds Gallery before ordering.
Customization 5/5
Colors, shapes, engravings, and a lot more are customizable when you order your stock. Take your time and pick out all the options you want!
Bang for the Buck/Value 5/5
The price is low and the value is high. You're getting an almost totally custom stock for the price of mass-produced plastic, that's just awesome.
Overall Rating 4.5/5
In all – I'm a big fan of these stocks now. If you're looking to do a simple upgrade that makes a world of difference, this would be my top choice. If you're looking to turn a standard rifle into your rifle, this is what you want.
But Wait, There's More!
Boyds doesn't JUST offer stocks for hunting rifles, they also have furniture for AR-15s, AK-47s, M1 Garands, M14s, M1 Carbines, and even Mosin-Nagants!
180
at Brownells
Prices accurate at time of writing
Prices accurate at time of writing
Bringing the same level of detail and dedication to military style stocks as they do to their hunting and plinking lines, Boyds has done an outstanding job of offering the market an option for nearly everything.
Parting Shots
Easy to install, high quality, wonderful to use, and for a price almost anyone can afford. Boyds does an outstanding job of delivering on every level and has been doing so for decades.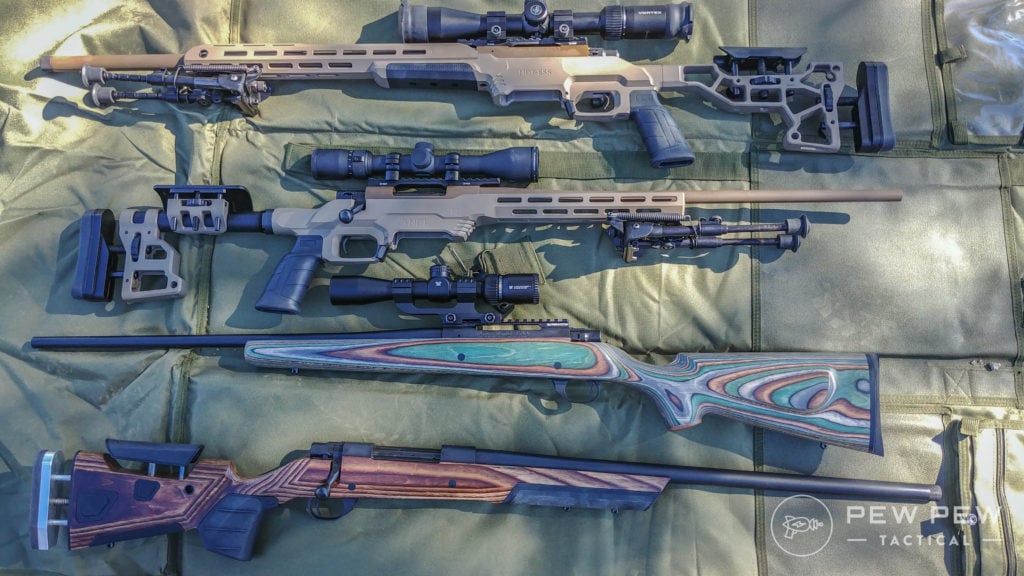 Don't forget to check out my other article on the Howa 1500 Barreled Action! Combining a Howa with a Boyds makes for an amazing hunting rifle.
Do you have a Boyds gun stock? Let us know about it in the comments!  And check out more of our favorite guns and gear in Editor's Picks.