Trying to choose a new weapon light for that fancy rifle build you just went all out on?
With so many weapon light options on the market, it can be tough to find the perfect one among a plethora of switches, mounts, and lumen numbers.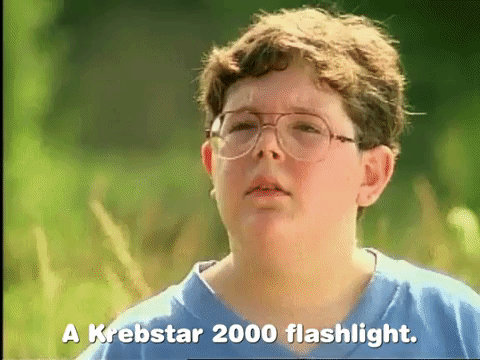 Enter Modlite — a company that hopes to simplify the entire process and deliver truly modular weapon lights with serious output performance to back it up.
If you are chasing the cutting edge, then you need not look any further.
But are these new lights simply hype, or does the performance match the hefty price tag (north of $300)?
We're going to get up close and personal with Modlite, specifically the PLHv2 and OKW.
We'll talk about all the cool features you'll find, some things that are a bit lacking, and ultimately help you figure out if a Modlite is right for you.
280
at Brownells
Prices accurate at time of writing
Prices accurate at time of writing
Table of Contents
Loading...
Who is Modlite?
We can't talk much about the state of weapon light technology these days without mentioning the ever venerable SureFire.
SureFire has been on the block since the 1980s and is the go-to option for many professionals.
One light, in particular, stands above the rest of their lineup — the SureFire M600 Scout Series.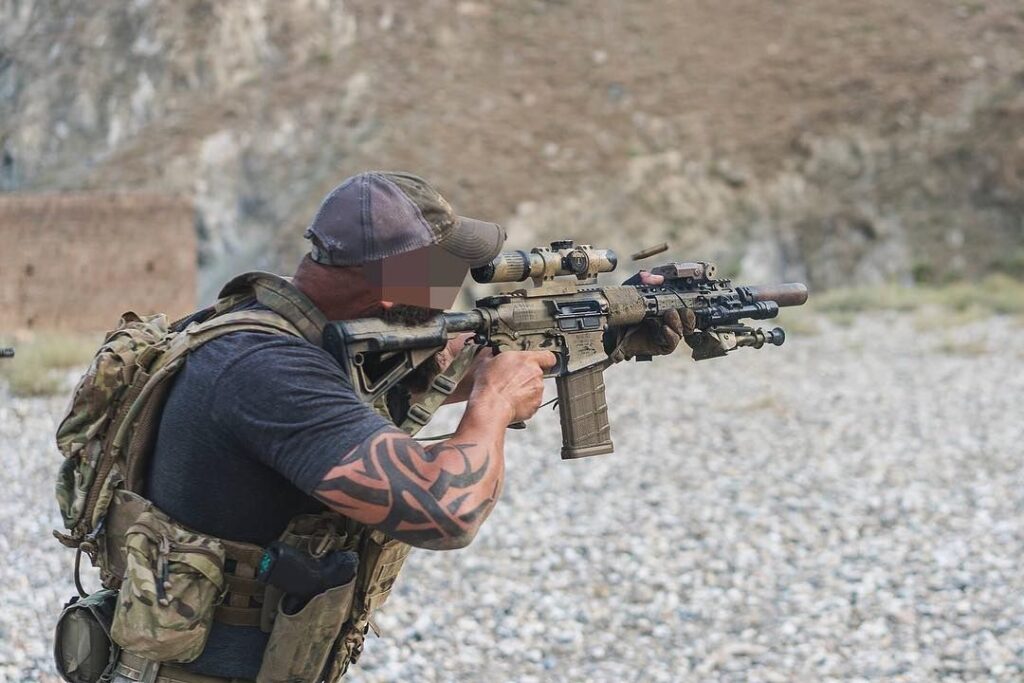 (If you want to see how the SureFire M600 stacks up against what's on the market, give our Best AR-15 Flashlight article a peek!)
With such widespread use of the SureFire scout series in the firearm community, the light naturally found its way into the hands of people with a bit of DIY know-how.
Editor's Pick
296
at OpticsPlanet
Prices accurate at time of writing
Prices accurate at time of writing
One of those people happened to be Modlite's founder Cory Starr.
Having spent over 20 years modifying his constantly growing flashlight collection, Starr felt displeased with his weapon light output.
So, he began modding lights for better performance at longer ranges. With his creations turning more heads at the range, Starr realized…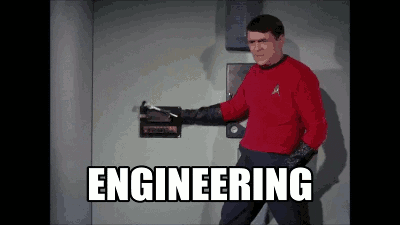 There might be a demand for a weapon light built with rifle distances in mind.
And thus, Modlite Systems was born.
Building A Better Weapon Light
Starr wanted a weapon light system that gave people the ability to change mounts, switches, batteries, bodies, and beam patterns.
A system that was configurable to their needs.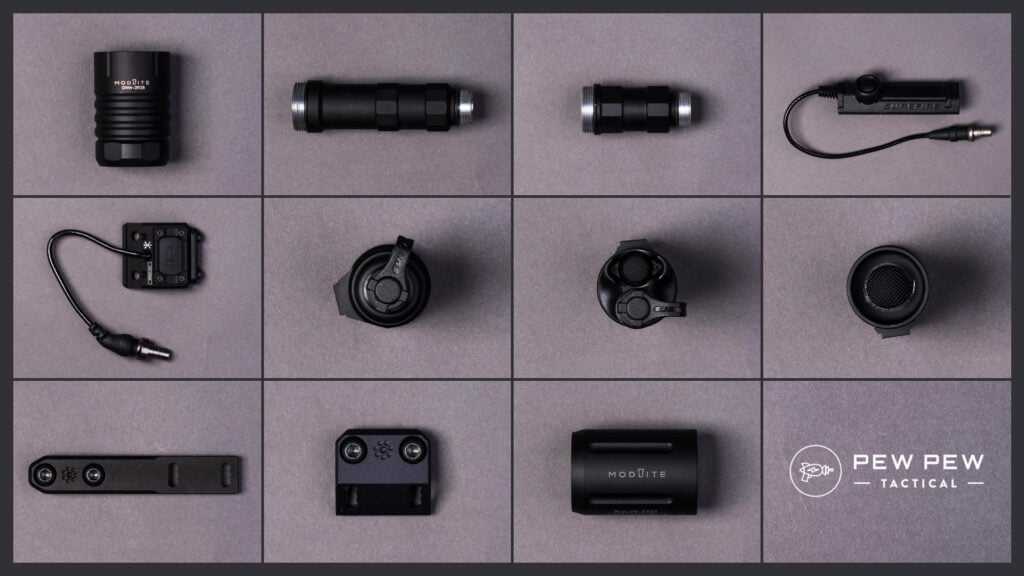 With that in mind, the first area to investigate was the power delivery system.
If you want to go brighter, you need more power. CR123As just won't cut it.
Outshining the rest means you also need to make space for bigger batteries. Let's be real, a 16mm SureFire Scout body just isn't up for the task.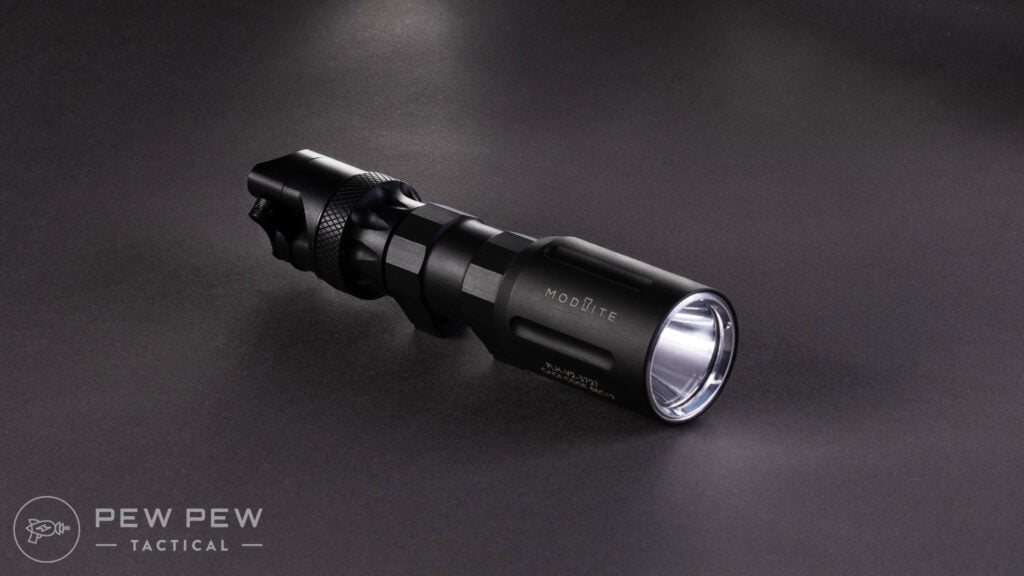 The solution? Make the body wider from 16mm to 18mm.
Bringing the body size to 18mm allows for the fitment of 18650 and 18350 Lithium-Ion batteries.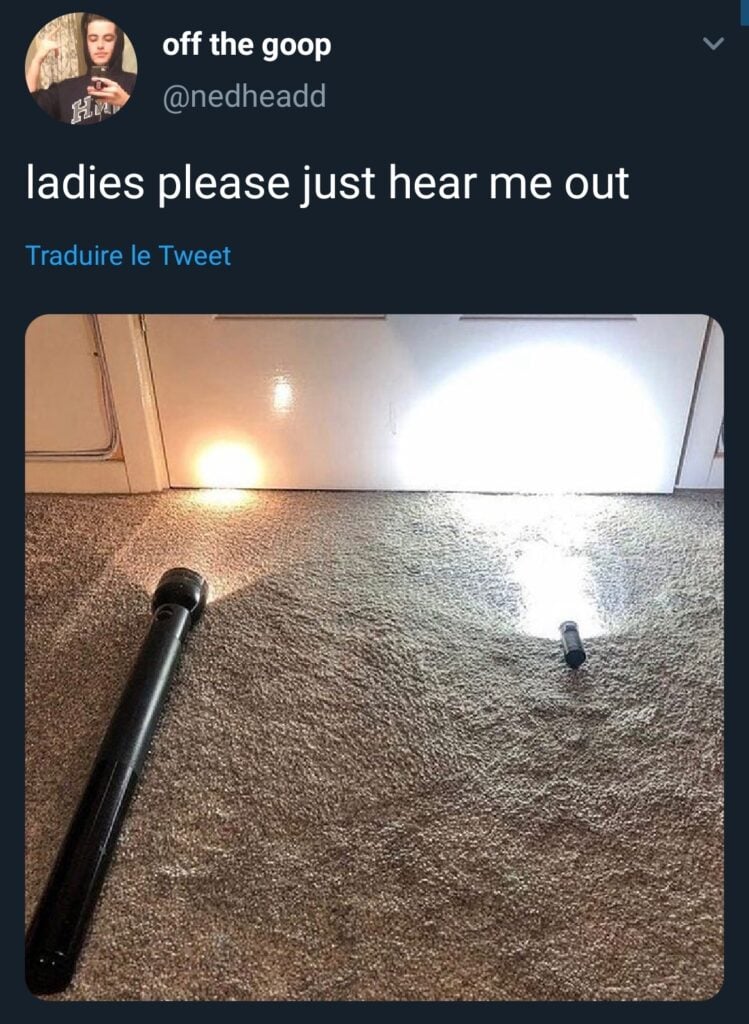 With the ability to recharge the batteries and the greater output capabilities, Lithium-Ion is a great move.
The PLHv2 and OKW light heads use the same batteries with an average run time of around 75 minutes for the 18650 and around 35 minutes for the 18350 batteries.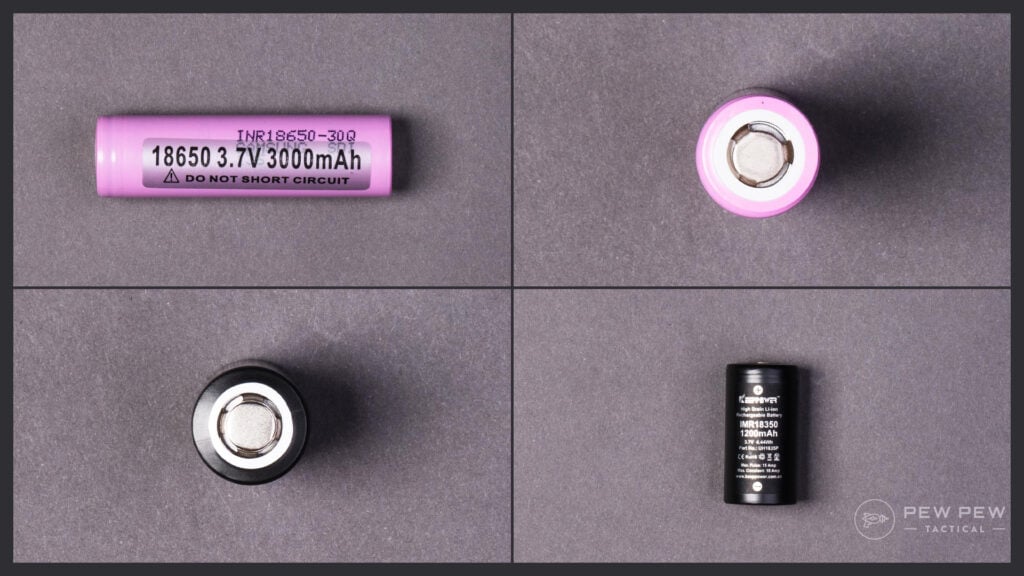 Modlite includes a Nitecore D2 charger with certain packages on their website for battery charging.
I use the Nitecore SC4 Universal Charger, and it's worked great for all my needs.
52
at Optics Planet
Prices accurate at time of writing
Prices accurate at time of writing
Light configurations come in two sizes: small and large.
The smaller option being well suited for SBRs or pistol builds, with the choice of running the larger body to give you additional runtime.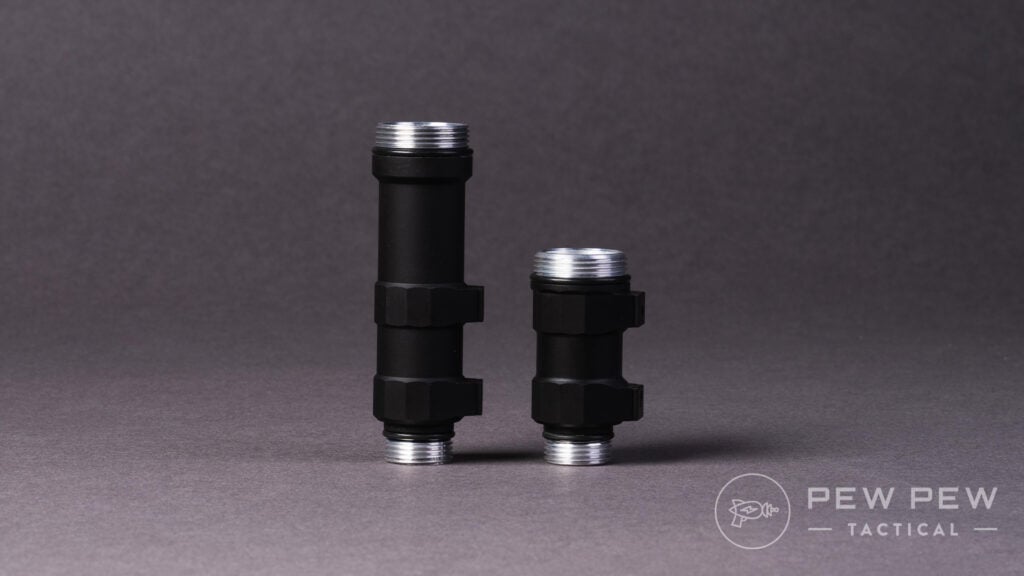 Need a light for your SBR where space is a concern?
Build small.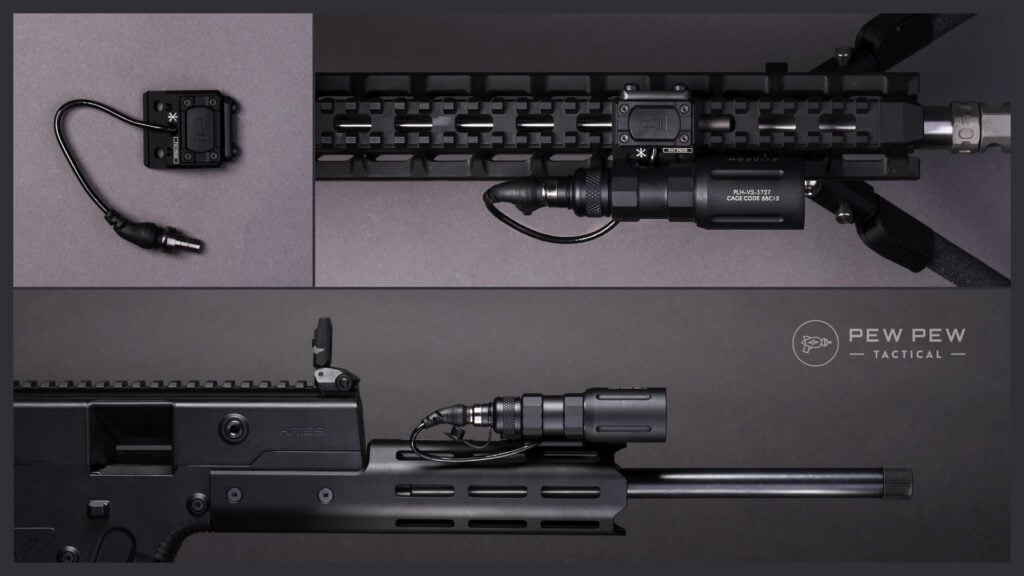 Need a light for your DMR-rifle to reach out with?
Build for distance.
Light Heads: PLHv2 & OKW
Take performance, pair it with beautiful machine work, and you end up with Modlite.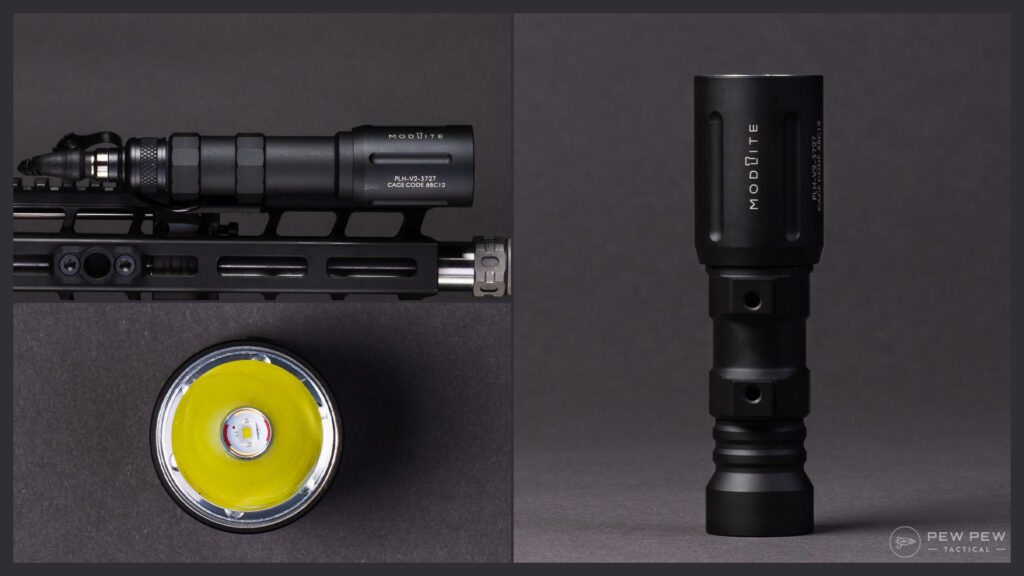 The clean, simple lines remind me of the styles you would see on high-end knife makers.
Modlite only offers the PLHv2 and OKW light heads for white light, as well as a few IR options – if you like to play in the dark.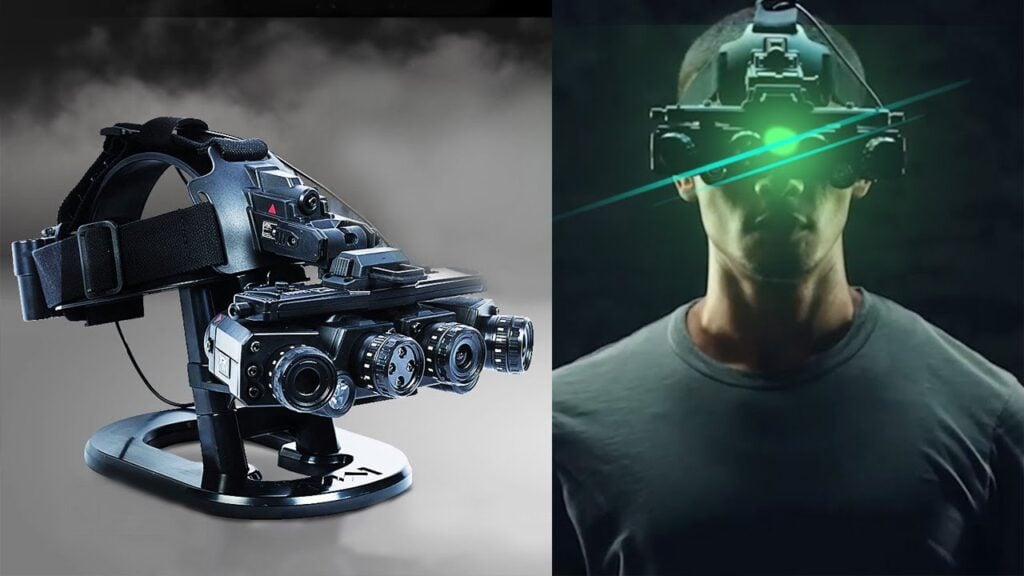 Sticking with the white lights, you have two similar sized and shaped light heads that are mounted via threads.
This makes it very easy to swap a light head in the field.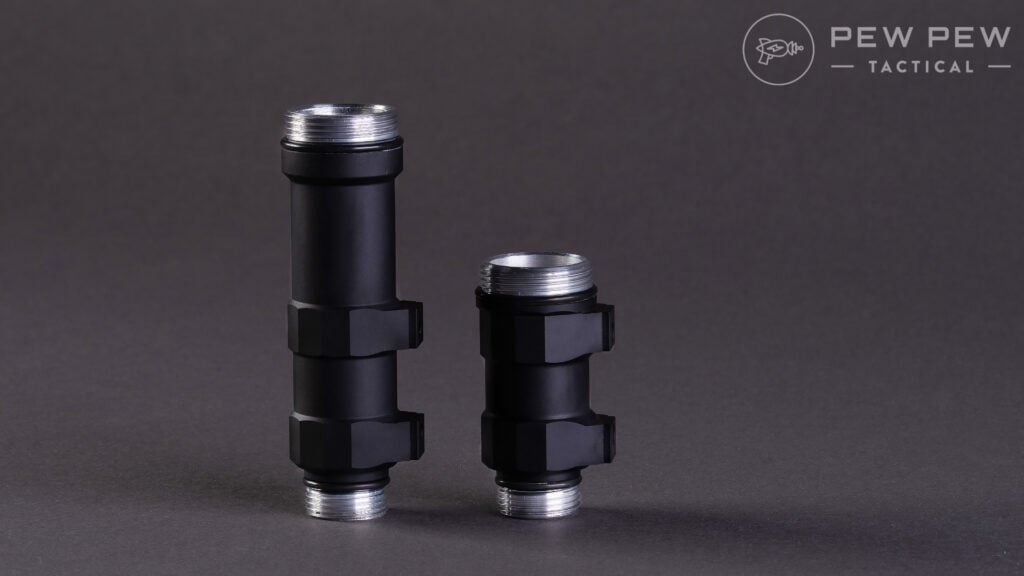 Modlite PHLv2 Light Head
Built for more of a general-purpose application, the PLHv2 light head has a good balance of spill and throw with a well-defined hotspot.
Pushing 1,350 lumens is no small feat, but it performs this on top of a solid amount of throw, putting out around 54,000 candelas.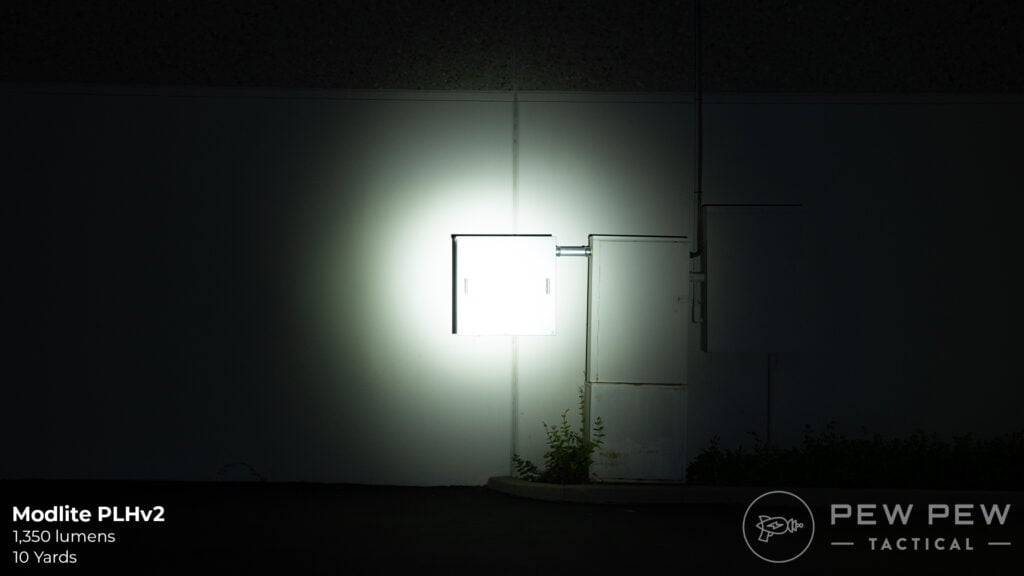 The OKW light head takes a different approach.
It's more suited to a long-range rifle equipped with a quality piece of glass since visibility can be had out to 300-yards and beyond.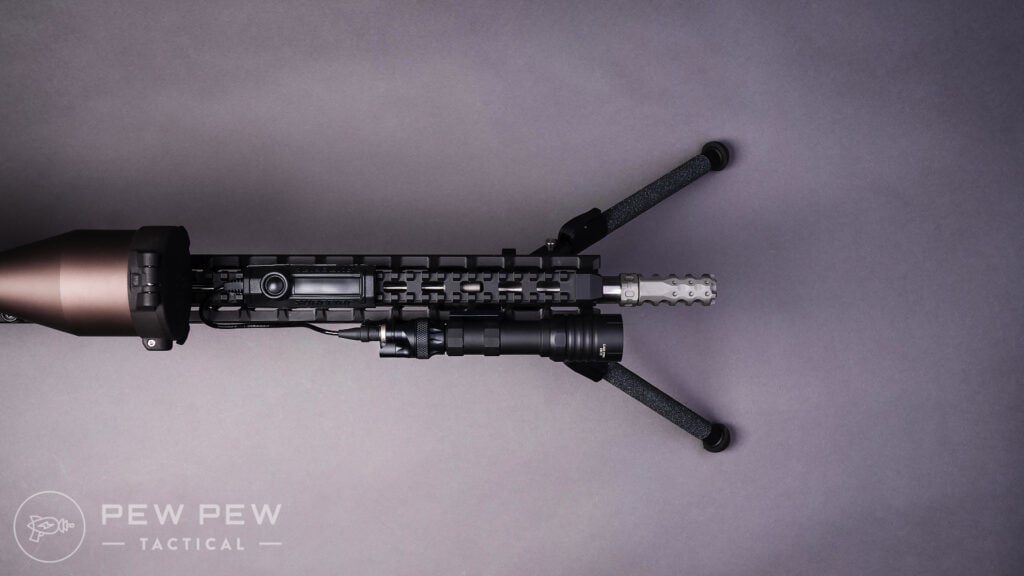 Modlite OKW Light Head
While you might be questioning how 680 lumens can push light out to that distance, the answer is the latest in LED emitters — offering 69,000 candelas at such extreme distances.
If seeing is believing, then I am a believer.
280
at Brownells
Prices accurate at time of writing
Prices accurate at time of writing
Accessorizing: Modlite Style
Mounts
Modlite opted to retain the SureFire scout series mount due to its aftermarket support. Featured in this article is a personal favorite, the Arisaka M-LOK 45-Degree Offset Scout Mount.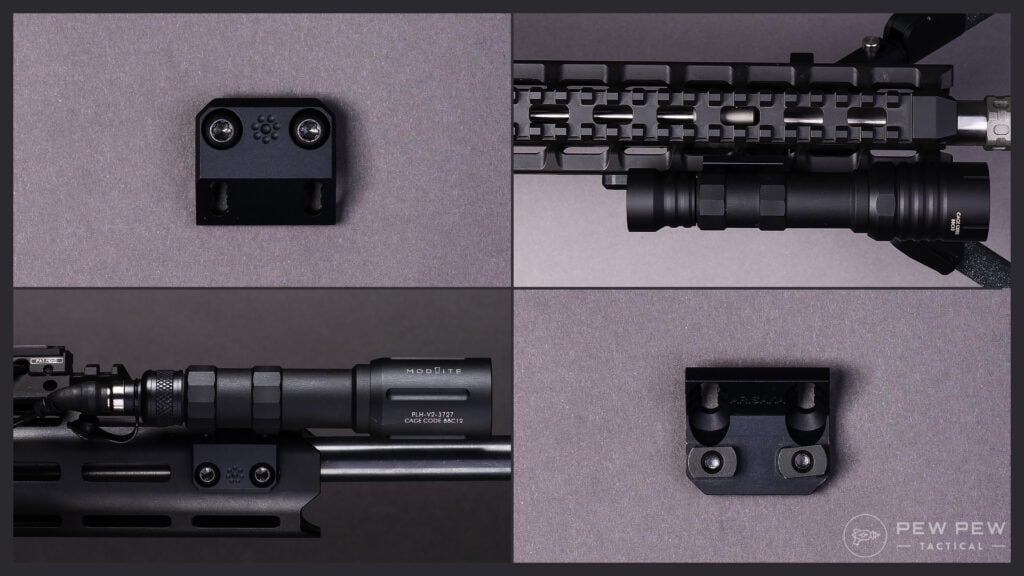 This slim, lightweight option is machined well, gives offset options, locks up solid to M-LOK, and looks good doing it.
45
at Optics Planet
Prices accurate at time of writing
Prices accurate at time of writing
The Modlite ModButton integrates a mount and switch to reduce the overall footprint of the entire system.
Easily swappable to set up left or right-handed, this all-in-one option is great for slimming down those builds with limited rail space.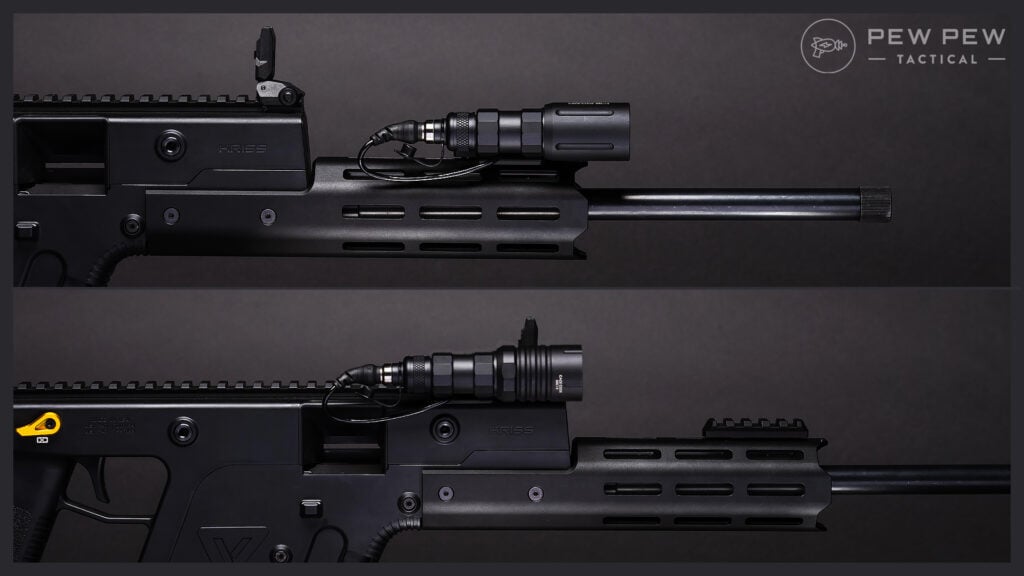 The Modlite ModButton is compatible with the Unity Tactical FUSION LightWing adapter to aid in extending the light out to help clear lasers or get rid of suppressor shadow.
78
at Brownells
Prices accurate at time of writing
Prices accurate at time of writing
Tail Caps & Switches
Modlite bodies match the same Scout series tail cap thread pattern, so anyone already invested in SureFire systems will save some serious cash, but before you get excited, there is one thing to keep in mind.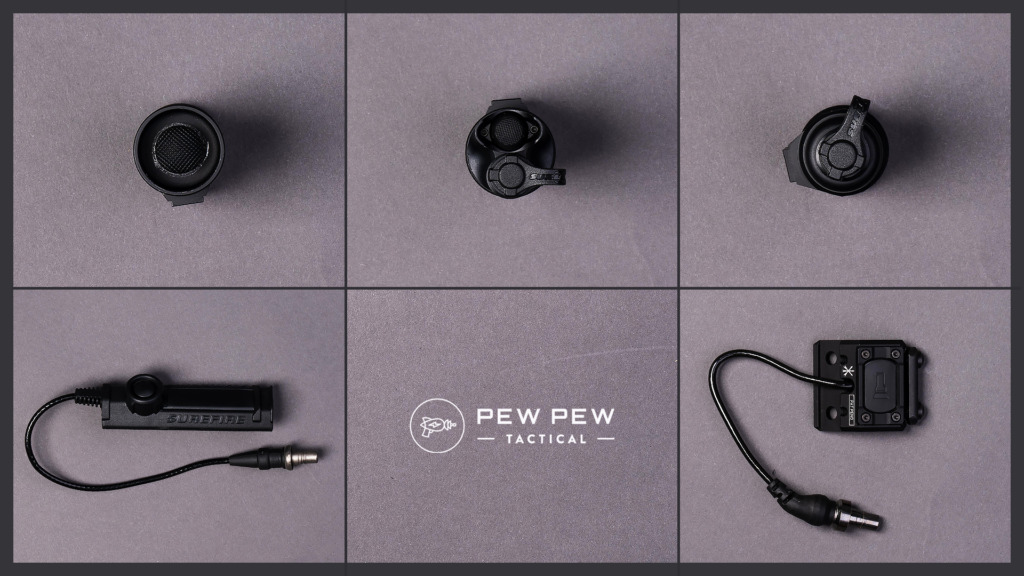 According to Modlite, some of the older SureFire switches do not allow the Modlite light heads to run at full power.
Using these older SureFire switches reduces the output by 15 to 20%, roughly.
Users online reported not being able to tell the difference when comparing beams, but if you want to get the most out of the system, you will want to use the Modlite ModButton.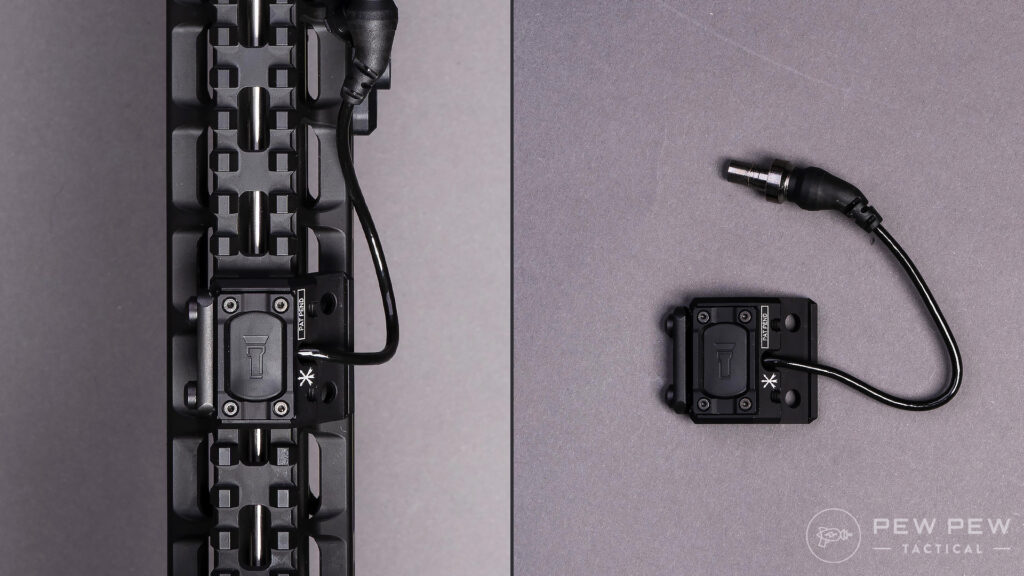 Given you can build to match your goals, these are some of the parts you might want to have on hand to give you some flexibility.
SureFire DS00 Tail Cap
My favorite tail cap of the bunch, the SureFire DS00 Tail Cap, gives the ability to plug in a pressure switch and has a constant-on button. Paired with a Modlite ModButton, this has been my go-to configuration when using the OKW on my SPR.
SureFire Tailcap UE
When weight savings is a must, this is by far the best option. It may not offer as much modularity as the SureFire DS00 tail cap, but pair this option with the SureFire SR07 dual pressure switch to have both a constant on button and pressure switch.
Modlite Scout Tailcap
A simple clicky button thread on the tail cap that has a recessed button to avoid unwanted activation, the Modlite Scout Tailcap is a great option for a cost-effective minimal switch.
With multiple mounting options, left or right-handed configuration, and upgraded electronics to allow full power on Modlite heads, the Modlight ModButton is a do-it-all mount and pressure switch. My only wish is that there was a constant-on feature.
78
at Brownells
Prices accurate at time of writing
Prices accurate at time of writing
SureFire SR07 Dual Pressure Switch
The SureFire SR07 is a pressure switch that is easy to install and even easier to use with its two-button design. The only drawback of this switch is that it does not feature a strong mount.
Field Testing: Into the Dark
We stacked the Modlite PLHv2 and Modlite OKW against the SureFire M600 and SureFire X300U.
While not an apples to apples comparison, it does give us a good understanding of what to expect when using these lights at any reasonable distance.
280
at Brownells
Prices accurate at time of writing
Prices accurate at time of writing
10-Yards
The SureFire M600 brings 600 lumens with a decent width beam and fairly wide hotspot that is evenly spaced.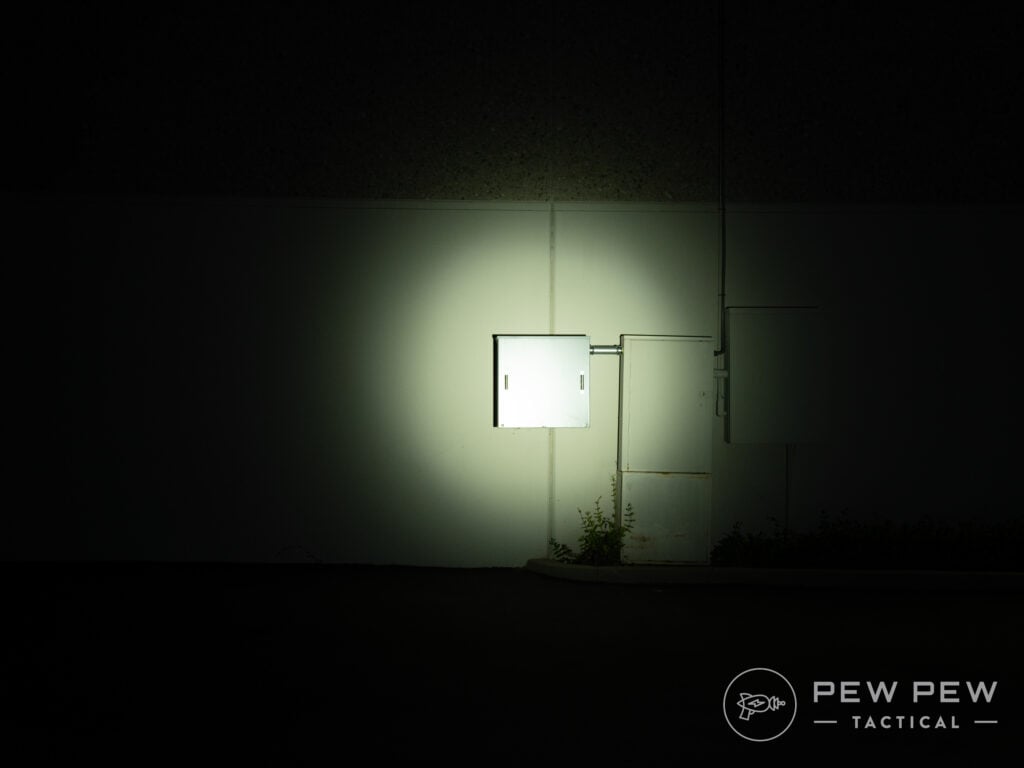 Built with more of a pistol role in mind, SureFire X300U's beam has a very wide spill, large hotspot, and with 1,000 lumens, it gives a ton of usable light for close-range situations.
At 1,350 lumens, the ModLite PLHv2 offers a hotspot that is almost too bright to glance at – which could be a problem when using this light in a close-range situation.
The beam is similar in size to the SureFire M600 but gives us a spot that is overpowering.
Being on the other side of the PLHv2 at 10-yards is not fun. Take my word for it.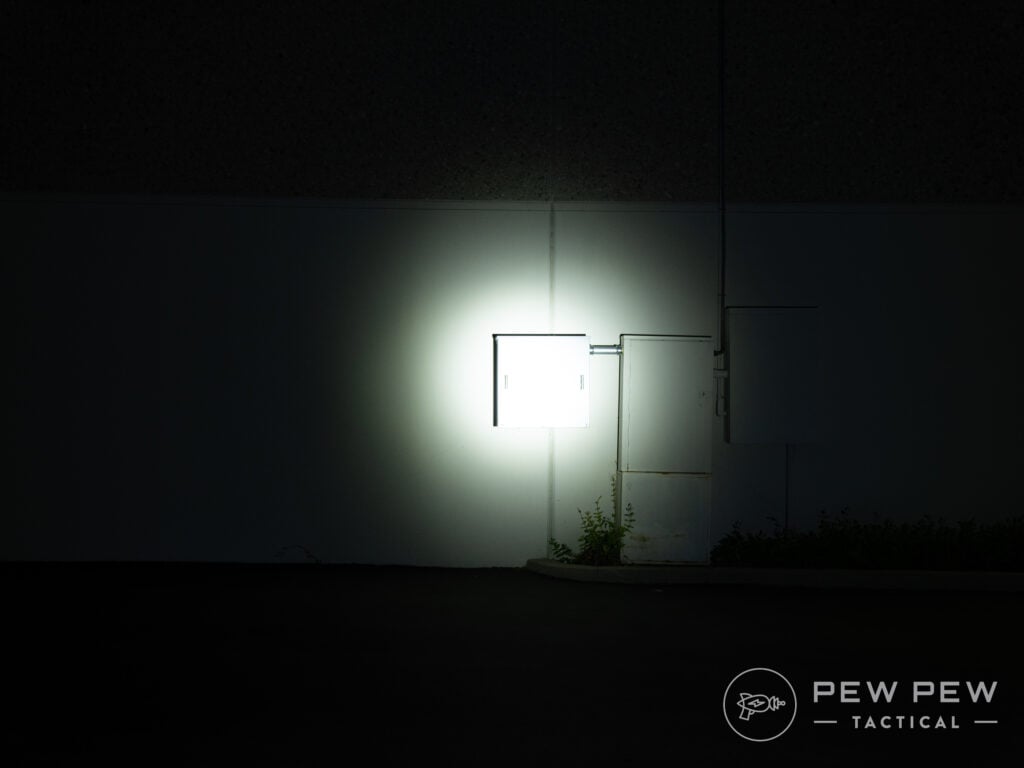 If the PLHv2 gave us an overpowering hotspot, the OKW takes that idea and turns it up to 11.
The hotspot is incredibly bright with a limited spill, as this light is meant to push out to great distances.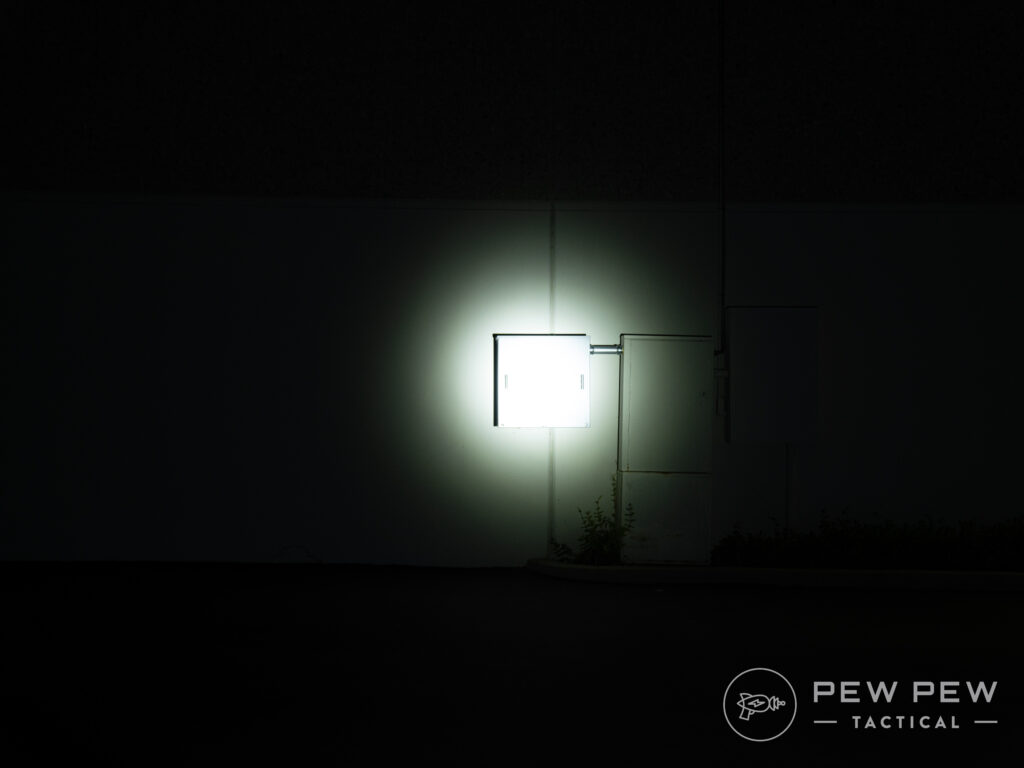 50-Yards
Aiming at the first white van, we are trying to see if there is a driver inside with each light.
At 50-yards aimed at the driver seat of the white van, we can make a decent assessment with the M600, but it is not very clear.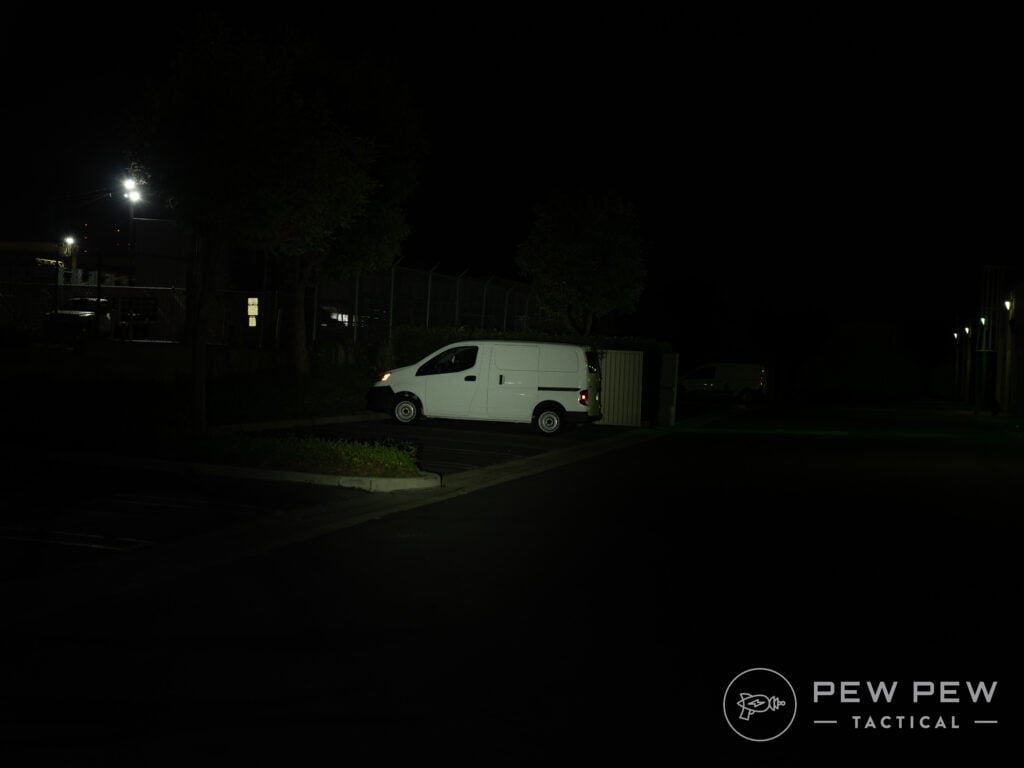 The beam pattern of the X300U starts to falls off, but even with that being the case, we still have a somewhat usable amount of light.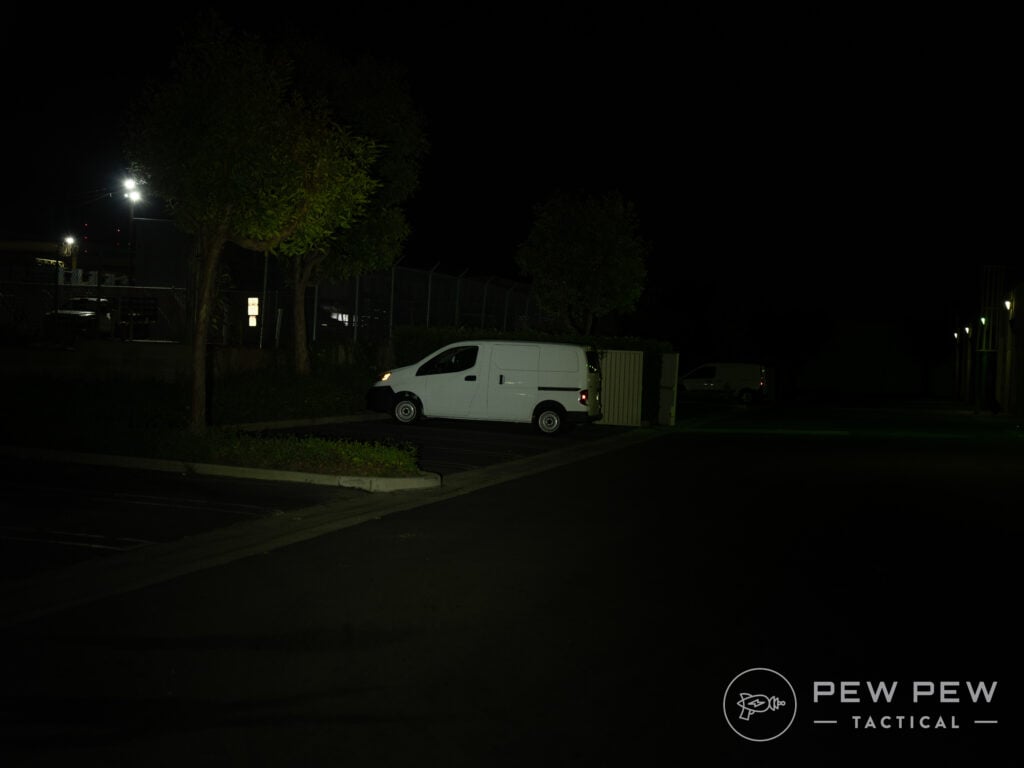 The difference with the Modlite PHLv2's beam is starting to become very clear with how drastic the amount of usable light.
We can easily see if there would be a driver, plus there is a good spill around the van.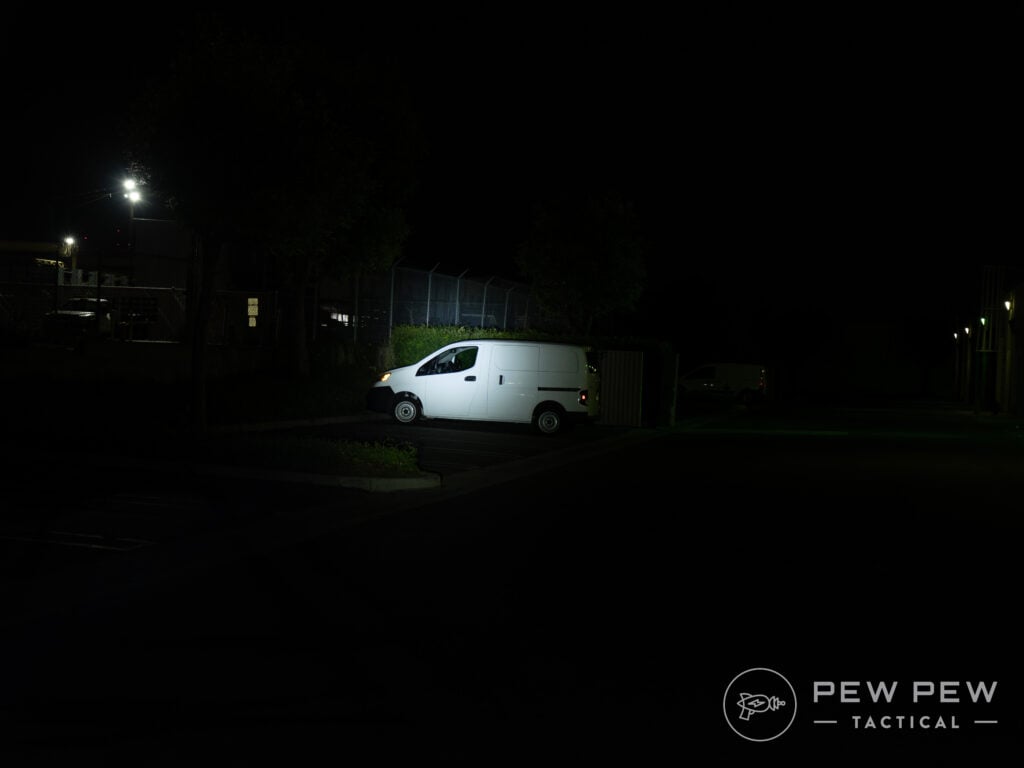 This has a tighter beam pattern than the rest that focuses all those candelas into one spot.
The spill is minimal, but we are easily able to see into the driver window.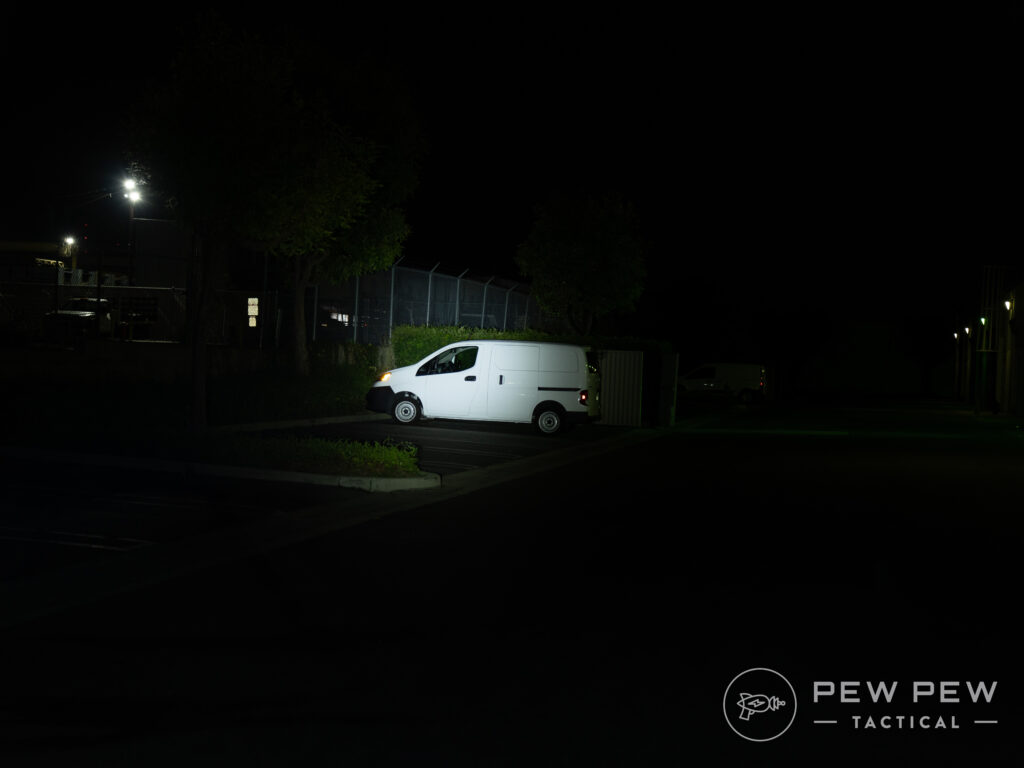 100-Yards
Increasing the distance to 100-yards, we aimed the lights at the second white van in the parking lot.
The M600 gives enough light to determine if someone would be standing in front of the white van, but we are at the limitations of 600 lumens.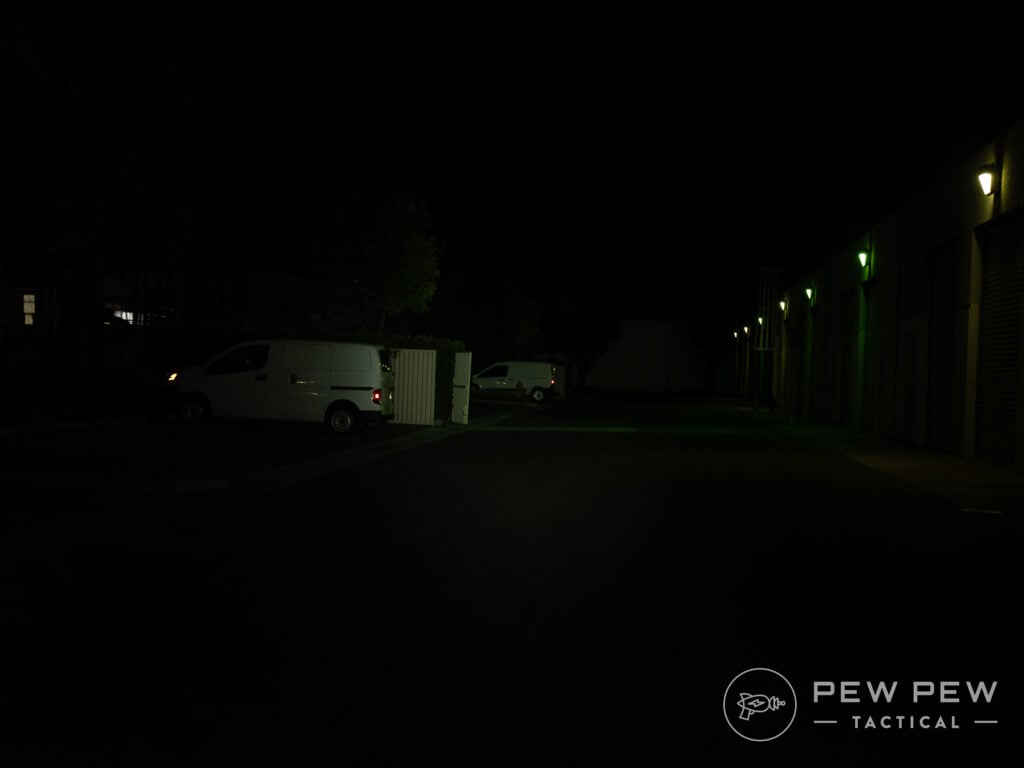 Surprisingly, the X300U was able to push out to 100-yards with unexpected levels of light.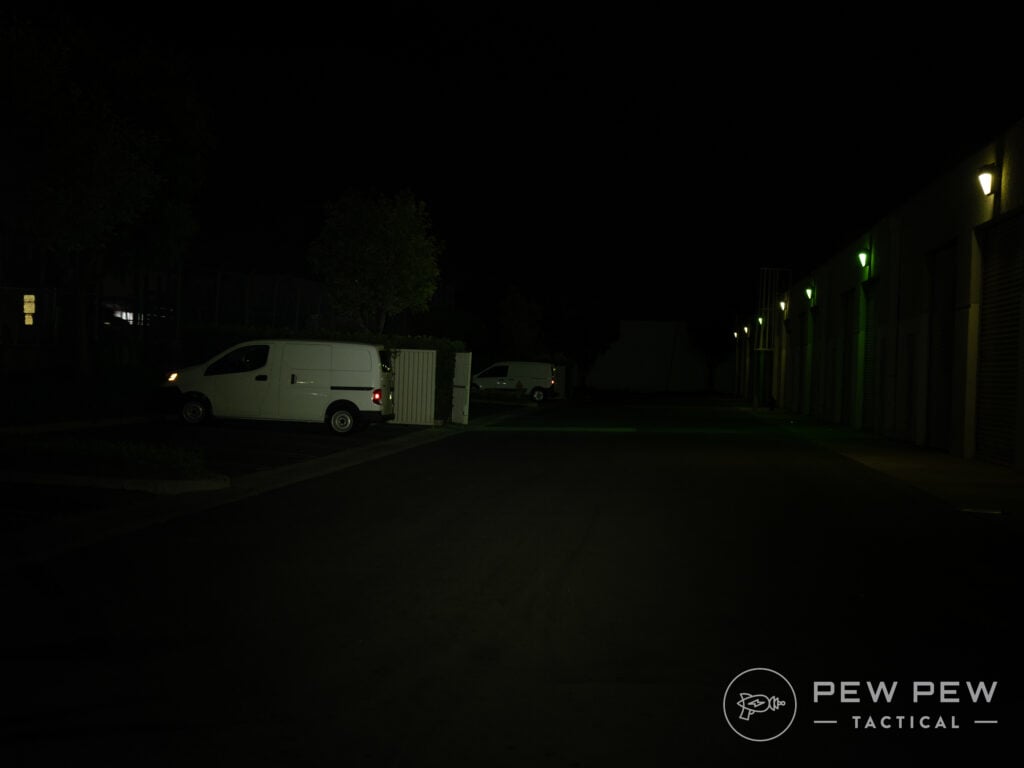 The PLHv2 has no problem with this task. 100-yards is a cakewalk – pictures don't do it justice.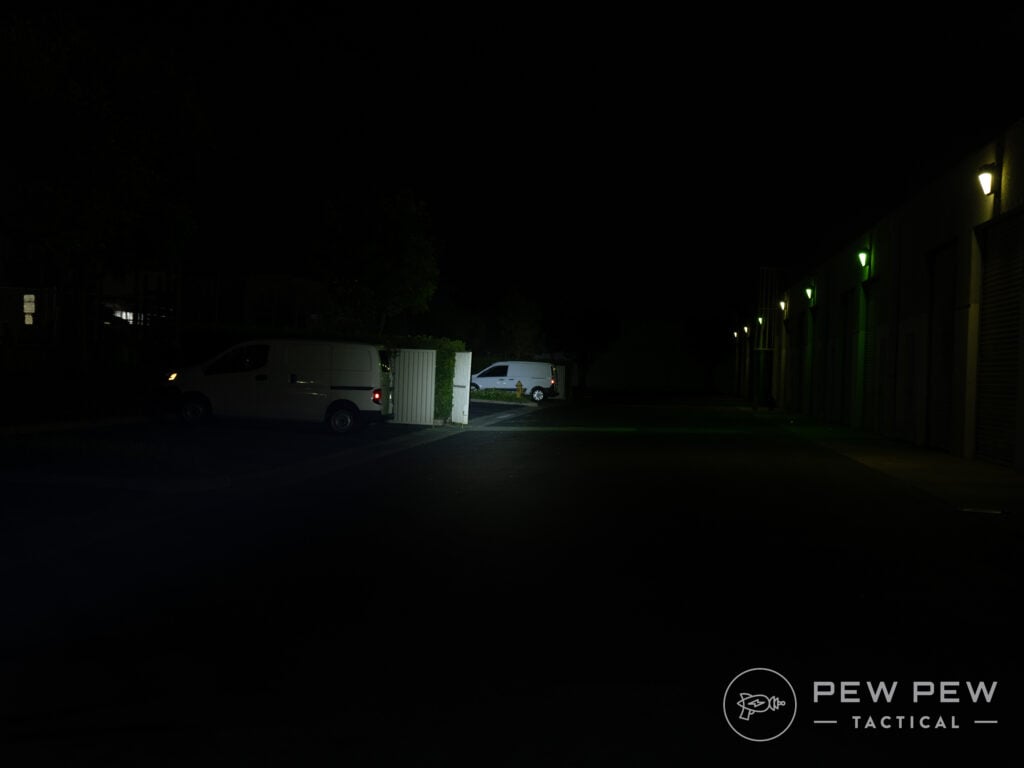 Modlite's OKW can put a touch more light saturation downrange on the van at this distance than the PLHv2.
150-Yards
Aiming at the far tree with the idea to be able to see if someone was standing near it.
While hard to see, the SureFire M600 can at least give a bit of light downrange to illuminate the tree, but it just can't push out that far.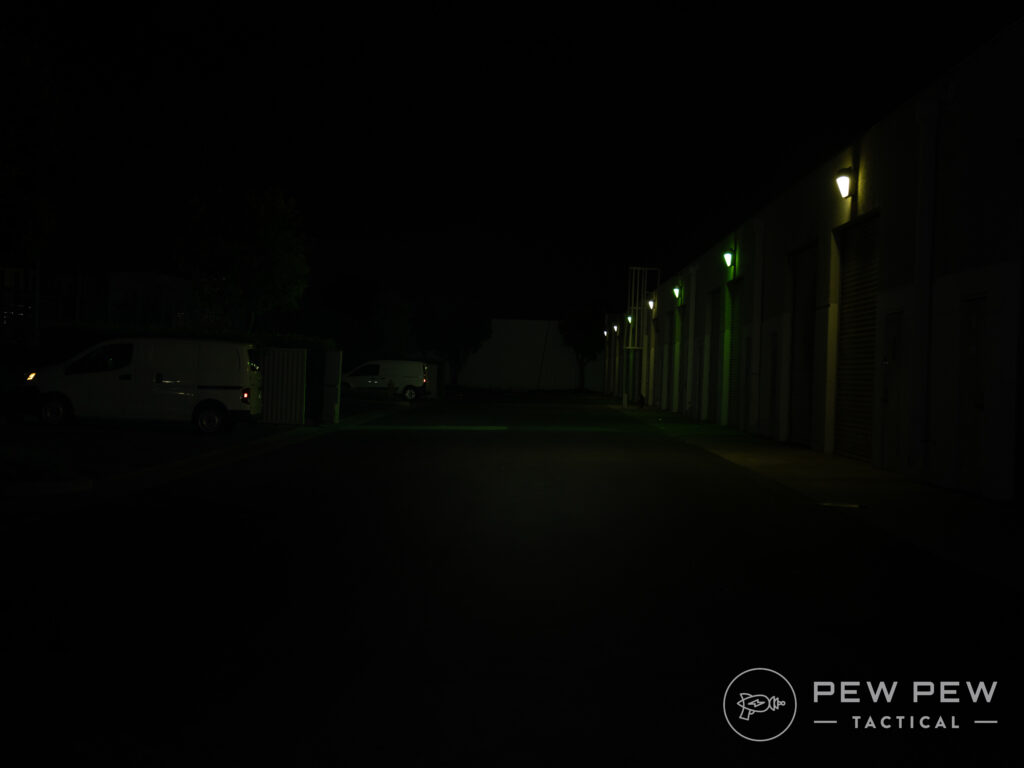 Hoping for the best, but sadly, the SureFire X300U reached its limits – even if it was still able to give a smidge of tree visibility.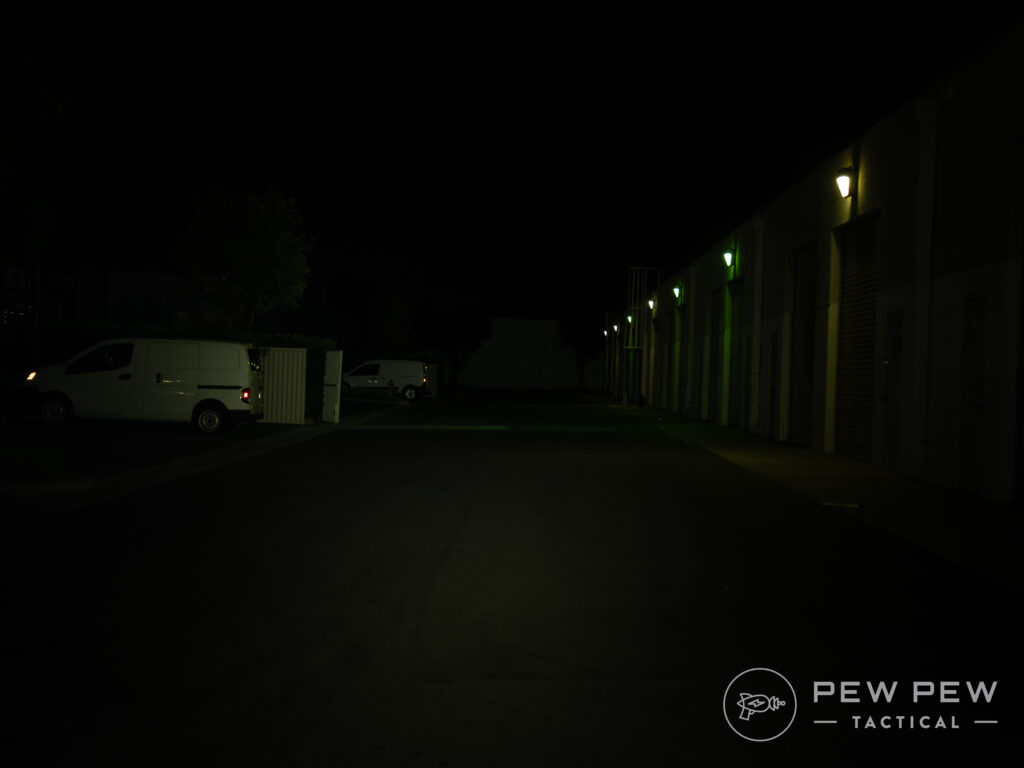 The PLHv2 puts down an impressive 54,000 candelas that are of good use in our test, as we had no problem in seeing the tree and the surrounding area.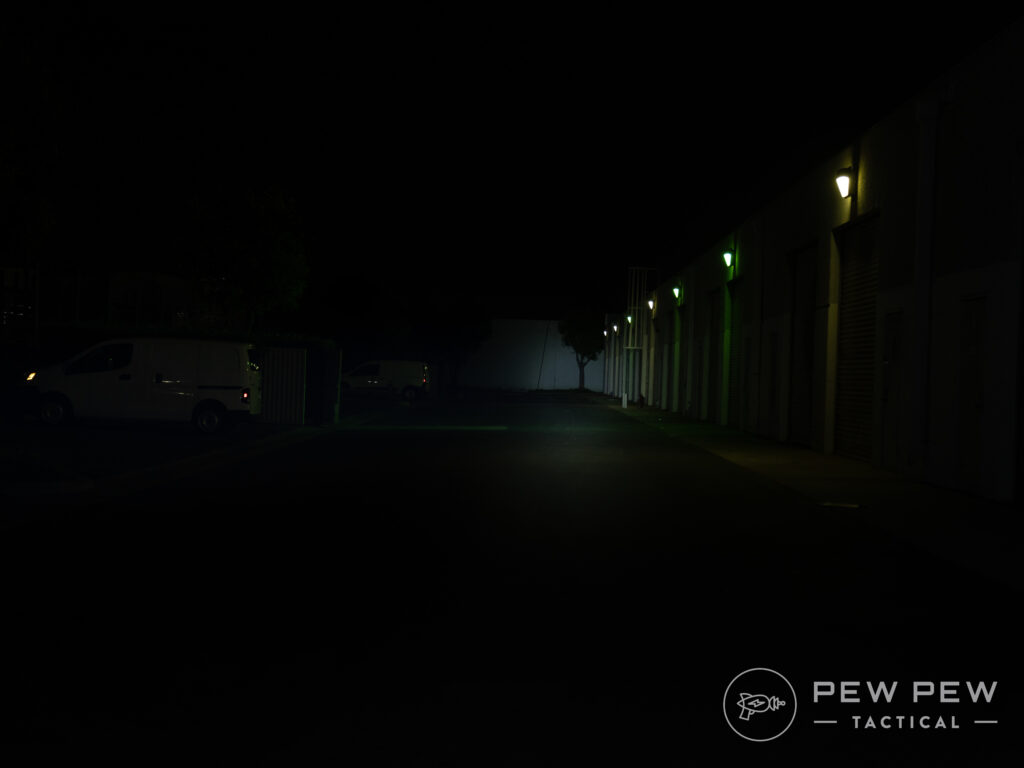 At 150-yards, the OKW's beam is still very focused, and this gives it the power to push out to these extended distances with ease.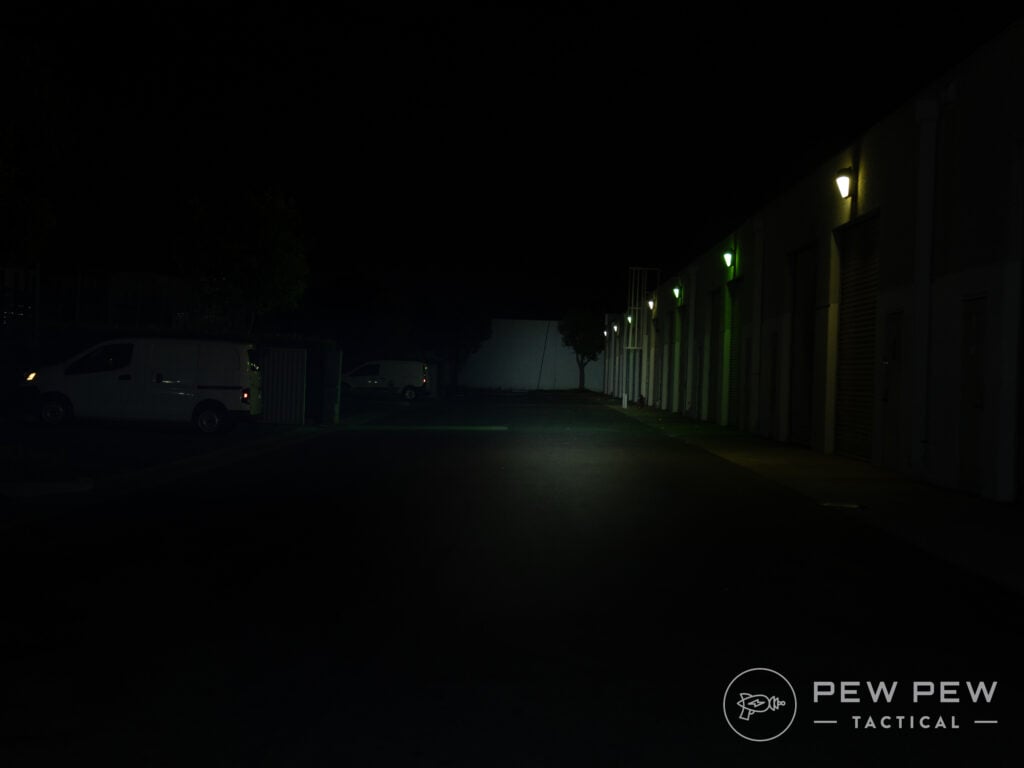 Sadly we didn't have extended distances to test out past 150-yards, but I think it is clear to see from the pictures just how much of a difference having the right combination of lumens and candelas can be.
280
at Brownells
Prices accurate at time of writing
Prices accurate at time of writing
By the Numbers
Reliability: 5/5
Modlite weapon lights have performed flawlessly. If durability is a concern, these offerings are rated to withstand select-fire SCAR 17 recoil, so you shouldn't have any problems.
Modularity: 5/5
Given that end-users have a plethora of options for mounts, bodies, tail caps, switches, and heads to configure the weapon light to their needs, it's clear to see Modlite has achieved its goal of being as modular as possible.
Ease of Use: 4.5/5
Building out your Modlite flashlight is a breeze with so many compatible parts to choose from. While the performance drawback might bother some users in real-world testing, SureFire switches worked just fine.
Looks: 5/5
Modlite oozes high-end flair. Taking a look at the pieces individually, it becomes clear quality was the goal from the start. If you want to impress, these won't disappoint.
Bang for Your Buck: 3/5
Chasing performance with big lumen numbers does come with a downside — usually, research and development need to be made, and the newest technology hot on the market is not always the cheapest.
That said, you are still looking at spending upwards of nearly $500 to get yourself set up with a PLHv2 light head, body, battery, switch, and mount.
280
at Brownells
Prices accurate at time of writing
Prices accurate at time of writing
Overall: 4/5
The Modlite PLHv2 and OKW light heads are outstanding. Pushing the perfect mixtures of lumens and candelas, you will be hard-pressed to find any other weapon light with as much usable light downrange.
Not to mention, these options are compatible with a host of aftermarket parts.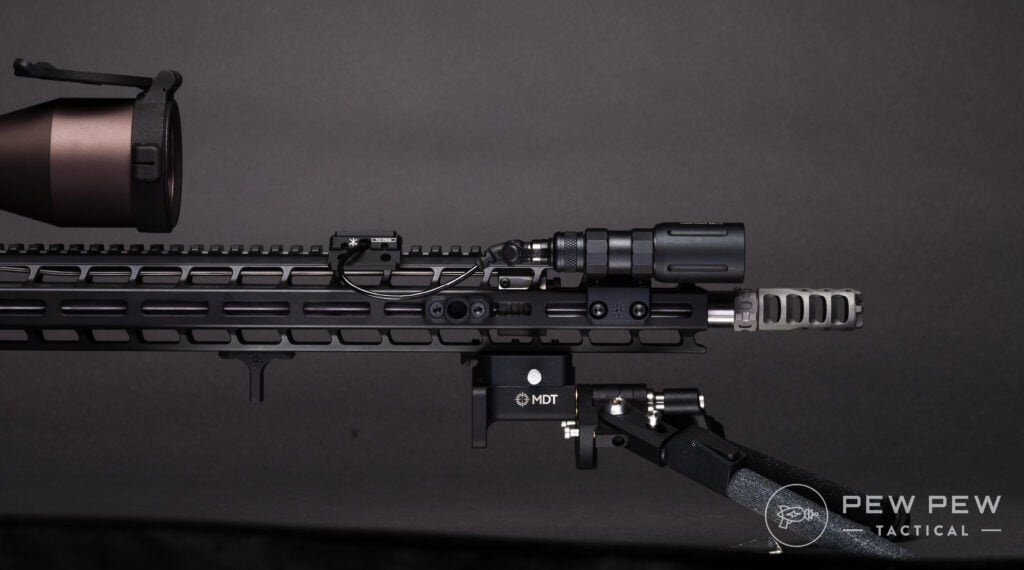 Conclusion
Modlite clearly worked hard to create a truly forward-thinking and innovative weapon light giving users the modularity they want with performance to back it up.
This performance, combined with modularity, does come with one downside, however…cost.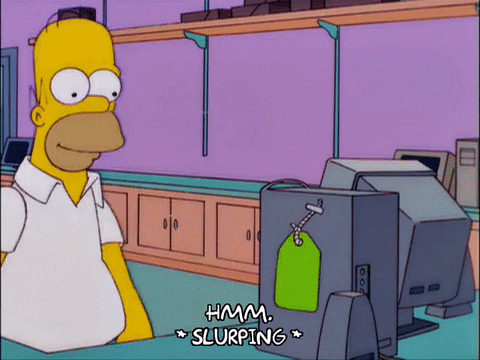 If the pursuit of chasing the best is something that appeals to you, then the cost might not be a factor.
For the rest of us, unfortunately, your wallet is not going to be pleased.
280
at Brownells
Prices accurate at time of writing
Prices accurate at time of writing
Once you get past sticker shock and start to compare these weapon lights with others on the market, it starts to make a bit more sense. But I do understand this system won't be for everyone.
If you are seeking simply the best in weapon lights and aren't afraid to break the piggy bank to afford it, you can't go wrong with Modlite.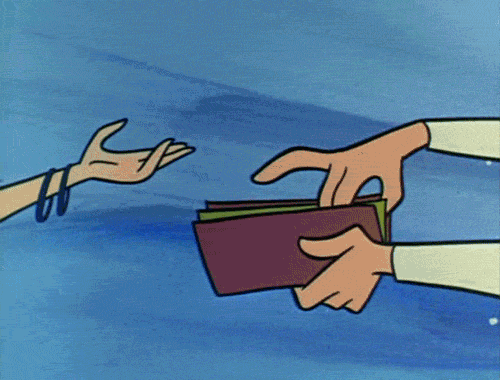 Is Modlite worth the hype (and money)? Let us know in the comments below. In the meantime, if budget is a concern check out some wallet-friendly light options in the 5 Best Tactical Flashlights Under $100.