The M1 Garand tends to get most of the American WWII glory, but it's not the only cool firearm from the '40s!
If you're looking to expand your gun collection or maybe add a rifle that has significance to American warfighters, you should take a look at the M1 Carbine.
A new production rifle using modern ammo has breathed new life into this classic firearm. The Auto-Ordnance M1 Carbine chambered in the venerable .30 Carbine.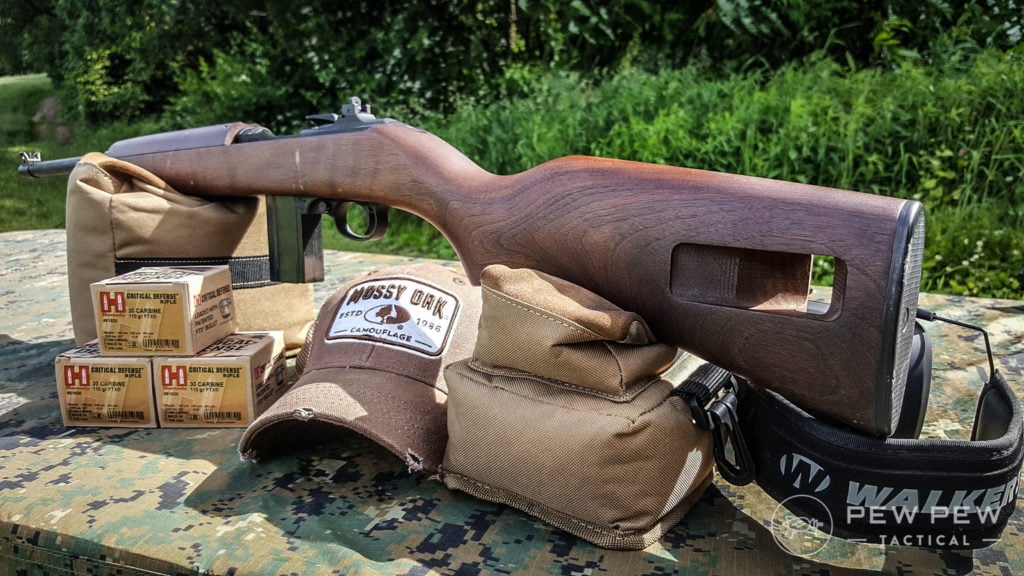 I will be going over the history of the old workhorse, what kind of quality to expect from Auto-Ordnance, and my time using it on a hog and turkey hunt down in Texas.
With the newer production Hornady ammunition, it is safe to say this old rifle still has a place!
Table of Contents
Loading...
Proven in Combat
The M1 Carbine saw initial service during WWII in 1942. It was built as a lightweight rifle to be used as a short-range carbine within 300 meters.
This rifle was never meant to be a full-blown battle rifle, which was somewhat of a change in military doctrine for a fighting rifle.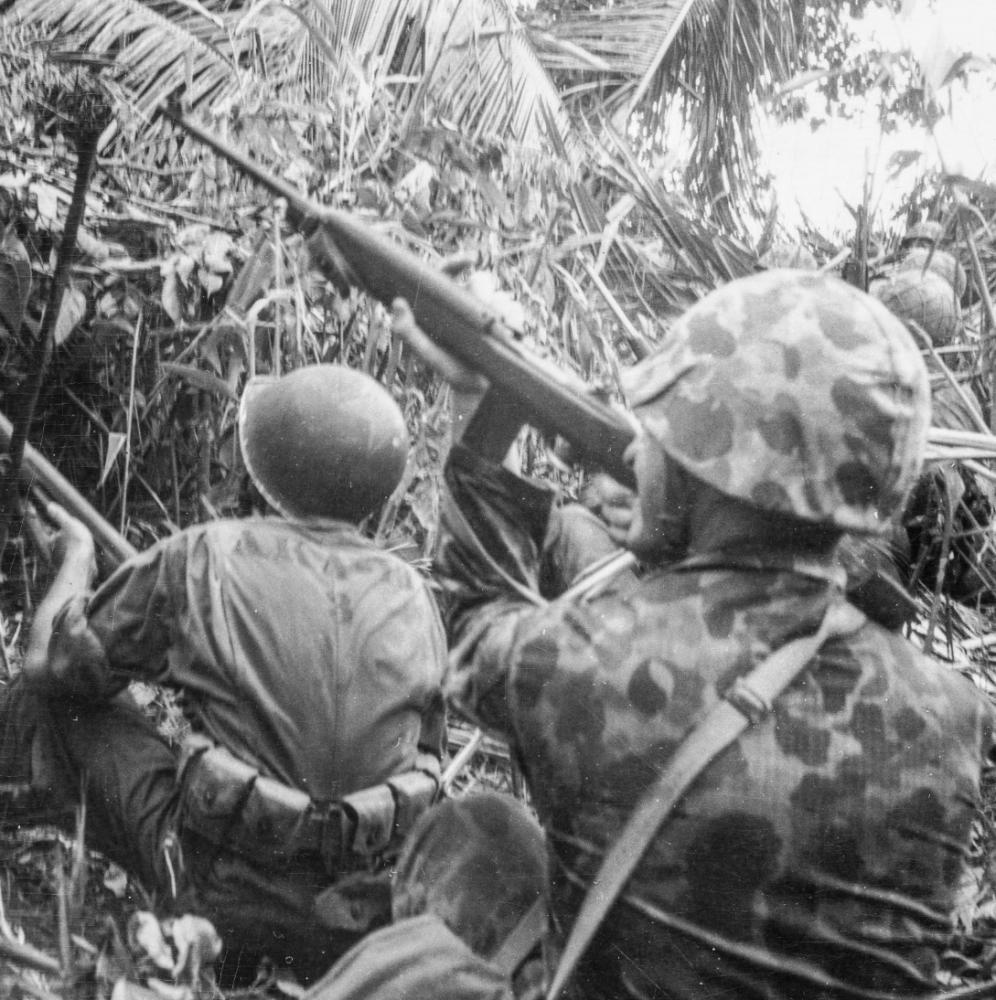 The tiny carbine saw service throughout WWII, Korea, and even into the Vietnam Conflict. The rifle was especially liked by troops that weren't on the front lines.
With its 18" barrel, and shorter designed action, the M1 Carbine and later versions of the M2 and M3 were favored for their handiness.
Between the short-stroke piston operation, and non-corrosive primers used in its ammunition, the M1 Carbine was a very reliable semi-automatic, magazine-fed weapon.
While it was loved by troops "in the rear with the gear", GIs that were engaging the enemy in the Pacific and European theatres had their gripes.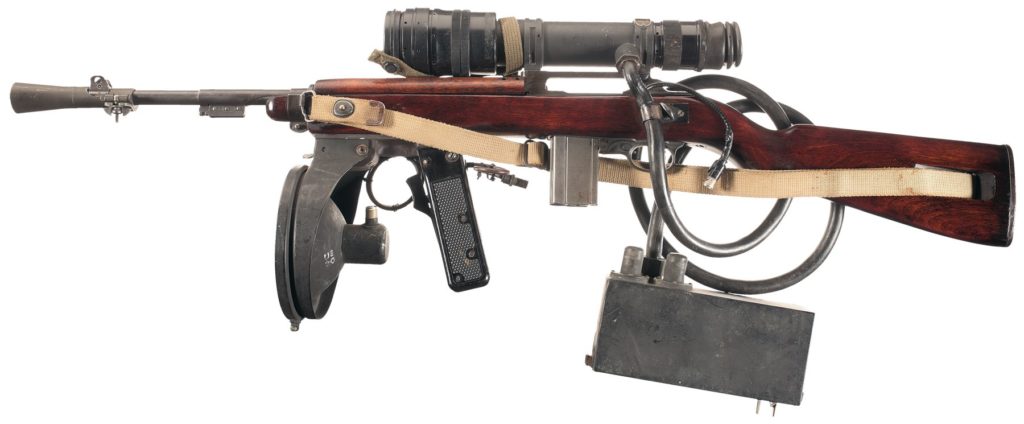 Although the M1 was praised for its accuracy, the round nose 110-grain projectile typically passed through the enemy without incapacitating or immobilizing them.
By design, it was meant to bridge the gap between the M1 Garand in .30-06 and the M1 Thompson sub-machine gun in .45 ACP, but FMJs at that speed did not prove to effectively stop the enemy.
Forgotten Weapons along with Ken Hackathorn has an outstanding video talking about the M1 Carbine, its role in WWII, and the exact limitations of the rifle in combat!
Fast Forward to Today
Today you can still buy surplus M1 Carbines, but the prices of those rifles are usually well over $1,000 and they can show their wear.
A quick search on GunBroker.com will show that WWII M1 Carbines can sell for over $4,000 in great condition. Enter Auto-Ordnance.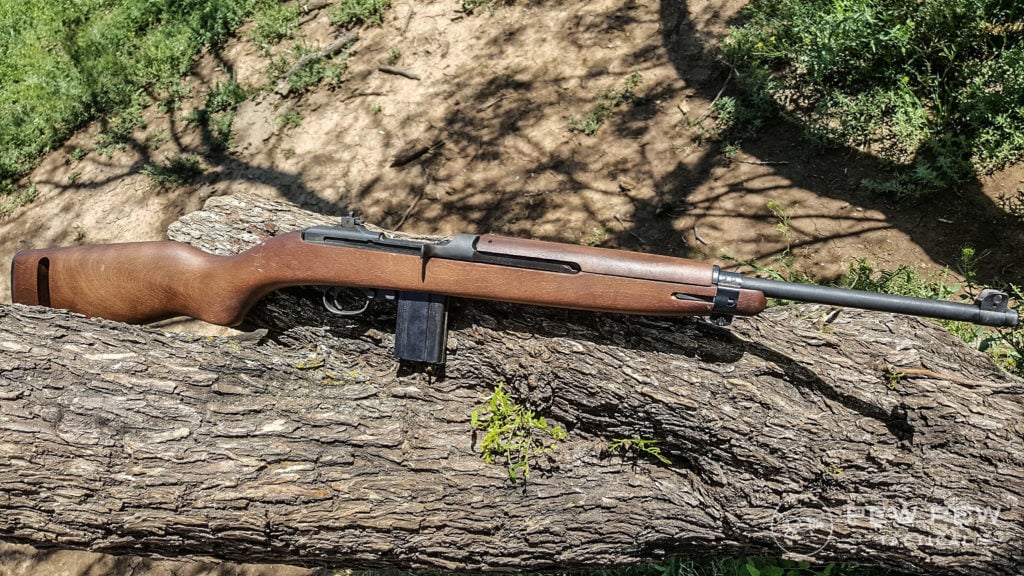 If you want a new production M1 Carbine, built to original GI specs, then look no further than Auto-Ordnance. The rifle's parkerized steel receivers, walnut stock, and original iron sights are a perfect reproduction from the original design.
750
at Brownells
Prices accurate at time of writing
Prices accurate at time of writing
These weapons are currently produced in Worcester, MA at the AO facility. They also have a line of 1927A-1 "Tommy" guns, 1911's, as well as multiple models of the M1 Carbine including a Para-Trooper model with a folding stock.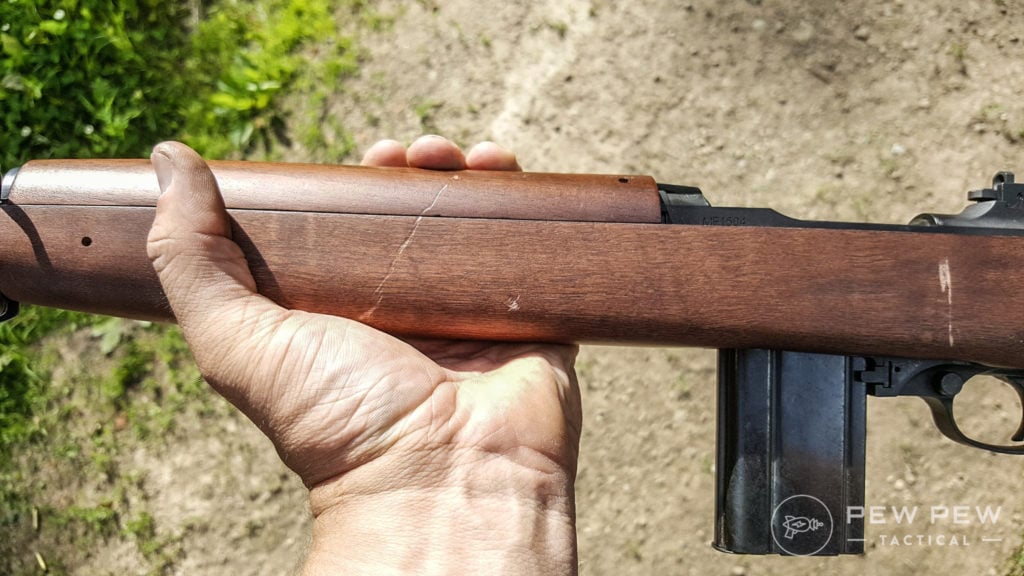 The T&E firearm sent to me was the standard AOM130, with a 15-round magazine. Quality of the rifle was excellent with parkerizing on all the steel components. The walnut stock wasn't amazing in finish, but it looks excellent overall.
Keep in mind though that the wood easily scratches which is my only gripe with handling the weapon.
On the Range
While testing the AO M1 Carbine I experienced no malfunctions or failure to feeds through nearly 500 rounds of testing.
During my time with it, I did not clean it and only applied lubrication to the receivers and the action. The best ammunition that ran through the weapon was hands down the Hornady Critical Defense 110-grain loads.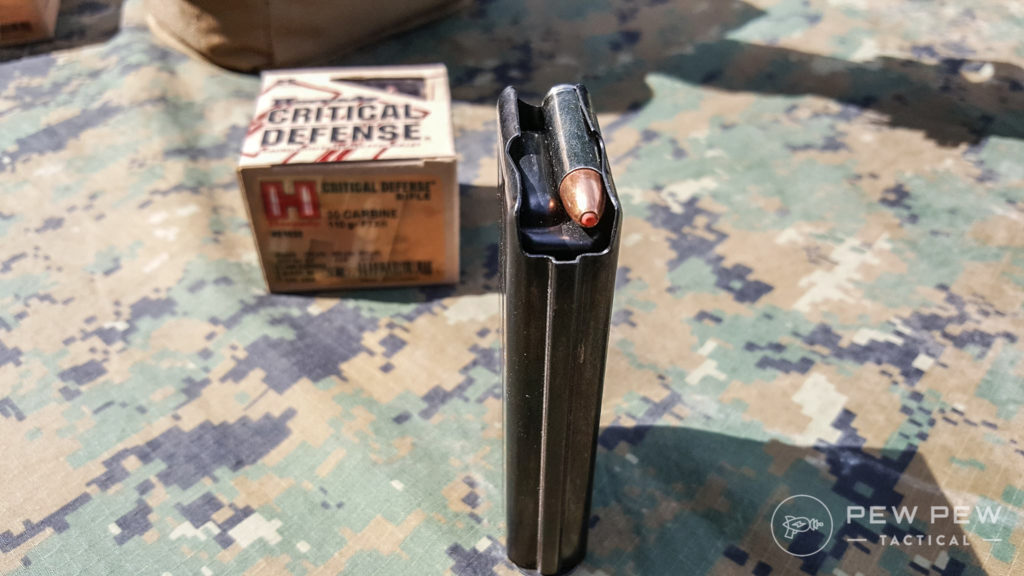 In my years of shooting, one thing generally remains the same. Hornady ammunition tends to be high quality and tends to be some of the best ammunition ran through any gun I have owned or used.
They also offer ammunition in uncommon cartridges, and the M1 Carbine is no different. For a hunting or self-defense load in .30 Carbine, the only answer is Hornady.
25
at Brownells
Prices accurate at time of writing
Prices accurate at time of writing
My best 5 shot group at 100 yards measured in at 2.1 MOA, which could do even better with a magnified optic. Being limited to iron sights only for this carbine, I moved in closer at 50 yards.
My best 5 shot group at 50 yards shrunk to 1.41 MOA and point of impact was 1.8" right and .59" low. At 100 yards, typically impacts were nearly 5" low.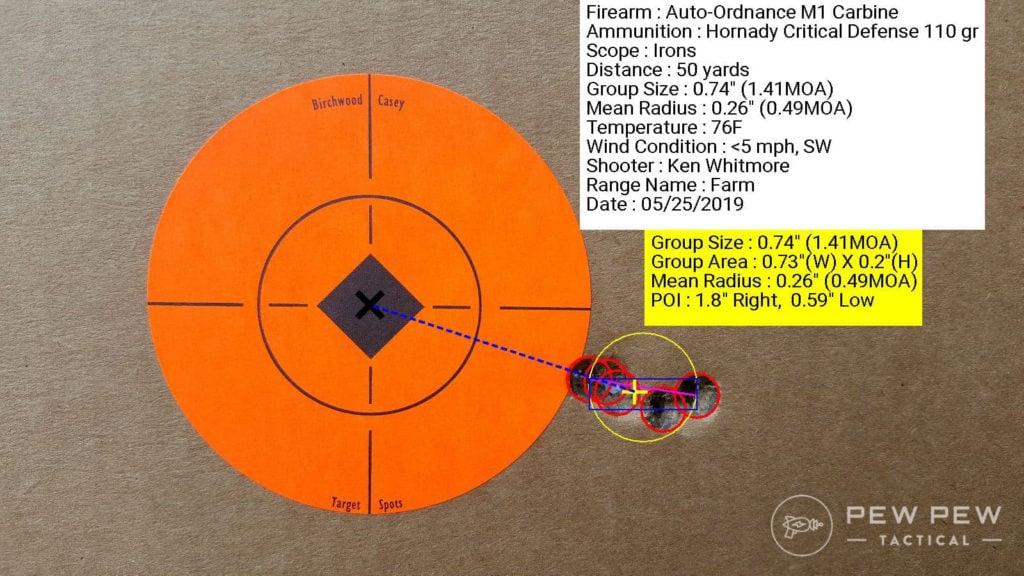 The rear sight is drift adjustable on this model from AO, but I did not have the proper tool for adjustment.
Assuming I wouldn't stretch too much further than 50 yards on my hunt in Texas, a slightly right point of impact was manageable, and I kept it in mind.
Out of the box accuracy though was impressive, and it fed typical 110-grain ball ammo like Magtech 110-grain FMJs flawlessly.
Hogs Went AWOL
While hunting hogs in Texas, it's legal to shoot them from a moving truck while on private land. Keeping a weapon short and effective to shoot out of a moving truck is important.
I have had great success with AR-15s in the past, but I wanted to try something different this time.
Benjamin, TX got a lot of rain this spring. Almost too much. While it's great for farmers and domesticated or wild animals, it makes hunting hogs in wheat fields practically impossible.
Due to the rain, this year the wheat fields measured above the hood of the truck. I didn't let that stop me using the AO M1 Carbine in a hunting role though!
The turkey hunting down in Texas for Rio Gobblers is fantastic. With the purchase of a hunting license, hunters are permitted to shoot up to 4 Rio gobblers and rifles of all types are allowed. It was time to drop a long beard with a weapon that my fellow Devil Dogs used in the Pacific.
On my second day during the morning, I ended up having 2 Gobblers come into my calls. They hung up at a feeder at about 100 yards.
While the .30 Carbine can easily kill a turkey at that range, the two Toms were moving too much to take an ethical shot with the older iron sights.
Luckily for me, a more aggressive Tom of the same size strolled through. His strutting and crotchetiness ended up scaring off the other males and sent them right to me.
The lead bird gave me a clean shot at roughly 50 yards, and the Hornady Critical Defense 110 grain bullet did its job quickly and ethically.
Thoughts on the Carbine
I enjoyed my time with the M1 Carbine reproduction from Auto-Ordnance. From handling older M1 Carbines to other more recent reproductions, AO would take the cake in my opinion for the best reproduction.
The Parkerizing is thick, and it holds up well to the elements with a simple coat of oil. With the rain we experienced, all the coated steel had no issues with rust.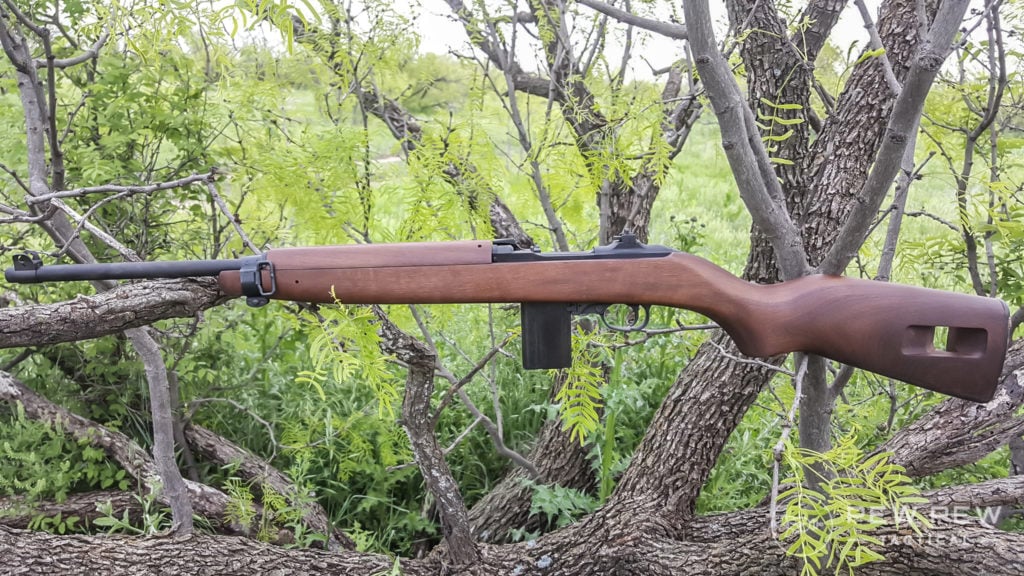 The wood stock leaves something to be desired though. Being advertised as walnut, I expected a little more resistance to scratching and denting.
This obviously did not affect function, and if you are not treating the carbine as a safe queen this isn't necessarily something to worry about.
Recoil was mild from the small cartridge, and I would compare it to a slightly harder .300 Blackout.
Considering its short-stroke gas piston design and lack of a muzzle device, recoil would probably be more comparable to a 5.56 NATO. Its 5.4 lb. the weight doesn't tame recoil like an AR15 either.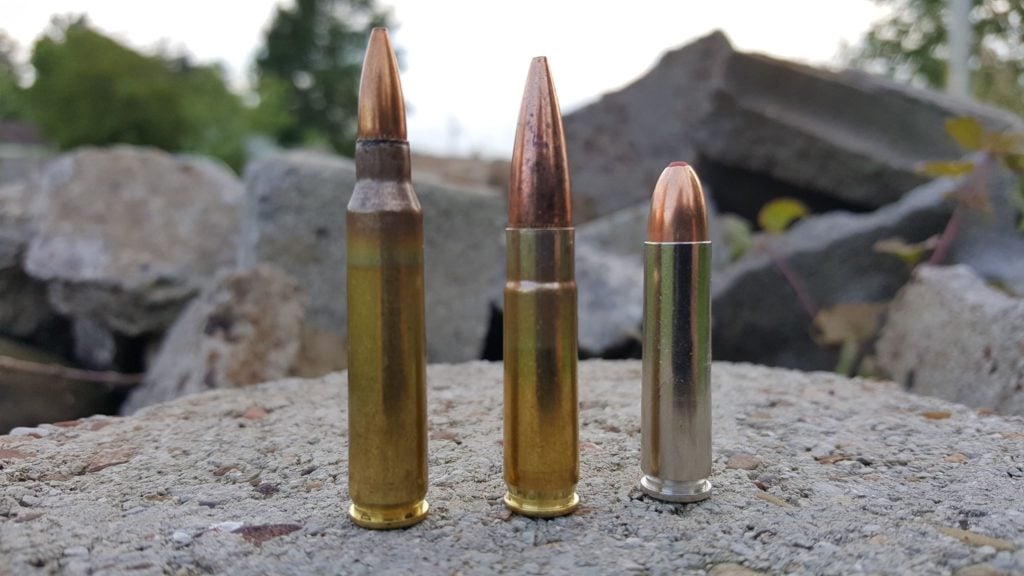 While the M1 Carbine does not have a last round bolt hold-open feature, you can easily lock the bolt to the rear by depressing a small plunger-style button on the charging handle. This came in handy letting the carbine cool after doing magazine dumps to test feeding.
The magazine release is in the expected spot which is just past the push-button safety at the front of the trigger guard. I have heard reports from GIs mistakenly pushing the magazine release instead of disengaging the safety under stress.
In my opinion, they are far enough from each other to keep it from being an issue, especially for range or hunting use.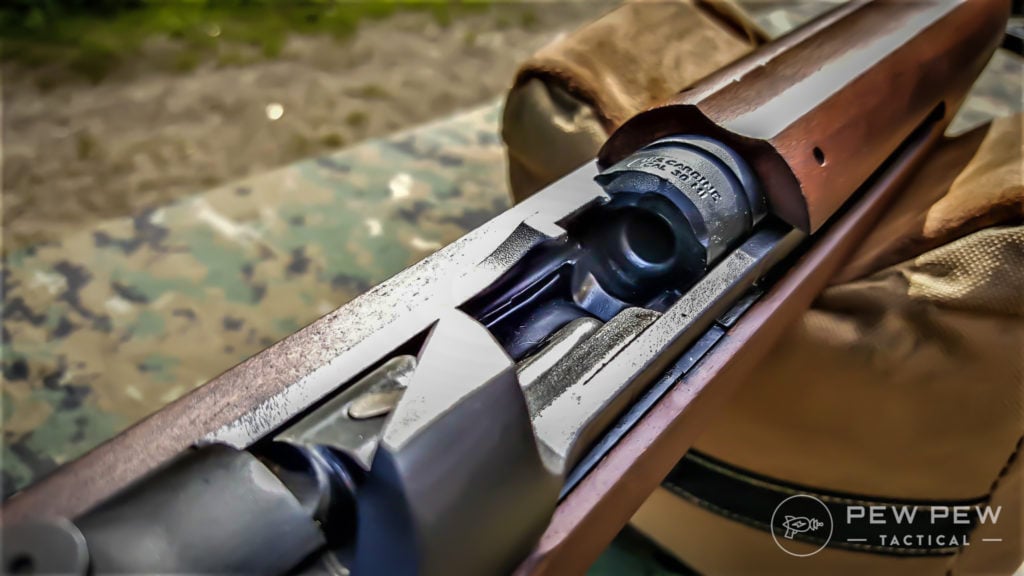 The chamber and feed ramp area were highly polished which is a testament to Auto-Ordnance's quality and attention to details. The barrel is not chrome-lined though, which would be a perk, but I wouldn't necessarily worry about service life.
Many barrels in M1 Carbines are not chrome-lined and they are still chugging along.
Magazines For The M1 Carbine
Modern M1 Carbine mags come in a few flavors and are produced by several brands including ProMag and KCI. You can even get them in 30-round capacities and 10-rounders for those of you in ban states!
Auto Ordnance also makes mags for the M1 and they're solid. They aren't Glock mags cheap, but a steel magazine that is cheap is…suspicious.
26
at GunMag Warehouse
Prices accurate at time of writing
Prices accurate at time of writing
By the Numbers
Reliability: 5/5
Roughly 500 rounds were put through the M1 Carbine from Auto-Ordnance while I tested and evaluated it. Only once I had a failure to feed, and that was completely my fault when the reciprocating charging handle clipped the side of an obstacle during cycling.
It was complete user error on my part. Using Hornady Critical Defense loads make hunting efficient and clean.
Affordability: 4/5
There are cheaper alternatives if you would like an M1 Carbine and you may be lucky to find a beater in fair shape at a gun show.
750
at Brownells
Prices accurate at time of writing
Prices accurate at time of writing
But when you look at prices with companies like Inland Mfg. and Fulton Armory, the Auto-Ordnance M1 Carbine is probably the best bang for your buck. Ammunition isn't the cheapest, but TulAmmo offers cheap steel-cased ammunition for about 24 cents per round – that's a solid price for plinking ammo!
Customization: 3.5/5
There is still a market for accessories with the M1 Carbine, mostly centered around optic mounts. As stated before, with an appropriate optic accuracy could tighten up a bit compared to the rudimentary iron sights.
A mount for a micro red dot could make this tiny lightweight hell on wheels for a short-range defensive carbine using the Hornady Critical Defense loads.
Ergonomics: 5/5
For a fighting carbine of the 1940s, this rifle is very ergonomic and quick to deploy, which was a shift in weaponry of the time. The detachable magazine inserts cleanly, controls are easy to reach, and the reciprocating charging handle is easy to manipulate.
Pair all that with a soft recoiling, lightweight, accurate rifle, and the M1 Carbine was very much ahead of its time.
Overall: 4.5/5
As stated earlier, the only drawback, in my opinion, was the finish and overall quality of wood for the stock. The receivers look excellent. The iron sights are basic but true to the original GI design.
The weight is phenomenal, and accuracy is impressive for its design type of weapon. I would highly recommend the Auto-Ordnance M1 Carbine if you are in the market for an M1 reproduction.
Parting Shots
The reproduction M1 Carbine from Auto-Ordnance is a winner in my book. Whether used as a hunting rifle, plinker, defensive carbine or truck gun, this light-weight accurate weapon will serve just about anyone well.
Paired with the history and nostalgia of the weapon, any gun collection will do well having it among the ranks.
Have you ever got your hands on a classic M1 Carbine design? What were your thoughts on the aged service weapon? For more WWII goodness that is modernized, take a look at the Best 1911 Pistols!