Not much has changed with weapon lights in the past few years…that is, until recently.
Believe it or not the Optimized Weapon Light by Cloud Defensive switches up the game with an innovative weapon light design.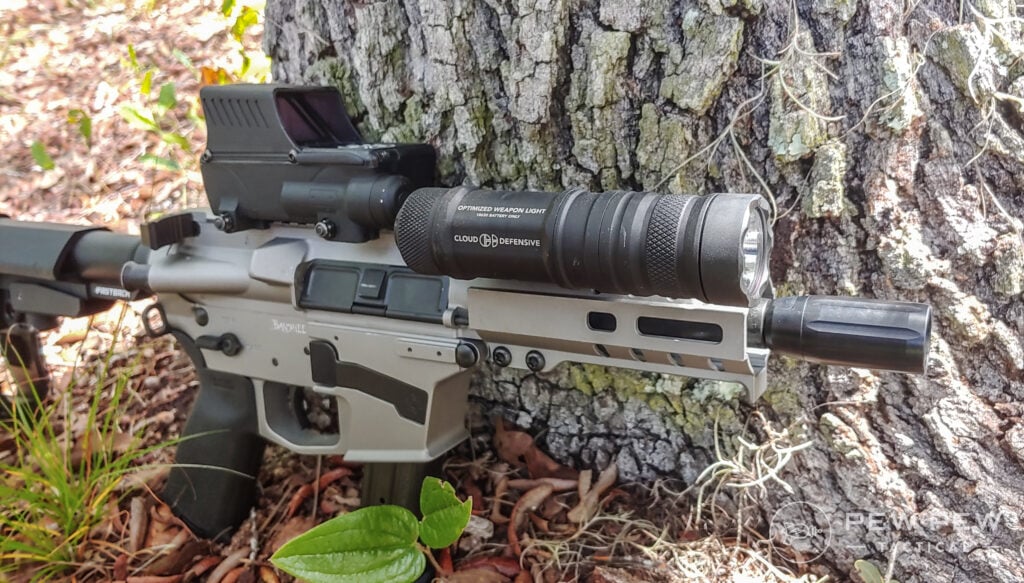 We got our hands on an OWL from Cloud Defensive and hit the ground running. What makes it special and can it really stand up to the rigors of use?
We're here to find out.
Let's dive into the light, learn more about what it offers, and ultimately see if you should add this to your favorite rifle.
AND…Cloud Defensive has set up a special 10% off coupon "pewpewtactical" just for our readers!
429
at Cloud Defensive
Prices accurate at time of writing
Prices accurate at time of writing
Table of Contents
Loading...
How the OWL Lands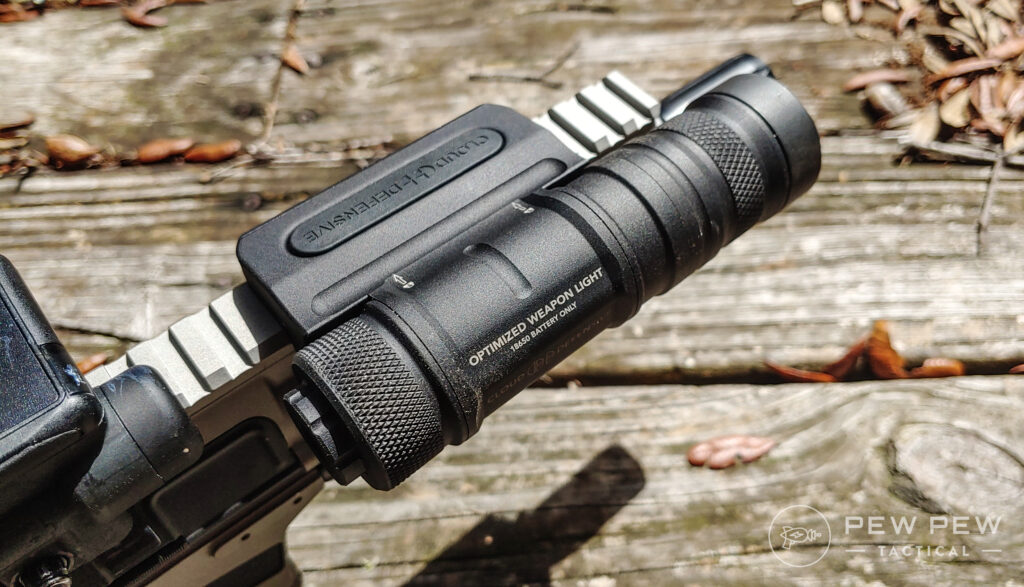 The OWL is a fascinating light design. It is a 12 o'clock light that mounts to the top rail of your weapon. That's not new, lots of lights do that.
But the OWL's 12 o'clock mount doubles as the activation switch for your light. That's fun!
This style of mount/activation button allows for a very ergonomic design. It also makes it easy to activate and utilize.
I find my thumb falls naturally where the activation button lays. It helps that the thing is massive and simple to touch and activate.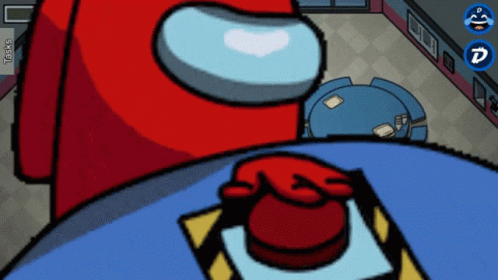 The giant touchpad doesn't need you to touch a specific spot on the light to activate it. Any part of the button can be pressed to activate the light.
The switch does take a deliberate touch, and it won't turn on accidentally by any means. The switch allows for both a constant-on and momentary modes.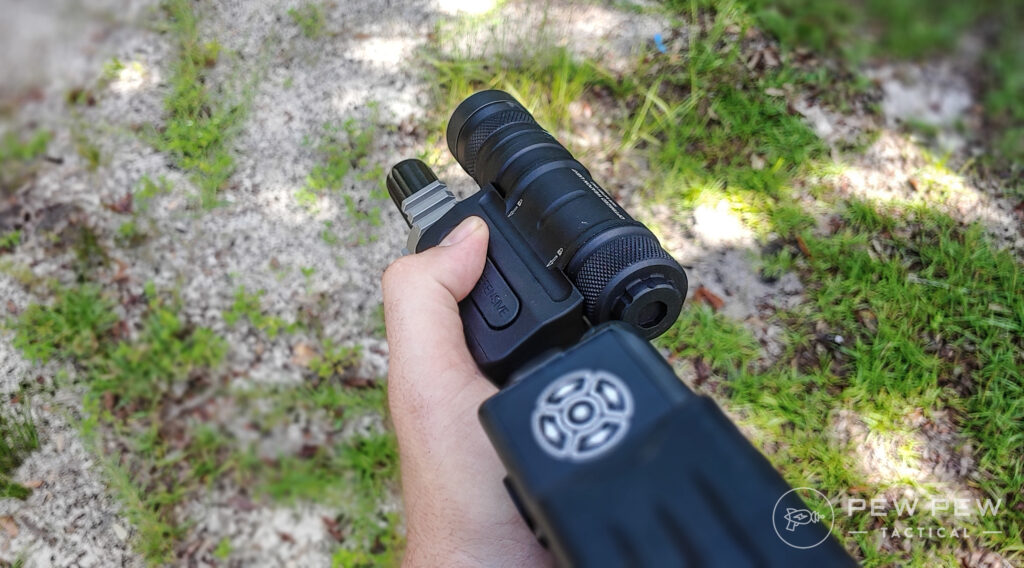 I moved the light over various different guns to test how different rail lengths and reaches would affect my ability to activate the button. I moved it on guns as short as the 5-inch barreled CMMG Banshee up to my 18-inch barreled BRN 180 upper receiver.
Regardless of the rail, I found it easy to activate.
You might need to get quite crazy to reach it with a 24-inch barreled AR, but on your typical fighting length rifle, the light is easily accessible.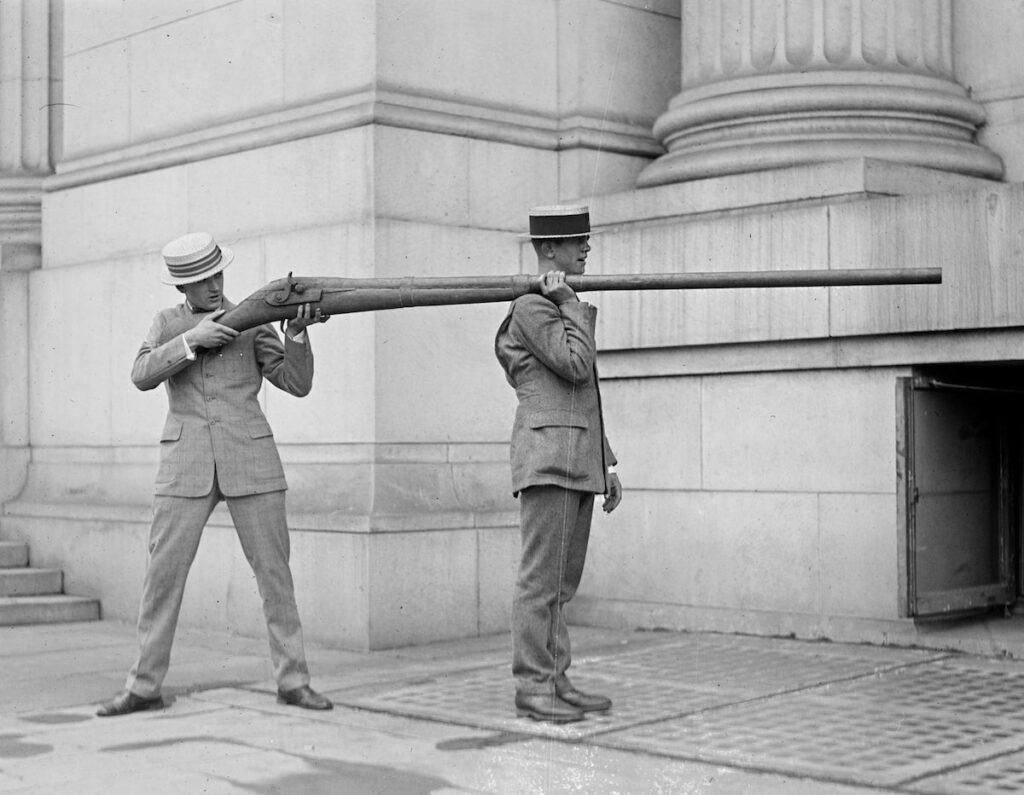 The OWL's design would seem to lock you into one way to hold and use the gun and restrict your ability to switch shoulders should you need to, but I did not find that to be the case.
I could change shoulders and still reach my hand behind the light and activate it with ease.
Win!
The Design
The mount, switch, and light combination ensures this is an out of the box ready design. There is no need to buy anything else to get the light working the way you want it.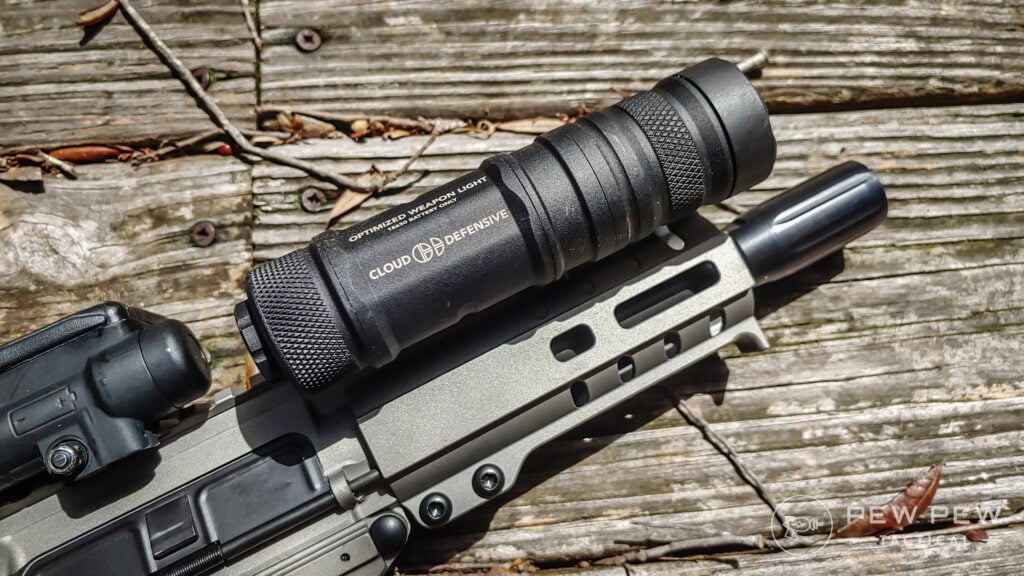 Lefties rejoice — the light itself can be reversed by detaching both the head and tail and swapping their placement. These portions do not use threading, but a patented lug system that needs to be rotated just a few degrees to detach or attach the head or tail.
However, they do not turn easily, so it will never accidentally happen.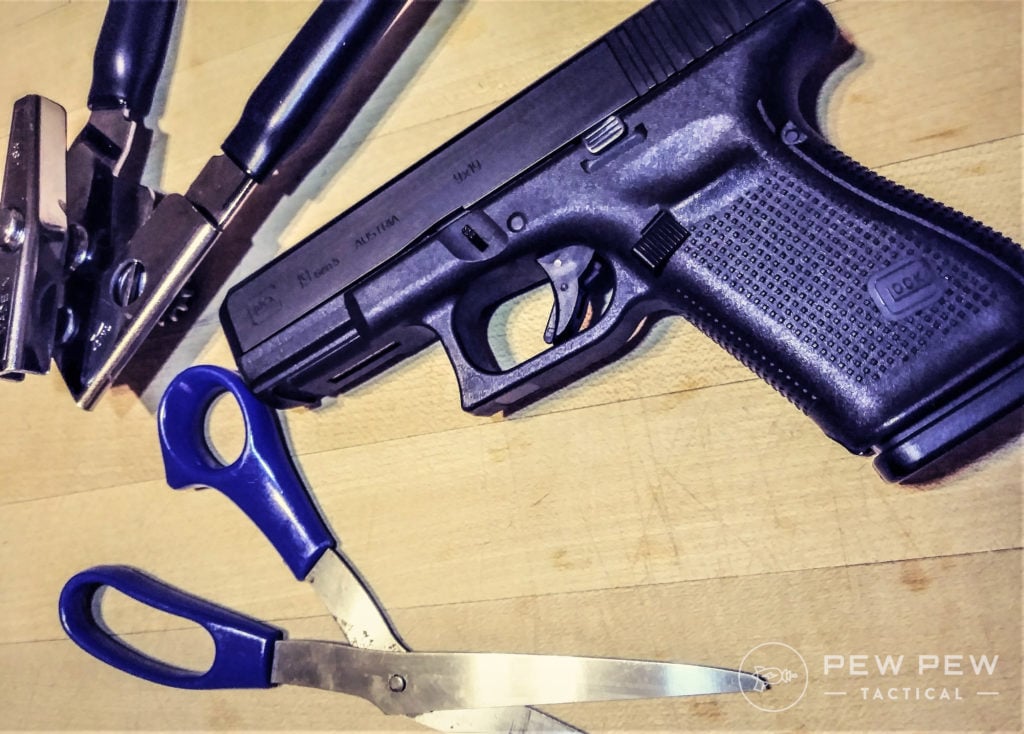 They aren't difficult to detach either. Swapping from right to left-handed use or changing batteries isn't a challenge. The tail cap even doubles as a tool to tighten the mount to the rail and is quite handy for field use.
Using the tool does allow you to lock the OWL down, and I do mean lock this bad boy down.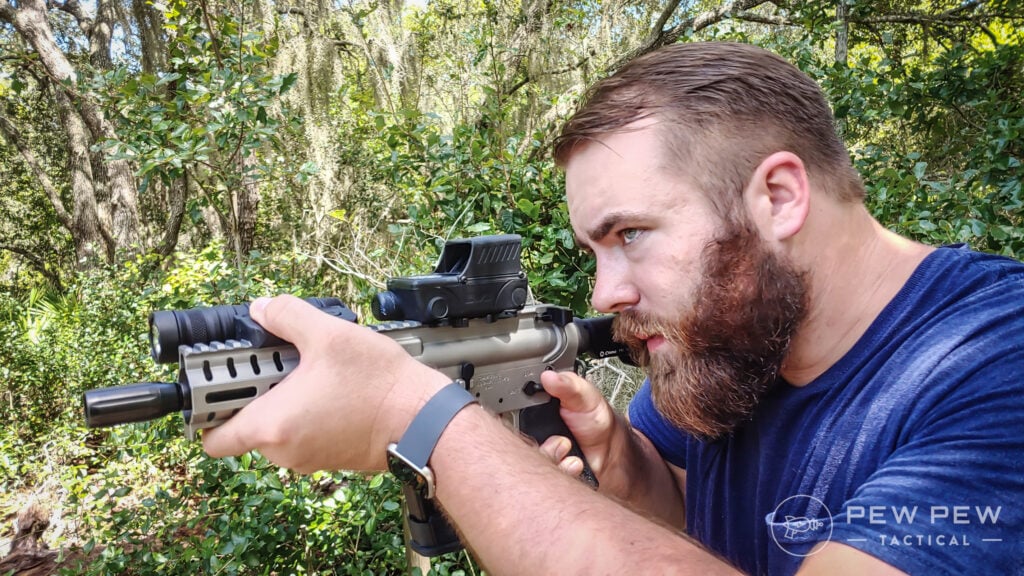 It ain't coming off without the tail cap tool or wrench, or whatever other means you have to free this bad boy.
The light stays tight to the rail, but still leaves enough room to accommodate folding front sights. If it was any tighter, the light's body would restrict your means to mount a front sight.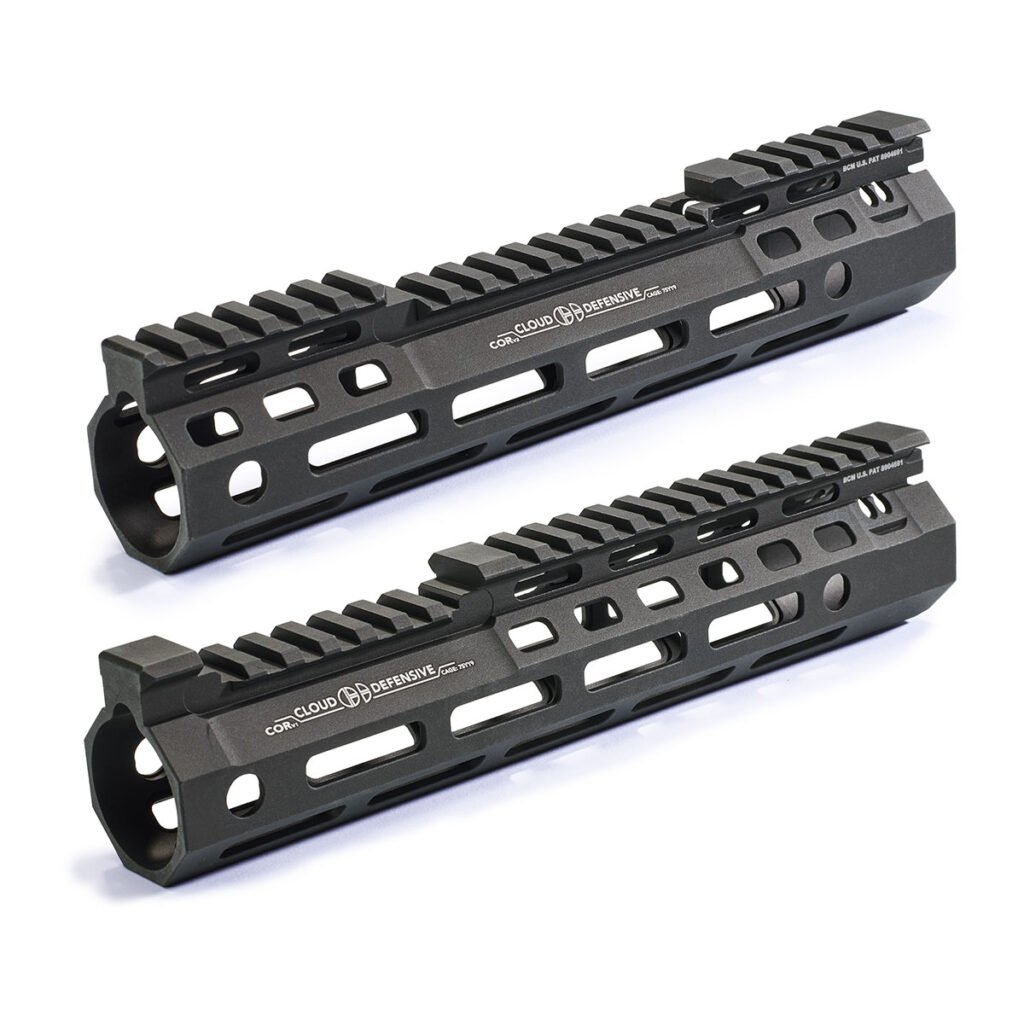 Cloud Defensive does make a rail optimized for the OWL that would have you place the front sight behind the unit, but on regular rails, it works perfectly fine with standard flip-ups.
The Source of the Power
The OWL is powered by a single 18650 battery and is only compatible with those batteries. It will not work with CR123A batteries, and they will damage the system. The 18650 batteries are rechargeable, and the OWL comes with two of them.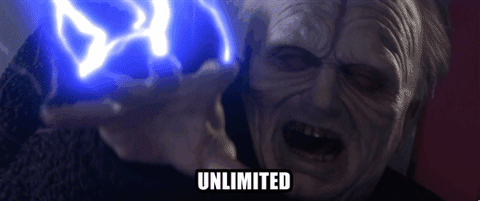 One is pink, and one is red. This is important, not just because you want your batteries to match your nails. The batteries deliver different levels of output and have different purposes.
The pink battery is a Samsung battery and gives you maximum output, but 85 minutes of runtime. The red battery is a Sanyo and gives you 110 minutes of runtime, with a slightly lower output.
It also comes with a Nitecore professional-grade charger that conveniently monitors the charge and seems to work quite quickly.
20
at Amazon
Prices accurate at time of writing
Prices accurate at time of writing
Spare 18650 batteries are not that expensive, and the Samsung variants go for less than $10 a pop. Having a few different spares on hand can be valuable.
Defining Bombproof
The OWL sports some interesting specs when it comes to durability.
Cloud Defensive built the OWL to specifications set by outside agencies. When they say it's waterproof, they mean it's waterproof to established industry standards — an impressive IPX8 rating.
This means the light can be submerged beyond 1 meter. The Cloud Defensive OWL can be dunked 200 feet for 24 continuous hours.
You can go play Navy SEAL in your pool should you so choose.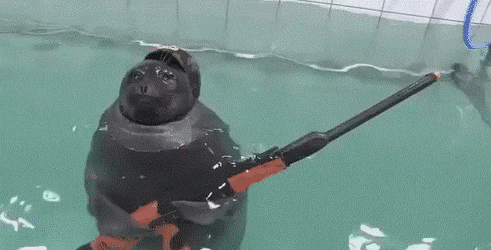 I don't have 200 feet of water to submerge an OWL or the pressure tank to simulate it. I can, however, leave the light underwater for 24 hours.
So I did.
I placed the light in water and tested it at 6 hours and then 12 hours. Then, I went to sleep and checked it at the 24-hour mark. The light didn't dim or fail.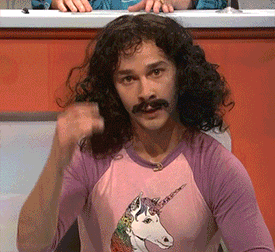 ANSI/PLATO FL-1 standards are a flashlight specific set of standards that measure everything from light intensity and power to durability and shockproof standards.
After that, I followed ANSI/PLATO FL-1 standards as close as I could. I dropped the light from shoulder height instead of 1 meter and dropped it the six required times at various orientations onto a concrete floor.
To pass, the light has to have everything, including batteries, in place and still work without any malfunctions.
429
at Cloud Defensive
Prices accurate at time of writing
Prices accurate at time of writing
The Cloud Defensive OWL exceeds all ANSI/PLATO FL-1 standards for impact resistance.
(Check out Cloud Defensive's Instagram account and watch them abuse an OWL like a red-headed stepchild. )
After watching the guys at Cloud Defensive spike it into concrete, run it over, and drive nails with it, I can't say I'm surprised it passed my drop test.
While I was putting it through its paces, I wanted to see how much recoil, force, and heat this thing could take.
1500
at GunPrime
Prices accurate at time of writing
Prices accurate at time of writing
I loaded up a 50-round Magpul drum and three 20-round magazines of .308 then took them for some fun on my Saint Victor AR-10 pistol.
The AR-10 pistol's handguard gets uncomfortably hot. Because the light is near the end of the barrel, it's exposed to the concussion and viciousness of the hot unburned powder.
Definitely not a pleasant experience for anyone involved, but the light performed admirably.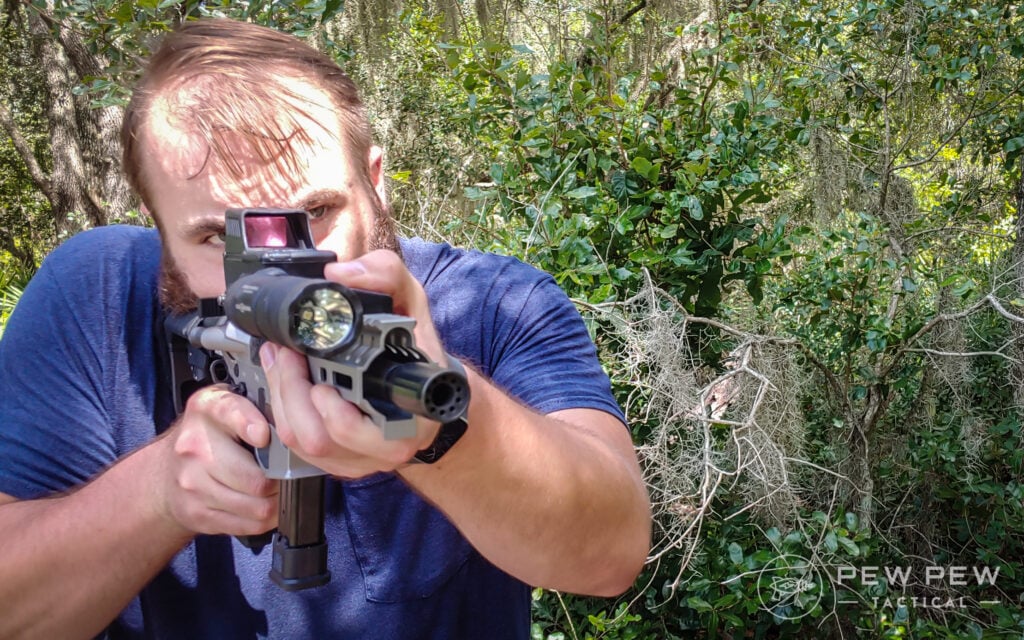 It remained flicker-free throughout the testing procedure, and even though the rail got insanely hot, the light remained functional and without issue.
The only downside was I needed to clean the lens off from all the carbon!
OWL Power
"OWL Power" sounds like something a 1960s superhero would yell as he flies away. It's also what I found myself saying every time I activated the light at night.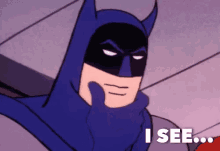 It's a shame my cameras can't capture just how bright this light is.
I started at 50-yards and moved to 75-, and 100-yards with the weapon mounted on my BRN 180 rifle and backed with a three power Swampfox prism sight.
The OWL is a powerful freakin' light, and it's 1,250 lumens with 50,000 candelas.
245
at OpticsPlanet
Prices accurate at time of writing
Prices accurate at time of writing
Lumens is the big term everyone uses to sell their lights, but I'll tell you a secret…lumens aren't that important.
What's more important is candela. Lumens refers to the raw intensity of the light, while candela is how the light can be focused and used.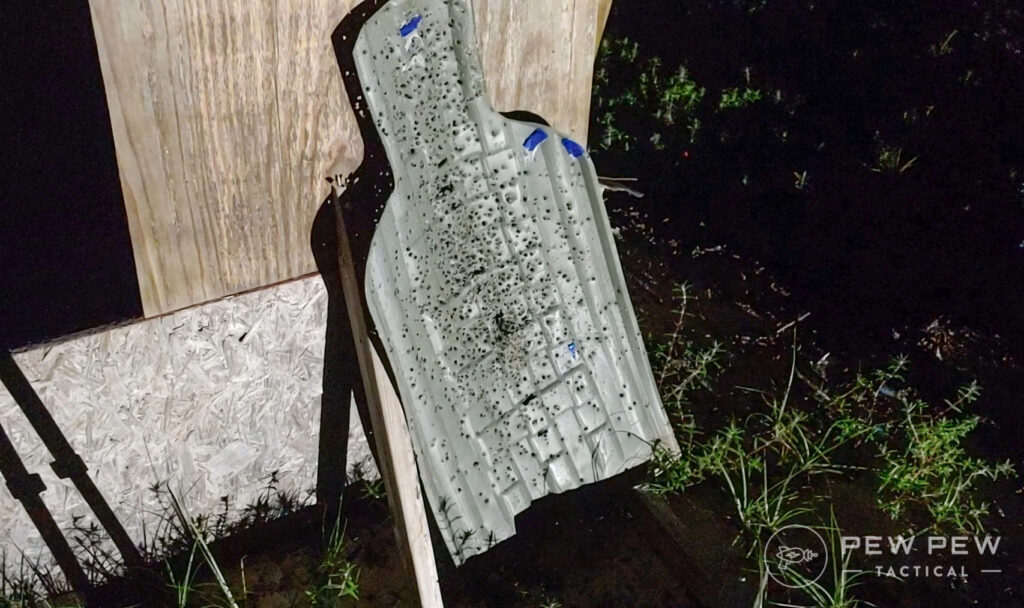 The OWL's combination of both lumens and candela gives you an exceptionally useful light that has a long effective range and a brutally bright center point.
It allows you to see the fine details of a target and establish not just positive identification on a human, but to see the color of their clothes, their facial details, and if they're armed.
Out to 200-yards, I can establish positive identification on a target in the dead of night with a combination of the OWL and a magnified optic. I own lots of lights, and that's the only one I've ever seen be usable out to that kind of range.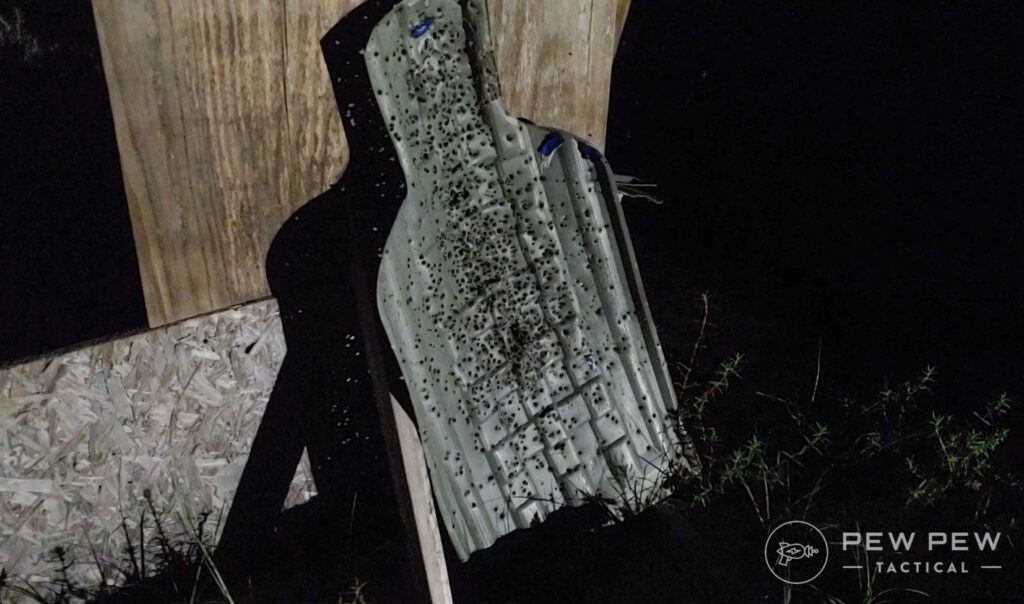 To make it more interesting, I placed a t-shirt on my target to see if I could identify colors and design.
Long story short, I could.
That's something I could see a soldier or police officer trusting prior to pulling the trigger.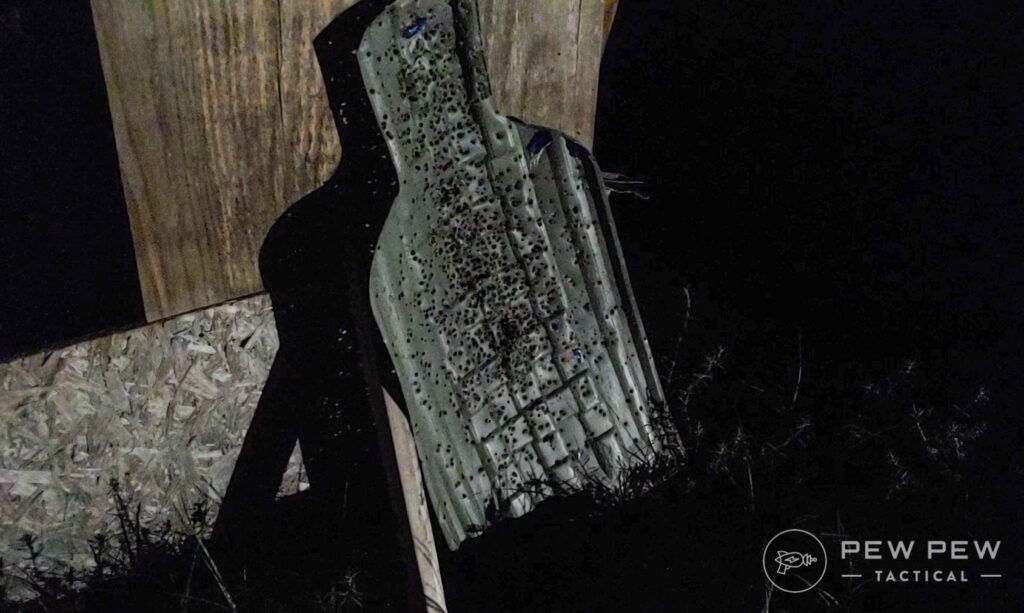 Hunting at night is almost always illegal with most animals. There are a few though, like hogs and in some areas coyotes, that are such a pest you can hunt them under the veil of darkness.
The OWL would be a potent means to ensure you are aiming at a hog or coyote and not a lost pupper.
Photogenic Barriers
A photogenic barrier is a barrier created by a light shining at you. So if a dude is pointing a light at you, you are unlikely to see past the light and the person holding it.
This is called a photogenic barrier.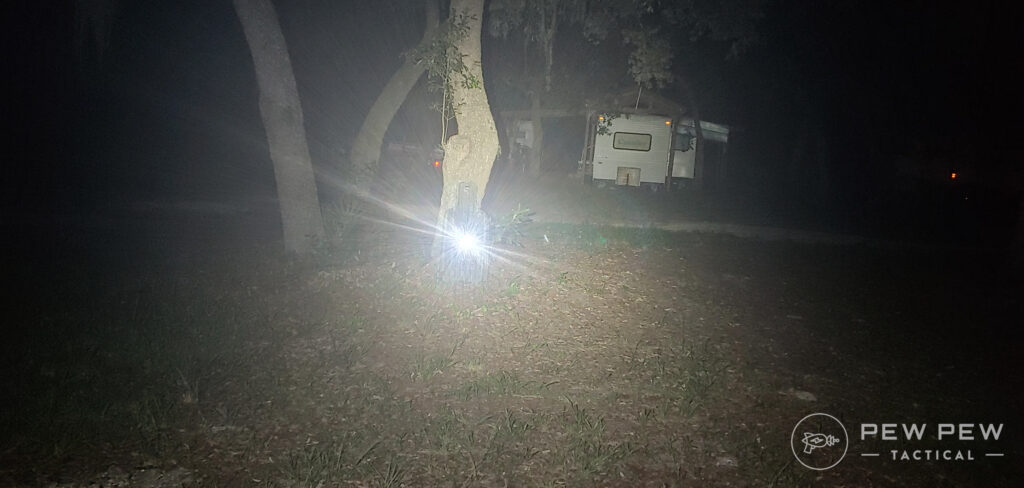 Shining through photogenic barriers with the OWL is insanely easy. Even when paired against a powerful 500-lumen handheld light, the OWL dominates.
It outshines the barrier and makes it easy to identify your target and deal with it as necessary.
Being on the bright side of the OWL is incredibly uncomfortable too, more so than any other light I've ever tested.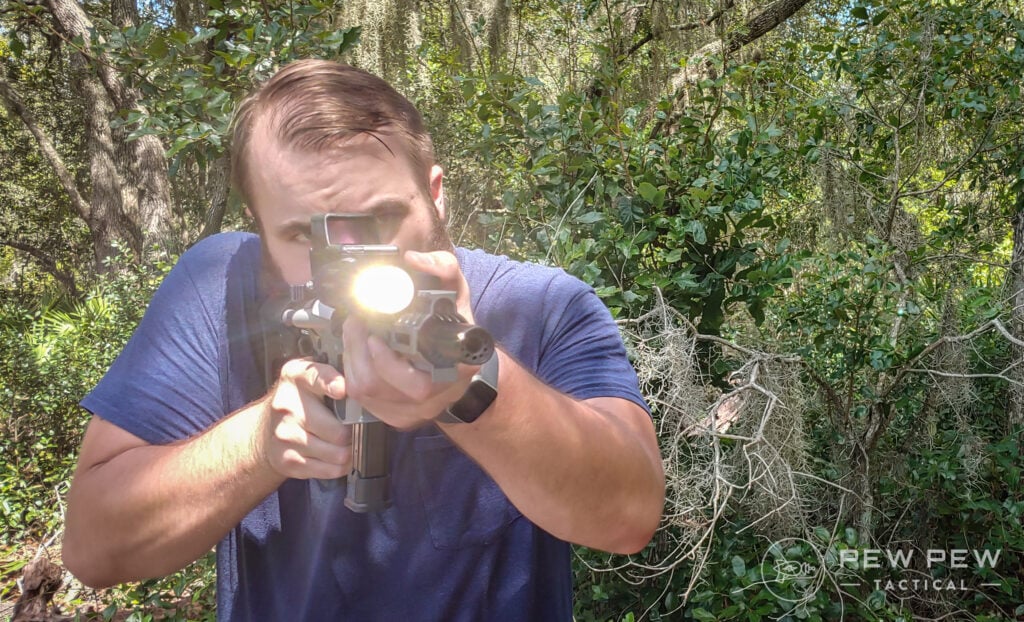 If I was armed and with ill intent against someone with an OWL, there would be no possible way I could aim and engage that person.
It's not a comfortable place to be, and my natural instincts are to shut my eyes and turn away. Surprisingly, someone in the dark with this light would easily disorient, interrupting their OODA loop.
Too Bright for Home Defense?
This may lead you to think, is this light too bright for home defense? It's a big, powerful beam, but it's not so intense that it's blinding indoors. The beam is a bit warmer than most, but it doesn't distract or blind you.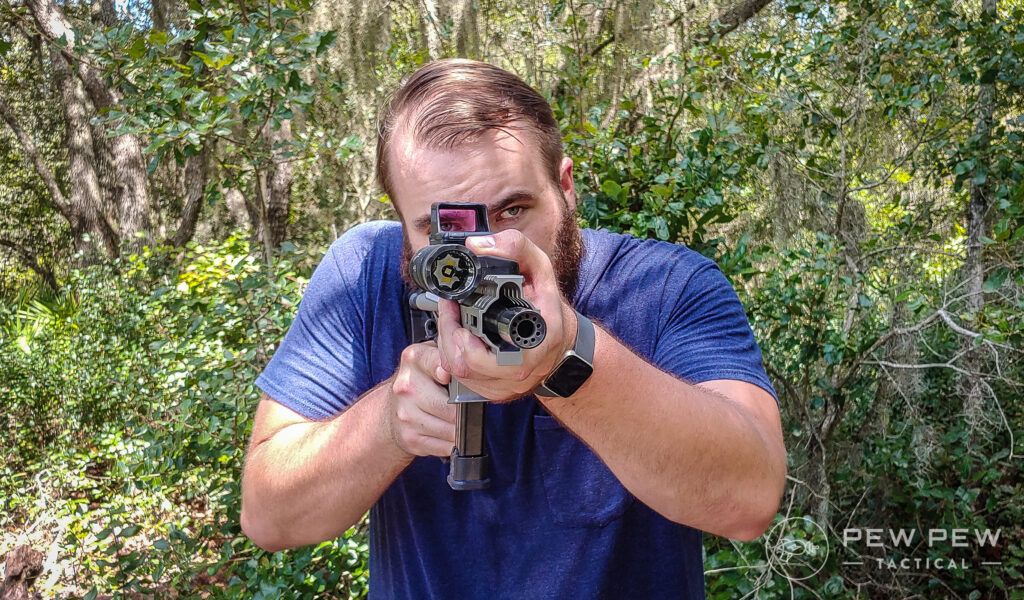 To me, this is a perfect light for home defense, capable of extending beyond the home as well.
As someone who lives on a big stretch of property, it's nice to be able to scan from one side of it to the other.
Downsides to the OWL
There are two main downsides to the OWL. The first is the fact it's a bit chunky. At 11-ounces, this isn't the best option for those looking to run the lightest rifle they can.
That doesn't mean you can't run it on a small gun. The tape-free switch design and over-the-top button make for a decent choice on small, sub-gun style guns.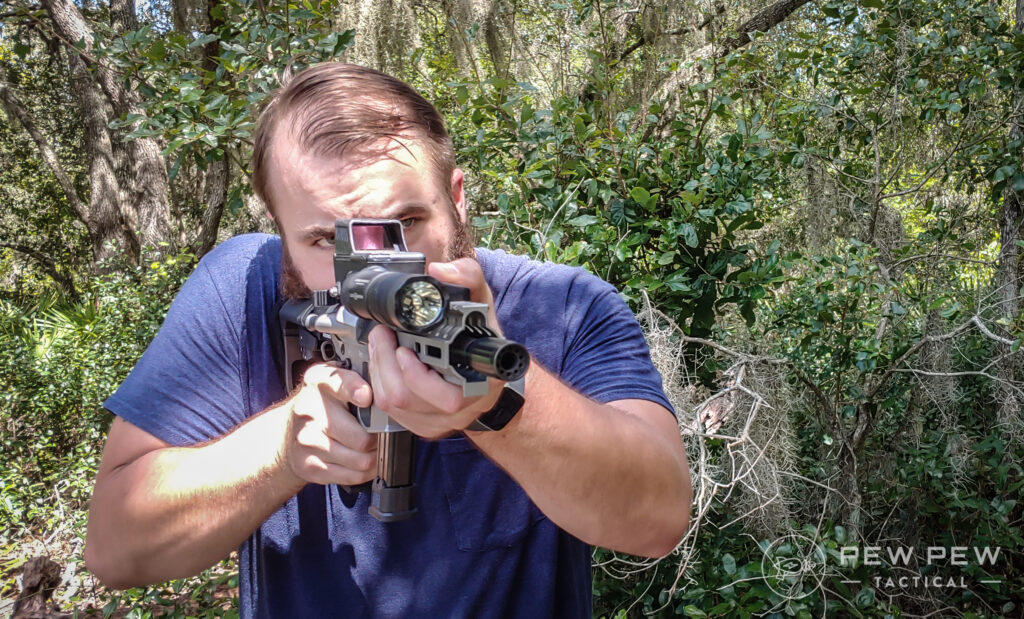 It's a big fella, but still capable on a 9mm sub-gun or AR-15 pistol.
My other grip is that the Cloud Defensive OWL doesn't play ball with IR devices. Very few devices work with the OWL well. I know PEQs, DBALS, and MAWLs, are no-gos on the OWL.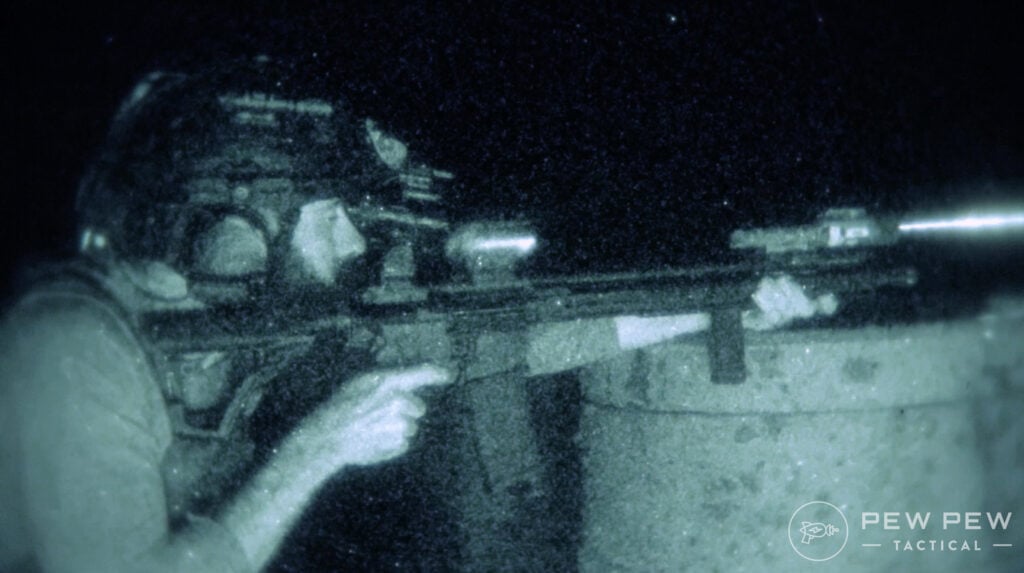 That's not a concern for me because I'm not into night vision and IR Devices. If you are, however, you might want to look elsewhere. You can make it work, but that's not the point.
Cloud Defensive makes a traditional shaped light called the Rein, which is a better choice for those who wish to use IR devices and night vision.
429
at Cloud Defensive
Prices accurate at time of writing
Prices accurate at time of writing
By the Numbers
Reliability: 4.5/5
The OWL can take a serious beating and still perform like nothing happened. Submerged in water, tossed against concrete, and up against the normal wear and tear of weapon lights, it proved it's a durable model.
Ergonomics: 4.5/5
You get a super ergonomic design with this light. The style of mount/activation button makes it easy to activate and utilize. You can pretty much mount it where you need to.
Looks: 4/5
It's a weapon light, nothing too fancy here. It's got a durable exterior which wins it some extra bonus points.
Bang for your Buck: 4/5
It's a little pricey but worth the spend. The durability and light spread is well worth the money.
And remember there's the special 10% off coupon "pewpewtactical" for our readers.
Overall: 4.5/5
Pairing a nice light spread with decent ergonomics, the OWL wins my vote for one of the best weapon lights on the market.
Conclusion
The OWL provides a durable and reliable weapon light for searching inside and outside buildings, warehouses, and dark city streets. Or if you're an Average Joe like me, it's a bombproof light that is well-suited for home defense and fun night shoots.
I was so impressed by this light, it even made its way onto my BRN 180 fighting rifle. The Steiner Mk4 is nice, but the OWL outperforms it.
429
at Cloud Defensive
Prices accurate at time of writing
Prices accurate at time of writing
One last time…don't forget to use the 10% off coupon "pewpewtactical" for your purchase!
Though the OWL is an expensive weapon light, hovering around $370, it's worth every single penny. 
What's your choice of weapon light? Any thoughts about the OWL? Let us know below! For more weapons lights, check out our review on the Streamlight TLR RM 1 and RM 2!