What's your most important rifle?
Your fighting rifle! Duh. 
By fighting rifle I mean the rifle you choose to use for home defense, to defeat alien invasions, fight werewolves, or to fend off those 1980s Red Dawn Russian/Cuban bad guys.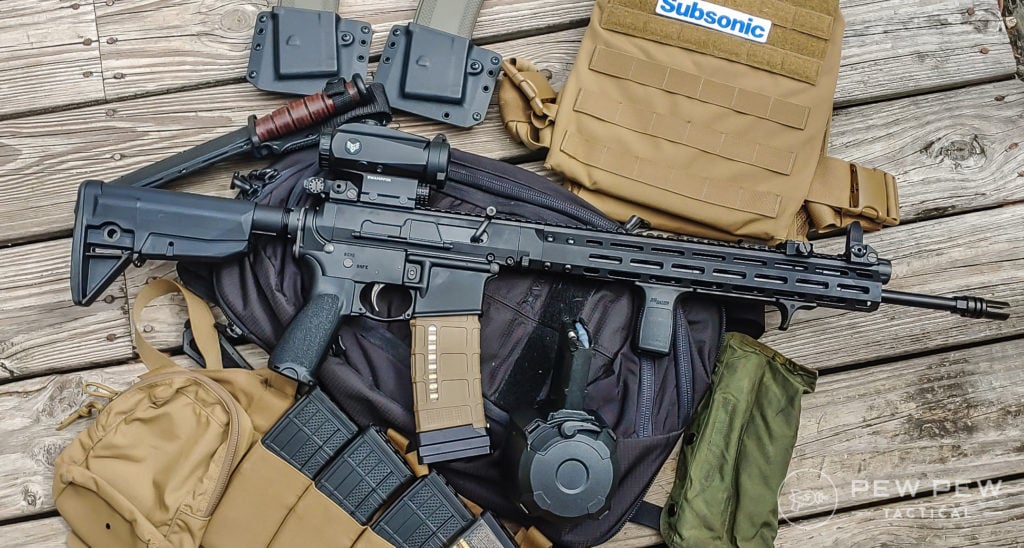 That's what a fighting rifle is.
Every fighting rifle is a unique and personal build. It can just be a fun gun, one for tactical LARPing if you will or even a real home defense rifle.
Mine is mostly for LARPing, but to be fair, if those 1980s invaders arrive I'm staying strapped.
Here is what has gone into my fighting rifle build. 
Table of Contents
Loading...
The Upper
The upper is something rather unique. It's the BRN-180 upper receiver.
If you haven't heard of it, the BRN-180 is an AR-18 based design that fits on a standard AR-15 lower receiver. This is a modernized version of the old AR-180 and its quite the upper receiver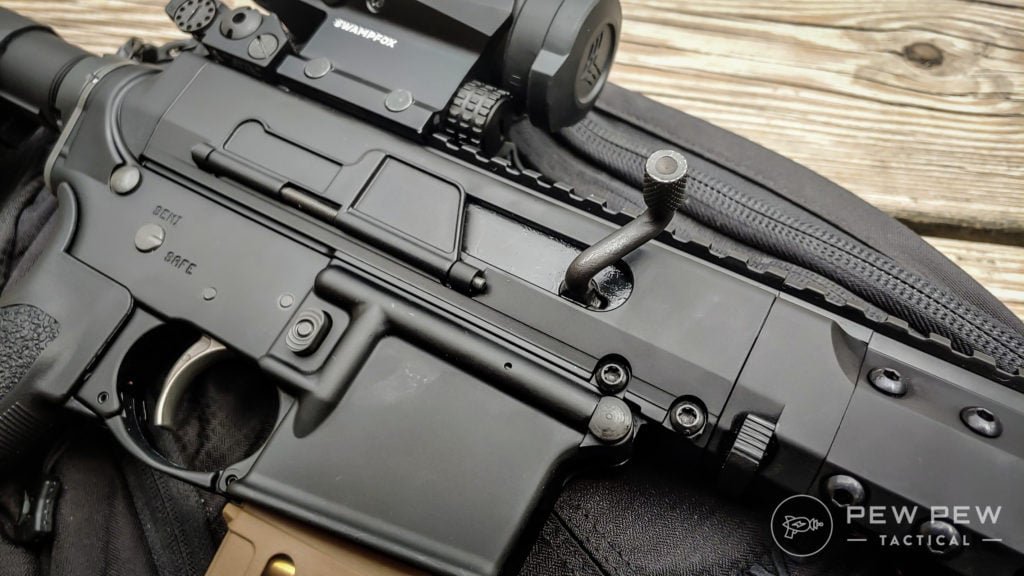 It uses a short-stroke gas piston design that eliminated the need for a buffer tube in the stock.
The BRN-180 comes in various barrel lengths and I went with the 18.5-inch barrel. They do make a 16-inch and 10.5-inch, but I chose the 18.5-inch model because of one reason…
849
at Brownells
Prices accurate at time of writing
Prices accurate at time of writing
Velocity.
55-grain FMJs from an 18.5-inch barrel are moving quite fast and allow for some crazy penetration, especially against steel armor.
It also gives you a bit better barrier penetration. Sure, 16-inch barrels are nice and short and handy, but I'd rather have the velocity.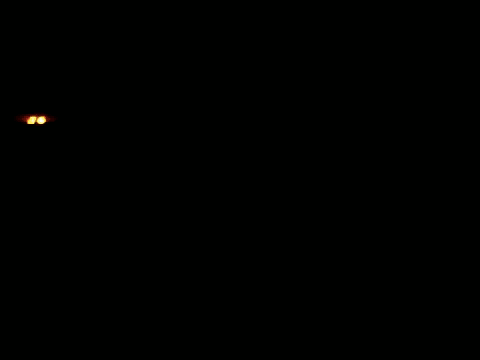 Also, besides velocity, the extra barrel length reduces concussion and noise and makes the BRN-180 a smooth shooter.
In general, short-stroke gas piston guns are smooth and the combination of barrel length, design, and caliber make this a very smooth shooting rifle.
The barrel is quite thin and this makes a very light rifle that is well balanced. You can hold it up for forever and day and not feel fatigue. It's also quick and easy to get on target.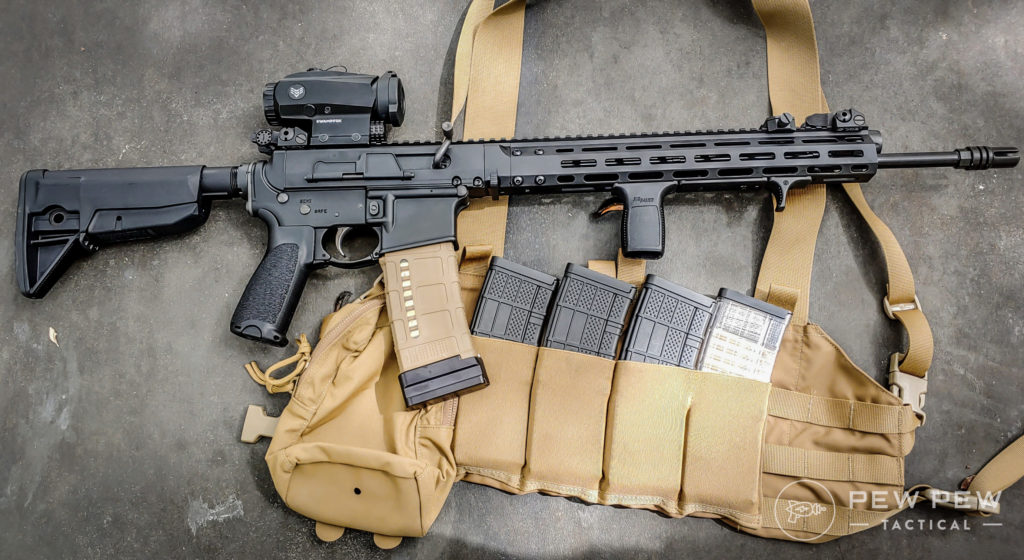 To keep the weight low, the thin barrel is surrounded by a thin M-LOK handguard that gives you plenty of room for mounting all the accessories you know and love.
Brownells has been killing it when it comes to the gun making market. I've put several hundred rounds, leaning more towards the 1K mark through this upper without a single malfunction.
[Ed. Note: David has put almost 2,000-rounds through his BRN-180 without malfunction also.]
It runs smoothly and is accurate to a fault.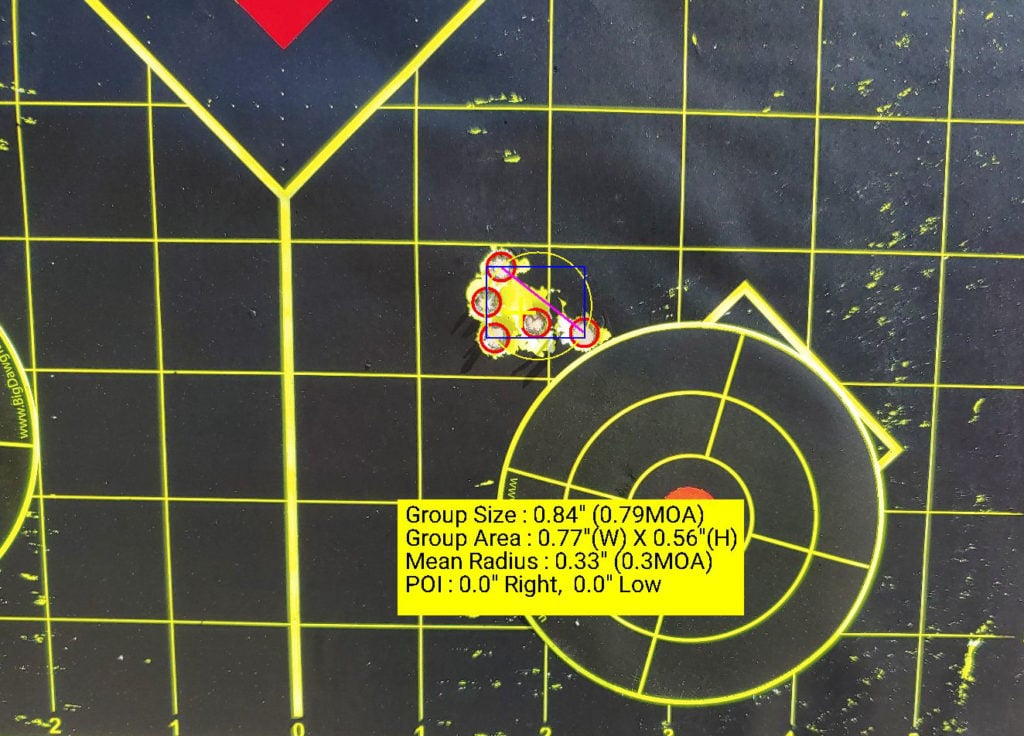 The only downside is that it heats up fast. The combination of thin barrel and thin, aluminum M-LOK handguard creates a spicy meatball if you know what I'm saying.
Why Not an AR-15 Upper?
Why use a BRN-180 upper over a high-quality AR-15 upper? Well, for one the BRN-180 is just a cool upper and a neat design.
I also like the right-side charging handle for the purpose of clearing malfunctions.
I got a beat up left shoulder, and I mean beat bad. My Doctor says I have the arthritis of an 80-year-old man in my left shoulder. I have issues using the AR-15 charging handle and complicated malfunctions that jam up the bolt.
My left arm pops and hurts due to the range of motion the AR-15 charging handle. Reaching under the BRN-180 and using the charging handle like an AK is much more comfortable.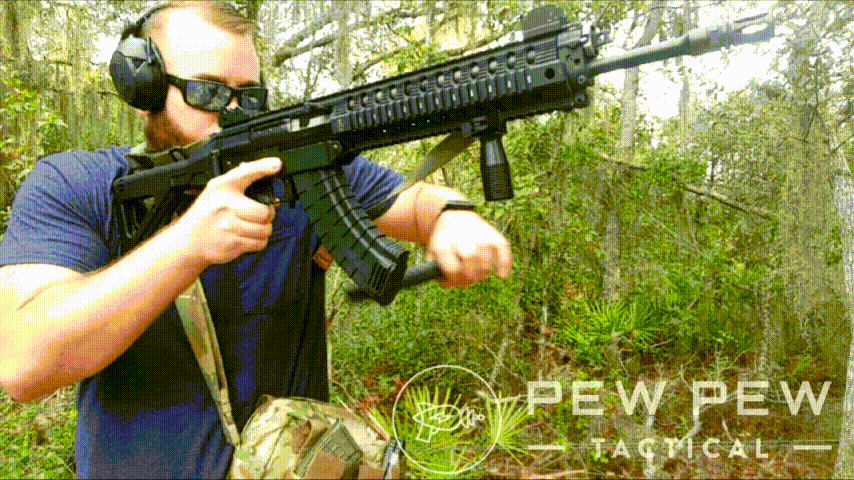 I first learned that side charging handles are better for me handling AKs and the SCAR 16S.
I can rip it rearward should I get a complicated malfunction. I can also just work the charging handle comfortably due to the different range of motion. Reaching under the rifle with my left arm is much more comfortable and allows me to use my bicep more than my shoulder.
Is it a little clumsier? Sure. But for me it's less painful and more comfortable.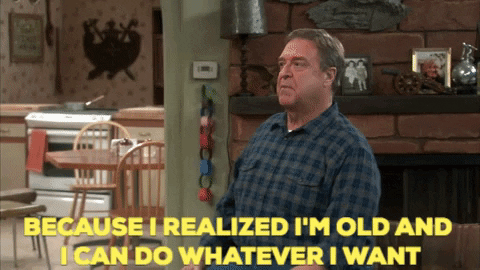 When it comes to reloads I'm going to rock the bolt release and not the charging handle. The charging handle is for complicated malfunctions and racking in the very first round.
The Lower
I went with a BCM lower receiver. If I'm building a rifle with quality in mind I don't want to compromise any part, including the lower.
The BCM4 lower by BCM is a high performance lower receiver.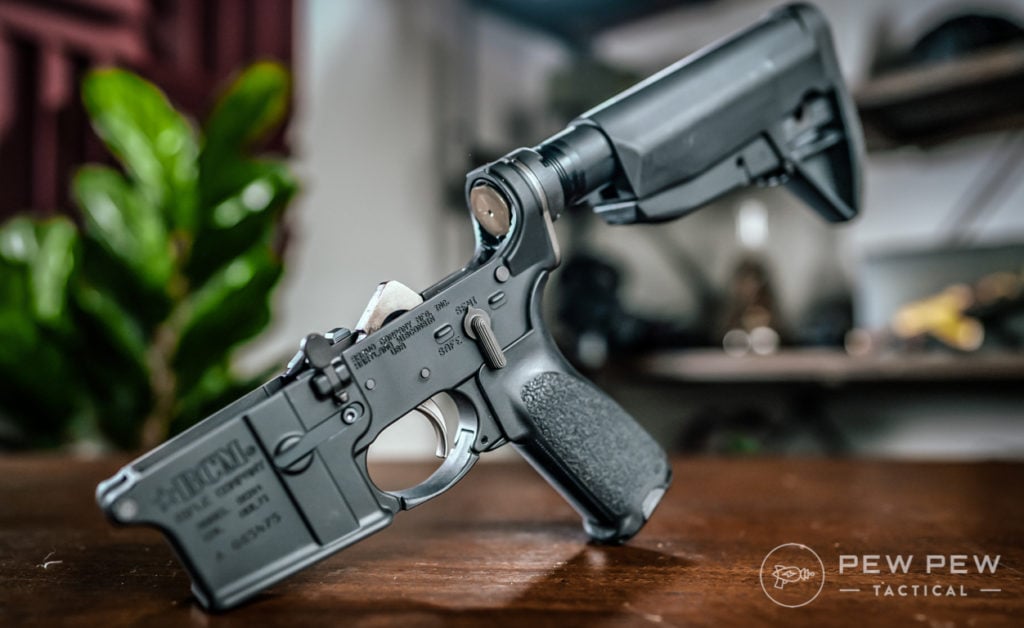 BCM is well known for its ultra-high level of quality control and assurance. BCM pulls no punches on their parts and pieces.
Everything is precision machined to ensure proper fitment.
Proper fit is critical to not only reliability but also a smooth trigger pull. Speaking of triggers, I also installed a BCM lower parts kit.
The LPK includes the Polished Nickel Teflon trigger assembly. Both the trigger and the hammer are PNT parts that are a precision investment cast.
65
at Primary Arms
Prices accurate at time of writing
Prices accurate at time of writing
These are not to be confused with MIM parts. The heat-treated design ensures you have long-lasting, wear-resistant parts.
The trigger is easily the best 'mil-spec' trigger I've experienced. It's not a crazy light drop-in trigger, but it's a refined and smooth duty style trigger.
Spending a little extra money goes a long way in terms of reliability when your chips are down.
I'm not going to say a cheaper lower can't fire 10,000 rounds problem-free, but I trust the BCM could fire 10,000 rounds in a single day without issue.
395
at Rainier Arms
Prices accurate at time of writing
Prices accurate at time of writing
When mating the upper to the lower I noticed it was extremely tight.
I kind of expect that from two high-quality companies and a tight lower to upper fit should help the gun be a bit more precise.
The Furniture
I went with a BCM lower, and parts kit, so I might as well round it out with BCM furniture. The BCM MOD 1 pistol grip came with the lower parts kit, and it's a fantastic grip overall.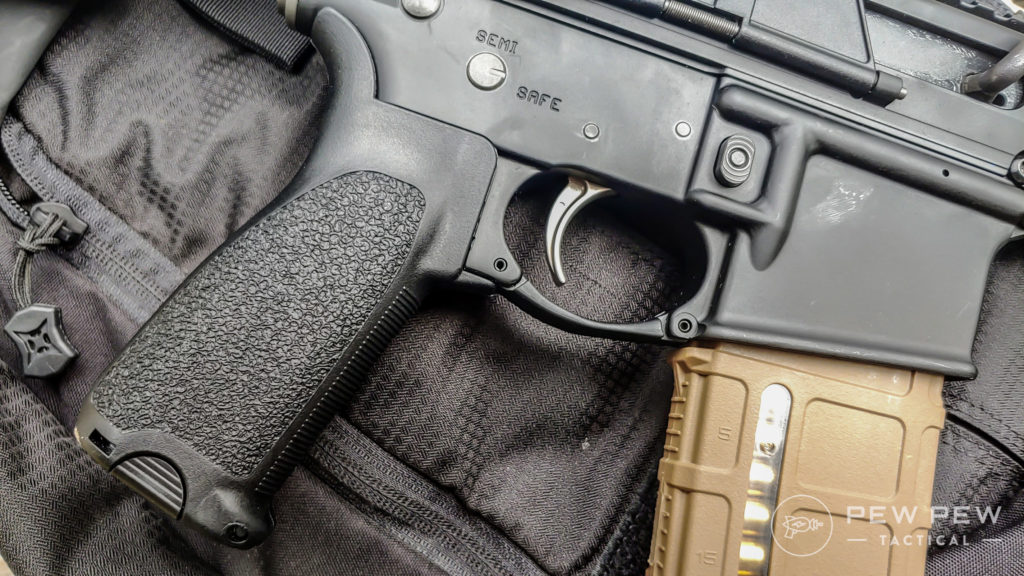 The Gunfighter Mod 1 grip is nice and comfortable, fills the hand, and even has a compartment to store Skittles.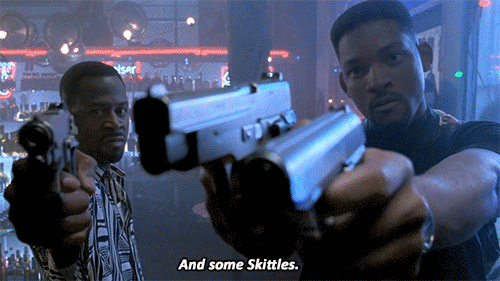 While I do like Magpul grips, I see no reason to swap the Gunfighter Grip out.
26
at Brownells
Prices accurate at time of writing
Prices accurate at time of writing
My all-time favorite stock is featured on this weapon and is the Gunfight Mod 0 SOPMOD stock. This M4 style adjustable stock has always been one of my favorites.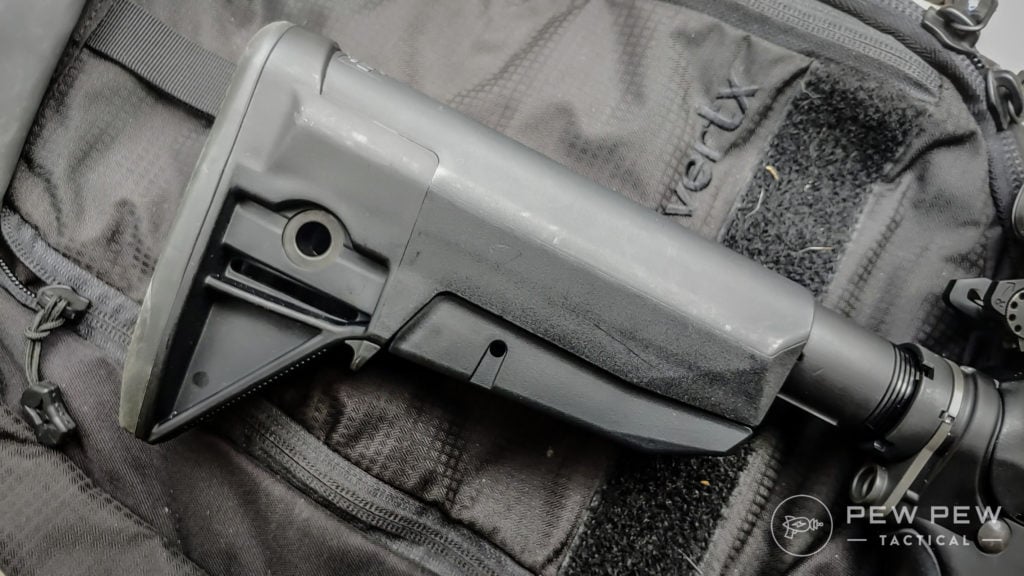 The stock offers an excellent cheek weld, which is one of the best carbine stock cheek welds on the market. The stock looks and feels good due to the patented internal latch adjustment system.
This locks the stock up extremely tight with very little wiggle or play.
It's as close to stable as you can get with a fixed stock. The design also incorporates a flat latch that keeps dirt and debris from interrupting the action of the sliding stock.
70
at Brownells
Prices accurate at time of writing
Prices accurate at time of writing
The Gunfighter stock is super strong, stiff, and comfortable.
It's also outfitted with both a QD point and a normal sling slot to accommodate whatever sling setup you go with.
The Optic
Currently, the gun is wearing a Swampfox TriHawk. The TriHawk is a fixed 3 power prism optic that is brand new to the market.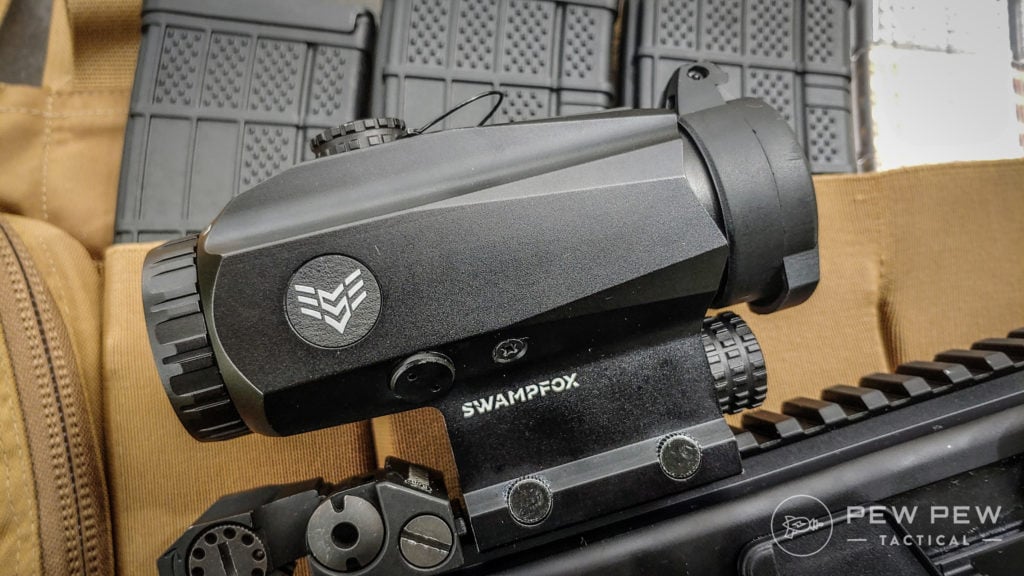 This may change, but not due to any fault of the Swampfox TriHawk.
I may just want a red dot optic in the future and might go that route for a dedicated home defense rifle.
As of now, I like the Swampfox for fighting the Red Dawn Russians parachuting from the skies.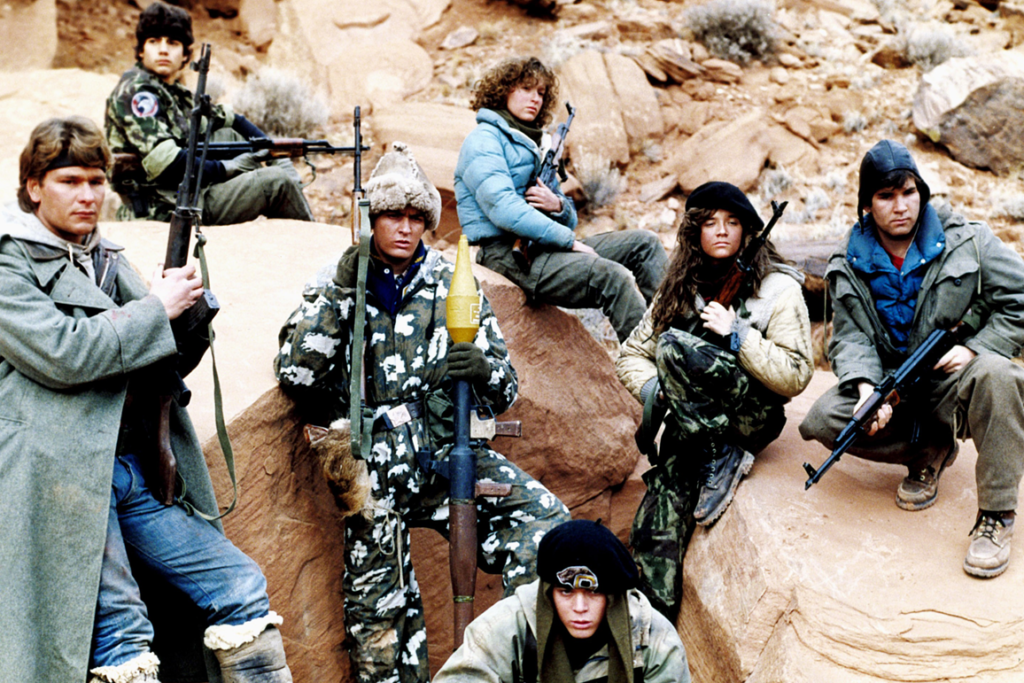 The 3X magnification is low enough to make the weapon usable at close ranges and powerful enough to give you a ranged edge.
I like reducing weight, and the TriHawk footprint is much smaller than a red dot and a magnifier. Also, another advantage it has over a red dot is the reticle.
The etched reticle doesn't require batteries and always works. A built-in BDC that allows for elevation and windage calls should I need to engage at longer ranges.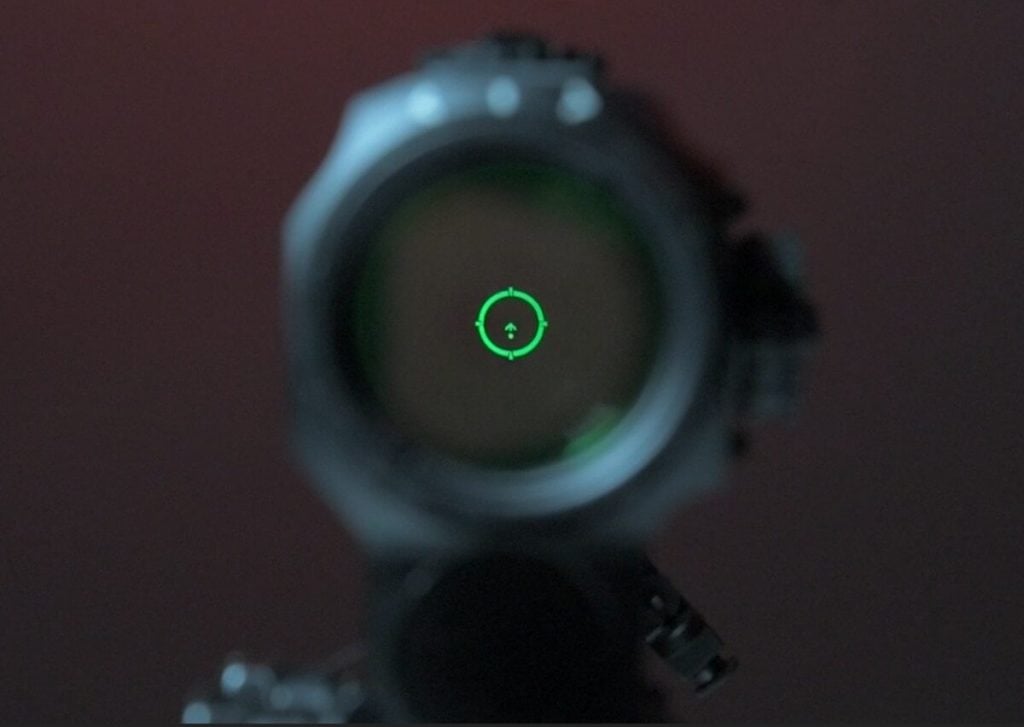 And at those extended ranges, the TriHawk also offers a class leading field of view for a 3X prism optic.
At a little over 52 feet at 100 yards it's 20 feet wider than the competition.
This gives you nice and bright sight picture that allows you to track your target. You can easily use both the Bindon Aiming Concept and occluded shooting techniques for close-range shooting.
The Swampfox TriHawk is an excellent optic and it's also very affordable. It punches way above its price.
Right now the TriHawk isn't released yet, but it should be hitting the shelves really… really soon. Swampfox's other prism, the 1x Blade, is on the market right now though — it's also awesome.
289
at Swampfox
Prices accurate at time of writing
Prices accurate at time of writing
The Sights
The backup sights are my also fantastic Troy CSAT/XS Sights night sights. These are a combination of Troy's ingenuity and XS sight systems night sight design.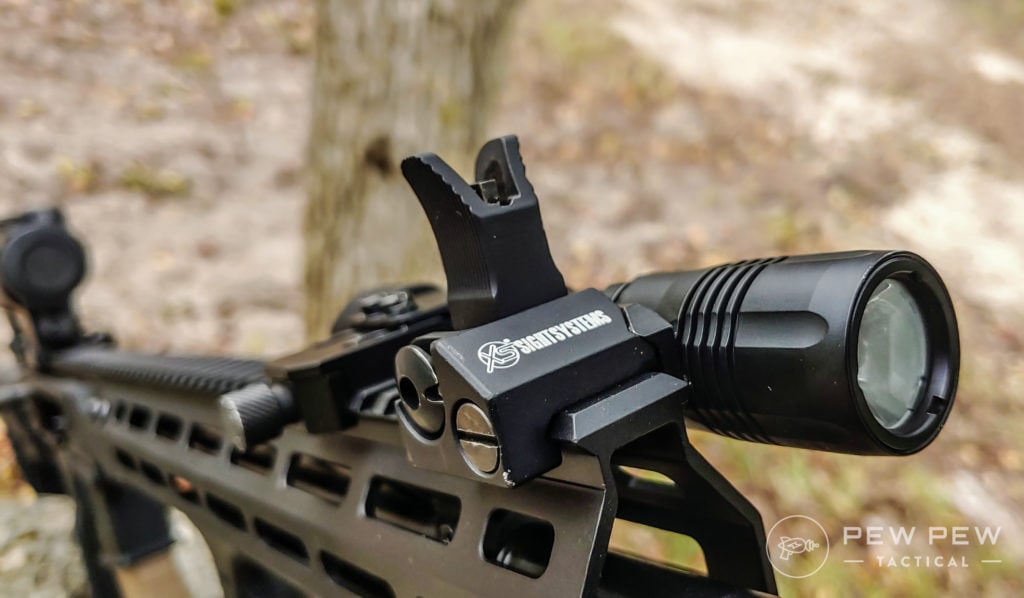 Basically, Troy back up sights with a tritium insert in the front sight.
They are all metal sights that fold down nice and flat and out of the way when they aren't needed.
The front sight is all metal and has a white high visibility portion that makes the front sight easy to find, and in the center is that aforementioned tritium insert.
It glows quite brightly and lives up to its name as an XS sight. The rear sight has the Troy three aperture CSAT design. This is your standard wide peep and narrow peep, but on top of the narrow peep is an open sight.
283
at Brownells
Prices accurate at time of writing
Prices accurate at time of writing
This open sight works more like a pistol sight and does allow for a quick transition from a precision peep sight to an open and quick rear sight for close encounters.
An all-metal design is very sturdy, and I want it to be sturdy on a weapon I envision as a fighting rifle.
The Light
For a weapon light, I wanted a superstar light that kicks ass and it's rock solid reliable. I also wanted a bright light that's good for both indoors and out.
These are requirements that would typically lead you to a Surefire.
However, I like to be a contrarian and went with the Steiner Mk4 Battle Light. The Steiner Mk4 Battle Light also happens to fit my needs rather well.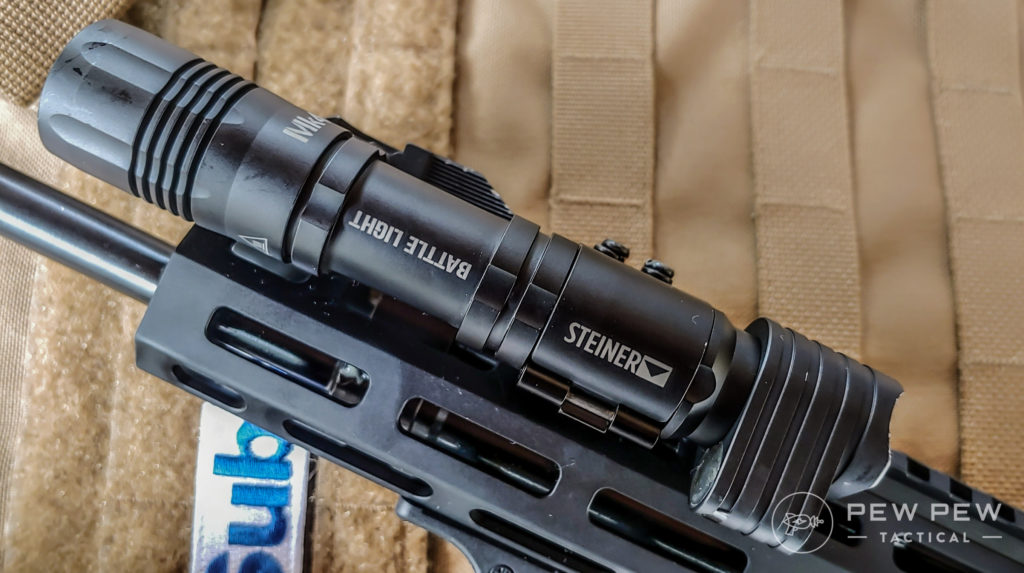 Putting out 500 lumens of light and is powered by two CR123A batteries. The light has a 1.25-hour runtime and works with both a pressure switch and a tail cap switch.
Best of all, it shines brightly and clearly with a wide and powerful beam.
The effective beam range is 300 meters and is plenty powerful for inside the home situations. If I decide to go outside the home and go swimming I can submerge the light up to 5 meters.
All-metal construction also ensures it can take some bumps and bangs along the way.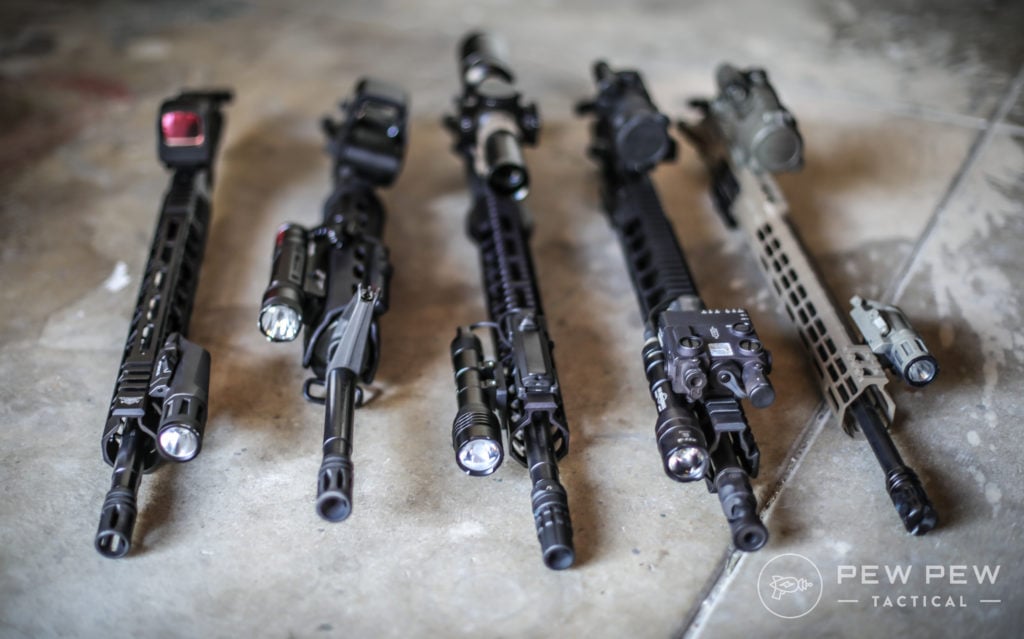 The mount is what drew me to the Mk4. It allows me to mount the light to the top rail and hang off the left side of the gun. This keeps the light tight to the gun and keeps the gun slim and also helps eliminate barrel shadow.
330
at Amazon
Prices accurate at time of writing
Prices accurate at time of writing
I have the light positioned for easy access and when I grip the rifle and I can access the tail-cap without a compromised grip and this allows me to use the light in a momentary function as well.
The Magazines
We have lots of options here right? There are tons of excellent magazines out there that get the job done. I've been drawn to the Magpul D60 drum for a home defense role.
Why?
Because 60 rounds are more than 30! It's unlikely that I'll need this many rounds to defend myself from bad guys, but what about aliens? What about werewolves?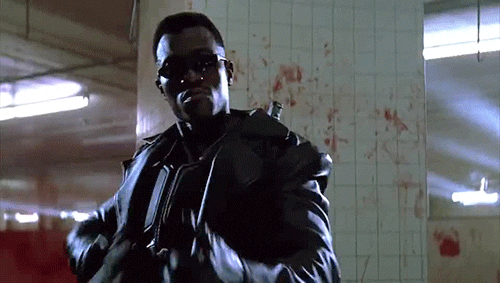 What about Red Dawn Russians parachuting into my neighborhood? In that case, I might be fighting the commies in my underwear without a plate carrier and a reload.
If I was fighting a war with a fighting rifle the D60 drum could be a valuable way to establish a base of fire. It's the most reliable drum on the market, it can be left loaded, and honestly it's an awesome tool.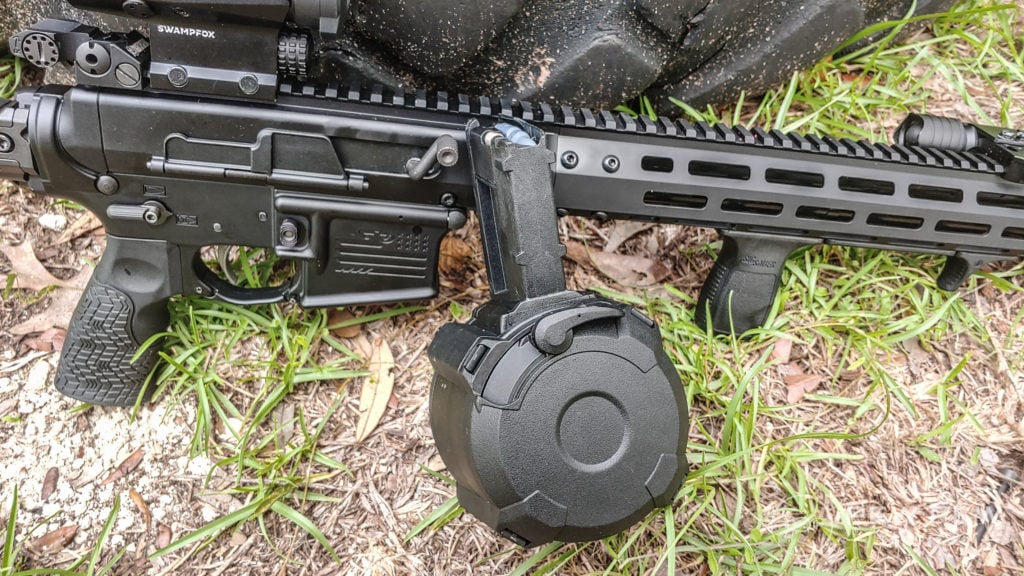 For more realistic scenarios I do like my Lancers. I have some brightly lit Purple and Red Lancers from GunMagWarehouse so I can be vain and stylish. Lancers are a hybrid design with a polymer body and metal feed lips.
They are incredibly strong, textured well, and have been a staple in my magazine collection for a long time.
105
at Brownells
Prices accurate at time of writing
Prices accurate at time of writing
Outside of Lancers, I love Gen M3 PMAGs, especially the windowed models. Gen 3 PMAGs are the most popular choice for AR and STANAG magazines. The Gen M3 PMAGs are in use by several military forces due to their reliability, affordability, and lightweight design.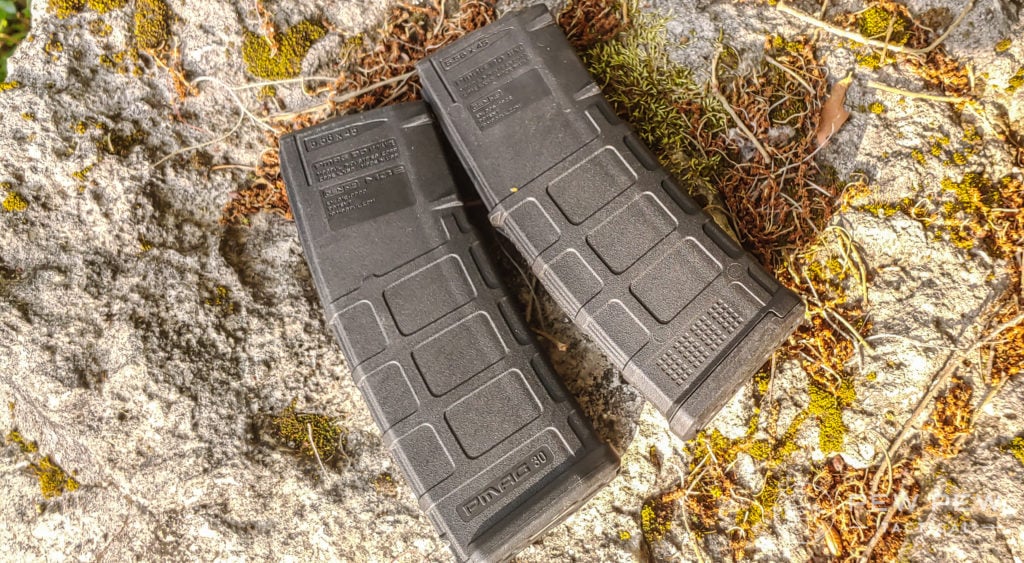 PMAGs and Lancers are my go-to, both are very affordable and easy to find. The PMAGs tend to be a little cheaper and more modular than the Lancers.
15
at Gun Mag Warehouse
Prices accurate at time of writing
Prices accurate at time of writing
The Foregrip
I ran across the SIG Tread M-LOK kit and it instantly caught my eye. It's a complete kit with several M-LOK panels, a small and larger grip stop, a barricade stop, and a short vertical foregrip.
It was affordable and looks perfect for what I wanted.
I do like a stubby grip that I can pull against. I've mentioned it more than once but a bad left shoulder makes different angles painful and reduces my ability to control long guns.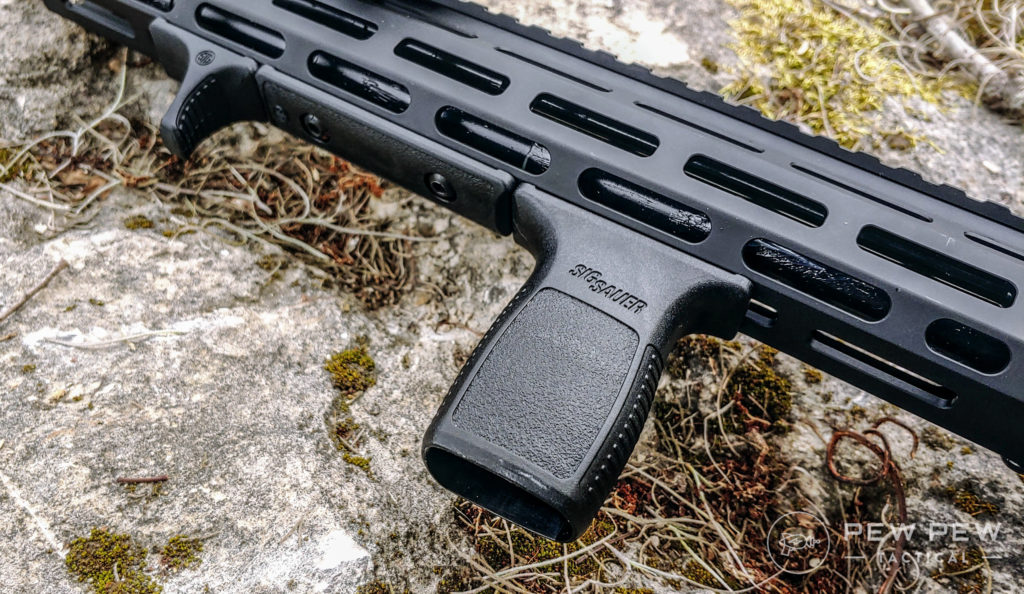 A few things do help, and one of those is vertical and angled grips.
I use the short stubby grip as a quasi vertical grip and this allows me to hold the weapon in a firing position for a very long time comfortably. I can also pull the rifle backward into my shoulder without any grinding or popping.
I also installed some grip panels and a handstop on the rifle. This ensures my hand placement is always the same.
The grip panels also absorb a lot of the heat off the barrel and make it more comfortable to grip for extended range trips.
I placed the foregrip and the light in such a way I could easily access the light tail cap switch while keeping a good grip on the rifle.
45
at Optics Planet
Prices accurate at time of writing
Prices accurate at time of writing
With all this installed I have a few extra parts I can use on a different build. For the price, it honestly provides quite a bit of options and parts and pieces.
It extends the Lego-like nature of the AR-type platform.
The Sling
Every fighting rifle has to have a sling and I have a bias towards my slings. The Blue Force Gear Vickers Sling is my go-to, and the specific model I'm using is the Medic Sling.
What is the Medic Sling? It isn't much different than your traditional Vickers sling.
Like a regular Vickers sling, it's a two-point sling that can be rapidly adjusted. The difference with the Medic Sling is that the sling features two quick-adjust tabs and allows you to tighten both the front and back of the sling.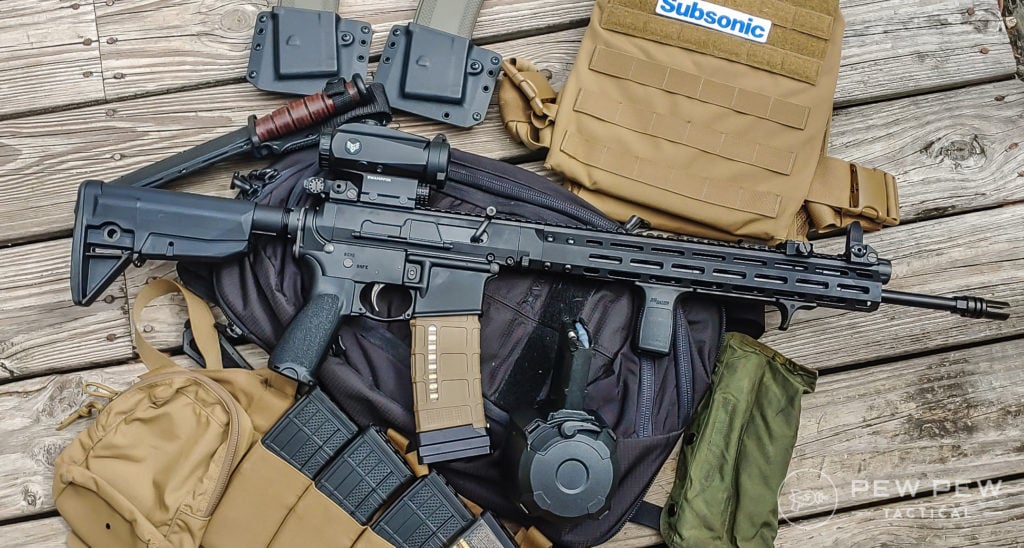 The two tabs allow you to maximize your sling potential in almost any situation.
From shooting to carry a wounded buddy the sling makes a lot of sense.
The Medic Sling name says a lot and it's worth pointing out that the sling does work extremely well if you have to bend over a patient, and need to secure your rifle without putting it down.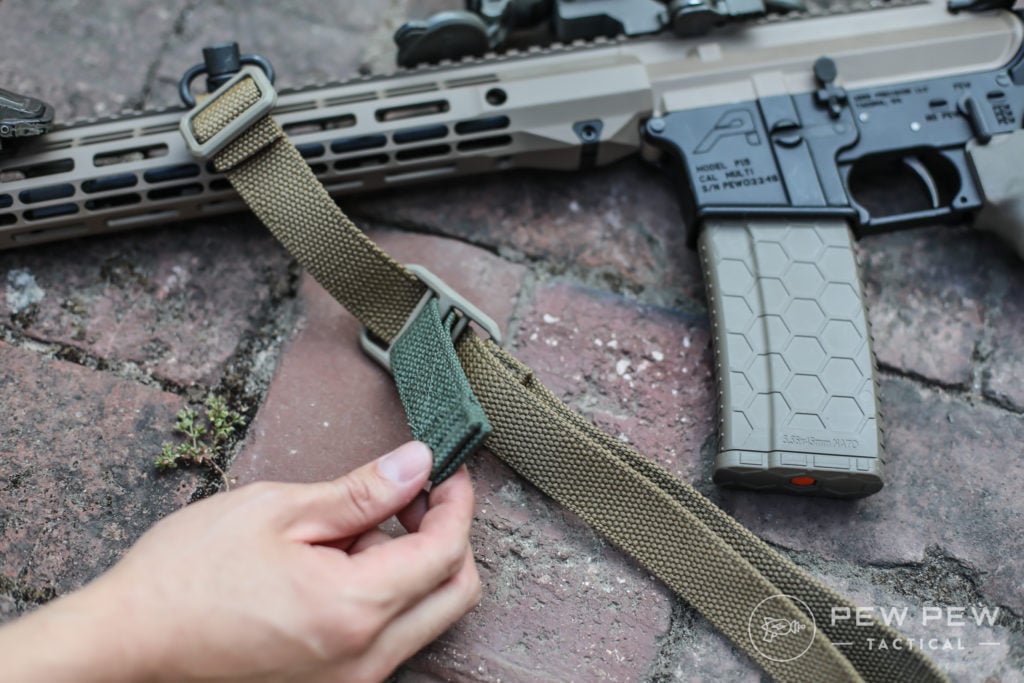 I'm not a medic, but I do appreciate the adjustability that goes both ways giving me the maximum amount of versatility.
But… the Medic Sling was a limited run back in 2017 and we haven't seen them since… so eBay or tactical gear forums if you're lucky, or just get a normal Vickers sling.
55
at Brownells
Prices accurate at time of writing
Prices accurate at time of writing
The American Fighting Rifle
So this is my fighting rifle. It's built to last, built to fight, and mostly it's built to be a lightweight and very handy rifle.
This has become one of my favorite rifles of all time.
What's are your thoughts? Opinions? Suggestions even? Let me know below! If building your own rifle isn't for you, take a look at the Best AR-15s!