A solid rifle, good ammo, and a well-made scope are the keys to getting accurate and precise rounds on target, right?
Well, we forget one thing, the glue that holds the rifle to the scope, the scope mount. The way you mount your scope matters more than you'd ever expect. Without a good mount, you won't have a good zero.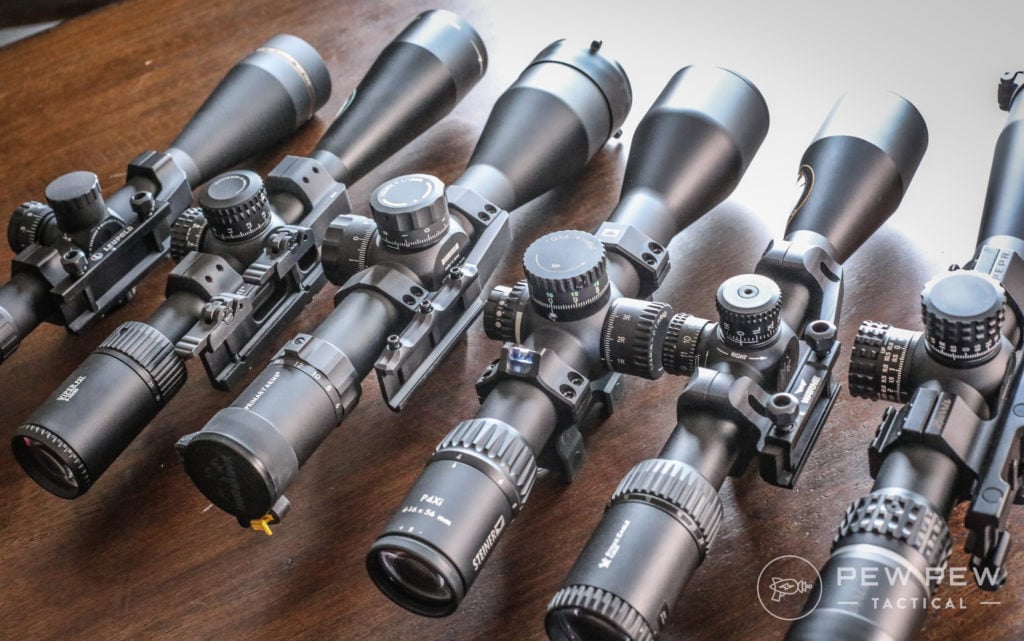 Without a good zero, you won't hit your target when you need to.
So let's talk scope mounts, and hopefully, the only question you'll have at the end is FDE or Black.
Table of Contents
Loading...
The Different Types of Mounts
Like everything in the firearms world, you have options. Lots and lots of options. This isn't just options for different companies, but different options for mount designs.
There are two different options for optic's mounts, and both have their pros and cons. The two are one piece mounts and scope rings. Choosing between the two will depend on a few different factors.
In some cases, it will just be personal preference. In others, it will be based on how your rifle is set-up. In other cases, it depends on what your gun is trying to do.
Let's talk a bit about each design.
One Piece
One piece mounts are all the rage these days. They are simple, easy to mount and dismount and perfect for the modern tactical rifle. Most are going to require a rail base like those you see on flat top AR 15s.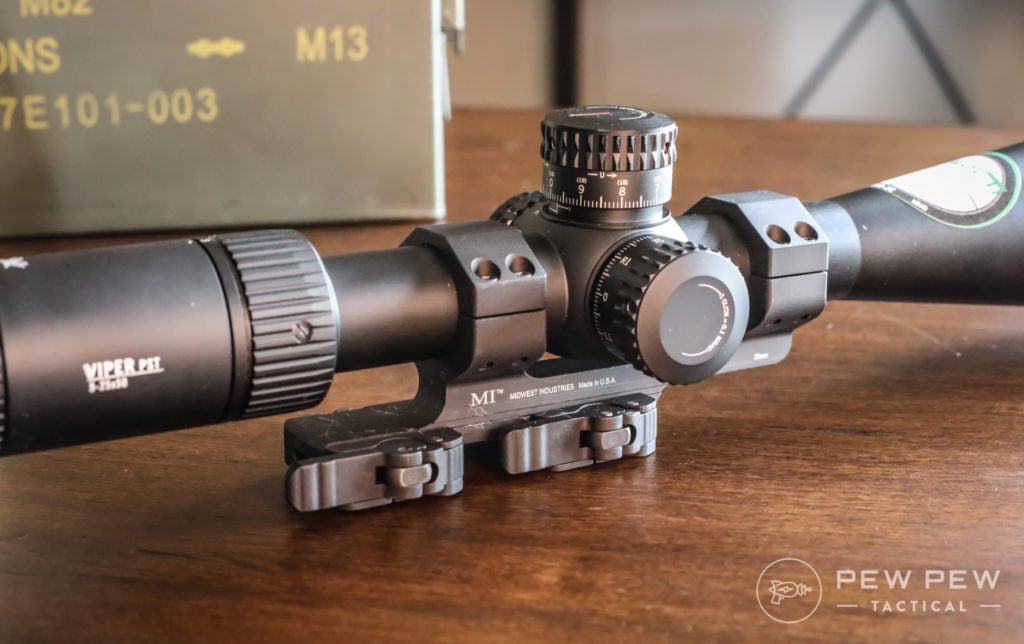 One Piece mounts are very rigid and robust, and they are often built at heights that work well with modern rifles. They are also more straightforward to use, and there is no need to worry about alignment when mounting the scope.
One piece mounts do tend to be heavier than rings, and if you are trying to trim ounces, these aren't the choice for you. One Piece mounts are best suited for semi-auto rifles in my opinion.
Scope Rings
Scope rings are the older of the two methods. Scope rings are just that, two rings that attach to the weapon and then to the scope. The design is simple, rugged, and has worked for generations.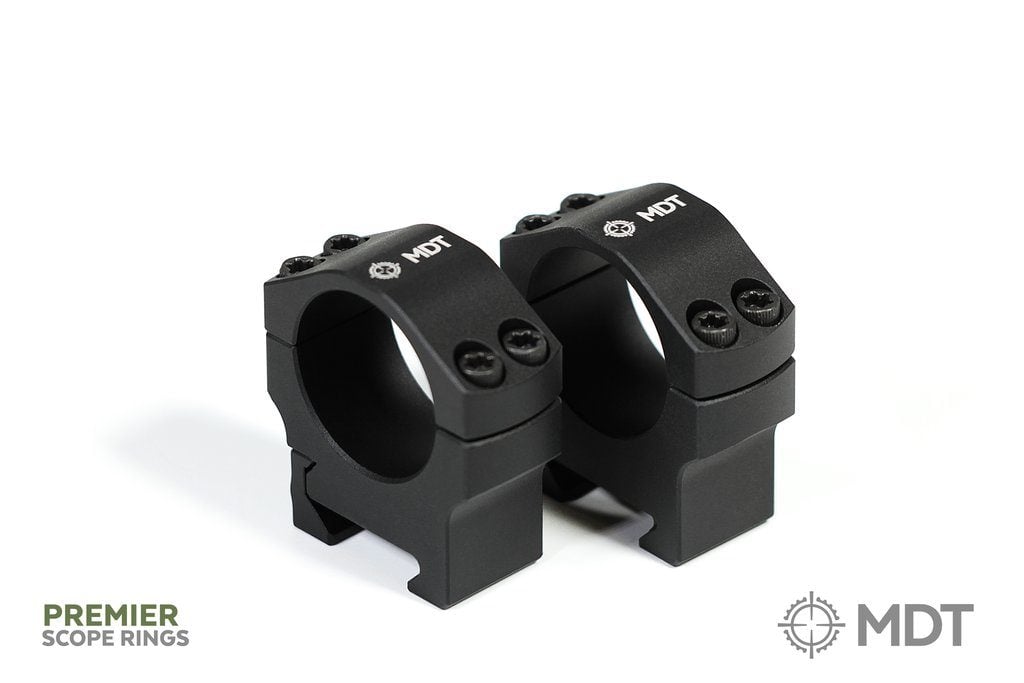 Scope rings are lighter in weight and generally a bit cheaper than most one piece mounts when comparable quality is taken into account. Scope rings are also usually more natural to use with bolt action rifles. A one-piece can get in the way of the bolt coming up and back, and scope rings won't do that.
Scope rings can also be canted for long range shooting. Something one-piece designs cannot do. Scopes rings are slightly more complicated to attach, and aren't;t as rigid, but with a little practice it's not hard to figure out.
The Different Types of Attachments
Not only are there different mounts, but there are different bases to which they attach. You have to match base to the mounting system, so it's crucial you understand the difference between the two.
Here are a few of the most universal mounting systems.
Weaver and Picatinny
Rails, we all know them, and we all love them. Rails changed the way we could attach accessories to guns. When it comes to optics, there are two you need to know about, Weaver and Picatinny.
The good news is the rail systems and mounts are interchangeable! Until they aren't. Yes, this can't be as simple as saying Picatinny rings will entirely work with Weaver bases!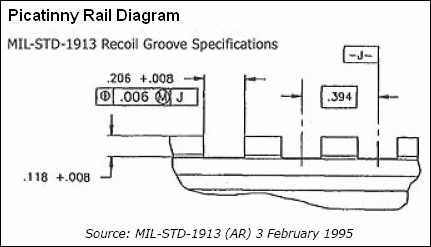 In some cases, they will, in others not so much. There are slight dimensional differences between Picatinny and Weaver rails and bases. In most cases, rings or mounts made for Picatinny mounts will work with Weaver bases and vice versa.
However, this isn't always the case, and its hard to say that specific mounts will work with particular bases if they do not match. Picatinny rails are the mil standard, and Weaver is a commercial standard that a hair older.
The rail systems each have slots that are built to a specific standard. Mounts have bolts or cross-slots that fill the empty sections of these rails. This design keeps the optic from sliding rearward with recoil and makes it impossible for the scope to slip in transit or travel of any kind.
Picatinny rails are broader and deeper than Weaver rails, and this is where you may run into issues. If the mount features cross slots and bolts designed to strict Picatinny standard it won't fit into a Weaver base. It's uncommon to see mounts with perfectly cut Picatinny bolts and cross slots, but it does happen.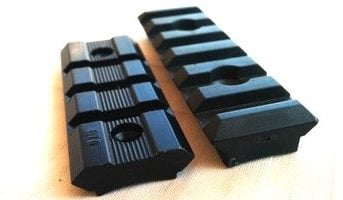 Weaver mounts will fit Picatinny rails as far as I know. If I'm wrong, please let me know below. Another issue is that weaver mounts may have irregularly placed slots. This makes mounting a one-piece difficult if you don't have even spacing.
Picatinny rails always have evenly placed rails. My suggestion is to match Weaver with Weaver and Picatinny with Picatinny when in doubt.
Dovetail
There two different types of Dovetail bases. One is very common on rimfire rifles and the second is more common on centerfire weapons. The rimfire Dovetail mount is a tiny rail that's designed to fit smaller rings and scopes for lower recoiling armaments.
Dovetail mounts can come in different sizes, but the most common in the United States is a 3/8 Dovetail. You'll see these on air rifles, and rimfire rifles. They are small, simple and do work well. It's easy to find rings for this system, and it's very affordable.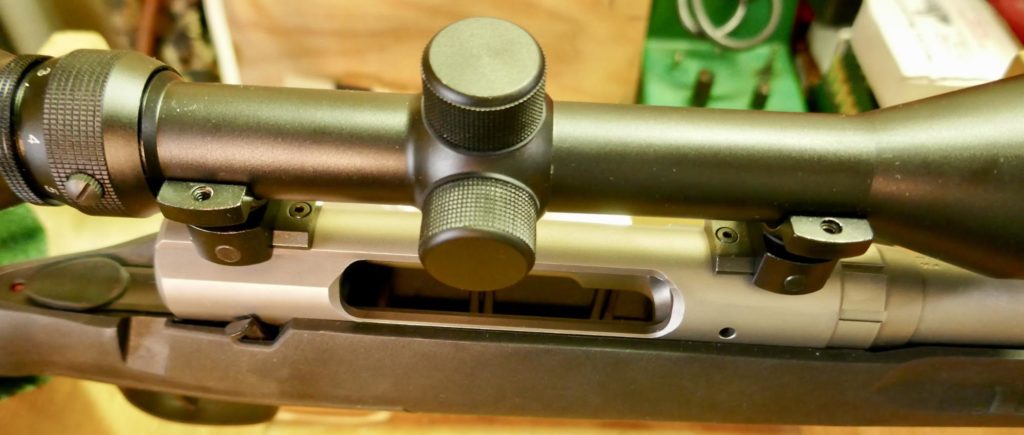 The second Dovetail has two designs within it. Dovetail rails are a lightweight, two-piece system that uses a rotating locking base. You'll see these mostly on bolt action rifles. The system is simple and effective.
The Dovetail base will have one or two rectangular female slots built into it perpendicular to the bore. The scope rings will have rectangular male slots that drops it this base. You then turn the rings toward the bore. This action locks them in place.
Some Dovetail bases will only have a forward slot, and the rear ring and base can be adjusted almost like a rear sight. This design adds extra left and right adjustment to an optic.
Dovetails are a very sturdy system that's remarkably lightweight and get the scope nice and tight to the bore of your rifle.
Integral
Integral designs are when the base and ring or mount, is one solid piece. This super simple option is preferred if you want to keep things simple. If you only plan to use one scope and one set of rings on one gun, then you'll be set with an integral mount.
Of course, your rifle will have to be built to accept an integral mount. A lot of bolt actions are, but zero AR 15s are. So know that going into it.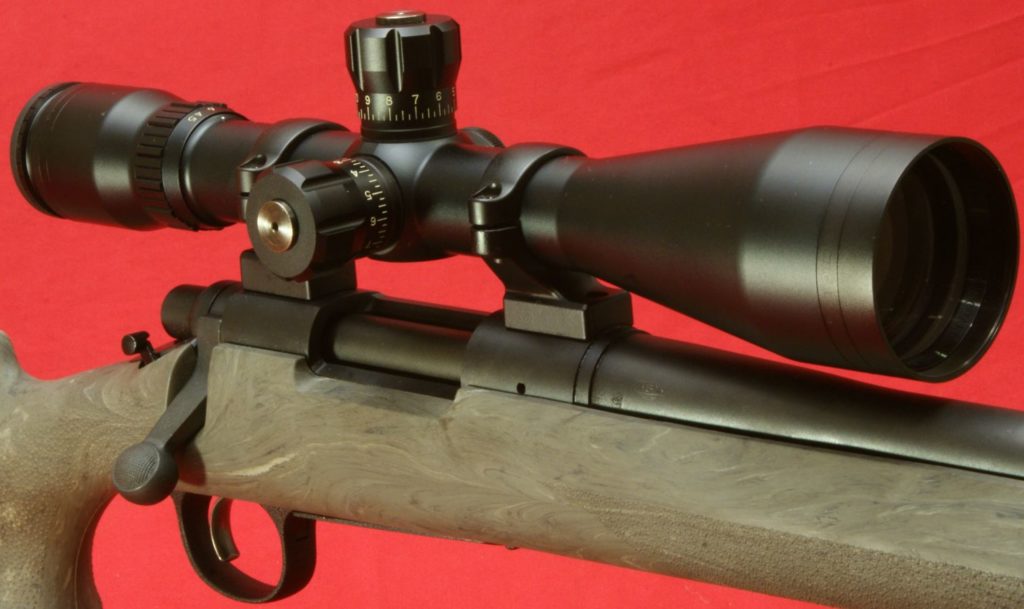 It's a very low maintenance solution to the scope mounting problem.  
What Else?
There are a few more things that don't rate an entire section unto themselves but bear mentioning.
Offset Mounts
Offset mounts are mounts that push the scope forward. These are designed mostly for AR pattern rifles. The AR was designed with a carry handle, and a flat top came later.
Since it was designed with iron sights there isn't a ton of room for larger variable optics. Red dots, 1-4xs, and ACOGs all fit fine. What about a 4 to 12 scope though?
76
at Brownells
Prices accurate at time of writing
Prices accurate at time of writing
If you mount with a traditional system, you'll likely end up with the optic to far rearward, and can be challenging to use. An offset mount allows you to install the optic with the rings pushed forward, positioning the scope further from your eye.
This leaves room for back up iron sights and makes it much more comfortable to use more powerful variable optics on an AR platform.
Is QD For You?
QD, or Quick Detach, systems are all the rage. A QD system is quick to mount and dismount and usually uses a locking throw lever design. These systems are easy to install, and there is no worry about tightening them too little or too much.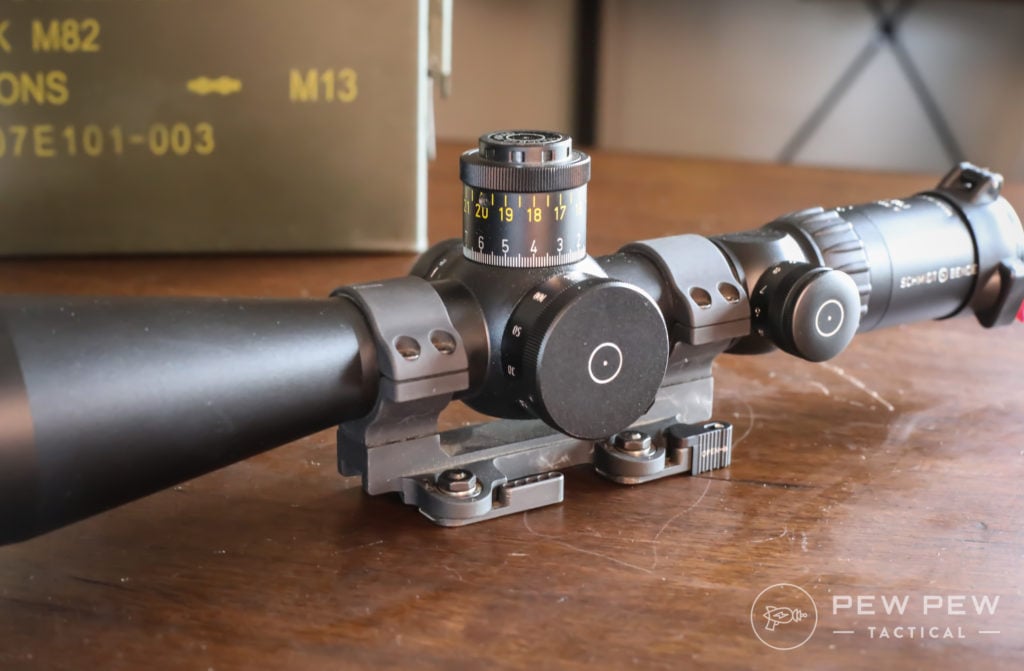 QD rings and single piece mounts are trendy these days. It makes it easy to remove an optic from a gun and retain the zero. Of course to maintain the zero it needs to be installed on the same rail position it was zeroed on.
This allows you to efficiently run multiple optics on one gun. It's easy to swap between a red dot and a variable optic with a QD mounting system. Or, even swapping between a daylight or night time optic.
Mount Height
You want to mount your scope as low as possible without touching the barrel. This aids in keeping your adjustments accurate and getting the most out of them. With that in mind, the size of your scopes objective lens will determine your scope's and ring height.
Another factor will be your barrel's contour, and a thicker barrel may require a higher mount. Also, some companies produce optics with a nearly flat bottom objective lens, and this allows you to mount a larger objective lens lower.

A rule of thumb to follow with mount sight and objective lenses is:
A 40mm or smaller objective lens uses low mounts.
A 42-45 mm objective lens uses a medium mount.
50mm and up will use a high scope mount.
These measurements are taken with a standard contour barrel, nothing fancy here.
What About Handguns?
Mounting miniature red dots on handguns is growing in popularity, and there are several systems to do so. You can send the slide off to be milled for a specific sight, and factory options from SIG, Glock, FN, and Canik now exist.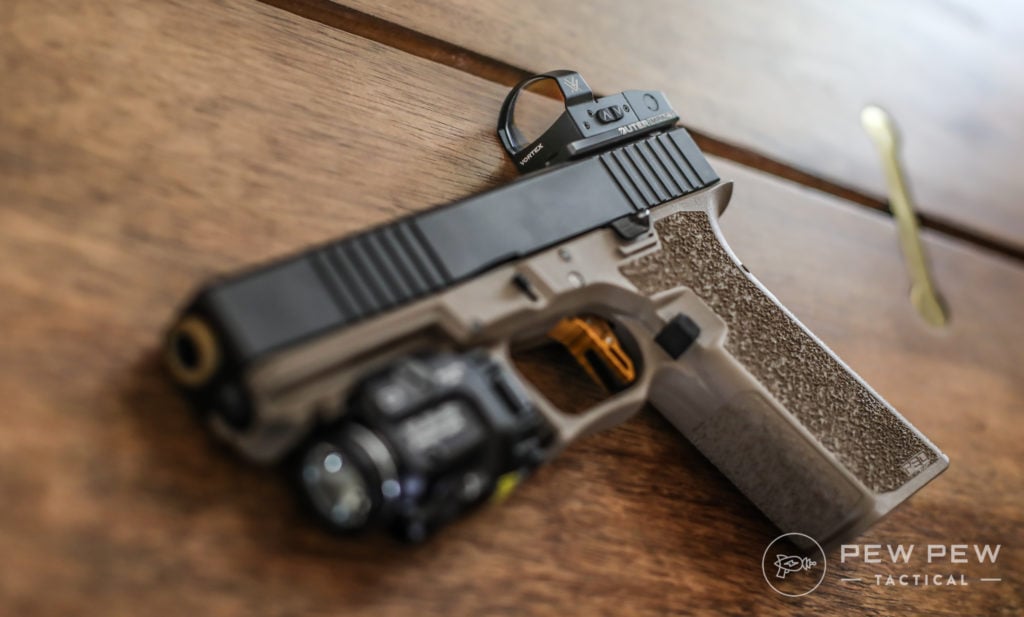 The most affordable way is a rear sight replacement. This mount leaves your existing gun unchanged but does mount the optic higher than necessary. It's not an option I'd use for a defensive firearm, but I wouldn't mind it on a fun gun or even a competition pistol.
It's an affordable way to experiment with the concept and a lot of mounting systems exist. Burris makes a ton of these different mounts for their Fastfire series, and many options exist for Trijicon RMRs.
Best Scope Mounts
Before we go, I wanted to talk about some of my favorite mounts. There are hundreds of different options out there that range from crap to holy crap. By Holy Crap I mean some cost as much as some guns I own.
It'd be easy to toss these expensive mounts on this list, but I want to make a list the majority of shooters could use. This doesn't mean cheap, but it does mean I'm aiming for affordable.
However, you may see one or two expensive mounts simply because I only have so much self-control.
Vortex makes some great optics across all budgets, and their rings are no different. These well-made rings are affordable and come in low, medium, and high designs. They are designed for both Picatinny and Weaver bases as well.
Best Rings
60
at Amazon
Prices accurate at time of writing
Prices accurate at time of writing
The rings are machined from 6061-T6 aluminum and use Torx style socket cap screws to mount your riflescope easily. They are available in both 1-inch and 30mm configurations as well. These are very secure scope rings, and I like the opening design.
It makes it easier to work on with the Torx screws and opening at the top instead of the sides. This way you won't overtighten on one side versus the other as you install your scope. They are peculiar looking but are useful. Much like your humble author.
Ooh, this one is slightly more expensive, but for its purpose is relatively cheap. If you need a precision rifle mount, then the Nikon Black Series has you covered at a low precise compared to something like a Larue. The Nikon Black Precision 1 piece has four points of contact with your scope.
Best One Piece
90
at Amazon
Prices accurate at time of writing
Prices accurate at time of writing
This will give you a much stronger overall grip and a very strong hold over your scope. This makes it perfect for powerful, long-range rounds. It's Picatinny compatible and easy to install.
While it's easy to install, it isn't quick. The four scope rings built onto the mount means you need to take your time when installing and loc-titing everything down. It certainly tries your patience but is well worth it once lead starts to fly.
Aero Precision makes a lot of great stuff, from complete AR-15s to their AR-10s and all of the parts that go with them – you can count on Aero to deliver something with a huge amount of value for the cost.
Best Cantilever Mount
76
at Brownells
Prices accurate at time of writing
Prices accurate at time of writing
The Ultralight Mount is just another entry into that area. Living up to its name and weighing roughly 3.25oz the Aero mount is strong enough for any type of topic and rifle combo, but still light enough to not ruin your build.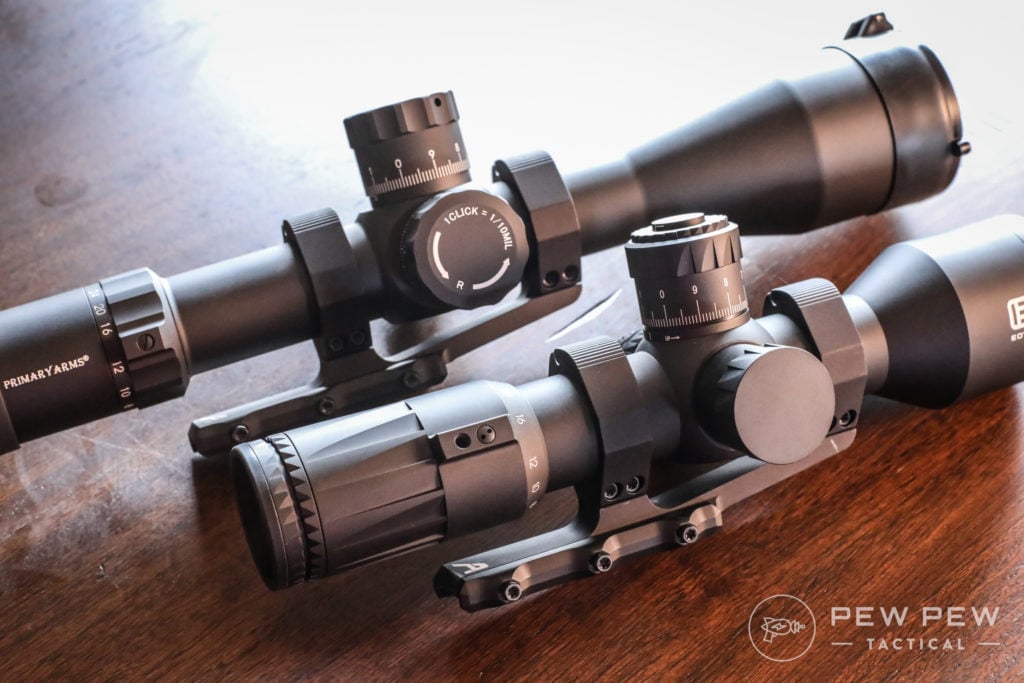 What's your take on the Aero Lightweights?
Leupold is a famed optics manufacturer that dived headfirst into the scope accessory world. The Leupold Dual Dovetail rings are perfect for getting a low and secure mount on your Dovetail equipped rifle.
Best Dovetail Rings
35
at Amazon
Prices accurate at time of writing
Prices accurate at time of writing
This is a simple, but a rugged setup that's easy to install and well suited for hunting rifles. I appreciate the simplicity of a Dovetail mount system. It's not for everyone and its a bit out of style these days, but it's still a system that works.
Leupold is undoubtedly doing their best to support Dovetail set-ups and is one of the few significant players still producing Dovetail Bases and Rings.
Brevity doesn't seem to be in Burris' wheelhouse when it comes to naming optics mounts. The AR-P.E.P.R. mount is a modern cantilever mount for modern rifles that features two locking throw levers for QD capability.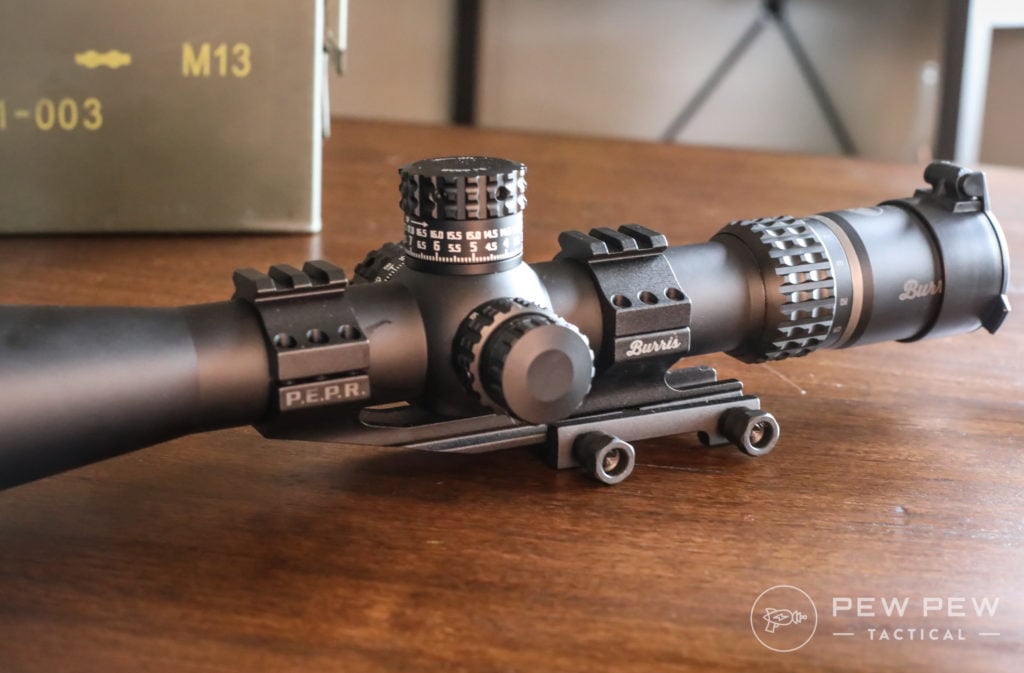 The mount comes in 1 inch, 30mm, and 34mm configurations.
Best AR QD
95
at Amazon
Prices accurate at time of writing
Prices accurate at time of writing
The secure mounting system is perfect for Burris optics as well as a number of aftermarket optics. This lightweight system even sports two sections of Picatinny rails on the top of each ring. This makes it easy to attach a miniature red dot as a backup sight.
The cantilever design does give you 2 inches of forward scope position, making it perfect for MSRs. The Burris AR-P.E.P.R. is an excellent design, and an affordable one. It's also backed by one of the best warranties in the business.
For quality QD rings we'll go back to Warne. These rings combine the features I like from Vortex with Warne quality and QD rings. This means the screws are at the top and it's easier to take apart and install an optic.
Best QD Rings
50
at Amazon
Prices accurate at time of writing
Prices accurate at time of writing
At least, in my opinion, it is. The QD aspect is a simple large throw lever. It's easy to reach and grip, even with an optic sitting right over it. The Warne rings come in 1 inch and 30mm models for both Picatinny rails and also Dovetail bases.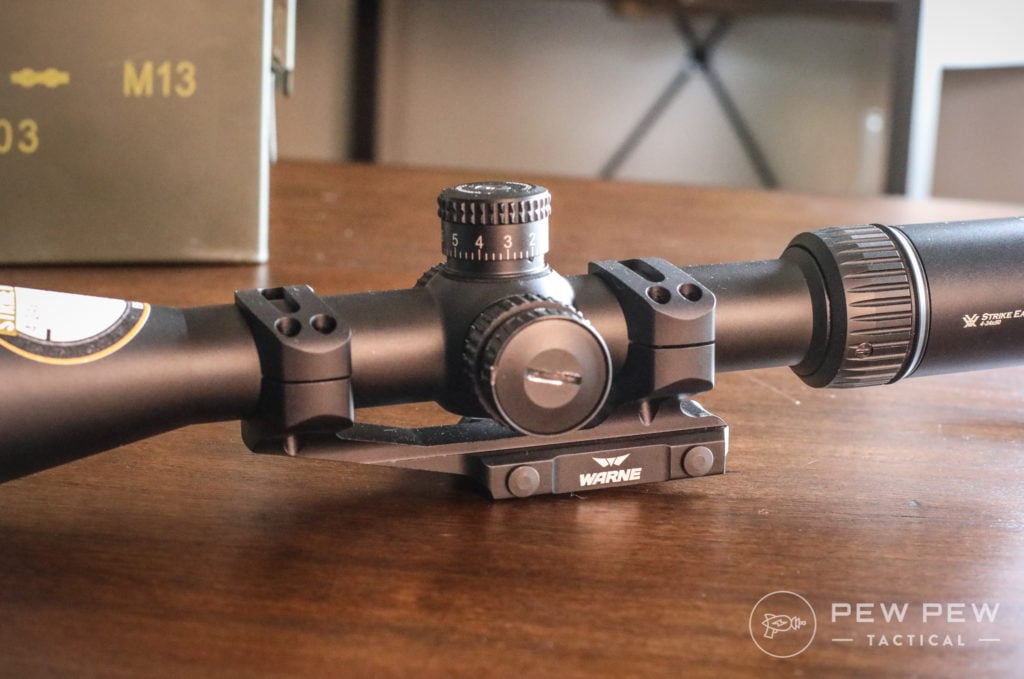 The rings also come in low, medium and high heights. The lever is also indexable! Which means you can position it where you need and want it for easy removal.
Handgun Optics
Okay, We'll talk Handgun mounts right before we leave. There are two I'm going to list here. One that attaches to a Picatinny rail and one that replaces the rear sight.
The Rear sight model is from Burris, and this example is for the P226. That being said this model and style from Burris do come in configurations for 1911s, Berettas, XDs, Glocks, and more.
30
at Amazon
Prices accurate at time of writing
Prices accurate at time of writing
The rear sight replacement plate allows for a lower profile optic mounting that's compatible with most holsters. They are optic and footprint specific, and this model is made for the Burris Fastfire series. It is a hassle to install and does eliminate your ability to mount a rear sight for co-witnessing.
A Univeral Picatinny rail mount option attaches to a gun's Picatinny rail, so your weapon has to have one. The mount, this particular one is from Mako, then goes above the slide of the pistol. Here is where you mount your optic.
60
at Amazon
Prices accurate at time of writing
Prices accurate at time of writing
You can mount any optic that attached via Pic rail, including magnified scout scopes. The downside is of course size and weight, as well as a loss of holster compatibility.
Backup Red Dot Mount
In researching this article, I started seeing lots of miniature red dots mounted alongside variable optics as back up or close quarter combat options. The GG&G offset red dot scope mount is a simple addition to any rifle that gives you an offset portion of Picatinny rail.
20
at Amazon
Prices accurate at time of writing
Prices accurate at time of writing
You can attach almost any miniature red dot here, and run it as a simple backup optic. The addition of a red dot with a variable optic opens up lots of possibilities, especially for modern sporting rifles. These versatile designs are plenty accurate and precise enough for a variable optic but are also excellent close quarters weapons.
This kind of mount makes it easy to make a rifle even more versatile.
Mount Up, Regulators
Okay, that shows my age and taste in hip-hop, but I've wanted to use that line for a while. Anyway, the world of scope mounts is enormous, way more significant than most people expect. You have so many options for your bolt gun, your lever action, your single shot, your handgun, and I can keep going.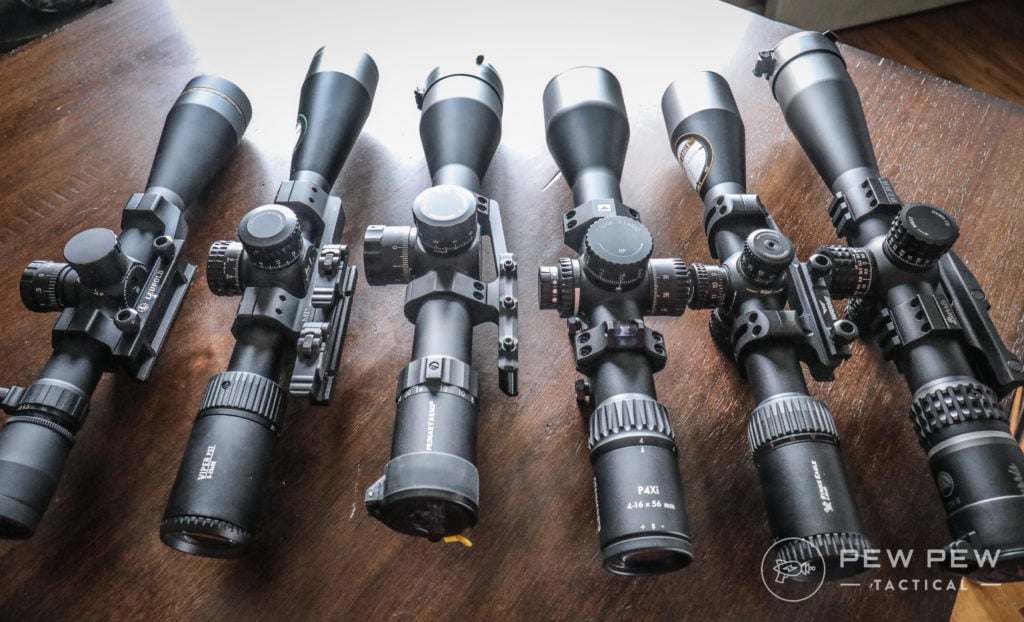 Outside of some necessities, a lot of your choices are personal preference. This means I want to turn it over to you folks.
What are your preferences? What works? Should I have included a 400 dollar Larue mount I am low key in love with? Let me know below!