Firearms fall into a few categories…rifles, pistols, and shotguns serve as the main firearm categories for the civilian world.
And each of these firearm categories is well defined by law.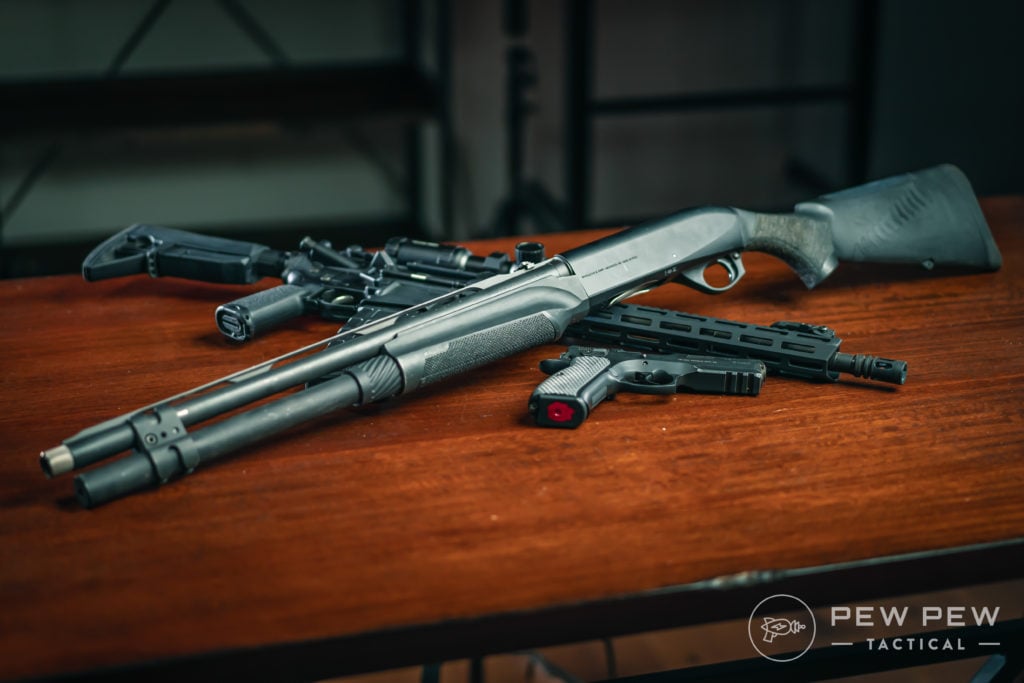 But what happens when a firearm pops up that doesn't fit into one of those but also isn't defined as an NFA firearm?
Well, it earns the label of "firearm" and falls into the "other" category of guns.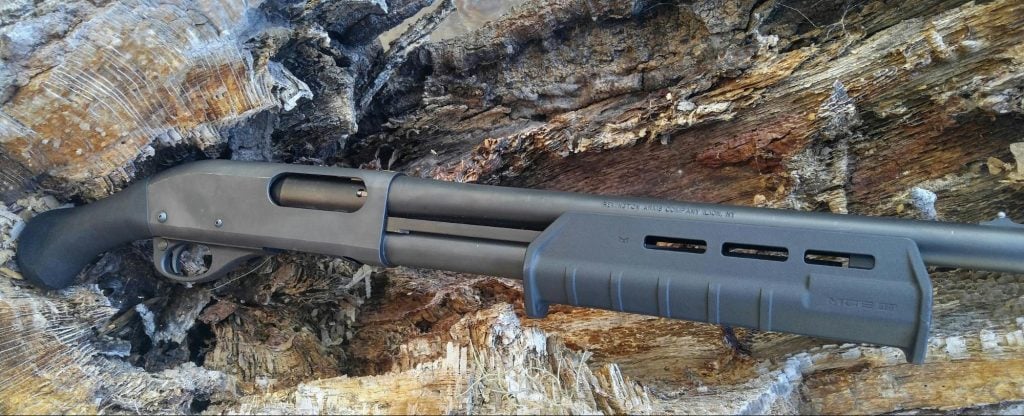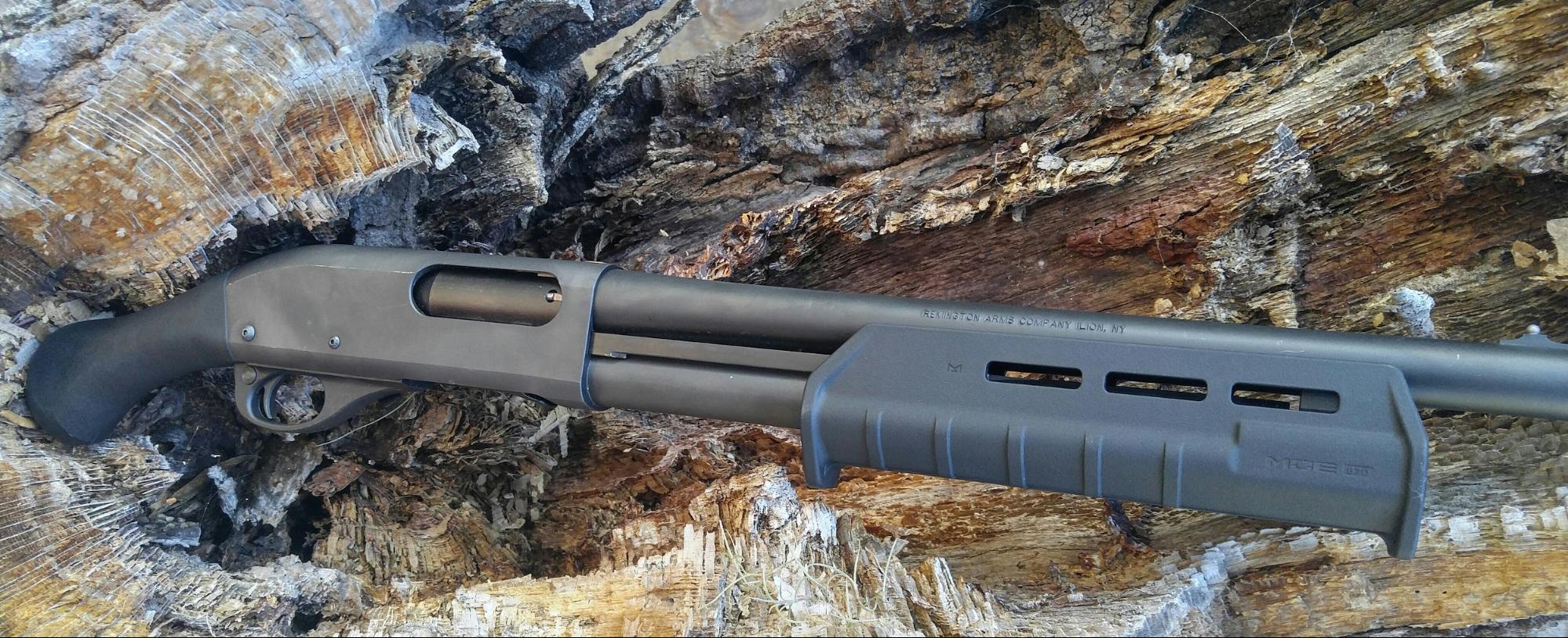 Today we're going to talk about this special category, and we'll even run down some of our favorite "other" guns.
So, keep reading to learn more…
Table of Contents
Loading...
What is a PGO or Other Firearm?
As I mentioned earlier, the "other" category houses guns that don't fit into the pistol, rifle, or shotgun arenas.
Commonly referred to as PGO, or pistol grip only this "other" category has its own set of rules.
First, no stocks allowed.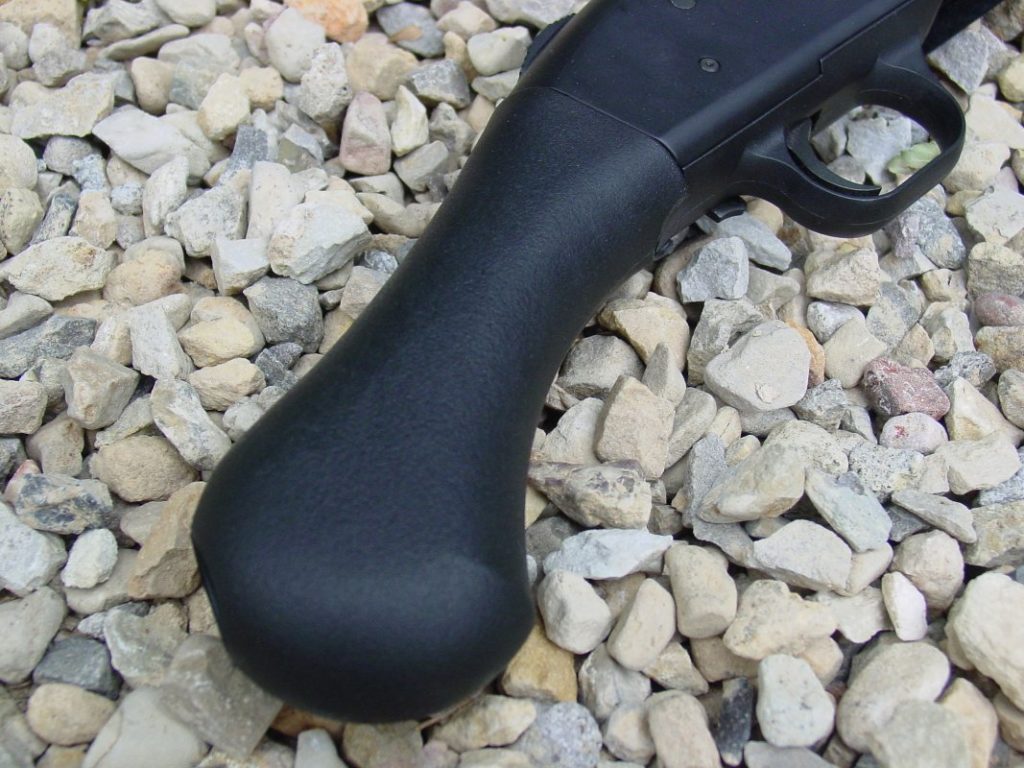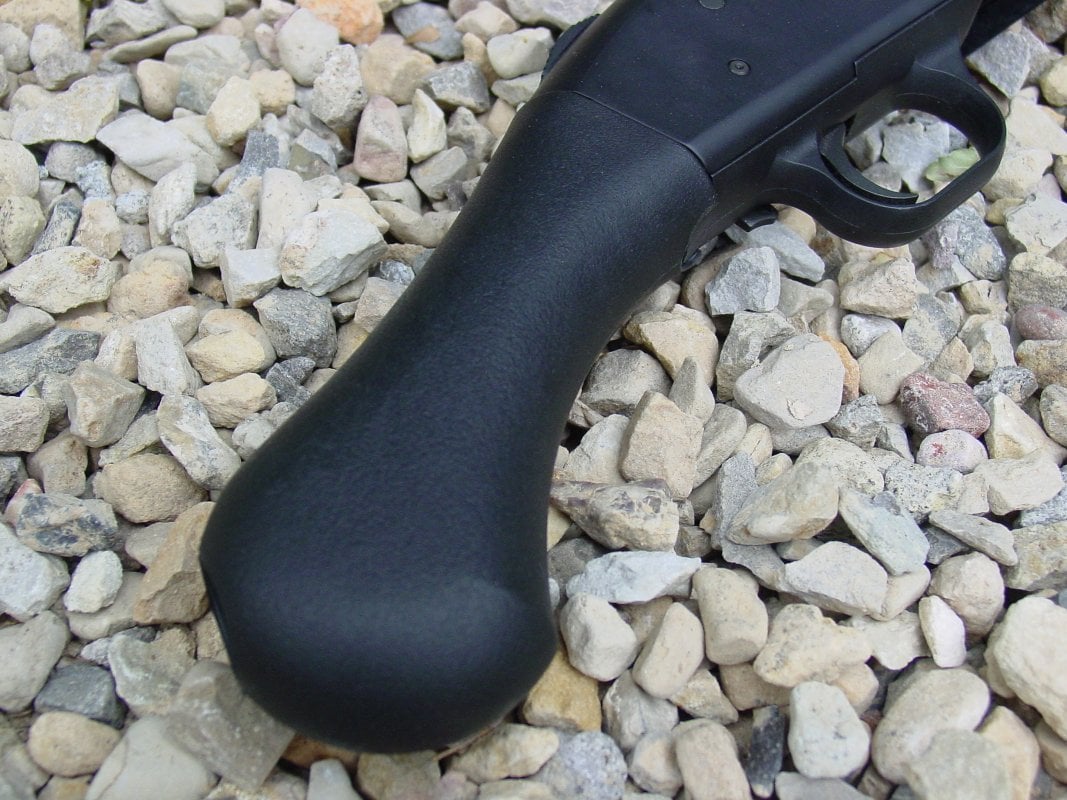 Second, they must measure over 26-inches in length. And they must have the general shape of a gun.
It's worth noting that as long as you meet the above rules, you stay away from the Any Other Weapon category.
AOWs are regulated by the National Firearms Act and require a tax stamp and registration with the ATF for ownership.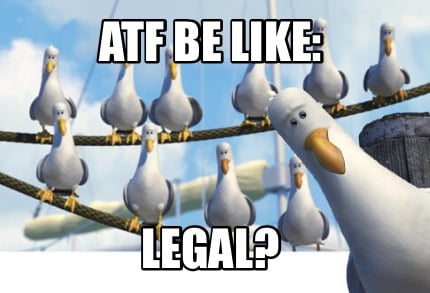 But if you stay within the posted "other" rules, the sky's the limit. Because of that, the world of "other firearms" has grown rather rapidly.
So, let's take a peek at seven models worth owning.
Best PGO Firearms
1. Mossberg Shockwave 590
Mossberg didn't invent the PGO firearm, but they were the first major company to embrace the concept.
At SHOT, a few years ago, these things popped off, starting the phenomenon we know now.
Mossberg wisely chose its robust 590 platform as the basis for this build.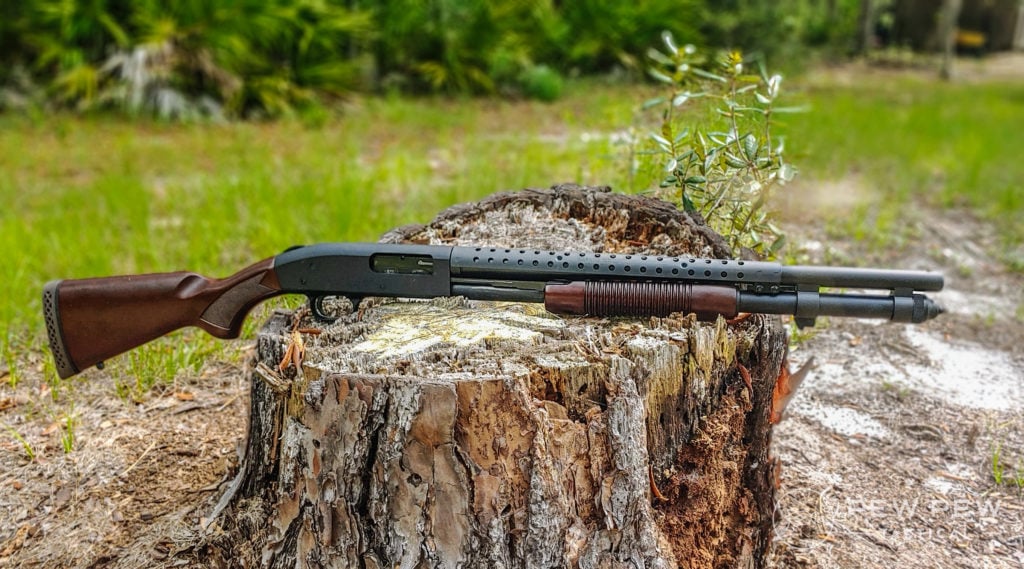 The 590 is very user-friendly and allows for near-endless customization.
Tacking on side saddles, magazine tube extensions, new sights, slings, and the like are all very easy with the Shockwave. (I went full brace with mine and haven't looked back.)
The Shockwave series came complete with a 14-inch barrel and Raptor grip to expand the length to roughly 26.37 inches.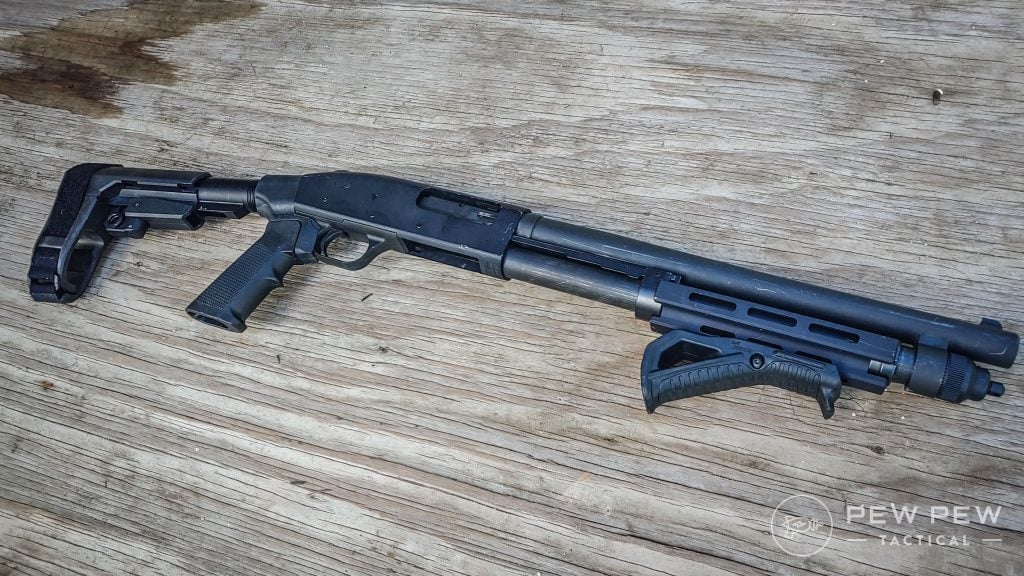 With five rounds of 12-gauge in the tube and another in the chamber, Mossberg had what they called the modern six-shooter.
Mossberg equipped the gun with a simple bead sight to aim those six shots, but the receiver was also tapped for an optics rail.
Optics on these guns might sound silly, but a red dot makes it much easier to aim than the bead.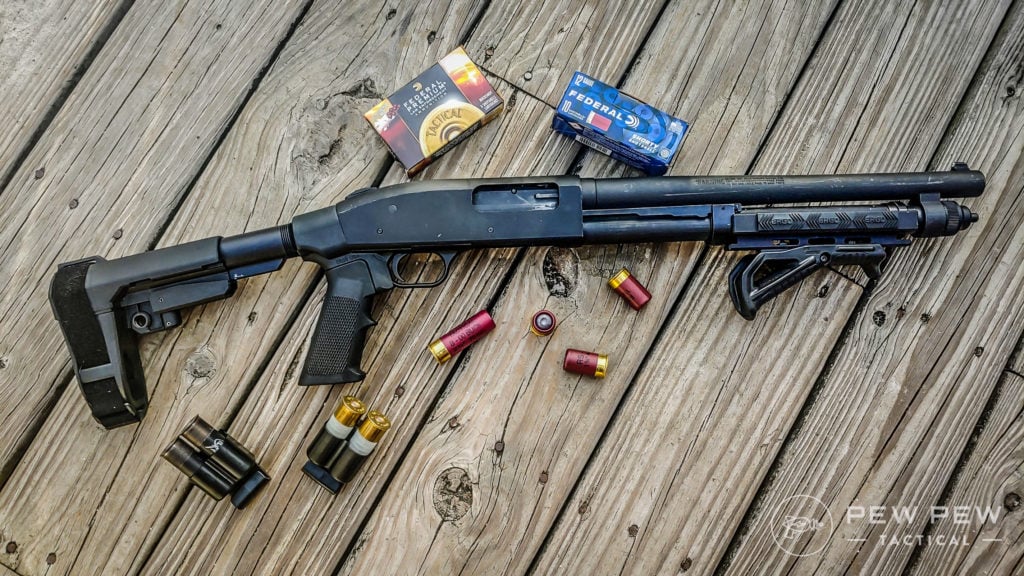 The tang safety was a natural fit with the Raptor grip, and the ergonomics are on point.
Mossberg swung wide with models in .410 and 20-gauge, as well as magazine-fed and various configurations.
As it sits now, the Shockwave 590 is likely the best-selling PGO firearm ever.
Editor's Pick Not-A-Shotgun
419
at Palmetto State Armory
Prices accurate at time of writing
Prices accurate at time of writing
Check out our review on the Mossberg Shockwave 590M.
2. Remington Tac-14 Hardwood
After the Shockwave 590 came the Tac-14. I won't lie; I wasn't impressed when the Tac-14 premiered.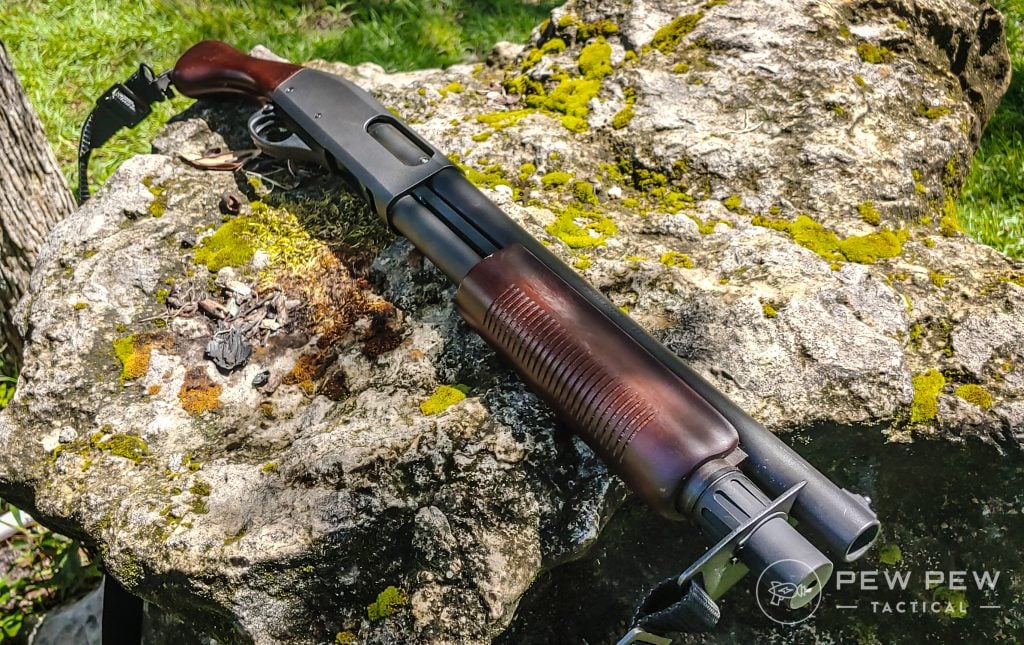 Outside of the Magpul forend, the Tac-14 was subpar to the Shockwave. It was heavier, offered one less round, and the safety wasn't easy to reach.
420
at Brownells
Prices accurate at time of writing
Prices accurate at time of writing
I wasn't impressed until Remington released the awesome Hardwood model.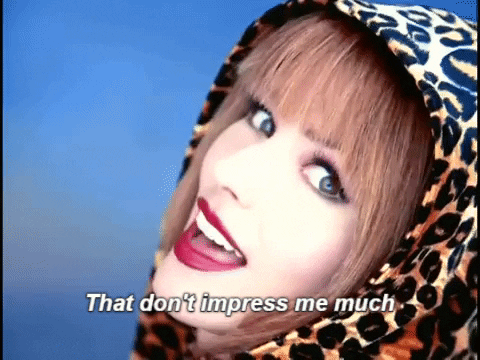 The Hardwood model came with a wood forend and wood stock, a shield-style sling keeper, a sling, and a 5-round magazine tube.
Remington released a non-NFA variant of essentially what the Marshall's Witness Protection shotgun was. The old cool school design resonated with me.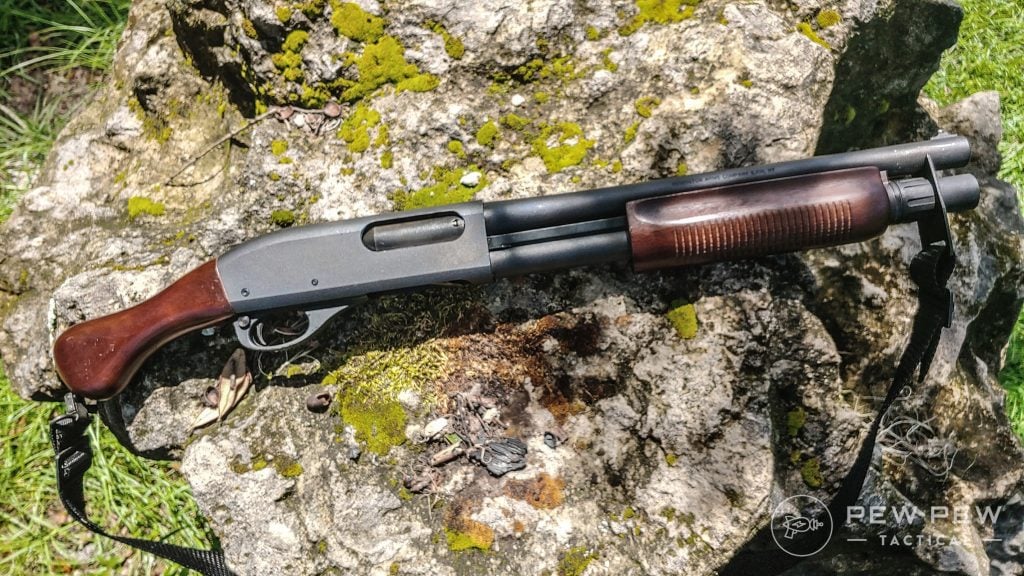 Its ergonomics might not have been the best still, but everything else was improved.
The Tac-14 Hardwood proved easy to shoot with the textured forend, and the hand shield added a layer of safety.
It's become one of my favorite PGO firearms due to the looks and old-school Witness Protection style shotgun design.
429
at Palmetto State Armory
Prices accurate at time of writing
Prices accurate at time of writing
What do you think of Remington's Tac-14? Give it a rating below.
3. Black Aces Tactical Pro S
Pump-action PGO firearms are great, but they aren't extremely easy to shoot.
The Black Aces Tactical Pro S offers a semi-auto option with a lot of firepower in the PGO firearm realm.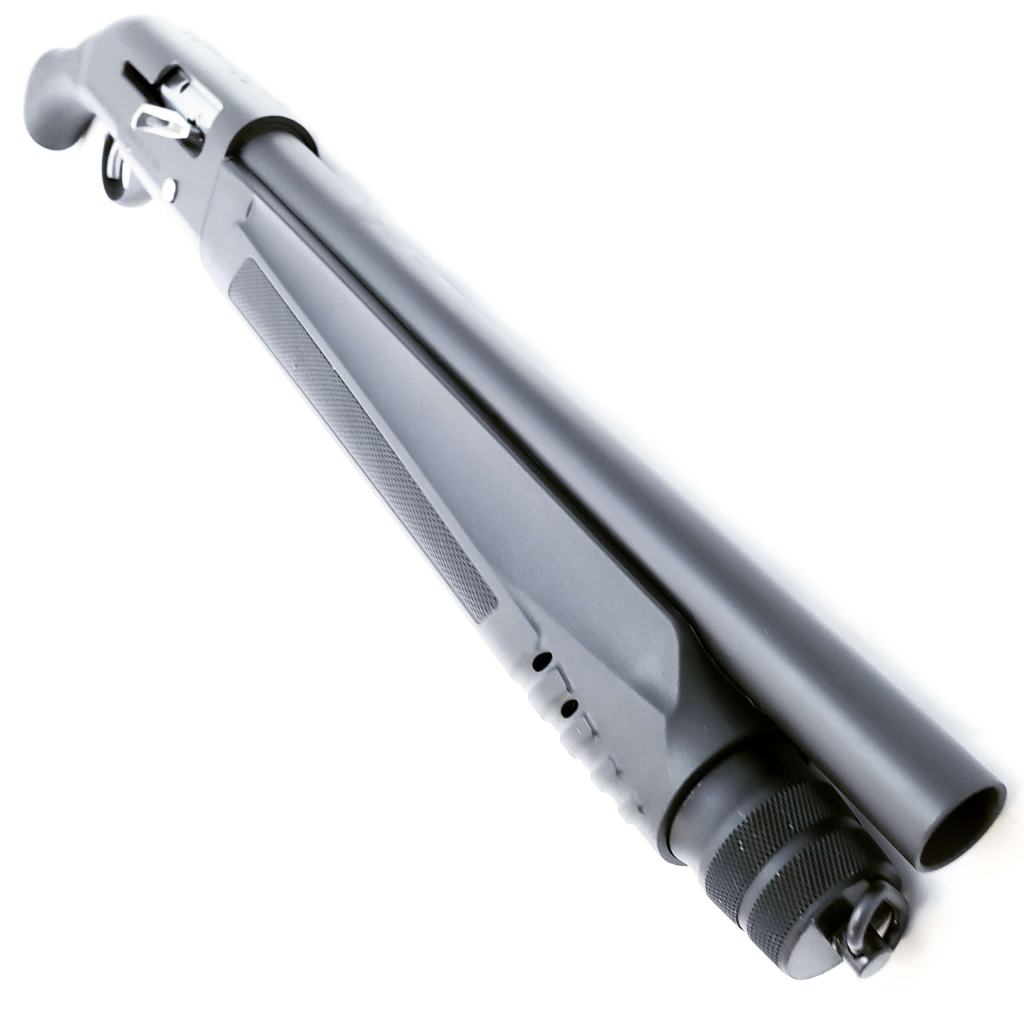 As a semi-auto firearm, the recoil is reduced, and the user doesn't need to accentuate an action to get the next shot ready.
Shooting this thing is a ton of fun, and the semi-auto design takes some sting away from the end-user.
It also cycles blazing fast, and you can put out a lot of lead in very little time.
Additionally, the Black Aces Tactical Pro S doesn't cost an arm and a leg. MSRP is low, and the street price is even lower.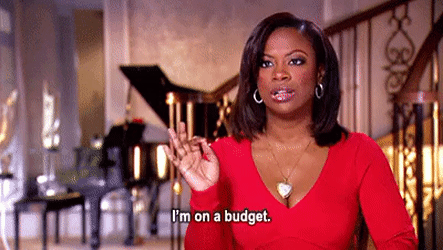 Besides being an affordable semi-auto action PGO firearm, the Black Aces Tactical Pro S features a Mossberg optics mount drill and tap pattern for easy red dot attachment.
We also get a choice between a wood and polymer forend and a nickel-plated bolt, charging handle, and release button.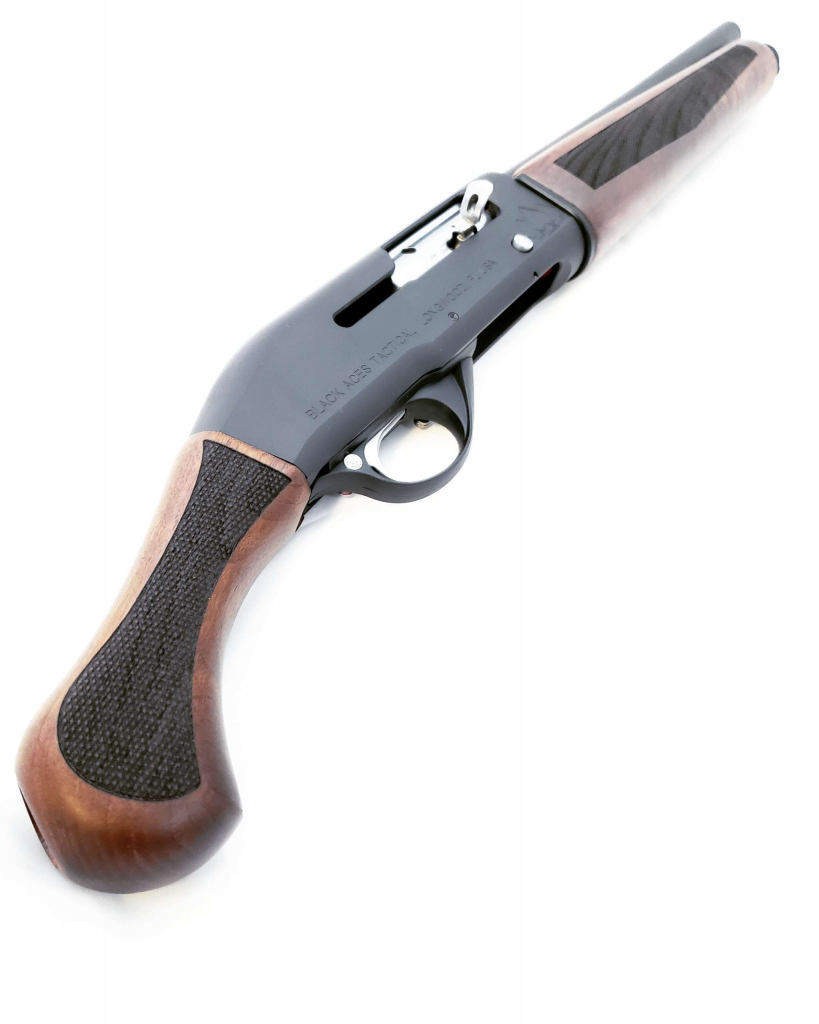 The overall length is 26.5-inches with the weapon's 14-inch barrel. It seems to cycle most loads I've tried, including the cheaper bird shots you use for clay pigeon shooting.
While my model has been great, I have heard that Black Aces Tactical had some issues with customer service and I feel obliged to warn our readers.
449
at Palmetto State Armory
Prices accurate at time of writing
Prices accurate at time of writing
4. Henry Axe
Fun guns are rarely practical, and two guns I've had an absolute ball with are Old West-inspired.
One is a revolving rifle, and the other is the Henry Axe.
The Henry Axe is an absolute blast of a gun.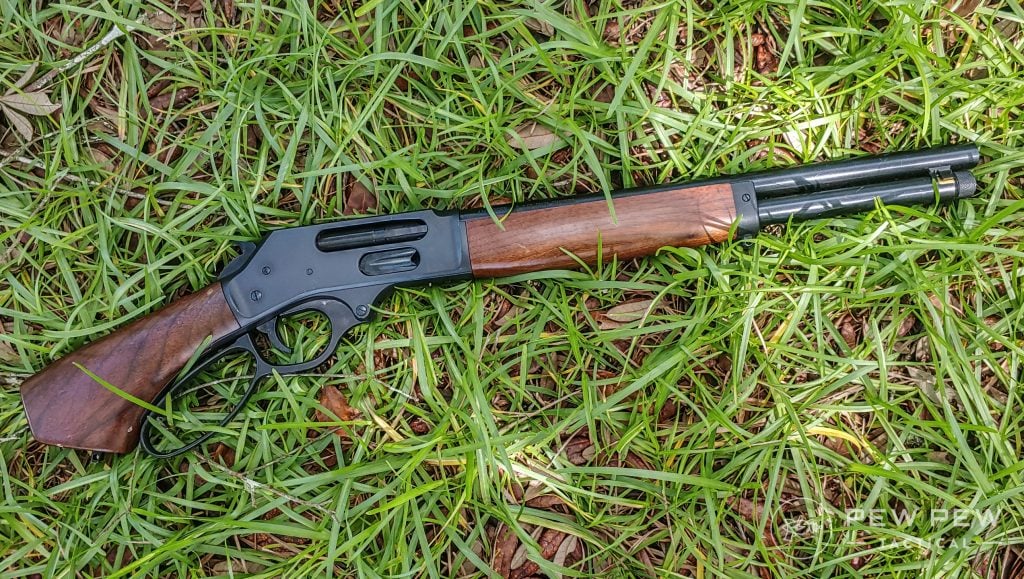 I love lever-action guns and PGO firearms, so I can't help loving the Henry Axe.
The Henry Axe is a lever-action .410 firearm with a pistol grip. A 15.14-inch barrel and an overall length of 26.4-inches make the Henry Axe a very light and handy weapon.
Like every Henry, the lever functions extremely smoothly. It delivers a thrill with every cycle of the action.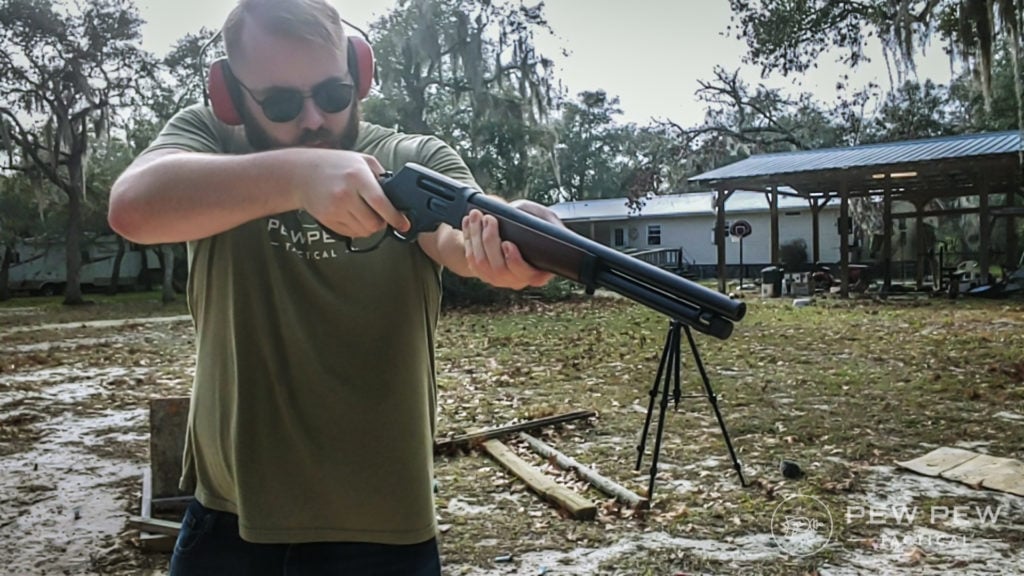 The 5.75-pound weight reduces the recoil of the anemic .410 to almost nothing. It's easy to aim and easy to shoot one-handed.
A silly and extremely fun gun, it handles well for shooters of all ages — even my 10-year-old son can safely handle this PGO firearm.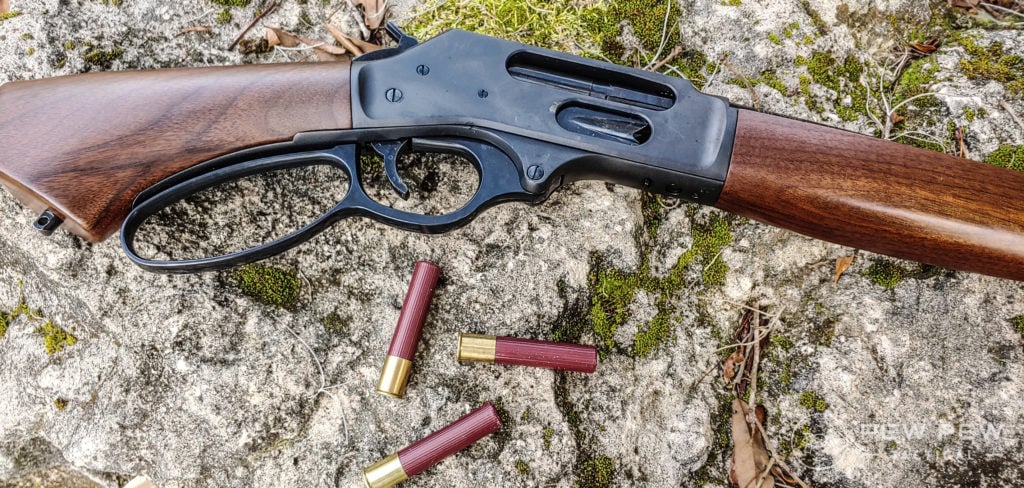 The Henry Axe is one of the more high-quality PGO options, and the MSRP reflects that!
Everything from the side-loading action, excellent trigger, and a smooth cocking hammer makes this a tough firearm to beat in the Venn diagram of quality and fun.
876
at Kygunco
Prices accurate at time of writing
Prices accurate at time of writing
Read up on the Henry Axe in our full review!
5. Genesis 12 Firearm
Genesis has designed a drop-in upper receiver that makes it easy to convert an AR-10 to a 12-gauge firearm.
Albeit, you'll need the complete firearm or an AR-10 pistol lower receiver.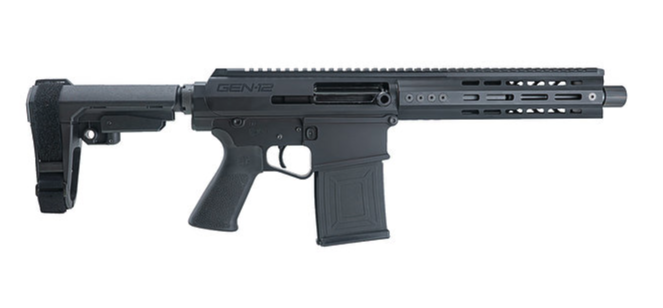 Drop the new upper on, and now you have a 12-gauge, semi-auto with AR controls.
The Genesis 12 uppers utilize either 14.5- or 10.5-inch barrels to give you a firearm over 26-inches long. To me, shorter is better, and I'd choose the 10.5-inch model.
These box-fed designs use 5- or 10-round magazines and feed both 2.75- and 3-inch rounds.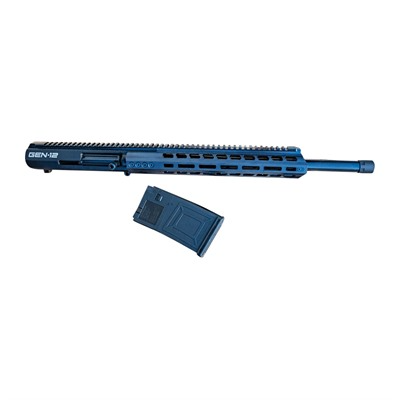 Uppers and firearms come outfitted with M-LOK rails for modern attachments, and the same goes for tossing optics.
On top of that, you can pick between right and left-hand charging models — something I want to see on all semi-auto shotguns.
These guys are extremely well made and a very high-quality option.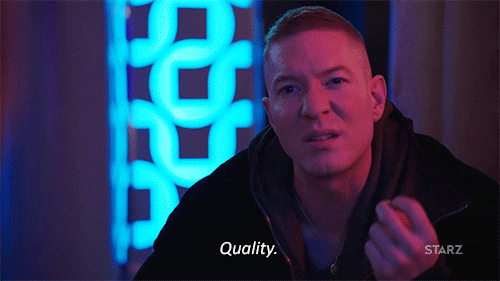 They feed nearly any round without complaint, including basic birdshot. The only thing it might find challenging is those ultra-low recoiling trap loads.
Other than that, the Genesis 12 firearm eats, eats, and eats while giving AR aficionados a PGO firearm that matches their semi-auto style.
1489
at Brownells
Prices accurate at time of writing
Prices accurate at time of writing
6. SKO Mini
The SKO Mini gives shooters another fun semi-auto option that's magazine-fed and quite reliable.
These guys edge into the goofy fun territory, but that's what PGOs are known for.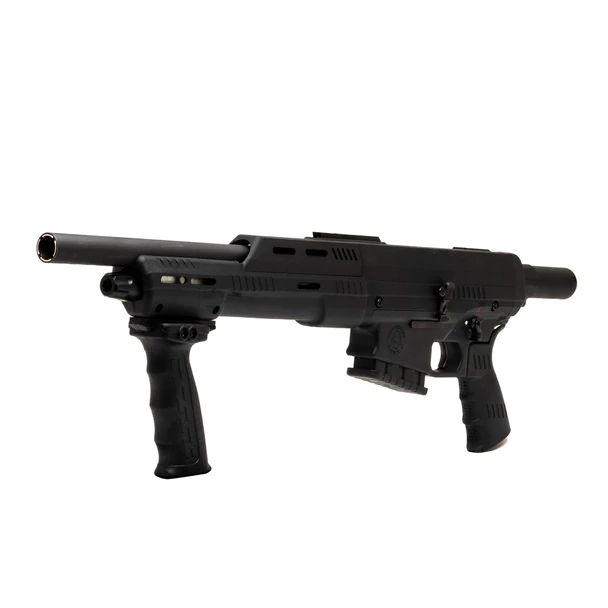 It comes with a 14.75-inch barrel and an overall length of 27-inches. The SKO Mini weighs a hefty 7.14 pounds, but more can feel better with 12-gauge weapons.
This gun feeds from magazines and comes with a 2-round magazine…yeah, I don't get it either.
But, it will also work with 5- and 10-round mags.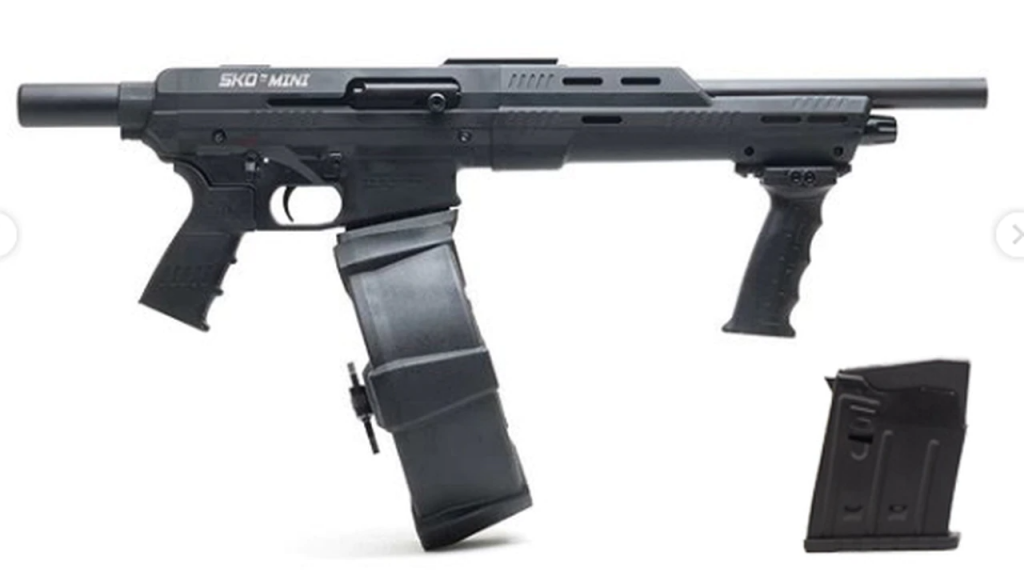 Anyway, the SKO Mini delivers a futuristic and modern look. The dual pistol grips make it easy to control, and magazines make it easy to reload.
Its pistol grips allow you to do a push/pull maneuver using tension to mitigate recoil.
This makes it very easy to control buckshot loads up to 3-inches in length.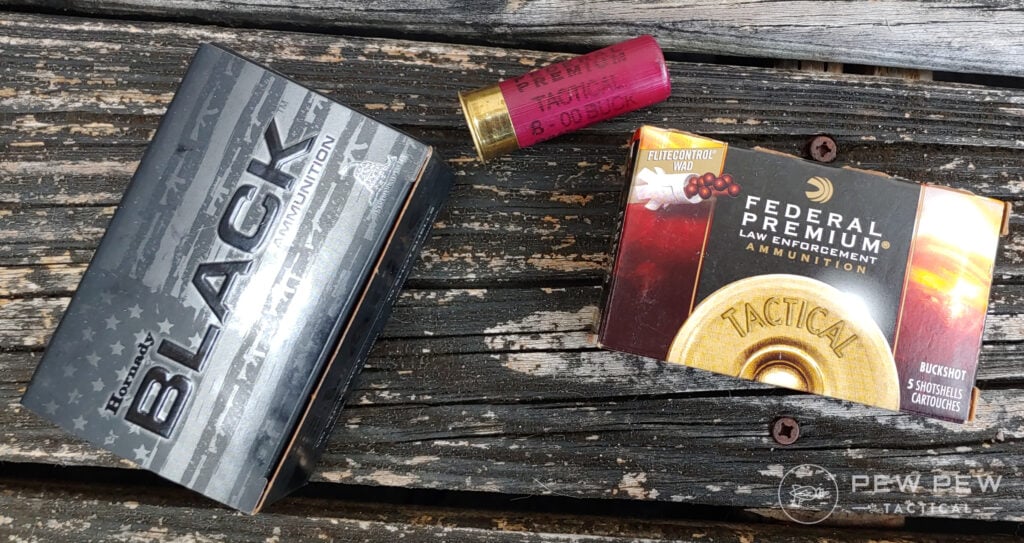 Controlling the SKO Mini isn't an issue since the semi-auto action reduces recoil, and what recoil is left is easily managed.
The SKO Mini utilizes AR-type controls, but they aren't a perfect match. The right-sided charging handle isn't great, but like most shotguns, it gets the job done.
699
at Palmetto State Armory
Prices accurate at time of writing
Prices accurate at time of writing
7. Franklin Armory CSW
Finally, my wildcard of the bunch is the Franklin Armory CSW.
This isn't one of the PGO type firearms above…in fact, it's an AR-based kit that uses a rifled barrel.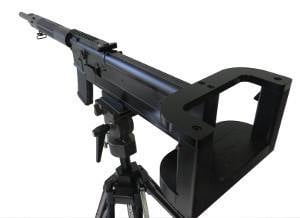 You could argue the grip isn't a pistol grip either, but according to the ATF, it isn't a stock, so…
The CSW utilizes a spade grip design that eliminates most features commonly used to ban firearms in states like California.
Its design can be mounted to a tripod, resembling the world's lightest tripod-bound weapon. But if you use a lower that has never had a stock, it could qualify as a firearm and not a rifle or pistol.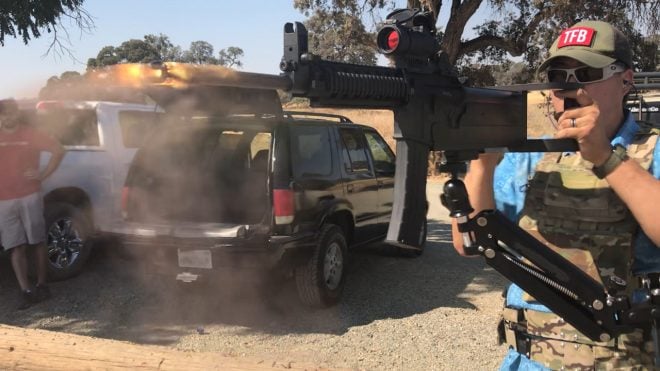 You can get quite creative with the CSW.
The CSW might be the most impractical of firearms, but it still qualifies. And I think it's a hilarious way around ridiculous laws.
639
at Franklin Armory
Prices accurate at time of writing
Prices accurate at time of writing
Conclusion
The world of PGO firearms is a fascinating little niche. They might not seem super useful, but it's hard to say they aren't fun.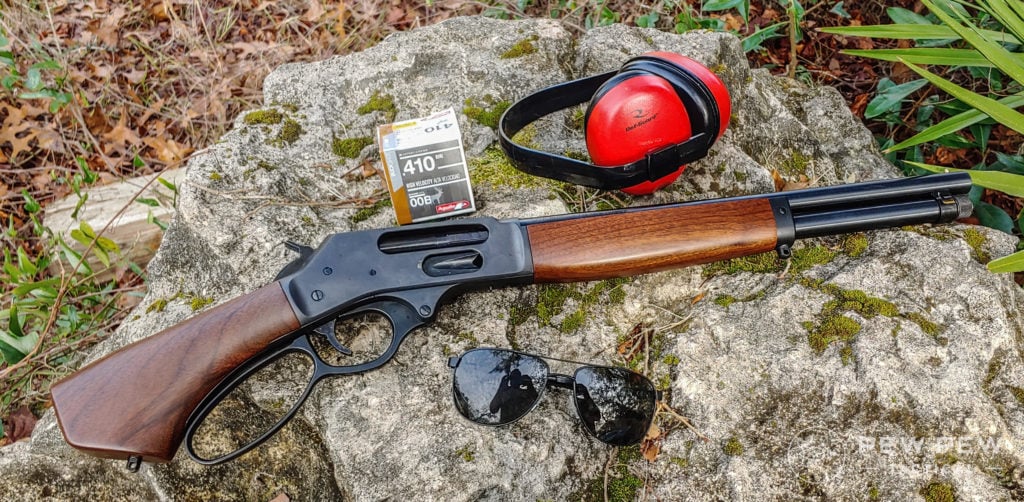 PGOs are fun to shoot and often skirt around sets of silly laws. Who couldn't love them?
What are your favorite "other" firearms? Let us know in the comments below. Want to get weird? Check out our round-up of the 9 Weirdest Guns.