What's the fastest rising category of firearms in the civilian market?
Pistol caliber carbines.
Seriously, everyone is making them. This includes CZ, SIG, PSA, Hi-Point, IWI, and I can just keep listing more and more and more.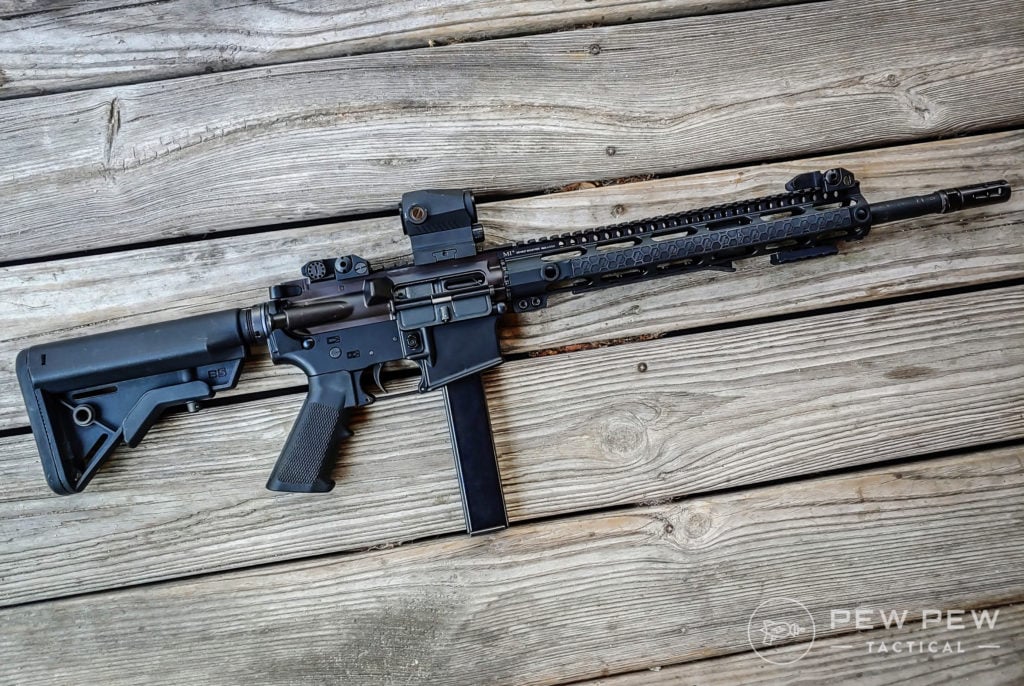 You could also just build your own, specifically your own AR in 9mm. I've built 2 now and this model was one of my first AR builds ever.
This model is a full-sized rifle, a gas blowback gun, chambered in 9mm. It packs a 16-inch barrel and feeds from Colt SMG magazines.
Why The Colt Route?
The Colt SMG route is an interesting one to take. First off, it's a cool, retro classic 1980s style design.
The Colt SMG served a wide variety of police and military forces including the DEA, the US Marshalls, and the United States Marine Corps. It proved itself as a platform for sure.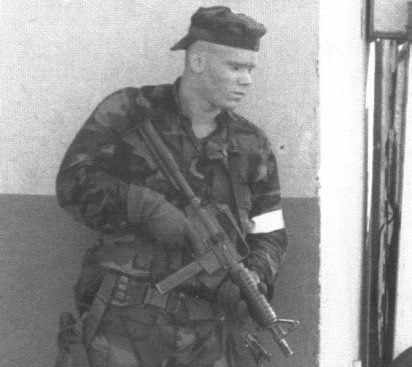 With the advent of the AR-15 lowers than take Glock magazines why wouldn't we go that route? Surely there is nothing wrong with a lower that takes Glock magazines, but the Colt SMG has been sticking around for a reason.
First, a lot of shooters like that the Colt SMG magazines insert straight up and down, the Glock receivers have a rearward angle to them. Colt SMG magazines are also all metal and well made.
They are designed to be used in long guns, and dropped, kicked, and abused.
They are a true double-feed magazine designed for SMG use. The Colt SMG mags are not exceptionally expensive.
If you own a Glock I'd totally go Glock, if not, the Colt SMG mags offer a good alternative. The downside is Mags aren't as widely available and aftermarket Glock mags are much cheaper.
I originally built a Colt SMG model because at the time I built it, circa 2015, Glock lowers were quite expensive and not as common as they are now.
Plus, I didn't own a Glock and didn't see a ton of reasons to go Glock.
We have a complete review on the PSA AR-9 Glock version our editor has been using for competition.
Purpose Of This Rifle?
This little 9mm rifle is perfect for something like USPSA, but in terms of more serious use, you have an excellent choice for home defense.
You could go shorter with an AR pistol, but a 9mm AR-15 with a 16-inch barrel and a suppressor is one of the quietest combos you can pick up.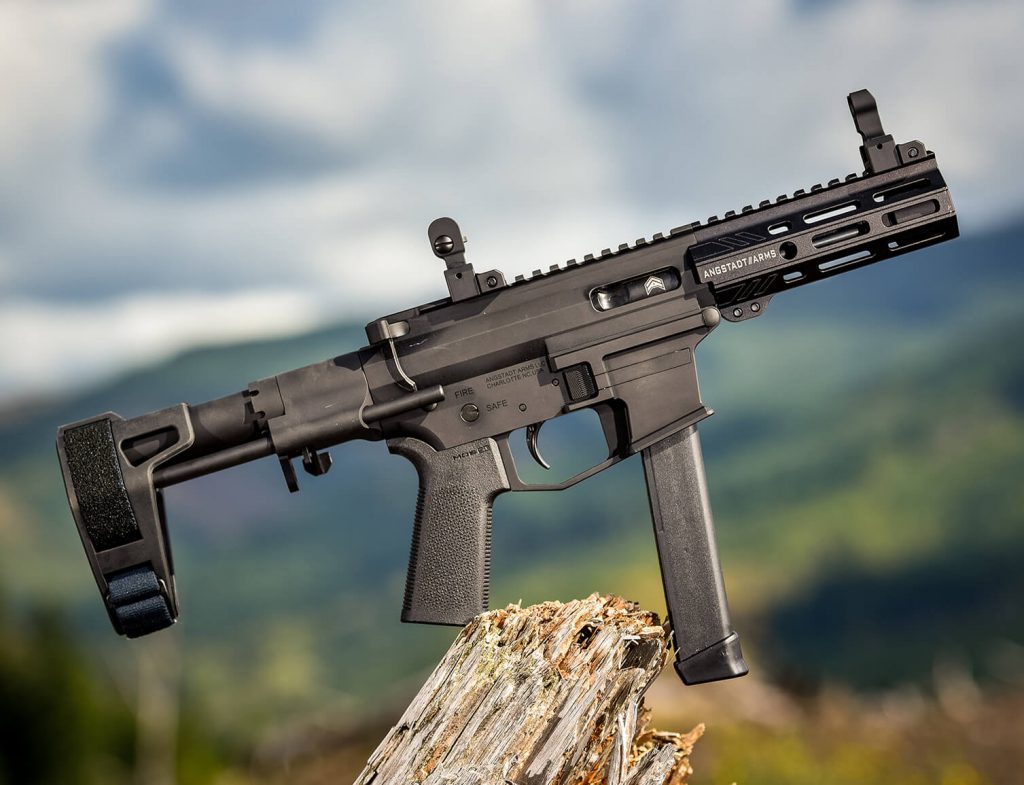 This rifle loaded with 147-grain loads is remarkably quiet for an unsuppressed gun. It's not hearing safe, but it won't blow your eardrums when used indoors.
Best of all it's an affordable weapon to train with and self-defense loads are widely available.
It's a low recoiling weapon with little muzzle concussion and blast. This makes it perfect for home defense in many ways. Especially for those who are recoil sensitive and want something light and easy to handle.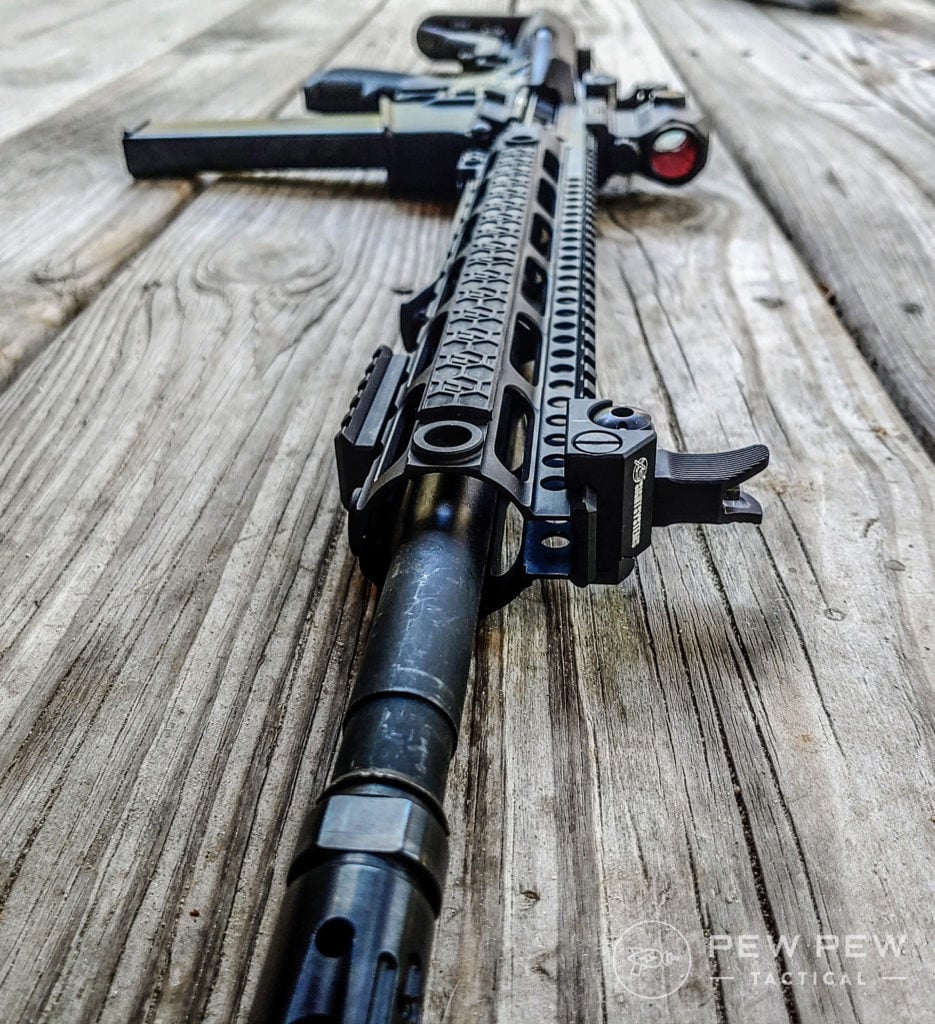 Also, it's a massively fun plinker. It shoots very easily and accurately. You can shoot a ton for very little money, and more than likely you won't find a range that prohibits pistol caliber ammo so that's a plus.
Without Further Ado, here is our Colt SMG wannabe
Colt AR-9 Build List
Lower
This wasn't a Colt SMG lower per se. Instead, it was a standard Multi-Cal lower with a ProMag Colt SMG conversion.
That is where this whole thing started, the SMG Block. I got it for free, a friend clearing out some old gun stuff gave me a box full of different little goodies with the SMG Block being one.
From there I slowly built the gun as a young cash strapped gun writer. I purchased a cheap PSA lower and a CMMG lower parts kit.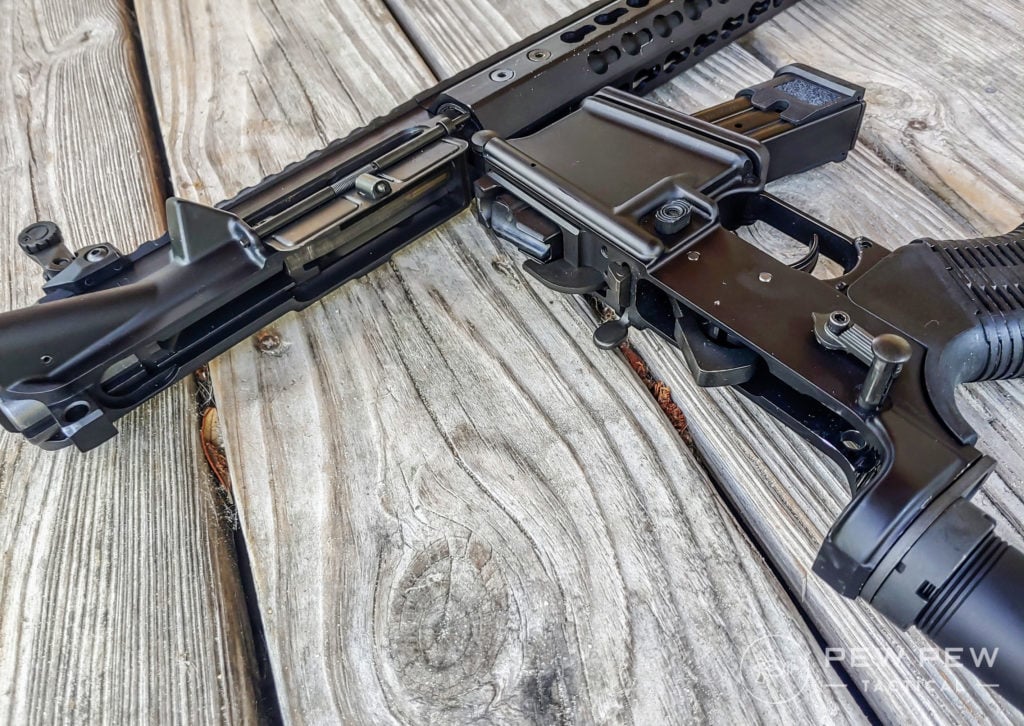 I slapped it all together, and then took a few parts out to fit the magwell block.
Once the mag well block is installed it's a semi-permanent modification and requires you to remove the bolt catch to remove and install it.
ProMag does not have a great reputation. Their mags have long been quite controversial. This Magwell block is made from polymer and does allow for a bit of slop for the magazines, but this never seemed to affect their ability to feed rounds.
It also never gave me issues releasing the magazines or loading them either. It doesn't feel exceptionally sturdy, but it's been years now and it seems to work perfectly fine.
I tossed in a simple Mil-Spec parts kit. It does its job and ensures consistent ignition of all 9mm ammo. This includes cheap steel ammo from more questionable sources across the world.
This Russian ammo typically has a harder than normal primer.
Buffer Setup
ARs chambered in 9mm are blowback weapons. A blowback gun typically requires heavy bolts or stiff springs. Since an AR-15 is limited on bolt size you need a heavy buffer to make the system reliably function.
The Primary Arms heavy buffer weighs 6.3 ounces and helps ensure the AR will run reliably regardless of what type of 9mm you are putting through it.
Primary Arms is also an affordable company that is well known for its quality. Their reputation and the fact this is a purpose-built part is the main reason I went with this specific buffer.
Stock
I went with my all-time favorite AR carbine stock, the Bravo SOPMOD stock. I adore it.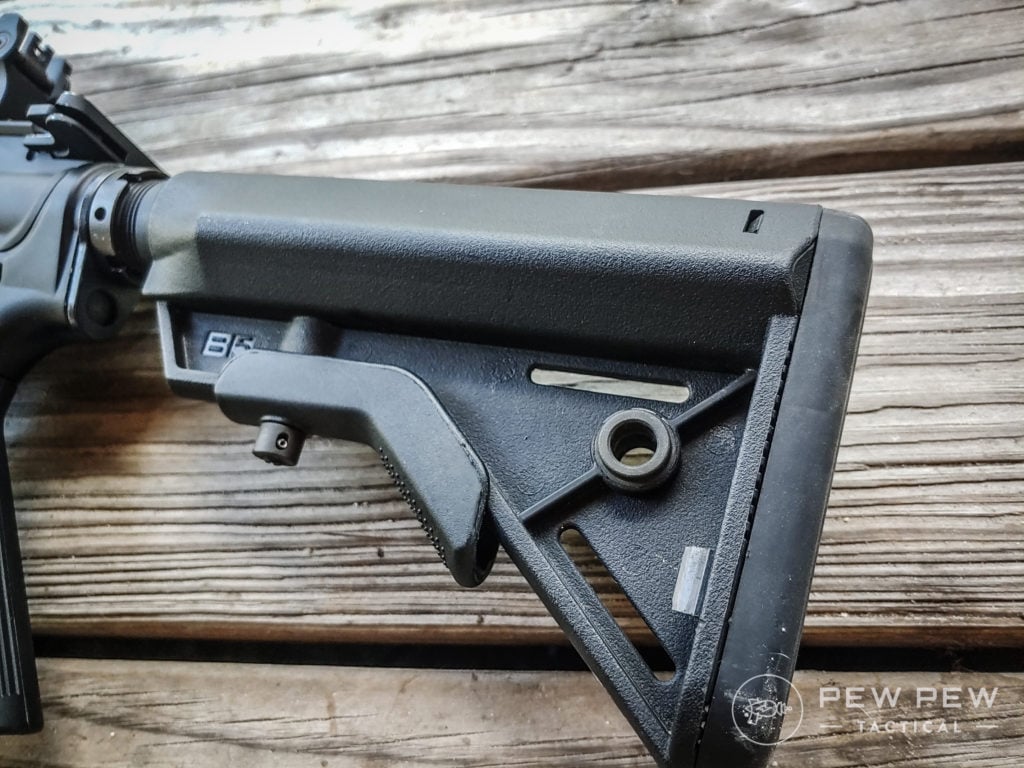 The SOPMOD stock is the SOCOM adopted stock for Block 2 rifles and I think I know why. The only thing I and Spec Ops dudes have in common is our affinity for beards.
This is one of the more beard friendly stocks. It's also a great stock overall. It's rock-solid, provides an amazing cheek weld, and plenty of points to attach a sling.
It's not a compact stock, and it provides as good a cheek weld as an actual A2 rifle stock.
Grip
The Pistol grip is a lower parts kit special, just the A2 style grip with nub.
Not my favorite by far, but it's perfectly usable. The A2 grip is simple, cheap, and affordable.
Upper
The Upper is a simple Mil Spec forged model from Aero Precision. I got a killer gun show deal on it and it stuck around until build time.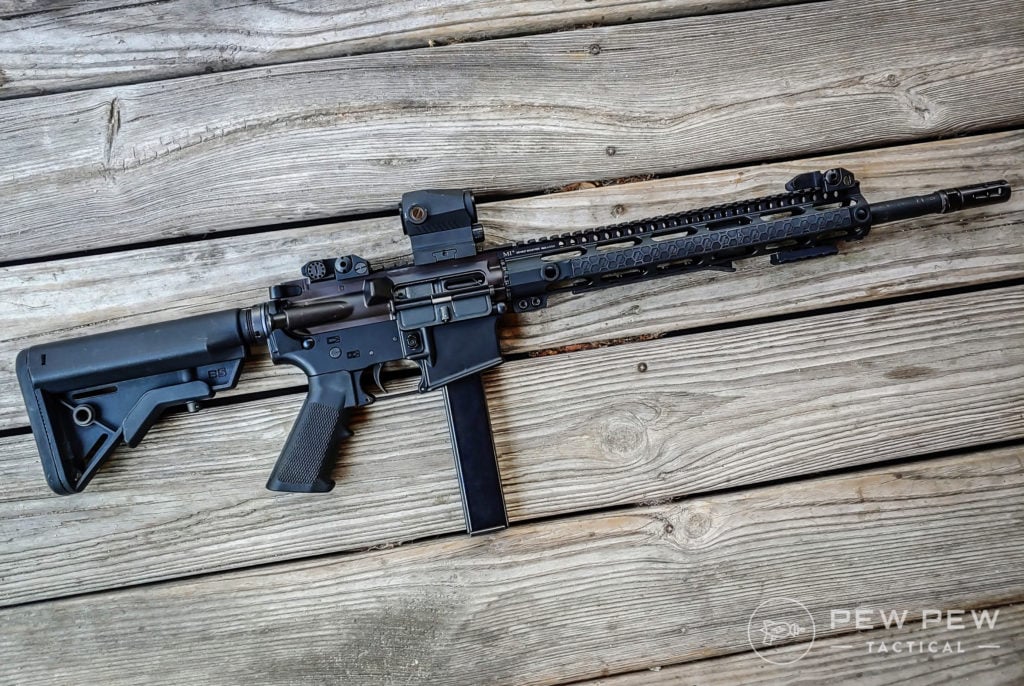 The upper is a flat top, of course, and comes with all the standard Mil-Spec fun stuff like a dust cover and forward assist.
An actual Colt SMG upper doesn't have a forward assist, and you can get authentic Colt uppers these days which is the way to go for a real SMG clone, but you'll need some more things.
Barrel
The Barrel is another budget option from Foxtrot Mike, and it is 16 inches long. Long for a 9mm, but a rifle is a rifle and I need that 16-inch barrel to make it so. The Foxtrot Mike barrels are remarkably simple.
They are black Melonite finished barrels, threaded for muzzle devices with a ½-36 thread pitch. The barrel works and is cheap for budget builds. I'm not looking for the kind of accuracy a 400 dollar carbon fiber barrel can provide so I don't mind going cheap.
The FM 9 barrel has proven accurate enough, and the heavy finish is scratch-free.
Bolt
Options can make things confusing, very confusing. The 9mm AR and the bolt carrier group can be confusing because there are different types for different magazine platforms.
If you go the Glock route you need to make sure your bolt is Glock compatible.
When you go the oddball route with a Colt SMG you need to make sure your bolt is Colt SMG compatible.
A Colt SMG compatible barrel is a little tougher to find, but not impossible. Colt still produces them, and hybrid BCGs exist as well.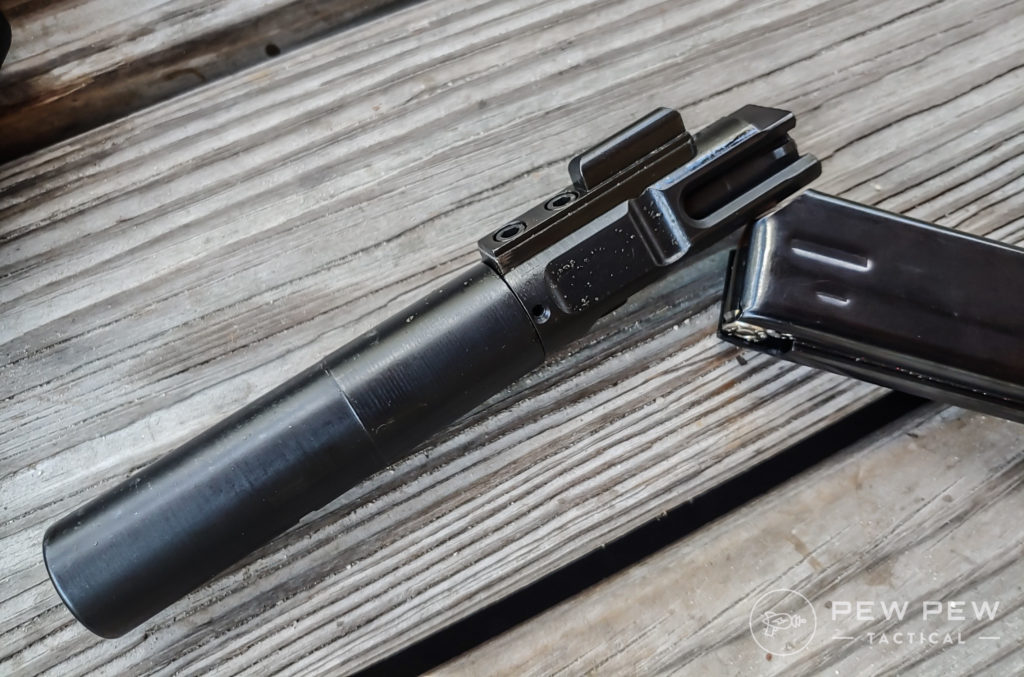 Colt being the name of the game is likely the best bolt to go with. It's a little pricey cause of the Prancing Pony, but it's still a rock-solid BCG.
If you're not ready to spend that kind of money though, there are hybrid BCG options that are a LOT more budget-friendly and work outstandingly. Lead Star Arms hybrid 9mm BCG is our top pick.
Rail System
When choosing a rail system, it's easy to get wrapped in your choices. I went rifle length and found an excellent Midwest Industries rail system. I went with the Midwest Industries Slimline handguards.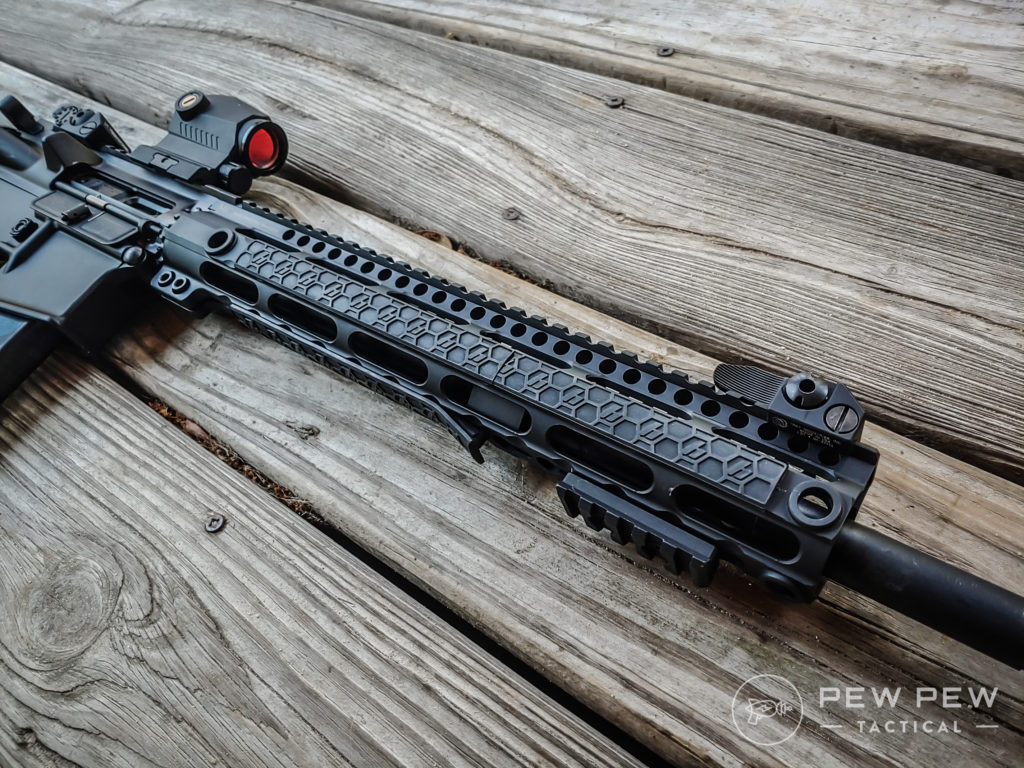 These handguards are incredibly lightweight and as the name suggests very slim. They allow you to wrap your hand around the gun very easily. This results in a modular handguard that is easy to hold on and comfortable to use.
From a stylish perspective, the handguard blends in perfectly with the slim nature of a 9mm rifle.
It also helps keep everything balanced while providing a platform to mount accessories on.
Sights And Optic
I went with some very robust sights for this gun. These are a combination of XS and Troy sights and are quite robust. It seems as if the Troy and XS partnership is over though as these specific sights are discontinued.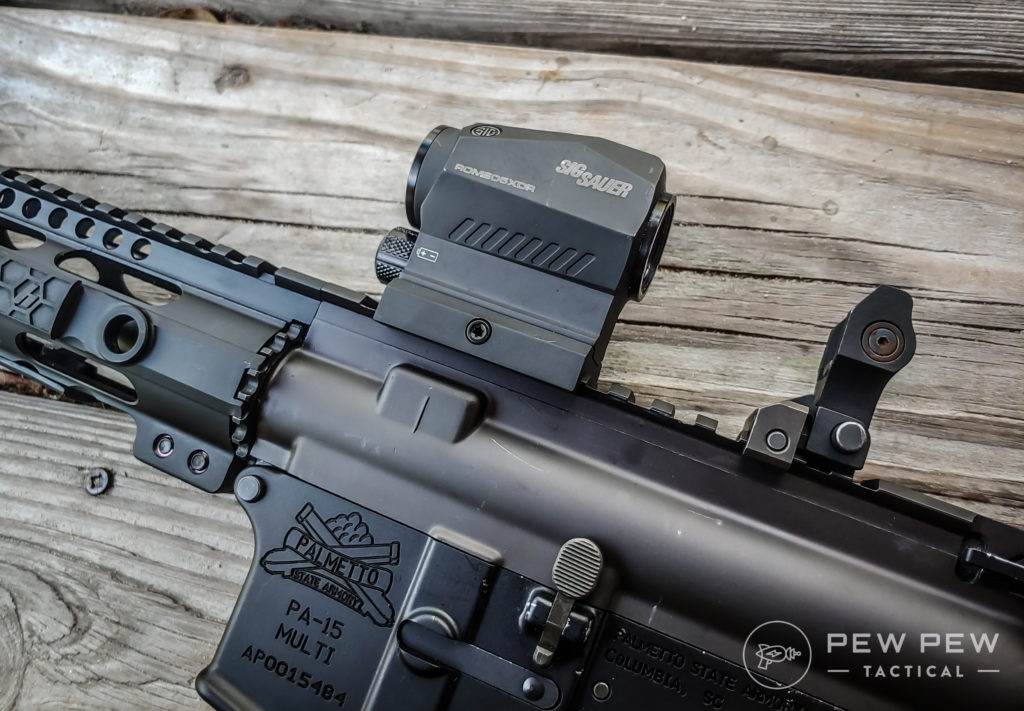 However, the sights are just the Troy AR 15 sights with glowing night sight inserts. The Troy sights are all metal and incredibly well made.
These sights are designed to last and do fold down and out of the way if you want an optic in place.
I love these sights personally and they are some of the most robust and well-made sights out there for the AR 15. They feature a small and large aperture and on the small aperture there is a set of open box sights for rapid-fire close-quarters use.
A 9mm rifle isn't a long-range gun by any means. You are tapping out at about a hundred yards for most shooters on most targets. This means a red dot is a natural fit for such a rifle.
I went with one of my favorites, the SIG Romeo5. It features two reticles, one being a simple red dot, the other being a circle and dot. The Romeo5 is a compact optic that is the perfect height for an AR-15 style rifle.
The Romeo5 is an awesome little optic. It comes with the MOTAC reticle system that means the optic automatically goes off, and when it meets motion it comes alive and is ready.
This is a great system for saving batteries and for having an always ready gun.
Magazines
As I mentioned there are several magazine options out there.
I've stuck with Palmetto State Armory metal magazines but have heard great things about Metalform magazines as well.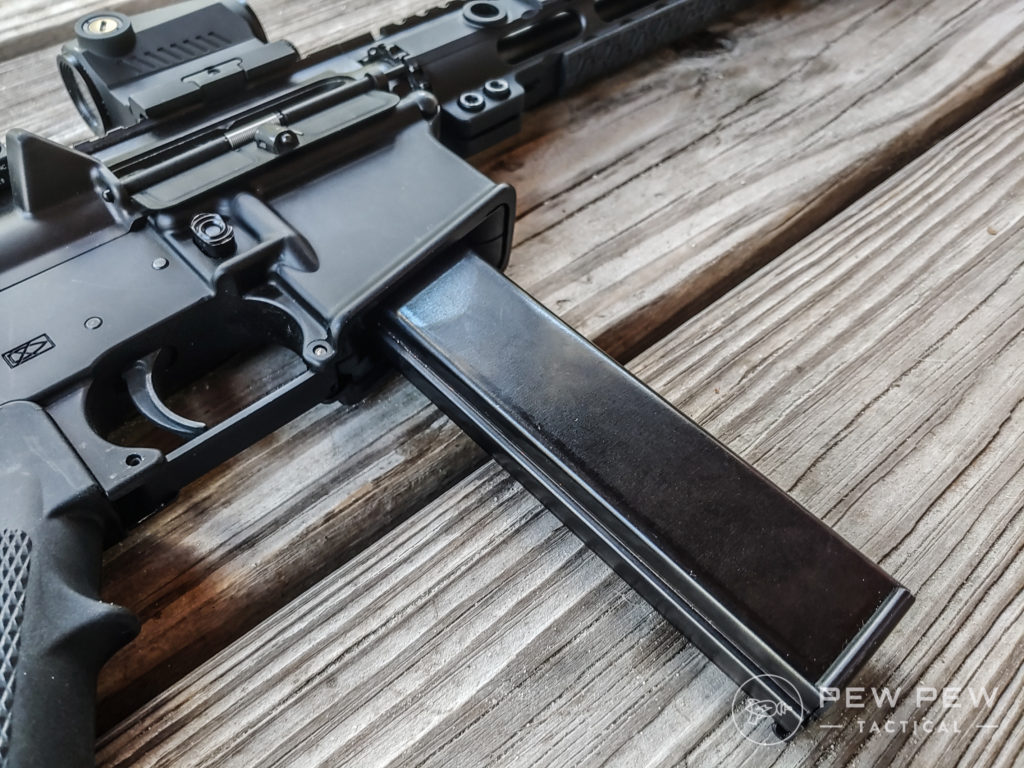 Do yourself a favor if you go the Colt SMG route and purchase a Maglula loader.
The Colt SMG mags will grind your thumbs in short order and become a literal pain. A Maglula will make life much easier.
Wrapping Up
What's left on the list?
Not much. It's a simple rife. I aimed to make an affordable, as well as lightweight and easy to handle.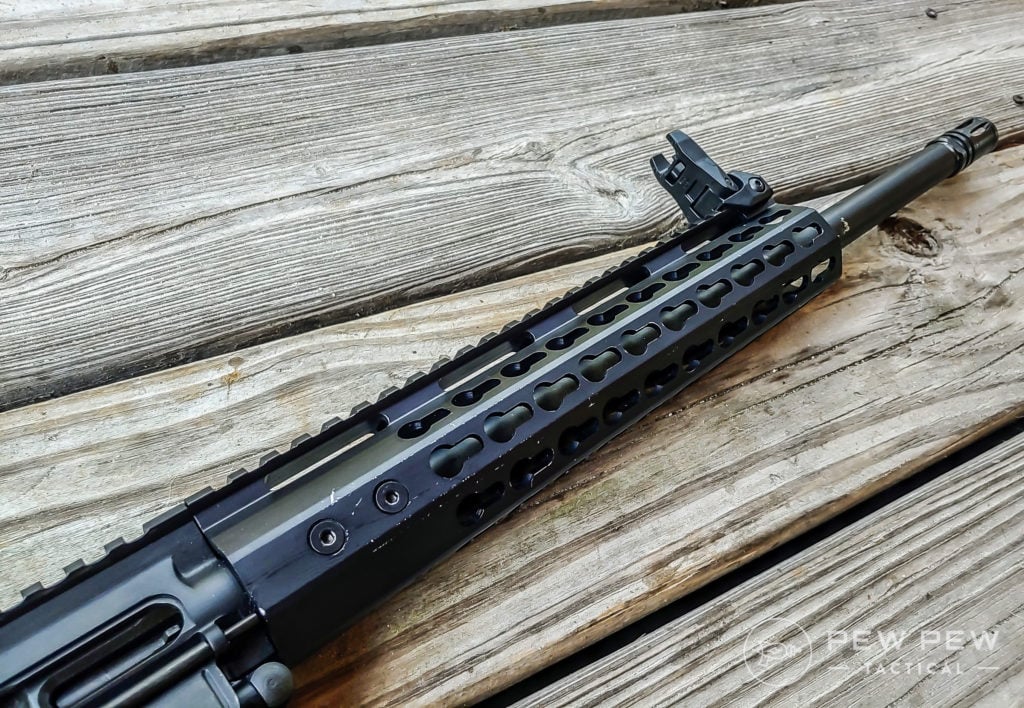 This gun is ultra-reliable and a ton of fun ultimately. It's perfect for a variety of shooters, including new shooters.
Interested in your own 9mm AR with Colt mags? Let us know what you think! Don't forget to take a look at the Best Pistol Caliber Carbines!