We've talked a lot about the Ruger 10/22 here at Pew Pew Tactical.
It's one of the most popular rifles currently available and has an extensive market for third-party parts and accessories to upgrade your rifle. So extensive, in fact, that you can build a 10/22 exclusively from aftermarket parts.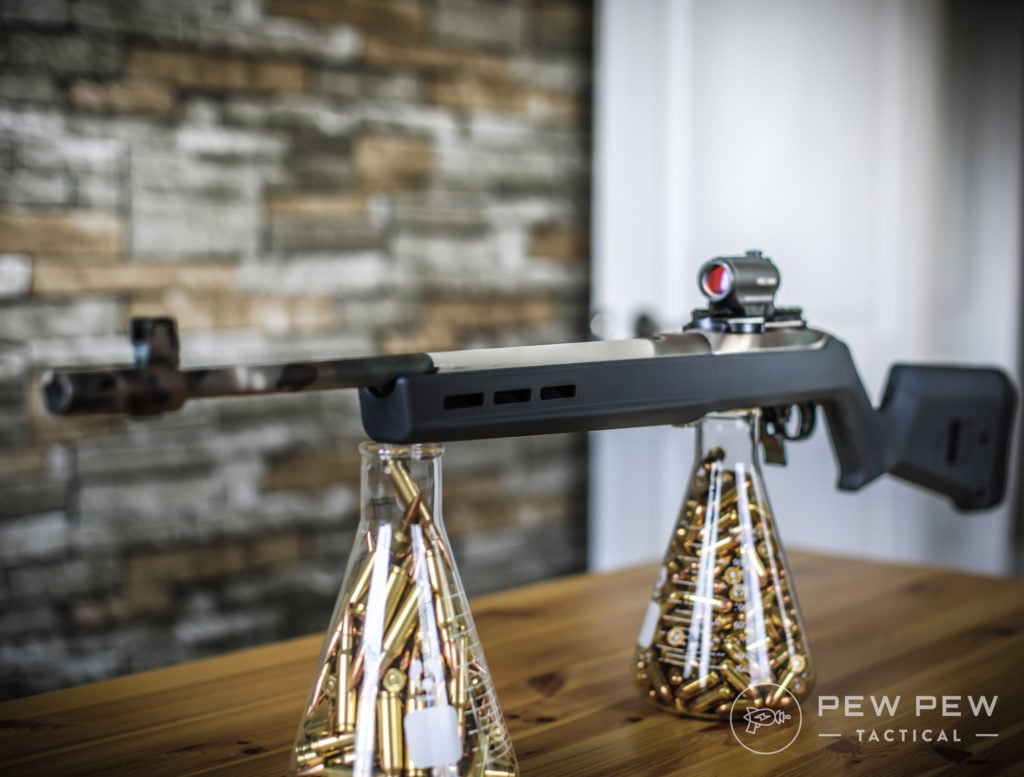 But today, I'm going to talk about one particular accessory for your Ruger 10/22 rifle, the scope.
Good optics are essential for precision shooting, especially at long ranges, particularly if you're hunting or precision target shooting.
Summary of Our Top Picks
Table of Contents
Loading...
Best Ruger 10/22 Scopes & Red Dots
1. Simmons Truplex .22 Mag Riflescope
First up on our list is the Simmons Truplex .22 Mag riflescope.
It's one of the most popular consumer riflescopes currently on the market and is especially popular among hunters. And it's made specifically for use with a .22 rifle like the Ruger 10/22.
At only around $50, it's an affordable option, but Simmons didn't cut corners with quality and durability.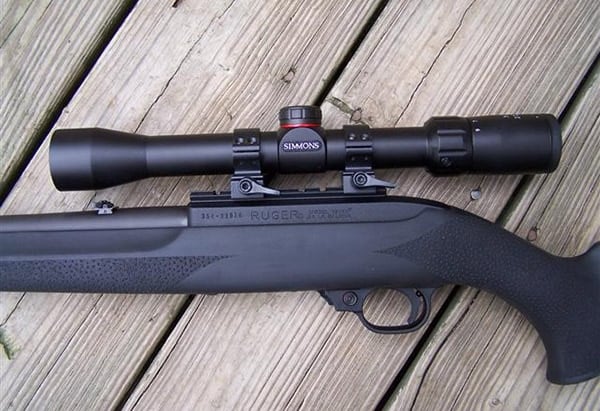 For starters, the main tube of the scope is constructed from a single piece to make the scope lighter, stronger, and more durable. It's also waterproof, fog proof, and shockproof.
Scope lenses are made of high-quality optical glass and have a HydroShield coating. This provides you with a sharp, high-contrast picture no matter what the weather is like.
Eye relief is a nice 3.75 inches with the 3–9×32 version and 4 inches with the 4×32 version.
Best Budget Option
42
at Amazon
Prices accurate at time of writing
Prices accurate at time of writing
Simmons has a proprietary version of a duplex reticle called the Truplex, but really it's effectively the same thing and works well!
The Truplex .22 Mag scope features Simmons's TrueZero windage and elevation adjustment system for more crisp clicks and precise adjustments that make it easier to zero your rifle and prevent the scope from losing zero, even after a thousand rounds.
Also handy are the SureGrip rubber surfaces on the eyepiece diopter adjustments, windage, elevation caps, side parallax adjustment knobs, and power change rings to make adjustments even easier, even in cold or wet weather or when you're wearing heavy gloves.
Best Bang-for-the-Buck Shooting Glove
22
at Amazon
Prices accurate at time of writing
Prices accurate at time of writing
Finally, it comes with rimfire ⅜" dovetail mounting rings.
2. Tasco Rimfire Series .22 Riflescope
Another solid option for Ruger 10/22 shooters on a budget is the Tasco Rimfire Series .22 Riflescope.
If you're a serious hunter or target shooter, you may want to just skip to the next scope on this list, but for plinking or hunting within the about 50-yard mark, such as varmint and small game hunting, this scope with definitely do the job.
42
at Amazon
Prices accurate at time of writing
Prices accurate at time of writing
It's also great for shooters that are trying out scopes for the first time since it's very easy to use.
The included scope rings make the scope a breeze to mount to your 10/22. The adjustment knobs on the top and side of the scope make it easy to sight in and zero the Tasco Rimfire Series .22 Riflescope.
The lenses offer a clear picture and are magenta multi-coated to protect the lens from scratches and reduce glare and reflection. However, in low lighting or beyond about 100 yards, you may not get a great picture.
The parallax isn't adjustable but is set at 50 yards which is plenty long enough for plinking and small game hunting.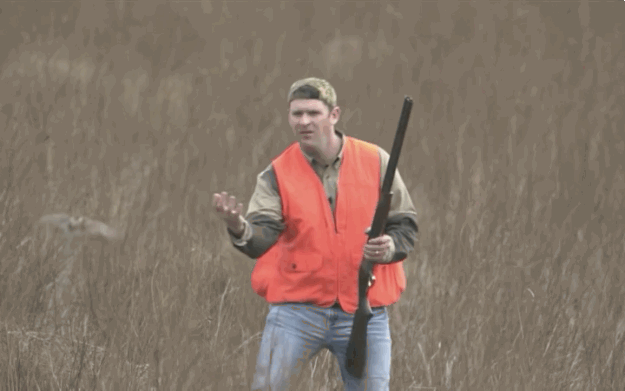 Tasco Rimfire Series .22 Riflescope is well-constructed and made from a 14" long, one-inch diameter monotube. It's also lightweight enough that it should be barely noticeable as you maneuver your 10/22 rifle.
However, Tasco offers a lifetime warranty should something happen to your scope.
3. Crimson Trace Brushline Pro 2-7×32 BDC-Rimfire
Crimson Trace came out with 50 scopes in two different main categories. The Hardline is marketed toward the tactical professional, while the Brushline was designed with hunters in mind.
Naturally, a few options for rimfire rounded out the lineup with 2-7, 3-9, and 4-12 models designed specifically for the venerable .22 LR. The 2-7×32 BDC Rimfire is an excellent fit for the Ruger 10/22.
156
at Amazon
Prices accurate at time of writing
Prices accurate at time of writing
This 2nd focal place scope has a one-inch aluminum tube made of aerospace aluminum. The objective is 32 mm, and there is a fixed eye relief of 3.5 inches.
The turrets are capped though both windage and elevation have 90 MOA adjustment ranges. Click values are set at ¼ inch using spring-loaded stops.
The knurling on the turrets and the magnification adjustment is substantial and makes handling them a breeze, even with gloves.
Shooters can mount up the 2-7 Brushline and enjoy the ability to reach out to known distances with ease because of the BDC reticle. Crimson Trace configured it with six holdover hash marks ranging from 60 to 110 yards (based on a 36-grain bullet and other factors).
The glass is extremely clear, with light transmission being very good, and it features a multi-coat to keep it protected.
The rimfire scope is built tough for the rigors of the field, and Crimson Trace also covers it with a lifetime warranty.
4. Vortex Optics Crossfire II 2-7×32 Rimfire Riflescope
For a slightly more affordable option that's also not short on features, consider the Vortex Optics Crossfire II 2-7x 32 Rimfire Riflescope.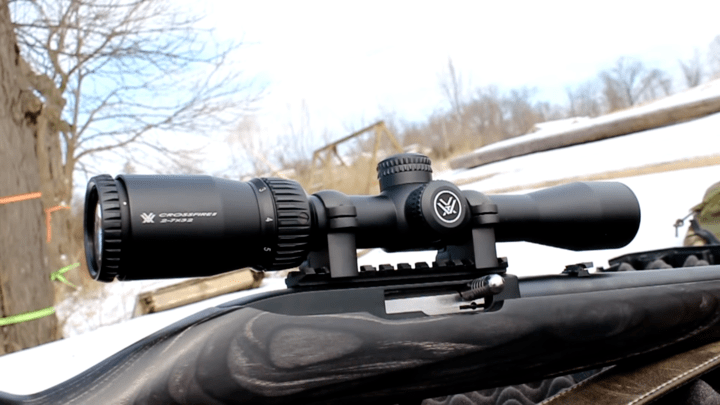 It's constructed from a single piece of hard-anodized aircraft-grade aluminum which is nitrogen-purged and O-ring sealed to make the scope waterproof, fog proof, and shockproof. It's easy to handle, doesn't add too much extra weight, and is simple to install.
The scope is durable enough that it should have a long service life, but Vortex Optics offers an unconditional, unlimited lifetime warranty for all of their scopes.
All air-to-glass surfaces are fully multi-coated to allow plenty of light to travel through them while minimizing reflection and glare and protecting the lenses from scratches, dirt, and oil.
Best Warranty
129
at Brownells
Prices accurate at time of writing
Prices accurate at time of writing
The result is a clear, bright picture that persists even at extended ranges and in low-light conditions. An integrated sunshade further eliminates glare on the objective lens.
In addition, the objective lens is adjustable to prevent parallax errors.
This scope has a second focal plane reticle, which means that the reticle is installed past the magnifying lens so that it stays the same size regardless of the magnification level the shooter uses. The V-plex MOA reticle is well-suited for both hunting and target shooting.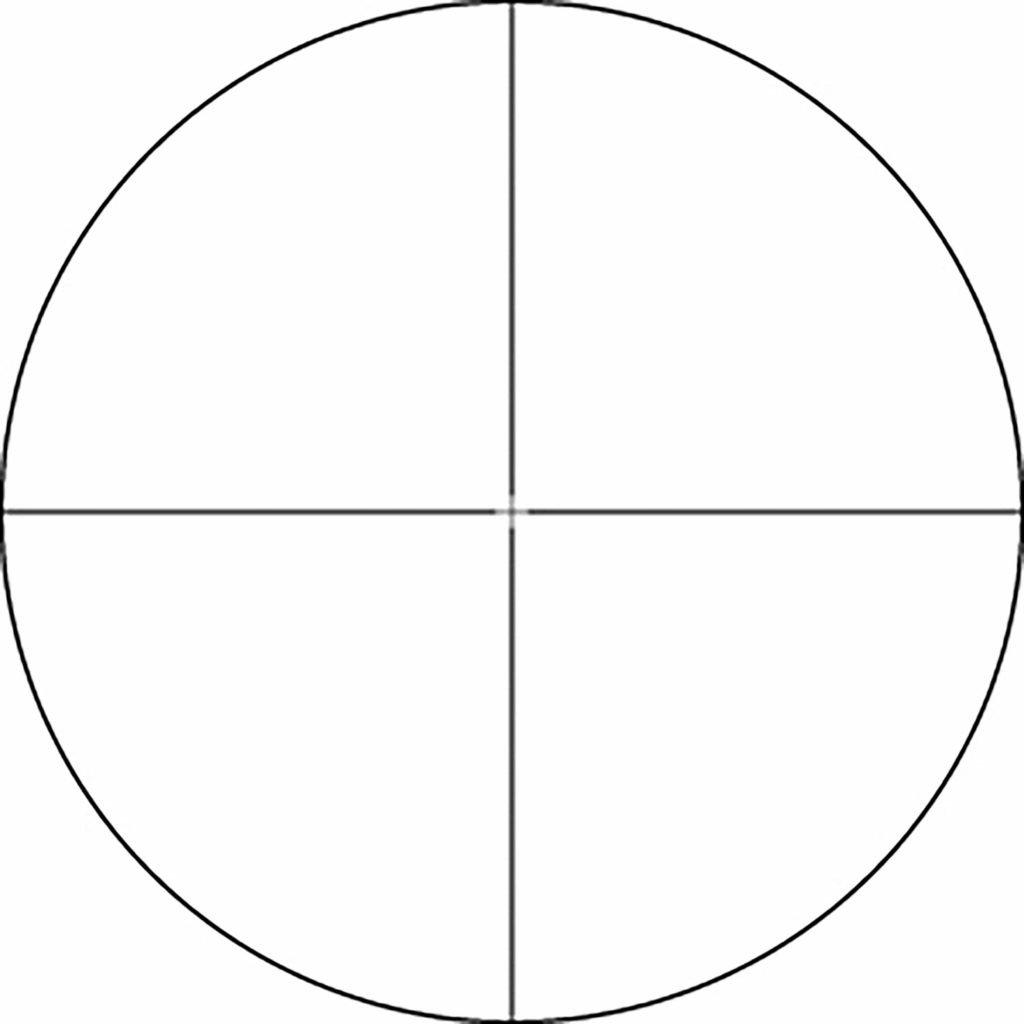 The scope's fast-focus target lens makes it easy to shift targets quickly without major adjustments.
Plus, the Crossfire II also has wind and elevation reset turrets, making it easy to zero the scope and make field adjustments. Caps protect the turrets from being moved out of position while attaching or detaching the scope and during travel.
The 2-7x 32 Rimfire model is particularly well-suited for the Ruger 10/22 rifle and performs well for both hunting and precision long-range shooting.
Still, Vortex's entire Crossfire II line is pretty great, so you may want to look at some of the other models in the line to see if there's one that you think might be better for your particular needs.
What do you think of the Vortex? Rate it below!
5. Bushnell TRS-25 Red Dot
Red dots are still a great option if you just want something better than the 10/22's sights and for times when you don't need a magnifying optic.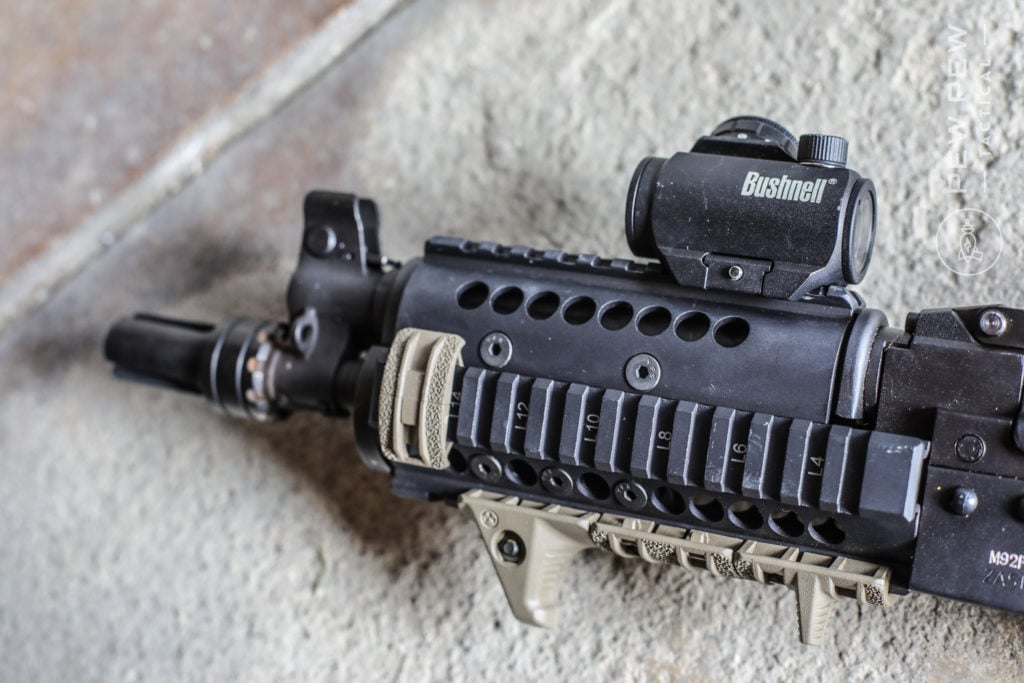 The Bushnell TRS-25 is one of my favorite red dots, especially for shooters on a tight budget.
The TRS-25 is waterproof up to 10 feet, fog proof, and shockproof. It stands up to round after round and a fair bit of knocking around (though I wouldn't recommend testing the latter) without losing your zero.
Best 10/22 Red Dot
64
at Amazon
Prices accurate at time of writing
Prices accurate at time of writing
The lens is multi-coated with Bushnell's Amber-Bright high contrast lens coating, making it easier to spot even the best camouflaged prey in low light settings.
This red dot sight has a 3 MOA reticle and 11 brightness settings for a wide variety of lighting conditions. At the lowest setting, the TRS-25 has an advertised 3000 hours of battery life.
This is also a very low profile sight, certainly lower profile than a scope, and has unlimited eye relief, but some TRS-25 users have difficulty getting a solid, comfortable cheek weld.
In this case, just using it with the included riser will generally fix the discomfort.
Some users have also said that using the sight with a riser makes target acquisition easier. You can try it both ways and see which one you prefer.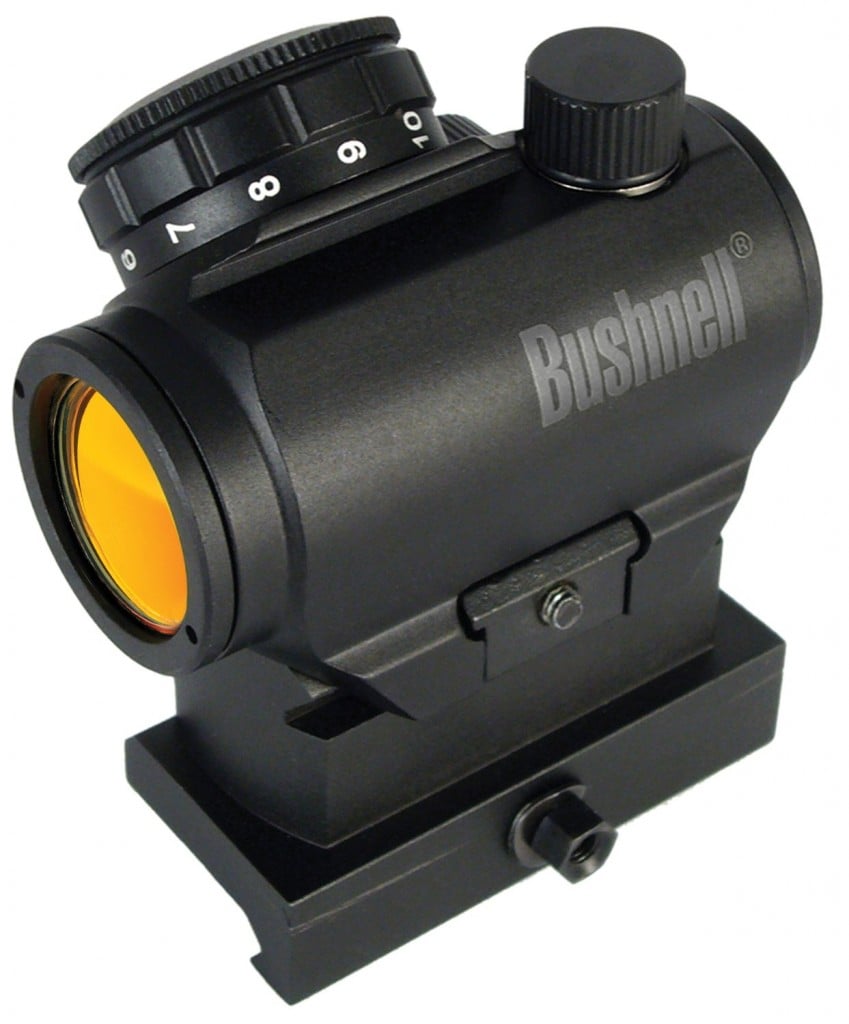 6. Sig Sauer Romeo5 Red Dot
If you want something a little higher-end and would work on an AR platform…we're loving the Romeo5.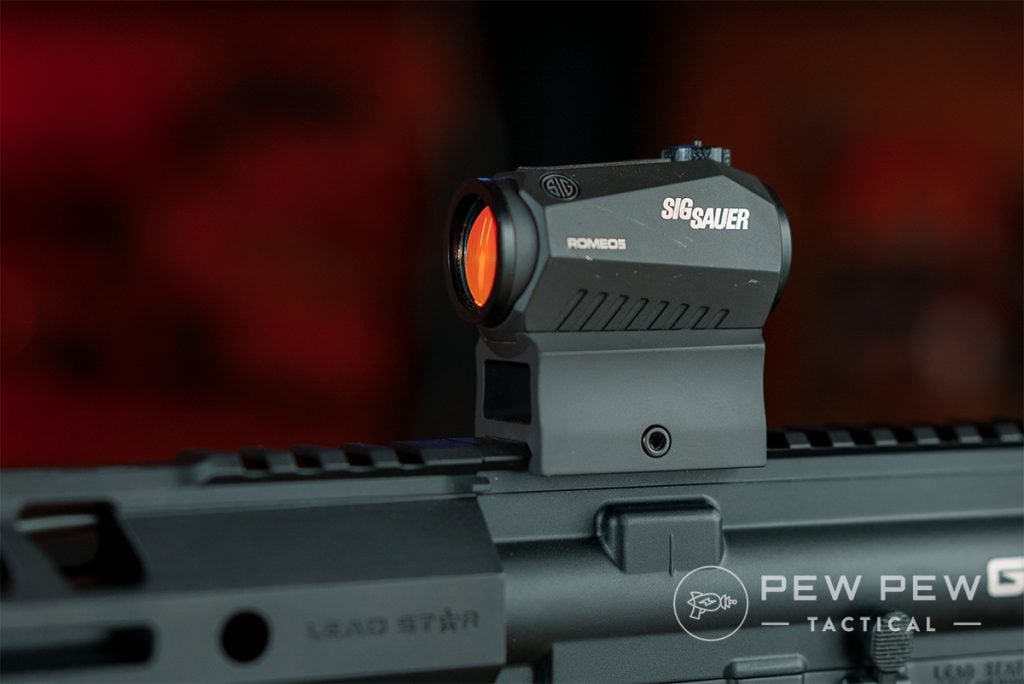 This thing boasts 40k hours of battery life…yup 40k!
Plus it has an option to set up shake-awake so you're never left without a sighting option.
Glass is clear and not too blue…and the dot is crisp.
Plus it has withstood 5.56 rounds and full-auto 9mm as well…so it should do fine on the 10/22.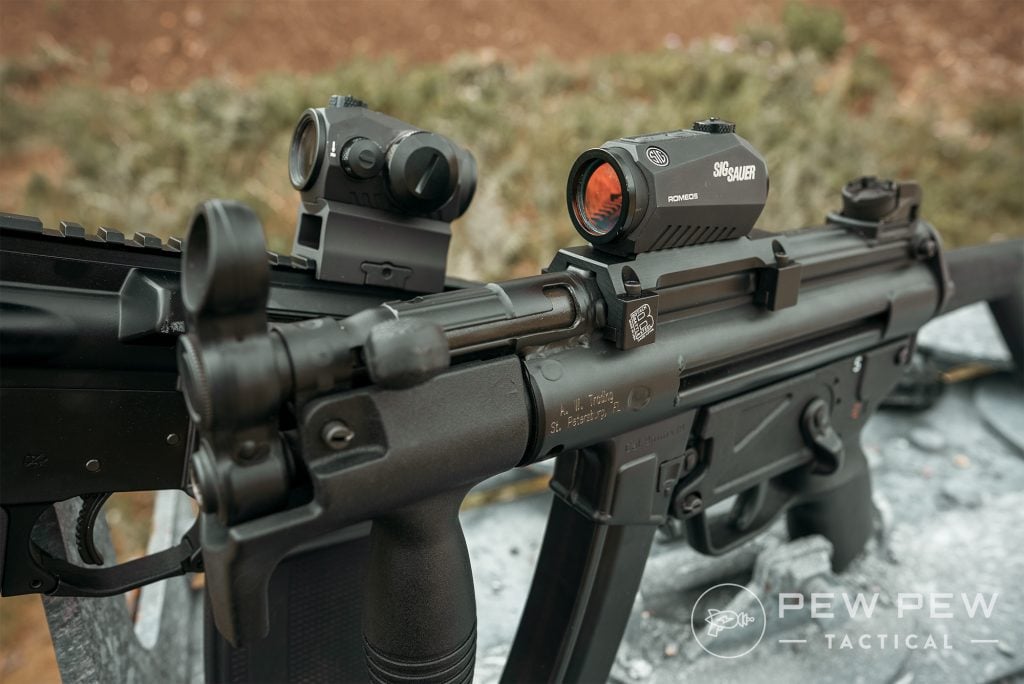 See the full review here.
Brutally Tested Budget Red Dot
119
at Palmetto State Armory
Prices accurate at time of writing
Prices accurate at time of writing
7. Leupold VX-Freedom Rimfire MOA Riflescope
Like the Tasco scope, the Leupold VX-Freedom Rimfire MOA Riflescope is designed specifically to be paired with a rimfire rifle like the Ruger 10/22.
It has rimfire-focused features, like a 60-yard focus distance and Leupold's Rimfire MOA reticle with thinner hash marks to accommodate rimfire targets.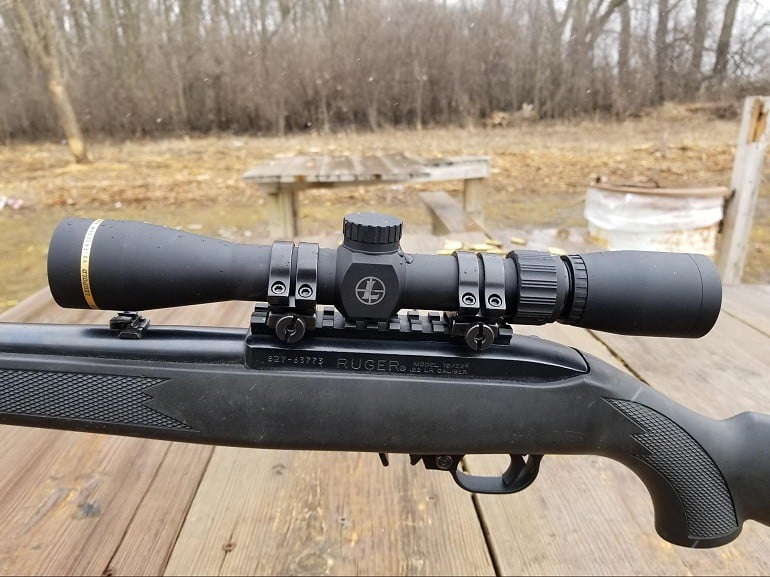 The scope comes in 3-9×40 and 2-7×33 models. Either would be an excellent choice for your 10/22. Just choose the magnification that best fits your purposes.
Both options have a lengthy eye relief 3.7 to 4.2 inches, and a second focal plane reticle. It will feature Leupold's Advanced Optical System for improved light transmission, glare reduction, and resolution. The windage and elevation turrets will be finger-click adjustable.
The scope will also be very durable, so you know you'll have it in great condition for years to come. It's waterproof, shockproof, and fog proof, plus it has scratch-resistant lenses. And to top it off, Leupold covers the scope with a lifetime warranty.
Best 10/22 Scope
299
at Amazon
Prices accurate at time of writing
Prices accurate at time of writing
Finally, the VX-Freedom Rimfire MOA Riflescope is pretty lightweight. The 2-7x model weighs 11.1 ounces and is 11.04 inches long, while the 3-9x model weighs 12.2 ounces and is 12.49 inches long.
Mounting a Scope on the 10/22
Some models (see our Best 10/22 Models), including the OG standard model Ruger 10/22 Carbine and the ever-popular Ruger 10/22 Takedown, come with a gold bead front sight and adjustable rear sight, which are okay if you don't need to shoot very far with high precision.
Other models, like the 10/22 Tactical, the 10/22 Compact, and the 10/22 Competition, come with no sights at all, so you'll need to get a scope or sight to use with them.
All but the Ruger 10/22 Competition come with a combination scope base adapter that works with both Weaver-style and .22 tip-off scope mounts.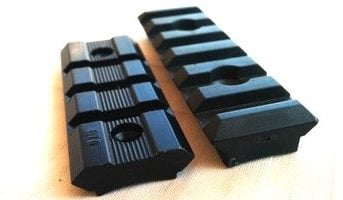 All that is to say that the 10/22 is basically begging you to put a scope on it. It's an excellent precision rifle, so give it a scope to go with that.
Which scope?
Well, I'm glad you asked.
Final Thoughts
An effective optic goes a long way in improving your precision; a shooter with a mediocre gun and a high-quality scope will often outperform a shooter with a high-quality gun and only a mediocre scope.
In other words, treat buying any type of optics like an investment.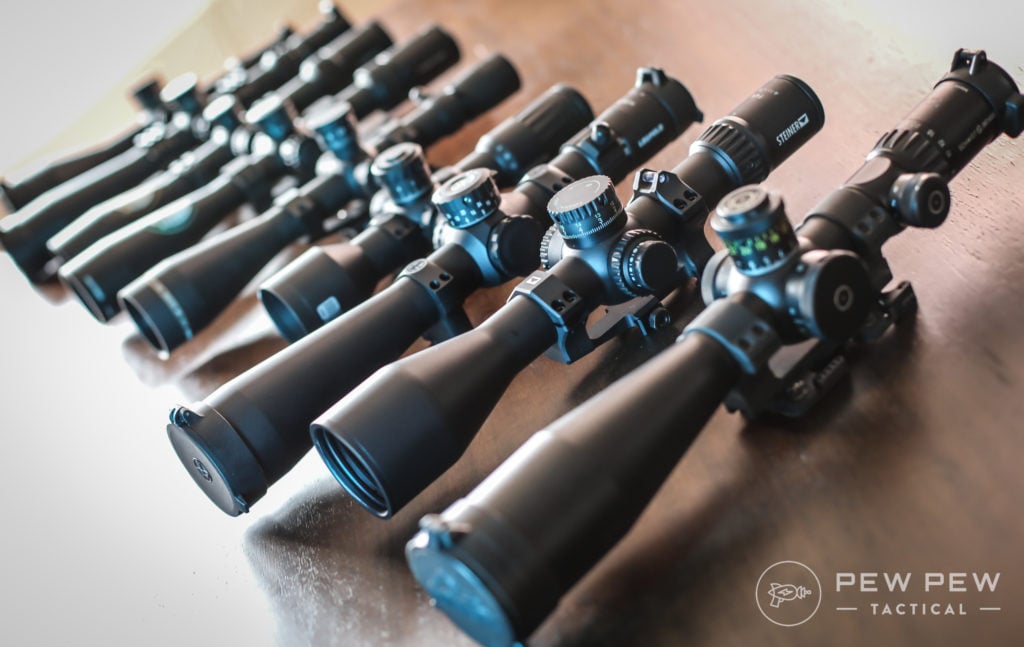 Scopes are not the place to pinch pennies, and it's definitely worth it to take the time to make sure that you're choosing a quality scope that's suitable for your needs, whether they are eliminating pests in your backyard, long-range target shooting, or something in between.
All of the options that I've talked about here are excellent choices, but they each have their own little nuances that make them best suited for different things.
Whichever one you go with, you'll have an exceptional optic to put on your Ruger 10/22.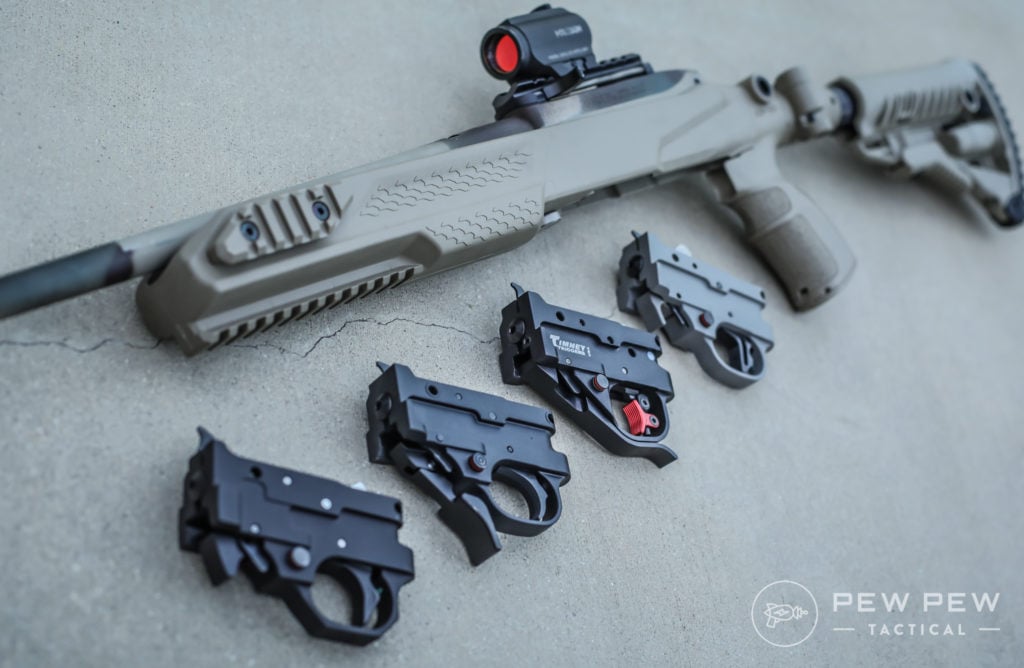 Need .22 LR ammo? Take a look at the Best .22 Long Rifle Ammo! Or want to fully kit out your rifle? Check out Best 10/22 Upgrades.