Do you fly a lot?
If you do, you've likely had to go back and forth to sanitize your travel gear — specifically your carry-on bag.
By sanitize, I mean to remove any traces of fun stuff the TSA tends to not like. This includes ammo, magazines, and knives.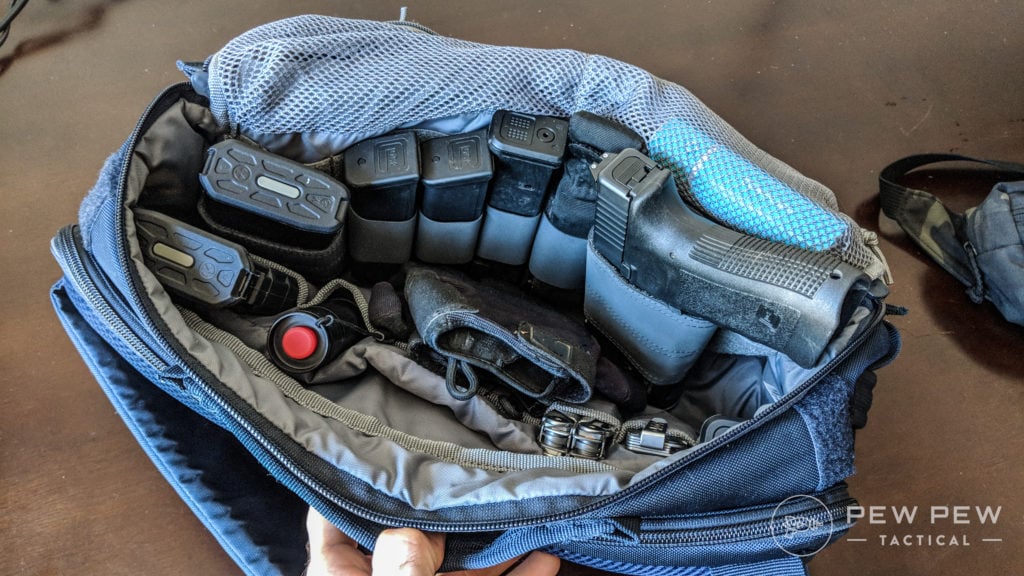 To make this an easier process, I actually keep a sanitized bag tucked away for this exact reason.
Though you can carry guns, ammo, knives, and everyday multitools in stowed luggage…what happens when that bag goes missing? You're without any of your handy tools.
While we can't carry-on a ton of fun stuff, there's no reason not to have a multitool.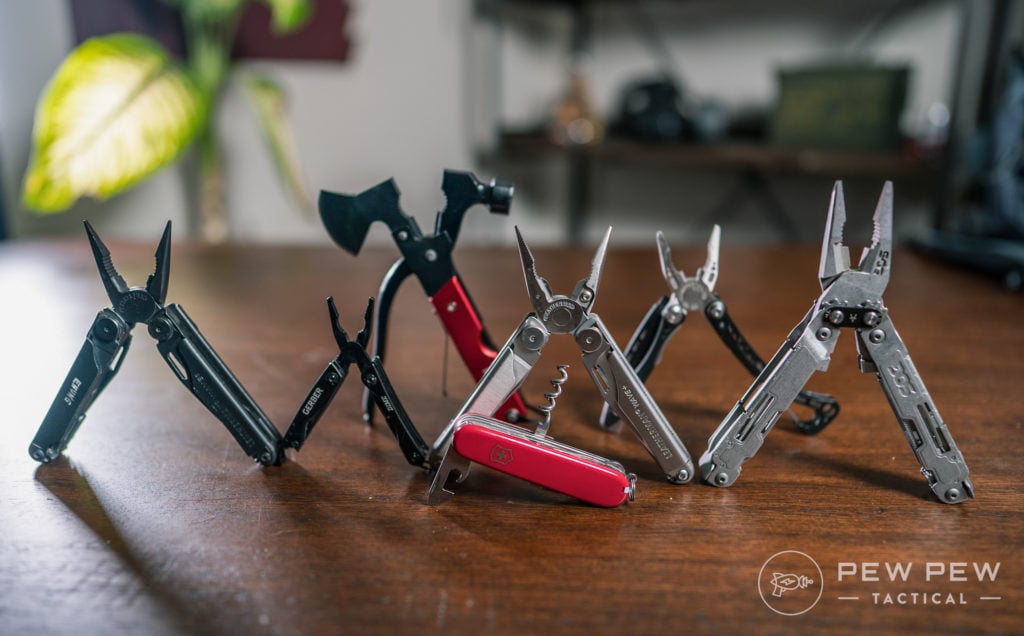 Multitools are so dang plentiful that there are more than a few TSA-friendly models.
We gathered a few of our favorites. All TSA approved and ready to travel with you, right under your seat.
Keep reading to see which multitools to take on your next flight!
Table of Contents
Loading...
What's The TSA Say?
Before we dive into our favorites, what's the TSA say about multitools in carry on?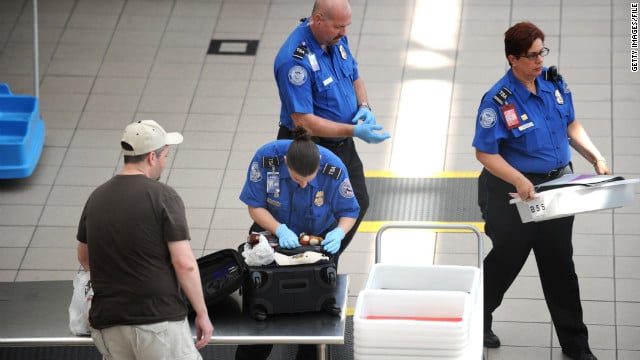 "In general, you are prohibited from traveling with sharp objects in your carry-on bags. Multitools (multipurpose tools) with knives of any length are prohibited. Please pack these items in your checked bags. Multitools (multipurpose tools) with scissors less than 4 inches may be placed in carry-on bags."
Now we know what TSA has to say, so let's look at a few TSA-approved tools.
Types of Multitools
There are a few types of multitools we'll cover today.
Keychain tools provide a simple but effective selection of small tools at a low personal cost.
The best part is that flying high is rarely an issue with these little tools.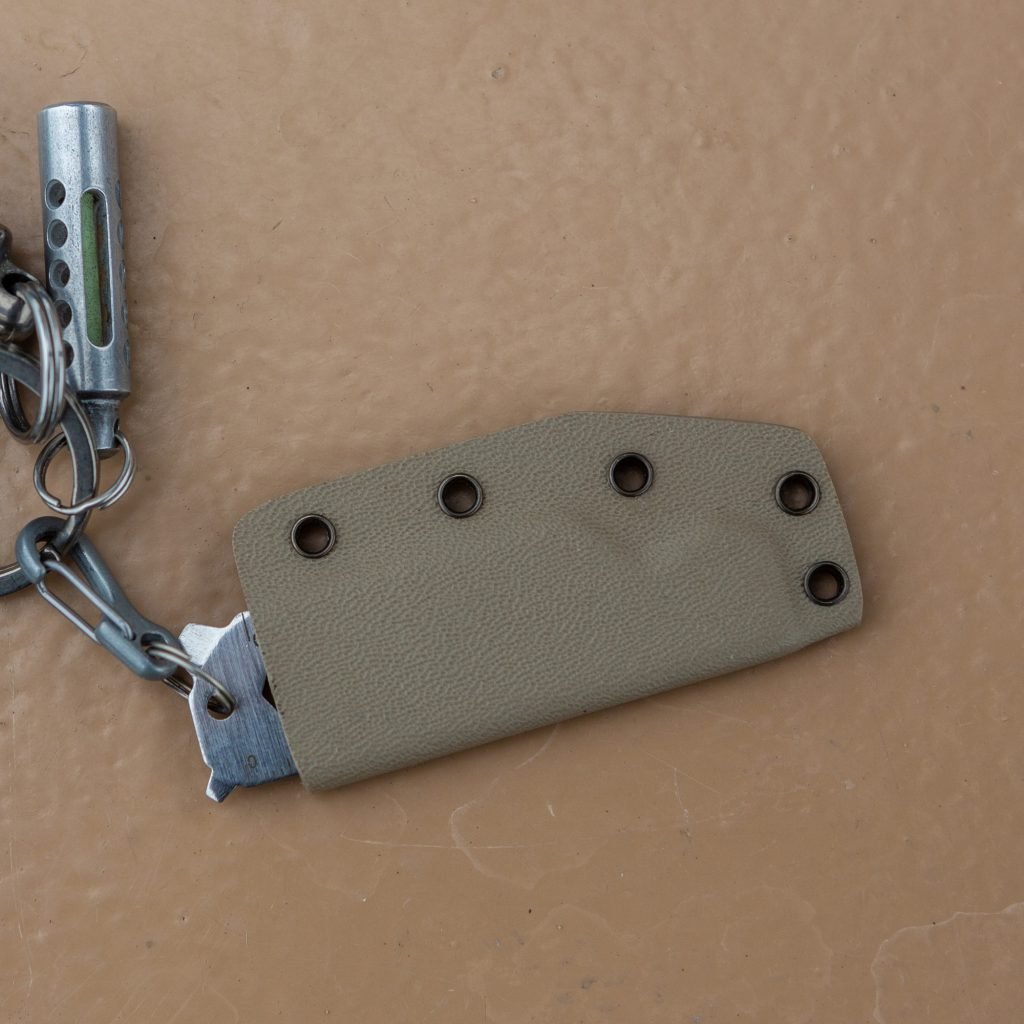 Companies take precautions to make these tools TSA friendly for a reason. They will inevitably be forgotten on a keychain and can cause issues if they aren't flight-friendly.
The other style adopts a traditional approach.
What makes a multitool traditional?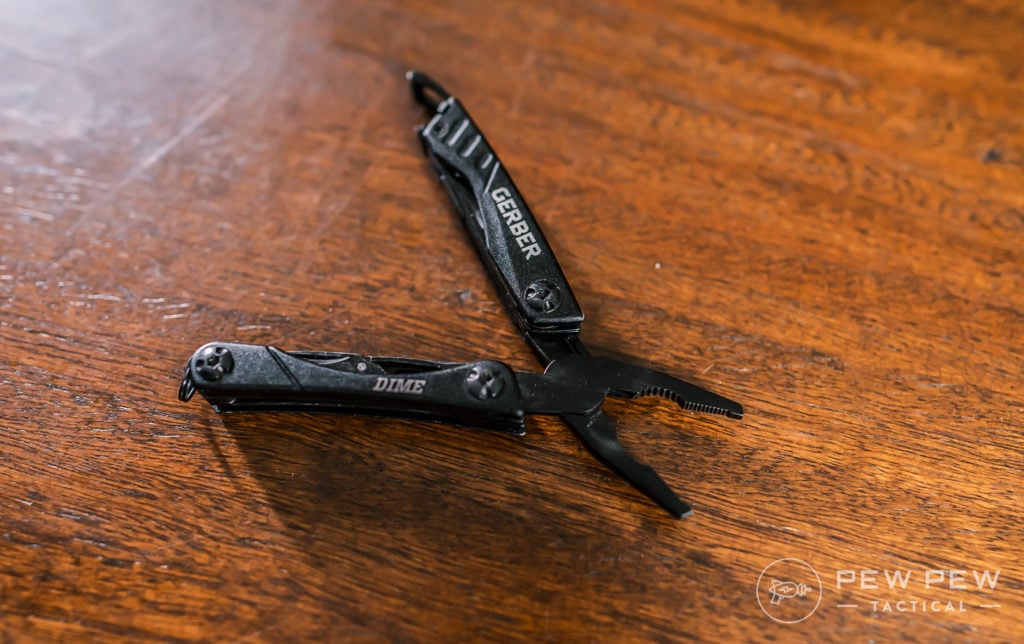 Well, largely a folding design, or a design packing numerous tools into a small package.
These are the tools we all know and love. And we've gathered the ones that are TSA compliant.
So, keep reading to see what we recommend you take to the skies.
Best TSA Approved Multitools
1. Gerber Shard
Tools Include:
Pry Bar
Small Flathead Driver
Wire Stripper Puller
Large Flathead Driver
Bottle Opener
Cross Driver
Geber makes more than baby food, but you know that if you hang around here long enough.
The Shard is one of their keychain tools and one of my personal favorites. It's a single-piece tool that packs six functions.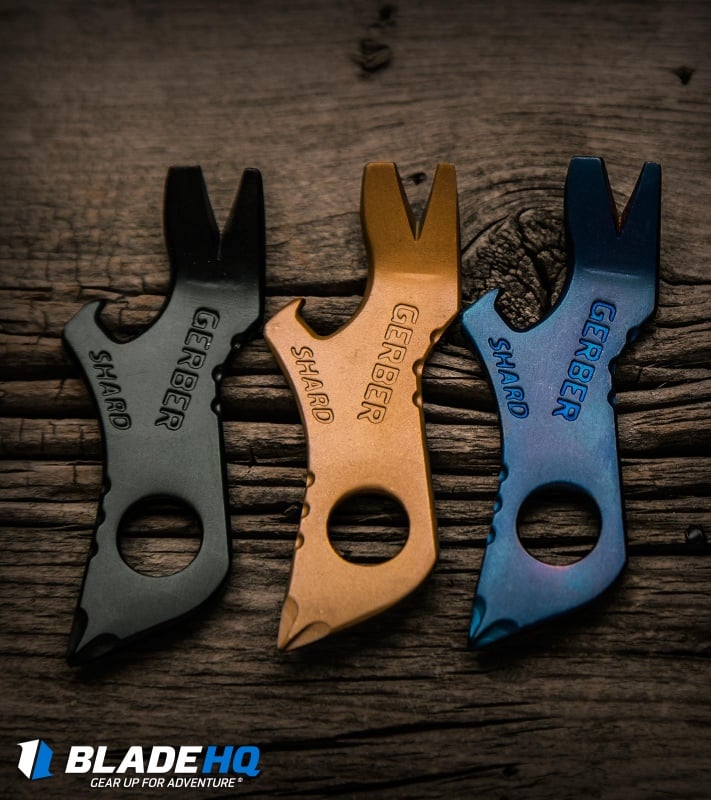 Gerber provides three drivers, two flatheads (large and small), and a great Phillips head driver.
A 1/4-inch hex driver moves those driven in screws easily. The pry bar design is efficient for the Shard's small size and delivers impressive prying power.
It's small, pocket-sized, and completely TSA-friendly — it won't get a second look at the TSA line.
Plus, when the bartender forgets to pop the top on your $13 Guinness, you have a bottle opener on hand.
7
at Amazon
Prices accurate at time of writing
Prices accurate at time of writing
2. 5.11 Tactical EDT Tool
Tools Include:
Standard 6mm hex wrench
Flathead screwdriver
Bottle opener
Pry tool
Wire stripper
Metric & Imperial ruler
Bottle opener
5.11 Tactical makes more than boots and cargo pants. They released more than a half dozen EDC tools in 2021!
But one of their classics is the 5.11 Tactical EDT.
Basically, 5.11 took a piece of steel and carved a bunch of tools into it.
We get three hex drivers, a pry bar, a wire stripper, a bunch of screwdrivers, and of course, a bottle opener.
This tool is a straight bar that comes with a small, optional Kydex sheath to avoid ripping and tearing your pocket.
It's a sweet, very well-made tool that even allows you to measure something an inch at a time.
13
at 5.11 Tactical
Prices accurate at time of writing
Prices accurate at time of writing
3. Victorinox Jetsetter
Tools Include:
Bottle opener
Phillips screwdriver 0/1, magnetic
Wire stripper
Scissors
Toothpick
Tweezers
Swiss Army Knives bring out my inner MacGyver. As a kid, I had a smattering of them.
The Victorinox Jetsetter takes the classic mini–Swiss Army knife and removes the blade but adds a small multi-use tool.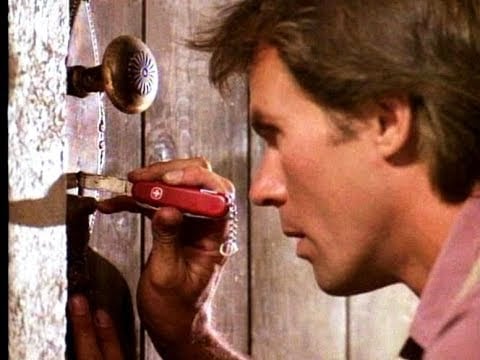 Most of these tools are a little compromised by the loss of a blade, but with the size of the Jetsetter, I prefer the multitool to a blade.
This single-arm multitool packs a Phillips head driver that's magnetic, a bottle opener, and a wire stripper.
Opposite this tool is a pair of the traditional scissors we see on most Swiss Army knives.
Hidden in the tool's body are a small pair of tweezers and a toothpick.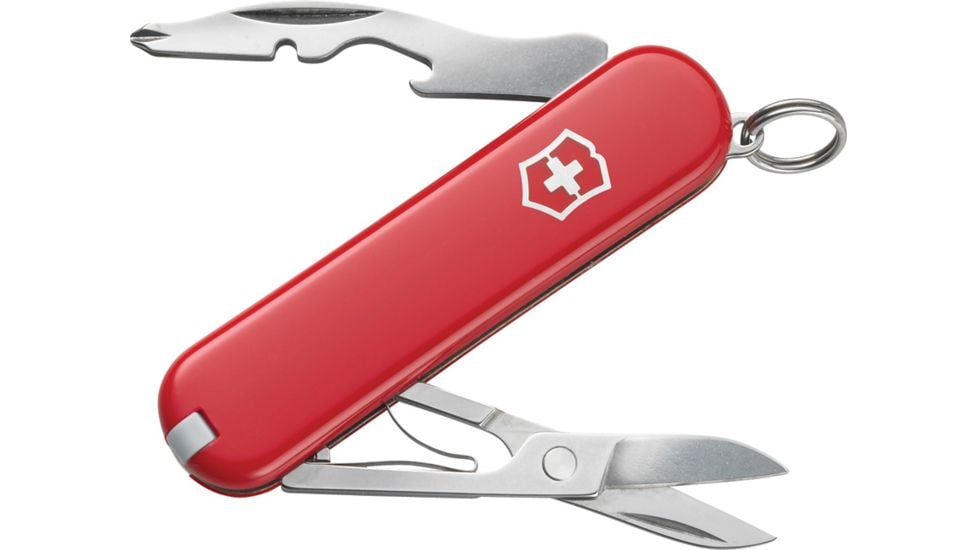 While the tools are limited here, overall, the Jetsetter measures superbly small, weighing less than an ounce. So, it definitely fits on a keychain.
Its small size makes it easy to carry on and off planes.
That said, you might want to give your friendly TSA agent a heads-up that there's no knife in this tool.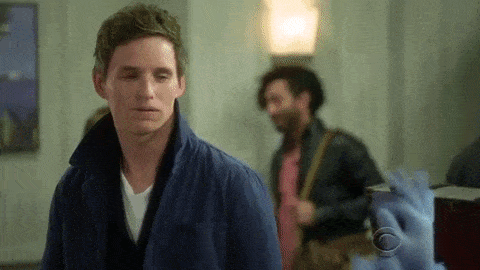 The Swiss Army Knife design is well known and easy to spot. So, confusion may reign if you aren't clear about it.
Don't be the guy to hold up the line.
18
at Amazon
Prices accurate at time of writing
Prices accurate at time of writing
Have a Victorinox Jetsetter? Rate it below!
4. SOG Sync II Traveler
Tools Include:
Pliers
Gripper
Soft Wire Cutter
Crimpers
Phillips Screwdriver
Bottle Opener
Scissors
Medium Flathead Screwdriver
3-Sided File
Small Flathead Screwdriver
Ruler
SOG's little Sync II Traveler provides users with 11 tools in a 5.9-inch package that weighs 8.9-ounces.
The Sync tool has a unique folding and carry system. It fits directly on the belt without the need for a big pouch.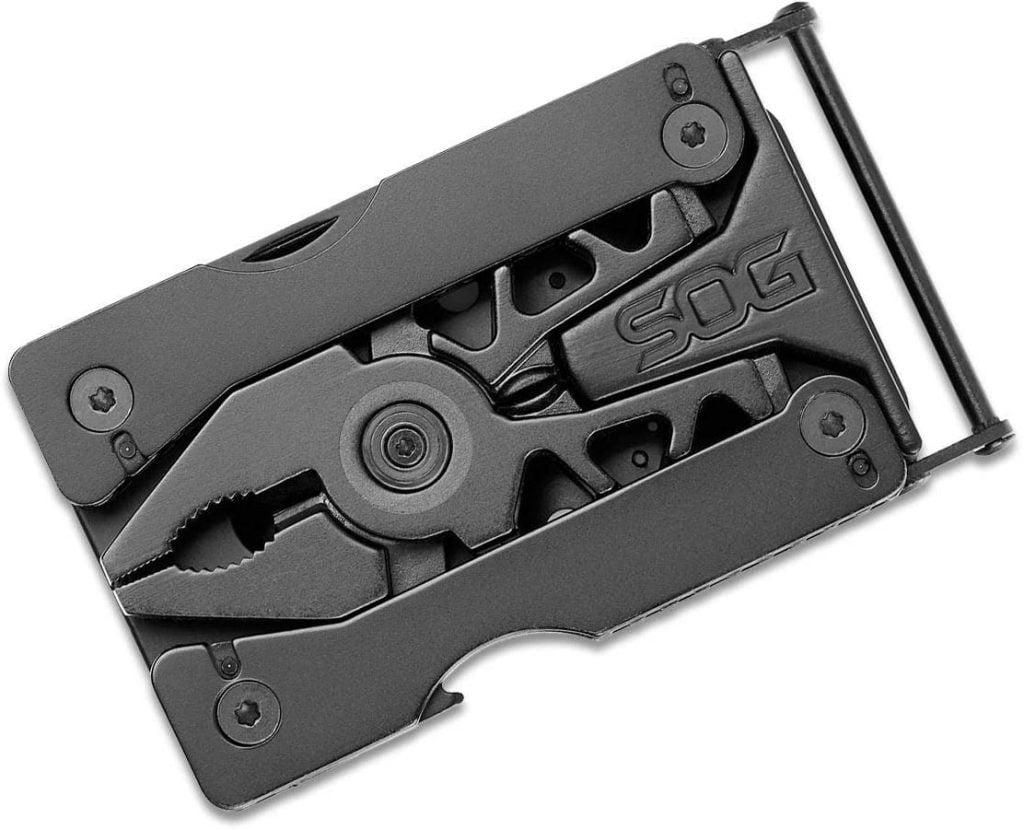 One of the more annoying things about multitools is the requirement of a sheath or pocket filling design. The Sync disregards the norm and is better for it.
As a travel-ready and TSA-approved design, we get several handy tools.
I dig the beefy set of pliers with wire cutters.
Three different drivers bump up the handiness factor. You'll conquer common screws like Conan did foreign lands.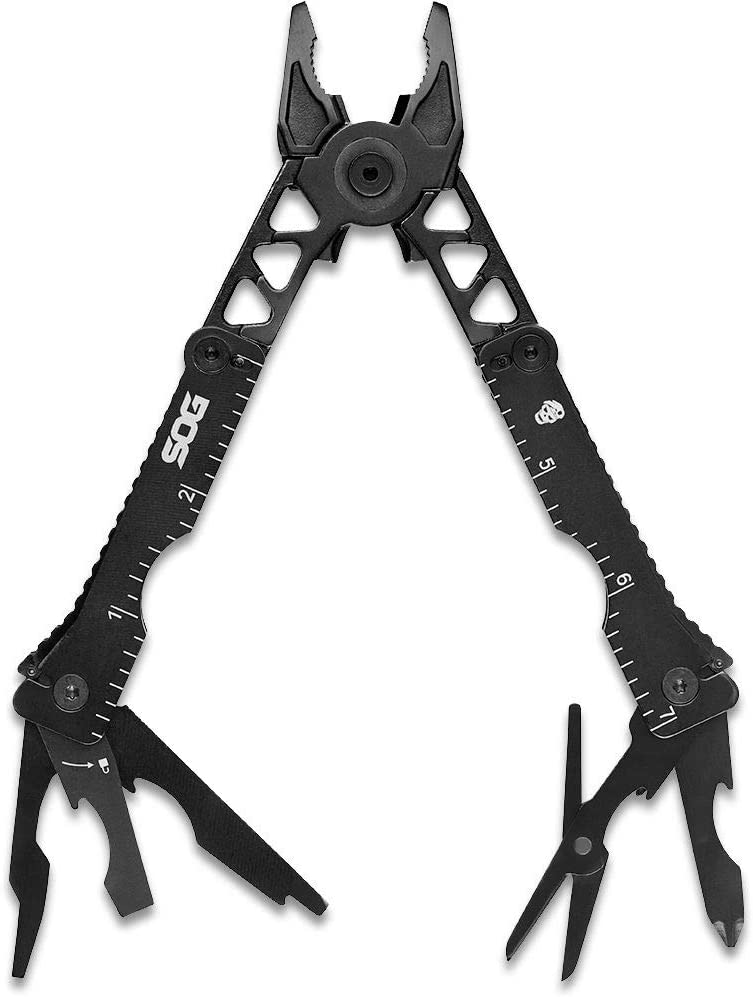 Beyond that, we have a few basics, including bottle openers and scissors.
Perfect for a mid-flight brew and to clip the best things out of Skymall. It's made from stainless steel, specifically the fun to type 5Cr15MoV. It's basic steel.
I wouldn't necessarily have a knife made from it, but it's robust and well suited for something like a multitool.
45
at Amazon
Prices accurate at time of writing
Prices accurate at time of writing
5. Leatherman Style PS
Tools Include:
Spring-action needle nose pliers
Spring-action regular pliers
Spring-action wire cutters
Spring-action scissors
Flat/Phillips screwdriver
Tweezers
Nail file
Carabiner/Bottle opener
Let's get small with it! The Leatherman Style PS shrinks the size of a multitool like Rick Moranis shrinks his kids.
This little fella gives you eight tools in its small package.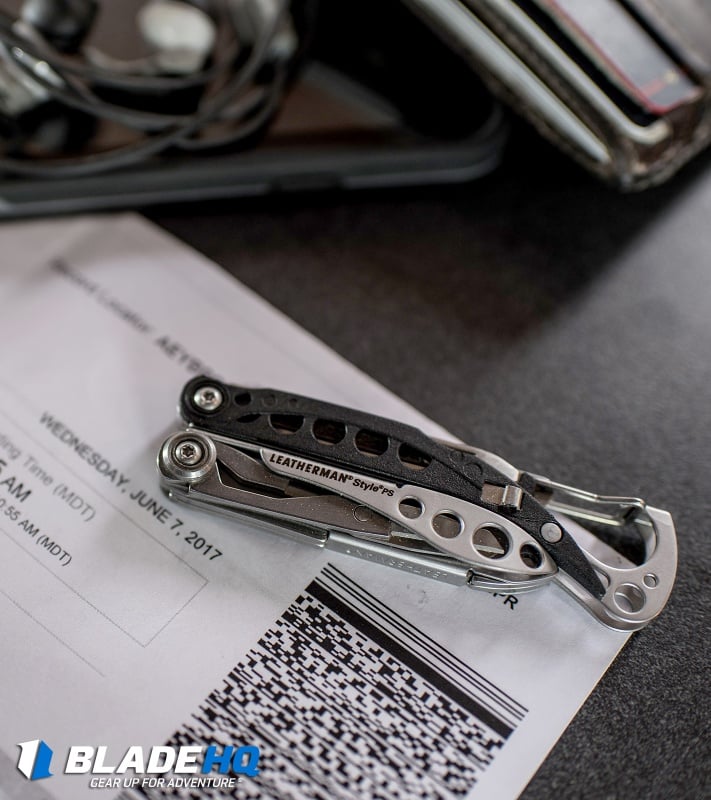 We get a pair of spring-loaded pliers complete with wire cutters that is the star of the show.
Leatherman packs a pair of scissors that's also rather robust and chewy. When I say chewy, I mean it eats rather well.
These are beefy scissors, which is surprising for a small multitool. They are spring action and help with everything from trimming a mustache to cutting open most things.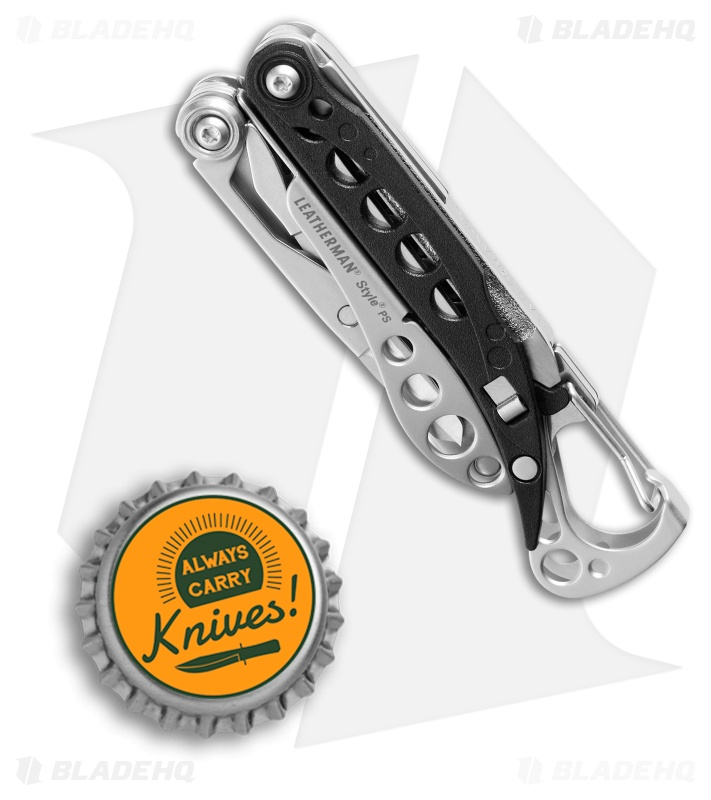 We get a file to keep your nails away from bag lady lengths, as well as tweezers to keep your eyebrows plucked.
Finally, a few drivers and a bottle opener in case your needs go beyond styling yourself up.
34
at Amazon
Prices accurate at time of writing
Prices accurate at time of writing
6. Leatherman Tread with SmartWatch Adapter
Tools Included
#1-2 Phillips
1/4″ Box Wrench
3/16″ Screwdriver
6mm Hex Drive
10mm Box Wrench
5mm Hex Drive
1/4″ Hex Drive
Oxygen Tank Wrench
3/16″ Hex Drive
1/8″ Hex Drive
3/16″ Box Wrench
3/32″ Hex Drive
3/32″ Screwdriver
1/8″ Screwdriver
4mm Hex Drive
8mm Box Wrench
3mm Hex Drive
5/16″ Screwdriver
3/8″ Box Wrench
1/4″ Screwdriver
#1 Phillips
6mm Box Wrench
#2 Phillips
Carbide Glass Breaker
Pick/Sim Card Tool
Cutting Hook
1/4″ Socket Drive Adapter
Bottle Opener
#2 Square Driver
So, the Leatherman Tread packs a ton of tools.
It's also pretty convenient to carry given that it looks and acts like a bracelet.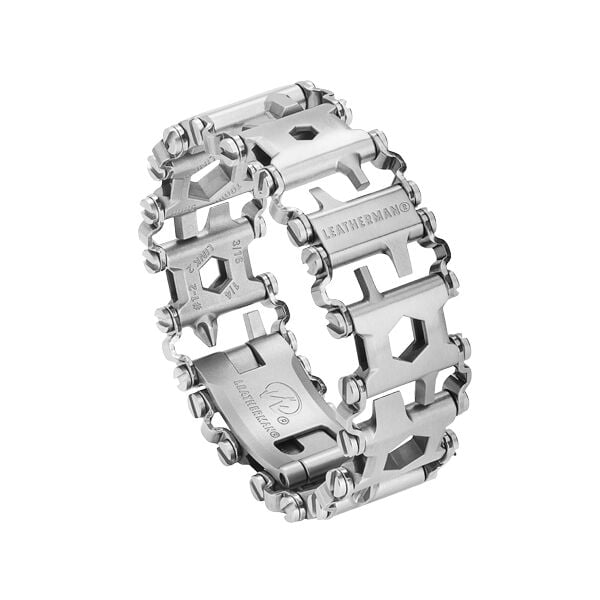 Basically, you have a bunch of tools right on your wrist. And it happens to be TSA approved.
Yet, given all this, I hesitated to recommend it — mostly because it's a rather large and ugly bracelet.
Best EDC Multitool
175
at Amazon
Prices accurate at time of writing
Prices accurate at time of writing
I couldn't see myself ever wearing it until…
I saw some adapters made to fit various watch heads.
As a watchband, I'd be much more prone to don it.
The adapters work with watch heads from Garmin, Apple, Fitbit, and many more.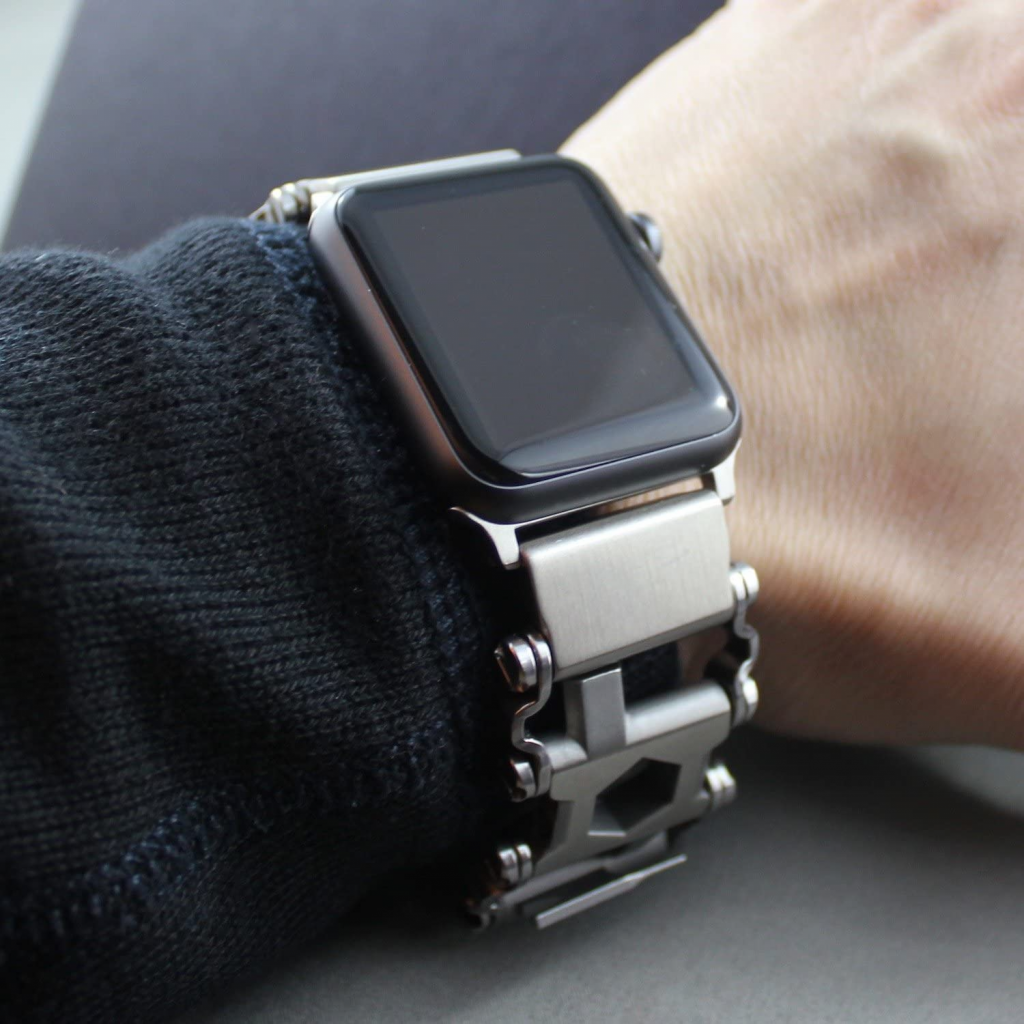 Now you have a watch band that packs a ton of tools. I can get behind that!
The Tread is basically a band full of various drivers and wrenches.
You can work on everything from your bicycle to your drone – all tools just chilling on your wrist day in and day out.
When you need box wrenches, hex drivers, screwdrivers, and more, you can pop the ole Tread off and get after it.
54
at Amazon
Prices accurate at time of writing
Prices accurate at time of writing
7. SOG Baton Q1
Tools Include:
Spring Assisted Scissors
Pen
Bottle Opener
Flat Head Driver
I carry a SOG Baton almost daily, specifically the Q3 model. However, the Q3 packs a blade, so it's not TSA friendly.
But its sibling, the Q1, ditches the knife portion making it a-okay for plane travel.
As far as a handy design goes, the Baton Q1 ranks up there rather high.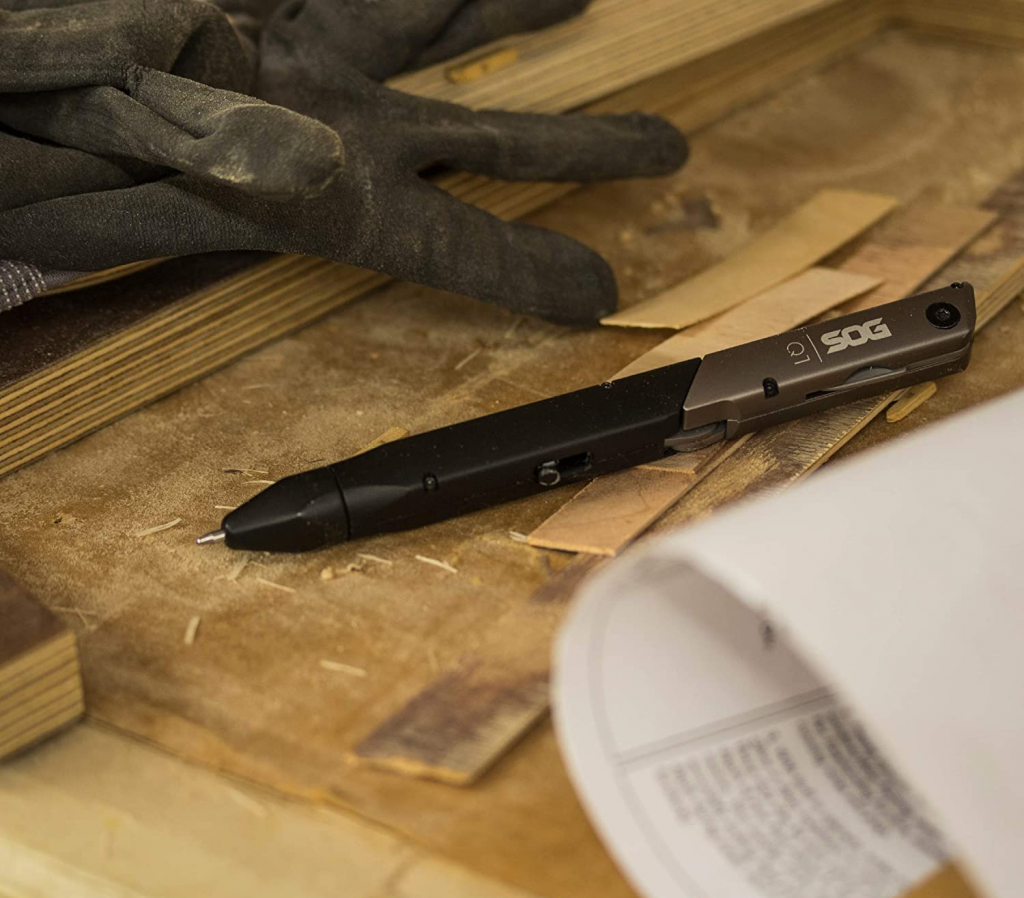 Instead of folding in half and feeling wide and bulky, it folds vertically, making it thin and long.
Think more Legolas and less Gimli if you will.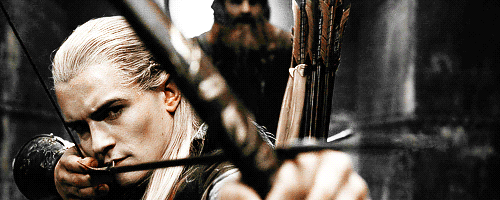 Pocket carry has never been easier for a multitool than this.
Besides the weird design overall, the included tools are also strange.
SOG calls this their Office Multitool, and as such, you get a ballpoint pen, a big ole pair of scissors, a flat head driver, and a bottle opener.
The bottle opener obviously being the most conducive to an office environment.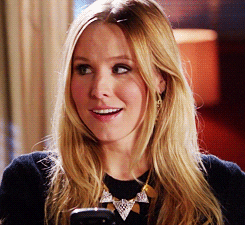 I think SOG could have packed a few more tools in here, but it's not a bad setup.
The Scissors are large but still, TSA compliant. They are also spring-assisted and chomp rather well.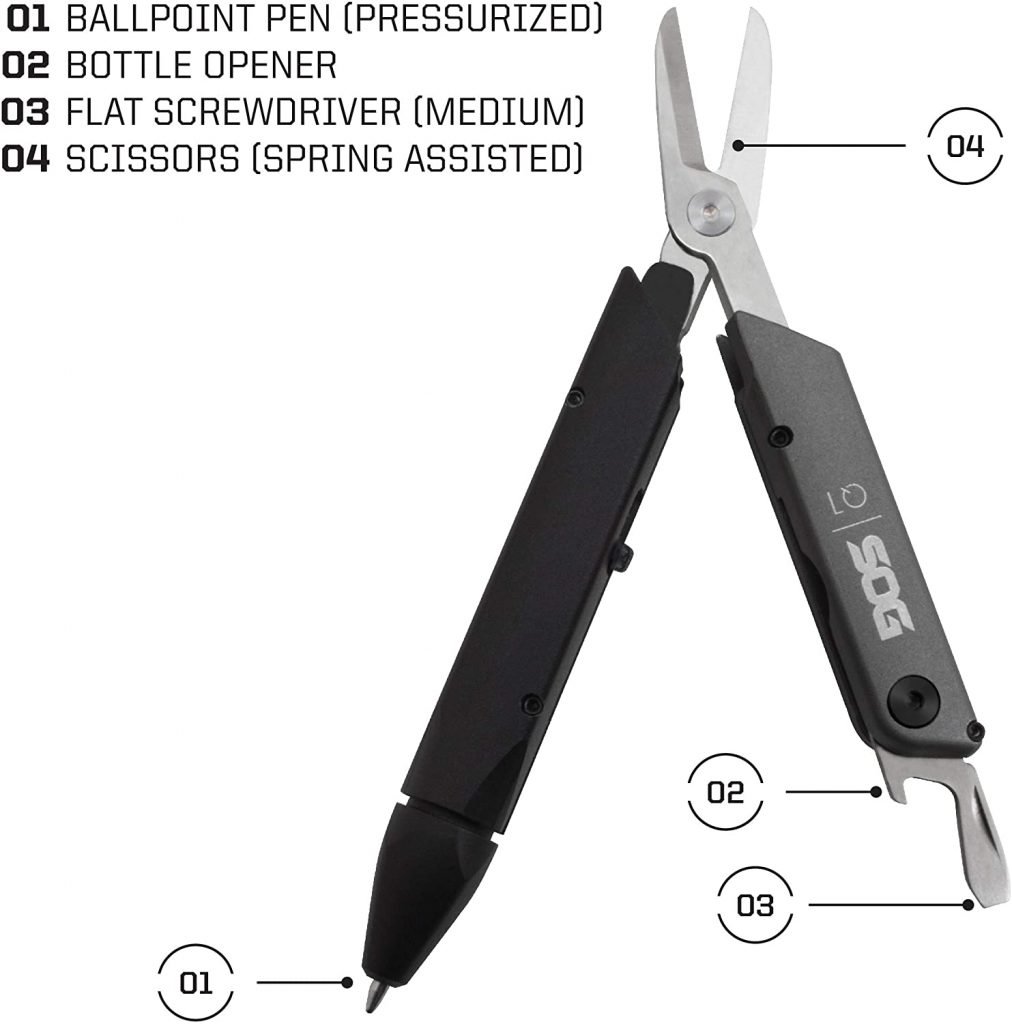 Because the scissors are so capable, they can replace a knife for many tasks.
It can't truly replace a knife, but if your adventure is more urban than jungle, they can be a good stand-in for cutting cords, opening boxes, and slicing through clamshell containers.
The pen also writes impressively. It's a little larger but doable and way cooler than any old G2 design.
21
at Amazon
Prices accurate at time of writing
Prices accurate at time of writing
Conclusion
Just because you're traveling doesn't mean you can't have some handy TSA-approved multitools at your disposal.
Stick to one of the tools above for your carry-on and stay prepared.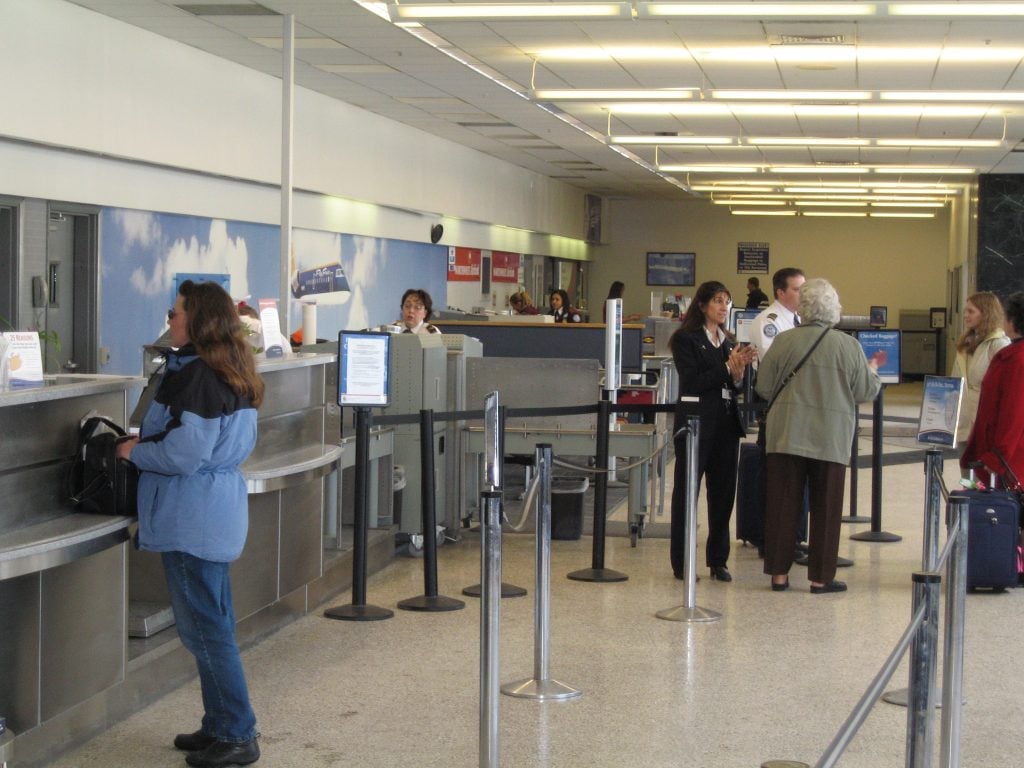 Let us know what you carry on a plane, or even if it's a concern to you in the comments below. For more slicing and dicing on a budget, check out our recommended Self-Defense Knives Under $50 & $100.