Back in the early oughts, right as the AWB expired in 2004, gun magazines were full of two things.
Can you guess what those were?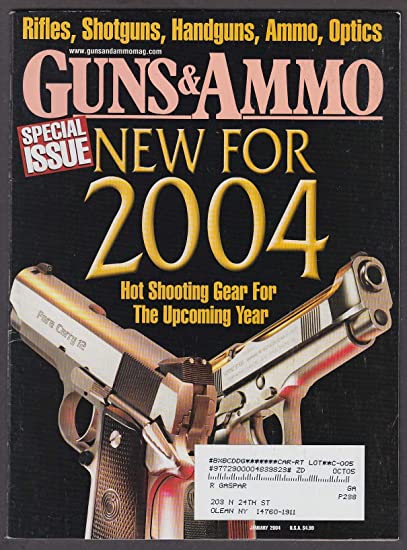 1911s and AR-15s.
Rarely would you see anything different unless you picked up the occasional AK-only issue or the Surplus rags. As a teenager thumbing through these magazines I often got sick of seeing the 1911 and AR-15.
One gun that caught my eye on the cover of Guns and Ammo was the original SOCOM 16. Magic was made when I saw the weapon and it quickly became a favorite of mine.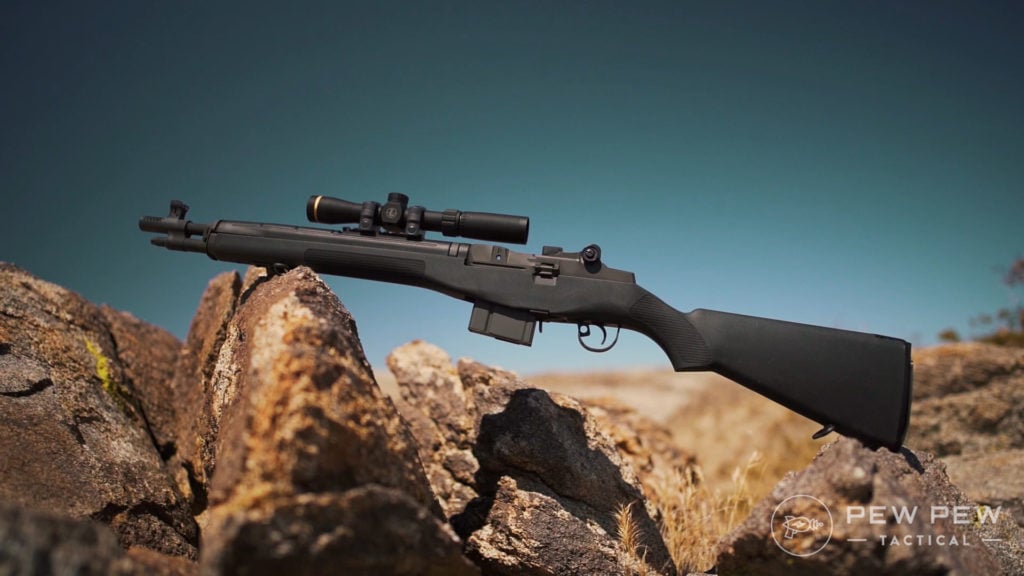 I bought into the stopping power myth and thought 5.56 was a poodle shooter and useless in combat and so on and so forth. I was a crypto Fudd and didn't even know it!
The SOCOM 16 became a rifle I lusted after.
I cut the spread out of Guns and Ammo and hung it like a poster on my wall.
Over time, I grew and matured and my tastes changed and the expensive SOCOM 16 faded away as I went from AKs to sub guns, to ARs, and now to shotguns.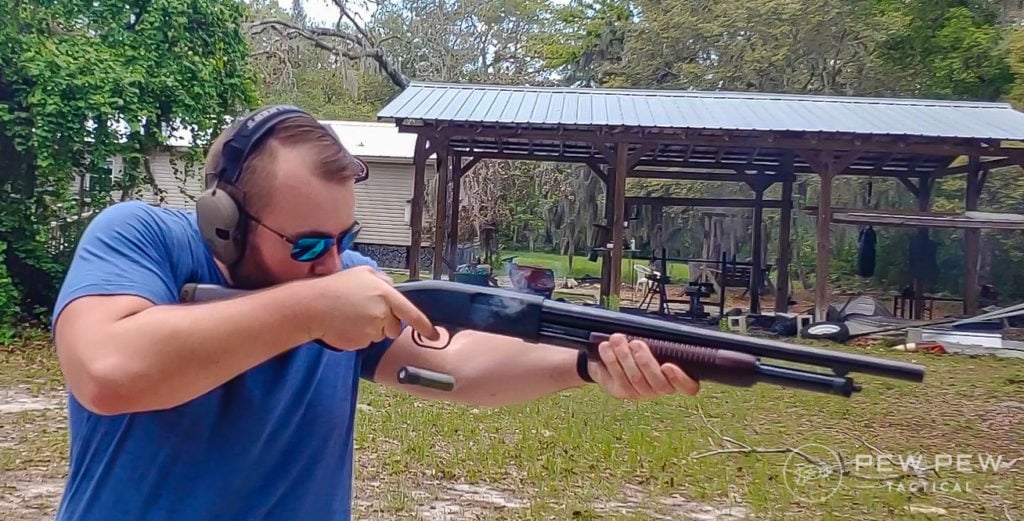 Somewhere along the way, Springfield offered to send me one, and my imagination was rekindled!
It's like getting a date with Farrah Fawcett after having her poster in your room. You all know the poster I'm talking about, too.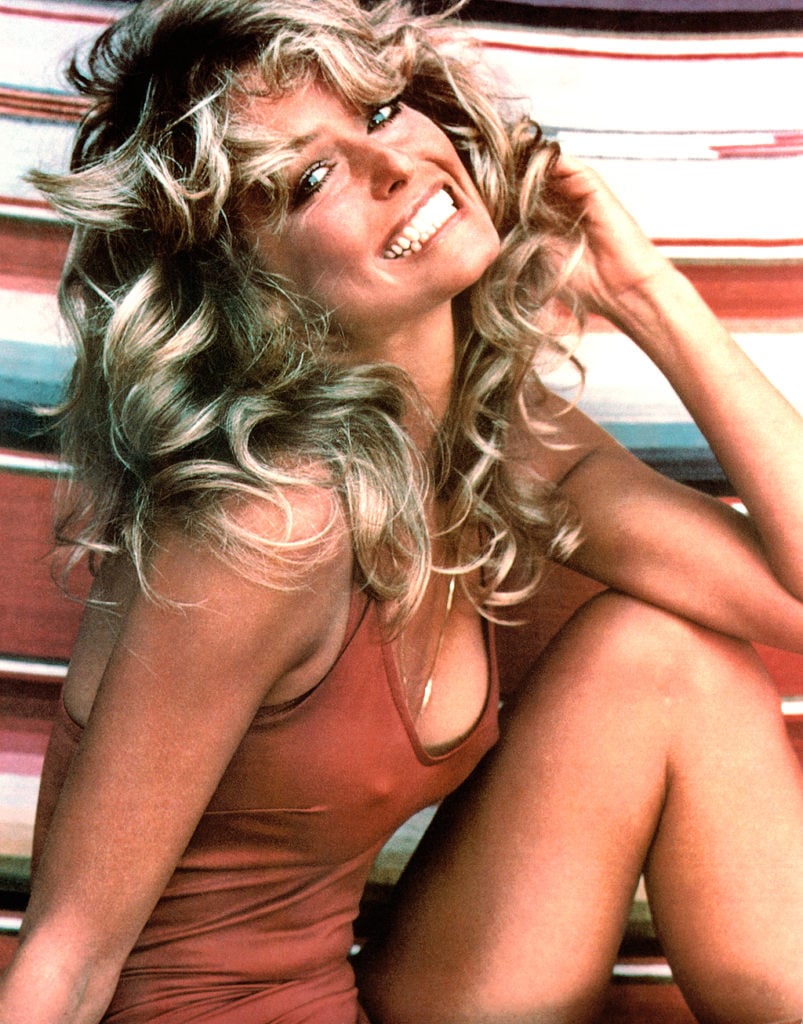 Like usual I can't leave well enough alone and started tinkering, and as I explored the aftermarket a plan started to brew.
Table of Contents
Loading...
Planning the Paratrooper M1A
If the M1A stuck around for a little bit would we see carbine variants?
What about an Airborne model? If you were jumping out of a plane with the M1A what kind of rifle would it be?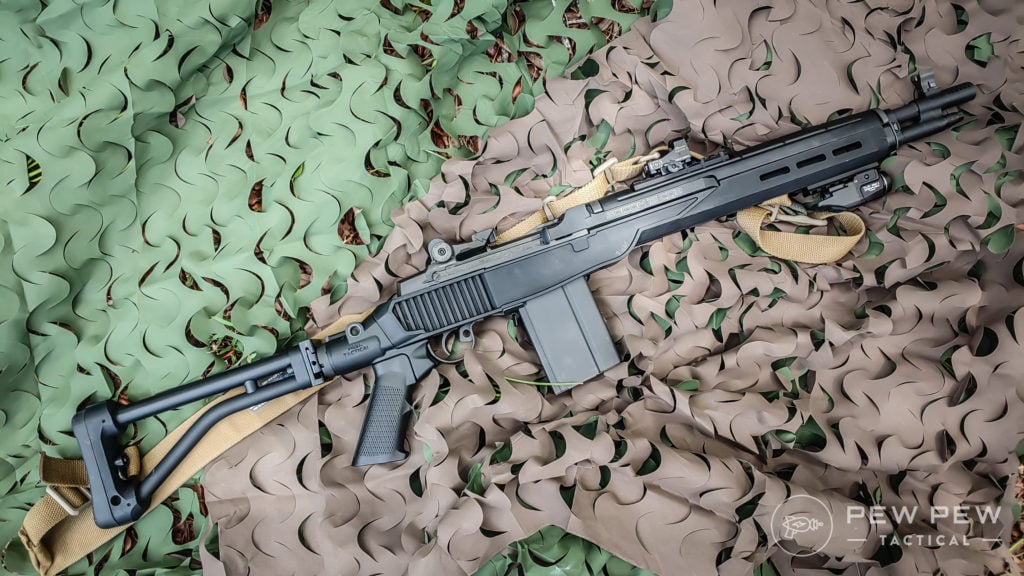 I wanted to take the M1A, and by extension the old M14, into a role the weapon never served in. Springfield already made the very cool Tanker model, and without a doubt, that idea inspired me a bit.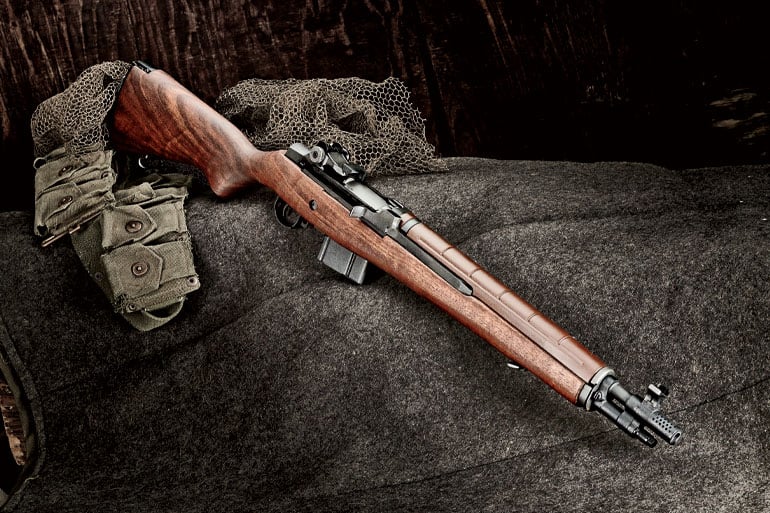 That leads me to the M1A/SOCOM 16 Paratrooper build.
I ended up straying from the Tanker's retro route and went full bore modern. I wanted to reduce the weight of the weapon, modernize the ergonomics, and add accessory compatibility at the same time. After all, this is a dream build, right?
How did I do it? The capitalism of course.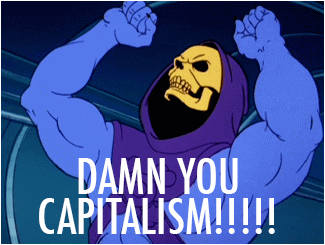 But before I get too deep down that particular rabbit hole, let's introduce the rifle first.
Introducing the SOCOM 16
The SOCOM 16 is the closest we can get to a carbine variant of the M1A or M14 rifle. This model trims the barrel down to 16.25 inches. It's a little lighter and much handier than the old school M1A.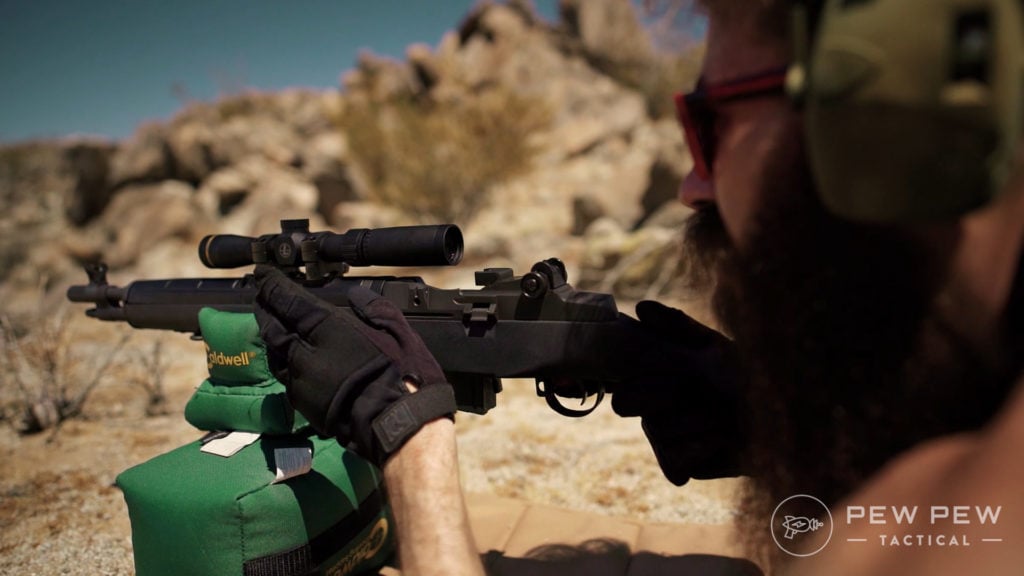 It's also outfitted with a polymer black stock that's very simple, and of course, as far as rifles go, it's quite efficient.
Trimming the barrel, luckily, doesn't reduce into too much of an increase of barrel concussion and blast. Muzzle rise and recoil are very well mitigated.
1450
at Palmetto State Armory
Prices accurate at time of writing
Prices accurate at time of writing
At the end of the barrel, you'll find a very efficient muzzle brake from Springfield that's unlike most M1A muzzle devices.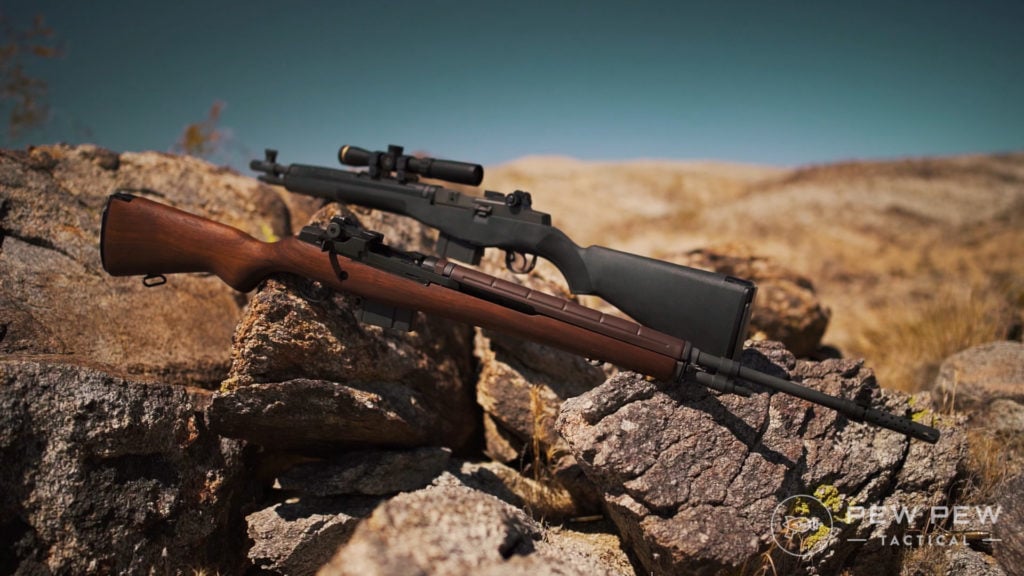 The SOCOM 16 CQB is still hefty at around 9 pounds and 3 ounces, but it's also a full-powered battle rifle, so keep that in mind. The weapon comes outfitted with a forward Picatinny mount designed for red dots or scout scopes.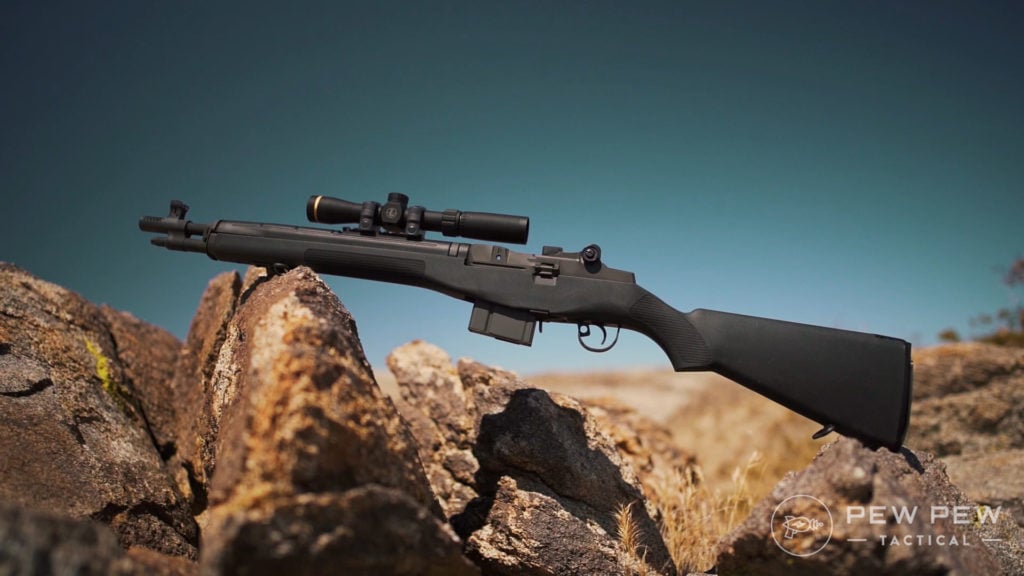 Outside of the scope mount the modularity of the rifle is rather limited. Attaching accessories and do-dads is a little tricky.
The good news is the SOCOM 16 is outfitted with the National Match trigger that's an exceptional package. It's a two-stage trigger and as such it still works for more tactical shooting without dipping into the too light area.
2250
at Sportsman's Warehouse
Prices accurate at time of writing
Prices accurate at time of writing
The internals and pieces and parts are all very efficient and made to last so I'm not going to focus too hard on that.
Anyways, let's talk about the cool part–upgrading the SOCOM 16 into the paratrooping rifle of my teenage dreams!
Chassis System
The first upgrade was the Delta 14 Gen 2 Chassis. Most M1A chassis systems aim at making the gun more like a DMR rifle, which isn't our goal with this build.
These systems are great but do add a bit of weight to the gun.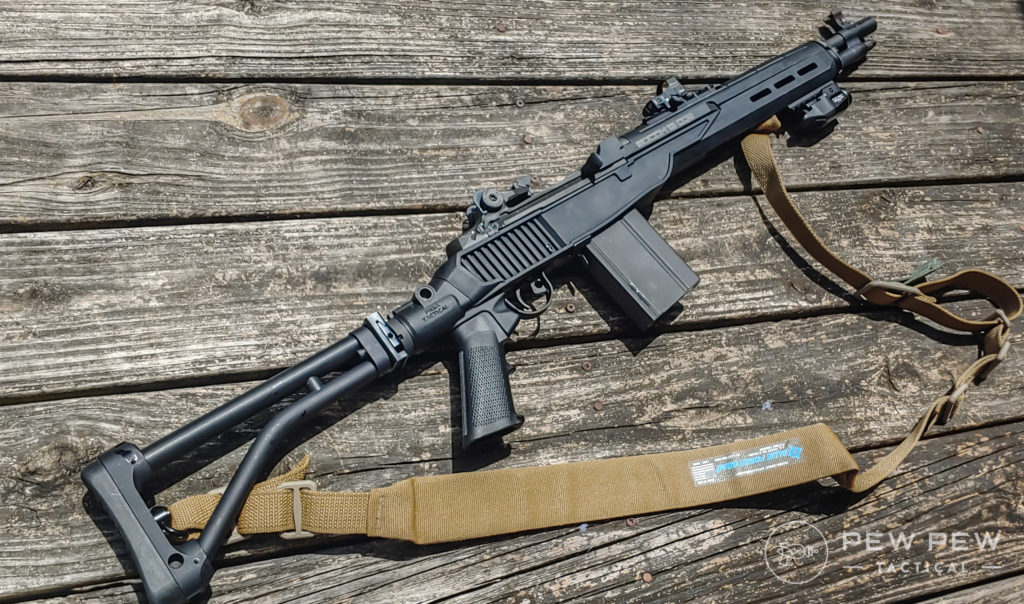 The Delta 14 Gen 2 chassis system is unique in a number of ways. First and foremost, it does give us M-LOK slots for the modern mounting of accessories.
You get slots on the 3, 6, and 9 o'clock positions. It also weighs three-quarters of a pound. Yes, please.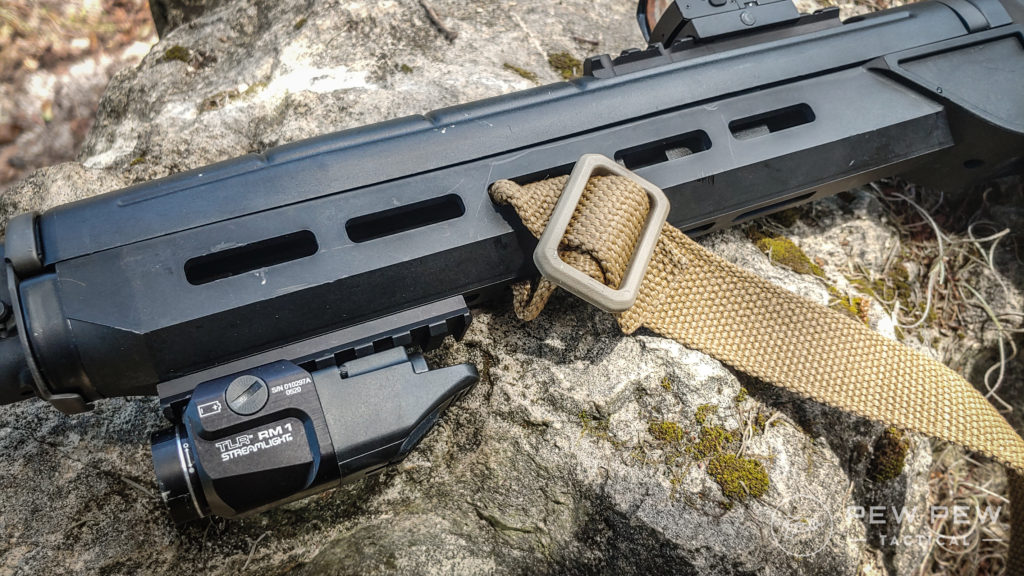 That's the benefit of modern glass-filled nylon. A tough and durable material that Delta 14 keeps thin and light. It's rock solid and allows for a tight fit or your receiver group and trigger.
199
at Delta 14 Chassis
Prices accurate at time of writing
Prices accurate at time of writing
The Delta 14 chassis doesn't necessarily include a stock, and this is where it blew my mind–it allows you to mount Mossberg 500 stocks to your M1A. This includes sporting stocks, wood stocks, the Magpul SGA stocks, and–as you see with mine–folding stocks.
Getting Foldy With It
To achieve this folding stock build I needed a few different things.
Mesa Tactical LEO Telescoping Stock Adapter
First thing first, since this chassis fits Mossberg 500 stocks it also fits Mossberg 500 stock adapters–specifically the Mesa Tactical LEO telescoping stock adapter.
So at this point, we have a chassis that acts as an adapter for Mossberg 500 stocks, equipped with a Mossberg 500 adapter for AR-15 stocks.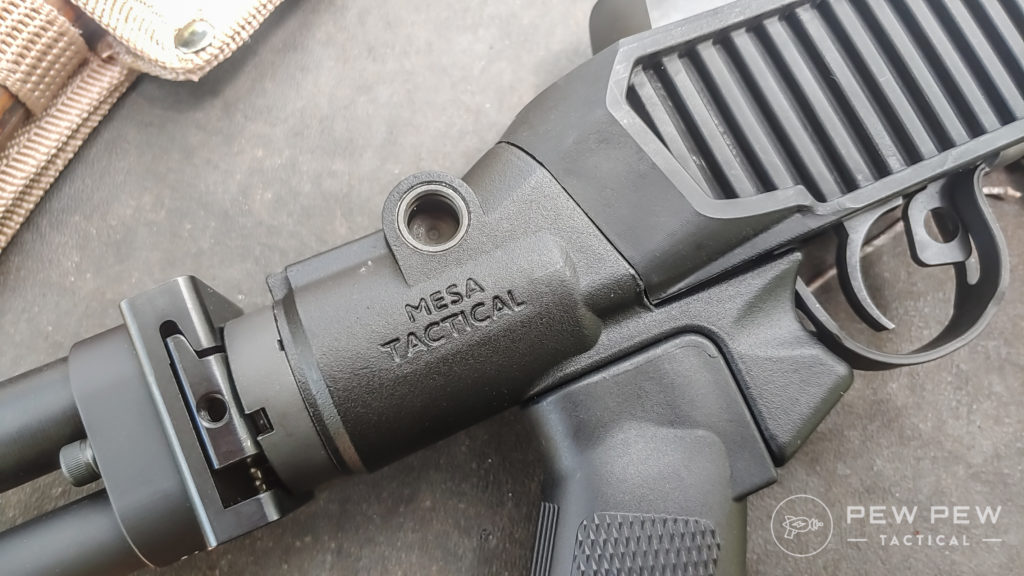 It's some kind of Inception, and I can't figure out exactly how to describe it, so deal with it. This isn't even the last adapter we are using, so get used to it.
The Mesa Tactical adapter is the best of the AR-15 stock adapters. It's very well made, accommodates modern sling points, and AR-15 grips of all types. It's made to last, and Mesa Tactical is one of my favorite shotgun companies.
91
at Brownells
Prices accurate at time of writing
Prices accurate at time of writing
It's an easy install and opens you up for any AR-15 stock and grip you want.
But that's too simple; we need another adapter.
Ace AR-15 Receiver Block
So this threaded circular device fits into the same spot you'd thread your AR buffer tube. The Ace AR-15 Receiver Block has screw ports that allow you to accept the Ace family of stocks.
33
at Brownells
Prices accurate at time of writing
Prices accurate at time of writing
Guess what?
We got another adapter!
Ace Folding Stock Adapter with Boss
Once the AR-15 receiver block is threaded and set in your Mesa Tactical adapter, you connect the folding adapter with two screws.
It's pretty easy to do, one little protip is to do a turn at a time with each screw. If you screw one in completely then you'll push the opposite side upwards and have to start over.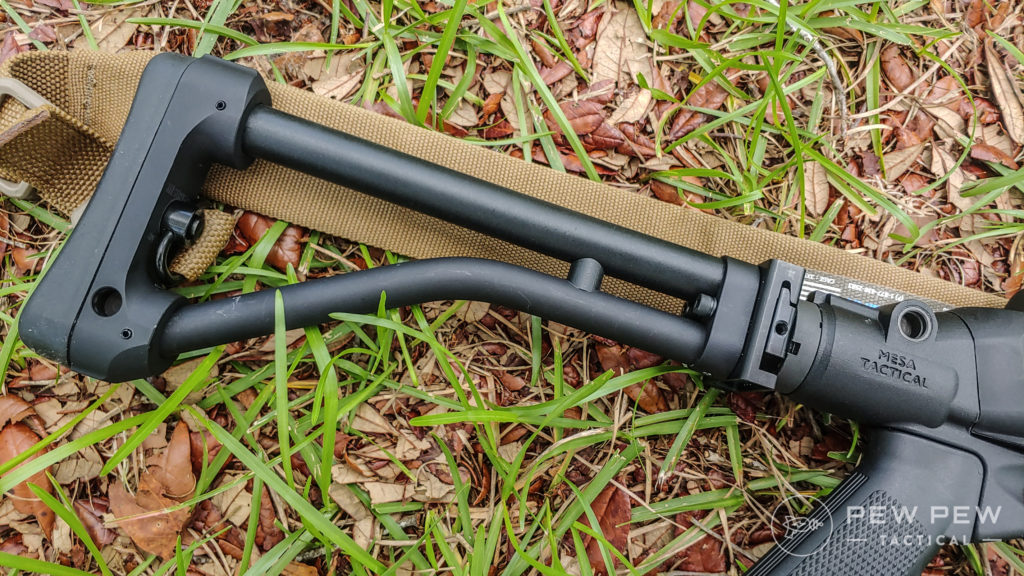 The Ace Folding Stock adapter has a raised oblong piece in the center they call the boss. According to the manufacturer, I should choose that one when using the receiver adapter.
Anywho, this folding stock adapter can fold right or left and I went left. The adapter locks in both positions and holy hell is it tight. Once it's in place it doesn't move at all and provides a very stable stock experience.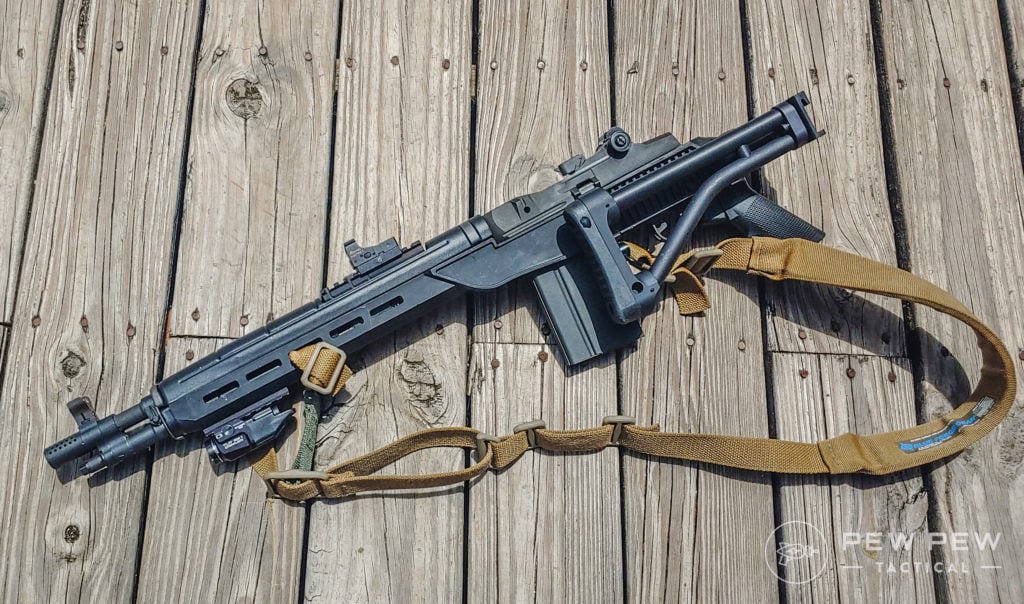 When it comes time to fold it you have to basically karate chop the stock and fold it out of the way. The good news is that it's nowhere near as tight to unfold and get the stock into action. It also only adds three-quarters of an inch to your LOP.
The AR-15 style folding stock adapters add a bit more than that. I aimed to keep the LOP comfortable and it was a good choice.
85
at Brownells
Prices accurate at time of writing
Prices accurate at time of writing
Ace AKFX Stock
Ace this, Ace that, why wouldn't I use an Ace stock? They are honestly some of the best stocks on the market and after using the receiver adapter and folding stock adapter I didn't have a choice in the matter.
I also went with the short 85-inch model, because, as I mentioned, LOP was a concern.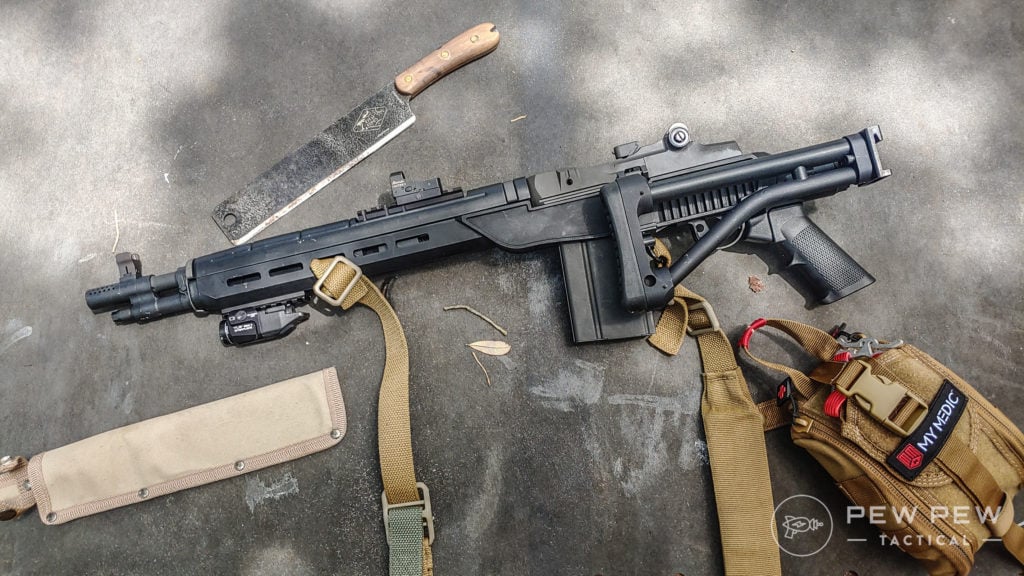 This stock is a skeletonized stock that admittedly provides very little cheek weld.
However, it is very light and very robust as far as folding wire stocks go. The stock also gave me the desired look and feel of a paratrooper rifle, which, let's face it, is probably the biggest pro.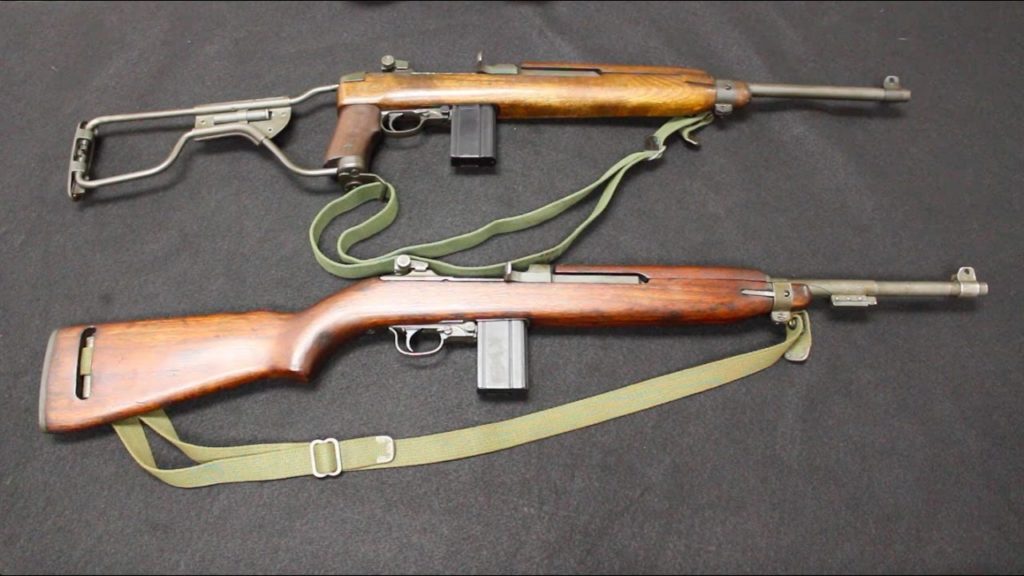 The stock has an optional recoil pad that adds half an inch and gives you some LOP control. Once installed, it fit me very well. The LOP was just right. If you're short, you might need to fiddle with it.
While the lack of a cheek weld isn't optimum, the stability of the stock can't be beaten. It doesn't budge a bit when paired with the correct adapters. It's not the stock that gets the gold at Camp Perry, but it's good enough for close-range use and extending out to 500 yards.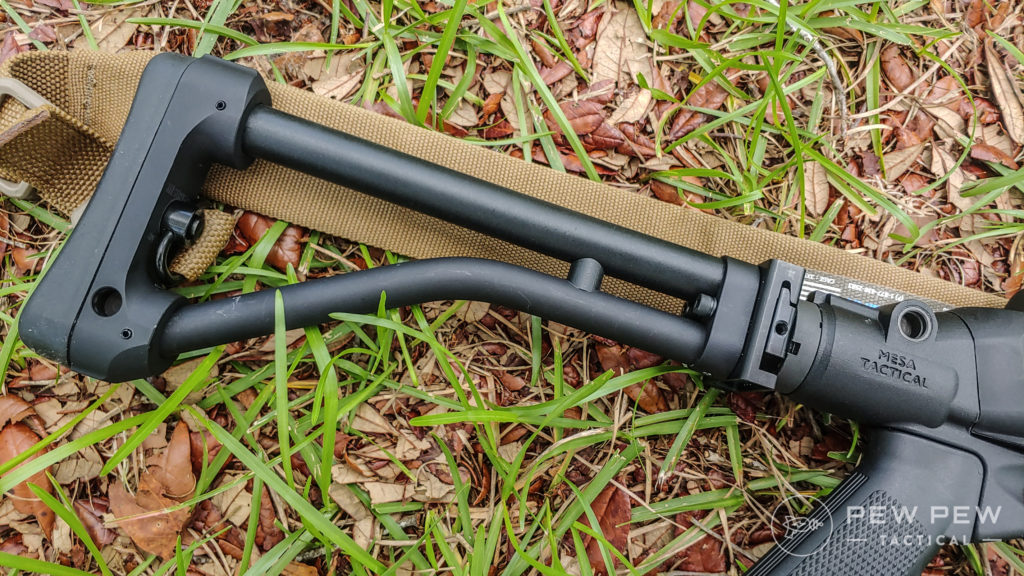 As far as a paratrooper rifle is concerned that's all I need it to do. The fact that the stock's all-aluminum construction makes it both light and tough is also a major benefit. It won't break on the jump, ya dig?
In the end, it all comes together to create a unique look that goes back to the days of the original M1A1 rifle paratroopers used to kills Nazis. One of my main inspirations was the M1A1 and I think this stock system got me as close to possible.
95
at Brownells
Prices accurate at time of writing
Prices accurate at time of writing
It makes this a truer M1 Carbine than the actual M1 Carbine.
Front Sight
I can't leave well enough alone and as a fan of the XS AR-15 front sight, I was quite excited to see an M1A option. XS is known for night sights and this is no different. While it's a standard M1A sight, the center is filled with a bright white filling and a tritium vial.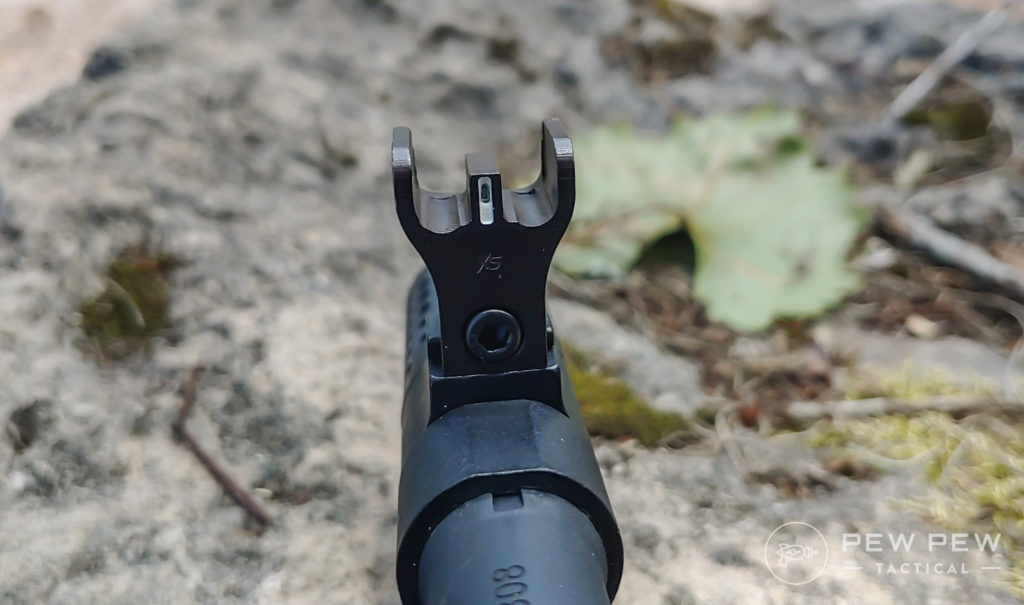 The high visibility combination gives you an eye-catching day sight and a glow in the dark low light option. Who knows when I'm gonna parachute into Endor to enforce the will of the Emperor? I need a sight I can see int he dark, should my optic decide to die.
133
at OpticsPlanet
Prices accurate at time of writing
Prices accurate at time of writing
Speaking of optics. I tossed one of my smallest, but most robust red dots.
Optics
The forward mount Scout Scope mount is perfect for red dots and their unlimited eye relief. I went with the Burris Fastfire 3, a very underappreciated mini red dot. It doesn't get the love Trijicon does, but I've found it to be super robust.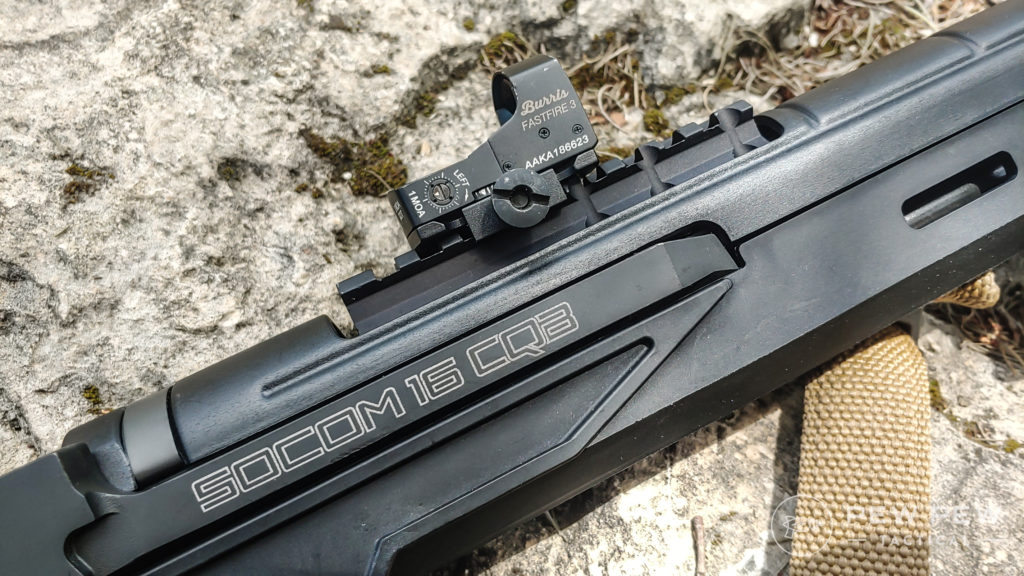 I bought the Burris Fastfire 3 on a killer deal and as a guy who reviews a lot of guns, it's become a favorite for tossing on guns that don't come with sights.
It's an optic I use on a wide variety of T&E guns including shotguns, handguns, PCCs, rifles, and, of course, full-powered rifles as we now see.
The Burris Fastfire 3 has a 3 MOA reticle and a low, medium, and high setting.
There is also an automatic adjustment mode in which the optic adjusts to ambient light and corrects itself as needed. The Fastfire 3's automatic setting works extremely well and surprised me at first.
It adjusts quickly and efficiently so the dot is almost always easy to see. The battery can be changed without removing the optic from the gun, and zeroing is easy and efficient. It even mounts nice and low of my Paratrooper carbine.
199
at OpticsPlanet
Prices accurate at time of writing
Prices accurate at time of writing
This optic keeps the gun nice and light, and the low mounted optic also makes it easier to get a good sight picture with such a low cheek weld.
Light
In the name of keeping things small and efficient, I've equipped the gun with a new Streamlight TLR RM1. These new lights are designed for long guns but are descendants from the TLR 7 pistol light.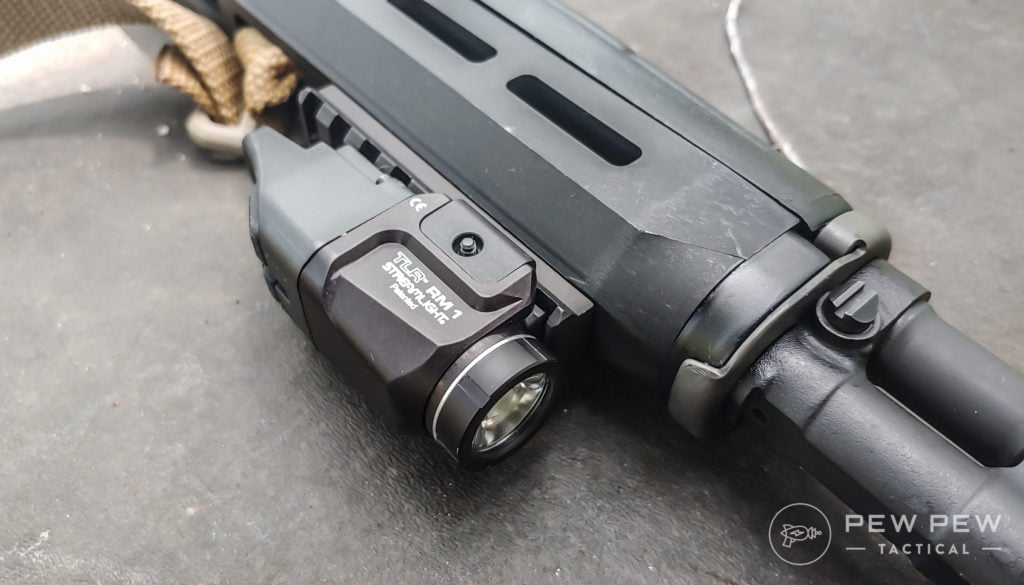 They share some of the compact size requirements of the TLR 7, which makes this one pretty perfect for my purposes.
The TLR 7 is a compact pistol light, so the downside to these lights is the shorter throw. It doesn't pack the same candelas as a TLR 1 or ProTac. They are much smaller and more ergonomic though.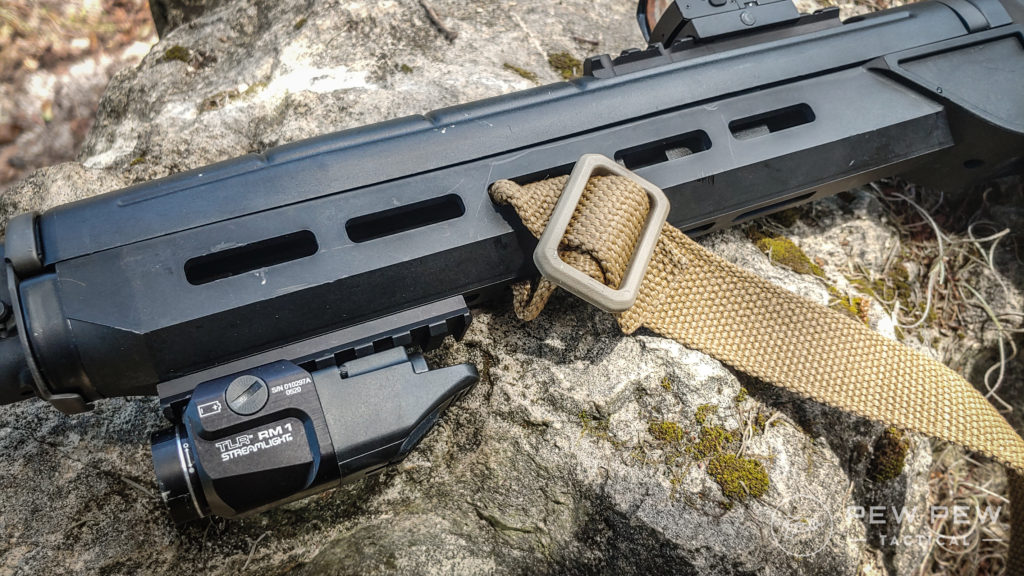 These lights are outfitted with an angled tail switch reminiscent of Inforce lights. However, unlike Inforce lights, these bad boys can use pressure switches.
The RM1 is the smaller 500-lumen model. It fits well on my carbine sized rifle and provides 500 lumens of light.
162
at Amazon
Prices accurate at time of writing
Prices accurate at time of writing
For my standard use, I don't need a spotlight, and I appreciate the lighter weight design. The rear switch is also outstanding and very easy to find and press into action.
Sling
At this point, most of my rifles and long guns are wearing some form of Vickers sling. This padded model is a bit better for heavier rifles and the thick pad provides a lot of extra comfort when carrying the gun for a long time.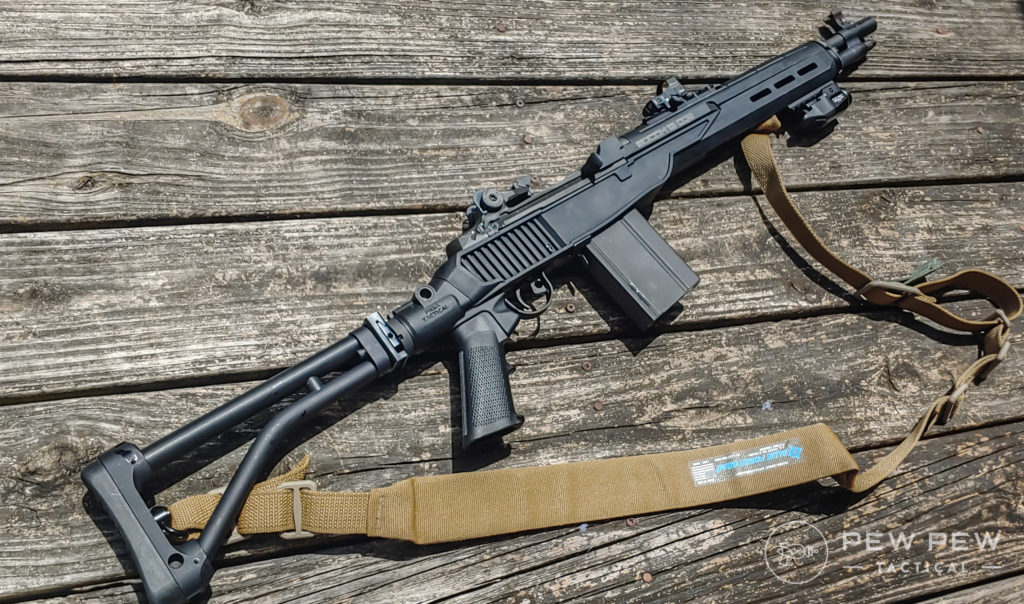 The Vickers padded sling has a quick-adjust pull tab that brings you from slight to tight quite quick. It allows for maximum mobility when loose, and gets tight enough to allow you to use your hands to climb, jump, and carry things.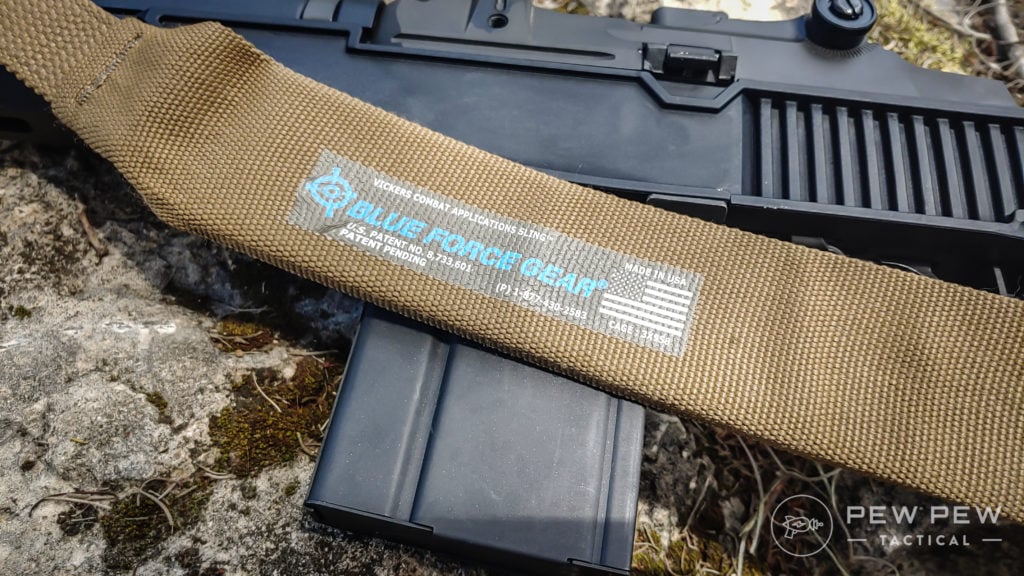 It's a professional-grade sling and a sling is a must-have for any long gun, especially when jumping out of a plane.
Man, I'd hate to be the guy that let go of his gun and dropped it while jumping out of a plane, all because I didn't have a sling.
54
at Brownells
Prices accurate at time of writing
Prices accurate at time of writing
Hang Tight
The M1A Socom paratrooper may never have been a gun outside of my fantasy, but damn do I love it. It appeases my aesthetic desire for a modern paratrooper battle rifle from a war that was never fought.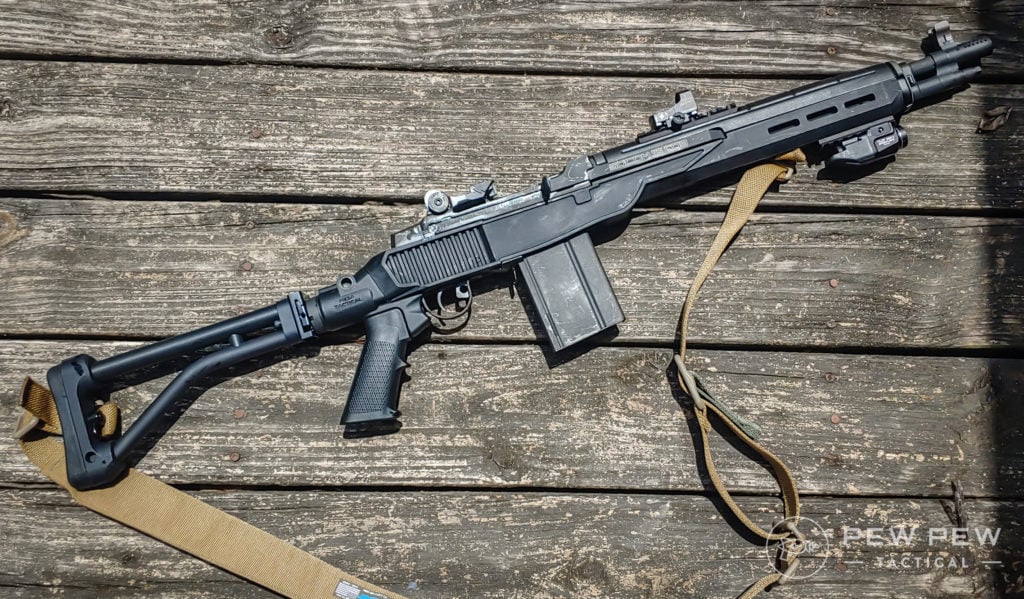 What do you folks think? Is this fantasy build of mine silly, or is there space in your safe for something like this? Let me know below. Don't forget to check out our review of the Springfield M1A!