The worldwide web of shotguns is growing…both in popularity and options.
Let's be real, shotguns are great!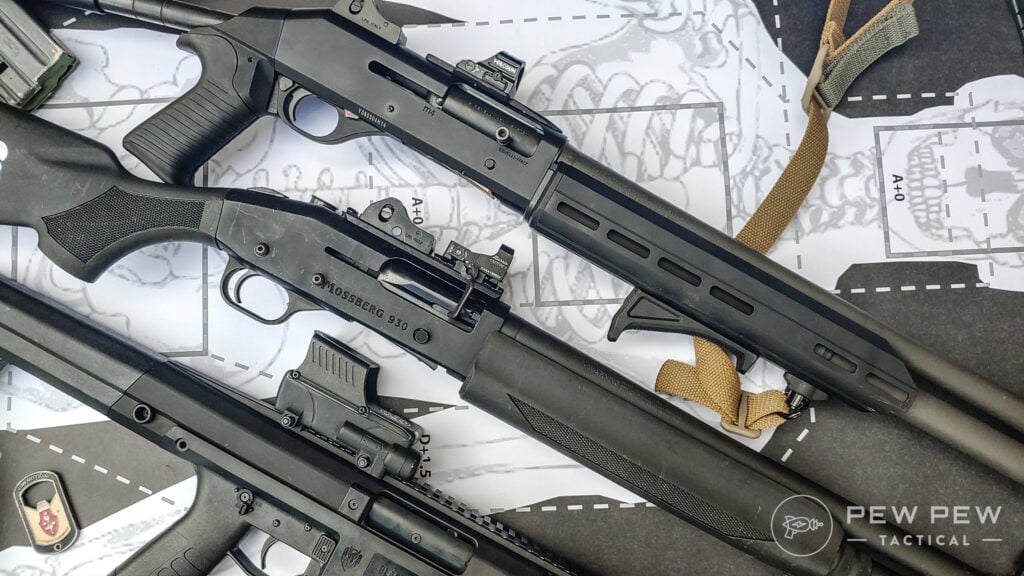 I adore them. Shotguns present me with the most bang for my buck and are a ton of fun.
Not only that, but they are very capable defensive firearms, often legal in states with assault weapons bans, and widely available.
One particular category of shotguns of great interest to me is mag fed variants.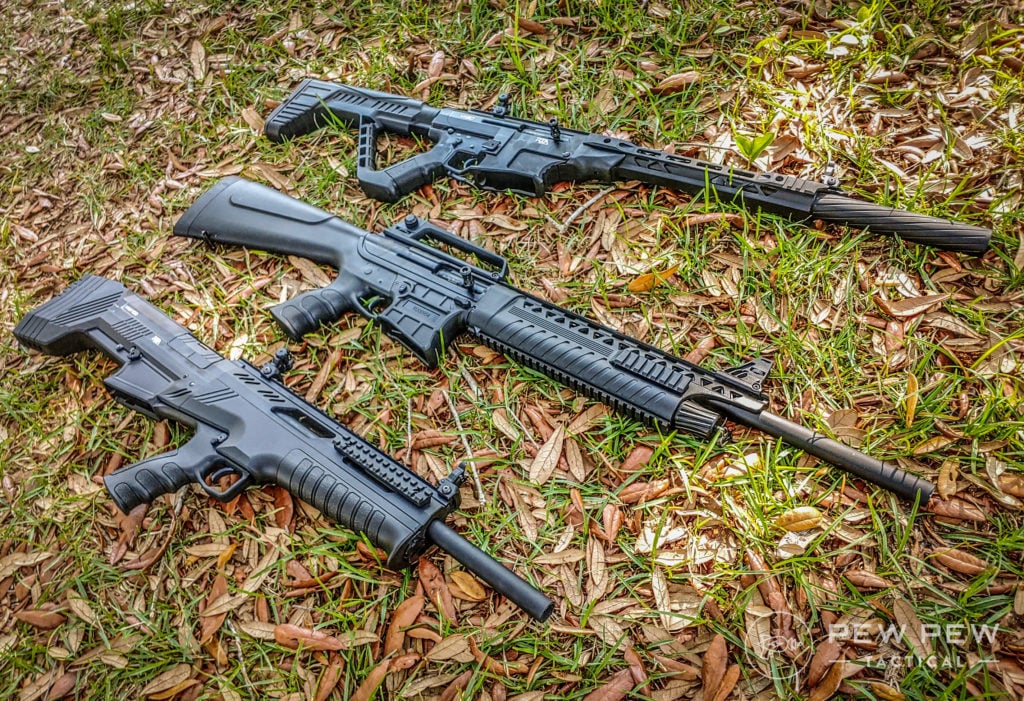 Mag fed shotguns aren't new but boomed in popularity as of late.
While I still stick to my tube magazine shotguns, I am exploring mag fed variants.
Along the way, I've gotten my hands on a good number of mag fed shotguns.
So, today I'm going to share my knowledge. We'll evaluate the pros/cons, why you might want a mag fed shotgun, and help you figure out which model is right for you.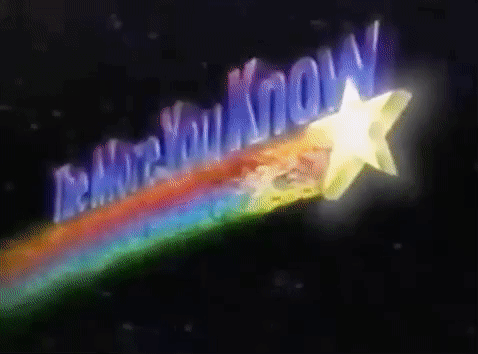 I'm going to explore past my personal favorites and give you guns that stand out for their specific traits, magazines, and overall designs.
Also, I chose shotguns that are actually available and not discontinued. You're welcome.
With that, let's jump on in!
Table of Contents
Loading...
Why a Mag Fed Shotgun?
What advantages do magazine-fed shotguns offer shooters?
Well, the most immediate advantage is the ability to quickly reload the weapon.
If you run the gun dry, you can immediately slam a new magazine home and just keep on going. With a traditional tube-fed tactical shotgun, you have to do one or two rounds at a time.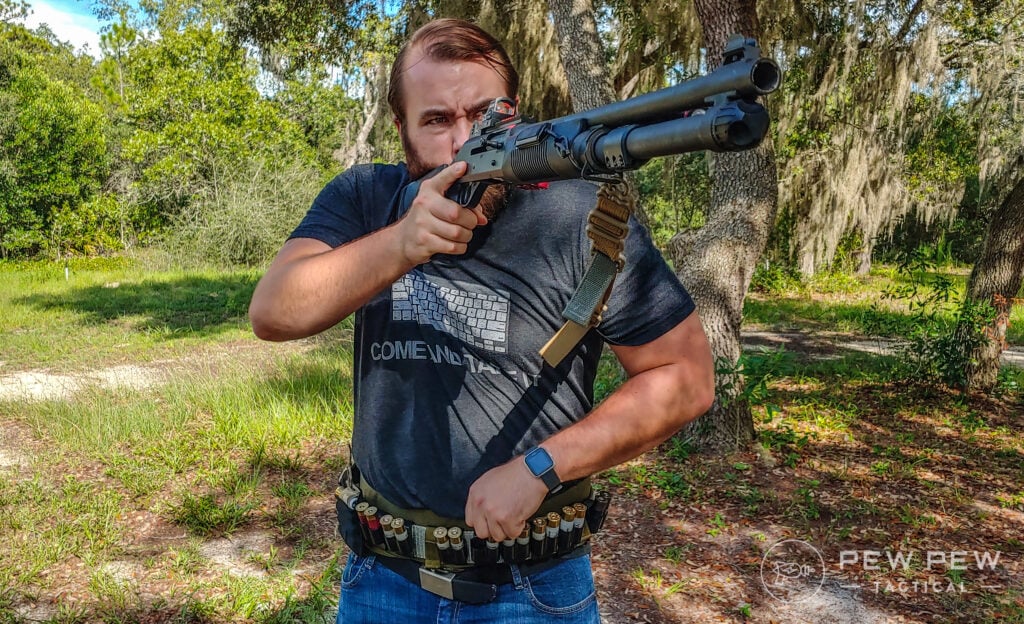 If you are primarily a rifle shooter, you'll have an easier time moving to a magazine-fed shotgun than a tube-fed shotgun.
Although with a tube-fed, you can always top off your shotgun as you run and gun.
A mag fed shotgun offers a greater level of capacity than a standard tube-fed model without a 4-foot tube sticking out.
Your average tactical shotguns offer around 8-rounds, but some mag fed variants can squeeze up to 20-rounds in a magazine.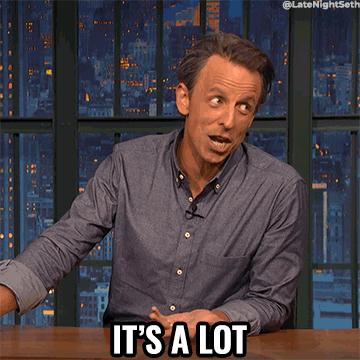 A magazine fed, semi-auto shotgun can be a real beast of a weapon.
What Are the Downsides?
Weight is the most imminent downside. Packing in 20-rounds of 12-gauge gives a lot of heft to a gun.
Another issue is magazines. These shotguns all hinge on a reliable magazine.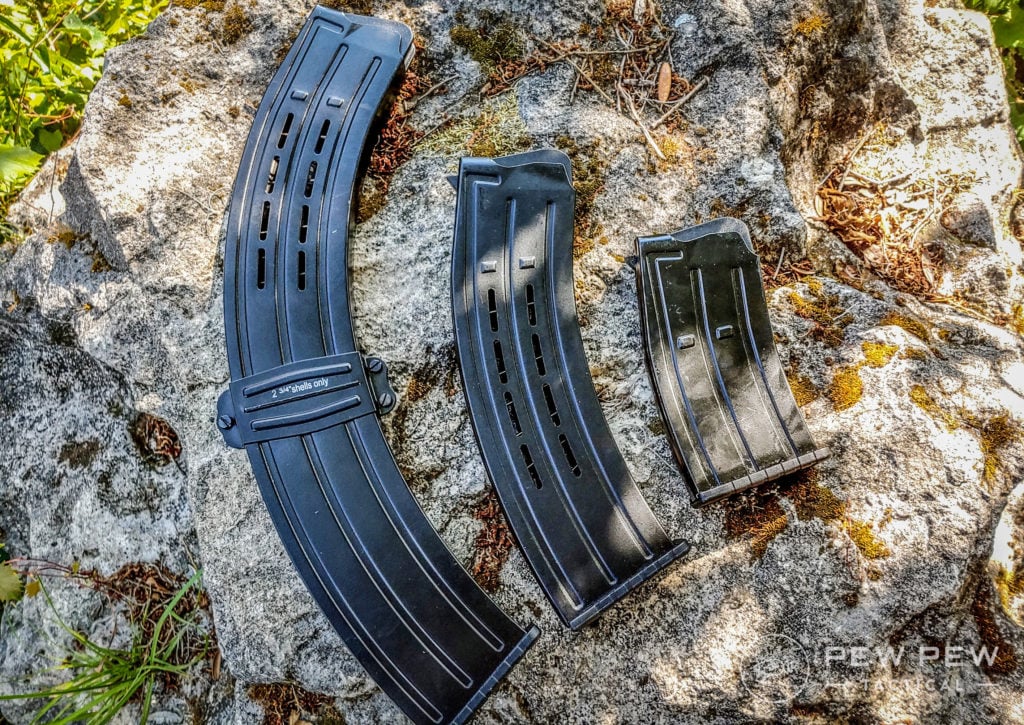 But we aren't at a point where a common magazine type has been chosen. (The models listed here are all outfitted with reliable magazines.)
Another downside – you can't instantly swap ammo types.
It's tough to pull off a slug transition drill with a mag fed shotgun.
Also, forget about continuously loading your shotgun like a tube-fed model. But you can always do a tactical reload with retention.
The Best Mag-Fed Shotguns
Before we jump into the models I think you should try, note that these aren't haphazardly thrown together based on some Google research.
I've had hands-on time with every one of them and even own a few of them.
Without further ado, here are my favorite mag fed shotguns.
1. Mossberg 590M Series
The Mossberg 590M series is the brainchild of both Mossberg and Adaptive Tactical.
Adaptive Tactical created the original Sidewinder kit, so it's safe to say they know how mag fed shotguns work.
The two companies worked together to produce the M series of Mossberg shotguns.
If you fall into the "classic shotgunner" category, the Mossberg 590 is the model for you.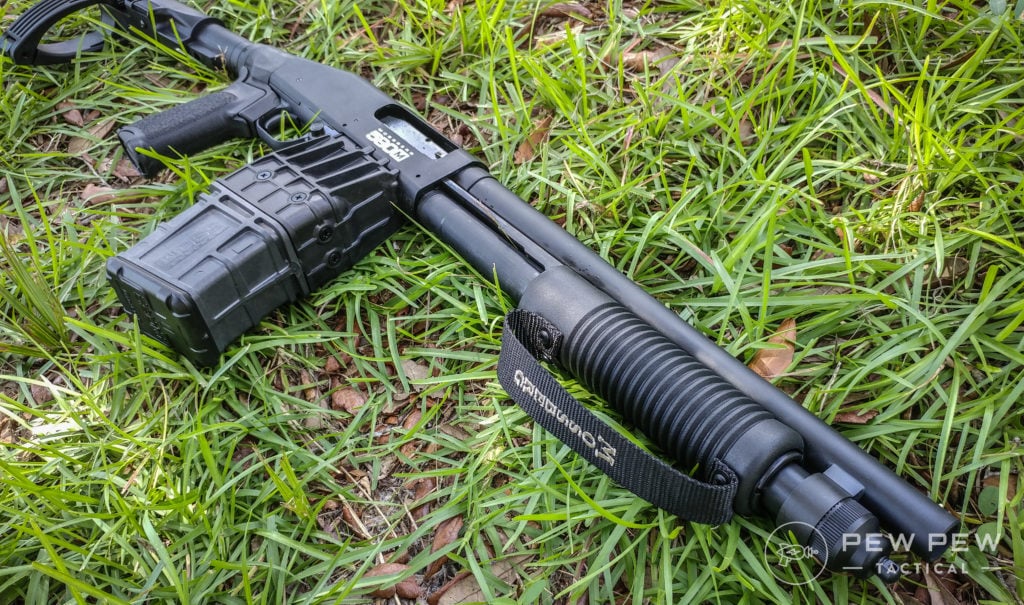 The designs are almost entirely identical to a classic shottie, so the controls feel the same. Obviously, you're going to see the addition of a magazine and mag release, though.
Its magazine release introduces a clever ambidextrous design into the platform, while the magazine rock is similar to an AK — but less of a pronounced rock.
The magazines are what's unique — big, bulbous beasts with capacities ranging from 5- to 20-rounds…without being ridiculously long.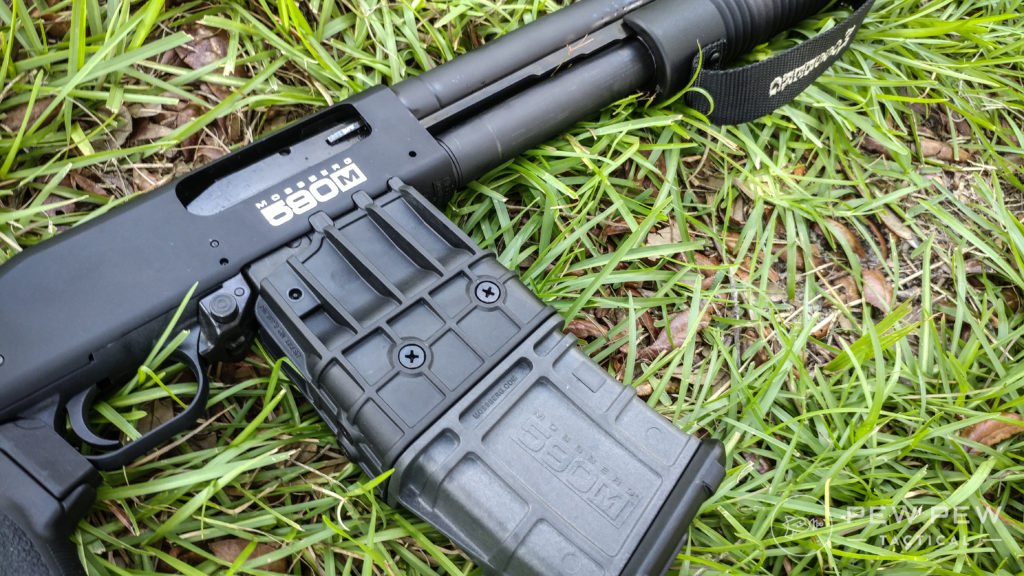 Using a double-stack magazine design, the Mossberg is the only example I know of that uses double-stack mags for shotguns.
Hence, why it packs a whopping 20 rounds without looking silly like a certain VR series 19-rounder.
Mags feed brilliantly and, bonus, are reliable.
They can be taken apart easily and cleaned when necessary. Not to mention, they lock into the gun nice and tight — no shaking, stuttering, or movement.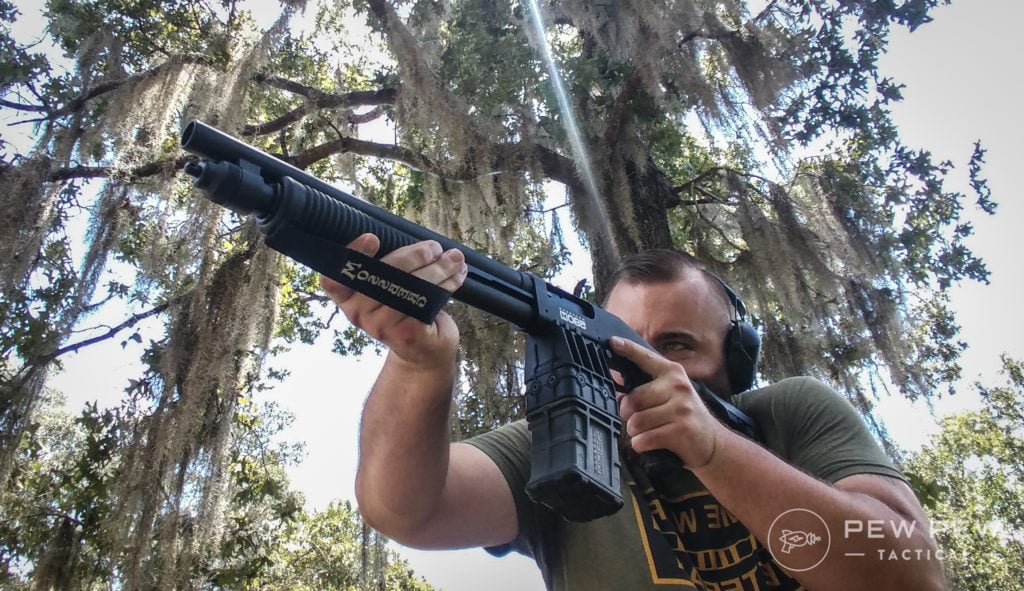 Mossberg's 590 is already an excellent combat shotgun, and that doesn't change with the addition of a magazine.
In total, there are three models to choose from — two standard shotguns and one Shockwave variant.
My favorite? The 590M variant with ghost ring sights, a choked barrel, and a heat shield.
The biggest complaint I have comes down to the price of mags.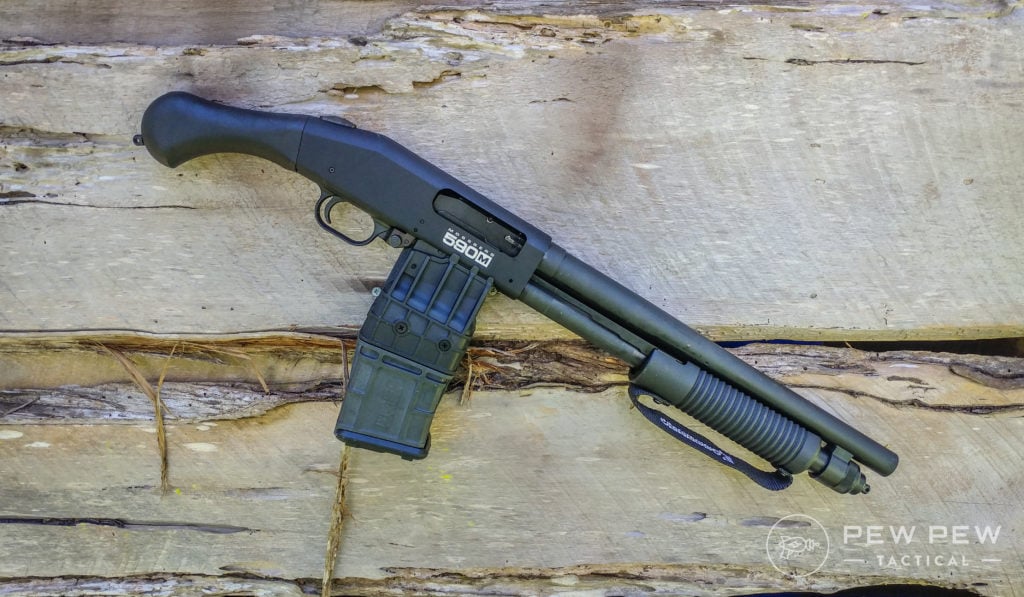 Are you sitting down? Mags are priced around $113.
Some may not like the fact that the gun only uses 2.75-inch shells, but these aren't hunting shotguns. A 3-inch shell isn't necessary.
Best New Range Toy
549
at GrabAGun
Prices accurate at time of writing
Prices accurate at time of writing
To go in-depth with the 590M check out our full review here. Also, see what upgrades I tossed on in my Ultimate Build.
2. Iron Horse Firearms Sentry 12
The Iron Horse Firearms Sentry 12 is the first American-made, pump-action, magazine-fed shotgun built from the ground up.
And there are some serious benefits to the Sentry 12's design.
The ergonomics are brilliant with AR-like controls that feel…well, like an AR.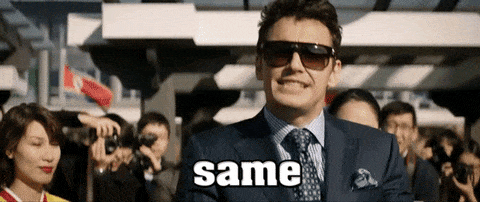 Controls are completely ambidextrous and easy to manipulate. Even better, the Sentry 12 is lightweight with a length of pull much shorter than most shotguns.
A short LOP feels more rifle-like, and if you are coming off of a rifle to a shotgun, it's a natural extension.
It's also friendlier for smaller shooters, allowing the use of a modern squared-up shooting stance.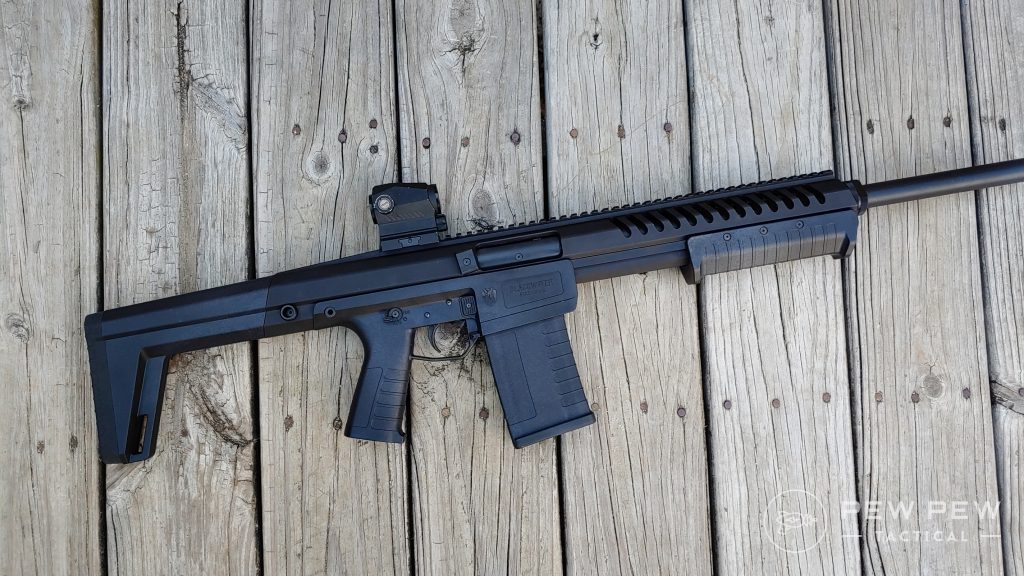 Another advantage to the Sentry is maintenance. It's easy to take apart and clean.
Downside? The gun only comes with two 5-round, single-stack magazines. But the upside is mags are priced well at around $20 a pop.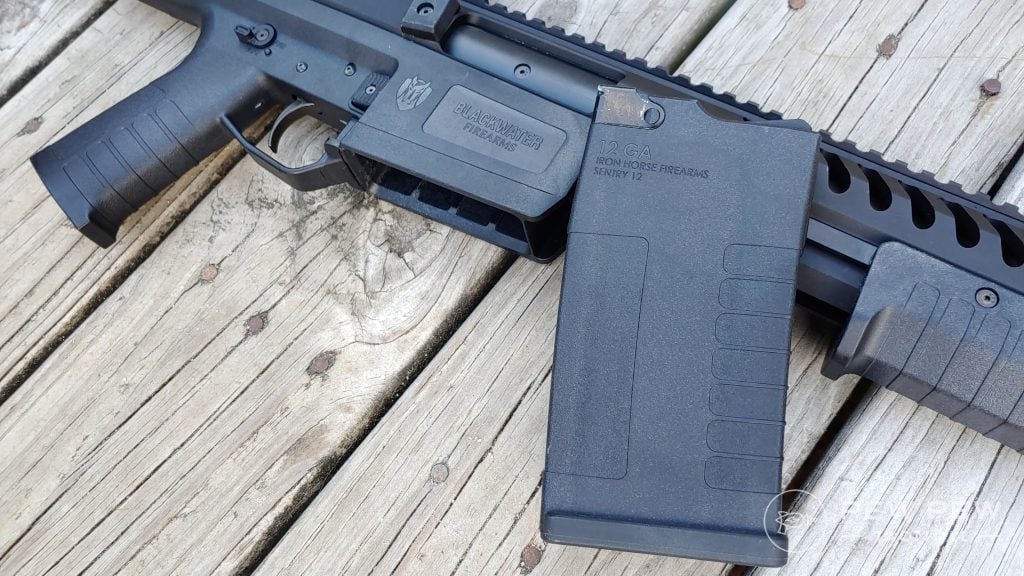 Hopefully, we'll get some extended capacity magazines soon. I think 7 to 9-rounds would be the sweet spot for this type of shotgun and magazine combination.
The Sentry 12 is a well-made shotgun with an ultra-smooth action, making it fast and easy to cycle.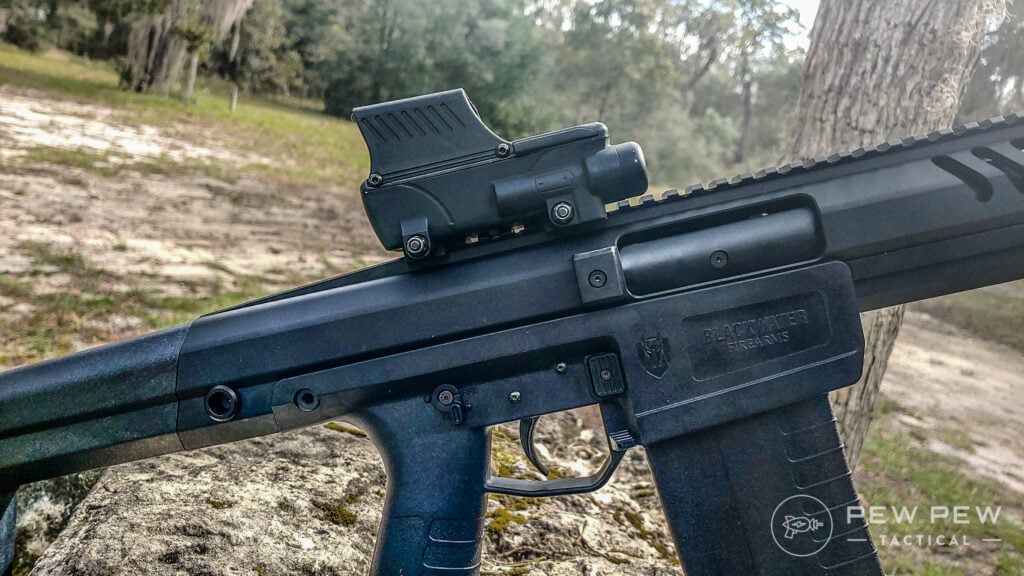 That sweet 17-inch of Picatinny rail offers plenty of room for optics and 12 o'clock lights.
Oh, and the gun can eat both 2.75-inch and 3-inch shells, so you could hunt with it should you so choose.
(It's worth noting that Blackwater, former distributors of the Sentry 12, and Iron Horse mutually parted ways earlier this year with Iron House retaining the Sentry 12.)
501
at Guns.com
Prices accurate at time of writing
Prices accurate at time of writing
3. Rock Island Armory VR80
I've handled every one of the VR series shotguns, and this is, by far, my favorite.
The VR80 is another AR-like shotgun with AR carbine stock and pistol grip capability. Controls also mimic that of an AR.
It features an excellent aluminum handguard with M-LOK slots and a flat-top optic ready upper.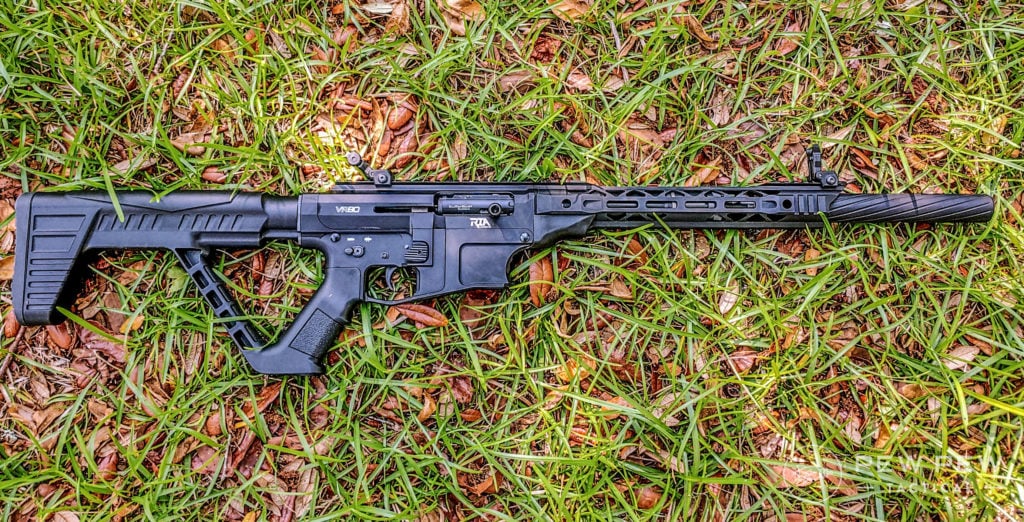 Add to that the ability to incorporate a collapsing AR-style stock out of the box, and you've got an excellent design. This fits the shooter much better than a fixed stock.
The only control that does not resemble an AR is the charging handle. But it is reversible for left or right-handed shooters.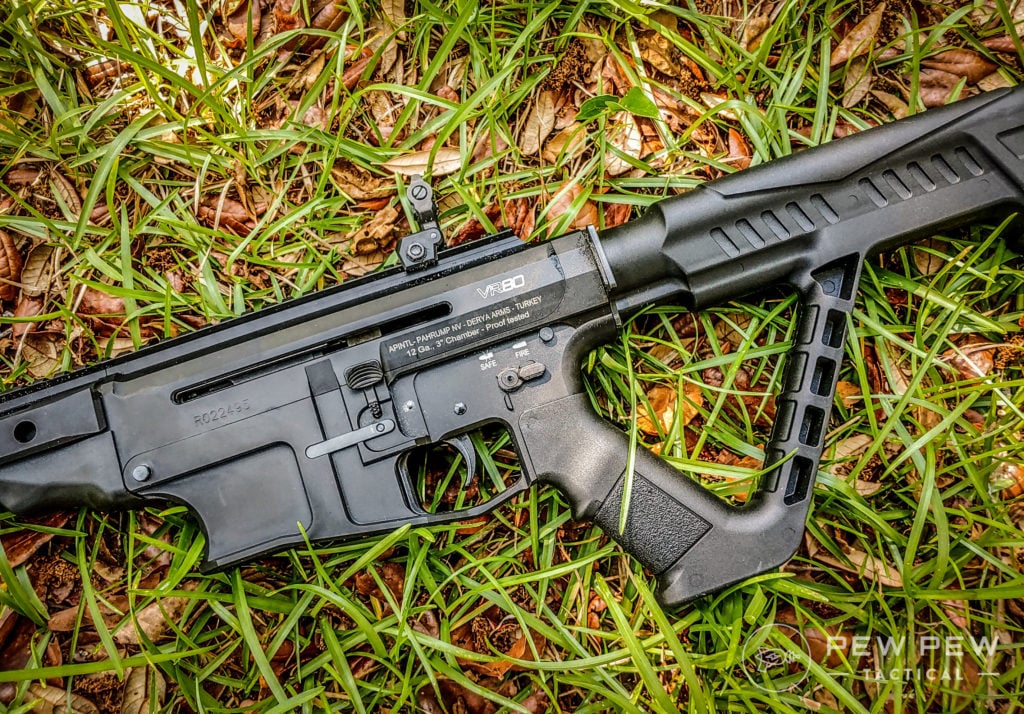 Let's talk about the magazine release and trigger. The mag release is massive and easy to engage, while the trigger is surprisingly nice.
Of the three semi-auto VR series guns, this is the smoothest shooting.
The gun cycles reliably and fast. You're going to love to mag dump.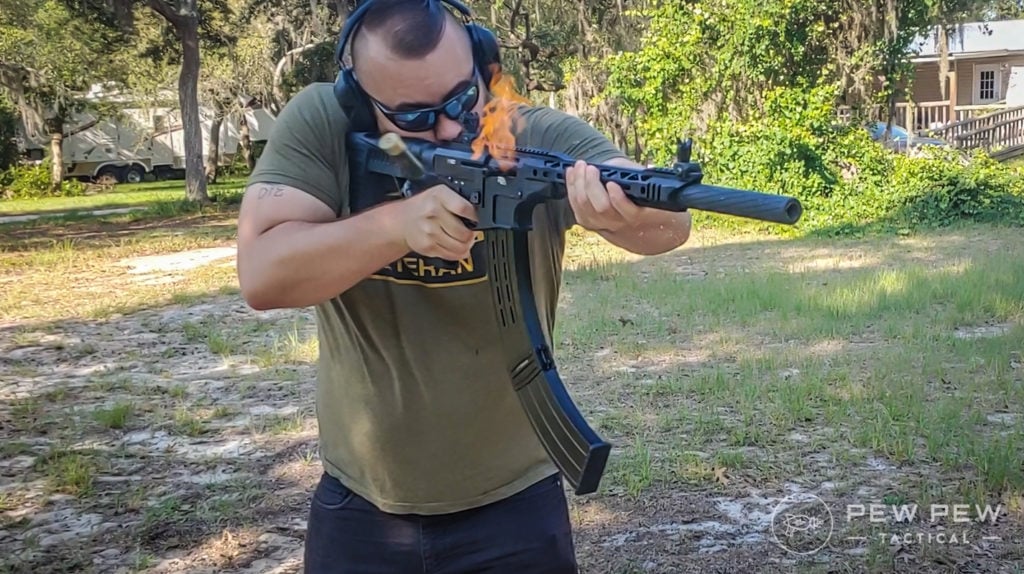 Recoil is very soft for a shotgun and possibly the softest shooting semi-auto shotgun at this price point.
RIA's VR80 feeds from a magazine with a capacity ranging up to 19 rounds. Though you can choose among 5-, 9-, or 19-round mags, 9-rounders are the sweet spot for both size and capacity.
These are single stack magazines, so the 19-round mag seems a bit ridiculous (and aimed more at 3-Gun than defensive use).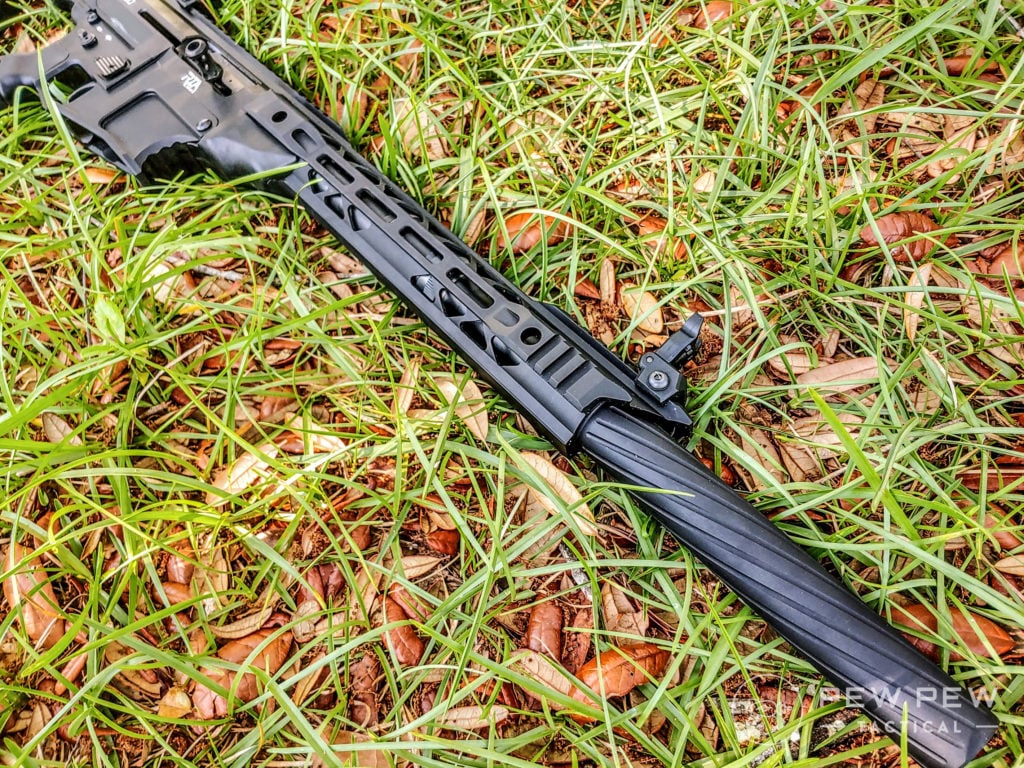 What could the VR80 be used for? It makes for an excellent home defense shotgun.
The ability to bolt on a collapsing stock for an adjustable LOP, M-LOK for an easy light attachment, and various magazine capacities make it a winner.
599
at Kygunco
Prices accurate at time of writing
Prices accurate at time of writing
Go more in depth with the VR80 (as well as the VR60 and VRBP-100) in our full review here!
4. Citadel RSS1
Since Saigas and Veprs are all but dried up, it's nice to see other AK-style shotguns popping up on the market.
The Citadel RSS1 is one such style.
Packing a ton of features that aren't stock with most other AK shotguns, its extra features include a massive extended safety. This safety offers a way more ergonomic feel than most AK safeties.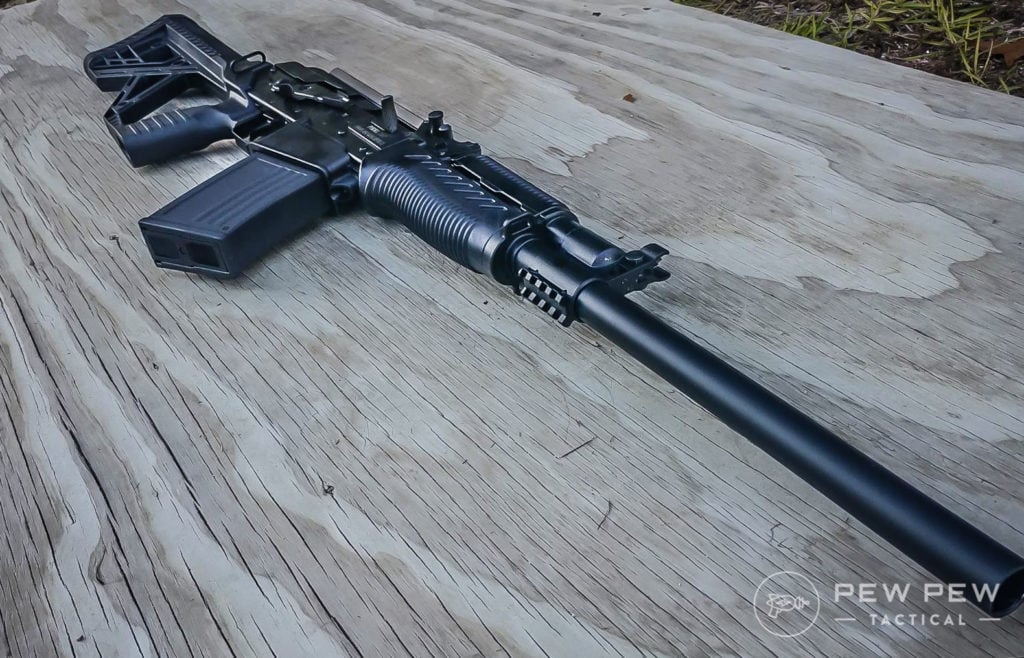 Citadel brings a ledge for your thumb that's easy to reach while also allowing you to defeat the safety…all without breaking your firing grip.
The magazines do not rock-in like an AK, though. They insert straight in – more or less like an AR-15.
This method makes reloads faster and more ergonomic.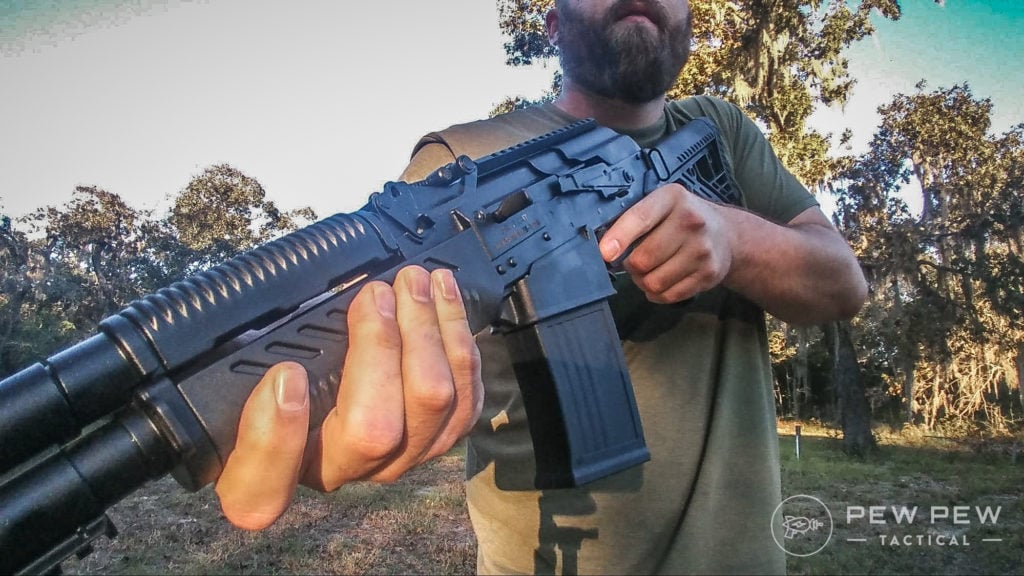 With a normal AK, this isn't a huge issue, but with a massive 12-gauge magazine, it can feel clumsy.
The magazine release also gives off an AK vibe using a paddle release style. It's also absolutely massive, which makes it easy to engage.
Up top, the dust cover comes with a Picatinny rail. The dust cover itself is hinged for easy cleaning.
It feels stable and works perfectly with a zeroed red dot.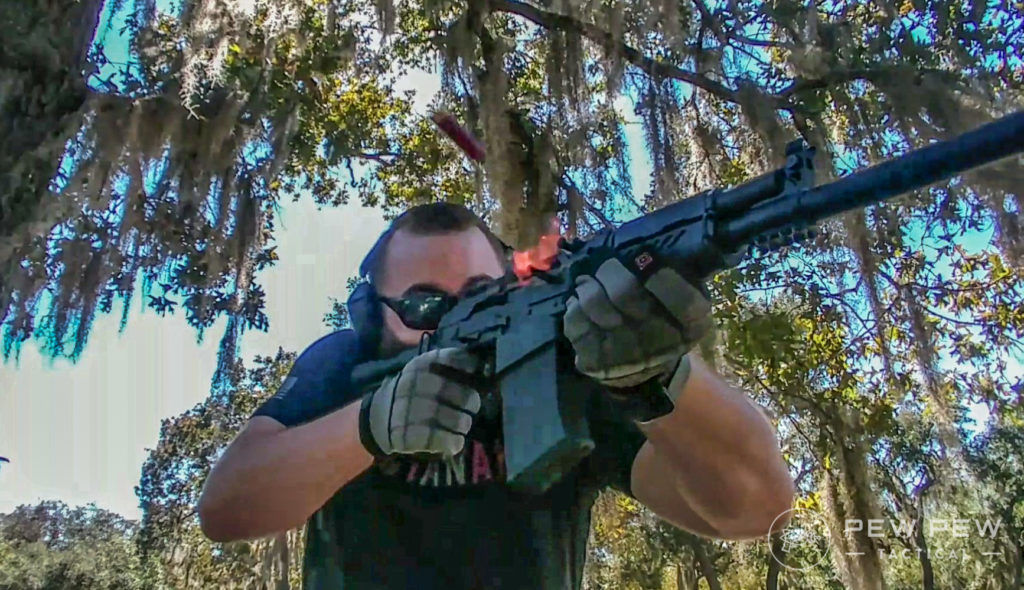 The Citadel RSS1 does do one very smart thing – adopting Vepr magazines.
While Veprs are drying up, the magazines are quite common and come in a variety of capacities. Of course, you should also follow 922R.
Vepr magazines are robust, reliable, single-stacks, and the RSS1 comes with two five rounders.
The downside? Vepr mags are somewhat pricey.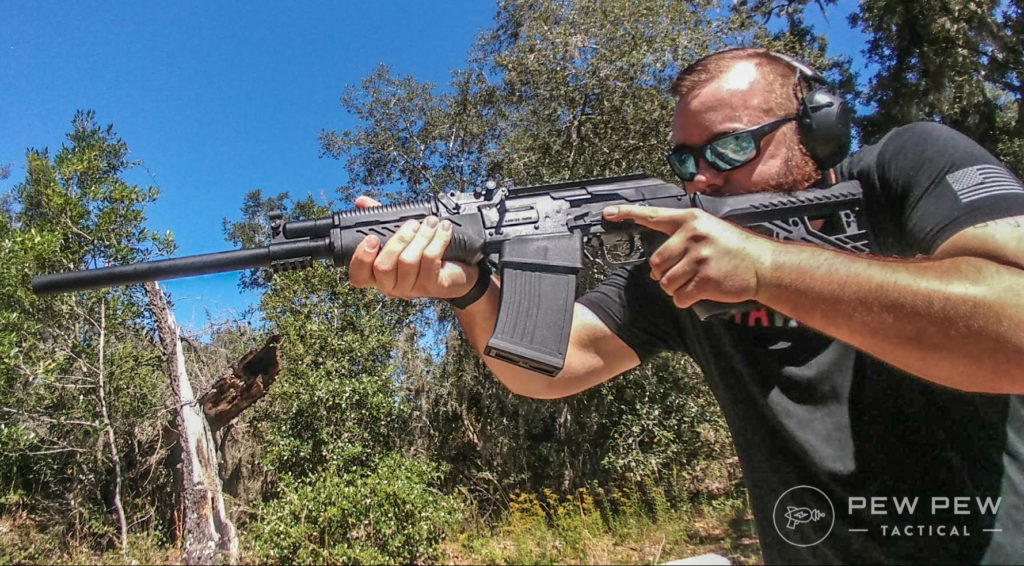 Though the gun is very reliable and easy to handle, the other major downside is its recoil.
The gun is over-gassed, so you can feel the recoil with every shot.
Other than that, this is a well-made Saiga alternative.
730
at Sportsman's Warehouse
Prices accurate at time of writing
Prices accurate at time of writing
Check out our full review on the Citadel RSS1 here.
5. Standard Mfg. SKO Mini
The SKO Mini offers up a semi-auto 12-gauge…but it's not a shotgun.
It's a firearm, like the Shockwave series.
Technically, it's this list's wildcard, and, boy, is it a ton of fun.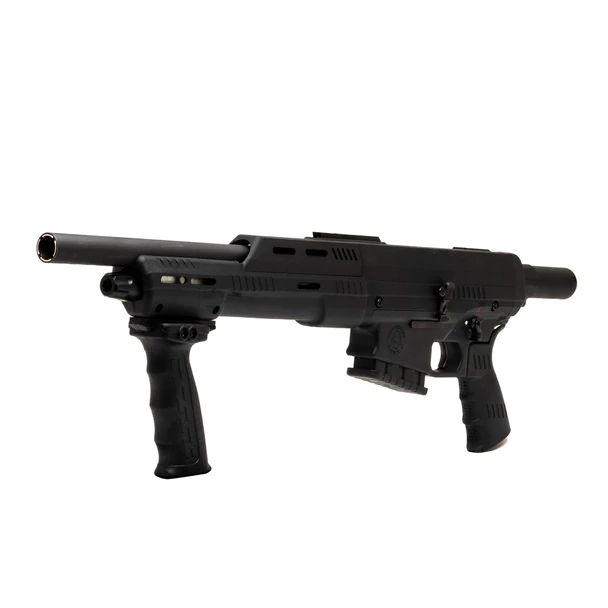 The SKO Mini is a variant of the SKO-12 — a semi-auto tactical shotgun.
Using a 14.75-inch barrel, the SKO Mini measures 27-inches in total length.
As a firearm, it must have an overall length of at least 26-inches to avoid being an "Any Other Weapon." (An AOW requires a tax stamp from the ATF and more paperwork.)
As a firearm, the SKO Mini lacks a stock but features a rear pistol grip and a forward pistol grip for easier control.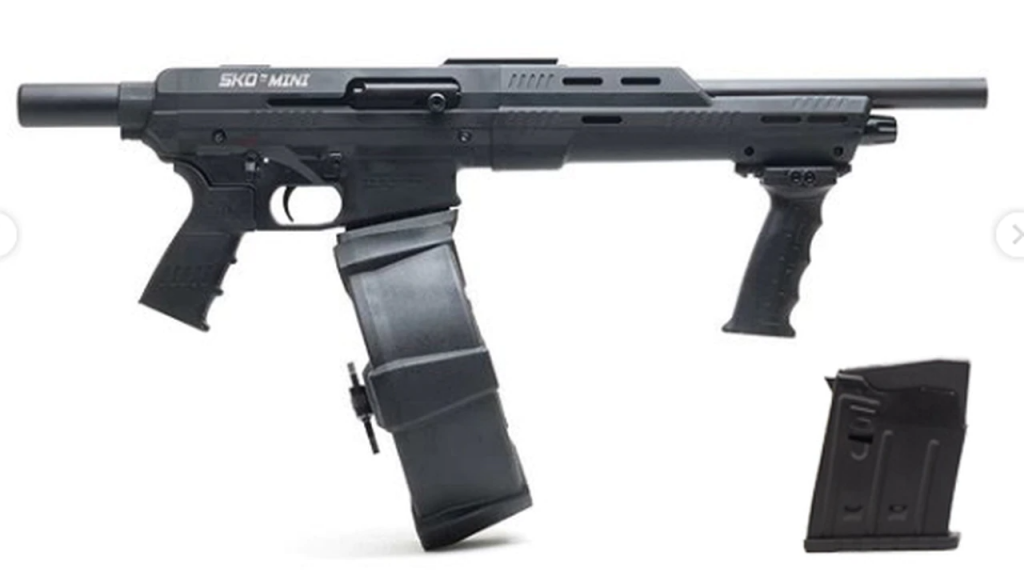 The gun can be easily equipped with a stabilizing brace to increase control, and it uses a standard AR-type receiver extension.
This semi-auto's action brings a soft shooting experience, at least somewhat soft for a non-stocked semi-auto shotgun.
It's never painful, and the forward grip allows for a great push/pull technique for recoil reduction.
May sound silly, but it's a fun gun to fire from the hip. These "firearms" are best suited as fun guns.
Magazines are solid. Expect to see metal, single-stack mags that feed reliably.
Alright, let's talk downsides…
No surprise, like many others on this list, it's all about price — $1,200, to be precise.
The SKO Mini only comes with a 2-round magazine. Yeah, you read that right…2-rounds.
But 5- and 9-round magazines are available, as is a $250 24-round drum.
I'm all about the drum, but the gun/drum combo is a pricey one.
699
at Palmetto State Armory
Prices accurate at time of writing
Prices accurate at time of writing
6. Fostech Origin 12
The Fostech Origin 12 is one of my grail guns, right behind the AA-12.
Since the AA-12 ran into some machine gun issues with the ATF, I couldn't put it on the list.
So, we're rolling with the Fostech.
Fostech's Origin 12 is without a doubt the softest shooting shotgun I've ever handled.
Not only is it a soft shooting gun, but it's a fast-cycling weapon.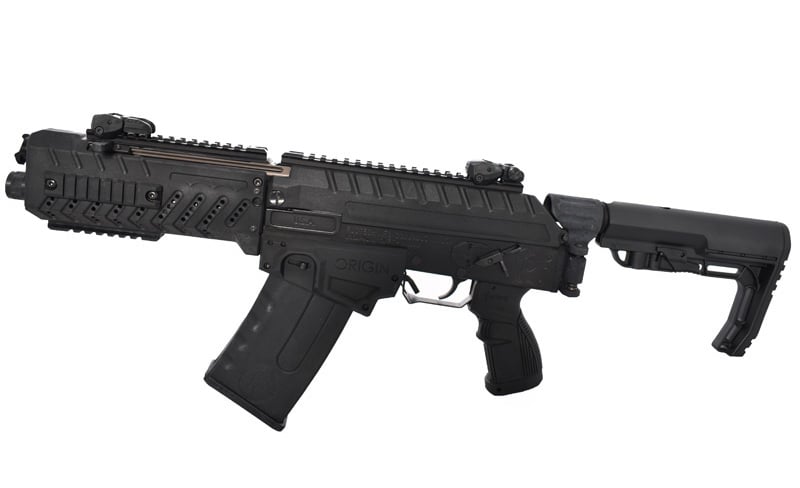 With the Origin 12, Fostech provides the most capable semi-auto shotgun out there.
My time with the Origin 12 was limited to a media event, and I kept getting back in line over and over to dump magazine after magazine through it. I wish I had more time with this gun.
The Fostech Origin 12 proved super reliable. Dozens of different shooters firing thousands of rounds, and the gun never stopped chugging along.
As you'd imagine, the Origin 12 is unlike any other shotgun on the market.
It's built and laid out like a modern rifle but scaled up for a shotgun.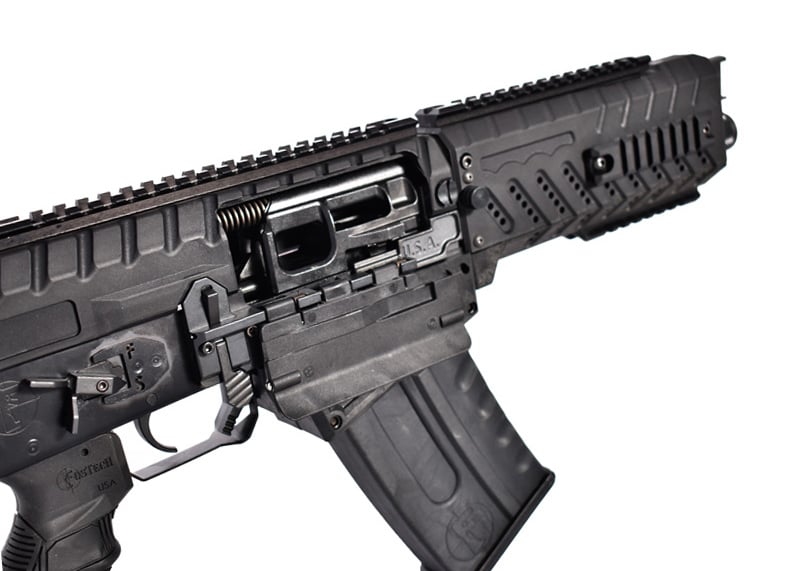 The ergonomics are outstanding, stock folds, and the gun even comes suppressor-ready for the Salvo.
Using proprietary magazines, this build is rock solid.
Magazines come in varying capacities that include a basic 5-round mag, 8- and 10-rounders…all the way up to a 30-round drum.
You guessed it; the Fostech Origin 12 comes with a high price tag (as do the magazines), but boy, oh boy, it's a brilliant weapon.
3400
at Guns.com
Prices accurate at time of writing
Prices accurate at time of writing
Conclusion
Mag fed shotguns might not ever replace tube-fed guns, but they are becoming more and more popular for a reason. Offering faster reloads and greater capacity, it's no surprise these are taking off among shooters.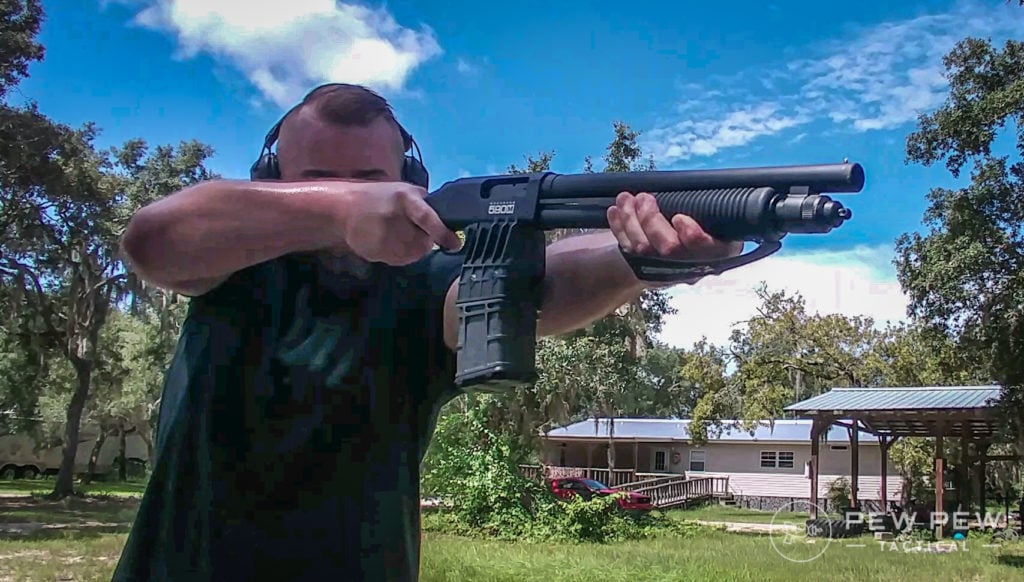 I'm not rushing out to replace my other Benelli or Mossbergs anytime soon, but I can't help find myself drawn to mag fed shotguns and a need to experiment with them.
What's your take on mag fed shotguns? Love 'em or leave 'em? Let us know below. Need even more shotguns in your life? Check out all the reviews in our dedicated Shotgun Section.