Last Updated: May 21, 2017
Disclaimer:  While the information provided here is legal in nature, it is not to be construed as legal advice, and is for educational and entertainment purposes only.
This is the definitive guide on how to get your CCW permit in Alabama!
Every state has different procedures for obtaining a permit for concealed carry of a handgun.  As a gun-friendly state, the process in Alabama is straightforward and painless.
We'll go over all you need to know to get your CCW and get you on the way to defending your freedom in no time!

First things first
Congrats on being in Alabama!  The state is very gun-friendly, and is a "shall-issue" state.  This means, as long as you meet all the requirements, there is no reason you can't get a CCW permit.
Applications for CC permits (called Pistol Permits), must be made with your local county sheriff.  Typically the sheriff will have a website where you can download the form, or stop by and pick up an application form.
The application itself is pretty simple, asking for your basic information and some questions to make sure you are not prohibited from having a CCW permit (or a gun in general).
Here's the deal
To get for a pistol permit in Alabama, you must:
Be at least 18 years old;

Answer the application questions truthfully;

Has never caused a "justifiable concern for public safety";

Have never been found guilty but mentally ill in a criminal case;

Have never been found guilty by reason of insanity or mental disease or not guilty by reason of insanity or lack of mental responsibility;

Have never been declared incompetent to stand trial in a criminal case;

Have never used a defense of not guilty by reason of insanity, mental disease, or defect in a criminal case;

Has never required involuntary commitment, inpatient treatment, or outpatient treatment at a psychiatric hospital or a similar treatment facility for any reason.
Essentially, you must be 18 years old, answer the application truthfully, and never had a history of mental illness.
Along with the application, there is also a fee, which is different depending on each county, but usually is around $50.  The applications are issued within 30 days, and good for up to 5 years before you need to renew.
Once you submit your application, just sit back and wait for the permit in the mail.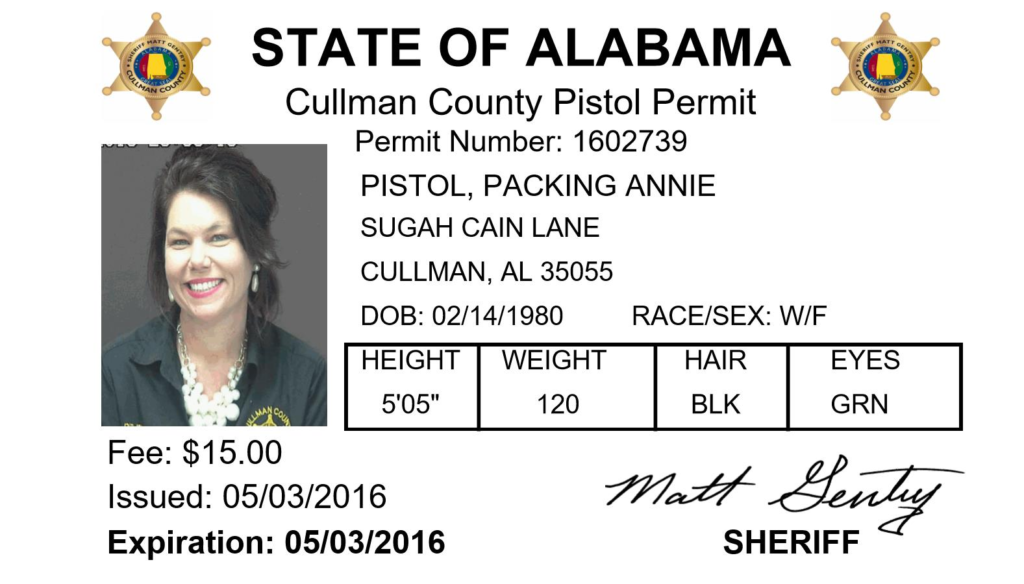 There's a catch
Even if you meet all the requirements for the Pistol Permit, if the sheriff determines you are prohibited from owning a firearm under state or federal law (you didn't lie on your application did you??) or has a reasonable suspicion you might use the weapon illegally, then your application may be denied.
But there's hope!
If your application is denied, the sheriff has to provide you with a written statement with the reasons for denial and evidence to support the reason.  You have 30 days after the rejection to appeal the decision in the county court, and the sheriff would have to provide why you would be prohibited from having a permit.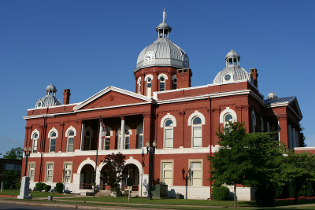 Celebrate!
Once you get your permit, you can start carrying concealed in Alabama and any of the other states that recognize an Alabama CCW permit!
But be careful 
Once you have your permit, you still need to be a responsible gun owner!  Your pistol permit may be revoked for any of the reasons that would deny you a permit in the original application.  
Your permit also has limitations on where you can carry concealed.  You cannot carry a concealed weapon, even with a permit at:
A police, sheriff, or highway patrol building;

A prison, jail, halfway house, correctional facility, or any other detention facility;

A facility treating psychiatric, mental, or emotional disorders;

A courthouse, or District Attorney's office building;

A county commission or city council meetingplace;

Any place that restricts unauthorized access or has notices prohibiting firearms; or

Any location prohibited by federal law.
Basically, use your common sense to decide if it would be a good idea to bring a concealed weapon into a building, and of course, any place that specifically prohibits firearms.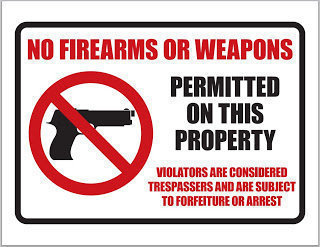 If you can't bring your gun with you, leave the gun in your car:
Locked in a container; and

Out of sight.
Reciprocity 
Your Alabama permit can do more than you think!  When you're visiting other states, most of them will also recognize that shiny new permit you're carrying!
Rather than list out all the states where your CCW is recognized, it's easier to list out where you can't use your CCW permit:
California

Connecticut

Delaware

Hawaii

Illinois

Maryland

Massachusetts

Minnesota

Nebraska

Nevada

New Jersey

New Mexico

New York

Oregon

Rhode Island

South Carolina

Washington

Washington D.C. (not a state, but whatever)
Most of the states are not very gun-friendly, but some states that don't recognize the permits are due to issues about agreements, even though they are pro-gun states.  Just be careful when planning a trip and deciding to bring your gun along with you to avoid an intimate pat-down at the airport!
If you're from out of town…
For those of you with CCW permits from other states, you are welcome to carry concealed in Alabama!  The state recognizes CCW permits from all states!  
Carry on!
That's it!  You've got all you need to know to get a Pistol Permit in Alabama!  Now put it to use with one of our recommended concealed carry holsters.  For those of you looking for a refresher on the general gun laws of Alabama, check out our Alabama Gun Laws section, and don't forget about CCW insurance either!