Finding a Kydex holster you like can be a long, annoying, and often expensive process.
There are sooo many holsters to choose from, you can easily spend a month's salary trying to find what feels the best on your belt for a long period of time.
Glimpse into the future, these are our favorites:
Fortunately, folks like you have folks like me who are willing to put our bodies and our wallets on the line, to save you from spending all that time and money finding a good, solid holster company to give your hard earned dollar too.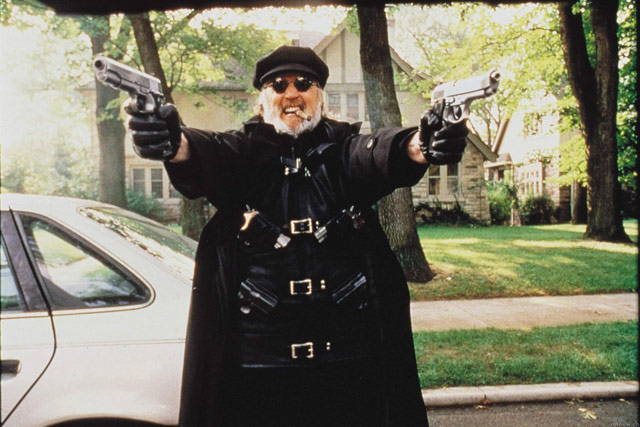 No need to thank us, we're just doing our job.
Today, I'm going to put my long road to finding the best Kydex carry holsters around to good use, and give you the rundown of the companies I've had the best luck with. This should give you an idea of where to shop when looking for the best Kydex holster.
What Exactly is Kydex?
Kydex, for the uninitiated, is a heat formable plastic. Kydex comes in sheets and is formed using heat and a vacuum table of some sort to get the best shape around the weapon. Kydex comes in different thicknesses, textures, can be imprinted with designs, and generally offers a lot of options for the manufacturer.
If you've ever wondered why there are so many Kydex holster makers…its mostly because it's such an easy material to work with. Here's a video of the basic process, applied to making a knife sheath.
Best Kydex Holster Companies
Now for the fun stuff. Let's take a look at the very best Kydex holster makers that I've found.
CYA Supply Co.

CYA Supply Company is owned by US Marine veterans and employs veterans from other branches as well. They make their holsters in the USA, so if buying American is important to you, this is a good place to look into.
Favorite Product: S&W M&P Shield 9/40 IWB Holster
38
at Amazon
Prices accurate at time of writing
Prices accurate at time of writing
The materials they use, Boltaron ("Like Kydex but better"), is less susceptible to temperature and impact. At the lower price of these holsters, the quality of the materials used is one place many holster companies cut their costs. This means you end up with a holster that scratches easily and loses its retention or shape.
Not so with CYA Supply holsters, these are some of the toughest holsters you can find.
Most of the holsters come in a few colors, so you can be sure to find something that works for you
Something else that's nice is the adjustable belt clip. You can change the cant from 15 degrees to zero depending on your preference.
For more information, be sure to check out their website.
Outlaw Holsters
Outlaw Holsters makes Outside the Waistband holsters for open carry…perfect for when you're at the range or concealing under a jacket. If you want a holster with some attitude, Outlaw more than likely makes something to fit your personality.
Favorite Holster: Duct Tape Kydex OWB holster
40
at Amazon
Prices accurate at time of writing
Prices accurate at time of writing
Their holsters are all sold with some pretty nifty designs, as you can see above. Sure, they have your black and carbon fiber style, but they have all sorts of other designs. Some of the designs are:
A thin blue line flag

Gadsden Flag over a denim pattern

One that looks like duct tape (my personal favorite)

We the People
They also have options for custom designs.
Outlaw Holsters gives you a one-year replacement warranty on all their holsters. You can read more about this great company here.
Concealment Express
Concealment Express covers all of the major brands of gun manufacturers. As long as you have a gun from a reasonably popular brand, you should be able to get an inside the waistband (IWB) holster for your gun.
Favorite product: Concealment Express IWB KYDEX Holster
39
at Rounded Gear
Prices accurate at time of writing
Prices accurate at time of writing
These guys are the only ones who specifically mention appendix carry as an option with their holster. Many of the Kydex IWB holsters out there can be worn in an appendix carry position, but they might not be comfortable or easy to put there or remove if needed…such as when you have to use the bathroom while carrying.
Something else Concealment Express incorporates into their holsters is a sweat guard. I know this isn't something I thought about when I got my first holster and started carrying. But as soon as I had a holster on for a little while on a hot summer day, I realized how much moisture a gun and holster sees.
Concealment Express adds a little something to the part of the holster sitting against your body to help keep your gun dry. Check out their website for more info.
We went deep with these holsters, you can find the whole story in our Concealment Express Review!
R&R Holsters
R&R Holsters makes both IWB and OWB holsters, although the all Kydex IWB holster selection is a bit limited compared to other manufacturers on the list. R&R has a wide selection of hybrid holsters, though. The hybrids have a leather back and Kydex front.
Because I'm focusing on all Kydex holsters, I won't go into detail about the hybrids.
Favorite Product: R&R HOLSTERS IWB Kydex Gun Holster
25
at Amazon
Prices accurate at time of writing
Prices accurate at time of writing
The OWB holsters have some adjustability, which is nice. Many of the OWB holsters give you the option of putting them on or taking them off your belt. If you don't like how they fit or don't like the angle they put your gun, oh well.
The R&R Holsters let you adjust the cant and the ride height (how far it sits above and below your belt), helping you to get the perfect fit.
Both of these adjustments help with your draw and comfort when wearing a holster for extended periods.
Everyday Holsters
Everyday Holsters is another manufacturer who makes a couple different styles of holsters. A lot of the styles have leatherbacks and Kydex fronts and I'm not talking about that style in this article.
Some of the features Everyday Holsters mentions are their sweat shield and an audible retention lock system. The sweat shield is pretty self-explanatory…the Positive-Click Audible Retention is something a bit unusual.
Favorite Product: S&W M&P Shield 9/40 IWB Kydex Concealed Carry Holster
30
at Amazon
Prices accurate at time of writing
Prices accurate at time of writing
When you slide your gun into the holster, some holsters are tight and you can feel when they're latched in. Everyday Holsters gives you an audible CLICK so you know your weapon is properly seated in the holster.
If you want to know more, be sure to visit their site.
Final Thoughts on Kydex Holsters
All of the full Kydex holsters I mentioned are in the same ballpark price of $30-$50 making them cost-effective and easy enough to try and not feel like you spent too much if it isn't as comfortable as you'd like it to be.
If you're looking specifically for concealed carry holsters…take a look at our Ultimate Holster Guide for Any Way You Carry.
When you get into holsters that are $70-$100, I know I am a little pissed off when it isn't comfortable, doesn't take normal wear and tear well, or the retention sucks and you have to make adjustments yourself so your magazine doesn't eject on its own or the gun falls out easily. These holsters won't let you down like that.
If you're just starting out and looking for your first holster, even if you've been involved with guns for years and just want something new, these are some solid companies to look into for a full Kydex holster.
What is the number one most important feature you look for in a holster? Let us know below in the comments.