---
Longtime readers will probably know that I don't really do shotgun stuff. While I own a Remington 870, I maybe shoot it once or twice a year.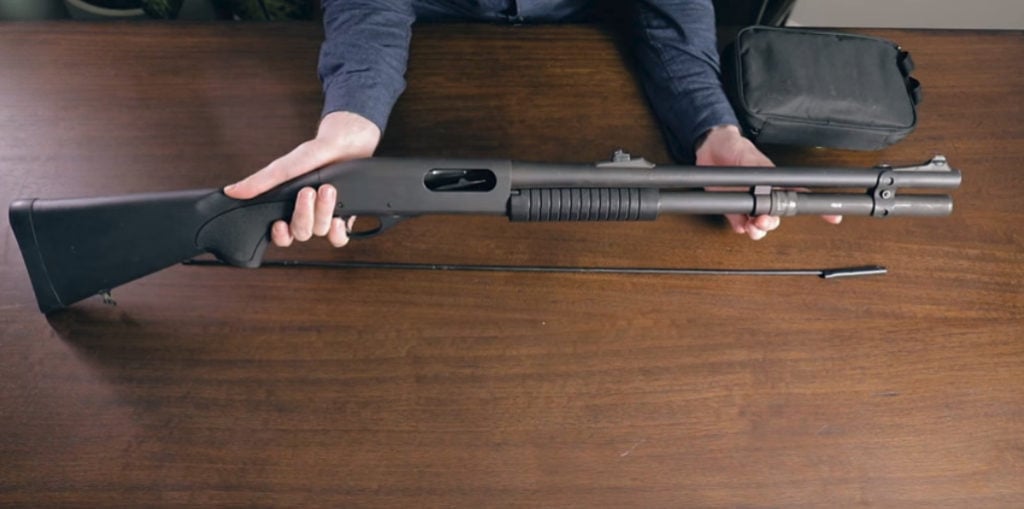 Outside of that, most of my scattergun experience is probably pretty close to what most folks use them for — exploding CRT monitors and watermelons in the desert.
So, when I found out I'd be reviewing the 1301 Tactical — Beretta's flagship semi-automatic shotgun — I admittedly felt a bit intimidated.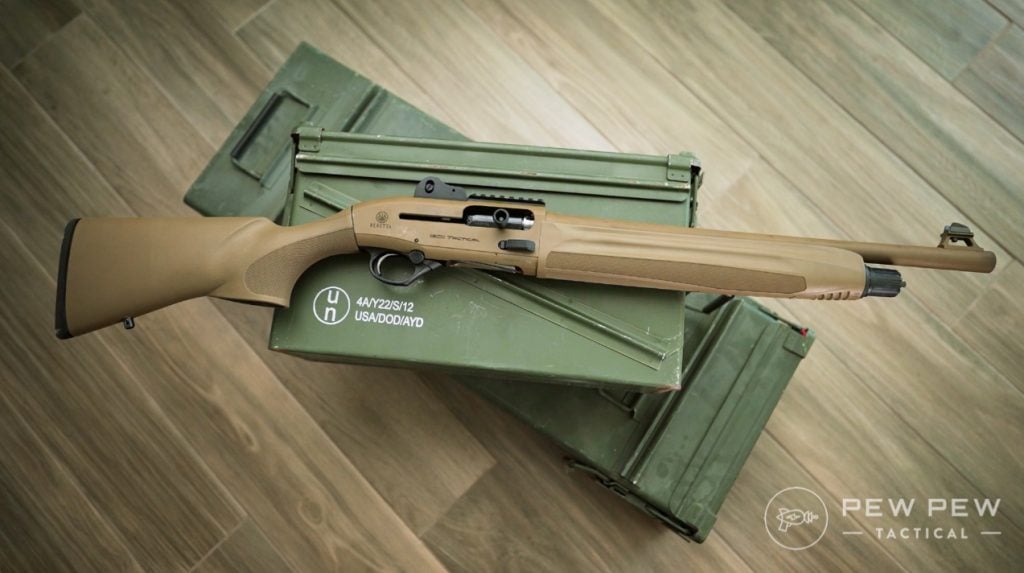 Thankfully, the Beretta 1301 is a forgiving platform…but how forgiving? And is this just another routine entry in the Beretta catalog or something you should seriously consider for your next combat shotgun?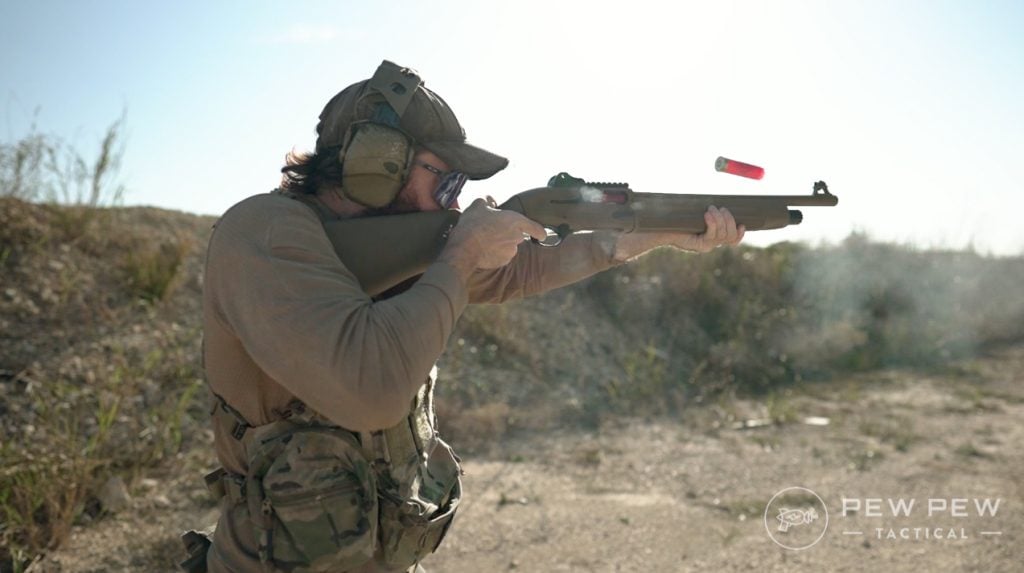 Well, I'm here to answer those questions with this in-depth review.
I'll run you through its specs, talk about its features, run it to the range and ultimately help you decide if you want an Italian shotty for your own fun.
1405
at Bereli
Prices accurate at time of writing
Prices accurate at time of writing
Table of Contents
Loading...
Beretta 1301 Specs
| | |
| --- | --- |
| Barrel Length | 18.7 in |
| Chamber | 3 in |
| Overall Length | 37.8 in |
| Gauge | 12 |
| Magazine | 7+1 (2.75″/70mm shells). 6+1 3″/76mm shells) |
| Sights | Ghost ring sights/picatinny rail |
Source: Beretta
Background
While there are a few different models of 1301 floating around, our specific "tactical" version features an 18.5-inch barrel and a cool FDE color scheme.
We went back and forth figuring out the specific generation of ours but you can tell the difference between Gen 1 and Gen 2 by the following:
Gen 1: not threaded for chokes, Gen 2: threaded
Gen 1: no shroud around the bolt release, Gen 2: shrouded
Gen 1: plastic top rail, Gen 2: aluminum top rail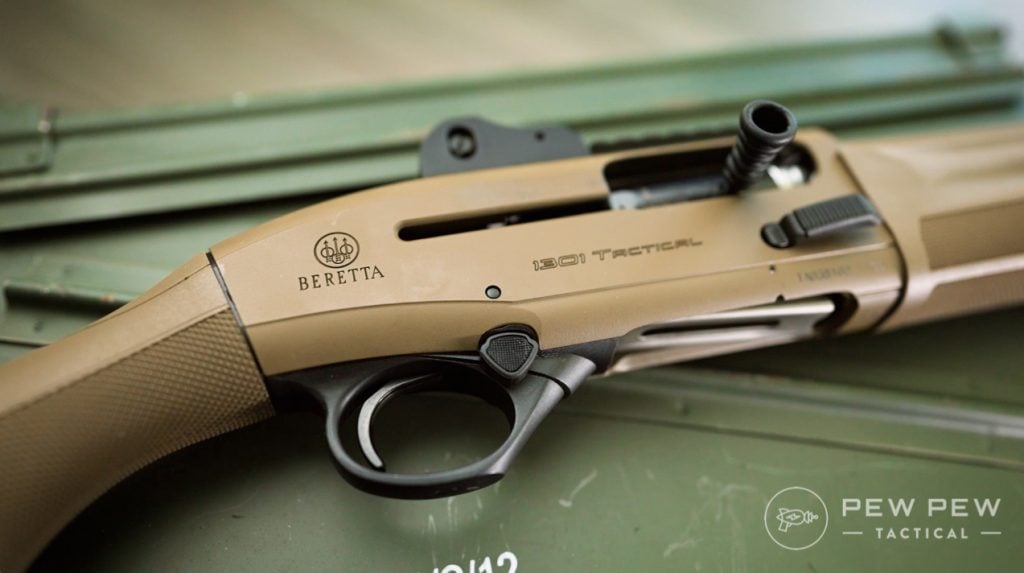 Beretta 1301: Pros & Cons
+Lightweight yet soaks up recoil
+Will shoot faster than you ever can
+Large and easy to manipulate controls
+Reliable with all ammo tested
+Optic ready with integrated Picatinny rail
+Easy to extend capacity
-Gen 1 versions have a double-feed problem but now there's a $10 fix "bolt shroud kit" at the Beretta store
Who Is This For?
Anyone who wants a reliable semi-auto shotgun!
It does a great job doing what a shotgun is supposed to do and ate up everything we could throw at it…from various birdshot to 00 buck and even a slug or two.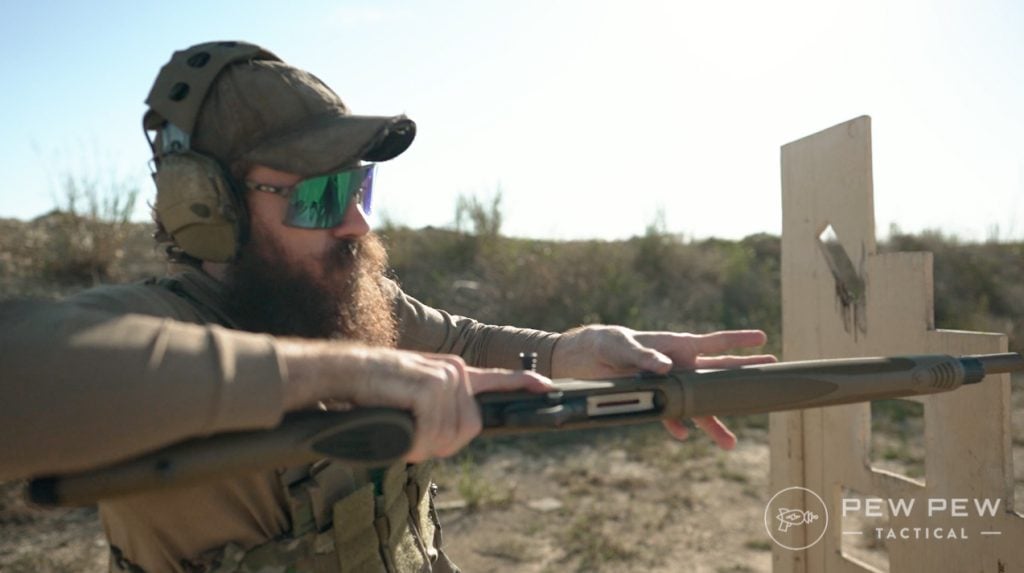 Perfect for home-defense.
And the 1301 is also great as the basis for a competition build with some easy mods. Definitely look for a Gen 2 or newer though!
Fit & Feel
The 1301's elongated handguard runs almost the length of the entire barrel. It also features some pretty aggressive texturing, which gives you positive retention while running the gun.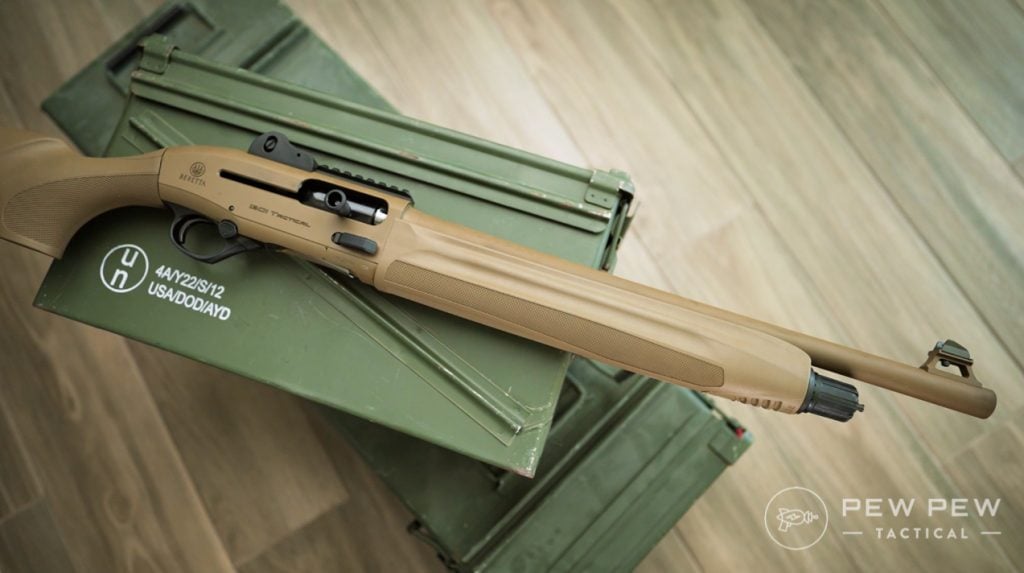 It also sports some grooves that allow a shotshell to neatly fit in the swell while you've got the gun gripped with your support hand. Say hello to tactical reloads, my friends!
Oversized Fire Controls
You've probably noticed that chunky charging handle by now, as it's kinda hard to miss.
Admittedly, the 1301's oversized fire controls are one of the coolest parts of the shotgun.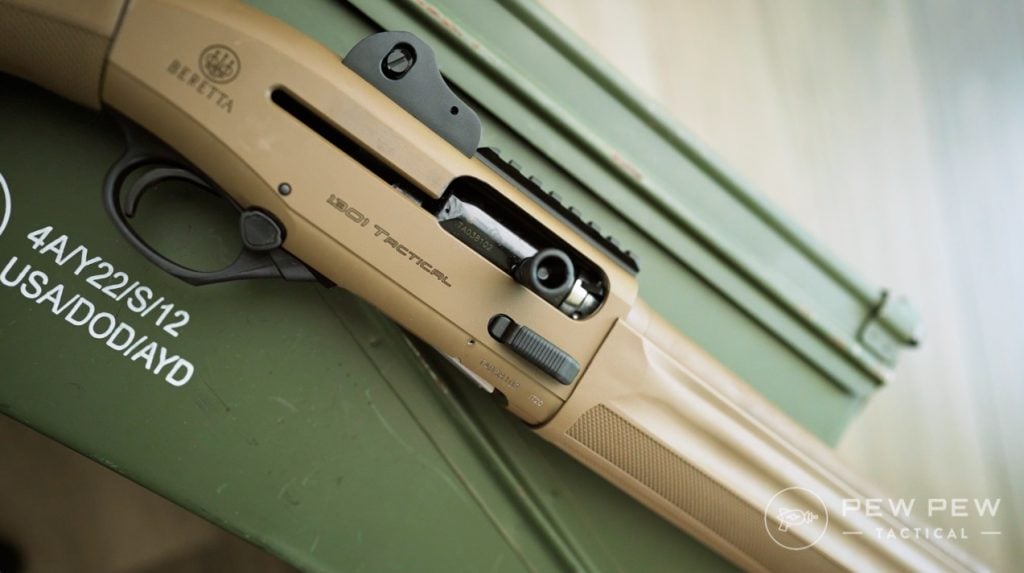 I'll go into the mechanics of it all when we get to our range portion of this review, but the gist is that running a shotgun quickly isn't always easy — especially if you haven't already built-up muscle memory.
So, large controls make going faster a lot simpler.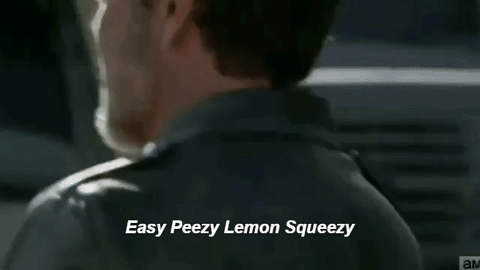 Compared to a lot of other semi-automatic shotguns on the market, the 1301's charging handle is downright enormous! It more closely resembles a cabinet doorknob than a firearm component, but in a good way.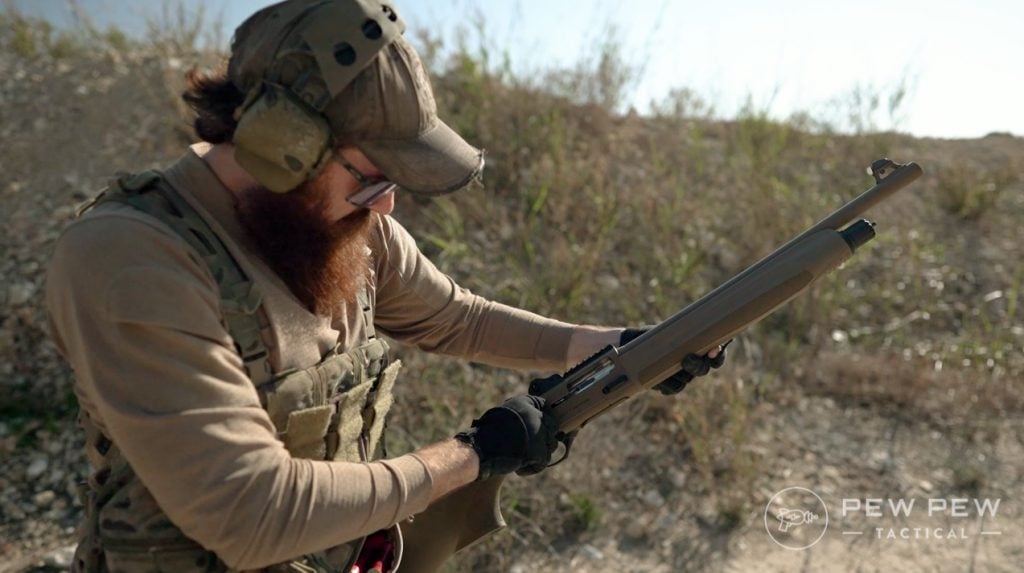 More real estate means you've got plenty to grab when you need to, especially in the throes of gross motor function difficulties.
Just below the charging handle sits the 1301's bolt release. It's intelligently placed just below the ejection port to facilitate a hyper-fast bolt drop during a tactical reload from a locked bolt.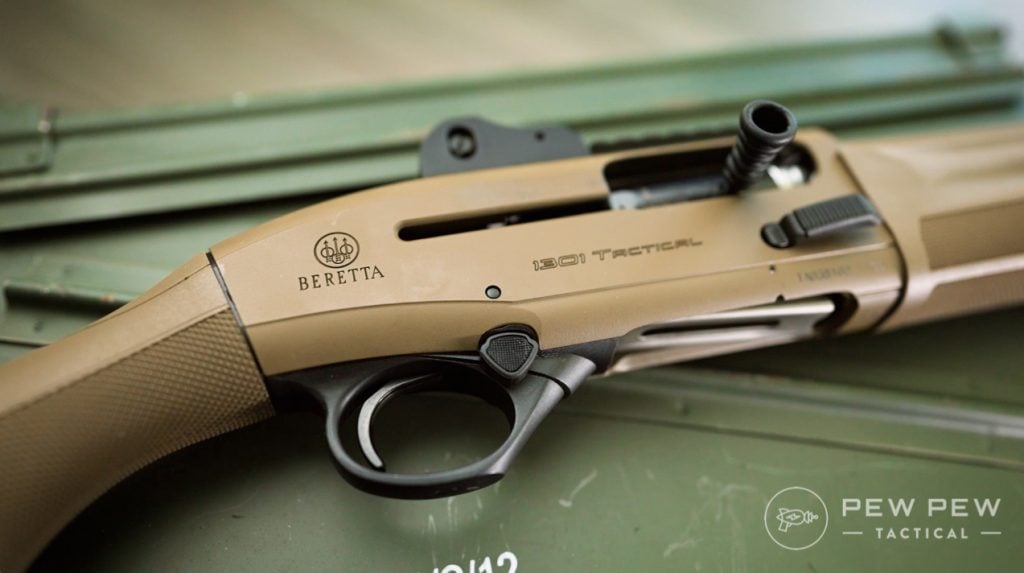 Its magazine tube comes shy of sitting flush with the business end — although newer models appear to come stock with a mag tube extension that winds up putting you at 7+1 capacity.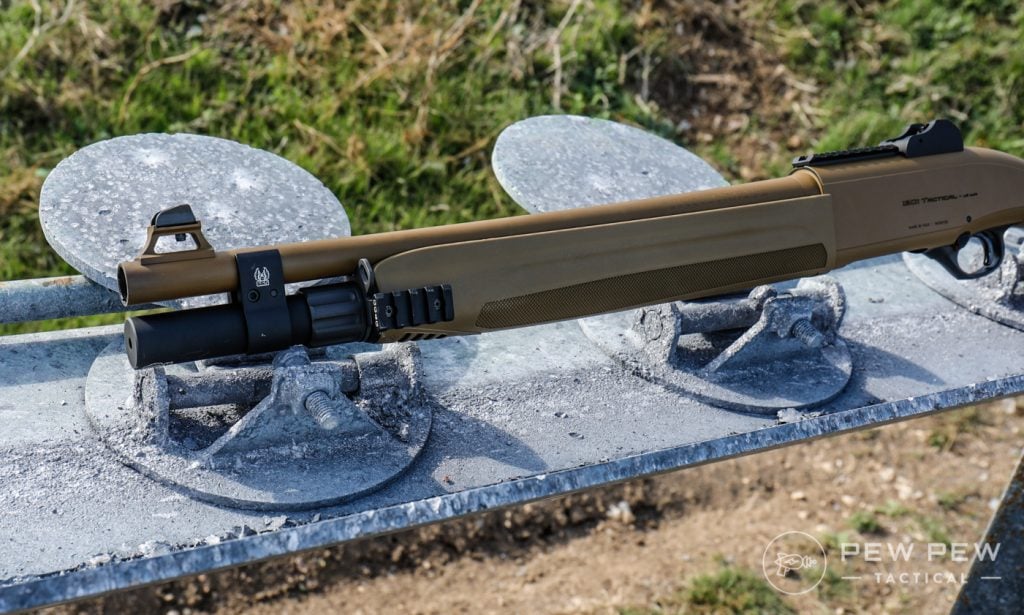 Ours sat around 5+1. But keep in mind capacity is measured with an actual 2 3/4-inch shotshell. So, depending on what kind of ammo you're feeding, your capacity might differ if you run something other than 2 3/4.
Additionally, our 1301 came with a magazine tube plug pre-installed.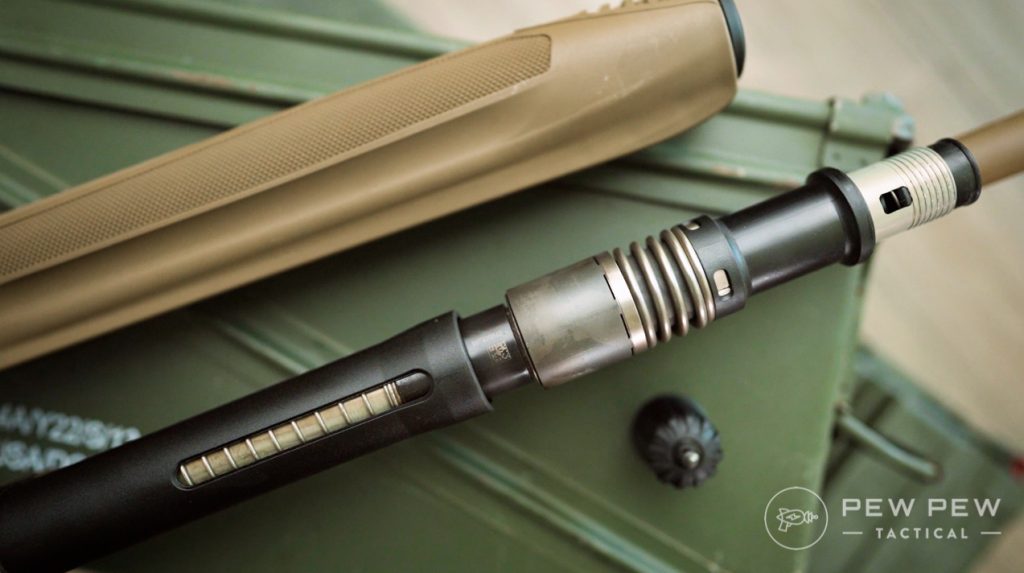 This is to ensure the gun's compliant with hunting laws requiring you only have one in the chamber and two in the tube at any given time.
Is it a bit odd for a semi-auto shotgun with "tactical" in the name to limit you like this? Yes…but so it goes.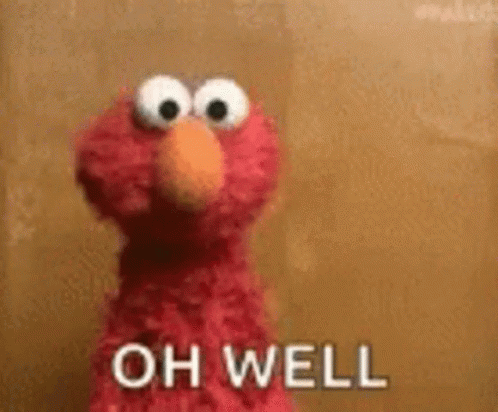 Regardless, it's a quick fix and removal.
Optics
The Beretta 1301 Tactical offers a bladed front sight and matching ghost ring rear for fast target acquisition.
They work quite well…although you've also got a Pic rail up top for the installation of a small red dot if you'd like.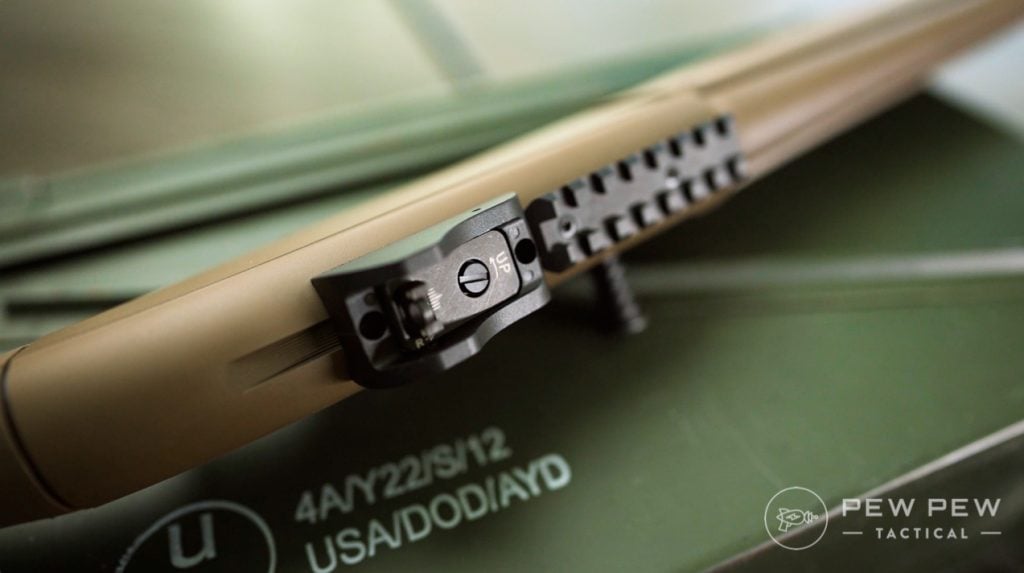 We didn't go that route this time, but I'd certainly look into something like an RMR or Holosun 507C next time around.
309
at EuroOptic
Prices accurate at time of writing
Prices accurate at time of writing
How Does It Shoot?
Beretta claims that its Blink gas recoil system is approximately 30% faster than any other semi-automatic shotgun on the market.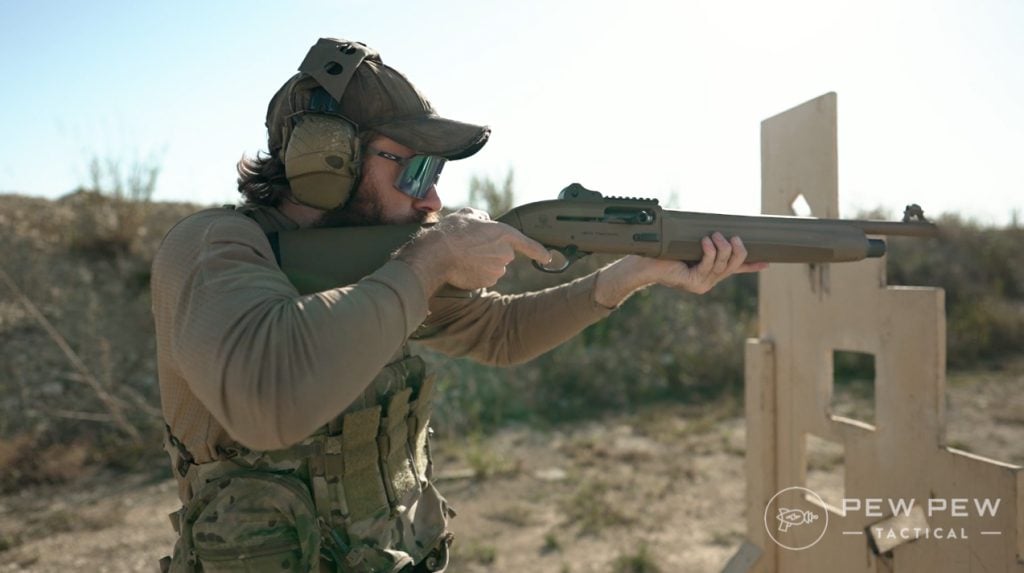 While I certainly don't have the time, skillset, or other shotguns to test that claim out, this thing feels fast.
We ran a variety of bird and 00 buck through it with only a small, bizarre issue – it would sometimes double-feed then lock up.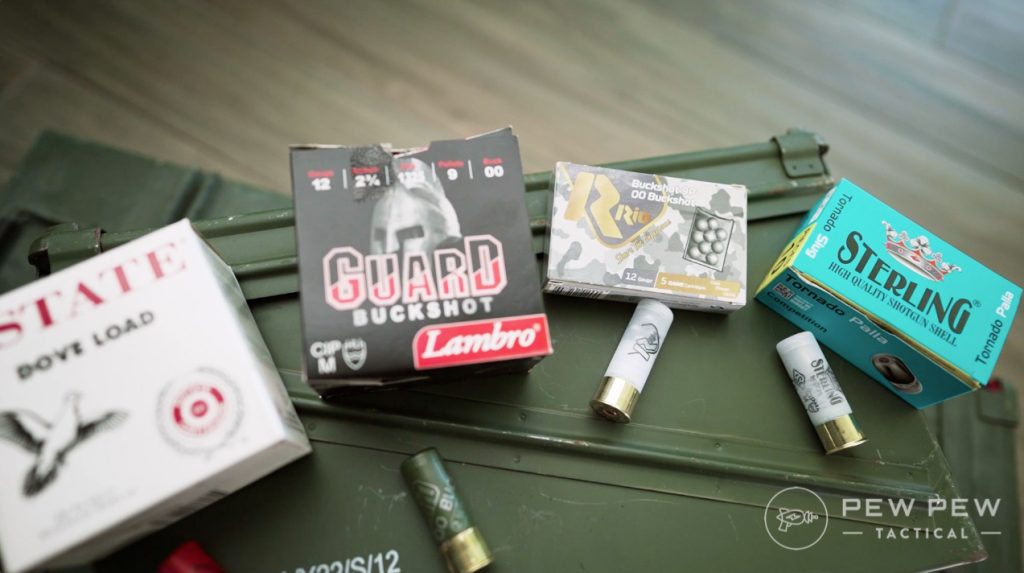 Some research suggests hitting the bolt release in just the right manner with a round chambered will result in the gun spitting out a shell onto the lifer and attempting to chamber another straight from the magazine tube.
This, in turn, causes a quite obnoxious traffic jam inside your breech.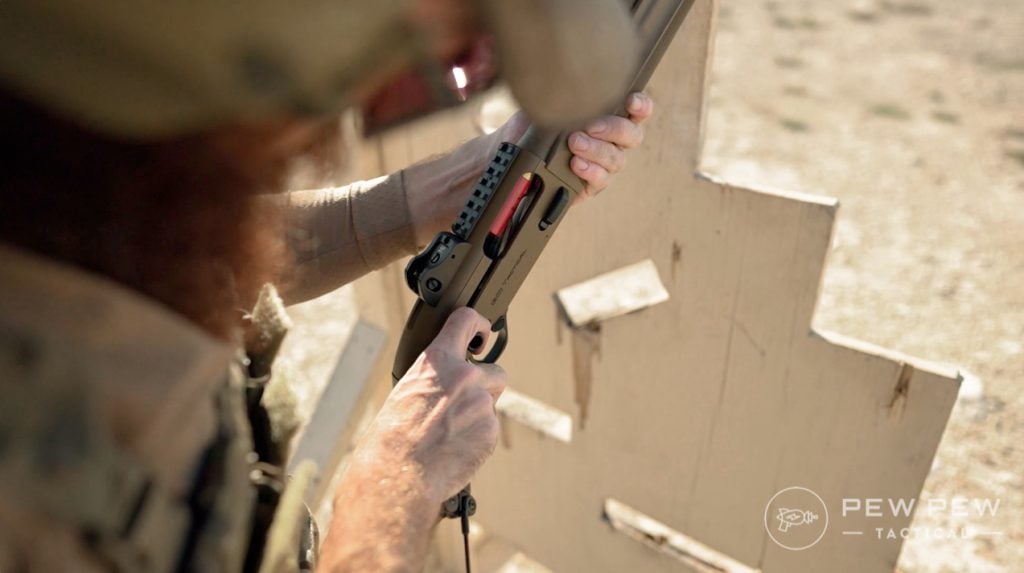 Notably, this issue was addressed on Gen 2 1301s, so I wouldn't really worry about it too much.
If you're on the market for one of these bad boys, just ensure that you're grabbing the latest version, and you should be good to go.
Also, the issue didn't seem to occur after removing the magazine tube capacity blocker. So it could be exacerbated by limiting the tube to two rounds combined with shotshells that perhaps aren't exactly 2 3/4 inches.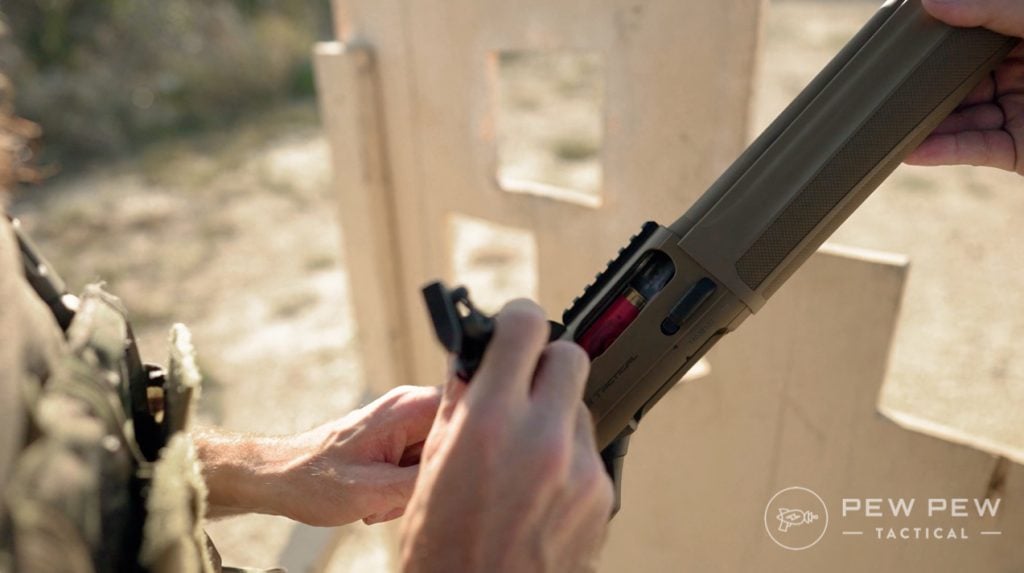 Outside of that, the Beretta 1301 is fun to run! (Although I probably don't have to tell you that throwing a couple hundred rounds of 12-gauge downrange is a great way to rattle the hell out of your skeleton.)
At about 2 pounds less than the Benelli M4, the 1301 does feel like it jumps around a bit more than a normal shotgun.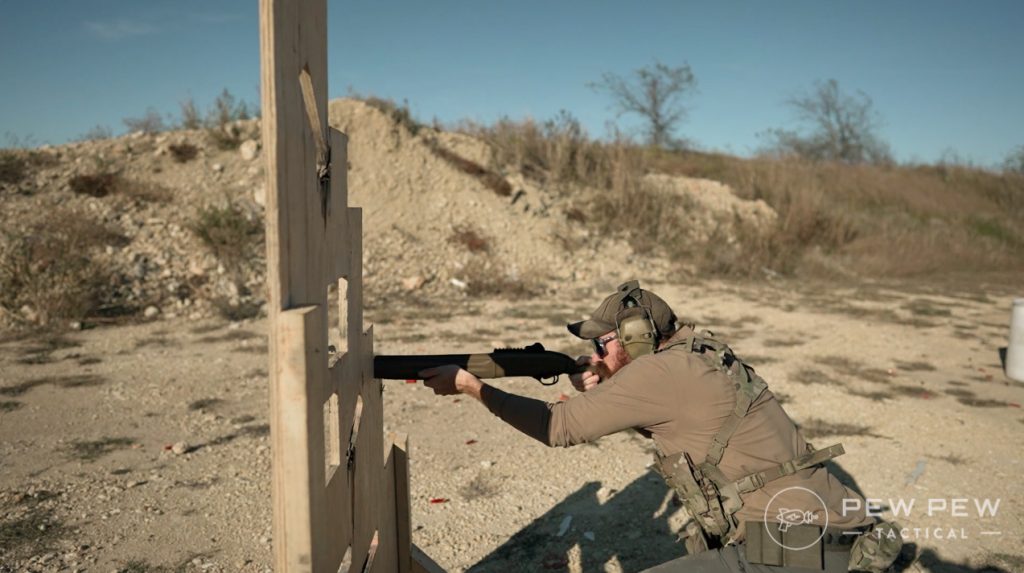 That's not a point against it, however, as it's the natural tradeoff that comes with an 18-inch barrel, smaller overall weight, and minuscule length of pull.
Overall, the Beretta 1301 feels sleek and points naturally. Again, despite my limited experience with shotguns, I still felt competent with it after just a few hours and a couple hundred rounds. That should tell you something.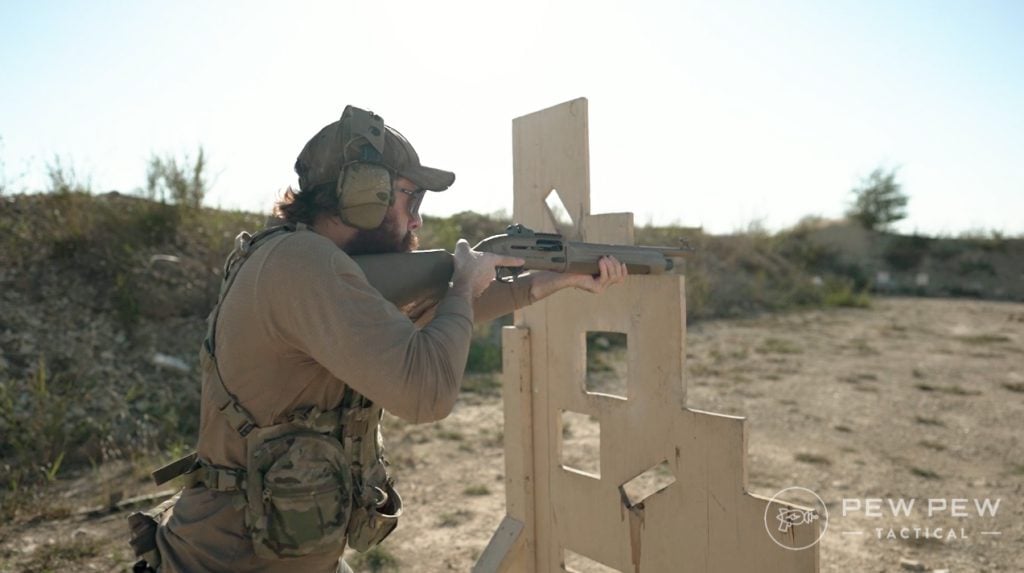 My only lament is that I didn't have more time with the 1301 — both to familiarize myself with its ins and outs as well as tweak a few things more to my liking.
Breech Loading
Although, considering the way the 1301 operates, "tactical" reload might not be the correct terminology as you're likely going to be breech-loading the gun…
Why?
Buckle in for a quick explanation…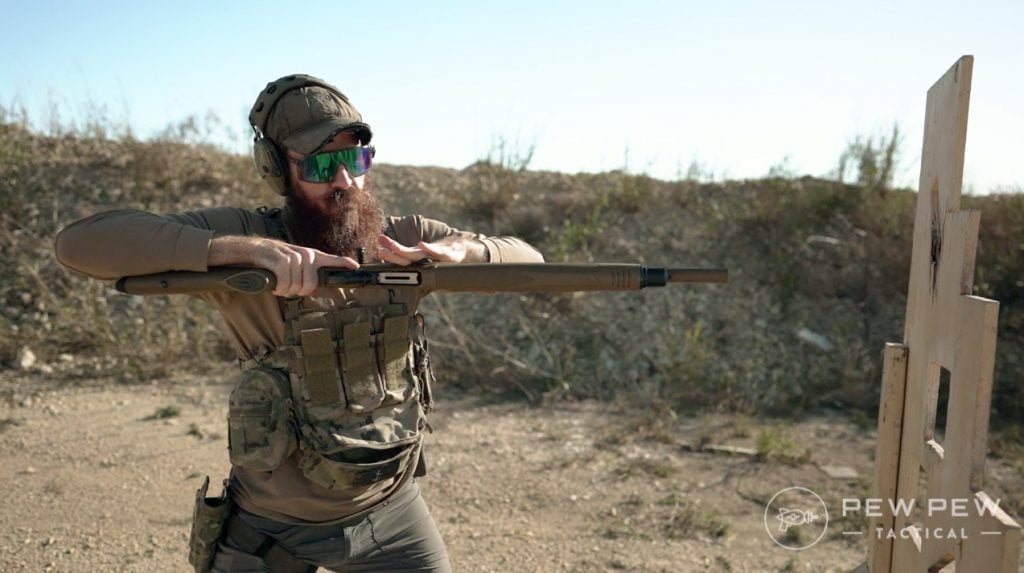 The 1301 won't chamber a round when you rack the bolt unless the hammer is down. That means to chamber a round; you've got to either pull the trigger on an empty chamber — which I'm not particularly a fan of — or use the small button on the bottom of your lifter.
This button spits a round out of the magazine tube seats it on the lifter, ready for you to chamber it.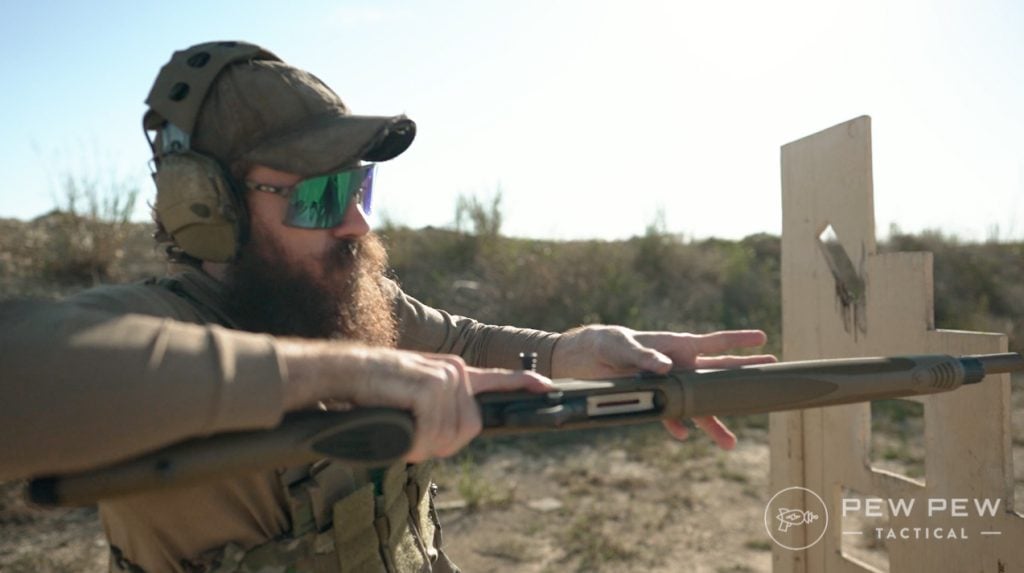 It's kind of a strange system to get used to, but I can see why it'd be useful if you're doing some very shotgun-specific tasks.
I'd recommend checking out the 1301's Manual for some direct from the source explanation.
Let's say you're rolling with a round in the chamber but want to pop in a particular shotshell without unloading your entire mag tube — such as a slug.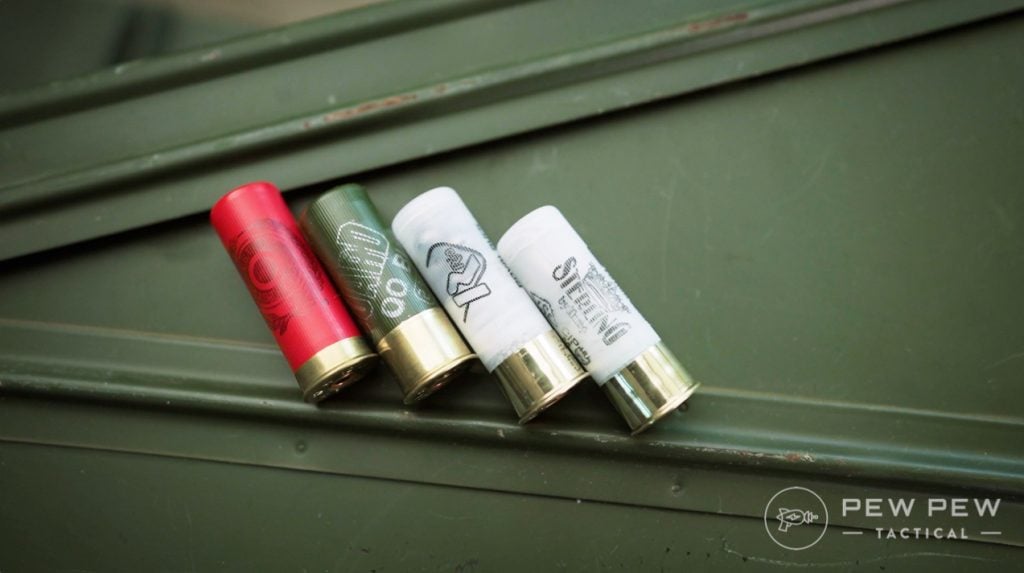 If you manually cycle the bolt, the 1301 will not chamber another round from your mag tube. This means you can safely eject whatever round was in the chamber and pop the shotshell of your choice right in.
A large cross-block safety button that's also texturized is just aft of the breech.
The gun's trigger is quite nice and crisp. It comes in at right about 4 pounds.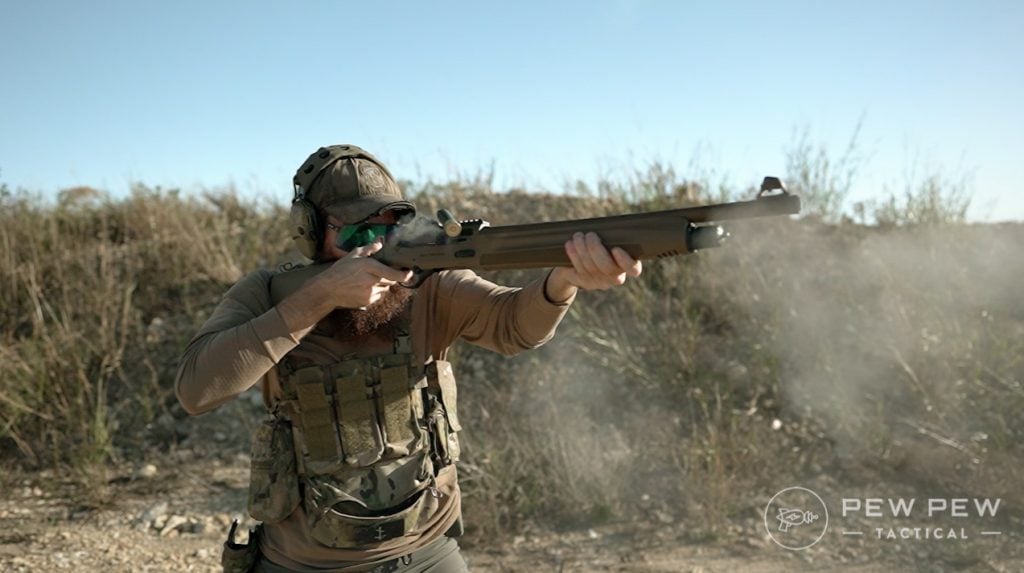 This shotgun's stock is pretty much your standard shotgun stock setup — nothing fancy here. But there's a model that comes with a Mesa Tactical stock and pistol grip if that's more your jam.
The stock feels short for a scattergun, coming in at just 13 inches or so. That said, spacers exist if you need to get a little more distance with them ape arms.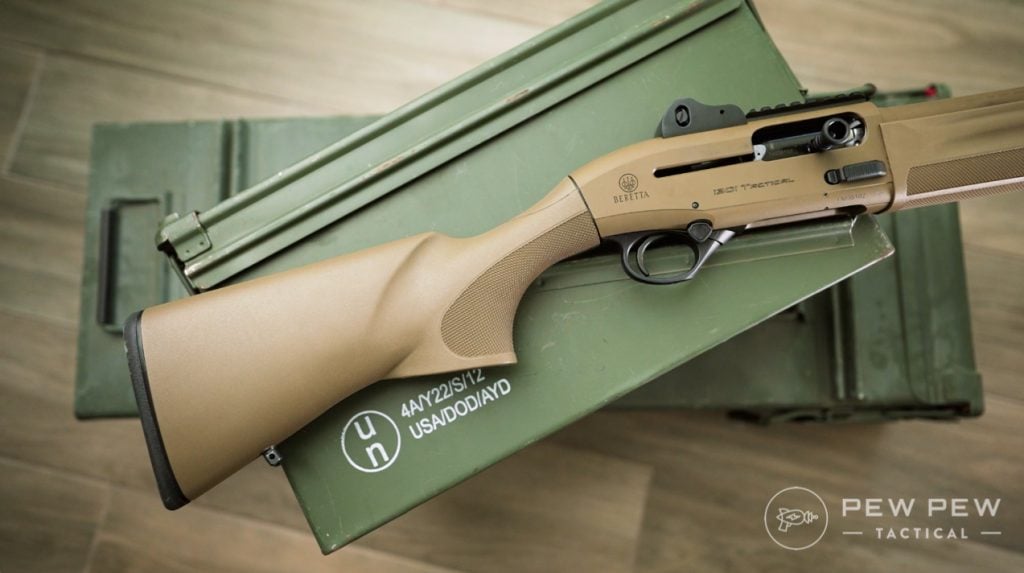 For reference, I'm 6 feet tall, and while the minuscule LOP feels much different than my full-sized 870, it fits quite nicely with the compact feel of the 1301.
What Sets It Apart?
There's a lot of shotguns out there…from fellow semi's to the good ole pump-actions.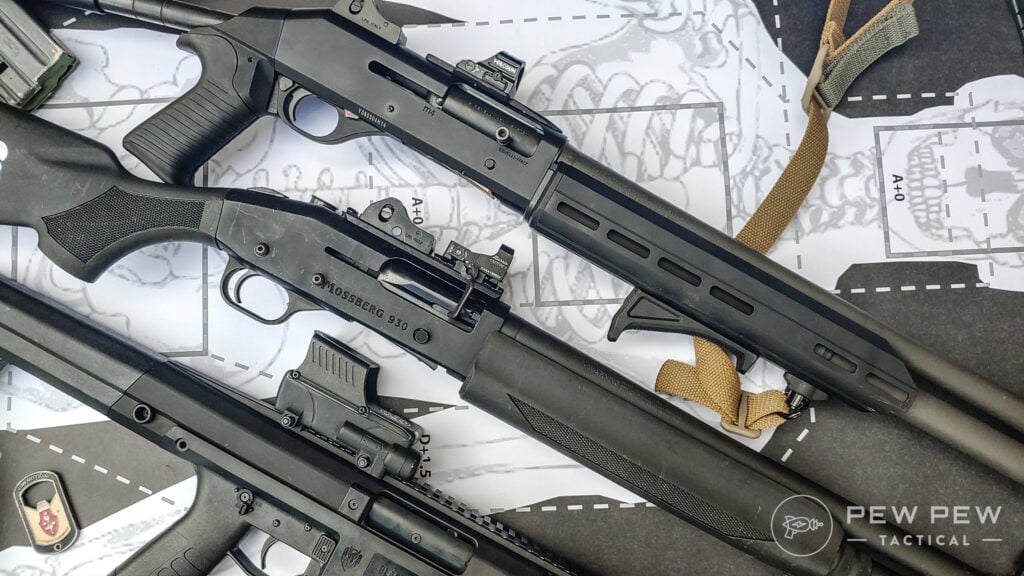 We especially like the 1301 because of it's light weight, easy to use controls, and reliability. Plus the inclusion of a top rail is great for more modern applications.
By the Numbers
Reliability: 4/5
So, we had a few issues on range day with our model double feeding, but some internet sleuthing helped us narrow down our issue. AND we learned that Beretta fixed the prob with the Gen 2 series.
Accuracy: 5/5
It's a shotgun. Point. Shoot. Done.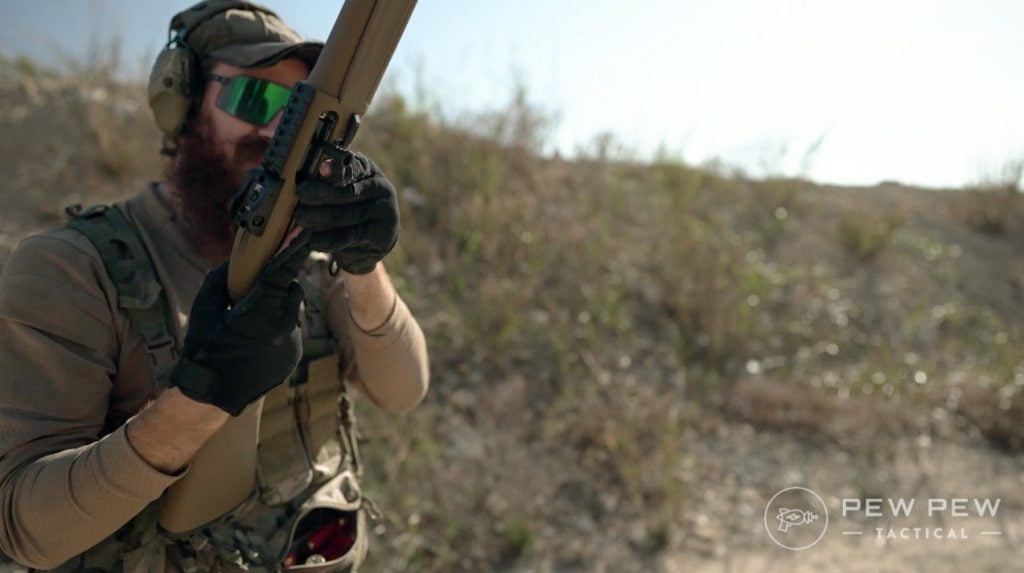 Ergonomics: 5/5
Despite being a tad shorter than what I'm used to with my full-sized 870, Beretta has designed the 1301 Tactical to point and shoot naturally. I had no issues with how this felt and enjoyed my time with it.
Aftermarket: 5/5
A fair amount of parts are available to trick this thing out — a mag tube extension, forward rail, and sling point mount immediately come to mind.
Value: 5/5
Hovering around $1,400, this won't completely break the bank. Not to mention, you won't have to add a bunch of stuff to make it functional.
Overall: 4.5/5
I had an absolute blast with the Beretta 1301 Tactical. You can't go wrong with this shotgun!
1405
at Bereli
Prices accurate at time of writing
Prices accurate at time of writing
Upgrades
If you have a Gen 1 version, get the bolt release shroud from Beretta for $10. Well worth it.
We also upgraded ours with a GG&G extension that brings total capacity up to 7+1.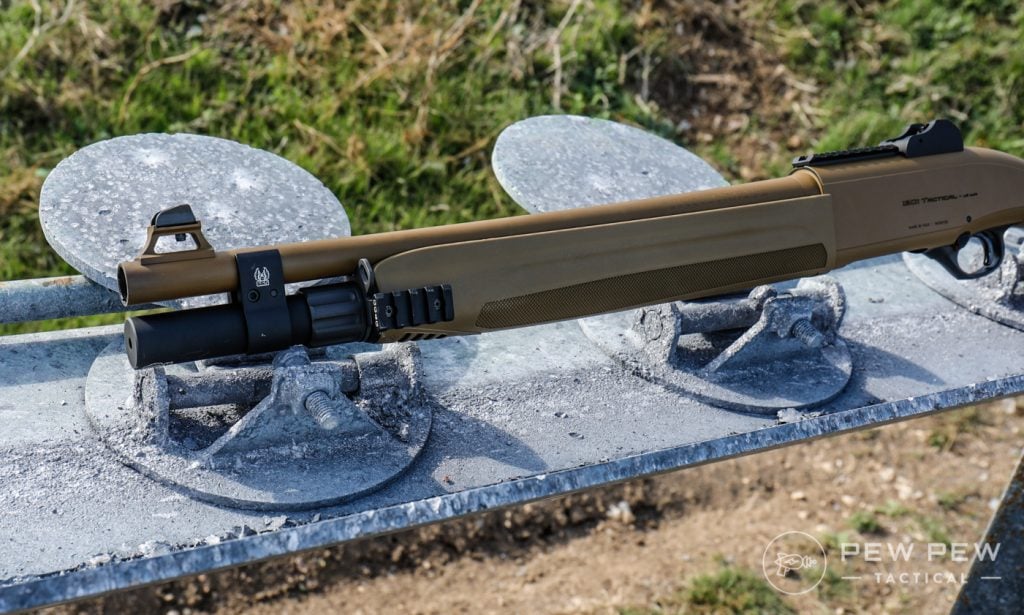 Get the light rail with the extension and you're ready to rock and roll in the dark. Note on that…make sure to attach your light or really adjust your grip otherwise recoil + empty rail + fingers are not a fun combo.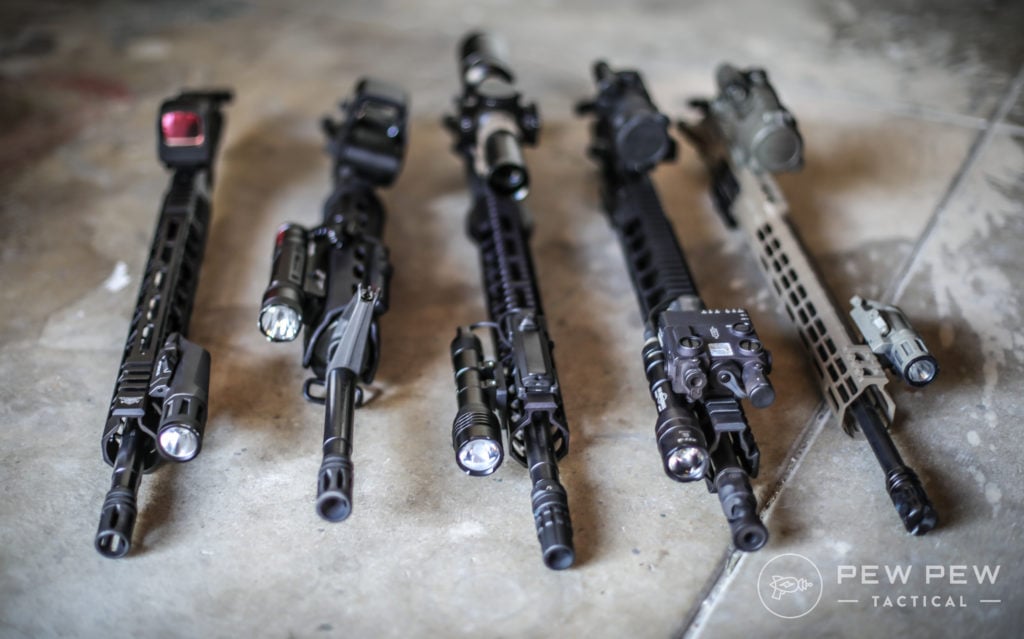 See our list of great weapon lights.
And how about that rail space up on top? We're going to equip a Holosun 507C soon but also check out our other options of best red dots.
309
at EuroOptic
Prices accurate at time of writing
Prices accurate at time of writing
Conclusion
If you're in the market for a tactical shotgun that's sleek, runs well, comes with a host of rad features right off the bat, and isn't going to break the bank…I'd absolutely recommend getting your hands on a Beretta 1301 Tactical.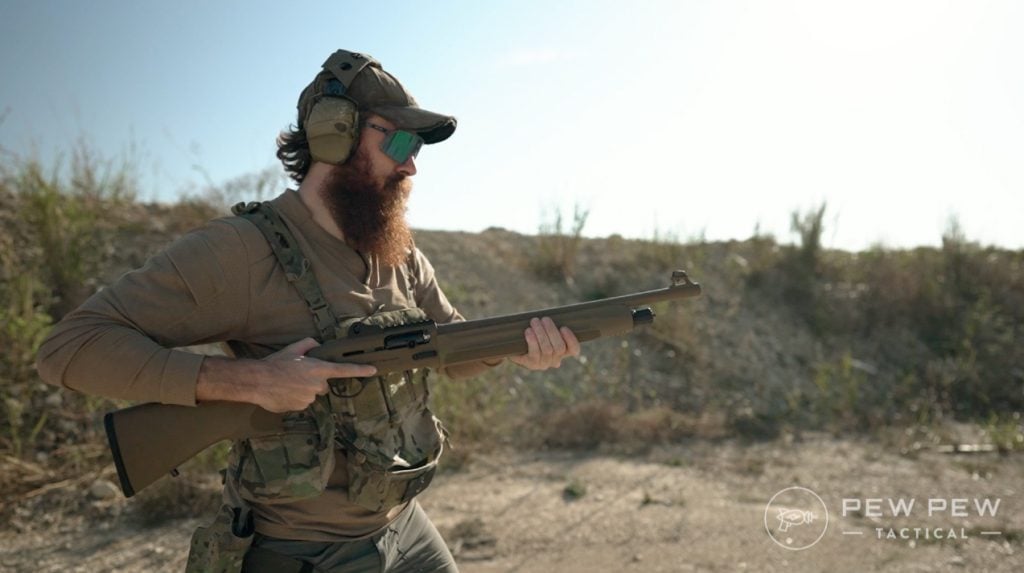 It's affordable at right around $1,400, and, perhaps best of all, you're not going to need a ton of add-ons to get it running right out of the box.
In short, grab this gun. You won't be disappointed.
1405
at Bereli
Prices accurate at time of writing
Prices accurate at time of writing
Again, to see the Beretta on the range, check out the video review below.
What do you think of the Beretta 1301 Tactical? Let us know in the comments below. For more on shotguns, head over to our round-up of the 10 Best Home Defense Tactical Shotguns.