A couple of weeks ago, we took a look at the Crimson Trace RAD series of red dots…specifically their RAD Pro pistol optic.
This week, we're back, but with the RAD Max Pro – the rifle equivalent.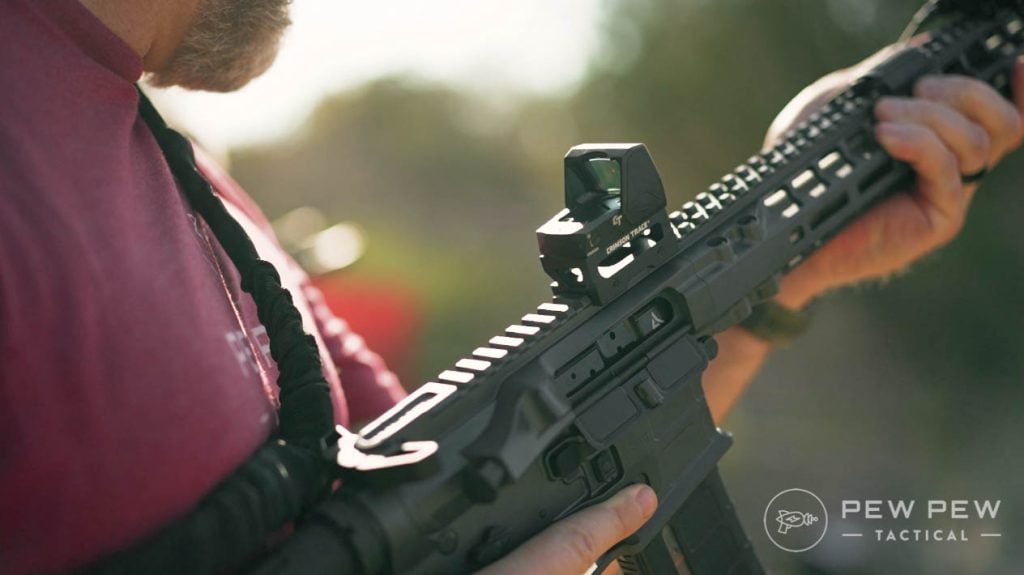 If you've read the previous review, you'll know a few things.
Crimson Trace released 10 RAD red dot optics that come in three basic sizes, micro, standard pistol, and long gun.
This time I'm reviewing the Max Pro, a long-gun version of the RAD which is quite a bit bigger than the standard RAD pistol offering.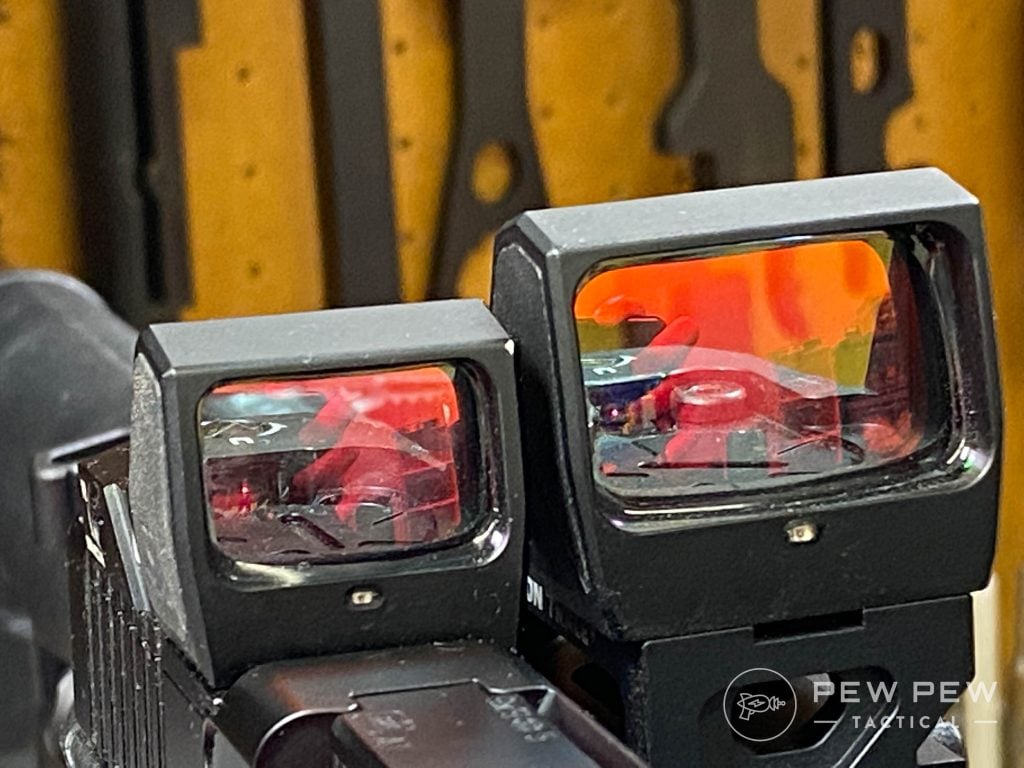 But is the RAD Max Pro worth the price tag? We put the Max Pro to the test at Gunsite to find out.
If you want to see the optic in action, make sure to check out the video below.
As always, for more guns and gear head over to Pew Pew Tactical's YouTube channel.
Table of Contents
Loading...
Getting Started
We headed to the famed gunfighting school Gunsite in Arizona to test out the new RAD series from Crimson Trace.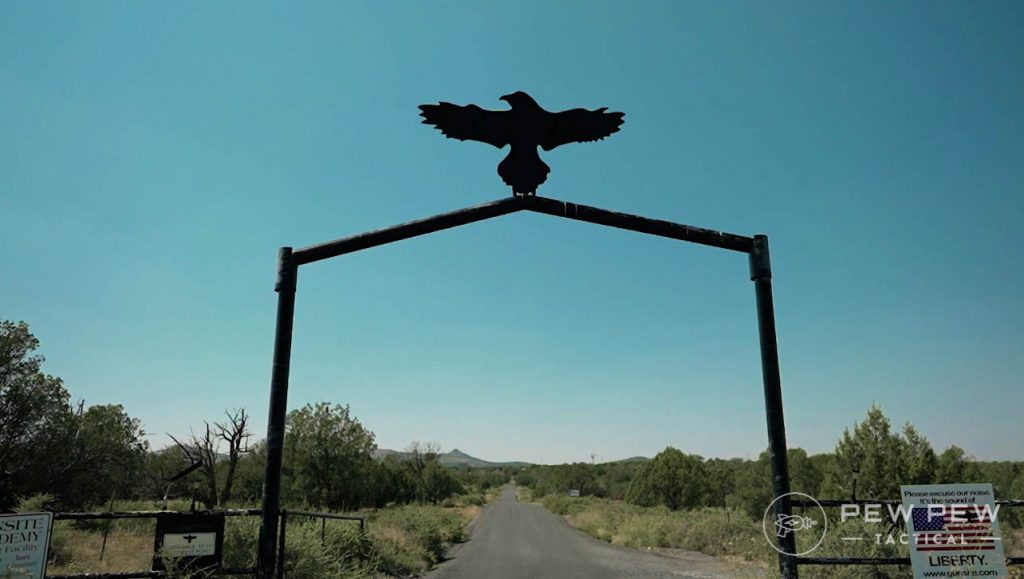 During the two-day (and one night) course, we were exposed to the capabilities of the RAD family of products as well as Crimson Trace's light and laser combos for pistol and rifle.
But what is this RAD optic we keep talking about?
The Crimson Trace RAD Max Pro offers a larger version of the RAD intended for long gun applications. (Remember: RAD stands for Rapid Aiming Dot.)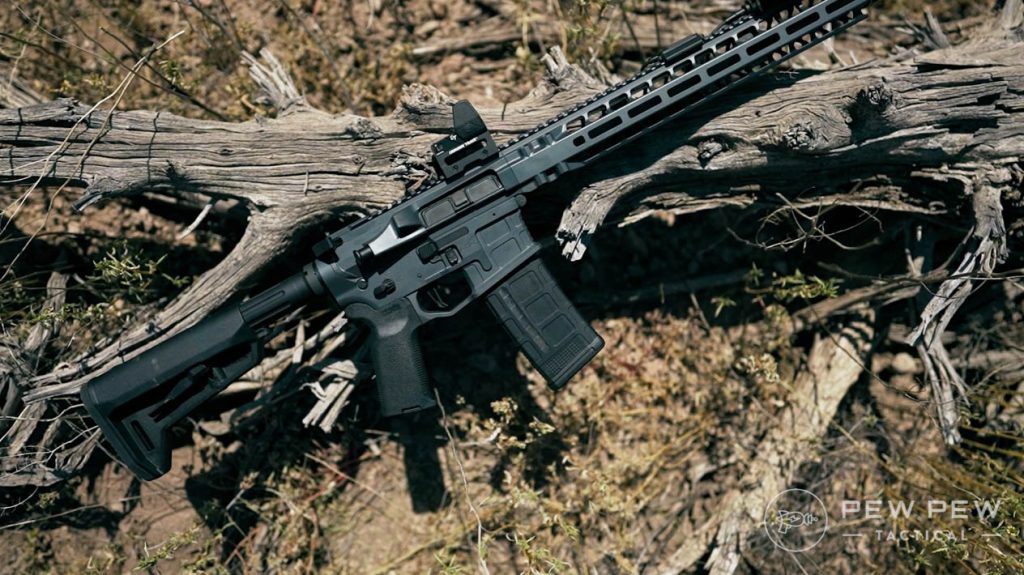 The Max Pro measures approximately 1.5-inches wide and is almost 1-inch tall.
As such, the viewable area is generous and the strap covering the widow helps shooters frame-up targets nicely.
449
at Crimson Trace
Prices accurate at time of writing
Prices accurate at time of writing
Out of the box, it ships with a full co-witness Pic mount, one CR2032 battery, adjustment tool, mounting hardware, sight cover, and instruction manual.
For the event, Crimson Trace mounted the Max Pro on a Radian Model 1 rifle — an outstanding AR-15 rifle chambered in .223 Wylde.
2705
at Radian Weapons
Prices accurate at time of writing
Prices accurate at time of writing
Fire It Up
We began by zeroing the RAD Max units before moving into training.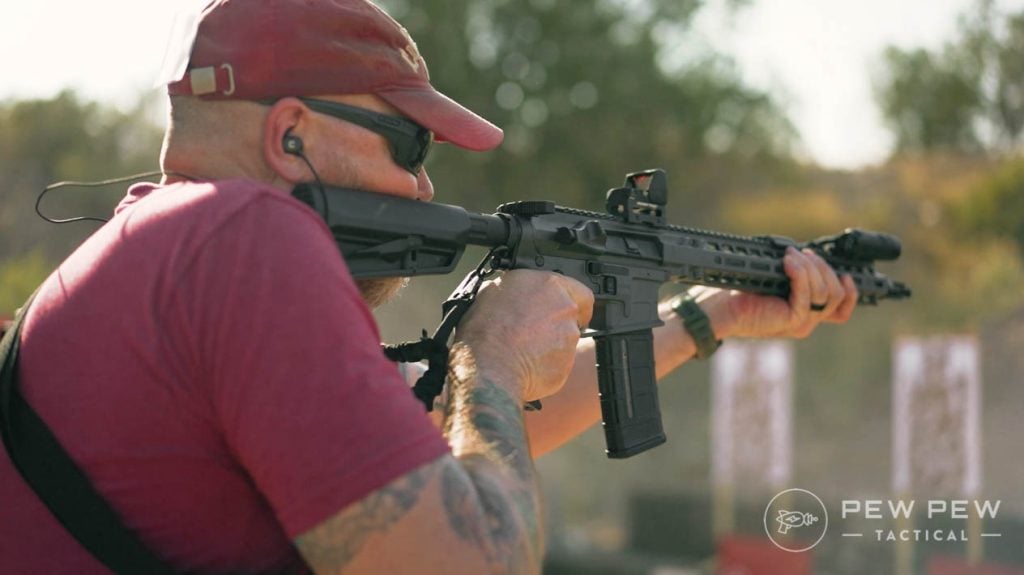 In addition to the Max Pros, the rifles came with the very capable CMR-301 Rail Master — a tape switched beast with both a 1,000 lumen light and a green laser for highlighting targets.
It didn't take too long before everyone had things dialed in and the training began.
314
at Crimson Trace
Prices accurate at time of writing
Prices accurate at time of writing
The Max Pro's 3 MOA dot was perfect for in close shooting. This combined with the large viewing area allowed us to engage targets quickly and easily.
Its larger frame and increased targeting area worked well with the relatively soft recoil of the Radian rifle.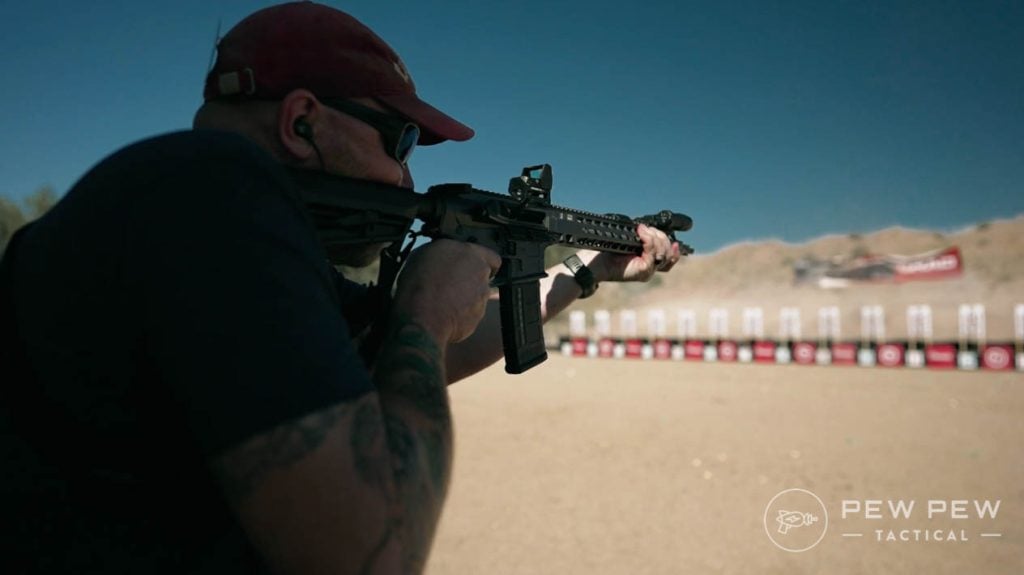 In short, we were able to acquire targets and shoot quickly. And acquisition shots and follow-up shots were a breeze with this large red dot.
Lights Out
We toiled until the sun began to fade in the Arizona desert, then, we fired up our Rail Masters.
With the 1,000-lumen light, I was able to clearly identify my targets. The Rail Master also helped confirm my aim with a brightly colored, green laser.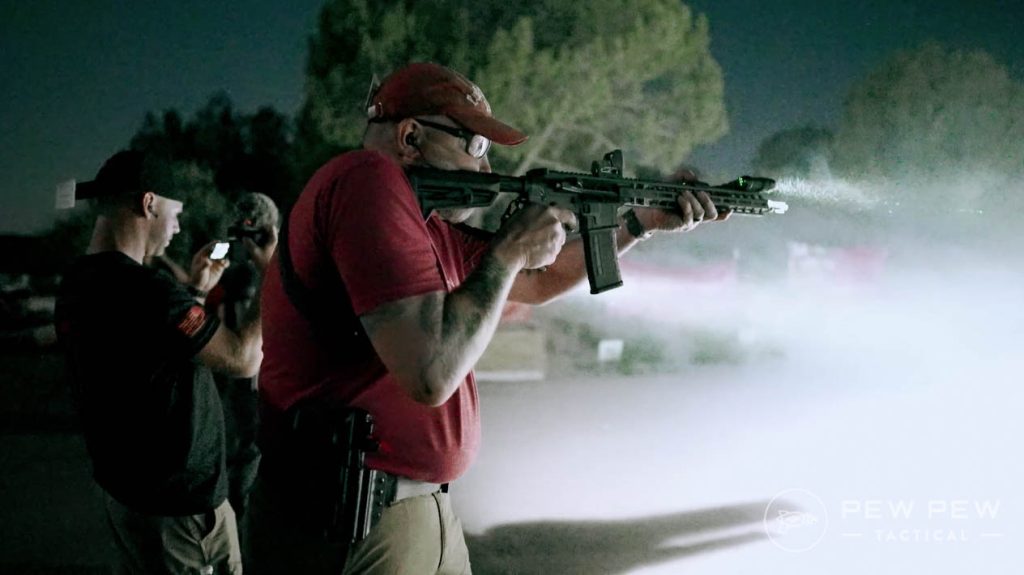 All the students moved to light-related drills and then ultimately to a nighttime, steel target course.
Don't be fooled, it was dark…I mean desert dark, well away from any light polluting cities.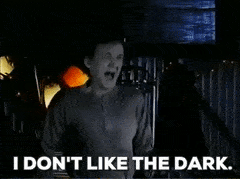 The Max truly shined in this environment, allowing us to reach out to distances we might otherwise struggle to hit with a pistol.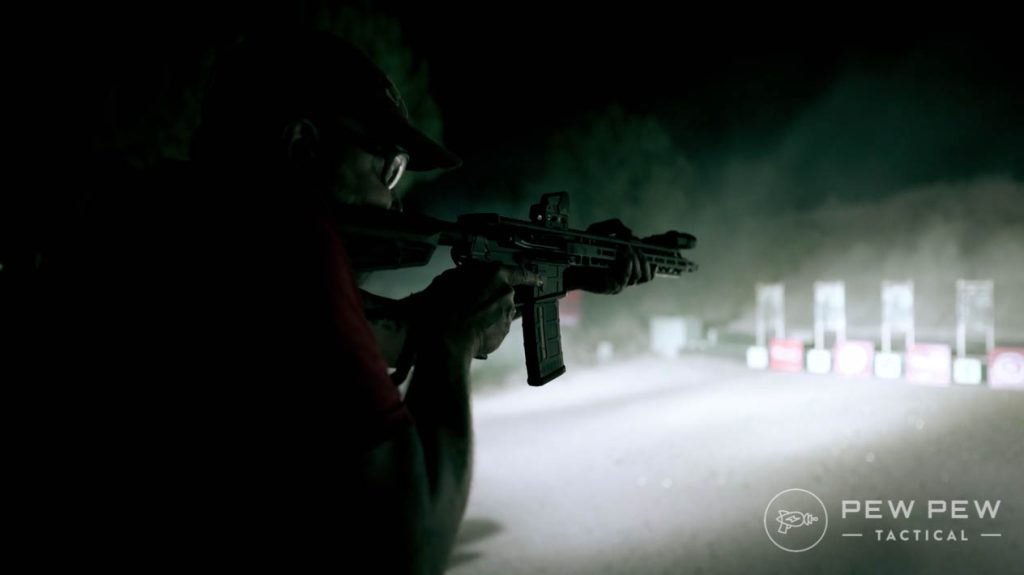 While the light sensor did well to automatically dial down for the darkness, I liked being able to use the tactile switches on the side to dial in the brightness I wanted.
In total, the Max Pro offers eight daylight brightness settings — two night vision capable.
Longer Ranges & Shoot House Fun
The following day, we were back out to Gunsite to see how far the Max Pro could reach.
We had already established the Max was very capable at short distances and in the dark…but how would it do at longer distances?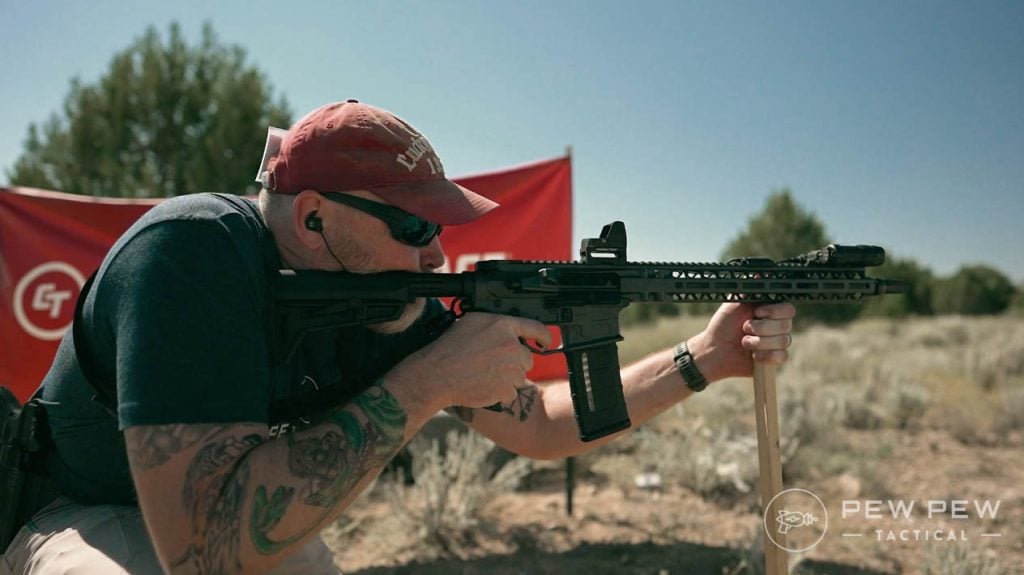 Crimson Trace worked with Gunsite to prepare an entirely new range. It was here we stretched out the capabilities of the Max Pro.
With a little steadying, we were able to smack steel targets out past 100-yards.
Next, we headed indoors to practice some CQB in a shoot house chock full of challenges.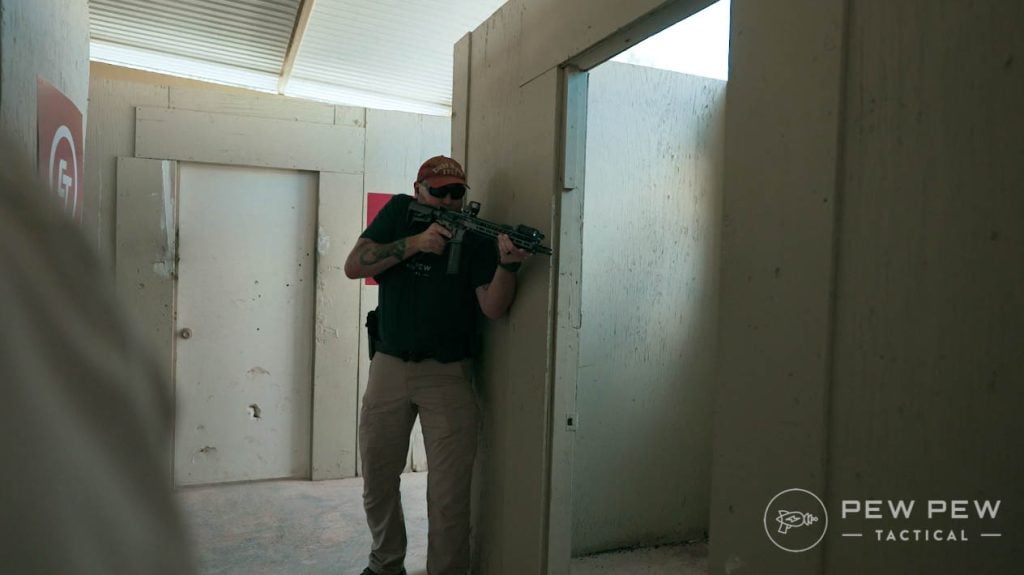 From the pregnant "no shoot" target to the bomb-vest wearing terrorist, we worked angles and moved from one room to the other — doing our best not to expose ourselves to danger.
Here again, the Max shined.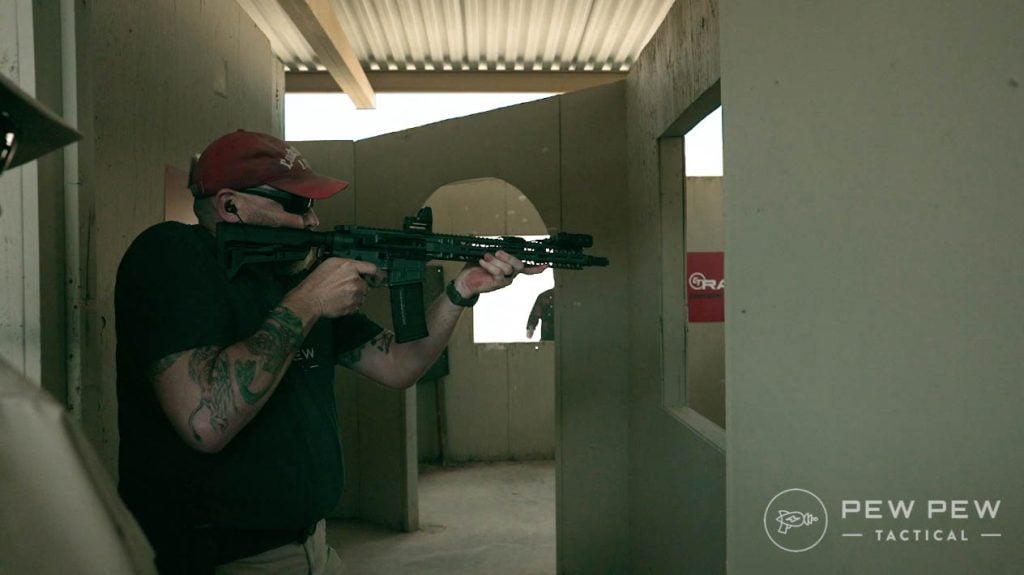 Bottom Line
The Max Pro is a great option, perhaps one of the best in the RAD family.
It comes with all the features seen in the Pro line including an ambient light sensor, shake awake feature, and auto-shutdown after two minutes of inactivity.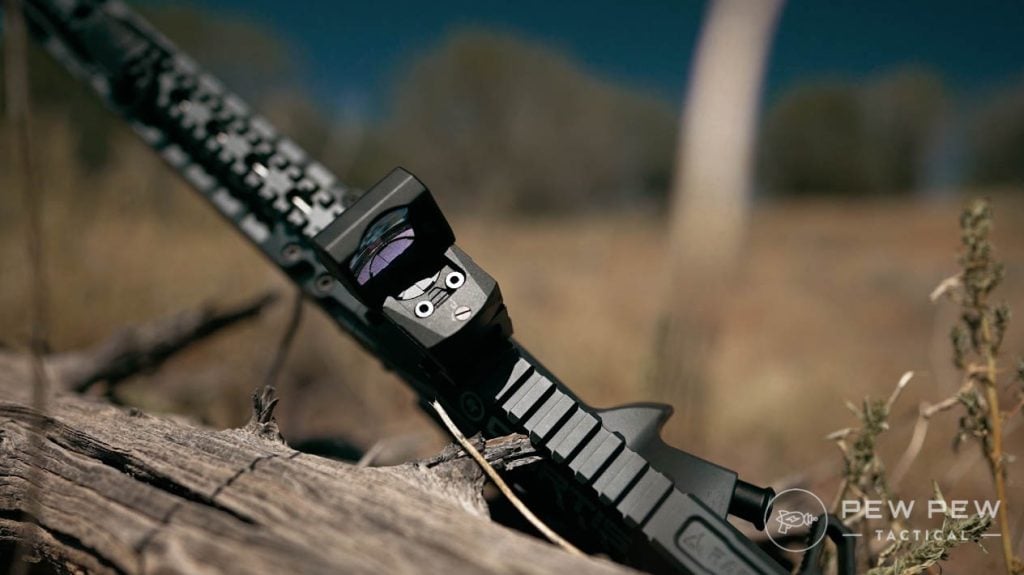 Crimson Trace indicates the Max Pro can expect a run time of 50,000 hours from a top-loaded CR-2032 battery — plenty of time to work shifts or simply guard your bedside.
This optic is also IPX7 waterproof rated if you're into that kind of thing.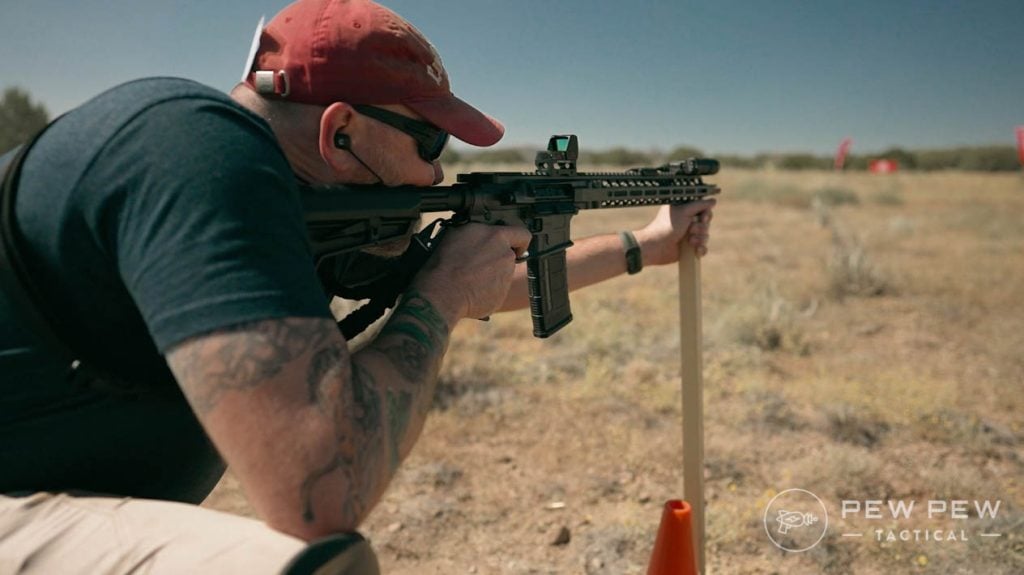 Though some people might be able to do well with a red dot out beyond 200-yards, but not me. The Max Pro was excellent for everything short of those distances.
The optimized target window and bright dot provided great confidence every time I shouldered the rifle.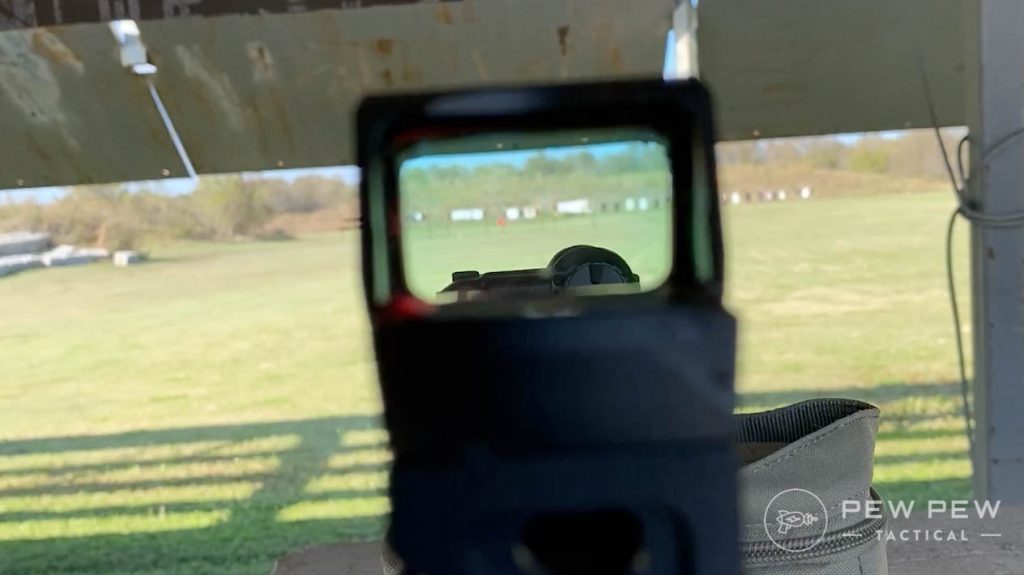 Combined with the Rail Master laser/light combo, I was able to dominate night shooting challenges.
The unit seems tough and easily handled the several hundred rounds we fired without any shift in zero or flickering. It's also covered by the Crimson Protect Lifetime Warranty.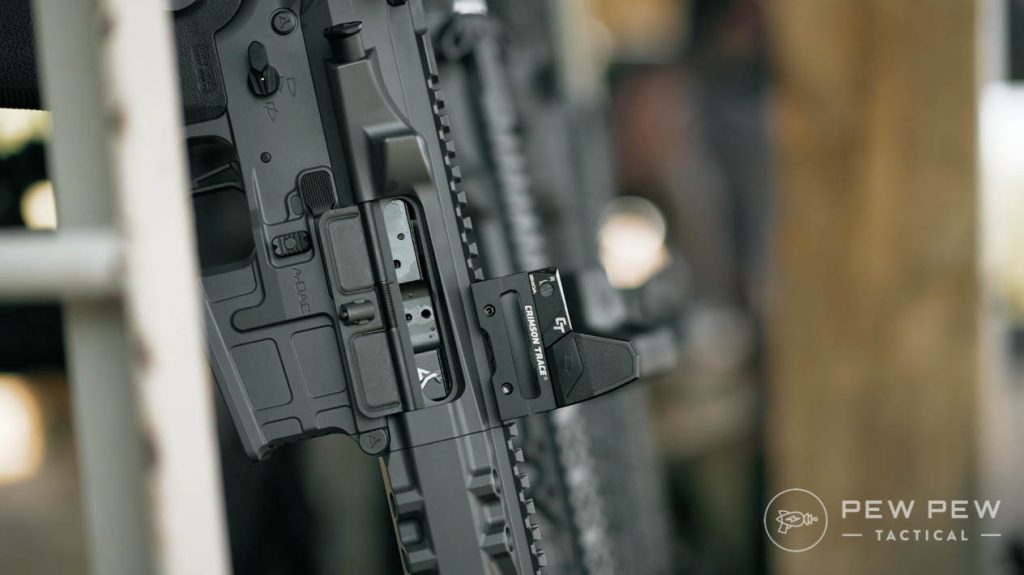 All in, the Pic-rail mounted spotter did a fantastic job of helping me sight out targets.
I think it would be an outstanding addition to any short-range rifle or shotgun project in search of a red dot.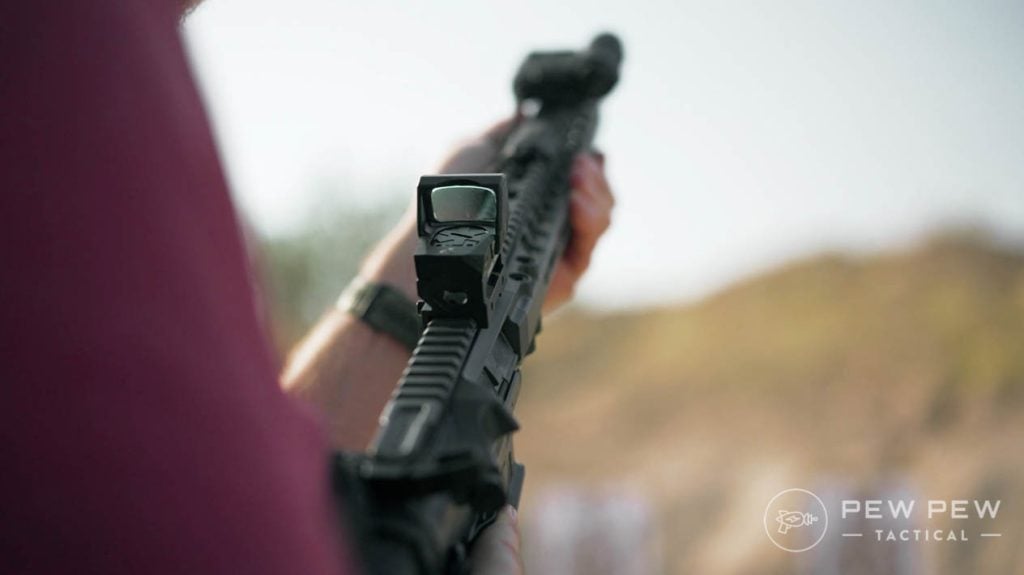 By the Numbers
Ergonomics: 4/5
There is no fishing around or tilting of the head when you bring your weapon up, you simply move the dot to cover your target, and engage. The buttons are even bigger so more room for my large hands is appreciated.
Features: 5/5
The Max Pro and Rail Master have great features that worked well together. Shake awake and other battery-saving measures should provide for long-life usability.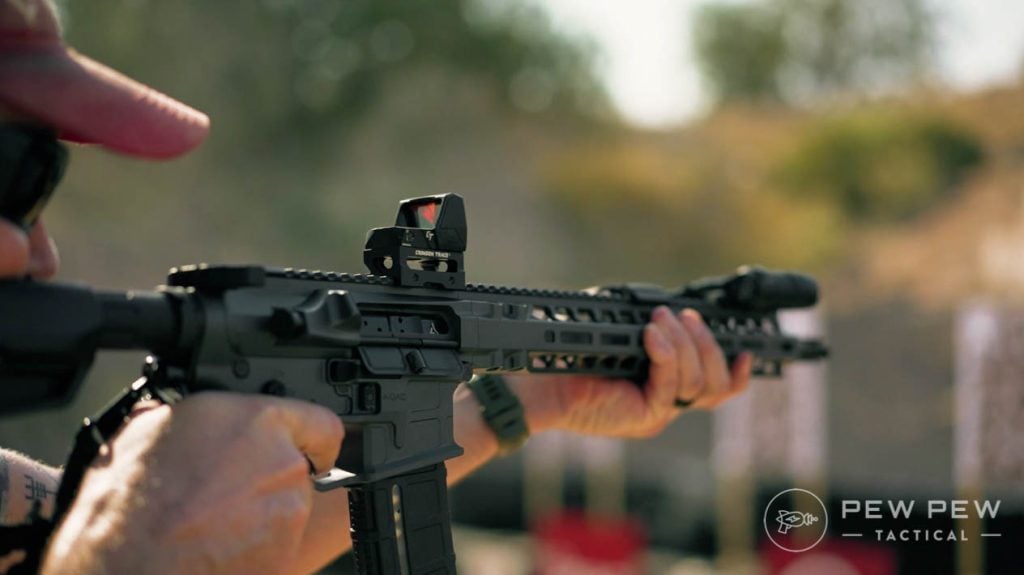 Reliability & Durability: 4/5
I'm taking a guess at this one because we only used the Max Pro for a couple days and one night. Despite the standard banging around and a lot of firing over the course of the time, I saw no flickering, fading, or shift in zero on the dot.
The light and laser of the Rail Master were also unfaltering.
Value: 4/5
I've seen the Max Pro for around $400 online and that is fairly pricey…but the features and size really give it an advantage. Provided the unit lasts several years, shooters are getting a good value for the money.
449
at Crimson Trace
Prices accurate at time of writing
Prices accurate at time of writing
Overall: 4/5
If you're looking for a short-range rifle optic, the RAD Max Pro fits the bill. It's durable, has enough features to make it interesting, and did well during my training.
Conclusion
Overall, the experience with the Crimson Trace RAD Max Pro was great. Similar to the RAD Pro pistol optic, the Max Pro did well on the range and during training.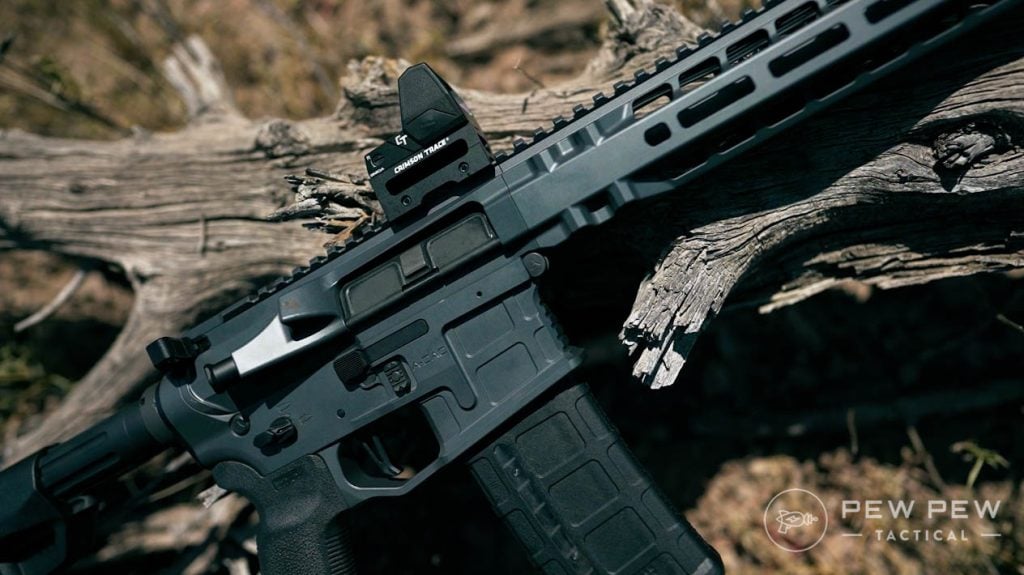 That large viewable area makes sight acquisition on first shots and follow-ups that much quicker and, again, the other features give it a leg up.
449
at Crimson Trace
Prices accurate at time of writing
Prices accurate at time of writing
Again, to see it in action check out my video below.
What do you think about the RAD Max Pro? Let us know in the comments below. To catch up on the pistol version, check out the RAD Pro review, or to see other rifle optics, head over to the Best Red Dot Sights.