A rising interest in home defense and tactical shotguns led to many shotguns being purchased.
Alongside these purchases, we see a particular rise in budget shotguns.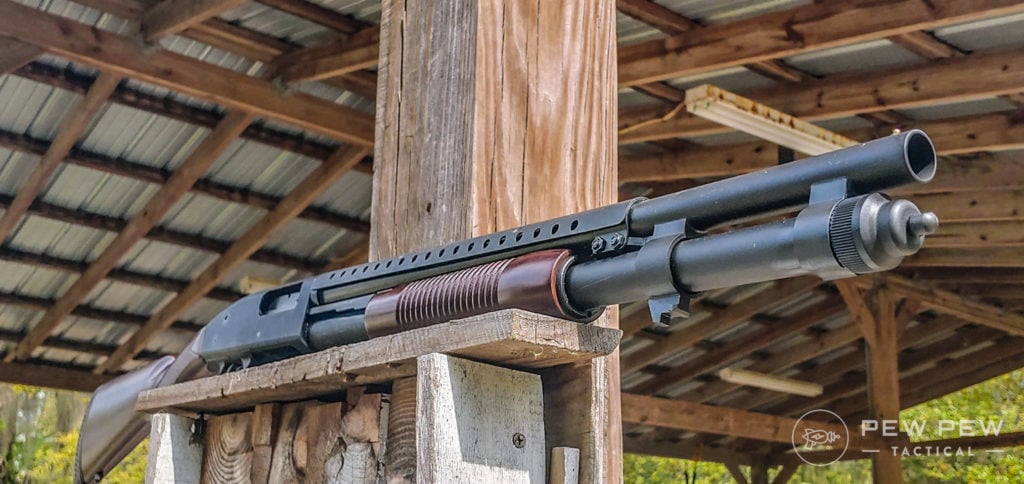 Budgeting anything in the gun world can be tricky, but shotguns, especially pump-action, are tough to mess up.
The downside to budget shotguns, though, is a lack of accessories. And for home defense, a long gun needs at least one accessory…and that's a white light.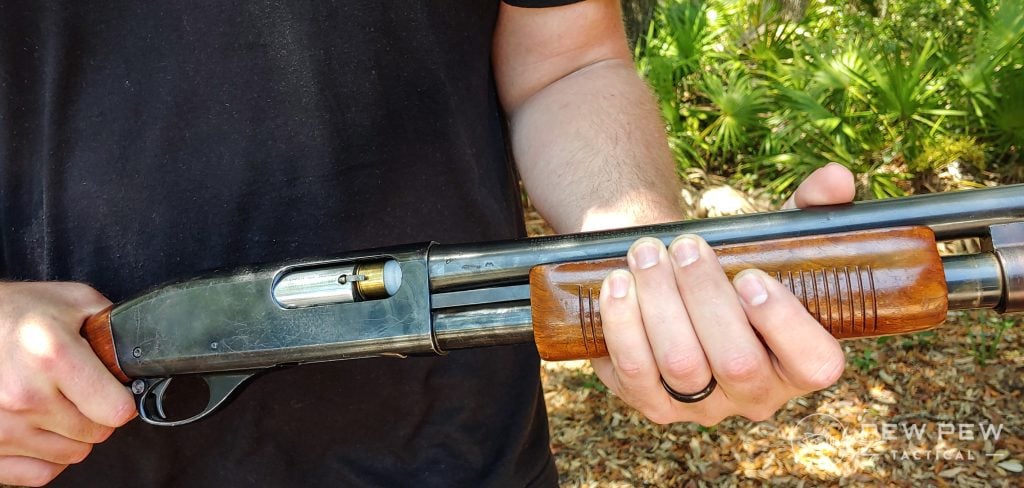 White light allows for proper target identification and ensures you know your target and what lies beyond.
White lights are a must-have for home defense guns. But there's a problem…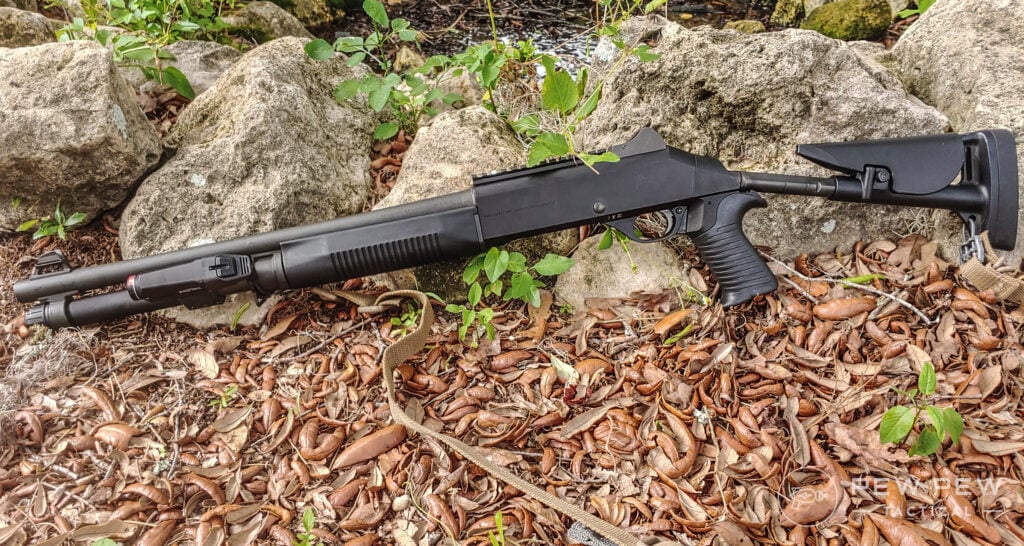 Shotguns, especially pump shotguns, can be tricky to attach a light to. So, what's the solution?
A universal shotgun light – courtesy of Streamlight. We'll talk about this three-part system, how it works, and how it can help you improve your shotgun setup.
By the end, you'll better understand whether this setup will work for you.
Table of Contents
Loading...
Shotguns & Problems
If you've chosen one of the more popular models from Mossberg or Remington, you won't have an issue utilizing a DSF 870 or a Streamlight TL Racker.
However, if you've strayed from the norm, then you might have a tougher time outfitting it with a light.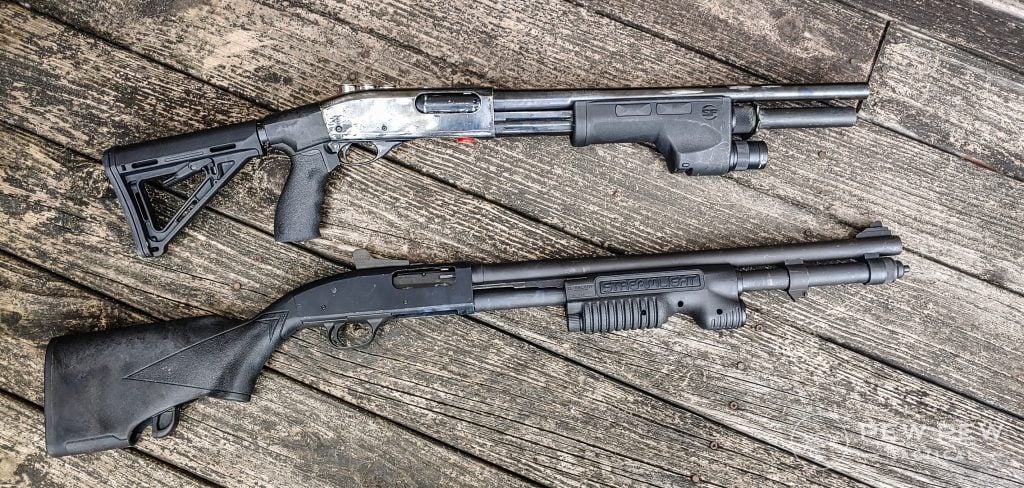 The main problem with pump shotguns and lights is controlling the light while being able to pump and utilize the weapon.
When possible, most attach the light to the pump but you'll deal with excessive barrel shadow.
Some guns offer railed options, but those that stray outside the more popular shotgun models are stuck.
The Universal Shotgun Light Solution
So, what's one to do?
Well, I've come with a universal shotgun light set up — well, so long as it has a magazine tube and is 12-gauge.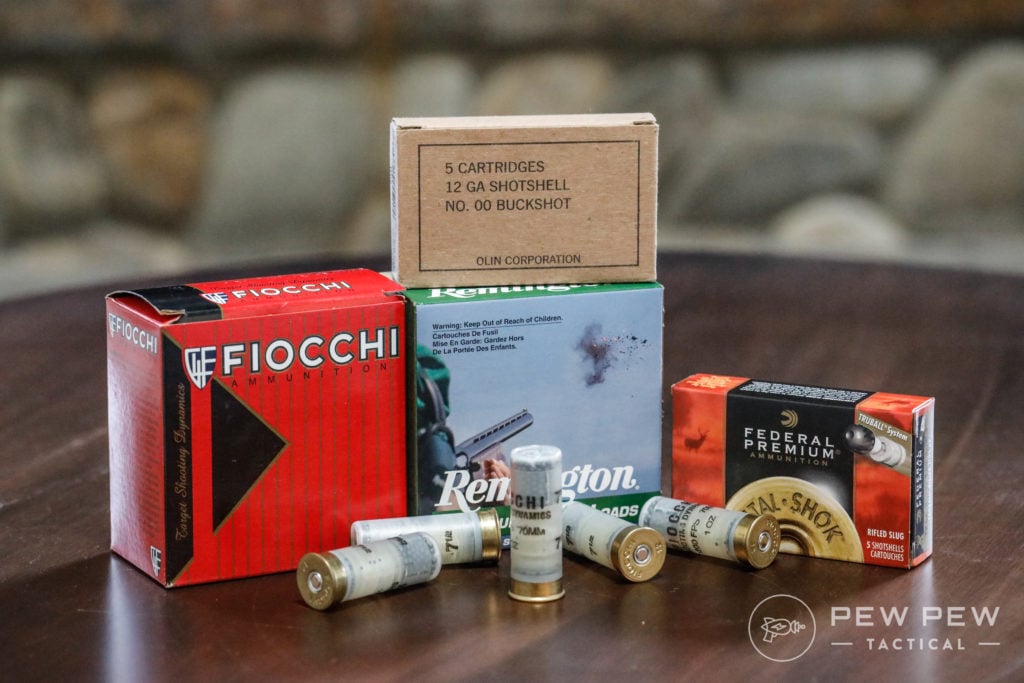 The focus is mostly on pump guns, but the setup will translate over easily to semi-auto guns.
It's a three-part system, and each part comes from Streamlight.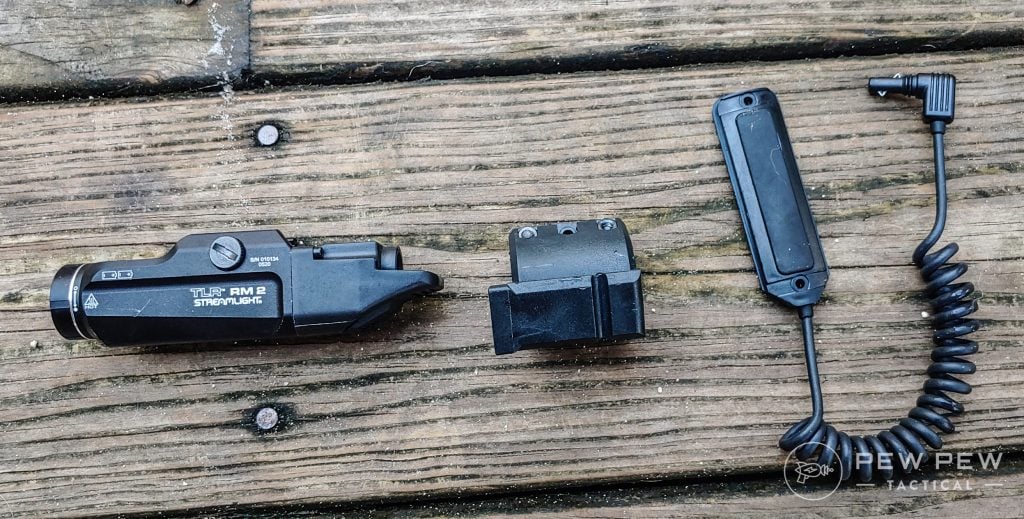 That said, Streamlight didn't sponsor this post. I purchased everything with my own moola. It just happened that Streamlight had the necessities I needed to finish the project.
The gun is one of the more popular of the unusual options and is a Hatsan Escort.
It's a Turkish made pump-action shotgun that's rather well made and easy to use.
228
at Guns.com
Prices accurate at time of writing
Prices accurate at time of writing
Like many Turkish-made shotguns, the accessory market is rather light, and finding a way to mount a light can be tricky.
Well, it was tricky, but now we have a solution.
This three-piece system gives you a powerful but low-profile light, a pressure switch to control the light, and a mounting solution.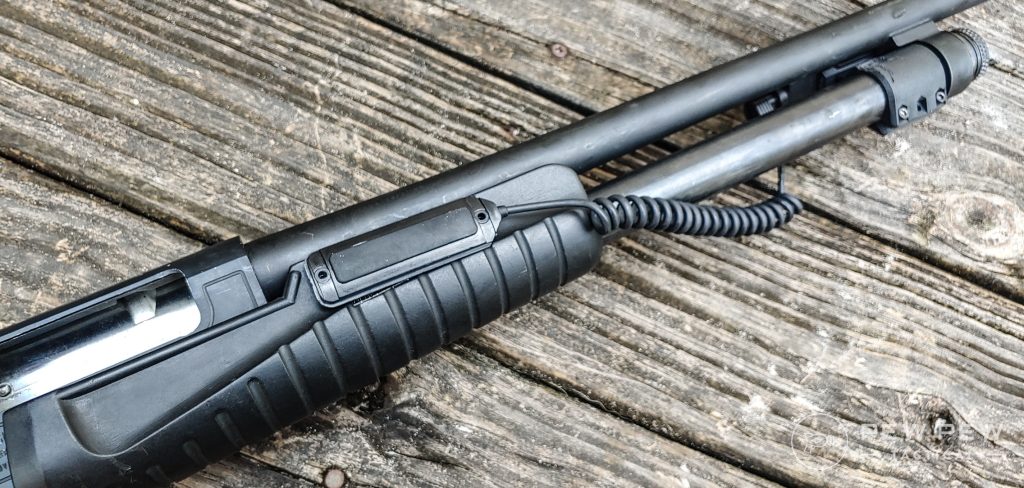 Combined, they give you control over the light without sacrificing control over the gun itself.
So, let's look at each of these components individually and why you might want to consider grabbing these parts.
Let's start with the light…
Streamlight TLR RM2
The TLR RM2 is one of the latest lights to come out of Streamlight, and it seems to vie for the Inforce market.
It's a ramping style design that's streamlined and features a massive button at the rear of the light.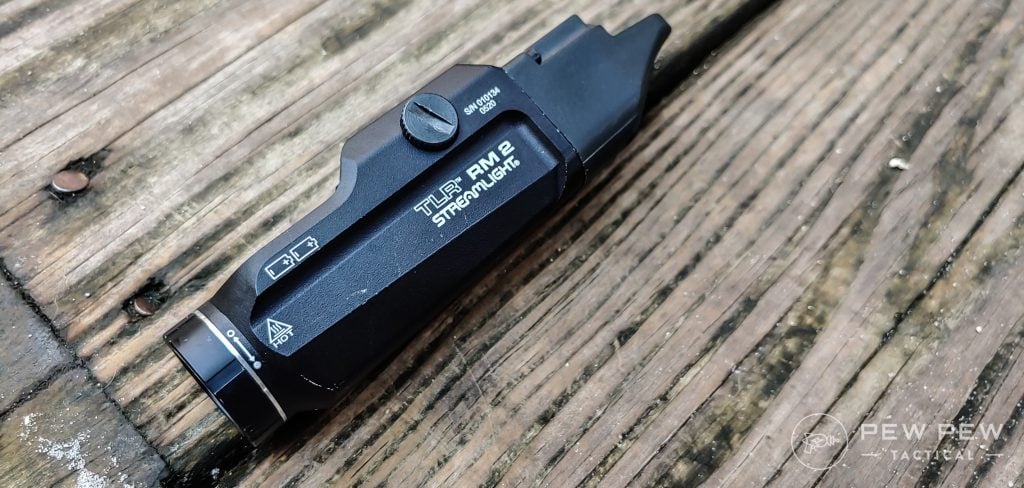 As a bonus, it also works with the standard Streamlight pressure switch.
Streamlight produces two variants — the smaller RM1 and the RM2.
The RM2 packs 1,000 lumens backed by 10,000 candela.
I considered the smaller model for weight savings but decided the extra power was worth an extra ounce or two.
Speaking of, the TLR RM2 weighs 4.55 ounces and measures 4.5 inches in length.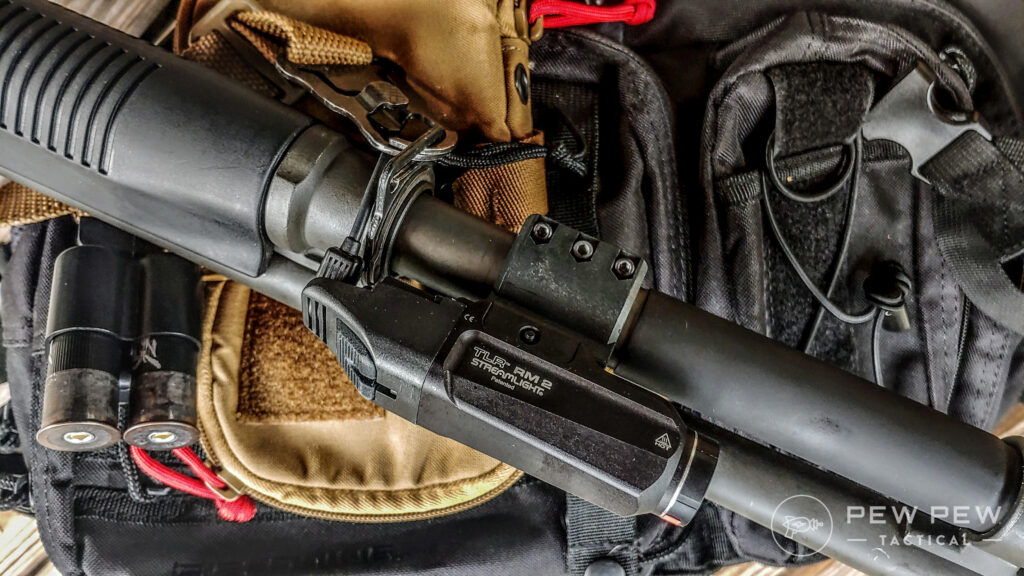 It's still quite compact, and the unique ramp style design mitigates the length.
One thousand lumens of white light illuminate the typical household ranges. The beam casts more like a pistol than a rifle beam and is broad with tons of spill.
For inside the home, it's plenty of power.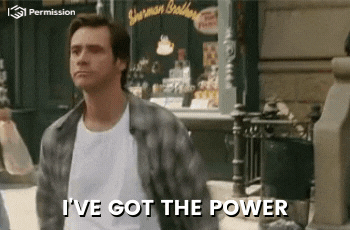 It fills your peripheral vision with light and makes it plenty easy to see what's what and make a positive identification. On a shotgun, this type of light works extremely well.
Unlike most tubular light designs, the Streamlight TLR RM2 provides an integral mount and low profile design.
The combination makes the light low-profile.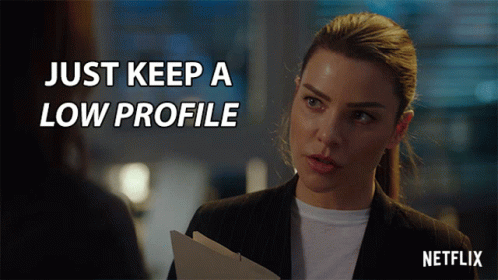 Low-profile is handy because it's less likely to snag on something as you move through your home or retrieve your firearm.
A pistol light keeps things compact but won't accommodate a pressure switch. The TLR RM2 does, right below the ramp and on/off button.
Low-profile lights also help keep inertia caused by recoil from damaging the light.
I've seen experiments with traditional lights in which the recoil damages the batteries in the light.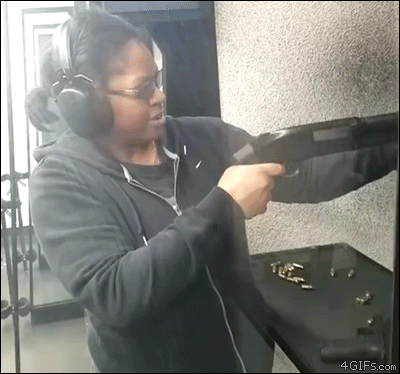 Let's avoid that, shall we?
As mentioned, the light provides plenty of power inside the home.
If the pressure switch fails for one reason or another, I have a backup on/off switch built into the light.
180
at Brownells
Prices accurate at time of writing
Prices accurate at time of writing
Have you tried the Streamlight TLR RM2? If so, rate it below.
Streamlight Shotgun Mount
Streamlight makes a shotgun light mount, and honestly, before purchasing it, I had no idea it existed.
It's stupid simple, very affordable, and perfect for this project.
It's made entirely from polymer and secured via three bolts around the magazine tube.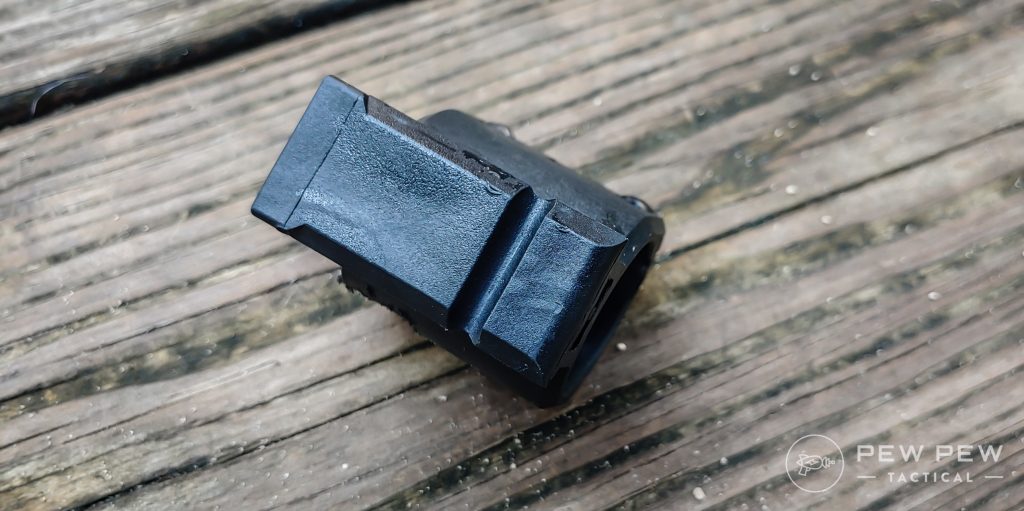 Many light mounts connect to the tube and barrel of a shotgun.
Elzetta makes a great one, but it can be tough to use among a wide variety of weapons and a wide variety of lights.
The Streamlight Tube Rail mount is ridiculously simple.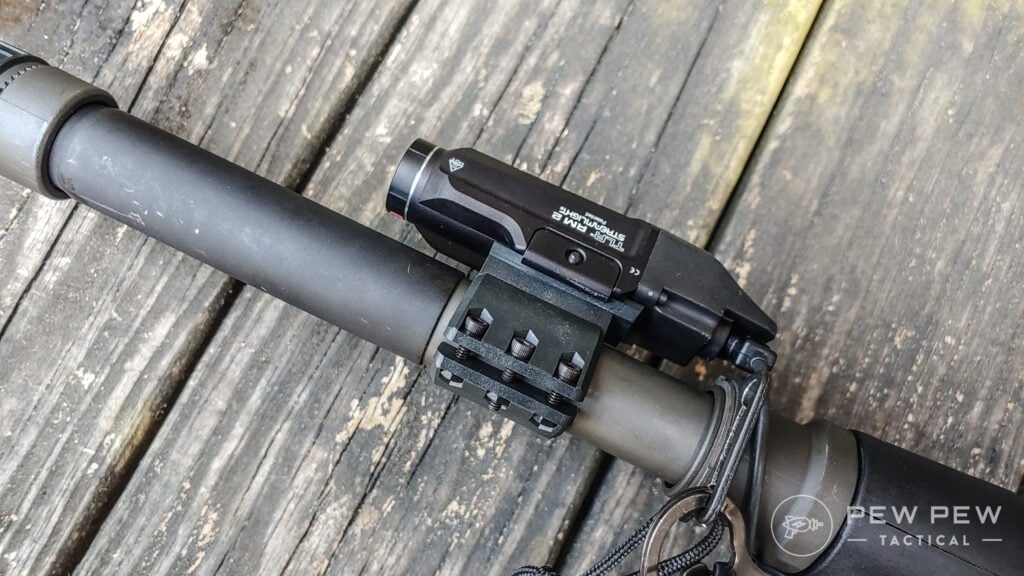 Attaching it takes no time at all, and you can rotate the mount to a wide variety of angles.
It allows for ambidextrous mounting of the light and simplifies the entire system.
At its core, it's nothing more than a polymer ring and a section of rail to accommodate a light.
You can't beat the simplicity, and this provides you with a very simple option for this project.
20
at Optics Planet
Prices accurate at time of writing
Prices accurate at time of writing
Streamlight TLR Remote Pressure Switch, Coil
The Streamlight shotgun switch is another product from Streamlight I didn't know existed until I started this project.
Usually, the problem with pressure switches and pump shotguns is that the pump moves, and most switches don't allow flexibility.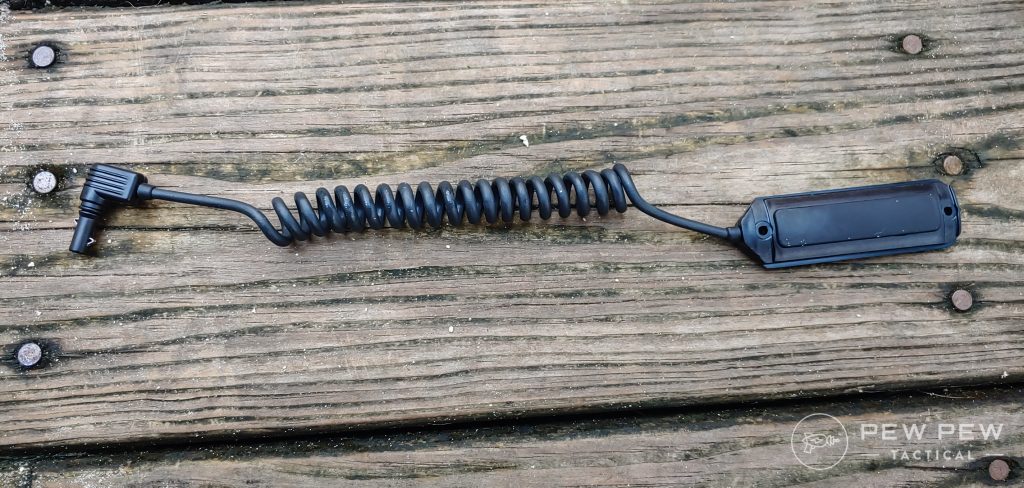 It's remarkably affordable and functions with Streamlight lights, including the TLR RM2.
Most pressure switches aren't long enough to function when the shotgun pumps, and we'll unplug itself from the light when you work the pump.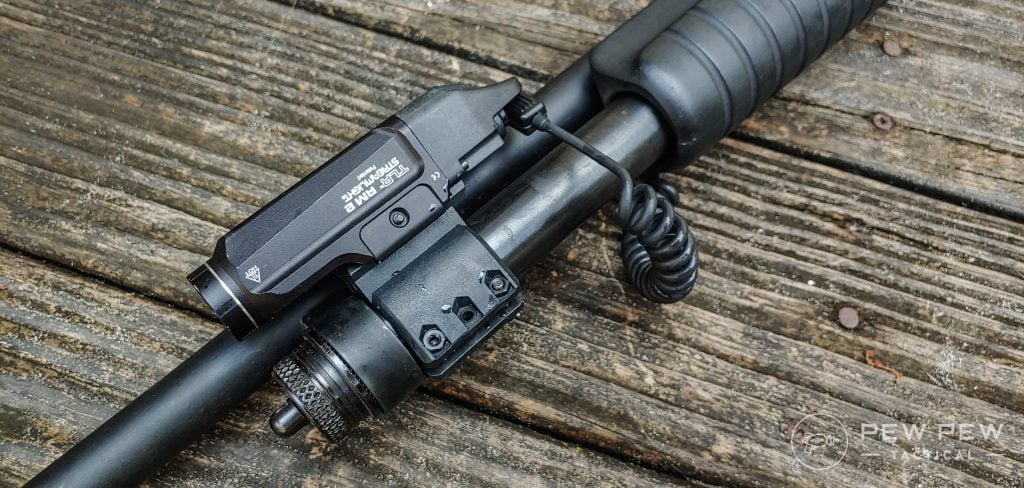 The Streamlight shotgun switch uses a coiled cord like an old-school telephone cord.
A coiled cord reduces length but allows the line to stretch when necessary.
This way, you can work the pump without the switch unplugging from the light and without having half a mile of pressure switch cord.
31
at Amazon
Prices accurate at time of writing
Prices accurate at time of writing
Rocking and Rolling
With the Streamlight shotgun mount, I could mount the light at a wide variety of angles.
I found mounting below the barrel eliminated most barrel shadow and pushed it to the roof.
This might provide the most light when directing light towards a target but reduced my ability to bounce light.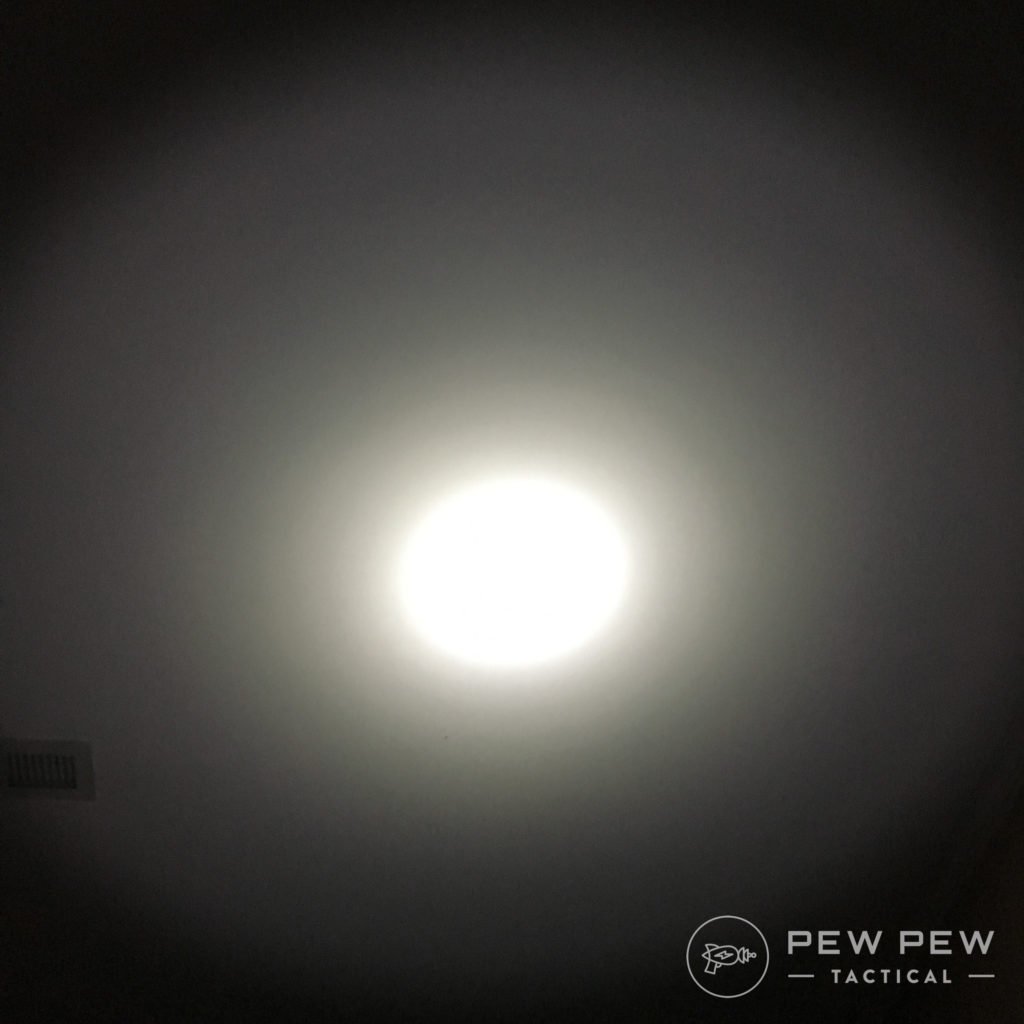 Bouncing light off the floor ensures I'm not pointing a load of buckshot at everything that moves. So, I rotated the light to the left side of the barrel.
Rotating the light allowed me to bounce light and produced the happy effect of reducing the profile of the whole setup.
I ran the pressure switch from the left side of the barrel to the right side of the pump.
Originally, I placed it on the left side for thumb activation, but after a little shooting realized that caused issues.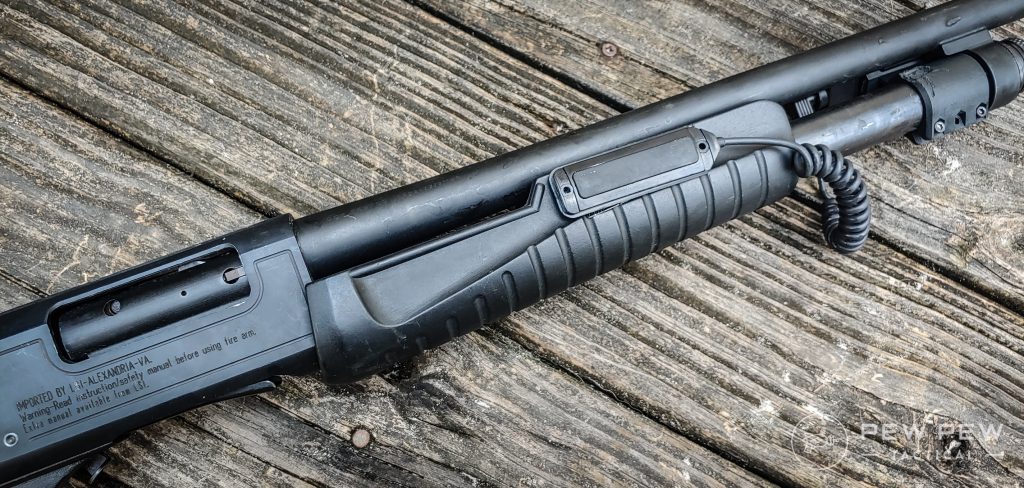 With my push-pull recoil reduction method, my thumb would shift occasionally, and I'd lose control of the switch.
I swapped it to a position where my four fingers sat. If my hand shifted at all, one of my four fingers was likely to still be on the switch.
The coiled cord gave me zero issues when running the pump and remained plugged in over and over.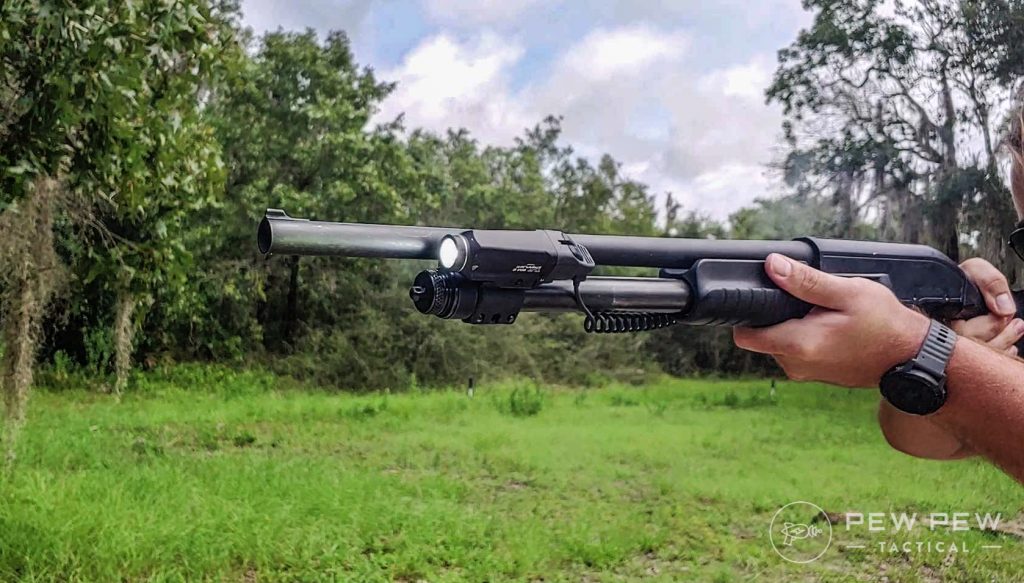 The mount served its purpose and didn't shift between several strings of full-powered buckshot.
After getting some range time, I checked the batteries of the light and couldn't see any deformation.
That said, it might be wise to remove the batteries when training in the daylight and keep them in place for defensive situations.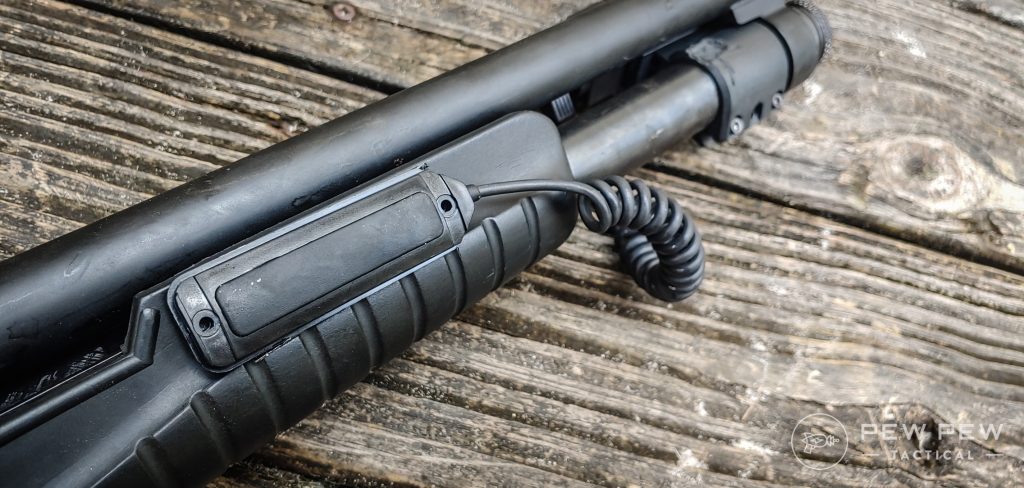 The light was bright and clear at night, casting a white beam that filled a room with light.
Controlling the light via a pressure switch isn't an issue, and I can use momentary or constant rather easily — obviously, the controlled environment and lack of adrenaline helped.
I do think that the simplistic setup and large pressure switch will make things easy even once the blood is flowing and everything kicks off.
Conclusion
Owning a shotgun outside the Mossberg, Remington, or Benelli brands can make attaching lights difficult, especially if it's a pump gun.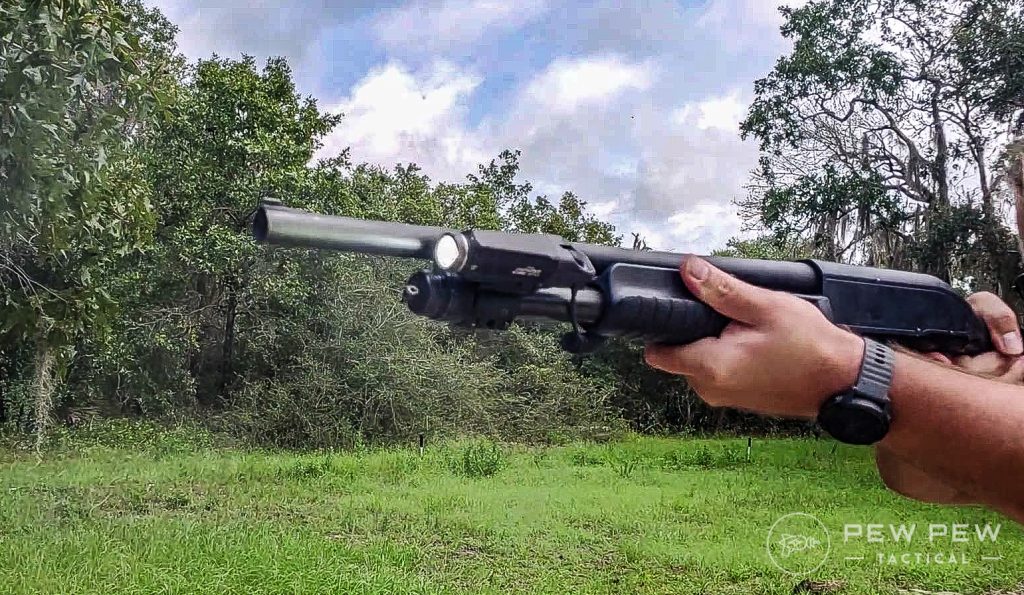 However, I think the Streamlight three-piece solution will work for most tube-fed 12-gauge shotguns.
What are your thoughts on the setup? Any suggestions? Let me know what you think below! Also, get some suggestions on the Best Home Defense Tactical Shotguns or check out our recommended home defense shotgun accessories.