For decades, Glock owners have been scavenging the aftermarket, wading through heavy costs and enormous wait times to build firearm "perfection."
But how does one truly achieve this? By taking what works and refining it into a single package…enter the Shadow Systems DR920 Elite.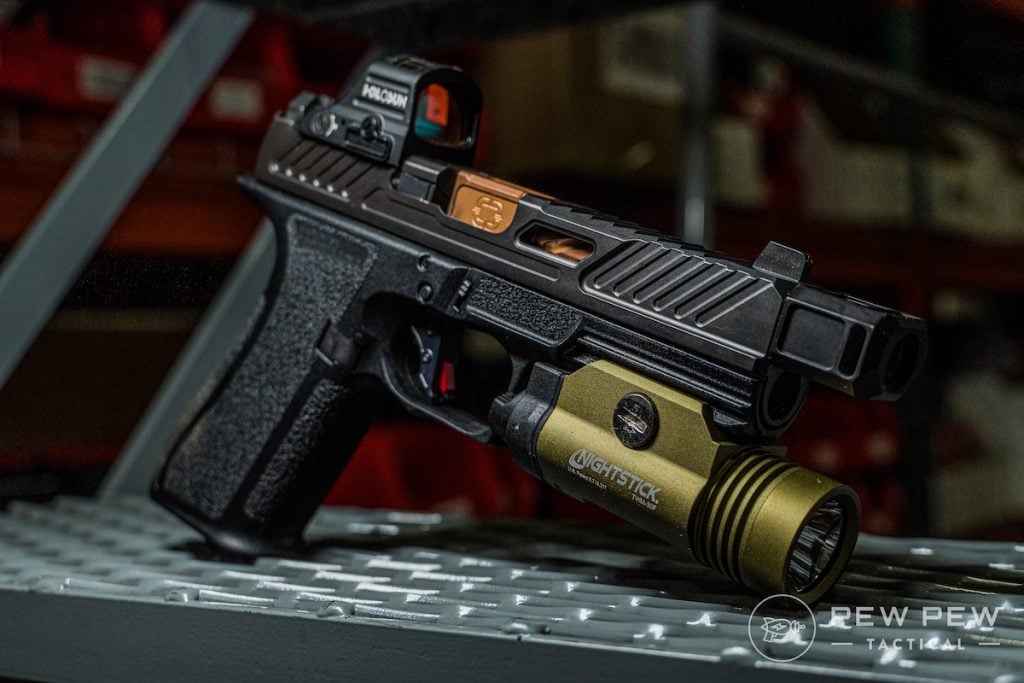 Building on the Glock look, Shadow Systems' latest DR920 Elite model claims to be the pinnacle of excellence for the full-sized, duty-ready pistol role.
Well, it just so happens that I've had my hands on one and gave it some quality range time. So, is this "Glock Perfection" perfected? Or does this copycat need to be banished to the Shadow Realm?
Keep reading!
Table of Contents
Loading...
Shadow Systems DR920 Elite at a Glance
Pros
Aftermarket compatibility with Glock parts and accessories
Multiple backstrap options for better hand fit
Optics ready slide
Custom feel without breaking the bank
Cons
Trigger could feel better
Slide release a bit awkward to use
No ambi slide release
The Bottom Line
The Shadow Systems DR920 is a solid option for those that want the Glock feel but with elevated features. It's cheaper than building a custom aftermarket Glock yet still performs reliably.
Specs & Features
Specs
Caliber: 9mm
Length: 7.75"
Barrel Length: 4.5" unthreaded, 5" threaded
Height: 5.25"
Weight: 23 oz (Combat), 22.4 oz (Elite)
Capacity: 17+1
Features
Full-sized
Front and rear serrations
Optics ready slide (Elite)
Threaded or non-threaded barrel
Source: Shadow Systems
695
at Palmetto State Armory
Prices accurate at time of writing
Prices accurate at time of writing
Shadow Systems DR920 Elite Background
By now, you've probably heard the word "Glock" more times than not.
When it comes to the golden standard of the modern defensive pistols, it's hard to beat the ol' reliable Austrian blaster.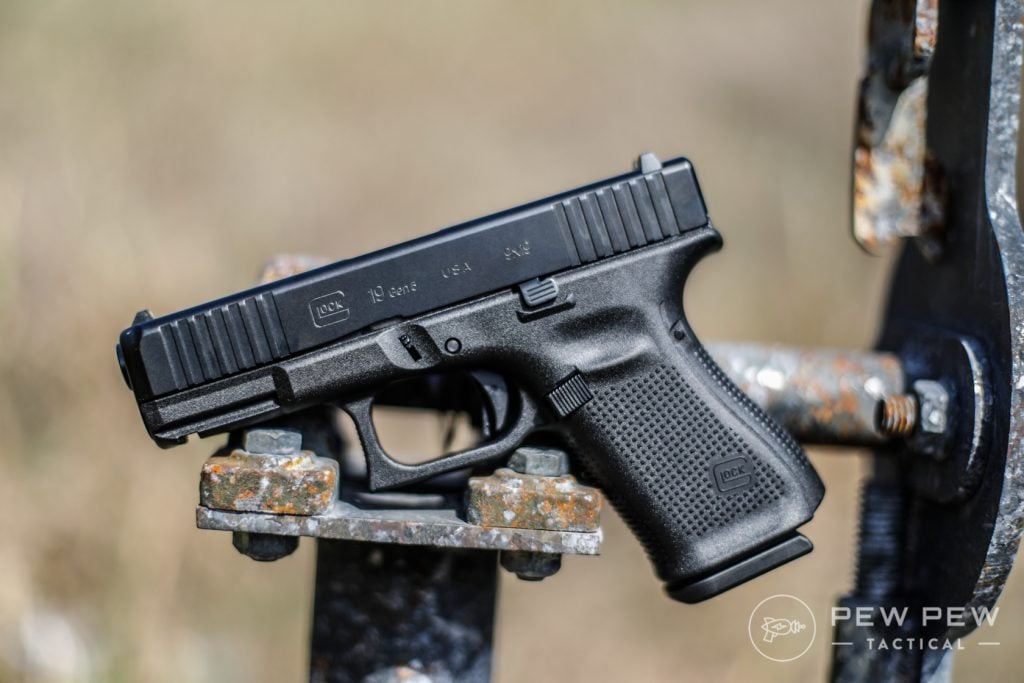 But just because you can't fix what ain't broke doesn't mean you can't add a little improvement.
The brilliant minds at Shadow Systems Corp attempt to do just that!
Located in Plano, Texas, Shadow Systems Corp has its humble beginnings in producing aftermarket Glock parts.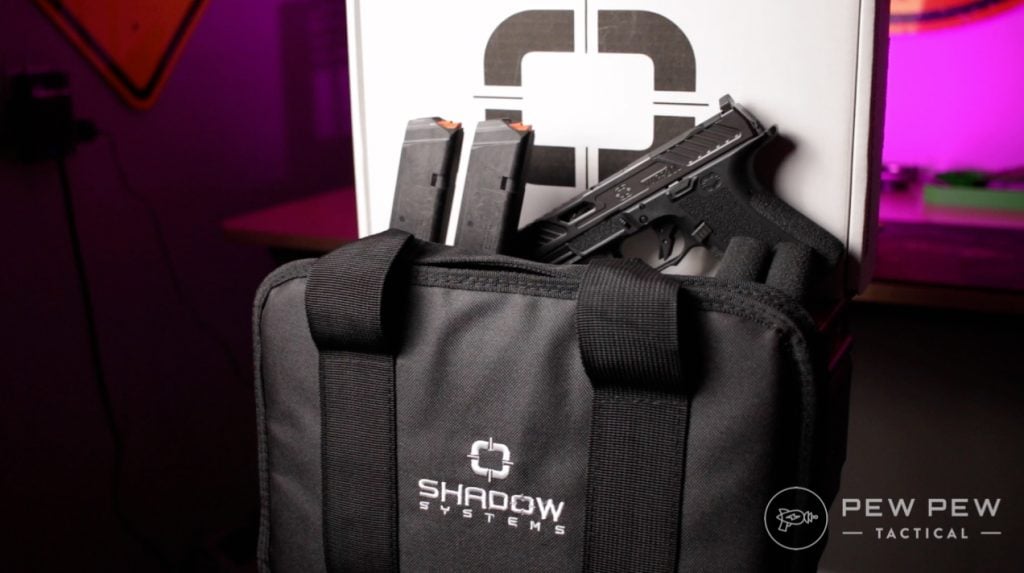 From 2016 to 2017, the company chiefly found itself making separate custom slides, grips, barrels, and other parts. Eventually, they realized, "Well, if we're doing 90% of the work anyway and we know what doesn't suck, why not just do it ourselves?"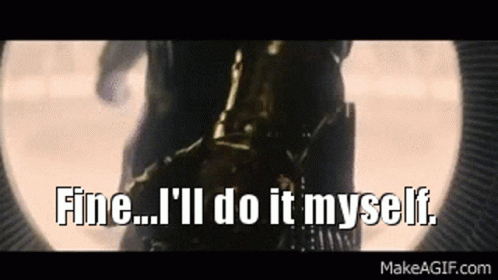 By keeping everything in-house and leveraging their experience in the Glock aftermarket world, Shadow Systems created its own vision of what an ideal, modern defensive handgun should be.
That meant every process of their manufacturing was meticulously supervised for quality assurance.
In 2019, the company released its first full production striker-fired, 9mm polymer pistol — the MR918.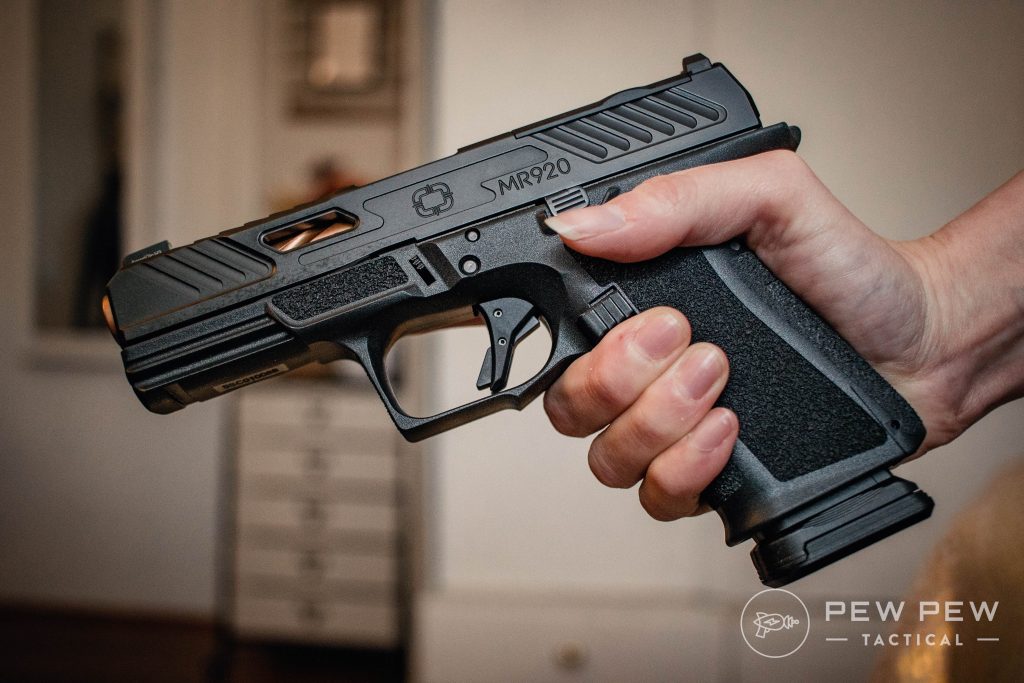 The core design philosophy was simple…provide the same quality and familiarity of a custom upgraded Glock 19 without charging aftermarket prices.
Finally, the Average Joe could get their hands on a Gucci gun build without forking over a ton of cash.
Since then, the designers at Shadow Systems have taken all user end feedback to heart and incorporated it into their latest models in 2020 and 2021: the MR920 (Multi-role) and the DR920 (Duty Role) series.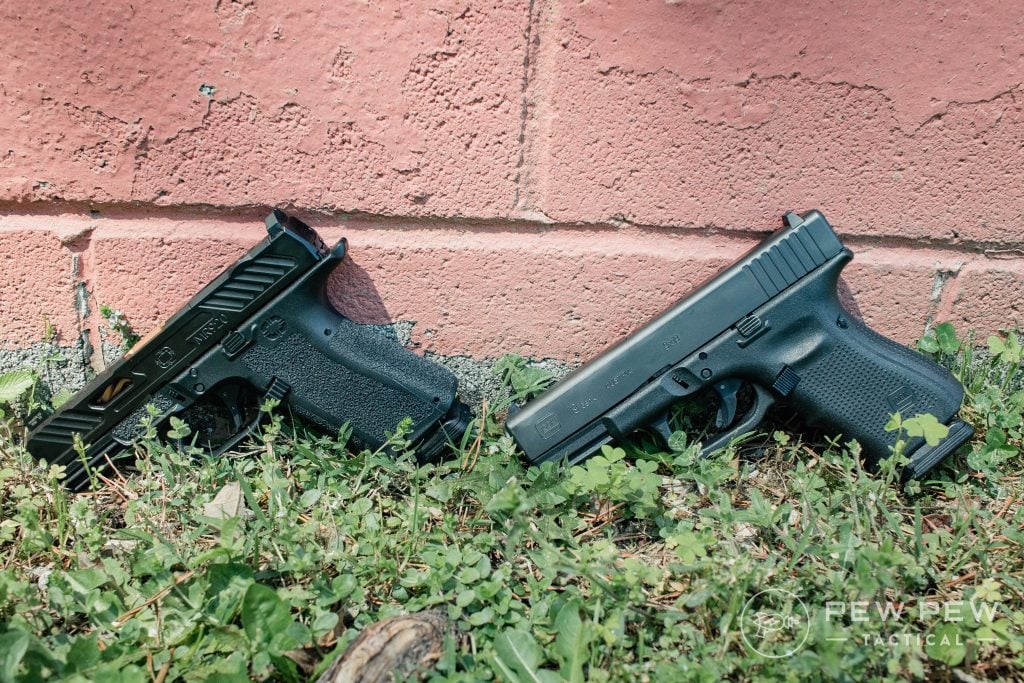 The MR920 became the successor of the MR918, further building upon the Glock 19 core design, while the DR920 did the same for the Glock 17.
Today, Shadow Systems has built a name in law enforcement and EDC communities as an accessible and reliable firearms brand.
Thanks for attending my little history lesson. If you're still awake, let's get into the good stuff, shall we?

Who Is the DR920 For?
By taking the base Glock design principle and inserting some quality-of-life improvements, Shadow Systems hopes to cater to everyone from competitive shooters, home defenders, and concealed carriers to law enforcement officers without mugging your bank account.
Fit and Feel
You know what they say about guys with big hands? They choose the best grip option for their preference, like a normal human being.
The DR920 doesn't discriminate based on your size and provides three grip backstraps to accommodate the shooter.
Its low back strap provides a thinner, 1911-style grip, lowering the muzzle orientation. The neutral panel is the midrange orientation that closely mimics an M&P-style grip.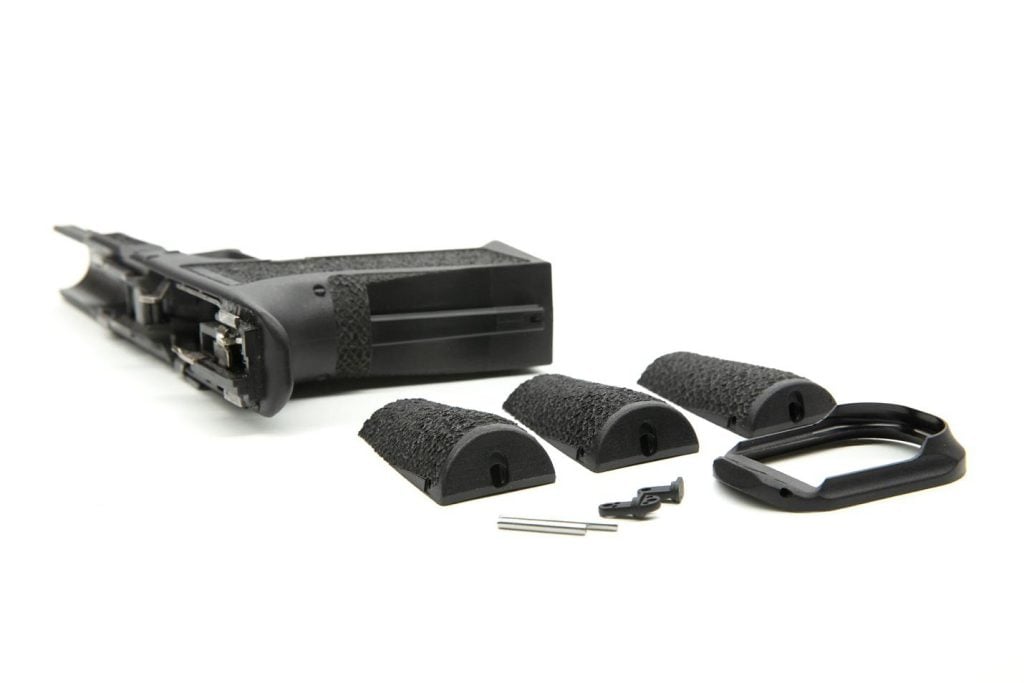 For me, I went with the high back strap that most similarly resembles a traditional Glock grip.
Many would argue if you've held one Glock, you've held them all. But sometimes, little changes can go a long way.
The ergonomics of the DR920 frame and slide provide the sweet spot between conformity and retention.
The key to achieving this lies in the geometrical shape and texture of the components; something Shadow Systems has in spades.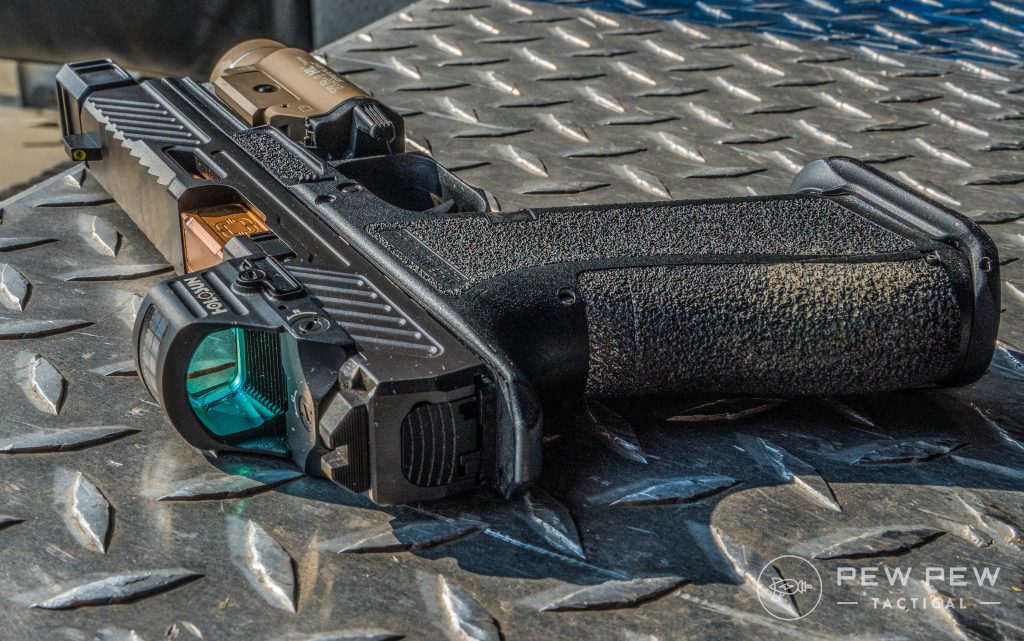 Starting with the grip, the DR920 rids of the original Glock Gen 4's finger groove configuration, favoring a straighter profile (no offense to the Austrians, but man, those sucked).
As mentioned previously, it offers three different back straps that alter the thickness and angle of orientation to the muzzle. This diversity in options can cater to a wide variety of hands, and chances are, if they can fit my tiny mitts, they'll probably fit yours.
The trigger guard has a deep undercut, allowing the middle finger to rest much higher for maximum control under recoil.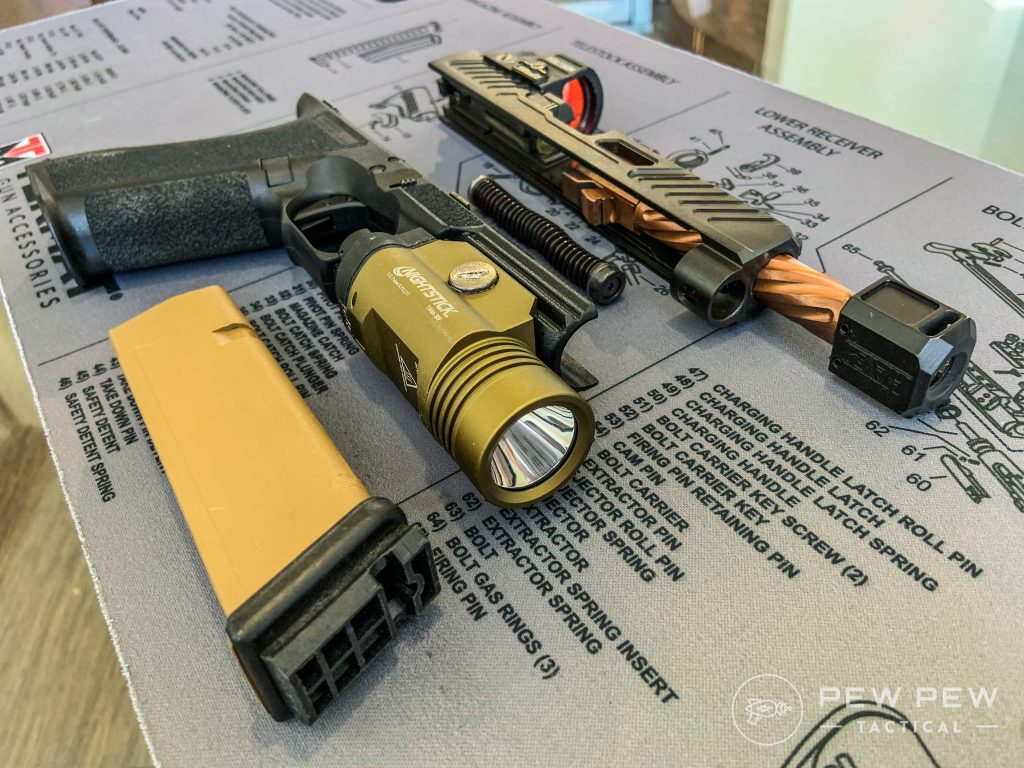 The polymer frame's stippling is superb, as it's just aggressive enough to maintain grip pressure without shaving the next 10 layers of skin cells off your fingers. Its side stippling and overall spacing provide ample room for the support hand to wrap around the gun.
Everything about this frame just lets my hands and fingers "lock in" tightly, which becomes especially important when doing one-handed shooting.
Moving onto the slide, the DR920 includes further forward-thinking design choices. While serrations are nothing new to the game, Shadow Systems had to add its own twist to it.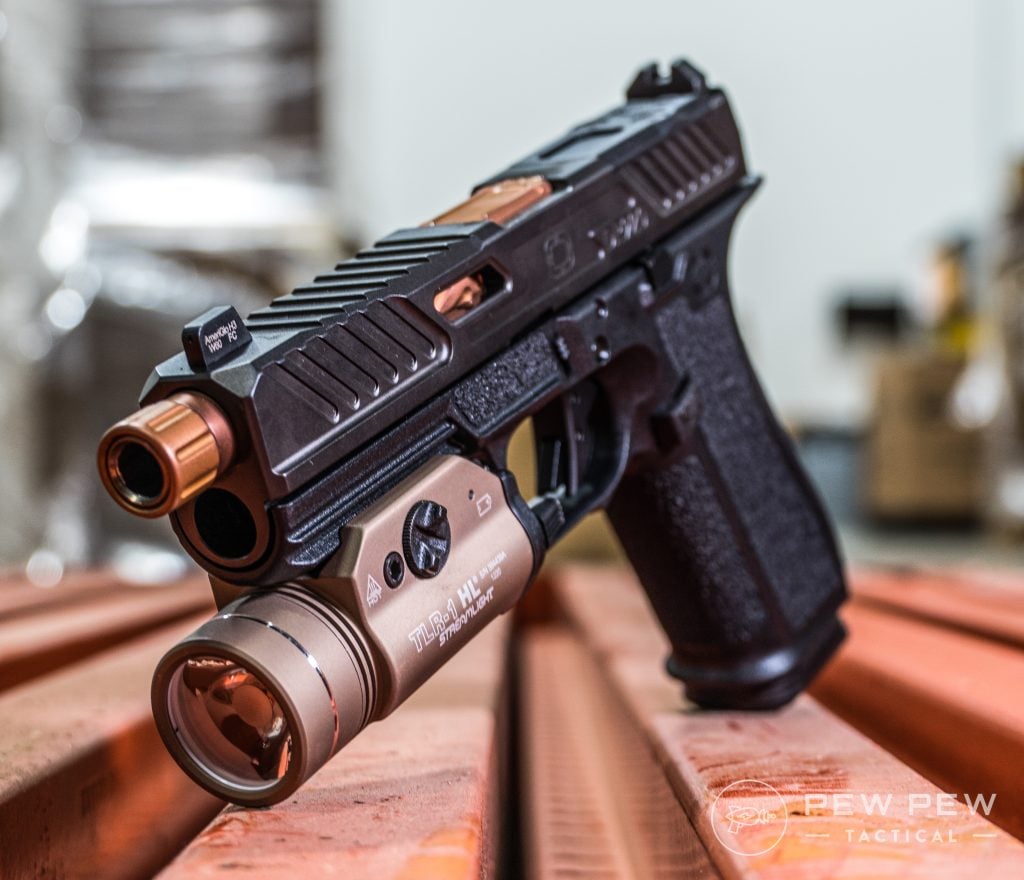 The DR920 Elite slide features unique directional serrations that provide sharp angles at the front for easy manipulation but are smoothed out on the backside to reduce friction drag for holster drawing.
The window cuts, as mentioned before, help to mitigate recoil due to the reduced reciprocating mass of the slide. Pretty nifty, right? As far as slide design goes, I've got no complaints here.
Where things do get a little awkward is the manipulation of the stock slide release. On the plus side, Shadow Systems' slide release is recessed into the polymer frame to prevent any unnecessary contact.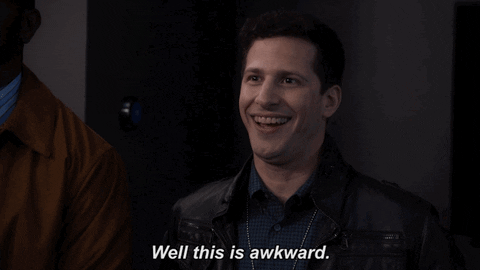 This is great…that is until you actually want to use the device for its intended purpose.
Since the lever is so tightly pressed to the frame, you'll have to dramatically break your grip to hit it. It's certainly not a deal-breaker, but it's nonetheless inconvenient.
Factor in the fact this is a Gen 4 design with zero ambidextrous slide release options; you can forget about using your weak hand to manipulate the lever.
I've since replaced this with a Kagwerks Extended and Raised Slide Release.
50
at Brownells
Prices accurate at time of writing
Prices accurate at time of writing
As a side note, you'll want to ditch the attachable flared magwell. Should this be installed, any standard capacity magazine will become flush fitting to the magazine well.
This will hinder your ability to extract a stuck magazine during a malfunction.
How Does the Shadow Systems DR920 Shoot?
Does the DR920 Elite live up to the marketing hype? Short answer…hell yes.
I fed the DR920 well over 3,000 rounds of 115 grain 9mm FMJ from brands including CCI Blazer, Federal, and Fiocchi with virtually no issues.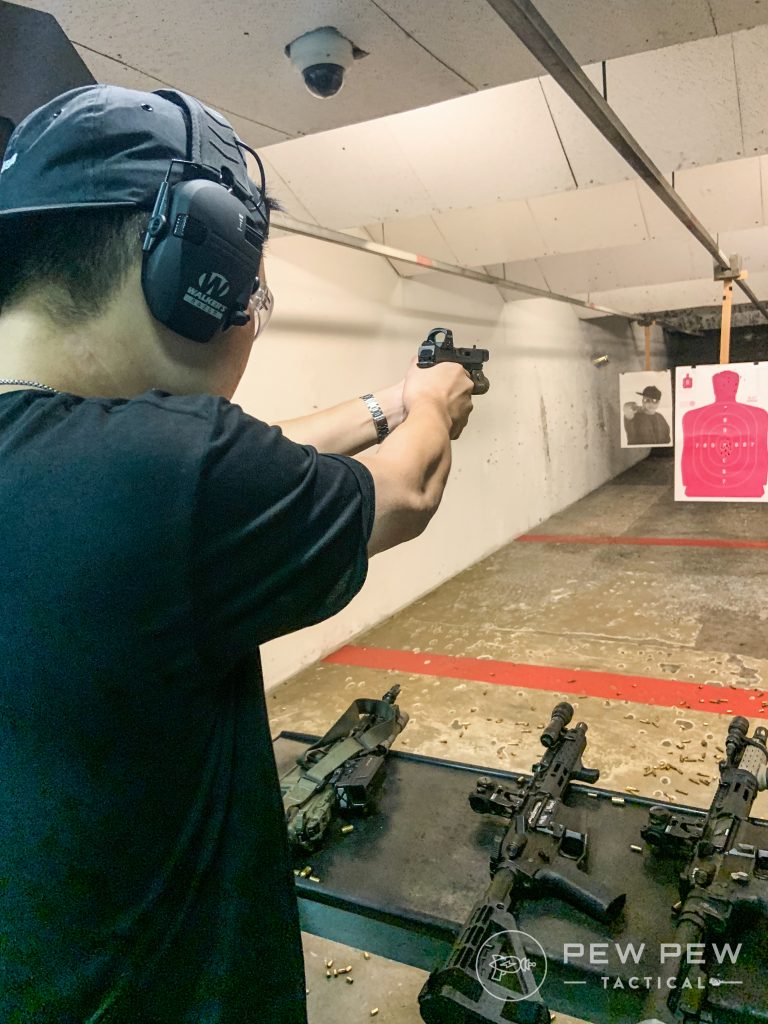 As a matter of fact, even when presented with faulty ammo that gave me a series of light primer strikes on my separate carry gun, the DR920 blasted right through them.
Additionally, I've used this in several classes, some of which included instructors inducing malfunctions while in adverse, dusty environments. The gun just kept on banging.
As far as the stock trigger goes, there is a noticeable creep past the wall, but it's not by any means horrendous.
In a perfect world, I'd prefer an immediate, predictable break after passing the wall. This is ultimately a minor complaint since trigger pull weights, breaks, and reset points can be internalized with enough training.
The gun's out-of-the-box accuracy and controllability absolutely blew me away. Using irons only, I ran from designated distances of 3, 5, 7, and 10 yards, shooting at the target upon reaching each position.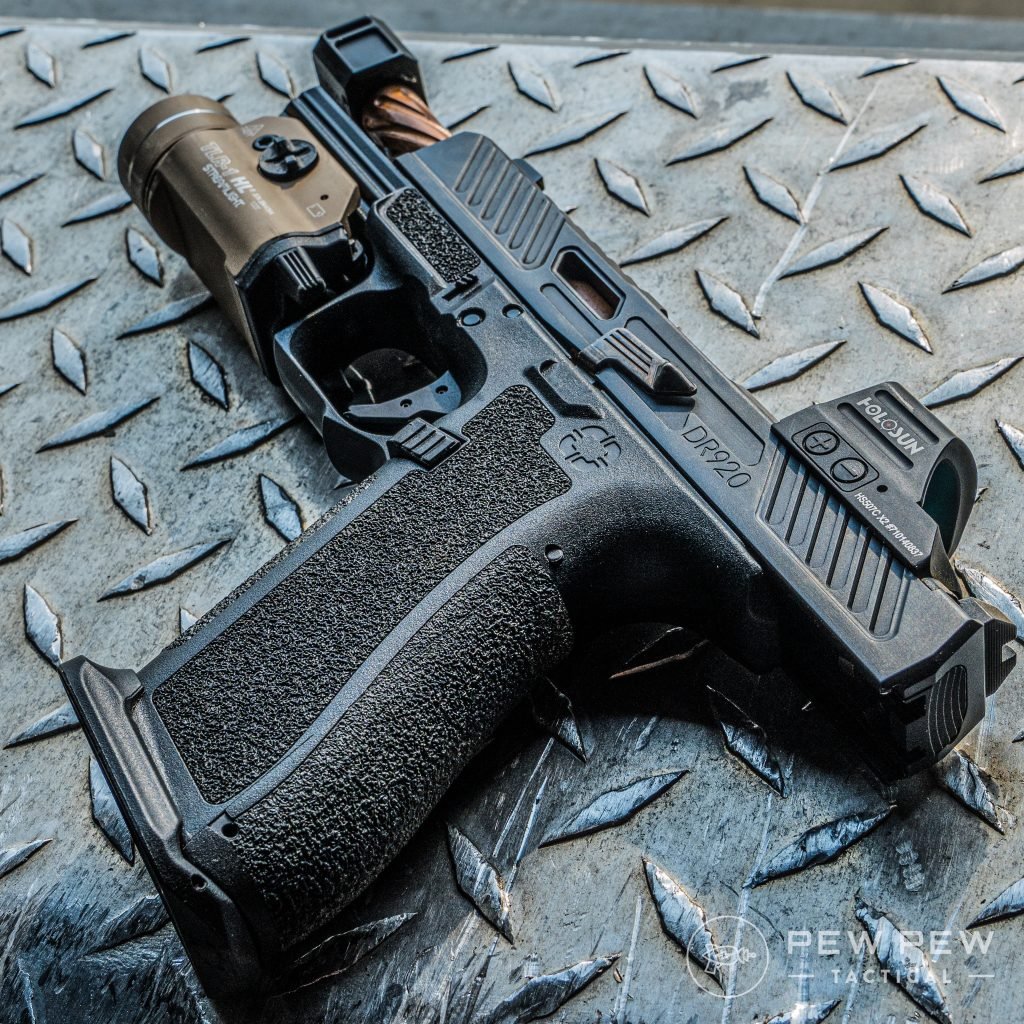 I was surprised by how tight my groupings were, even with an increased heart rate, due in large part to the soft-shooting nature of the Shadow Systems. The balance of the full-sized frame, in combination with the way my hands fit into the grip like a vice, greatly enhanced recoil management.
Once I threw on a Herrington Arms Comp and Holosun red dot, I saw a dramatic increase in the speed of my target acquisition and follow-up shots.
The performance really began to shine through when I started adding the pressure of timed drills. I shot the 5x5x5 drill (5 shots, at 5 yards, under 5 seconds) as a benchmark with ease.
Moving on from there, I challenged myself to do the iconic Bill Drill at 7 yards with a 3.5-second par time. It took some getting used to shooting at that speed, but I learned to trust my sight picture and trigger.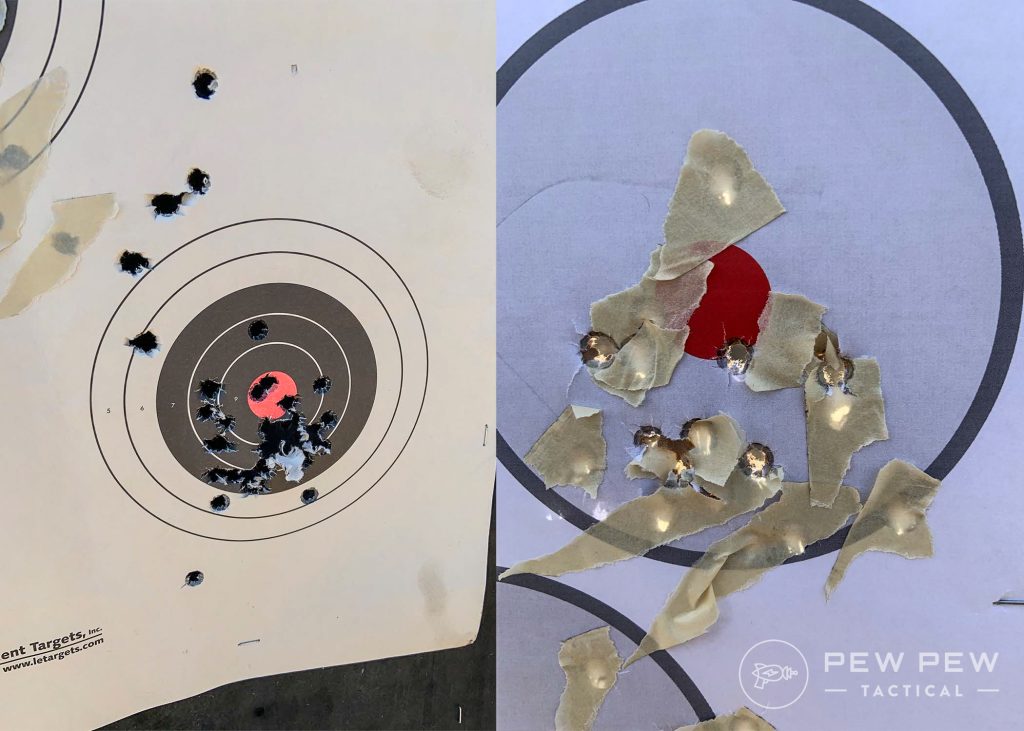 Eventually, I met the parameters with a 3.42 second time and six shots in the A-zone. The ease of use of the DR920 Elite really lends itself to quickly adapting and improving on the spot.
While ultimately, these drills reflect one's skills, much of my consistency for accurate and quick follow-up shots was only augmented by the design features of the DR920.
What Sets the Shadow Systems DR920 Apart?
So, what exactly makes the DR920 stand out on a technical level from the currently saturated market of Gucci Glock builds?
Well, for starters, this thing comes packing more custom special features out of the box than a Zack Snyder Cut Edition Blu-ray disc.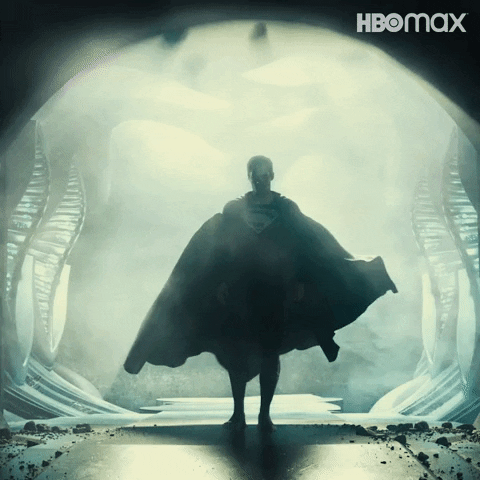 As the name suggests, the "Duty Role" or DR920 is purpose-built to be a full-sized, combat-ready handgun to fulfill the role of hard, daily use.
Modeled after a Glock 17 Gen 4, you can expect the same basic functionality and fitment as its predecessor. This means your current holsters, magazines, and aftermarket parts should, in theory, still fit.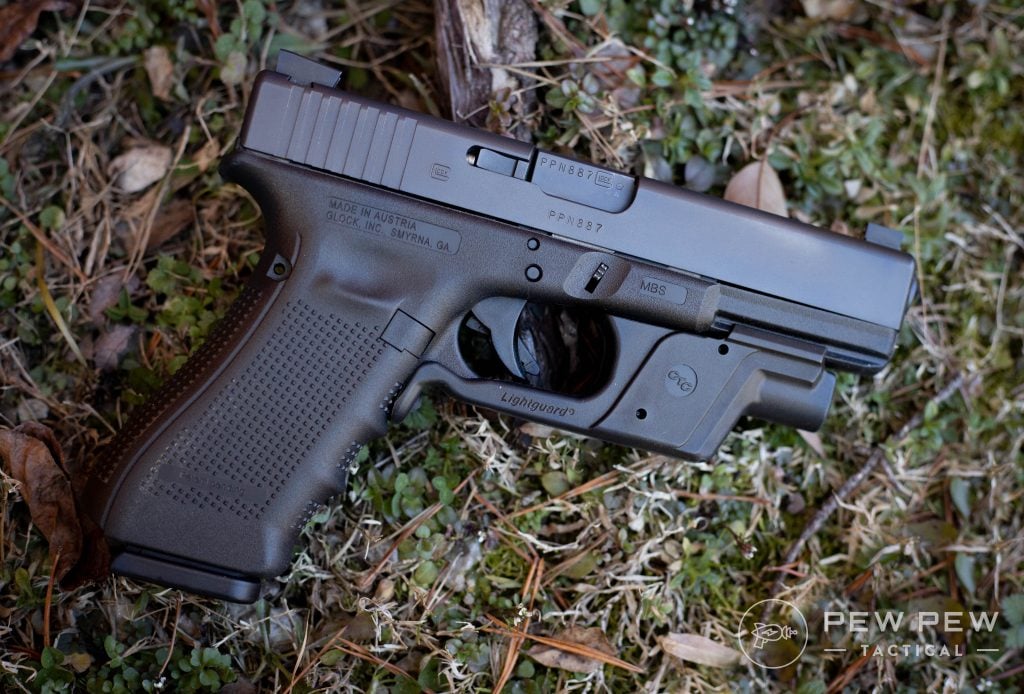 But where the real value comes into play are the top to bottom upgrades that greatly enhance ergonomics, sighting, recoil management, and shooting performance.
Shadow Systems releases all its models in two variants — the Combat and the Elite.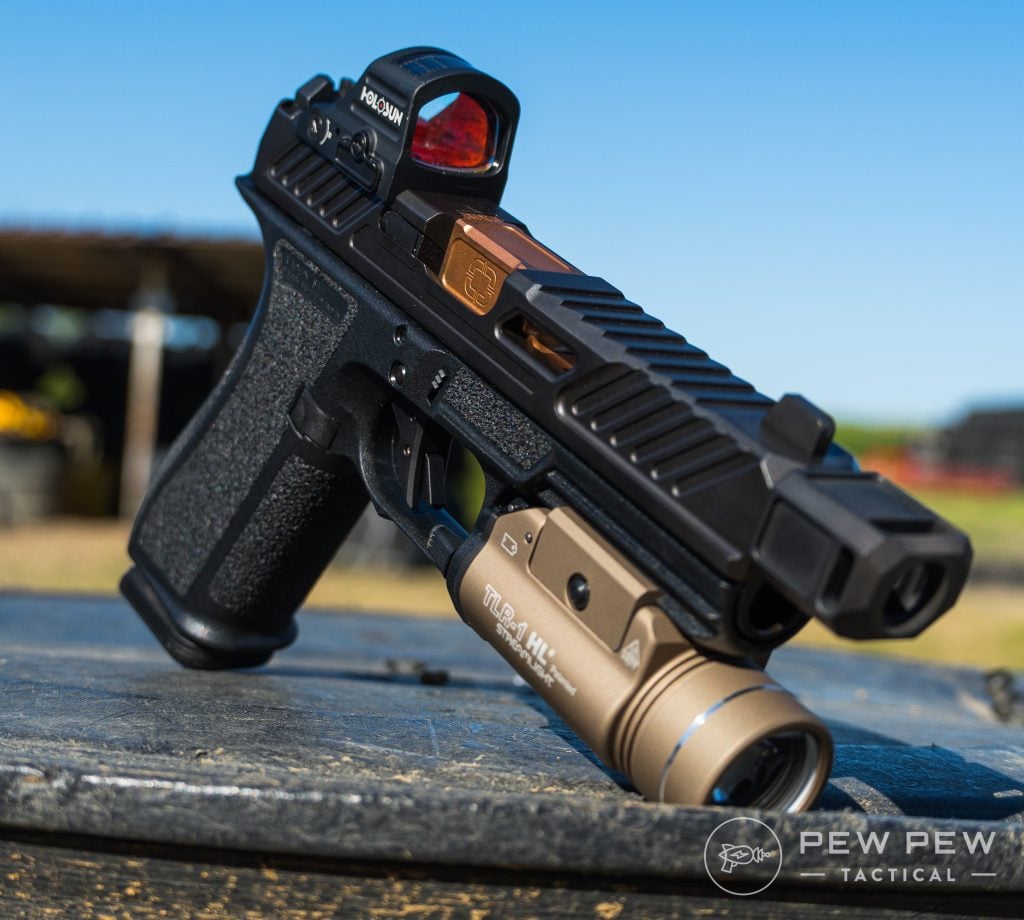 All that really means is that the Elite editions come with fancy window cuts to reduce the overall weight and make your gats more photogenic for the 'Gram.
The barrel comes in a few variations for you to choose from – a black or gold Titanium CarboNitirde (TiCN) finish and threaded or non-threaded.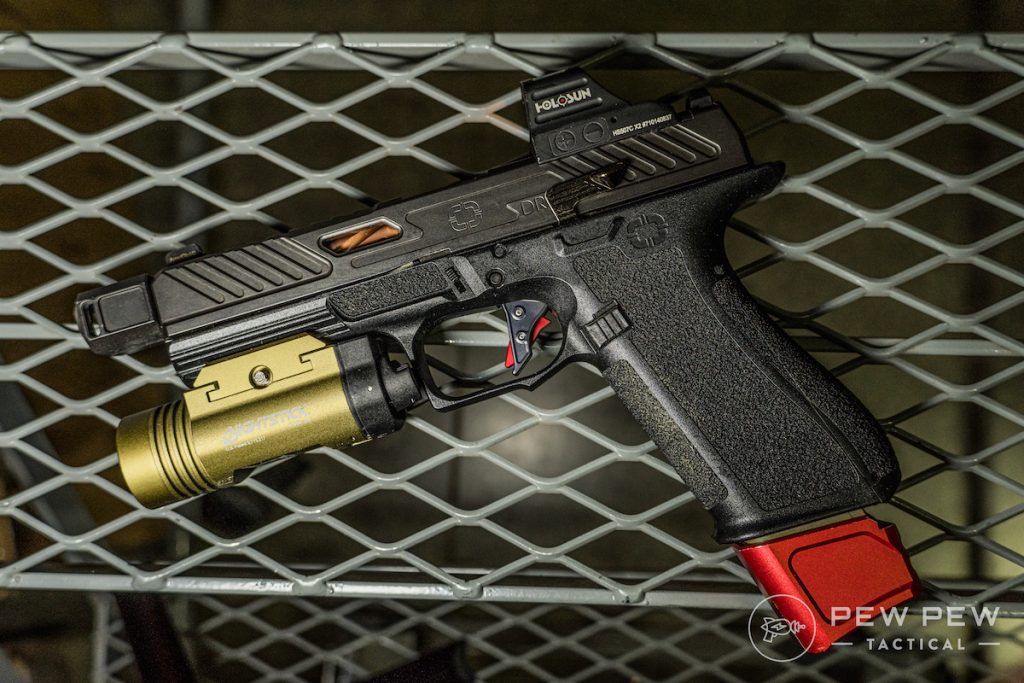 I went with the threaded TiCN as this added further corrosion resistance, increased lubricity, muzzle device options, as well as just looking damn sexy. The spiral geometry allows for debris to fall right out, as well as reducing barrel weight.
Additionally, the 416R stainless steel construction offers greater heat and abrasion resistance. I experimented with the threaded barrel, messing around with a borrowed suppressor, and eventually settling on a badass compensator from Herrington Arms. 
The iron sights come stock with a tritium front post and blacked-out rears, making them ideal for quickly picking up on targets during low light conditions.
As a bonus, the low bearing orientation of the optic cut allows for co-witnessing of the front sight with the red dot without any need to install suppressor height sights.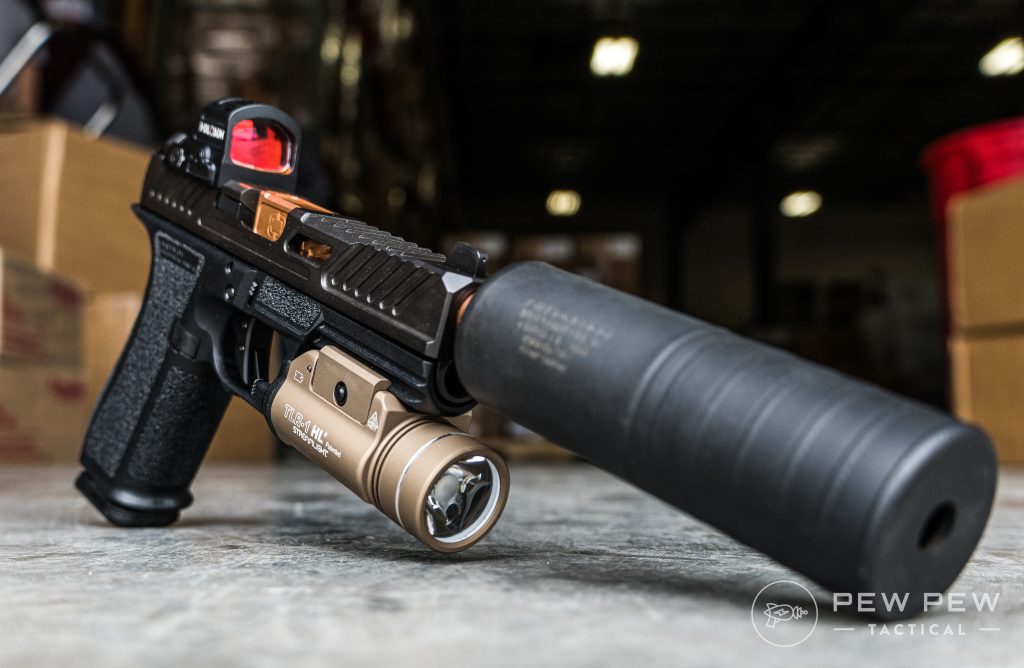 The factory DR920 trigger is serviceable and reliable, consistent with its "duty ready" role. Breaking at around 4.5 to 5 pounds, this flat-faced trigger is drop-safe with a relatively short and tactile reset.
While it's not the best trigger I've felt compared to its competitors, it's certainly no slouch either.
With minor gripes aside, there are a host of practical features attached to the DR920, and a price point between $989 to $1,000 (depending on what store you're at), this weapon platform pays for itself compared to the piecemeal aftermarket approach.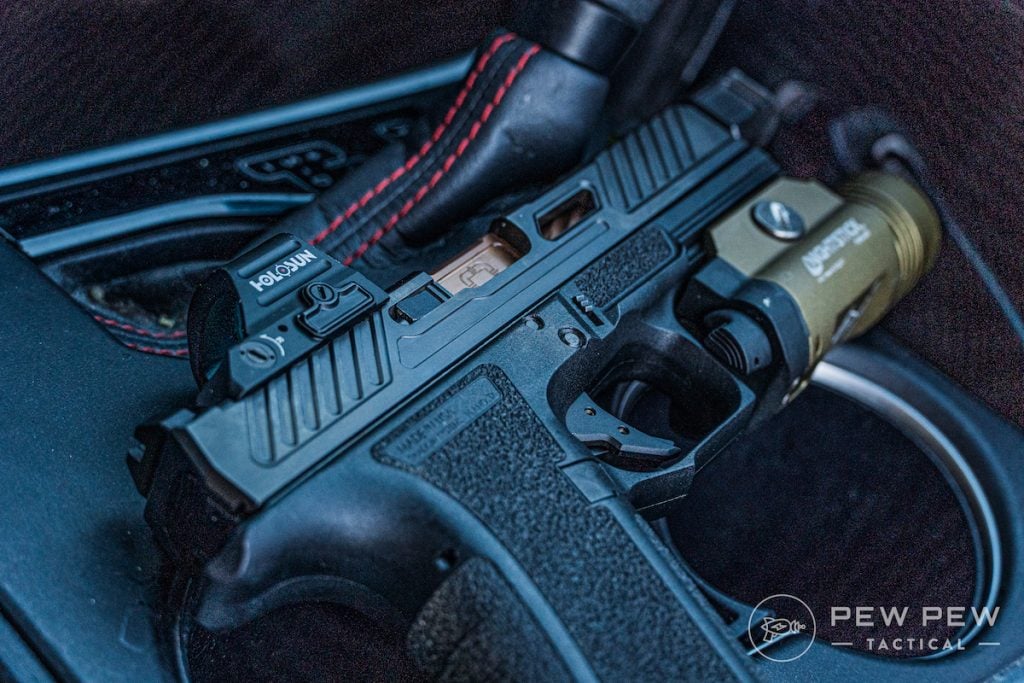 By the Numbers
Reliability: 5/5
The gun functioned exactly as intended, with malfunctions only arising from faulty aftermarket magazines. Seriously, throw out the two included Magpul PMAGs and just use factory Glock mags.
Accuracy: 5/5
The DR920 has consistently made tight groupings within its appropriate range, whether shooting during dynamic drills at 3 to 10 yards or bench shooting at 25 yards.
Ergonomics: 4.5/5
Has nearly everything for maximum comfort, retention, and accessibility. The grip back panels accommodate different hand sizes, the stippling prevents slipping without abrasion, the trigger guard cut allows a higher grip angle, and the serrations assist in slide manipulations. Unfortunately, the stock slide release is a total pain to use one-handed, and due to the Glock Gen 4 design, there is no room for an ambidextrous option.
Looks: 5/5
Admit it; you'd take her out to prom if you could. There's no denying it. The combination of the window cuts, gold titanium fluted barrel finish, slide serrations, stipple work, and overall shape makes this a damn sexy package to look at. It's Instagram-ready.
Customization: 4/5
In addition to the already included quality of life features, the end-user has a choice of barrel types and finishes, interchangeable grip back straps, multiple red dot footprints, and of course, the usual Gen 4 Glock parts. Buyer beware; there are some inconsistencies with aftermarket trigger tolerances.
Value: 4/5
Do the math. At a price point of $989 to $1,000 for a brand new DR920 Elite versus fully overhauling a stock Glock Gen 4, you could save easily hundreds of dollars for similar aftermarket parts and custom work. Keep your cake and eat it too. Then save enough for another cake.
Overall: 4.5/5
This is a fantastic, multi-use, and reliable pistol with a wide array of modern upgrades.
695
at Palmetto State Armory
Prices accurate at time of writing
Prices accurate at time of writing
Upgrades for the Shadow System DR920
Here's something for my red dot users out there. All of Shadow Systems' current production slides come with a proprietary multi-optic ready cut located just in front of the rear sight post.
Traditional optic milling cuts only accommodate for one specific red dot footprint. However, Shadow Systems' design allows the user to mount a multitude of different kinds.
Popular brands such as the Holosun, Trijicon, Leupold, Sig Sauer, Swampfox, Shield, and Vortex all have a place on this one cut.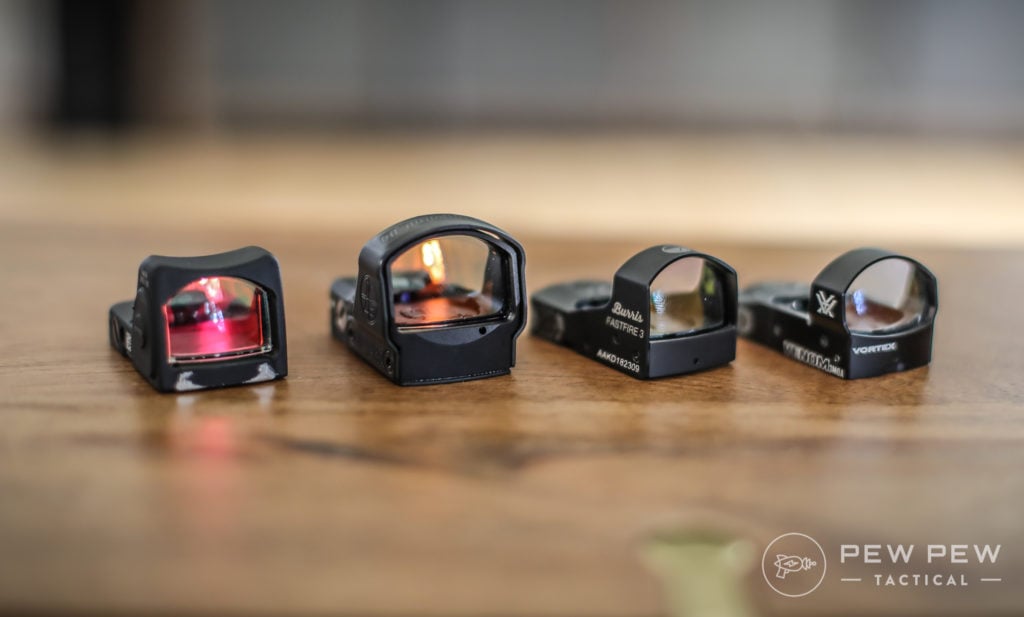 Simply use the included screws that match up with your red dot, throw on some Loctite, tighten it down, and you're ready to zero. I easily mounted my Holosun 507c with the added benefit of coming out to be perfectly factory zeroed at 25 yards!
309
at OpticsPlanet
Prices accurate at time of writing
Prices accurate at time of writing
At the end of the day, this is still essentially a Glock, so slapping on aftermarket parts should be a piece of cake across the board, right? Well mostly.
Parts such as muzzle devices, slide releases, optics, and mag wells are all components I had no issue with installing. However, the most surprising and frustrating part came in the form of an aftermarket trigger.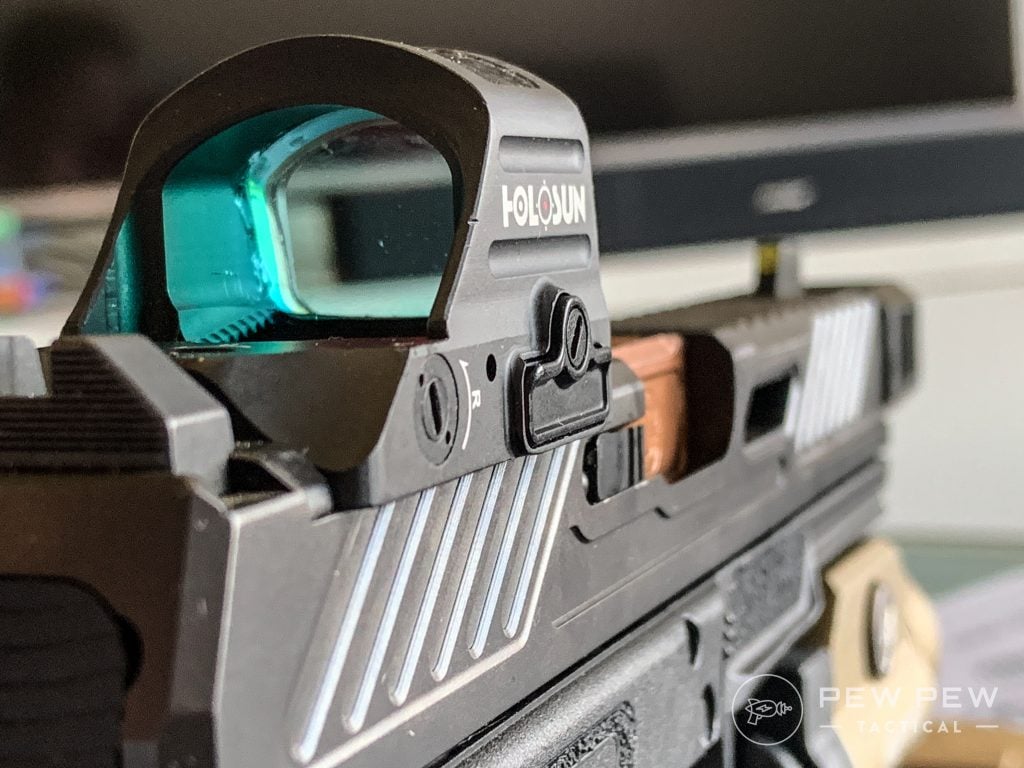 Barely 50 shots into testing my new Overwatch Precision trigger; I noticed the pin holding the assembly slipping out under recoil.
Even after consulting gunsmiths, I found this was a recurring problem with the tolerances between the frame and trigger. This was never something I came across on standard factory Glocks.
To be fair, this is a sample size of one out of a sea of other triggers out there, and it remains to be seen if these fitment issues apply to others.
Final Verdict
If I had to describe the Shadow Systems DR920 Elite in one sentence, I'd say it's the equivalent of getting a triple-A title video game by EA with all of the downloadable content included on launch day (a fantasy idea, I know).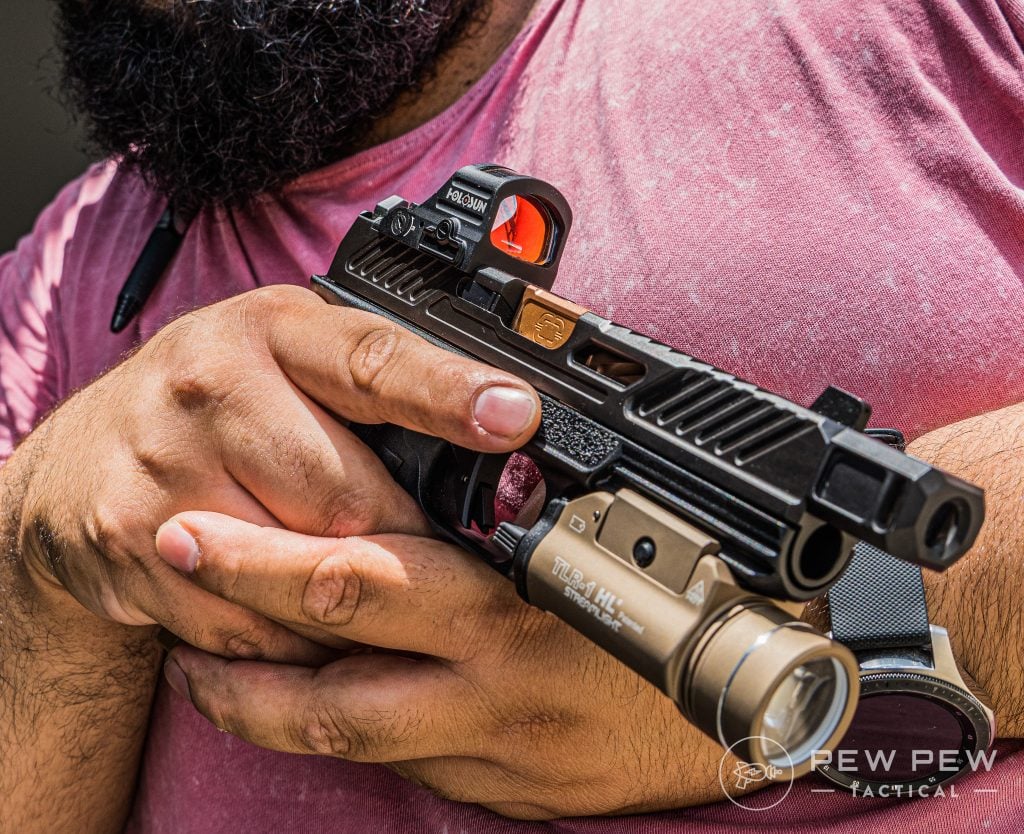 One should think of this product as an investment in their firearm, paying up front for practical features you were thinking about buying anyway.
I highly recommend the DR920 Elite to anyone looking for a premium, high-performance pistol that can serve as either a range toy or an effective defensive tool. Just remember, only you can make yourself a great shooter, but a reliable tool can help you get there.
Do you happen to own any of Shadow Systems' pistols? What are your thoughts? Sound off in the comments. Regardless of what kind of Glock you own, aftermarket upgrades are great! Check out our Guide on Best Glock Upgrades.