Not sure what gun case to get for your handgun, rifle or shotgun?
We'll help you choose from several hard & soft cases so you find the best case for your budget and need.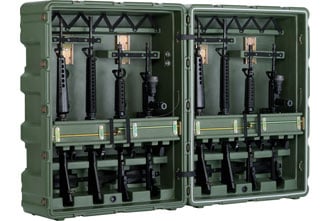 Table of Contents
Loading...
Best Pistol Cases
We break down pistol cases into soft and hard cases.
If you ever intend on flying or traveling long distances, we recommend going with a hard case.  Otherwise, soft cases are great on the budget and perfect for normal use.
Soft Pistol Cases
Soft pistol cases give your guns adequate protection just going to and from the range.
They are also fairly nondescript if you get something without huge logos.  And the logo is one big reason I don't like using the factory boxes that most handguns come with…no need to advertise that you have a firearm.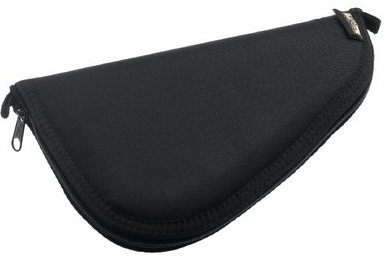 Our go-to soft cases are "pistol rugs" like the Uncle Mike's ($7) one above.  A medium should fit 3-4″ barrel revolvers and 4-5″ barrel pistols.  A large ($14) will fit up to 6-7 1/2″ revolvers.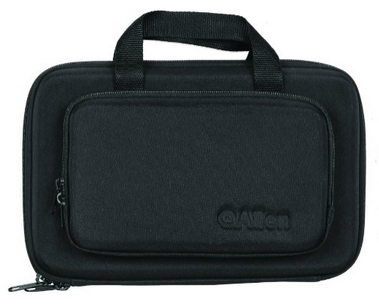 Or an attache case style one like the Allen Double Case ($24) does great too by being able to hold two guns in separate compartments while having a side pocket and handles.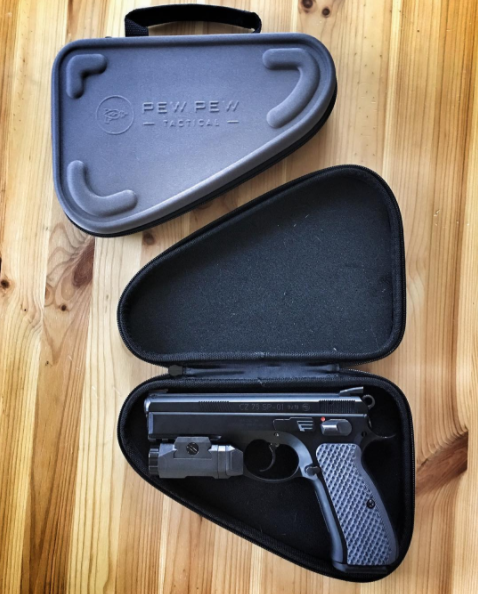 However one thing that always bothered me is the inability to be small, discreet, dead sexy, AND fit a light.  That's why we designed our own Pew Pew Tactical Handgun Case ($16) that will fit almost all full-sized handguns with a torch.
Pistol Hard Cases
Your pistol probably came with its own hard case, but I find them flimsy and usually with big logos.  On the high end, I always go with Pelican since they are nearly indestructible and have a pressure equalization valve which allows built-up air pressure to leave while keeping water out.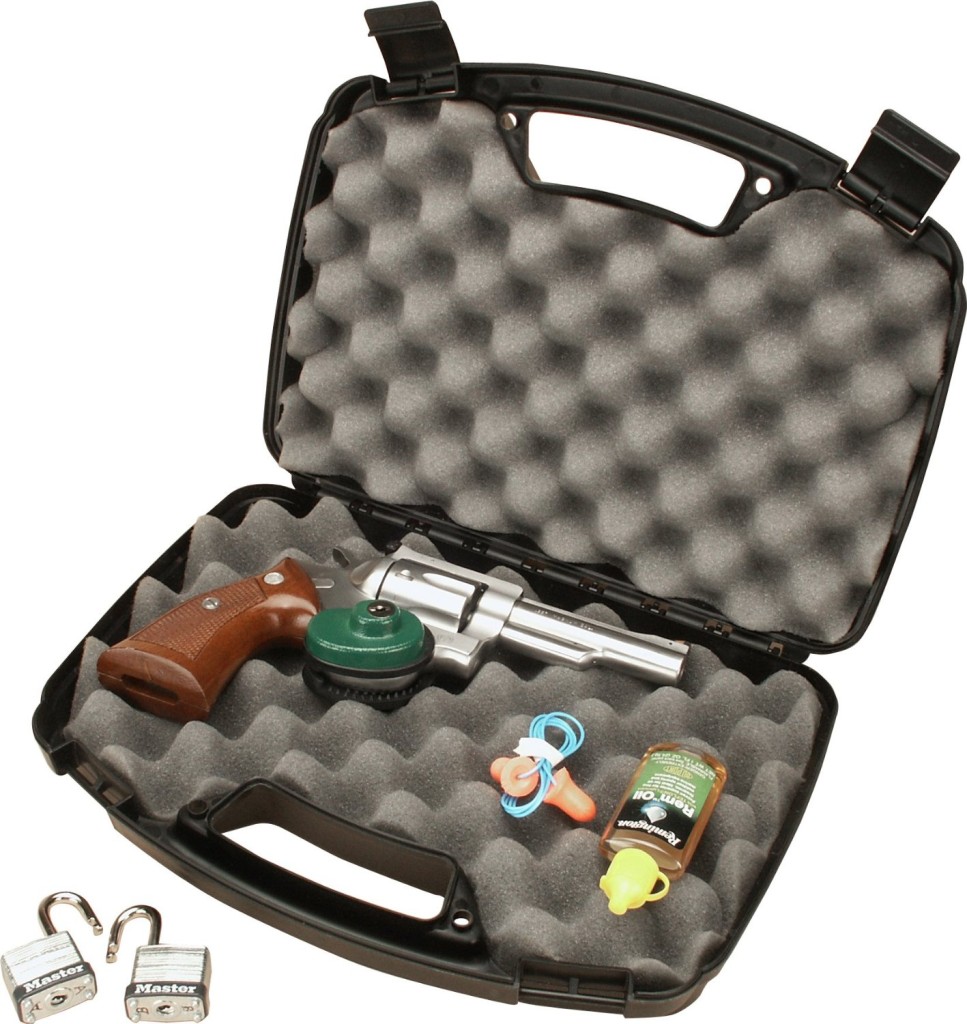 A budget-minded and discreet hard case with no logos would be the MTM Single ($9) which holds up to a 6″ revolver and is slightly more robust than most factory boxes.  You can also get the MTM Double ($15) to hold up to two 8″ revolvers.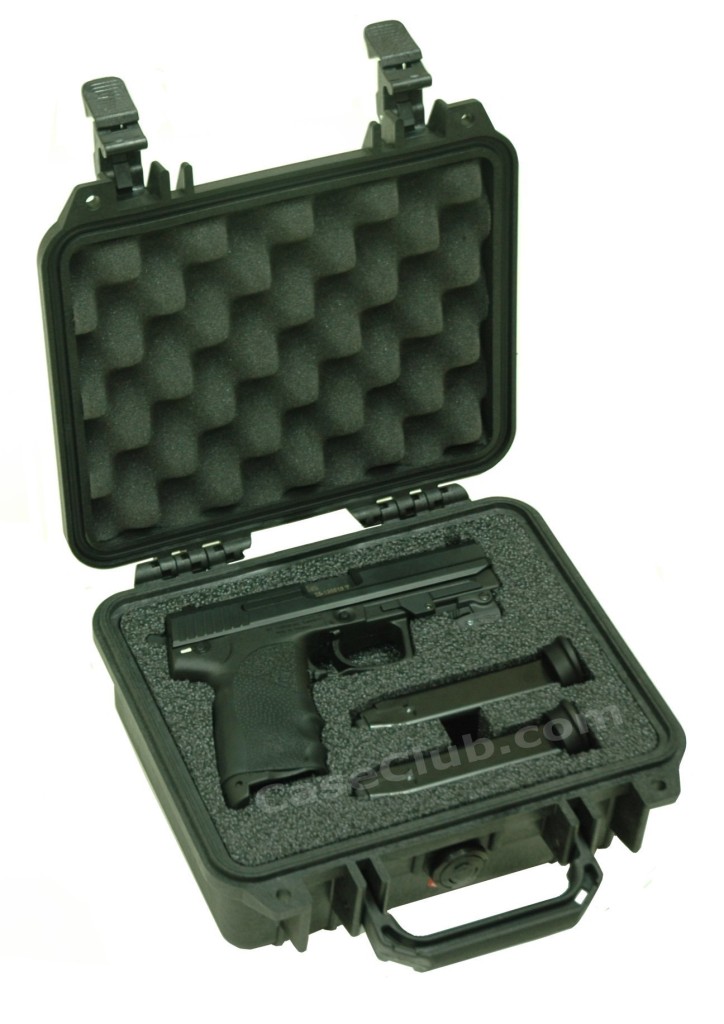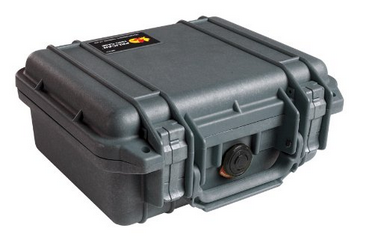 The Pelican 1200 ($38) is the smallest I would go since it can still fit a pistol and a mag or two.  The internal dimensions are 9.25 x 7.12 x 4.12 inches and the case contains Pick N'Pluck foam for you to form your own shapes without the need to cut foam.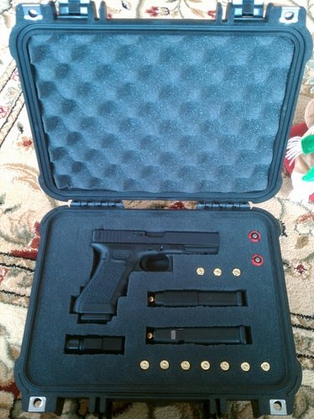 We suggest always going a size larger than you think so you can accommodate more magazines, ammo, or even a second pistol.  The Pelican 1400 ($70) above fits the bill for the next step up with internal dimensions of 11.81 x 8.87 x 5.18 inches while still being small enough to fit into larger backpacks or bags.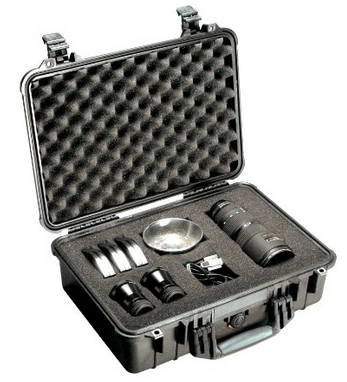 The Pelican 1500 ($100) can hold 4-5 pistols, especially when they are loaded in vertically.  Plus there's custom foam!
What's your take on the Pelican?
Best Long Gun Rifle Cases
Again, we break down rifle cases into soft and hard case varieties.
Most of our long guns travel in soft cases but precision rifles with expensive scopes go into the Pelicans.  I don't like the factory cases since they are flimsy and don't have options for easier carry such as slings or backback straps.
Soft Rifle Cases
We start with some traditional rifle cases before going into concealment/discreet bags.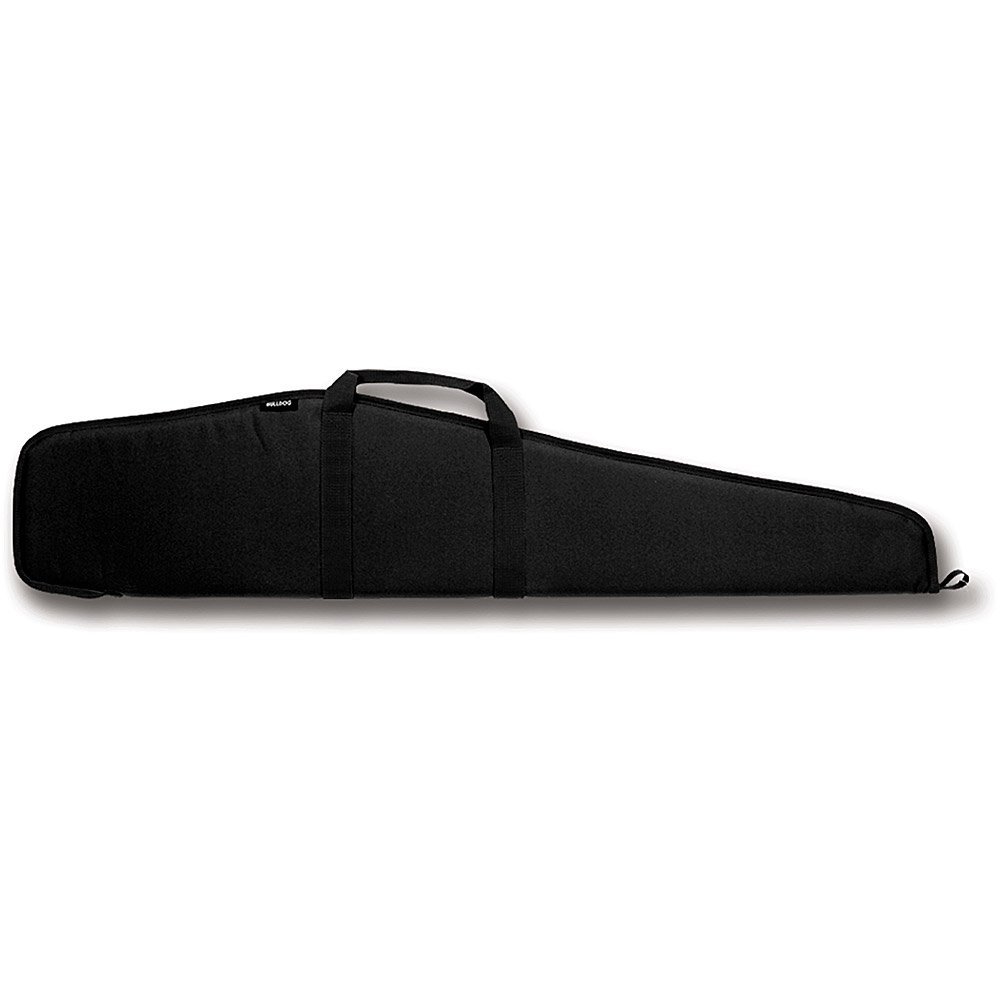 Simple and budget-minded padded long gun case ($20) that can accommodate a scope.  Be sure to check your total length before purchase.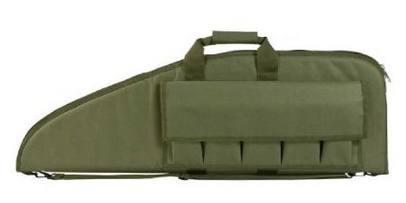 Made by NC Star who actually has their act together for rifle cases (opposed to their optics).  This VISM case ($25) will hold one scoped rifle as well as some mags on the side.  Make sure to measure your long gun since they have different sizes.
One of the essentials of a shooting range trip is a shooting mat.  This VISM Case & Shooting Mat ($55) is our go-to for carrying 1-2 long guns while also providing a great prone shooting surface and easy carry via handle or backpack straps.  Comes in other colors too.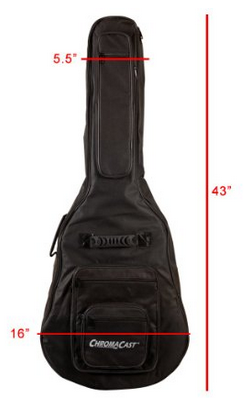 The first of our concealment bags.  Guitar gig bags ($24) let you carry around 1-2 long guns on your shoulders without raising too much suspicion.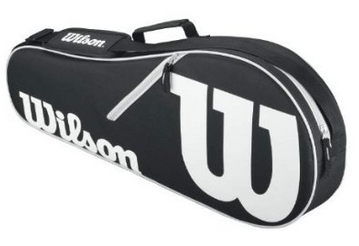 Tennis bags (~$20) are normally smaller so make sure of the measurements, but they work great for our short AR & AK pistols.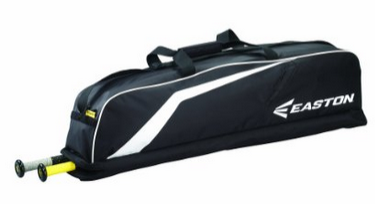 Baseball game bags (~$20) also work great since they are typically longer and no one bats an eye if it looks like it is holding something rigid.
Hard Rifle Cases
Again, your rifle likely came with a flimsy plastic case that will offer adequate protection to and from the range, but if you put on expensive optics you want to take care of everything, especially if you're traveling.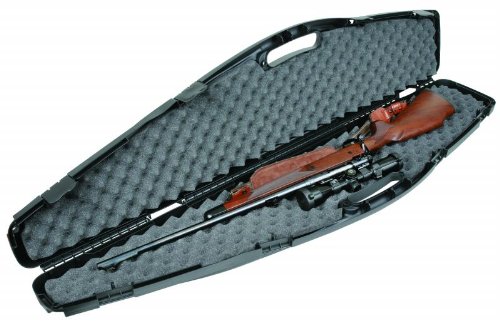 An economy single rifle case ($23) that can fit a scope.  If you lost or broke your original factory hard case.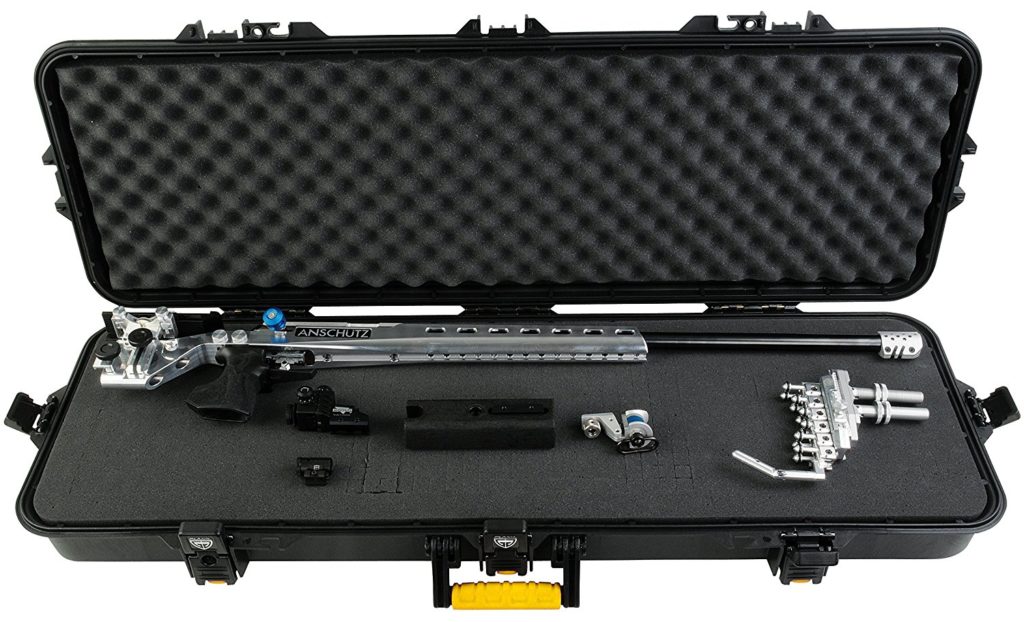 The next step up and a great bang-for-the-buck is Plano's Gun Guard that comes in variants for 36″ guns ($60) or 42″ guns ($70).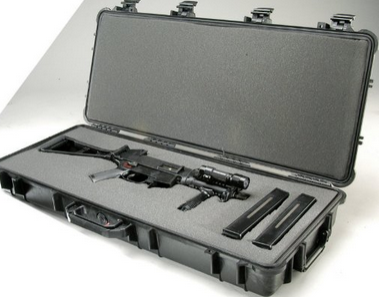 The Pelican 1700 ($180) is perfect for shorter long guns such as collapsible stock AR's or bullpup rifles.  Its interior dimensions are 35.75 x 13.50 x 5.25 inches.  A longer case for more traditional precision rifles is the Pelican 1720 ($200) which is 42.00 x 13.50 x 5.25 inches.
Just note that the larger Pelican cases usually do not come with Pick N'Pluck foam, so you'll have to outline the design and use an electric knife or a long serrated knife such as a bread knife to cut the foam.  It will take more work but the results will look far better than plucked foam.
Conclusion
So there you have it, our recommendations for best gun cases.  Really, your factory case will do fine, but for me, I just don't like having the big logos that advertise you have a gun.  Also if you are traveling or have expensive scopes, you're going to want better protection from a hard case, with Pelican being the gold standard.
And if the above choices don't tickle your fancy, here are the most popular cases from both Amazon and Brownells.
So what gun case did you end up going with?