The Mossberg 500 platform is one of the legendary American shotguns, it's well made, dependable, and proven.
There are a lot of features I could name that make the case for the Mossberg 500, but today we are going to talk about one of the most important.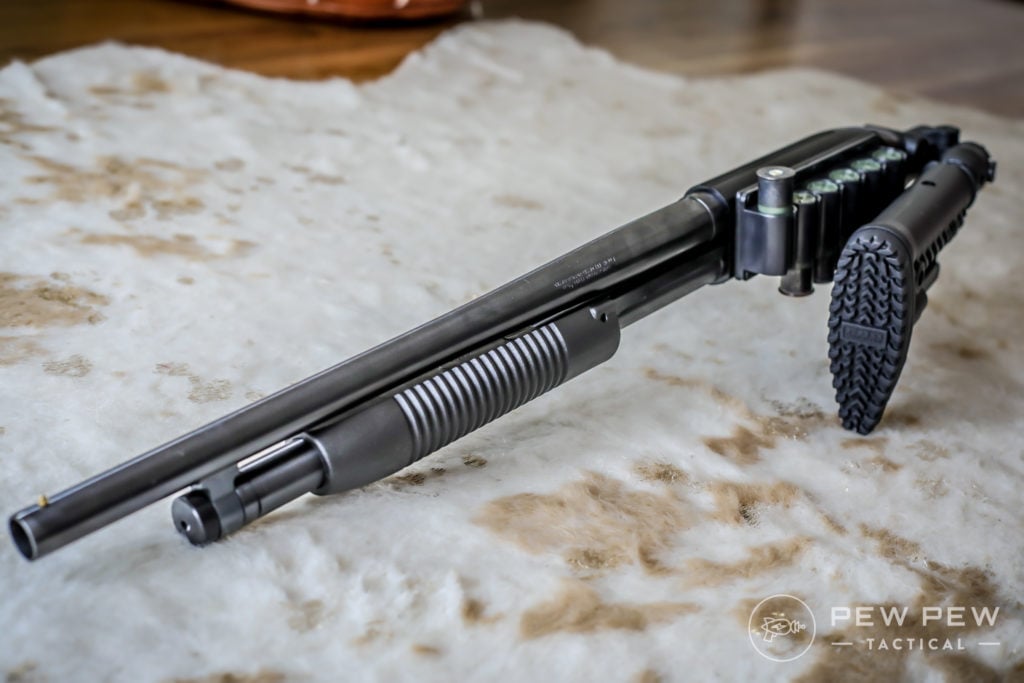 Adaptability, modularity, and the aftermarket of accessories. This is important because the ability to adopt a firearm to roles and situations is a critical one. It allows you to adapt the weapon to your needs, and even allows it to serve multiple purposes.
There are two parts that really change the weapon's capabilities, the barrel and the stock.

Everything else is adaptable, but these two parts make the biggest difference.
Lucky for you, there are tons and tons of options for stocks. Like dozens of them. Some of them are complete and uncomfortable crap. And some of them are amazing.
Now, how you do sort between the crap and the good stuff?
Well, that's why you came here.
I am a shotgunner, and I have more shotguns in my collection than any other category combined. So, I've gone forward and found what I think are the best stocks on the market for the Mossberg 500.
Also as a quick note, to answer any questions preemptively, these stocks are all compatible with the Mossberg 500, the 590, the 590A1 and the Maverick 88 series of shotguns.
382
at GrabAGun
Prices accurate at time of writing
Prices accurate at time of writing
Best Mossberg 500 Stocks
1. Shockwave Raptor Grip
See, right off the bat, I'm playing fast and loose with the definition of a stock. The Shockwave Raptor grip isn't a stock, but it attaches to the rear of your Mossberg 500. I included it because it's likely one of the best pistol grips only options for a shotgunner on a budget.
Best Pistol Shotgun Grip
26
at Amazon
Prices accurate at time of writing
Prices accurate at time of writing
It's only 30 bucks, and superior to almost every pistol grip only option on the market. So, when you include the price it's hard to beat. The Raptor grip is a pistol grip that is more horizontal than vertical and resembles the classic grips that used to occupy the Witness Protection 12 gauges used by the U.S. Marshals.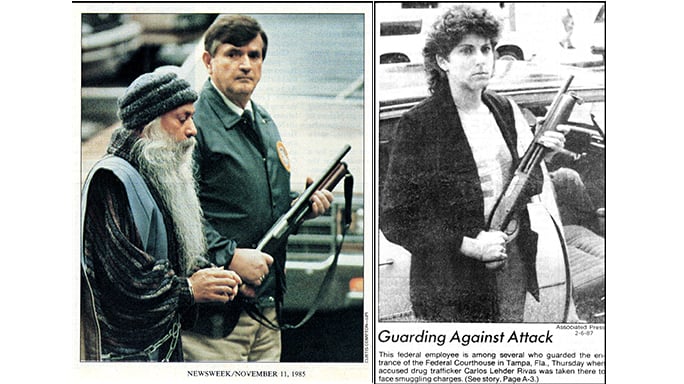 A normal pistol grip on a 12 gauge shotgun it is a very uncomfortable, and very harsh grip to have. The recoil from the powerful gun is sent straight back into your wrist and it's not comfortable, to say the least. The Shockwave Raptor grip makes the force move upwards rather than rearward.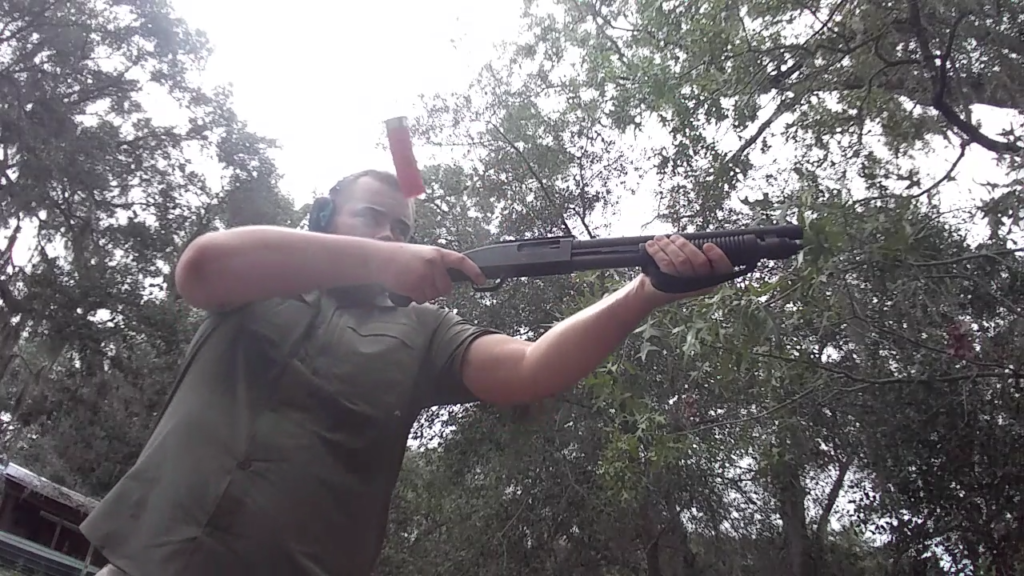 The horizontal nature wants to push the recoil of the shotgun upwards, but the forward weight of the shotgun fights this natural rise.
The Shockwave is superbly comfortable, even with serious buckshot loads. Sure, it's not as stable as a stock, but it's a great pistol grip option when you're on a budget.
Mossberg agrees and when designing their Shockwave, they included the grip and named the weapon after it. We did a write up on the Shockwave here.
I love the grip personally, and for thirty bucks it's a bargain. Plus, it looks cool, and looking cool is half the battle.
2. Magpul SGA
Best Overall Upgrade
91
at Amazon
Prices accurate at time of writing
Prices accurate at time of writing
There is a classic debate between traditional shotgun stocks and pistol grip shotgun stocks. On the traditional side, shooters claim a traditional stock points better and make instinctive shooting easier. Pistol grip shotgunners cite increased one-handed control, and often the ability to shorten the length of pull.

The Magpul SGA stock is likely the best compromise between both a traditional stock and pistol grip stock. The SGA stock is best described as a hybrid that retains the best of both worlds. It points naturally and provides excellent one-handed control.
The Mossberg 500 pump action shotgun requires two hands, but in some situations, you may be forced to utilize one hand to open a door, shield a child, or climb a tree stand.
The more vertical pistol grip of the SGA stock makes it comfortable and possible to do this without worrying about wrist discomfort or your barrel dipping.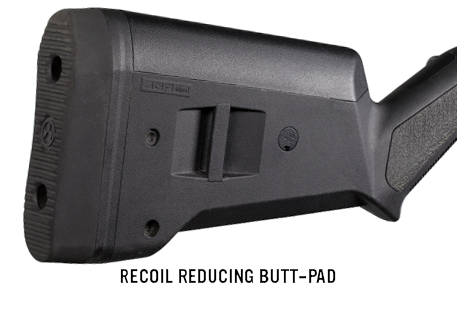 Because the vertical grip isn't a straight 90 degrees you maintain your ability to naturally point and maneuver the shotgun. It also has an adjustable length of pull from 12.5 inches to 14.5 inches via a system of spacers.
This isn't an immediate adjustability, but it's a consistent one.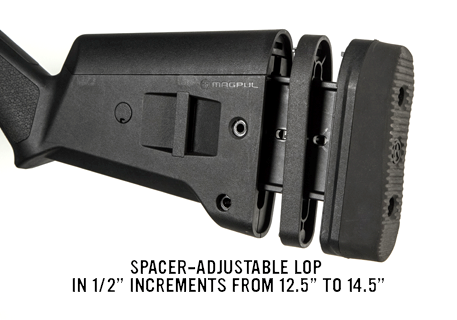 The stock allows you to easily reach and activate the Mossberg's tang safety. You also get sling loops and the ability to add cheek risers to make using optics easier. The Magpul stock is respected so much that Mossberg even offers a factory Magpul model with the SGA Stock and pump.
3. Blackhawk Knoxx Breachersgrip Gen 3
I said at the top of this article that the Shockwave was the best pistol grip for a budget.
But do you want to know what the best pistol grip option is, period? The Blackhawk Knoxx Breachersgrip Gen 3.
89
at OpticsPlanet
Prices accurate at time of writing
Prices accurate at time of writing
This piece of gear is brand new, and is a bit hard to find right now because it's in high demand.
The Knoxx Grip is something else entirely. From the name, you can probably tell what the intended purpose is, and at first look, you are probably wondering why the butt end is just so long?
That big butt is what makes the Knoxx Breachersgrip so unique, it has a built-in internal buffer that helps fight the vicious recoil of a 12 gauge shotgun with just a pistol grip.
This buffer adds a little length, but the length is well worth the amount of recoil reduction you get.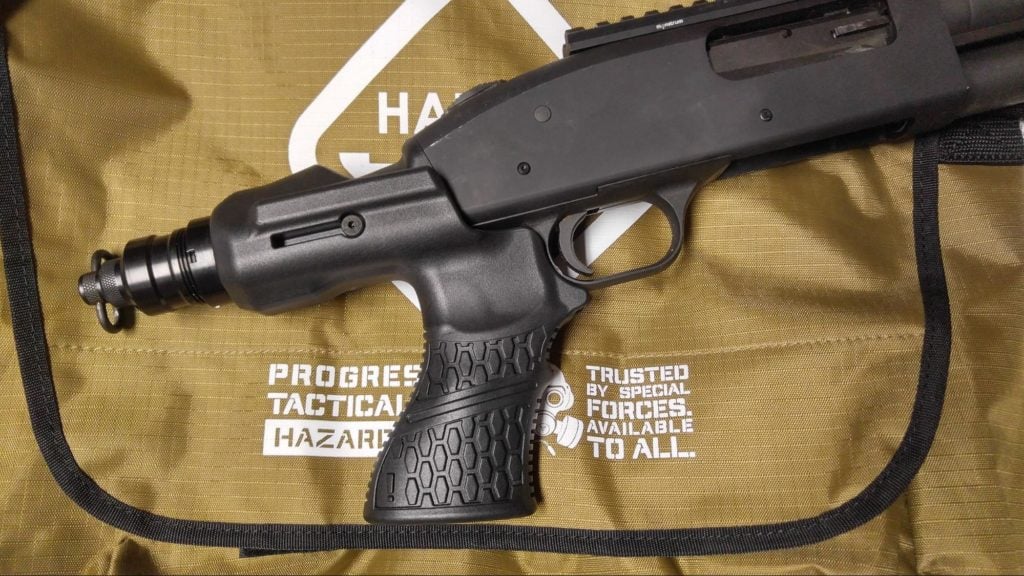 I've been testing and evaluating one of these bad boys for a few weeks now and love it. This grip makes kittens out of even the fierce and powerful Winchester PDX slugs. The recoil buffer does its job extremely well.
Now outside of the buffer tube and recoil reduction capabilities the Knoxx is a well-made and thought out option. The grip is nice and thick, checkered and feels good in the hand.
The rear of the grip, on the outside of the buffer tube, is a sling attachment point with an included QD sling mount.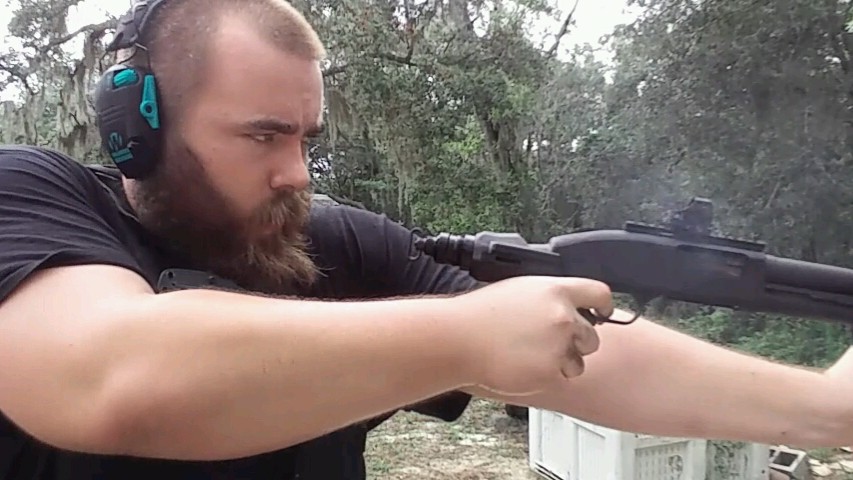 This grip makes controlling a short and light AOW, a full-on shotgun, or a short-barreled shotgun not only possible but comfortable.
The recoil reduction allows you to fire rapidly, with better accuracy and control. Normally a PGO shotgun is a great way to develop a flinch, but with the Knoxx Breachersgrip, you won't have that issue.
If you want the recoil reducing capability with the stability of a stock there is an almost identical version of this grip fitted with a collapsing stock.
I don't have any personal experience with this stock, but it uses the same buffer so recoil reduction will be top notch.
4. Blackhawk CompStock
Most Recoil Reducing
100
at Brownells
Prices accurate at time of writing
Prices accurate at time of writing
My first experience with any recoil reducing stock was the Blackhawk Compstock, at the time I didn't believe these things work. However, I had a torn rotator cuff, and someone offered it as a solution. Imagine my surprise when I could shoot a few rounds of skeet without discomfort.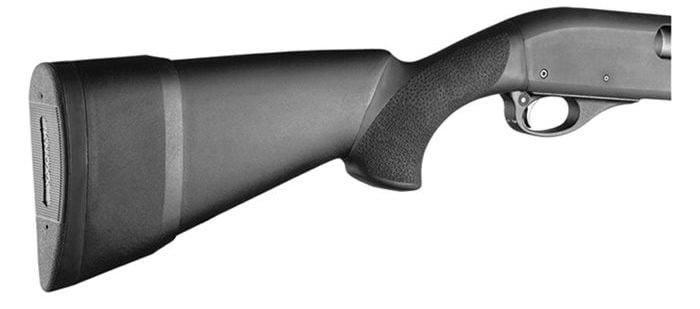 The Blackhawk Compstock is a traditional stock that looks plain, and unassuming. Its black polymer without any kind of tactical do-dad or gadget. It's thicker near the rear, but all good things are. This is certainly a case of don't judge a book by its cover.
Inside the stock is a recoil reducing buffer system. This system allows the receiver to move rearward into the stock. This feels odd the first few times, but you get used to it fast.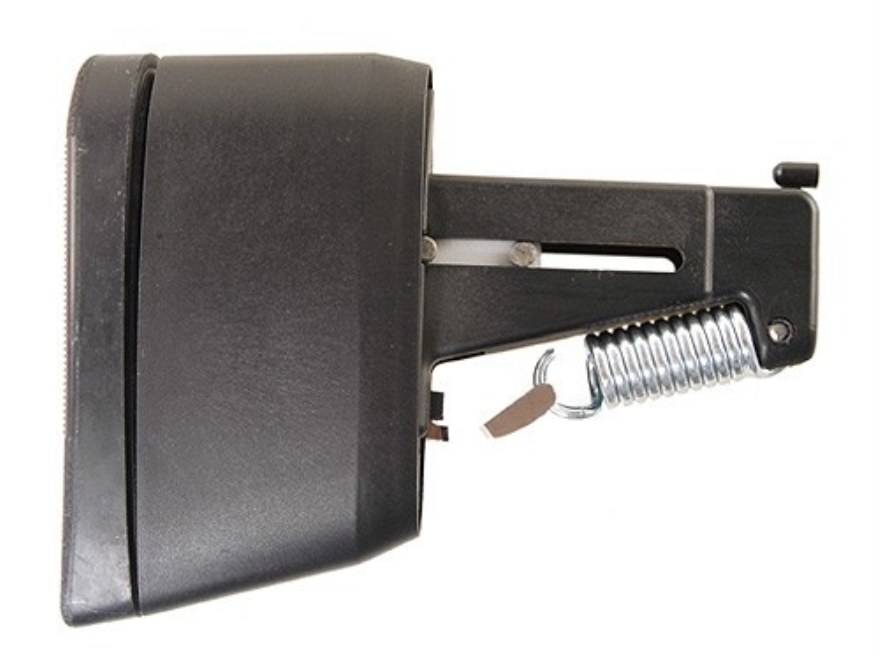 What you'll also get used to is the recoil reduction, in fact, you'll learn to love it. It works surprisingly well, and the non-tactical appearance is nice to see in a day and age where everything is tactical. It's great for high volume bird hunters, skeet shooters, and of course, it's great for competitions like 3 Gun.
It greatly reduces the recoil of your average buckshot and slugs to the point it's more like shooting an AK than a shotgun. It makes birdshot almost like a 5.56 with a full-sized rifle.
The Compstock is also cheap for what it is. For people like me who struggle with a lasting shoulder injury, it's one way we can still shoot high volume pain free. It also allows smaller people to control and use a shotgun with comfort and authority.
The biggest downside is getting used to the Compstock and then going back to a traditional stock and remembering what real recoil feels like.
5. Fab Defense Folding Stock
Best Folding Shotgun Stock
180
at Optics Planet
Prices accurate at time of writing
Prices accurate at time of writing
If you really want to go big and don't mind spending a little extra money Fab Defense makes a fantastic Mossberg 500 stock. It's designed to basically replicate a AR 15 style stock and is a thoroughly modern option.
The stock is mounted on a five-position aluminum buffer that allows for immediate adjustment for size, clothing, or presence of body armor.
The stock itself is simple and robust.
It's fitted with sling points for QD and webbed slings as well as a small storage compartment. The stock can also be folded out of the way, for easier storage and a more compact package overall.
The stock also integrates a recoil reducing buffer that absorbs shock when the stock is extend.
Admittedly it's not as recoil reducing as the comp stock but it takes some bite out of the dog. The pistol grip is very AR like in design and angle. You also get QD sling points right above the pistol grip to make carrying the gun with the stock folded possible.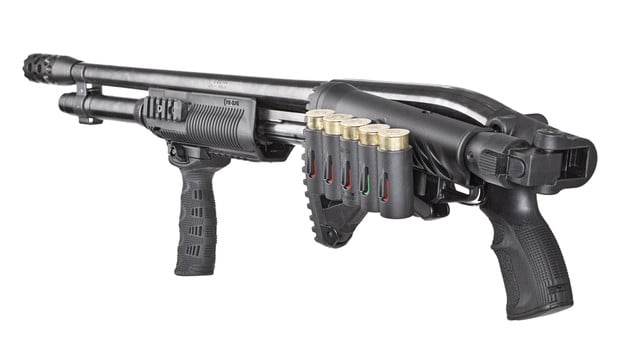 What I really like about the Fab Defense stock is the options. You can instantly go between compact power with the stock folded, to recoil reducing stability with it unfolded.
The design is sleek, modern, and it's a solid stock for a combat or home defense shotgun.
Admittedly, it's a pricey stock, one of the most expensive on the market. Is it worth it? That's the tough question to answer.
If recoil -reducing is more your flavor…they also have one of those varieties!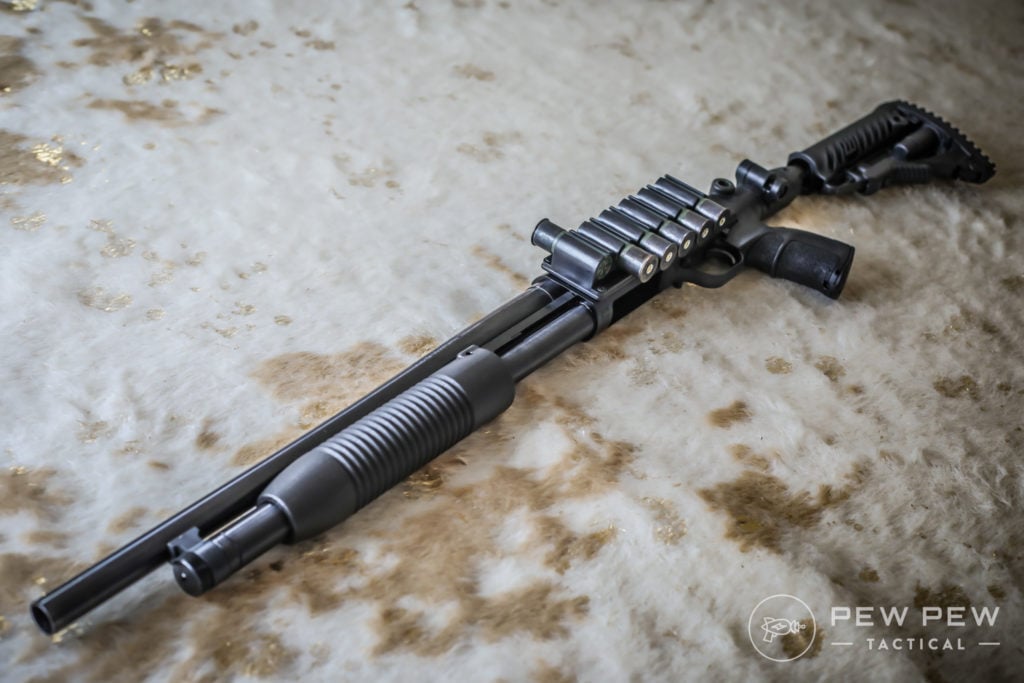 Fits Maverick 88 and Mossberg 500/590 series shotguns. Definitely have a less sore shoulder after installing this bad boy.
250
at Brownells
Prices accurate at time of writing
Prices accurate at time of writing
6. Bonus – Ergo Grip Adapter
30
at Amazon
Prices accurate at time of writing
Prices accurate at time of writing
I included this as a bonus because it is playing way too loose with the term stock.
The Ergo grip adapter is a 4-ounce piece of glass filled polymer and a screw that has the ability to allow some extreme customization of your Mossberg 500.
It's cheap, easy and efficient.
So, what it does is simple. You attach the Ergo grip to your shotgun via the screw and you now have two points to add an AR grip, buffer tube, and stock.
With the AR market, arguably being the biggest firearms aftermarket ever, you have tons of options to add stocks and pistol grips.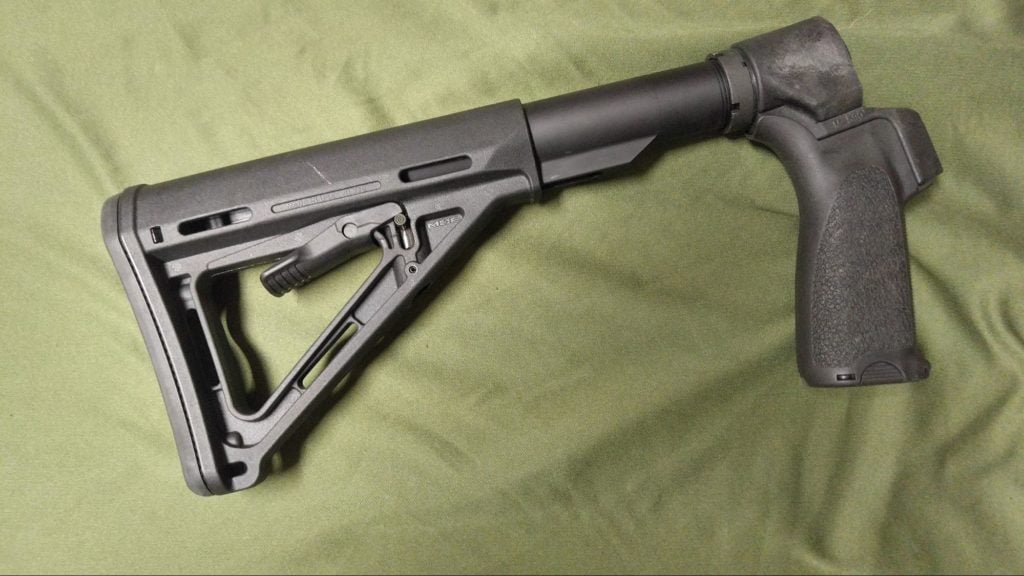 Personally, I prefer the BCM Gunfighter grips on my ARs, so why wouldn't I want one on my shotgun? So, I did.
Then I added a six-position tube and a Magpul MOE stock. I now had a shotgun that mimicked the furniture of my AR 15.
My options for stocks and grips are nearly endless with the Ergo grip. I could even add a side folding AR stock adapter like the LAW adapter and have a side folding AR 15 stock on my Mossberg 500.
The Ergo grip adapter is there to allow you to choose the right stock and grip option for you. With so many AR options out there you have an exceptional amount of choices.
Is that all?
This is a relatively short list in terms of Mossberg 500 stock options. There are just so many of them out there we couldn't possibly list them all. Thankfully our readers tend to pretty smart (and handsome) people, with a lot of experience.
We want to know: what stocks do you prefer? Any disagreements with my list? Let me know why in the comments!