The AR-15 has to be the most customizable firearm of all time.
Not only can you customize the typical furniture or internals, but you can completely change how the rifle functions.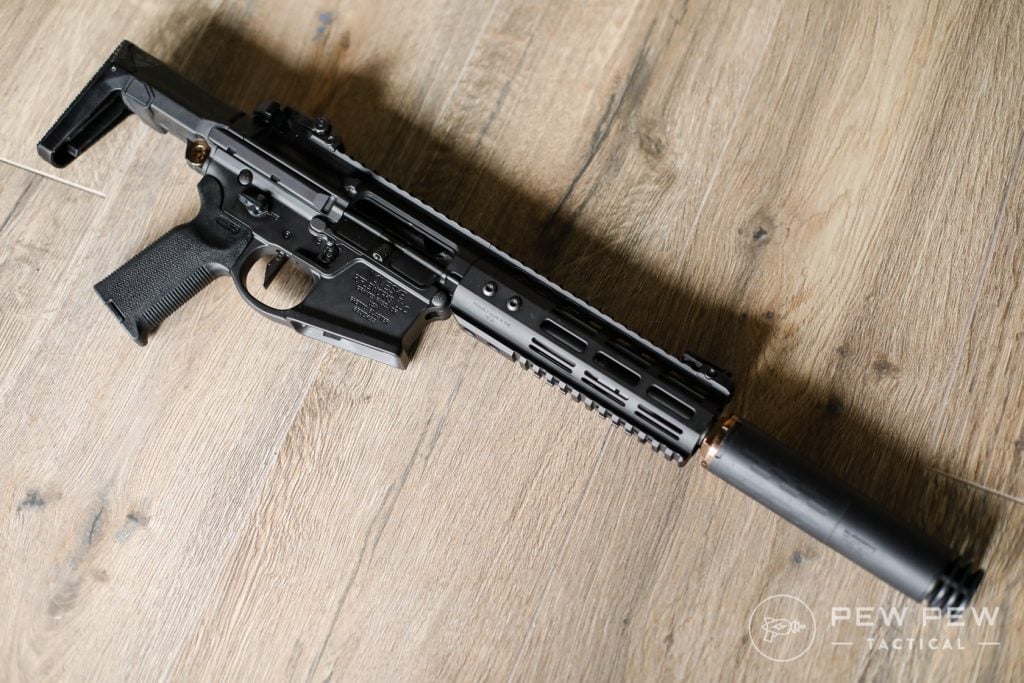 What if you could change the complete structure of the firearm though?
For example what if you could fold an AR-15? Fold it like a towel? Or a T-shirt?
Okay – maybe not like a shirt, but you can fold the AR-15 in a variety of ways even though the system isn't exactly known to be a folding gun.
We'll cover how systems manage to do this, some popular options, and if a folding AR is right for you.
Summary of Our Top Picks
Folding ARs?
Lots of guns have folding stocks, but the AR-15 can't exactly do that since the design's incorporation of a buffer tube and a direct impingement gas system requires a buffer extension inside the stock.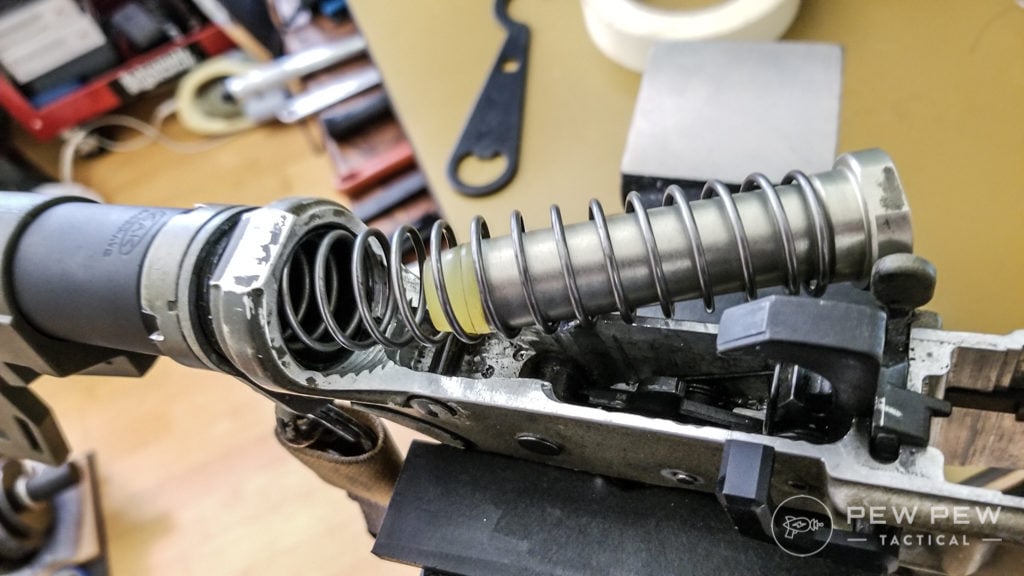 The buffer tube and buffer are simply in the way.
Or are they?
We'll get back to folding stocks on ARs a bit later, but let's look at the other side of the weapon.
We can ignore the stock, and focus on folding the AR-15 at the area where the barrel meets the receiver. Yep, what if we could fold the AR nearly completely in half in a very unusual way.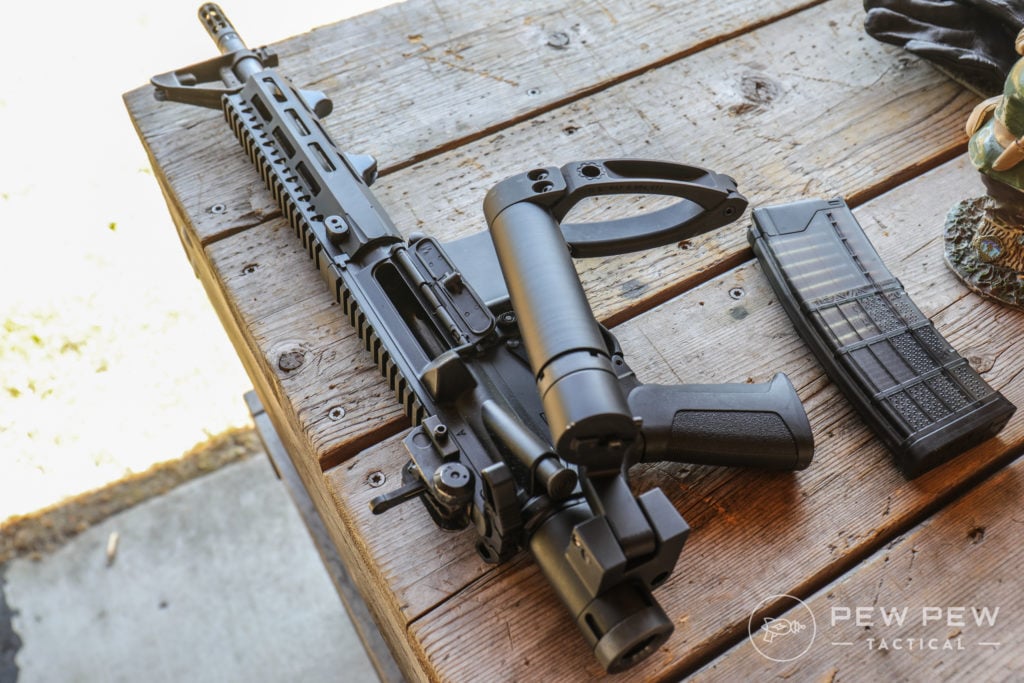 Before we do that though why exactly would you ever want a folding AR…
Size Matters
Of course, we want to go smaller! For some reason, the current gun industry is all about getting smaller, and the means to make a weapon smaller are changing. The AR is tricky to make smaller, but it's very possible.
The smaller a gun is, the easier it is to travel with, the less room it takes up in storage. Overall a folded AR is a very small and convenient weapon that can easily be carried as a trunk or truck gun within the right context.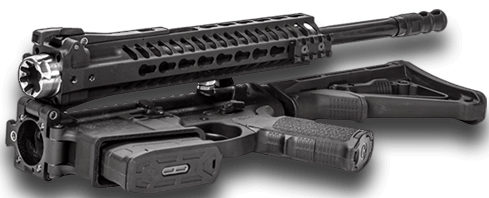 Smaller is often better these days, and these companies have put the small in small arms.
Best Folding AR-15s
1. LAW Tactical Folding Stock Adapter Gen 3
We have to start with the LAW Tactical adapter.
The LAW adapter was the first step in folding AR-15s. It introduced a way to fold the stock of an AR-15 while maintaining buffer integrity. The LAW is currently in its Gen 3 configuration and has only gotten better.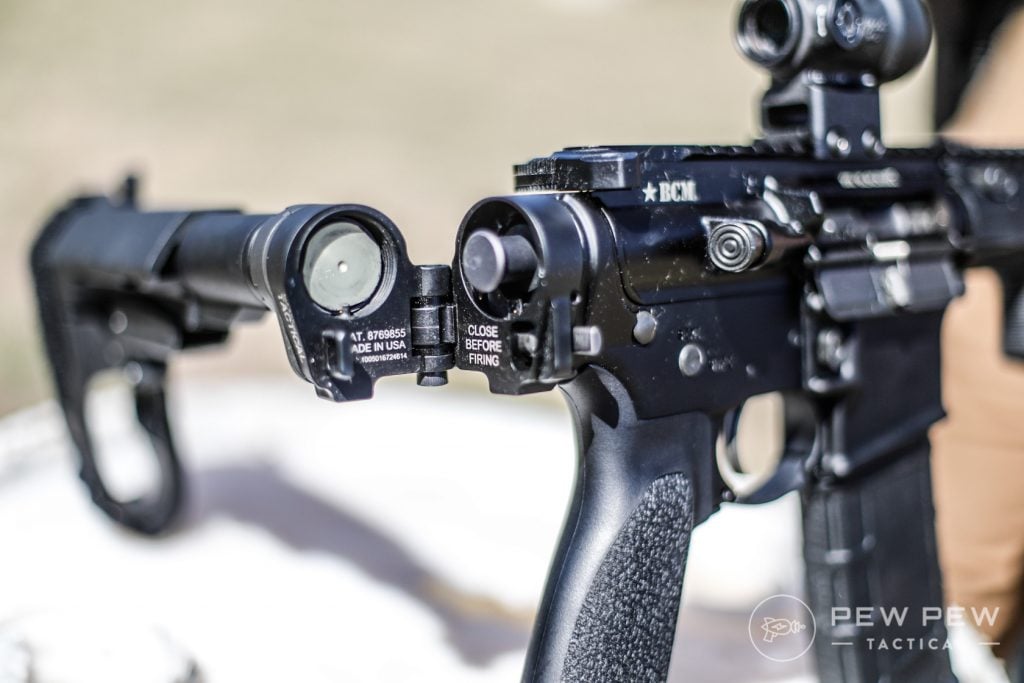 The LAW can be installed at home in just a few minutes, and the instructions make it very clear how it works. One downside is that this system does not allow an AR to be fired with the stock folded so recognize that.
It's an adapter, so you can use it with any stock or pistol brace and tube on the market.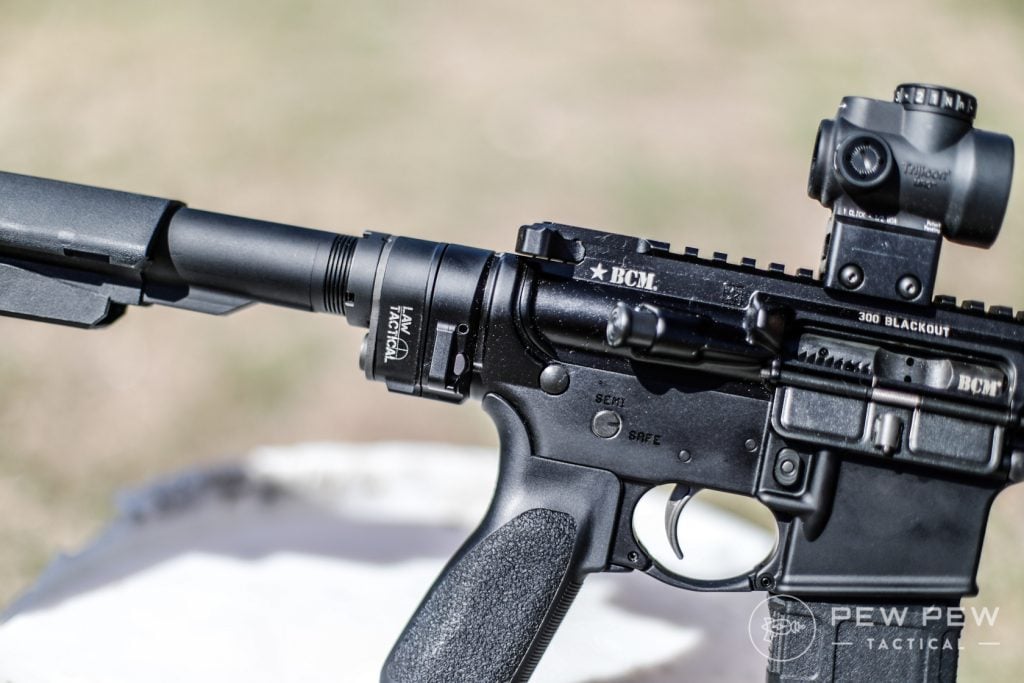 The LAW adapter is the cheapest option out there to have a folding AR and does allow you to use all your favorite furniture on your build. It's a robust option that's meant to be stable and reliable enough for duty firearms.
Check it out in action below:
The design does work with MIL-spec lowers and receiver extensions, so if you have something a little crazier than standard, approach with caution. Easy to use and install, the folding stock adapter requires very little modification or special parts.
Law Tactical vs Sylvan Arms
Compared with the more affordable Sylvan adapter down on the list, the LAW Tactical is the nicer one, in our opinion, for the following reasons:
More robust feeling (made of steel vs aluminum)
Tighter lockup
Can fire once when folded (not recommended still)
About half-inch shorter
Tighter hinged to stay open
Folds down flatter
239
at OpticsPlanet
Prices accurate at time of writing
Prices accurate at time of writing
What's your take on the LAW adapter? Rate it below!
2. Dead Foot Arms Folding Stocks
Dead Foot Arms Folding stocks are a bit different than the LAW adapter. Admittedly they are a bit more expensive, but they also have the ability to fire when folded.
These stocks won't make the gun as small as a LAW adapter, but it does offer a true side folding stock.
Stocks come in right and left-handed folding configurations, and the stocks or braces are angled downwards, which allows the gun to eject appropriately when firing.
Fire When Folded
488
at OpticsPlanet
Prices accurate at time of writing
Prices accurate at time of writing
The Dead Foot Arms systems come in both pistol and rifle configurations with braces and stocks. There are also 9mm options, as well as your standard rifle options. The system uses a trimmer BCG.
3. FoldAR
I appreciate a good pun, and the FoldAR namesake is golden.
The FoldAR line includes rifles and AR pistols, as well as separate uppers and a variety of calibers. Rifle options include 16 and 14.5-inch barrels, and calibers include .223 Wylde, .300 Blackout, .224 Valkyrie, 6.5 Grendel, and 6.8 SPC.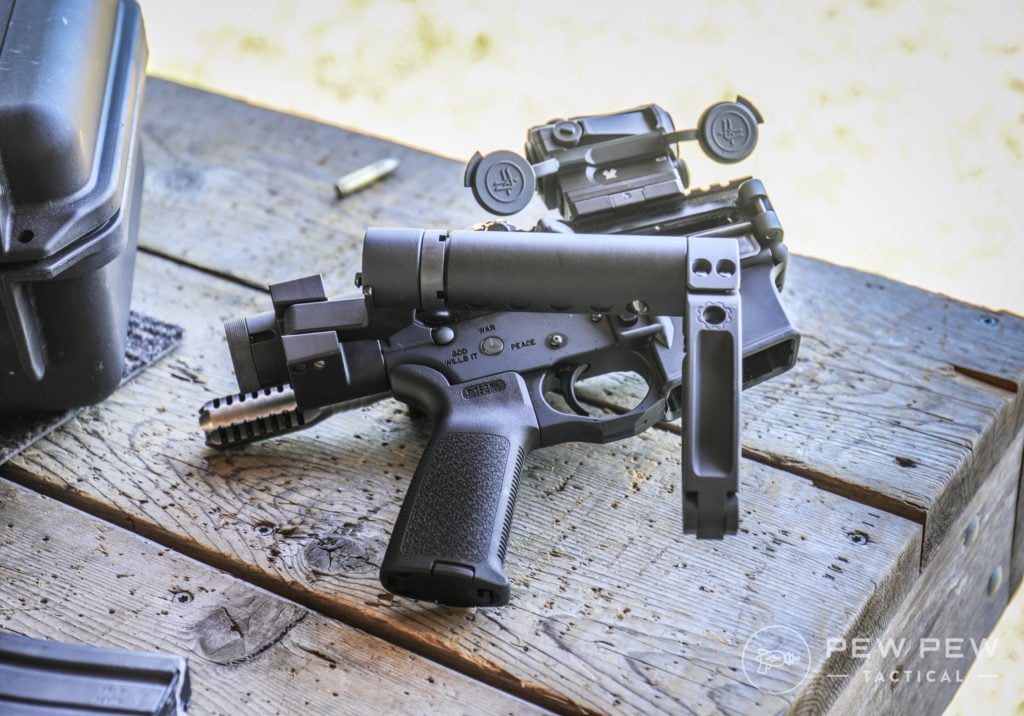 The pistol variants are limited to 9-inch barrels and come in .223 Wylde, .300 Blackout, and 6.8 SPC. The barrel folds to the left-hand side and creates 16 and 9-inch platforms.
You can also purchase independent uppers that can attach to MIL-Spec lower receivers.
The FoldAR system holds repeated zero after folding and unfolding countless times, and FoldAR has used independent third-party testing to confirm this. You will need a small device to unlock the cam lever to fold the rifle, and this can be something as simple as a shell casing.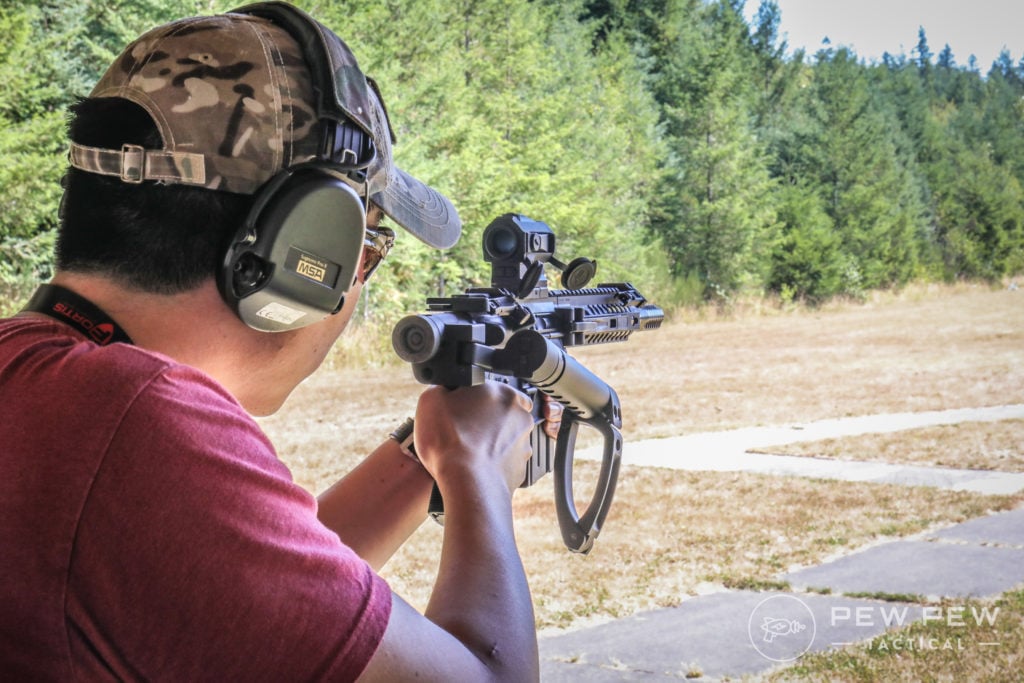 The best part of the FoldAR line is the Double FoldAR. This design incorporates both the Side folding barrel as well as the Dead Foot Arms side folding stock system.
The Double FoldAR produces the smallest possible AR in the world and is my personal favorite of all of these systems.
Pew Pew Tactical readers get 10% sitewide at FoldAR with coupon code PewPew10.
1999
at FoldAR
Prices accurate at time of writing
Prices accurate at time of writing
4. Sylvan Folding Stock Adapter
Much like the LAW Adapter, the Sylvan Arms Folding Stock Adapter is a do-it-at-home option to toss a folding stock on your AR 15.
It's aimed more at the hobbyist user and home defender than armed professional. The Sylvan Arms adapter doesn't fold flat or stay in place as well as the LAW when folded.
Also, while the LAW folder can be fired with the stock opened (at least once), the Sylvan Arms cannot. The Sylvan Arms adapter adds about 2 inches to your length of pull (about half an inch more than the LAW), so be prepared to adjust your stock to compensate for this addition.
Runner Up Folding Adapter
149
at OpticsPlanet
Prices accurate at time of writing
Prices accurate at time of writing
When locked in place, it's a nice, tight lockup without any noticeable shift or give. A nice solid fit goes a long way with your stock
The Sylvan Arms adapter is machined in the USA for billet aluminum, so it's plenty tough but also fairly lightweight. Installation is simple, and it's designed to work with various calibers, including 5.56, 300 Blackout, and 9mm.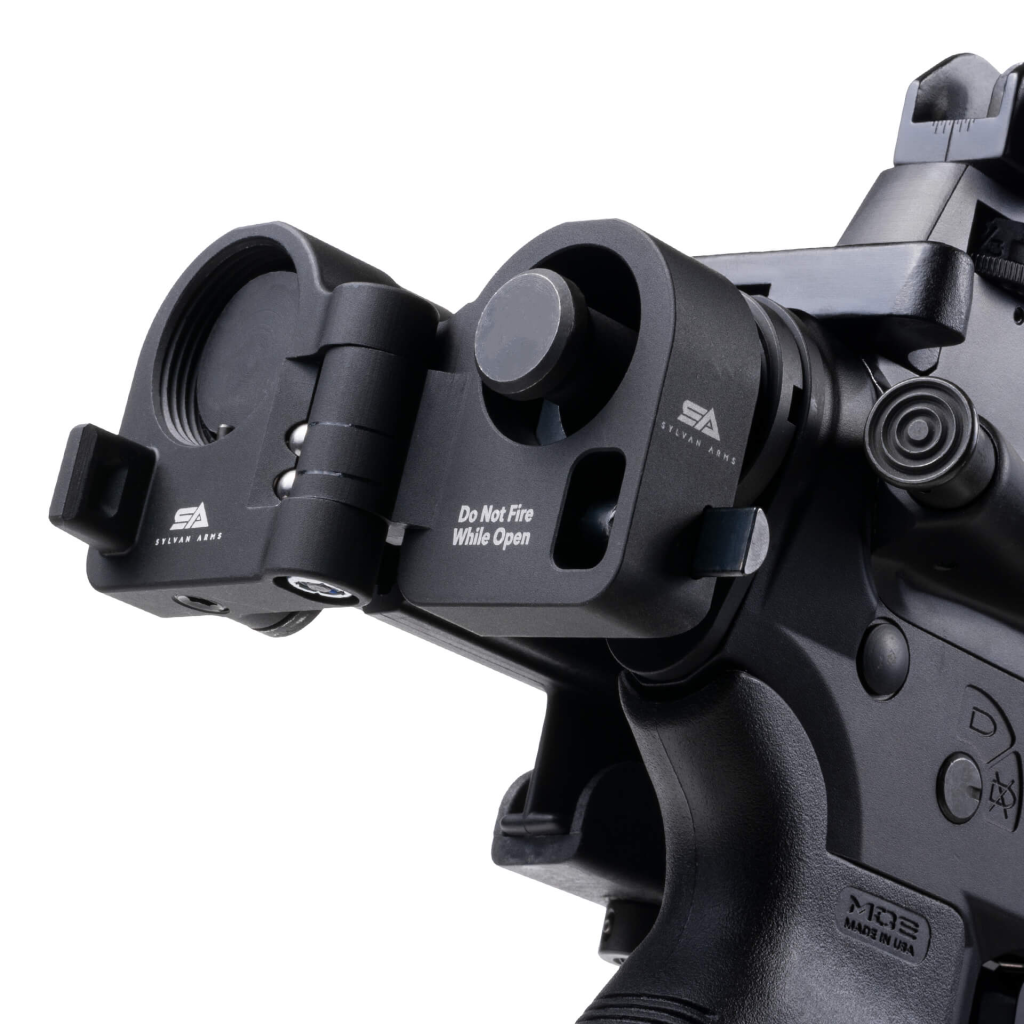 The Sylvan Arms adapter can work with any standard AR-15 brace or stock.
Sylvan Arms' latest adapter works with Silent Capture Buffer Springs with the SA Silent Capture Bolt Extension. If affordability is key, then it's tough to beat the Sylvan Arms adapter.
5. Shield Arms SA-15 Lower Receiver
What if you want an integrated folding stock but don't want to purchase a complete rifle and don't want to deal with an adapter?
Well, then, Shield Arms has you covered with the SA-15 lower receiver.
This isn't a preinstalled adapter but a lower receiver with an integrated folding mechanism. It works with standard stocks, buffer tubes, and all that.
Integrated Folding Lower
274
at GrabAGun
Prices accurate at time of writing
Prices accurate at time of writing
The SA-15 is a simple but effective design that's fairly affordable when you consider getting a premium lower with folding capability. For reference, a LAW adapter costs more than this whole lower.
The lower doesn't meet the MIL-SPEC line because, well, it has a folding stock setup. However, the SA-15 is a 705-T6 aluminum lower with billet machining.
Shooters get a MIL-SPEC anodizing and compatibility with the vast majority of MIL-SPEC AR-15 components and parts.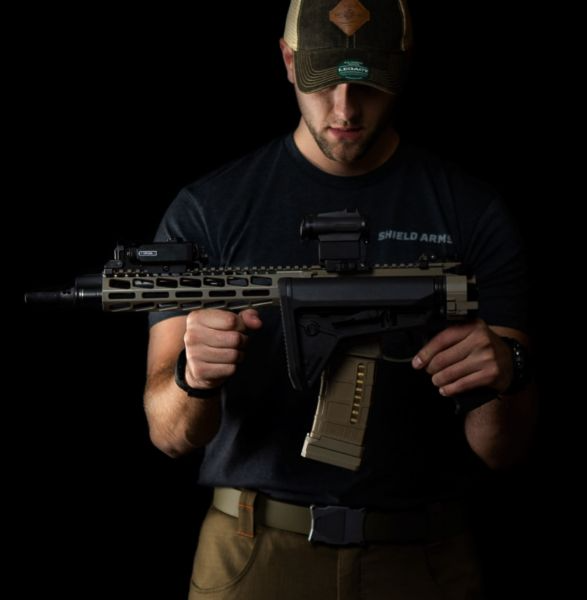 Outside of the folding stock adapter, the SA-15 features a beveled mag well and an upper tension screw to take some slop out of the upper and lower fit. Like any other billet lower, the receiver features little bits of stylistic flair here and there, and it does look quite nice overall.
The folding setup is a bit more compact than any adapter. Plus, it folds flat and locks up tight; not much you can ask for. However, I know that you fine folks might not just want a stripped lower.
With that said Shield Arms produces both complete rifles and pistols with the SA-15 if you don't want to do the building yourself.
6. Sig Sauer MCX Spear LT
The MCX Spear LT brings a complete rifle option to those looking for a folder.
Available in either 5.56 NATO or 7.62×39, the design is based on Sig's submission for the U.S. Army's Next Generation Squad Weapon Program.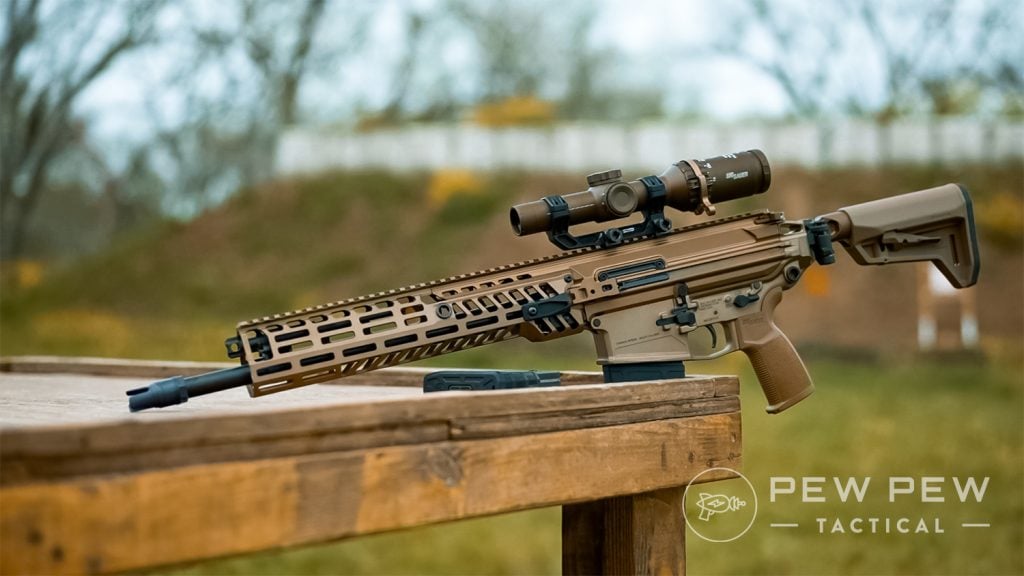 During our time with the Spear LT, it performed well. The folding stock did its part, and the range of pull of six positions was good.
The gun itself is fairly ergonomic, with enough options to fit a wide range of shooters — though aftermarket customizations are somewhat limited.
2499
at Kygunco
Prices accurate at time of writing
Prices accurate at time of writing
The downside to this life comes in the form of price…it's expensive, with an MSRP of $4,499. That's out of the reach of a lot of consumers.
But if you can stomach the price, the Spear LT provides solid ergos and a truly modern battle rifle.
Want more? Check out the full video review below or our article.
7. FM-15
The FM-15 is a complete rifle build that allows you to use whatever folding stock you want. They include a Magpul Zhukov stock as an option, so it's not like you can't pick and choose.
Unlike a lot of AR-15s, this will limit your options in terms of internal parts and upper receivers. The magic is in the elimination of a stock-based buffer. Instead, we get this teeny tiny bolt carrier group backed by a buffer that resides in the upper receiver.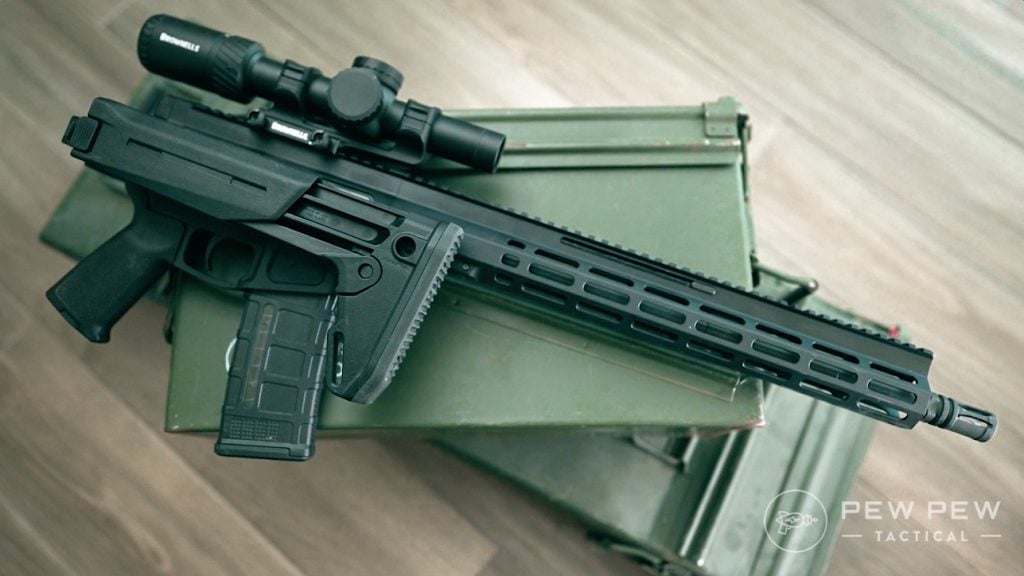 This allows you to have a true folding stock with the capability to fire the weapon with the stock folded. It's still a direct impingement gun with AR controls and ergonomics, just with a folding, bufferless stock.
The charging handle is moved to the front and positioned a bit like the old G3/MP5 charging handle, but it's reversible for wrong handers as well. The charging handle is nonreciprocating, so no worries there.
Non Stock-Based Buffer
1020
at Guns.com
Prices accurate at time of writing
Prices accurate at time of writing
On top of that, the gun is super lightweight. Reducing the size of the bolt and eliminating the hefty AR buffers leaves us with a 6.5-pound rifle overall. Recoil is low and soft, and I mean that compared to other ARs.
The FM-15 is a super sweet rifle and gives us a true side folding stock combined with all the AR-15 parts, pieces, and controls you love.
Want to learn more? Check out our video review below, or head to the article here!
Final Thoughts
The AR-15 is a continually improving platform. It keeps adapting, changing, and molding itself into a rifle that will seemingly last forever. And now the ability to fold has taken the AR-15 beyond a simple gun, and it can now do something very few weapons can claim.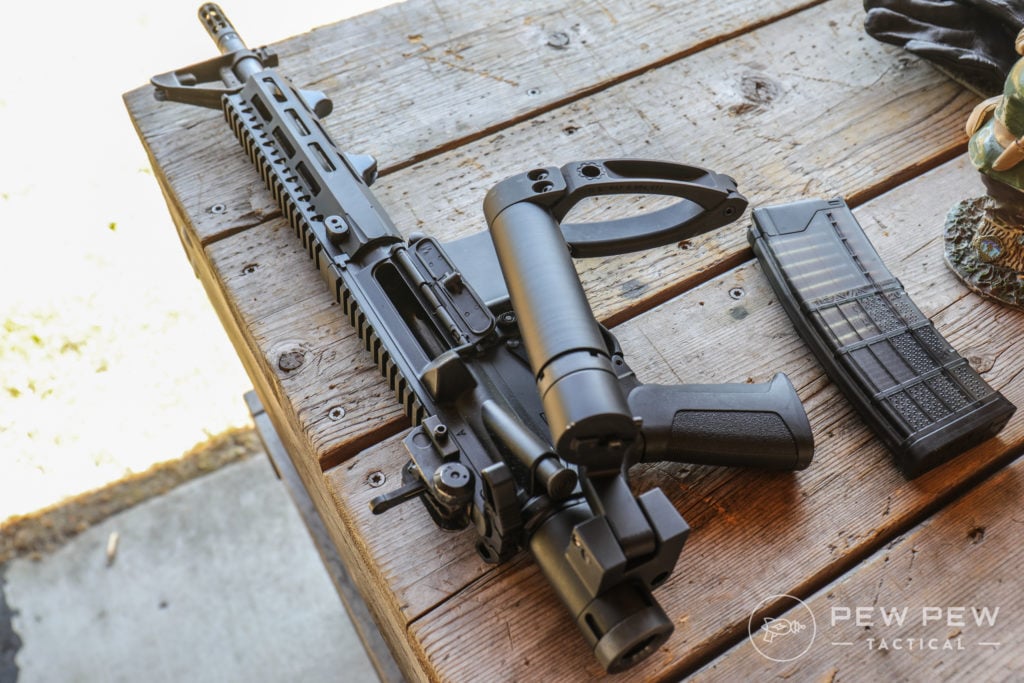 If you're looking for a more standard AR-15, our Complete AR-15 Buyer's Guide is just what you need!
Folding ARs are one of my favorite mods, what about you guys? Looking at other folding or compact guns…check out our Best Trunk Guns post.