Want to combine the accuracy of an AR-15 with the power of an AK-47's 7.62×39 round?
Why not just put a 7.62×39 upper on your AR?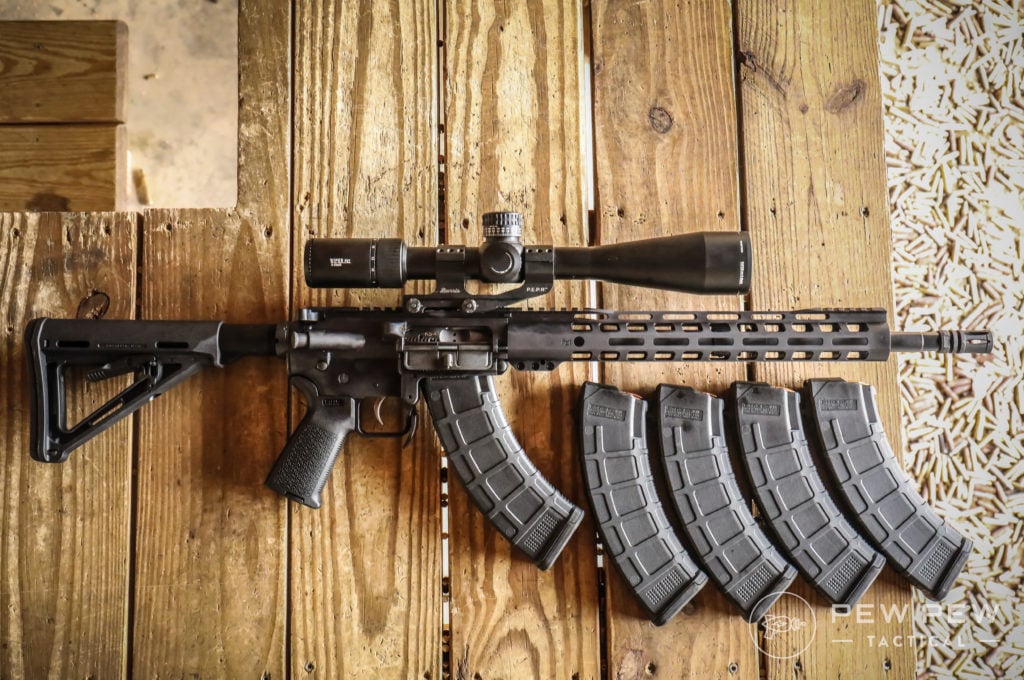 Let's start off with why 7.62×39 is awesome, then dive into the best uppers and complete rifles out there.
Table of Contents
Loading...
Why You Want (Or Need) a 7.62x39mm Upper in Your Life
7.62×39 is still one of the most popular cartridges around the world.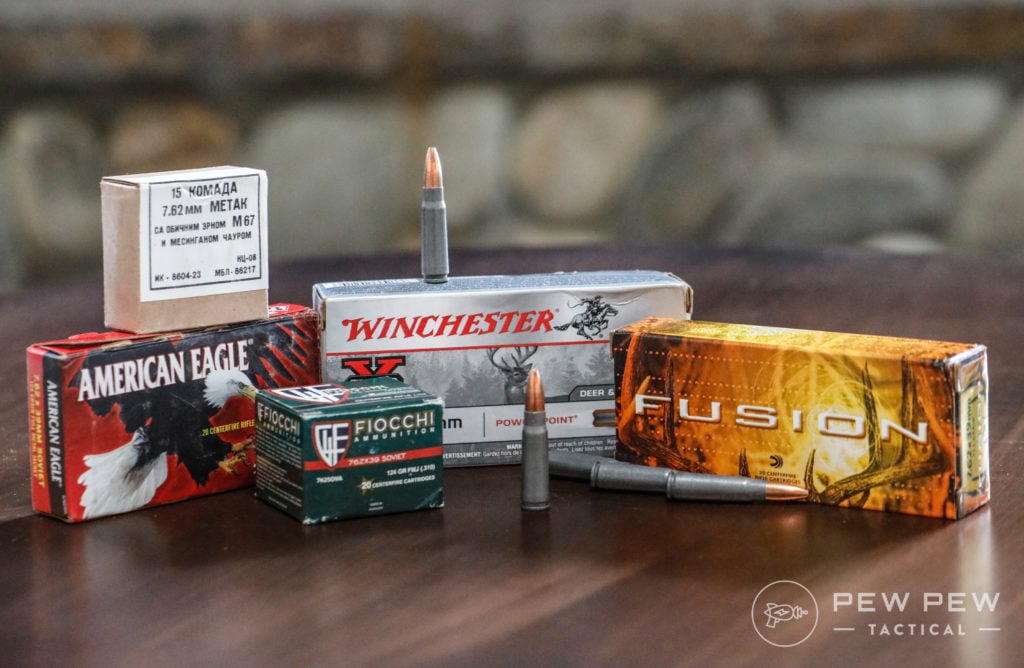 It was originally designed by the Soviet Union in the latter months of WWII.
The Soviets wanted an intermediate cartridge that could function in a multi-purpose capacity. What they got was a solid little round that would be on par with the 5.56×45 NATO rounds the West would use much later.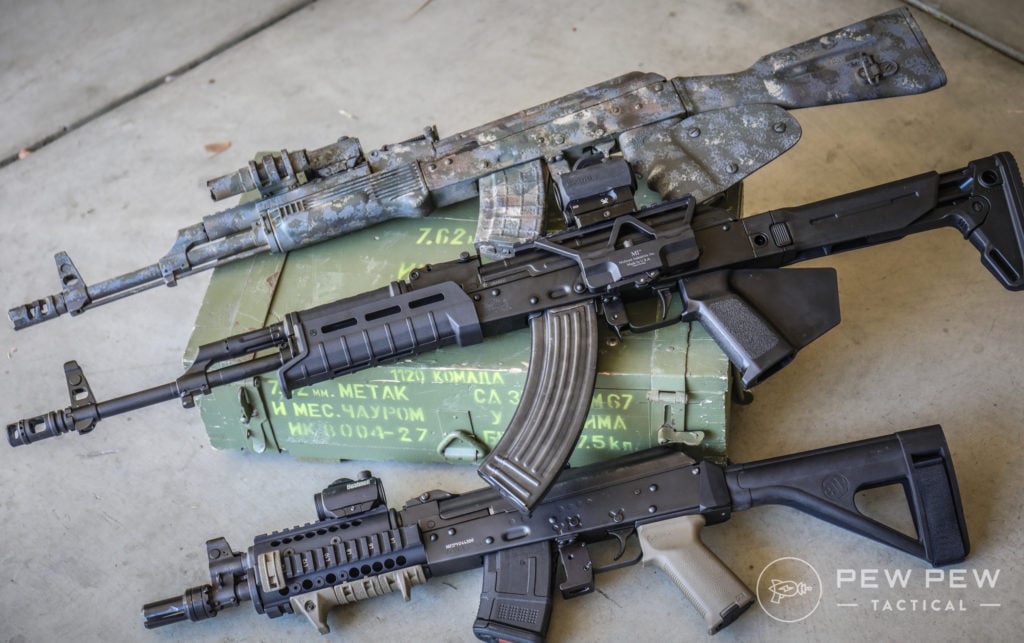 The new cartridge would go on to achieve wide acclaim for its success in close quarters combat thanks to its relatively large bullet size.
Most 7.62x39mm bullets are 122- or 125-grain, with some 150-grain stuff available if you're willing to really look for it.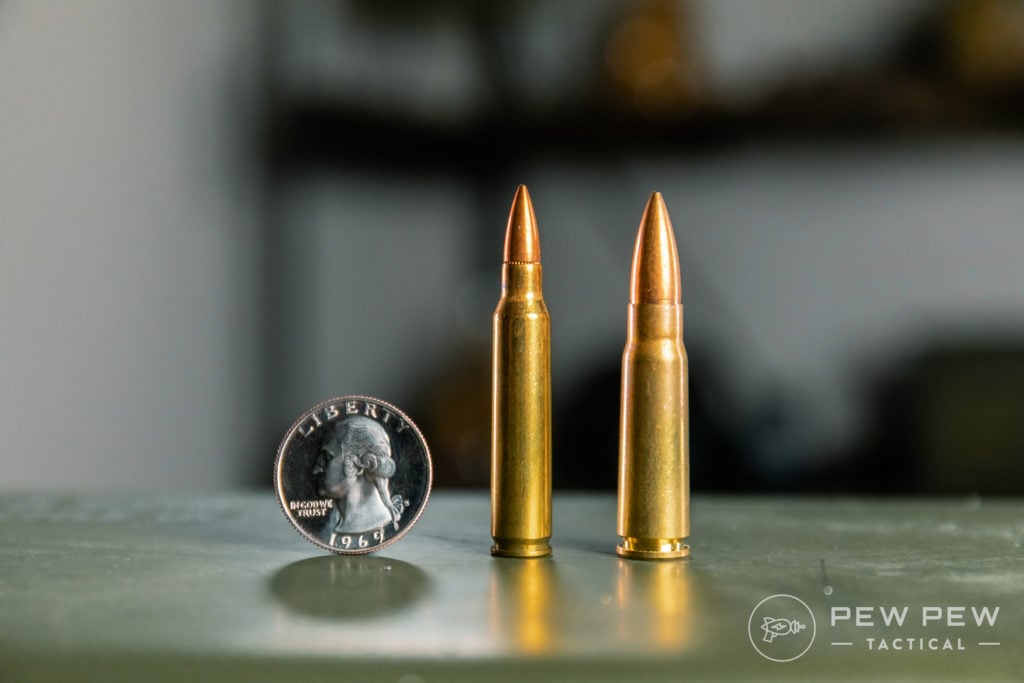 This puts it nearly on par with the modern .300 Blackout round, and indeed the .300BLK was designed to mimic the performance of the 7.62x39mm round in a lot of ways, but in a package that could be chambered by the AR-15 with minimal adjustment.
Of course, most ARs are 5.56×45, so when looking at swapping to a 7.62×39 upper, that's the comparison we're looking at…
7.62×39 vs 5.56×45: By the Numbers
| | 7.62x39mm | 5.56x45mm NATO |
| --- | --- | --- |
| Bullet Diameter: | .312" | .224" |
| Case Length: | 1.524" | 1.760" |
| Max Pressure: | 45,010psi | 55,114psi |
| Average Muzzle Velocity: | ~2400fps | ~3000fps |
| Bullet Weight: | 120-125gr | 55-77gr |
What Does This All Mean?
So, here's the takeaway from the bare-bones look at the specs.
7.62×39 bullets are bigger

5.56×45 bullets are faster

The cartridges are overall about the same size

The 7.62×39 can load a bigger powder charge, but the 5.56×45 can be loaded to higher pressure.
So, what's that actually mean?
Well, from a practical standpoint, the 7.62×39 round carries more energy into its target inside 300-meters or so. But outside of that, energy falls off and the heavy round drops quickly.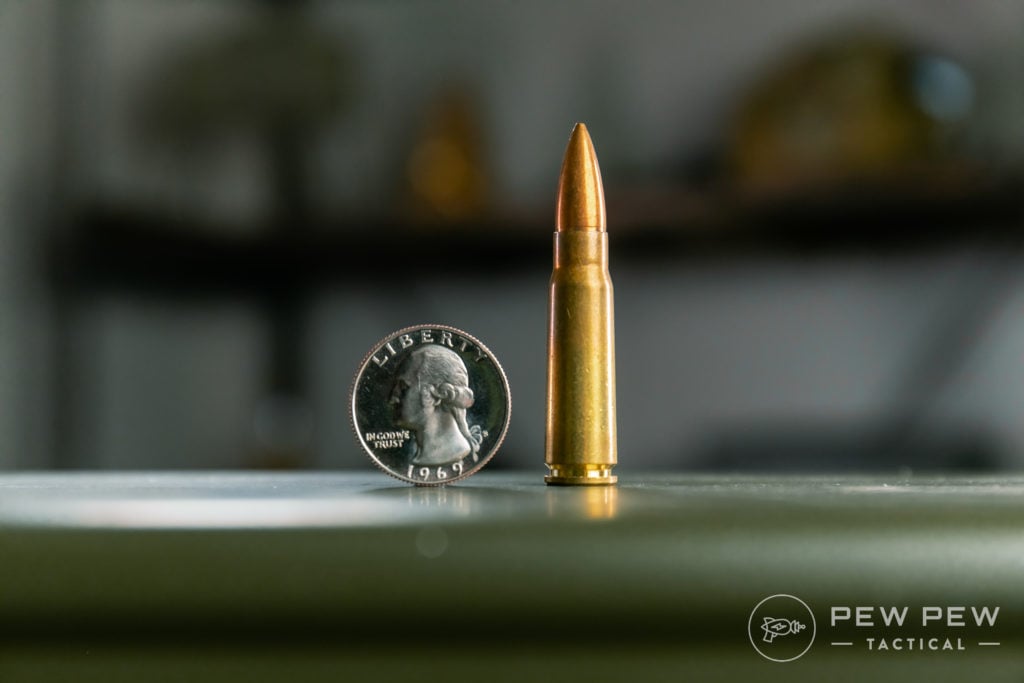 The 5.56 meanwhile is not as good on the stopping power front at close ranges. Having a lighter bullet it moves quite a bit faster, so after about 300-yards or so, you'll get more energy out of it than the 7.62×39.
Let's break that down further.
If you're hunting anything up to medium game inside of 300-yards, you'll want the 7.62×39.
It carries more energy and is plenty accurate at those ranges. If you're going after smaller game, or are looking to make shots at 400+ yards, the extra accuracy, and velocity of the 5.56×45 is going to be fine.
No need to invest in a new upper if that's the case.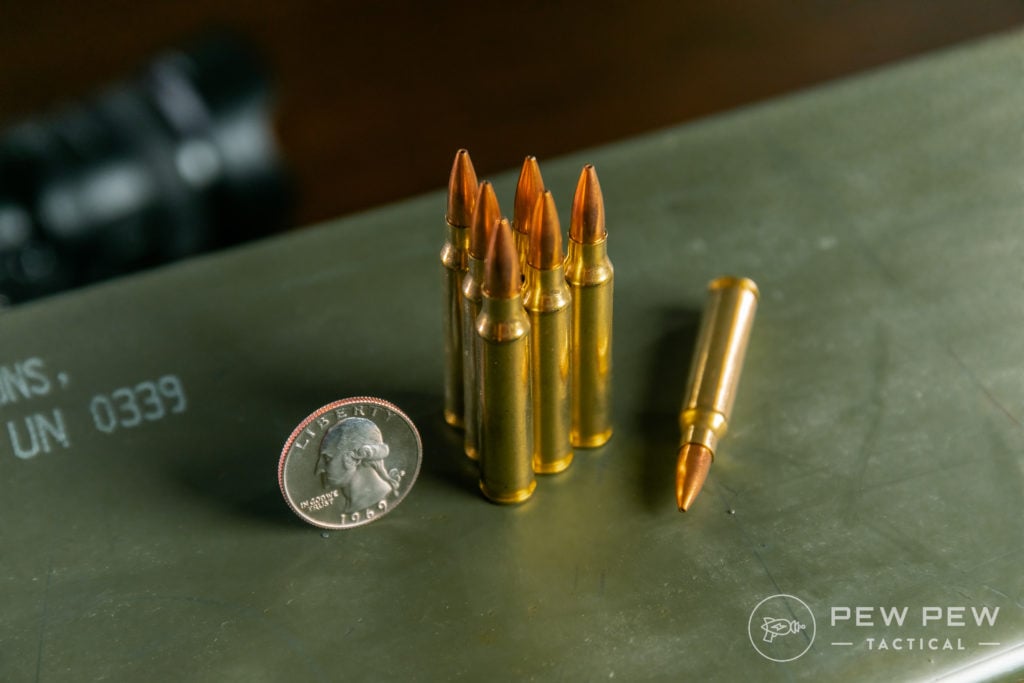 Unless you want to be a little more flexible and take advantage of the super cheap 7.62×39 ammo that is…
Now, if you're looking for something with a little more close-up power, or you just want something else to add to the collection, you might want to snag a new 7.62×39 upper for your rifle, or just build a 7.62×39 rifle from the ground up.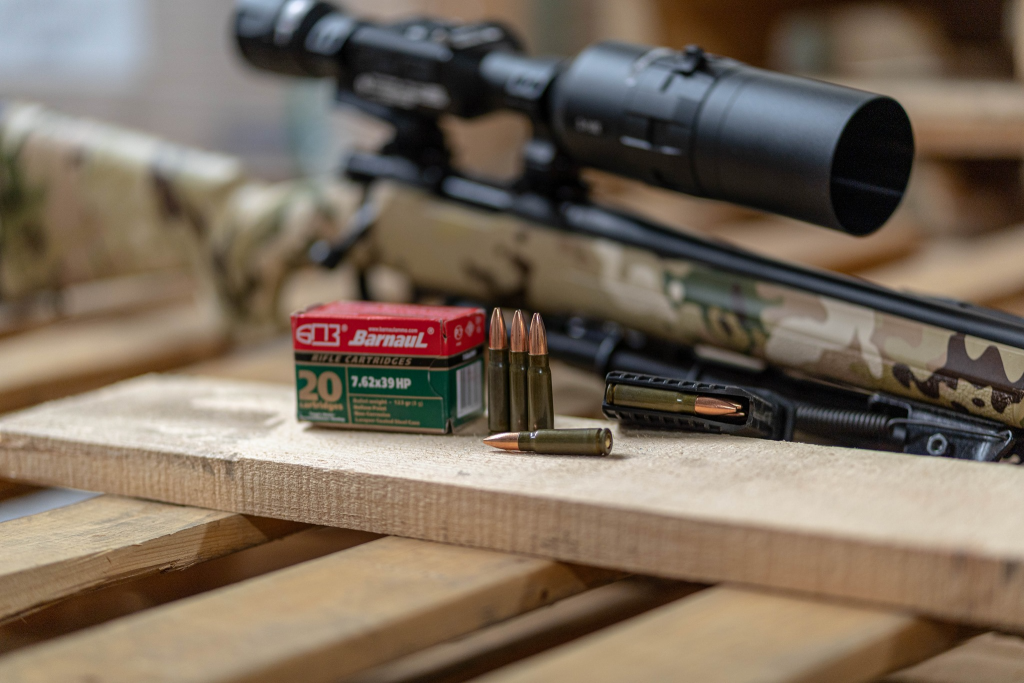 If that sounds like something you want to do, here's what we recommend for your new East-meets-West rifle!
Best 7.62×39 AR-15 Uppers & Rifles
1. Palmetto State Armory KS-47
All of the options before were great options, but the best of the batch might be the PSA KS-47.
Delivering a complete rifle for a fraction of the cost that the CMMG runs…the PSA KS-47 is also outstandingly accurate.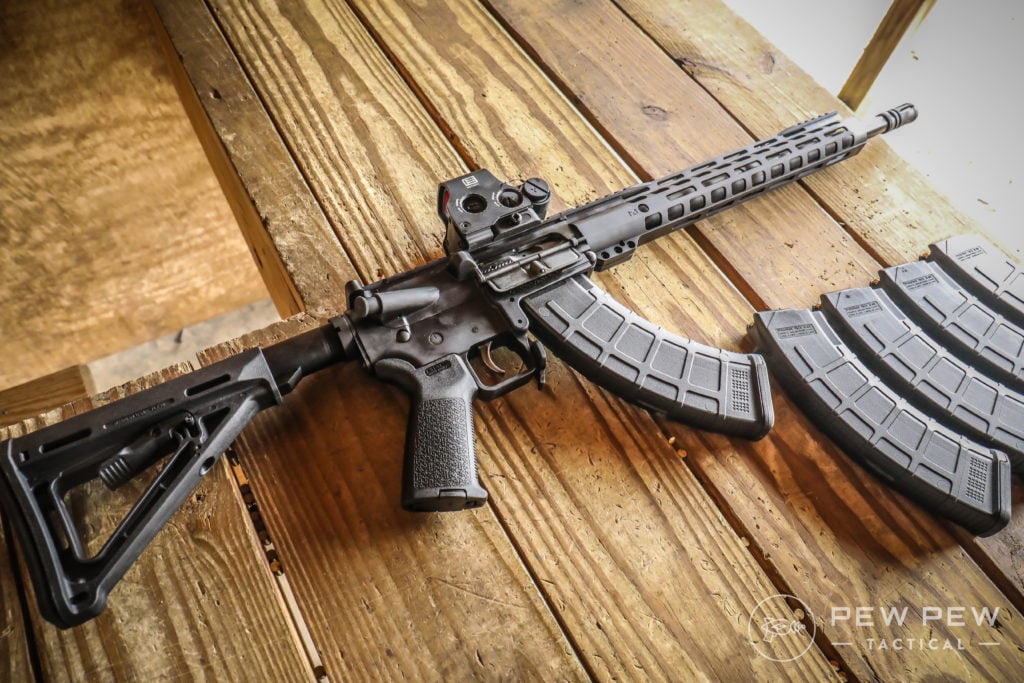 Shooting roughly 2.5 MOA, the KS-47 delivered perfect function and reliability. Impressive for a gun that runs about the price of most decent standard AR-15s.
Another perk is that PSA offers it in several configurations, including a braced pistol version with a 10.5-inch barrel!
The only downside is the lack of last-round bolt hold open (thanks AK mags).
If you want a complete rifle option, you can't go wrong with PSA!
BEST BANG-FOR-THE-BUCK 7.62x39 AR Rifle
700
at Palmetto State Armory
Prices accurate at time of writing
Prices accurate at time of writing
See our full written review for even more details and a video below!
What's your take on the KS47? Let us know by leaving a rating below.
2. Palmetto State Armory PA47 16″ 7.62X39 Complete Upper
If you're looking for a firearm that's basic, but functional, PSA has you covered with an A2-style upper in 7.62×39.
The barrel is a 16-inch chrome moly vanadium piece with a 1:10 twist, and it's set up for a carbine-length gas system. PSA's PA47's barrel is a combination front sight base/gas block and is capped off with an A2-style flash hider.

The upper itself is forged 7075-T6 aluminum and then finished with a hard-anodized coating to keep it free of scratches and rust.
I'd call this upper the way to go if you're looking for a basic 7.62×39 upper that is more about function than form. It's finished well and machined precisely, but it's pretty plain Jane and doesn't offer much in the way of customization options by default.
Best Budget 7.62x39 AR-15 Upper
230
at Palmetto State Armory
Prices accurate at time of writing
Prices accurate at time of writing
3. Palmetto State Armory AR47 16″ MID-LENGTH 7.62X39
What if "adequate" doesn't quite get the job done though? Would if you need those flashlights, lasers, foregrips, PEQ boxes, and coffee grinders? What if you just plain hate the A2 stylings the upper above?
Well, PSA has still got you covered.

Their AR-47 16-inch is an M-LOK railed version of the PA47, and it's perfect if you're looking for a bit of an upgrade over the base model.
You get a mid-length gas system and a low-profile gas block to accommodate the free-floating, 13.5-inch inch PSA lightened M-LOK rail. And there are M-LOK cuts at the 3, 6, and 9 positions and a full-length rail up top. The rail also features QD mounts for a sling if you so desire.
I love the customization options, and PSA has put some serious thought into this upper, from manufacturing to distribution.
380
at Palmetto State Armory
Prices accurate at time of writing
Prices accurate at time of writing
4. Radical Firearms 7.62×39 HBAR Radical Upper Receiver
If you're looking for something a little different that's maybe a step up from the PSA stuff, the Radical Firearms HBAR upper may be the way to go.
The HBAR-profile barrel is fitted with M4 feed ramps and is rifled at a faster 1:8 twist to get more accuracy out of heavier bullets.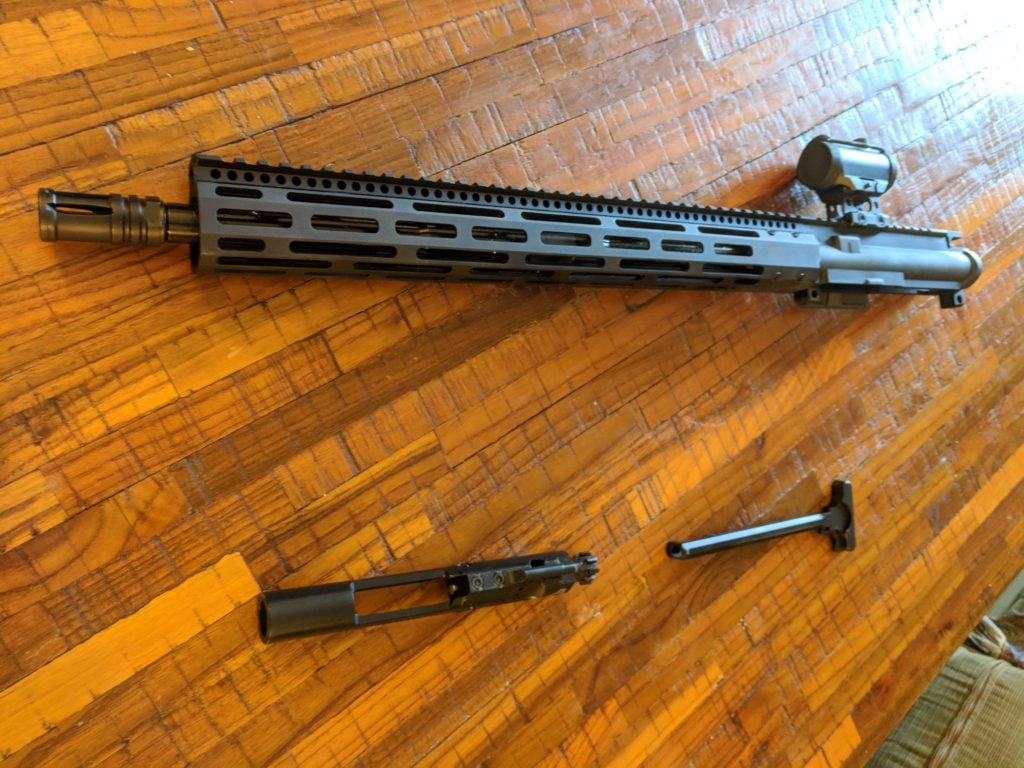 It comes with a flat-top Keymod rail that will do just as well as the M-Lok stuff when it comes to supporting your favorite attachments and optics.
However, this upper doesn't come with a BCG or charging handle – so take that into account when you budget it. You'll want to get a dedicated 7.62×39 BCG and any standard AR-15 charging handle.
433
at Optics Planet
Prices accurate at time of writing
Prices accurate at time of writing
5. CMMG Mk47
If you're looking for a complete rifle option, the CMMG Mk47 series has you covered. From full-length models to pistols, the Mk47 offers plenty of options when it comes to complete builds.
Using the AR standard direct impingement gas system and AK magazines, the series truly is just a combination of an AK-47 and AR-15.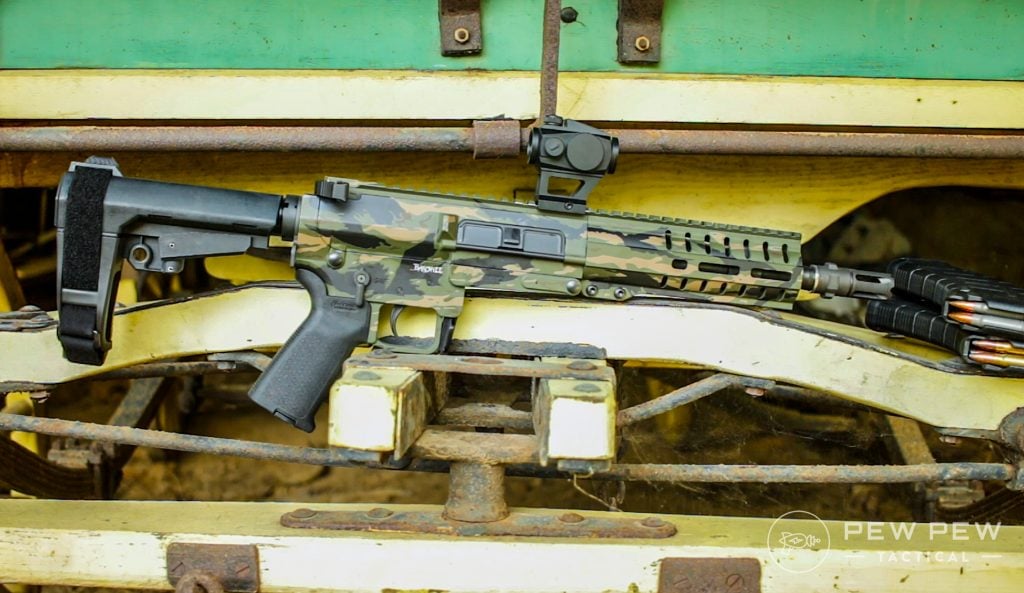 Best of all it is made to CMMG's exacting standards for quality.
While the 7.62x39mm round is not a marksman cartridge, you can count on the CMMG rifle that fires it to be as close as can be to giving you maximum precision.
1242
at Kentucky Gun Co
Prices accurate at time of writing
Prices accurate at time of writing
Check out our full review on the CMMG Mk47 Banshee or watch the video below.
6. Faxon ARAK-21
The Faxon ARAK-21 complete upper option comes in a piston flavor…complete with gas adjustment so you're ready for whatever kind of ammo you might be shooting.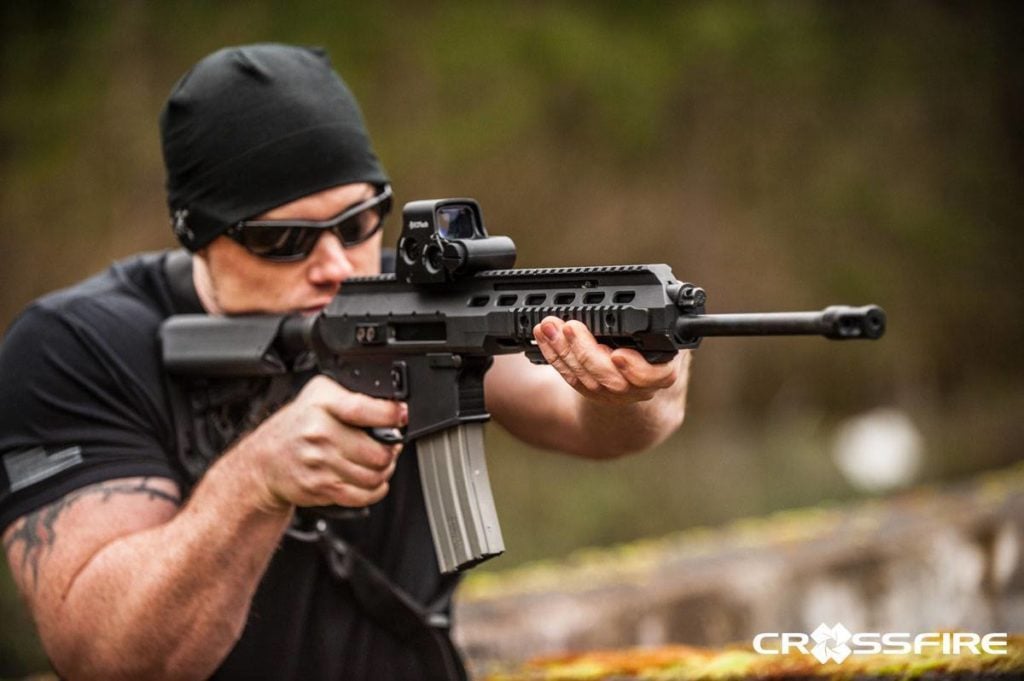 It's built a bit different from a standard AR-15 upper so some parts aren't interchangeable. BUT…it does work on a regular lower.
It's a little heavy with integral quadrails but if you want to go piston like the AK…the ARAK-21 might be for you.
Best 7.62x39 AR/AK Hybrid
1200
at Faxon
Prices accurate at time of writing
Prices accurate at time of writing
Conclusion
If you're interested in 7.62×39 and you already have an AR-15, you'll be pleased to know there are some great uppers out there that will allow you to take advantage of this legendary caliber's benefits without building a whole new gun.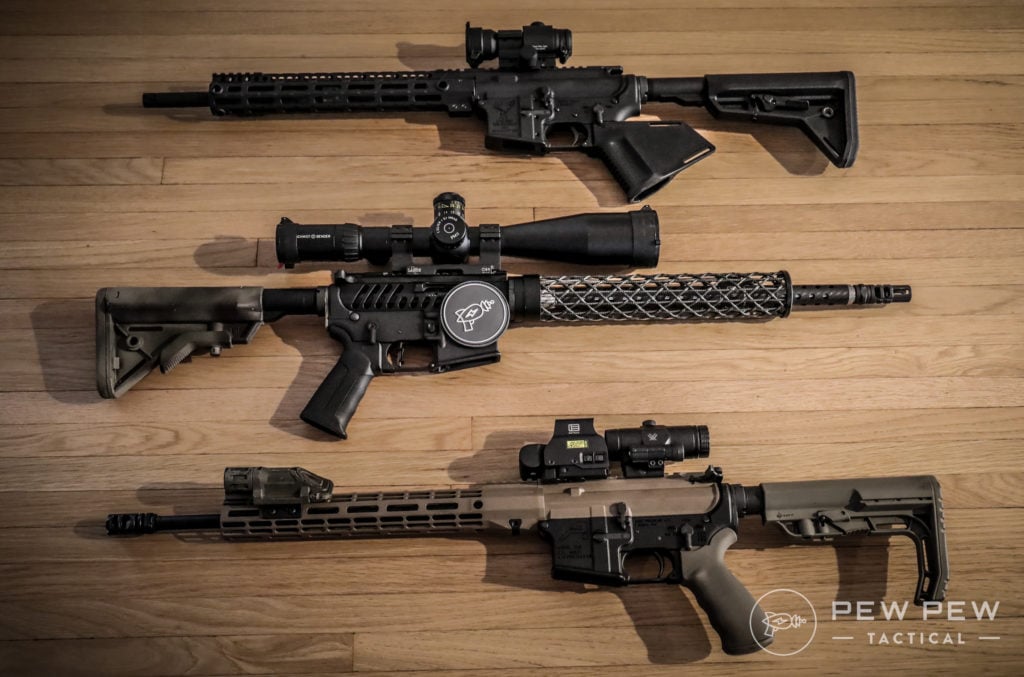 That said, if you want to build a whole new gun in 7.62×39 and don't want to build an AK, then you can just build a whole AR from the ground up.
Whatever you decide to do, these uppers won't let you down.
Got another one I should add to the list? Think this whole thing is blasphemous and an insult to both Stoner and Kalashnikov? Or how about check out the Best AR-15s and Best AK-47s?