Although this is a review for the FNH FNS-9 pistol, I'm going to start with the Glock 19.
I have referred to the Glock 19 as a "Goldilocks gun".  It's size allows it to easily be concealed for daily carry but it's not so small that it's uncomfortable to shoot.
There's a good reason why the Glock 19 is Glock's most popular model if not one of the more popular guns on the market.  It's no wonder that just about every company makes a striker fired handgun in a similar shape, size and frame.
Smith & Wesson has the M&P 9c, Springfield has the XDm 3.8 and, of course, FNH has the FNS-9 pistol.
See how I brought that back around?
The FNS-9 vs the Glock 19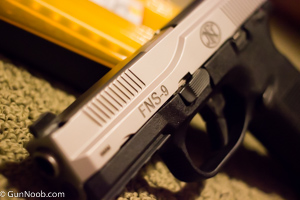 The FNS-9 4″ has a shape, length, width and unloaded weight that matches the Glock 19.  They're both striker fired 9mm pistols.  There are some aesthetic differences, of course.
Beyond that, the FNS-9 is almost exactly like a Glock 19…except slightly better in almost every way.
Cue the Glock fanboys copying and pasting their carefully worded hate message in the comments below…
I'm not going to say that the Glock 19 isn't a good gun.
It is.  It's a great gun.
It's easy to just say something is better but let's get into some specifics.
First off, the aforementioned aesthetics.  The slide is curvy and angled.  The ridge on the left side has similar curves to a 1969 Mustang.  It's got full ambidextrous controls.
On the Glock, the only thing left handed shooters get it the ability to swap the magazine release button around.  On the FNS-9, all the controls are there and ready to go.  You can swap hands and continue to use the gun with no issues.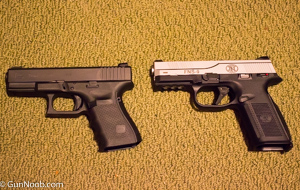 It's also got a flared magazine well.  This makes it easier and faster to swap mags.
You have the option of night sights from the factory or their standard 3 dot sight.  I have the standard sights on this one and they remind me of the XS aftermarket sights.  The dot on the front site is much larger than the rear dots and makes for very fast acquisition.  The FNS-9 holds eighteen rounds (17+1) as opposed to the Glock 19's sixteen round (15+1) capacity.
Beyond all that, when you take the gun apart there's even more indicators of the quality.
The first thing that jumped out at me were how much surface area the slide rails covered.  In a Glock 19, the rails that hold the slide on to the frame are surprisingly small.  There's just 4 small points of contact.  In the FNS-9, there's still 4 points but they take up more than half the length of the frame.
In fact, if you combined the length of all the Glock rails, it wouldn't even be as long as the rear rails on the FNS-9.  I'm honestly not sure how much of a difference that makes but, to me, it makes me feel more comfortable about the structure of the gun.
Can you tell I liked this pistol?
The thing is, my personal feelings about this gun aren't the focus.  This is a great gun but is it a great first gun?  Is it worth it to spend an average of $50 more on this than the Glock 19?
Testing time!
Ease to Breakdown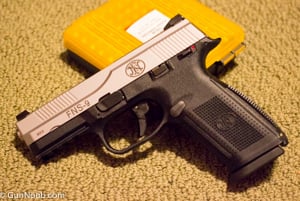 Lock the slide back and then twist the takedown lever.  Gently return the slide to its normal position then pull the trigger.  Push the slide off the rest of the way.
It breaks down exactly like XDm's, SIGs and M&Ps.
You get the added bonus of being "forced" to verify the chamber is empty before continuing to take it apart.  The SIG, XDm, and XDs all break down the same way and they got 5 out of 5 so…

Maintenance
The nice thing about striker fired guns is that they're quite simple.  In the grand scheme of things, there isn't much to them.
As I've always said, things get a bit dicey when it comes to fully breaking it down and cleaning that striker.  Also, with a slightly smaller footprint than a full sized pistol, there are some crevices that you'll have to break out the Q-tips for.
In the end, we're looking at a 4 for this one. Right on par with the Glock 19, here.
Reliability
It handed my cheap ammo as well as a few different types of defense ammo I had with me.  It ate it like I eat a package of Oreos.  Modern pistols really do a great job of working with all kinds of different stuff.  5 out of 5

Safety
The FNS-9 has the same kinds of internal safeties as a Glock 19: trigger safety, firing pin safety and drop safety.
It also has a manual safety switch.  The thing about the switch is that it's not in the way.  It's stiff to engage and can be disengaged easily with a swipe of the thumb.  In theory, you could use this gun without ever engaging the safety and not have any problems because it would work just like a Glock at that point.
It's almost optional.
Still, practice disengaging it on the draw just in case.  Beyond that, the extra feature nudges it ahead of the Glock here. 5 out of 5

Poor Technique
I tried to kill this gun.
I tried everything.
I did my uber-limp shooting with my left hand even trying to get it to jam or misfeed or bite me.
Let's put it this one: the most common problem I get when doing my poor technique tests is that, in times of extreme limp wristing, the slide won't lock back on an empty magazine.  This gun didn't even have that problem.
Slide locked back every single time.
It says something about a gun when it actually annoys you that it works so well.  Gimme something to criticize, will ya!?  5 out of 5

Starter Kit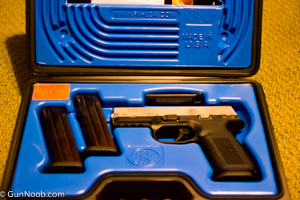 You get a very nice case, a cable lock and 3 magazines.  That's 1 magazine more than the Glock but that's about it.
Not bad but not the best.
Magazines tend to be the first thing I buy with any gun and I consider 3 magazines to be the bare minimum.  I never used the mag loader that came with the Glock but I did have to buy a mag right off the bat there.
All things considered, I'll call this one even: 3.5 out of 5.  I still haven't found anything that matches the XDm's gold standard starter kit.

Accessories/Upgrades
Here's the chink in the FNS-9's armor: toys.
While it has a Picatinny rail, which means you can pull all kinds of lights and lasers on it, there isn't much out there that's made specifically for this gun.
I wasn't able to find any trigger upgrade kits, just replacement triggers (not that you'd need an upgrade, mind you, the trigger is awesome).
The magazines are also expensive.  The average price I'm seeing is $44 and I don't see any third party manufacturers jumping in to make any cheaper ones.  Even Pro-Mag doesn't have any!  It's still a relatively new gun on the market and I'd like to think that it will get some more toys eventually.
In the meantime, I have to give it a 2 out of 5 here.

Final Word
In terms of beginner guns, this is just as good of a first gun as the Glock 19.
If you're an intermediate or even well experienced shooter, you can't go wrong with this one either.
The FNS-9 is a heck of a gun here.
In the interest of full disclosure, this was a T&E gun sent to me by FNH.  Don't think the glowing review was because of that.  I'd rather risk a relationship with a manufacturer than to risk my integrity.  Truth be told, I was actually planning on buying this gun for my next pistol when FNH offered to send it to me so it was a happy stroke of luck.
Needless to say, I'll be sending them back a check instead of the gun.  Want to learn more?  Check out our Best Pistol/Handgun for Beginners & Home Defense.
Final score: 4.5 out of 5

Previous Comments:
Posted @ 4/7/2014 8:48 PM by schmitty
Man… I've been trying to stay away from the FNH because I was afraid I would like it too much. I carry a G19 everyday. Now I'm going to have to check it out. My wife is going to hate you 🙂
Chris
Posted @ 4/8/2014 8:35 AM by 45-9
Thanks for the nice review. I love this pistol. The FS 9 is a very smooth-shooting tack nailer. Very accurate out of the box with very manageable recoil. The factory night sights are excellent and 3 mags in the box makes the price very acceptable. For folks with smaller hands, this is a great weapon. My hands ae medium but i have trouble with deep grips (front to back). The single-stack, 6+1 Glock 36 (45 ACP) was much more difficult to grip than the double-stack 17+1 FS 9, which feels like an extension of my hand with the flat backstrap. Highly recommend the FS 9.
Posted @ 4/17/2014 12:18 PM by CaptScooby
I own the .40S&W model. Since handling the 9mm, I'm wanting to go buy 2 more. FNH is all I'll ever own for anything bigger than a 9mm. I don't see a reason to diversify my collection when F
NH does everything I need it to do. True, I own the SR22, but if FNH at sometime made a .22LR, I'd be buying that too.
Posted @ 4/17/2014 3:19 PM by Steve
I have 6 pistols, and the FNS 9 is my favorite. For whatever reason, I can shoot this gun better than any other. Have 2000 rounds through it and not one malfunction. And I love the aesthetics.
Posted @ 4/19/2014 9:18 AM by Etohprn
Posted @ 4/19/2014 9:53 AM by 45-9
You need a new gun store. Suggest you contact Scott at ImpulseSports.us where I got mine. Great prices and great service. You will love the FS 9!
Posted @ 4/19/2014 11:02 AM by captscooby
Etohprn, you need a new store who isn't going to lie to you. Bass pro shop, cabelas, etc are all going to have FNH. Anyone who tells you that FNH is for military/LE only is a shop that needs to close down. Horrible advice and terrible knowledge of all the platforms available to the open market. I'd recommend FNHUSA.COM, check it and then go the page that assays local dealers. Call them and make sure they have your specific models. Don't be shy about what you're looking for either. Ask for the S, P & X models either standard or stainless steel (SS).
Posted @ 5/16/2014 10:46 PM by Brian
Personally, I think it's 5 out of 5 compared to the XDM. Most XDM's that I've looked up only come with two magazines and the mag pouch and OWB holster are not very good. Most people wouldn't use them except maybe at their first time at the range with the gun. Those magazines are expensive, and getting three right out of the gate makes it a 5/5 in my book.
Posted @ 8/24/2014 7:42 PM by matt
I just got this gun as a daily carry. I really like the glowing sights, let me better explain from the box i opened at 2 am and they where glowing!!! Almost no recoil. That you can drop the mag from either side means you dont have to lose your form. I know i just got this gun but i give it a 5 out of 5
Posted @ 9/16/2014 9:47 PM by PaulS
Great review. I agree with Brian that the third magazine earns the FNS a bump to 5 of 5 stars. The trigger on mine had a nice clean break and short reset but was a bit gritty and uneven at first. After about 500 actuations it became real smooth. I recommend lots of dry fire to help with the trigger. I also like the low bore axis for reduced felt recoil and muzzle flip, aggressive texturing for a solid grip in sweaty hands and the fact that it's fully ambidextrous (safety, mag release and slide stop). We all should practice weak hand shooting and the FNS makes it a breeze. Mine has fired bout 2,000 rounds with no malfunctions.
Posted @ 9/16/2014 9:52 PM by Steven Nihipali