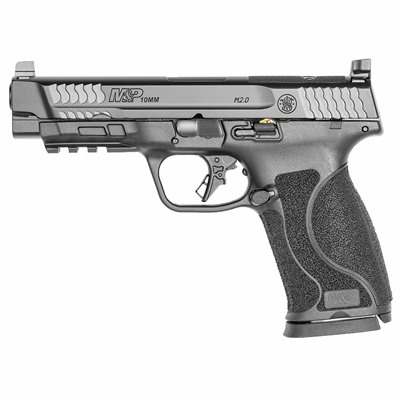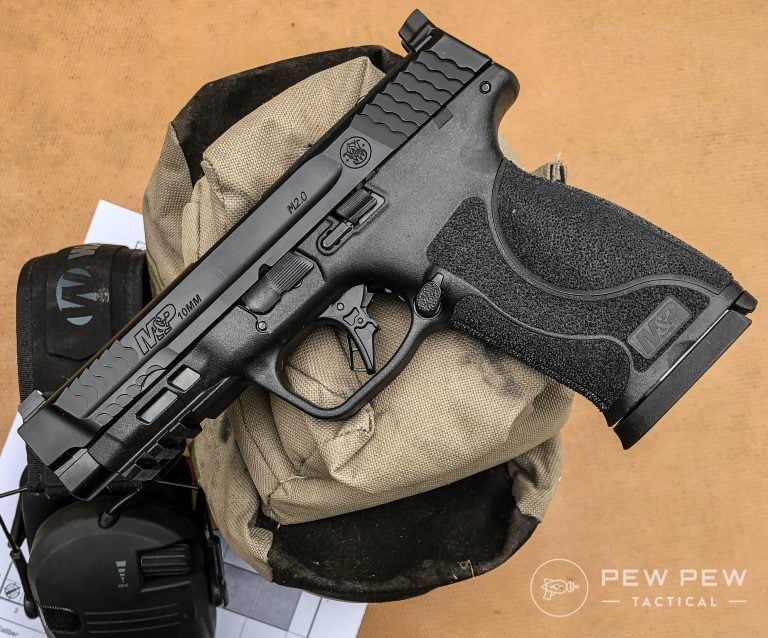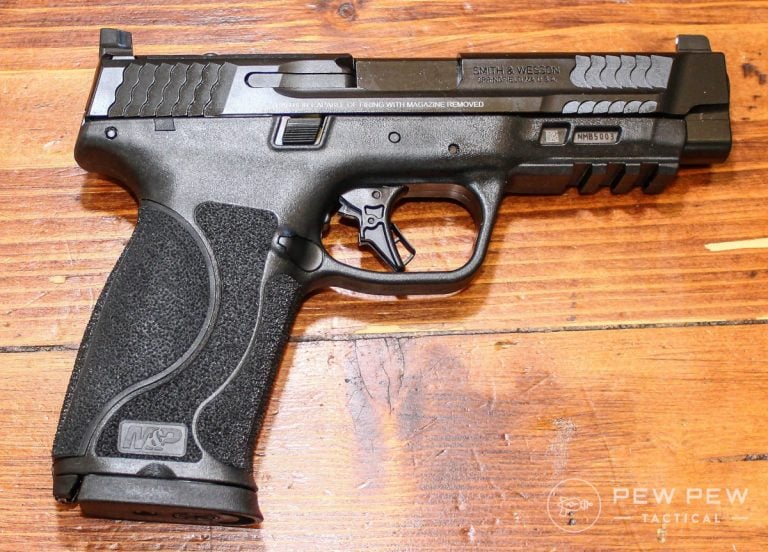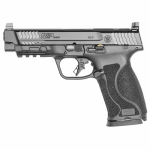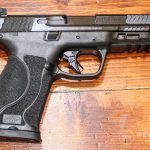 Optics ready

M2.0 flat-face trigger

Optic height iron sights
Hard-to-remove barrel

Quality control issues on some models
Editor's Note:
Smith and Wesson finally decided to revisit the 10mm cartridge and adapted their M&P 2.0 platform for it. Our test gun was reliable, shot well, and had the quality ergonomics the M&P line is known for. However, there have been some reported issues with the 4-inch models, and it should be noted that this is still a relatively new gun in Smith and Wesson's lineup.
Read full review
Smith & Wesson M&P 2.0 10mm For Sale - Compare Prices
Palmetto State Armory
Save $150
Smith & Wesson M&P 2.0 10mm Specs
Smith & Wesson M&P 2.0 10mm Features

Optics ready slide

M2.0 flat-face trigger

Armornite corrosion-resistant finish

1 in 10 twist M2.0 barrel

Optics-height iron sights
By The Numbers - Smith & Wesson M&P 2.0 10mm
Accuracy
My limited shooting wasn't a true test, but I've had no issues with other M&Ps.
Reliability
Our test gun experienced no issues, but some users have reported issues in the 4-inch variants.
Customization
You can swap out backstraps, sights, and add optics and accessories fairly easily.
Ergonomics
The four back straps allow you to fit the grip very specifically to your grip.
Overall
Hands-On Reviews & Related Post
Smith & Wesson M&P 2.0 10mm Variations & Comparables
final verdict
"The M&P line (especially the newer 2.0 models) has great build quality and is made of tough stuff. These guns should last a good long time. It would be a great comfort to have with you on a hike in bear country, as well. Talk about a lot of "oomph" in a smaller package…and with good sighting options, to boot." – Mike Hardesty
Community reviews
There are no reviews for this product yet.
Add your own rating and help other Pew Pew users pick the right guns