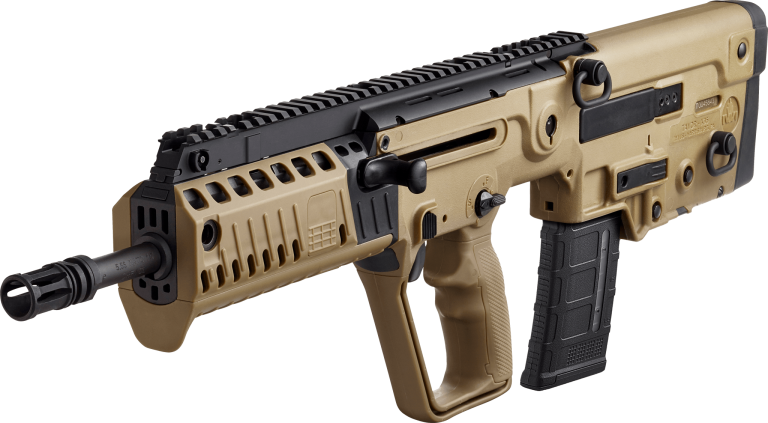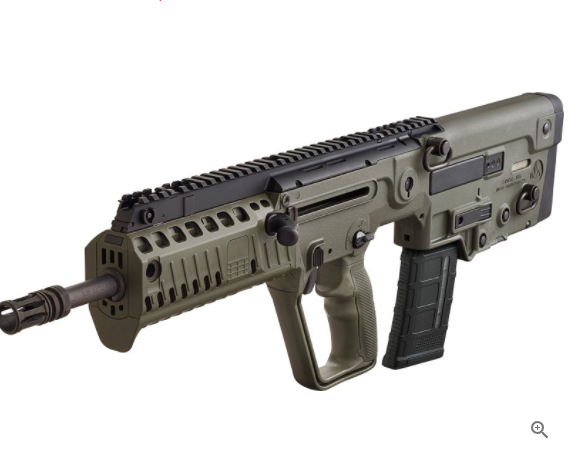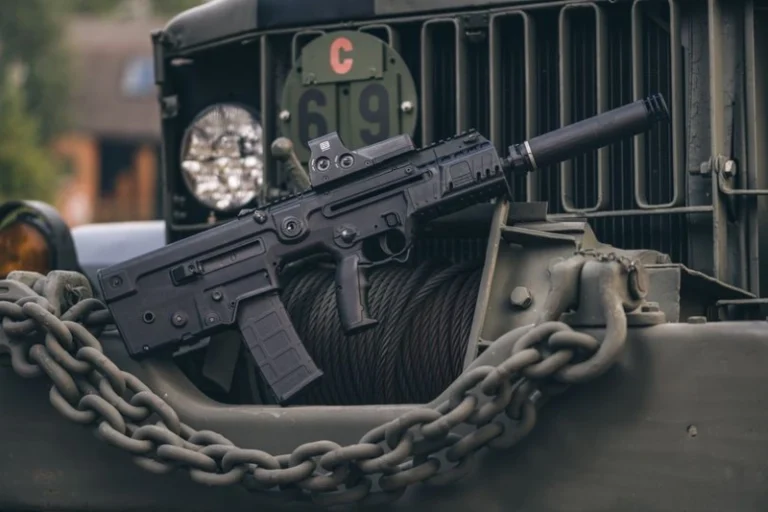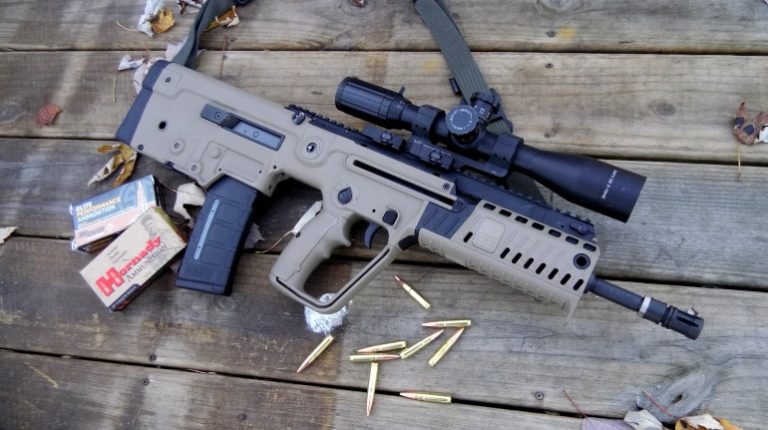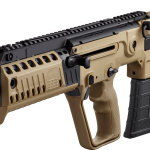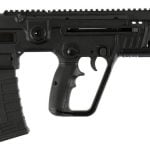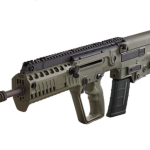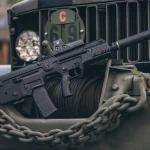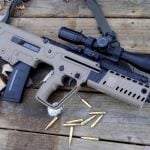 4
Short overall length

Reliable
Gassy when suppressed

Mediocre trigger
Editor's Note:
The Tavor X95 is the next-generation version of the popular Tavor SAR from IWI. Having been in service with the Israeli Defense Force (IDF) since 2010, the X95 has proven itself to be a rugged, reliable, compact combat rifle. New additions to the X95 over its predecessor include a lighter 5-6 pound  trigger, repositioning of the ambi mag release to a more favorable spot, a Picatinny railed forearm, and better placement of the charging handle. It is available in either a 16.5 or 18.5-inch barrel, giving an overall length of either 26.1 or 28.1 inches. While it is a bit heavier at around 8 pounds, this long-stroke gas piston gun bullpup provides solid accuracy and reliability in an easy-to-maneuver package.
Read full review
IWI Tavor X95 For Sale - Compare Prices
IWI Tavor X95 Features

Long stroke gas piston

Chrome lined, cold hammer-forged barrel

Folding front sigh with Tritium insert and rear sight

Bullpup configuration

16.5" or 18.5" barrel

Uses standard AR-15 magazines
By The Numbers - IWI Tavor X95
Accuracy
You cannot pretend that the Tavor is a sniper rifle or a long range beast, but for its role and caliber, it is on target at reasonable ranges.
Reliability
After nearly 1,000 rounds total, the Tavor did not give me any reliability issues. Taking a look at other higher round count reports, the durability is as solid as it gets.
Customization
With Picatinny rail in all of the right places, it's easy to adjust and configure the rifle as needed.
Ergonomics
The ergonomics were okay to me and I feel that if I practice more with this rifle I would get more comfortable and more proficient. However, it is something that will require extra training.
Hands-On Reviews & Related Post
IWI Tavor X95 Variations & Comparables
3.5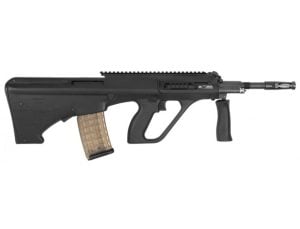 VIEW DETAILS
The iconic Steyr AUG is the oldest serving bullpup in military history, dating back to 1977. This 5.56x45mm rifle utilizes a short-stroke gas piston and a 16-inch quick-change barrel to deliver a compact, soft shooting experience.  The Steyr AUG's current incarnation is the Steyr AUG A3 M1, which is available with a short optics rail, extended optics rail, or an integrated 3x optic. Coming in at 8.8 pounds and just 28.15 inches long, the AUG is superbly balanced and is still a gold standard in the bullpup market today.
Read More
IWI Tavor X95 Upgrades & Accessories
final verdict
"The IWI Tavor X95 gives you a shorter package than some SBRs. The bullpup form factor gives you a full 16-inch barrel but the ergonomics might not be for everyone. However, customization and looks are stellar. You're going to get some head-turns at the range. I would consider the Tavor to be one of the higher-end rifles that can give a fight to any big-name AR." – Ernesto
Community reviews
There are no reviews for this product yet.
Add your own rating and help other Pew Pew users pick the right guns