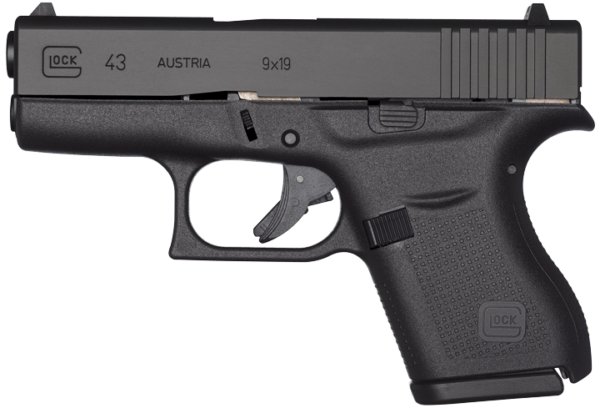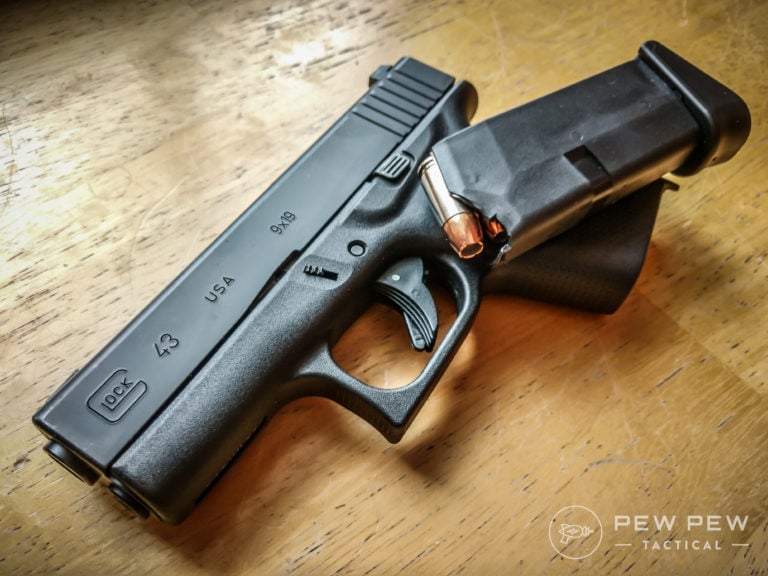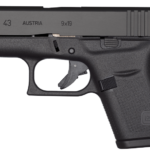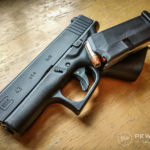 4.5
Compact and very concealable

Aftermarket support

Reliable

Affordable
Lower Capacity

Plastic sights
Editor's Note:
The Glock 43 harnesses all the world-renowned reliability that Glock is known for, all in a tiny package. Just over 1 inch wide and under 17 ounces, the G43 is easy to conceal in any environment and virtually any carry method. An extended beavertail, textured grip, and enlarged magazine release ensure that operation is smooth and recoil control is manageable. Overall, these single-stack 6+1 pistols are great for those who want a reliable, small, concealable pistol.
Read full review
Glock 43 For Sale - Compare Prices
Glock 43 Features

6+1 capacity

3.41" barrel

Nitride finish

2 magazines included

Glock Safe-Action trigger
By The Numbers - Glock 43
Accuracy
For a small gun with Glock standard sights, it is reasonably accurate. It won't win an Olympic event, but it doesn't need too either.
Reliability
This is why you buy a Glock because they work. Always. Period.
Customization
Lots of options out there for Glock firearms, but much of that is lost since this is a small CCW.
Ergonomics
Most small CCW pistols don't feel great in the hands, but the G43 is surprisingly ergonomic once you get used to it a little. This can also be modified a bit with grip tape or stippling.
Overall
Hands-On Reviews & Related Post
Glock 43 Variations & Comparables
Glock 43 Upgrades & Accessories
final verdict
"Overall, it's easy to see why the Glock 43 is one of the most popular CCW pistols. It's small, has decent capacity, great ergonomics, and is utterly reliable. I can only fault it on looks but there's enough aftermarket parts to remedy that. In all – the Glock 43 is what you would expect and require from Glock, a reliable firearm that you can trust your life to." – Johnny B
Community reviews
There are no reviews for this product yet.
Add your own rating and help other Pew Pew users pick the right guns