Open carry versus concealed carry is an unending debate on social media, in gun forums, and in real life.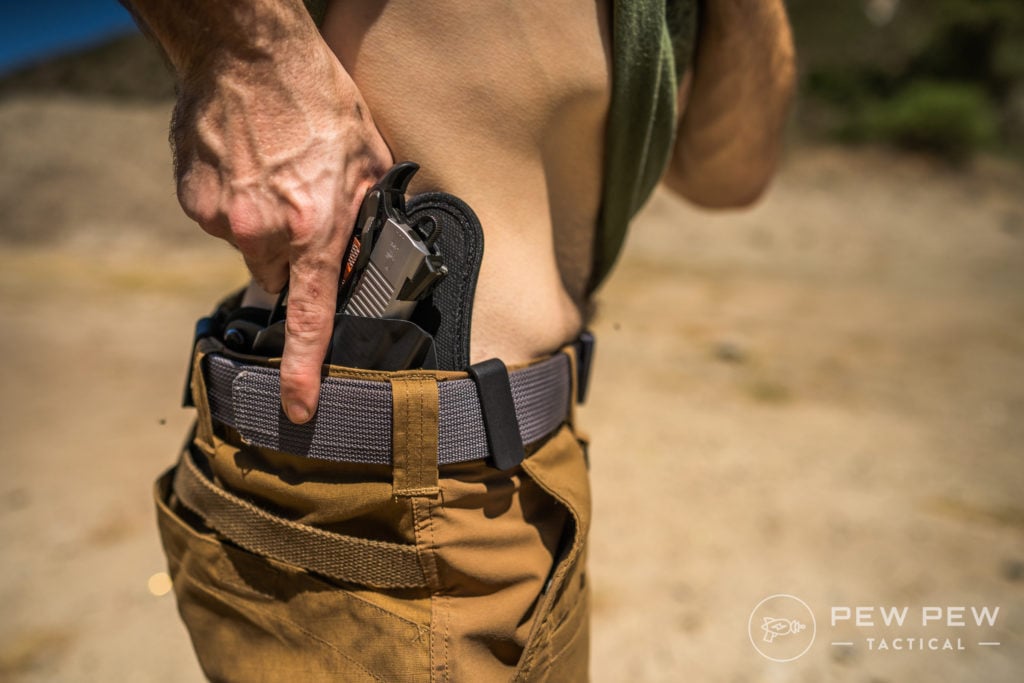 The concealed carry (CC) guys tend to see the die-hard open carriers as arrogant boys with toys who don't take self-defense seriously.
The open carry (OC) guys tend to think concealed carry somehow diminishes the Second Amendment and defeats the entire purpose of having a gun (deterring bad guys, right?).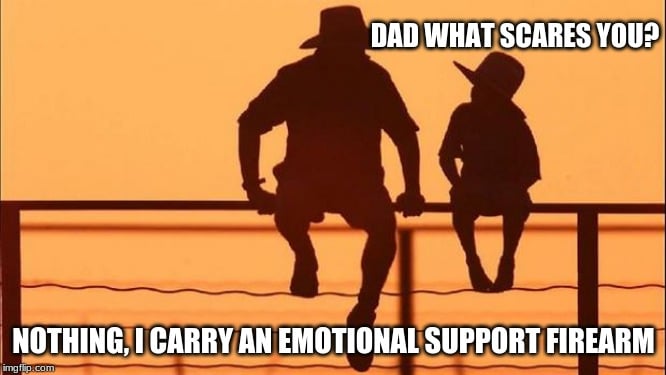 In the end it is not exactly a black-and-white issue, though.
There are pros and cons to both OC and CC, a time and place for each, and things you should know before running your mouth against one or the other.
If you're carry-curious, you came to the right place.
Table of Contents
Loading...
Second Amendment
Maybe this seems an unlikely spot to begin a discussion over carry methods but it's actually fairly logical. For your refresher, here's the text of the Second Amendment:
A well regulated Militia, being necessary to the security of a free State, the right of the people to keep and bear arms shall not be infringed.
Notice it doesn't say "hey, we, the founding fathers, grant you the right to have a gun."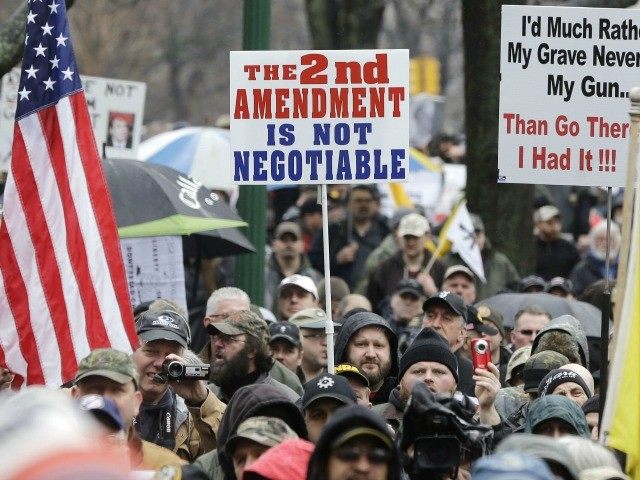 No.
The right to bear arms is inherent, not granted. The Second Amendment simply reinforces it in writing–and a good thing too considering how hard the anti-gun side has pushed to take it away.
In addition, it does not say "the right of the people to keep and bear arms if they open-carry/conceal/sling an AR in Walmart." The Second Amendment doesn't care how you carry. It simply is.
But wait, there's more.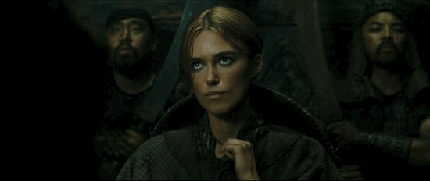 Flashback Time
Full disclosure: I have always preferred concealed carry.
Even as a brand-new handgun owner it never occurred to me to wander around with my handgun out in the open on my belt. This might be because my formative years were spent with trainers like Marty Hayes and Mas Ayoob, which effectively drew the line in the sand for self-defense.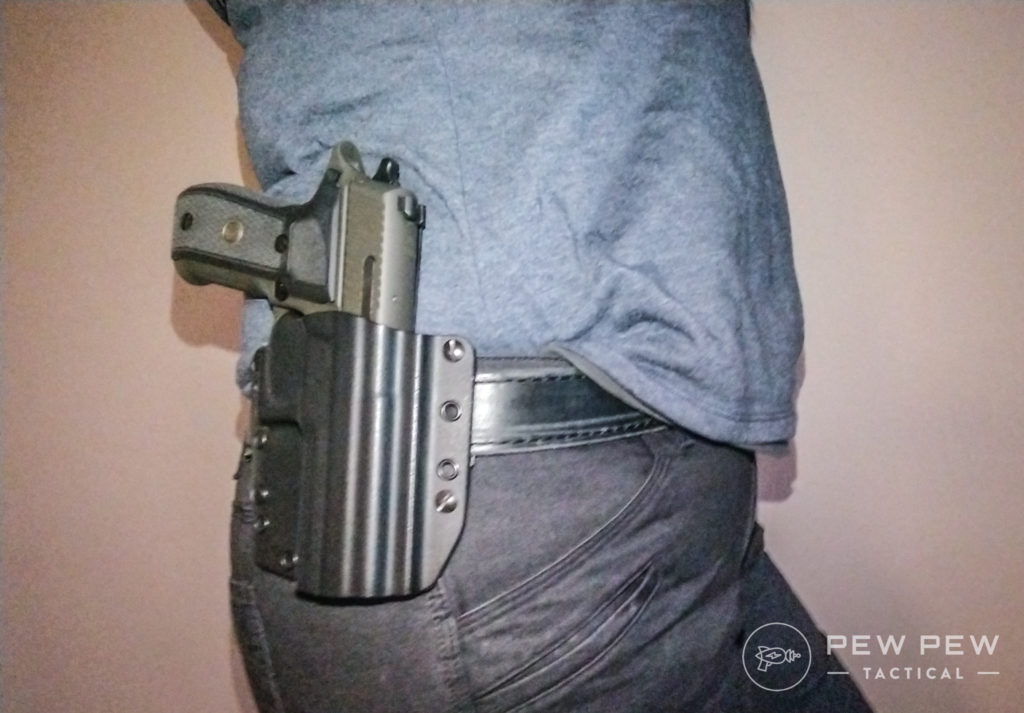 Or it might be because I entered the gun culture myself. I did not grow up in it, was not influenced by outside sources, and did not hang out on gun forums. Whatever the case I do CC a lot.
Do I ever OC?
Oh, absolutely.
Here's why.
Open Carry
Open carrying is the term used in the gun world to describe gun owners who carry their firearm in plain sight. It might be a handgun holstered outside their clothing for all to see or it could be a rifle slung over their shoulder.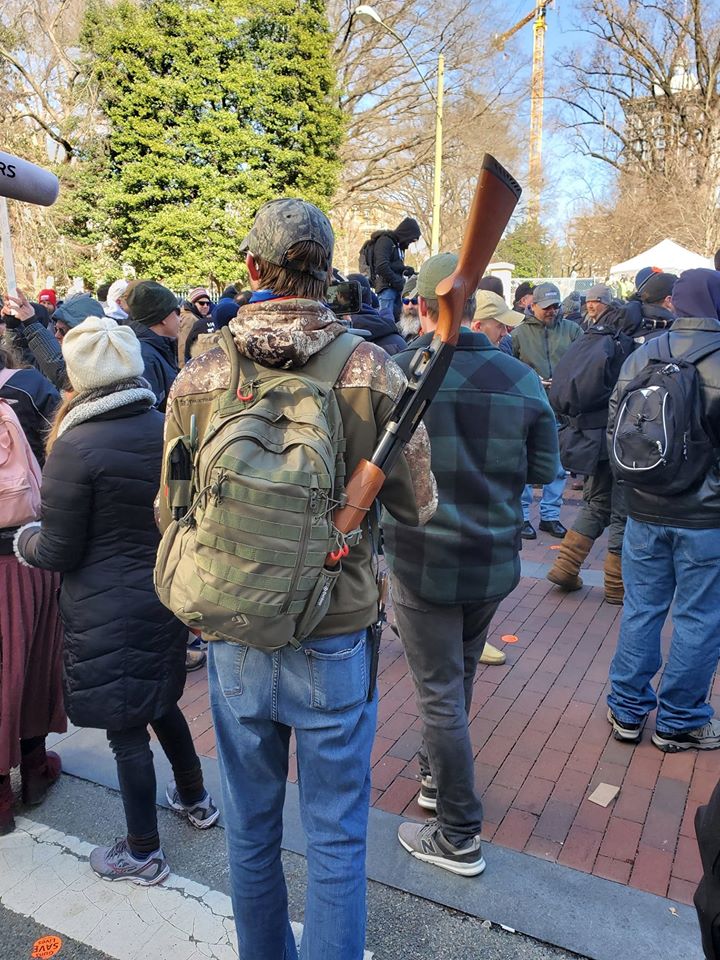 The point is, you see it. Some guys who OC are, indeed, the stereotypical swaggering dudes who picture themselves as John Wayne, only in sneakers and Oakleys. But not all of them are.
The times I am most likely to be seen open carrying are around my home–because, comfort–at gun rights rallies, and while hunting. As with any carry method, you must know the laws where you're carrying.
Not all locations are the same, so do your homework.
When I OC it is for comfort and/or convenience. On a recent cross-country move, I did a lot of OC to keep the gun from digging into my body through dozens of hours of driving. I did keep a hoodie handy as a cover garment when necessary.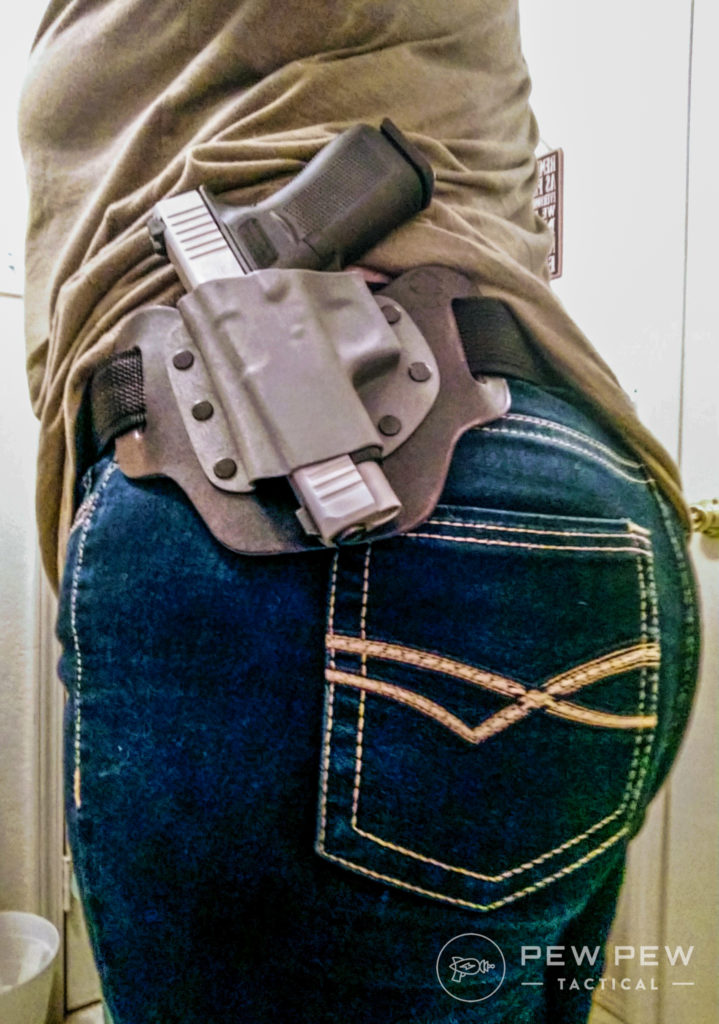 When I hunt I carry a handgun nine times out of ten.
Not all areas allow you to carry a handgun while you're hunting but in most states, it is permitted during rifle season or if you have a carry permit–or both.
As for rallies, I've attended more than a few gun rights rallies in various cities and fall somewhere in the middle between the guys who show up totally unarmed and the rabid ones with the most outrageous gear and gun possible on display.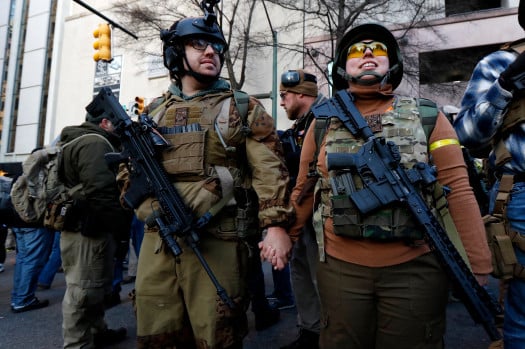 Here's the reality of open carry. It can be done respectfully and responsibly. It does not have to be a look-at-me display in Walmart. Quite a few trainers I know and respect OC on a semi-regular basis.
They are also the quintessential Gray Man: they blend in, they do nothing to attract attention to themselves, and they are well-trained. They don't OC for attention or fun they do it for convenience, comfort, or out of long habit (such as a past in border patrol or LE).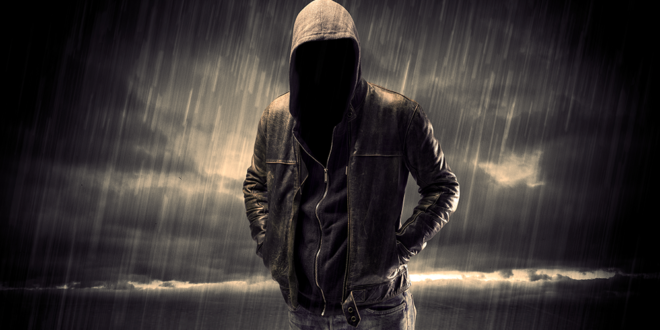 Sometimes it's just easier to flow from teaching a class to going to the grocery store without changing up your holster or gun.
On the flip side are the guys whose egos precede them. They carry openly "cuz muh rights" and purposefully flaunt their firearms.
These are the people you spot on street corners, in the grocery store, and basically anywhere heavily populated doing what I think of us the gun version of cramming their lifestyle down the opposition's throat.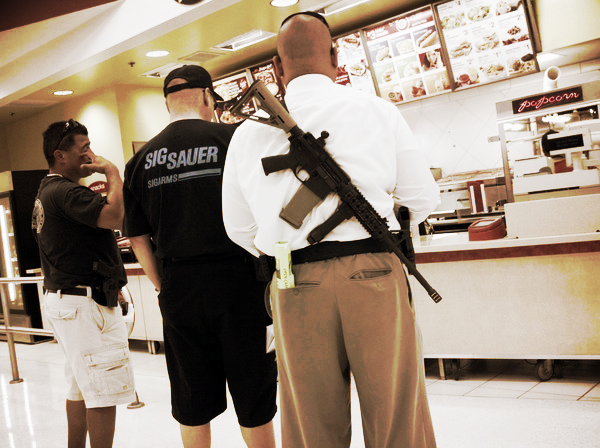 If you are going to OC, do it right.
Understand it can paint a target on your back. The guys who claim it's ludicrous to believe OC draws the eyes of criminals are just as foolish as the ones saying it's a powerful deterrent. There are no absolutes.
This means choosing a good retention holster–no, not a SERPA–and the proper carry position on your body. You do not need to use only Level Three retention holsters for OC, they just need to be good quality.
They should also keep your gun as protected as possible, avoid muzzling your fellow man–shoulder holsters tend to be no bueno–and facilitate a smooth drawstroke. If you do not understand the value of solid retention, take your preferred OC holster to a force-on-force class.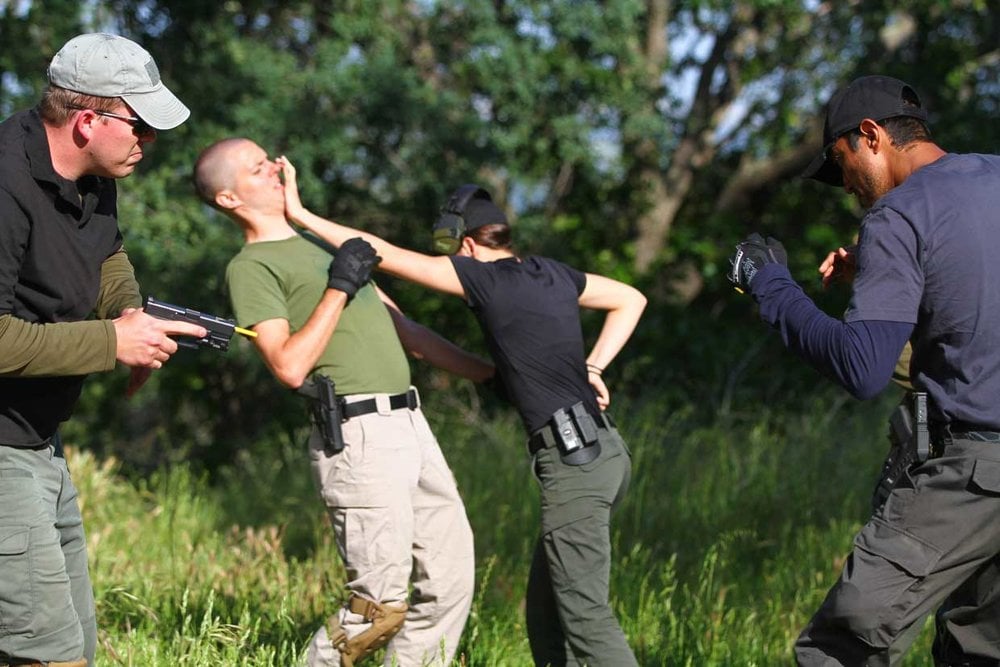 You'd be amazed how many guns I can steal from grown men who are much larger than me if I am willing to make certain sacrifices like allowing them to control one of my arms or using my weight to throw them off balance.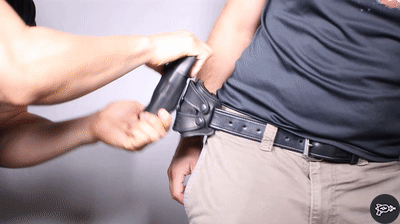 The type of holster, its fit to your handgun, and where on your waist you carry it are factors that must work together for successful OC. And if you OC, be on alert.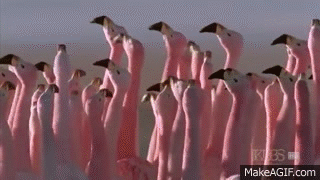 It doesn't matter if you believe criminals see your visible firearm. That's like saying you don't believe in the government because it's a faceless entity.
Guess what, the government and its taxes and regulation believe in you. Criminals see you. Act accordingly.
Concealed Carry
First things first: we are not wandering off into the weeds about AIWB versus IWB versus five o'clock versus Levis versus Wranglers.
This is about concealed carry in general, not specifically where on your body you do it.
Any references I make to position are meant only to illustrate my point not to tell you what to do. We can save that for another time (I'm always happy to tell you what to do with firearms).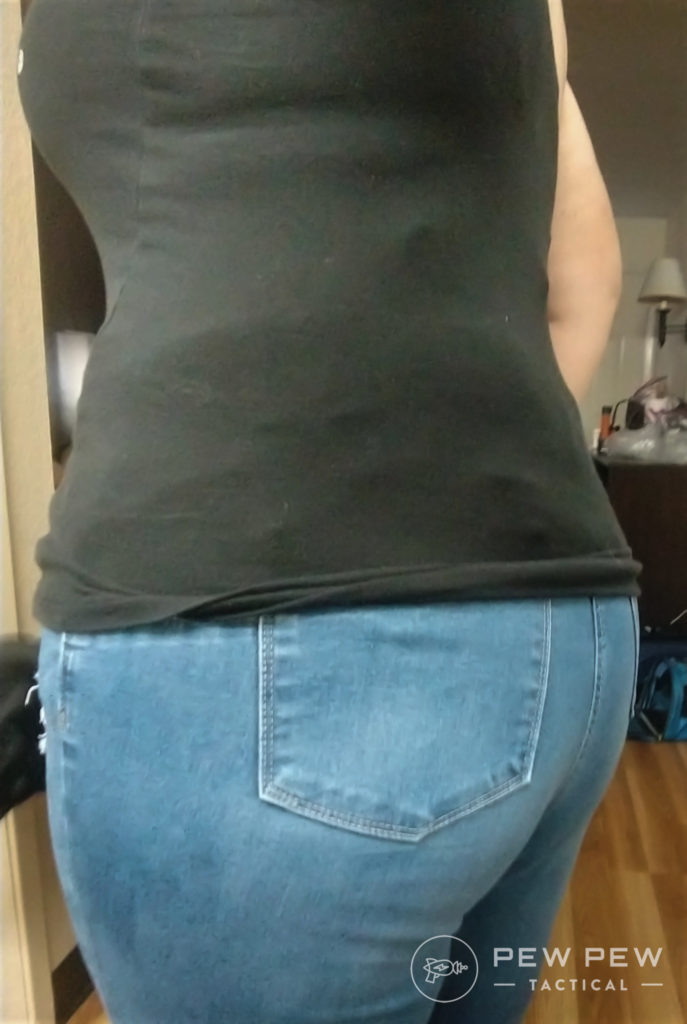 In some ways, CC is what being the Gray Man is about. It gives you anonymity, allows you to retain the element of surprise, and keeps private matters private.
If you're concerned CC limits the sizes of handguns you can carry, don't be.
If I can conceal a full-sized 1911 or a Glock 17, so can you. It's all a matter of finding the right holster, using a proper belt, and making necessary concessions in your wardrobe.
(Want to learn more about concealed carry holsters? Check out our hands-on review of the Best CCW holsters!)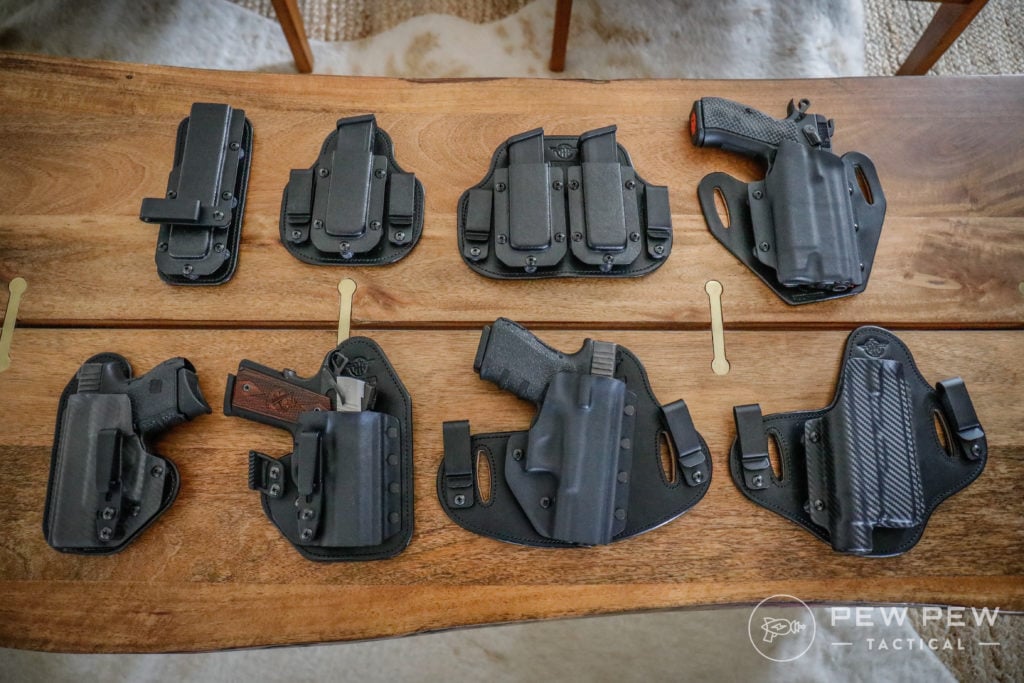 When I first began carrying I did it AIWB in what I can only describe as a sloppy holster. Today I still carry AIWB on a regular basis–but in a stellar holster–but I've also learned to be somewhat flexible. Different days and activities work best with specific guns and holsters.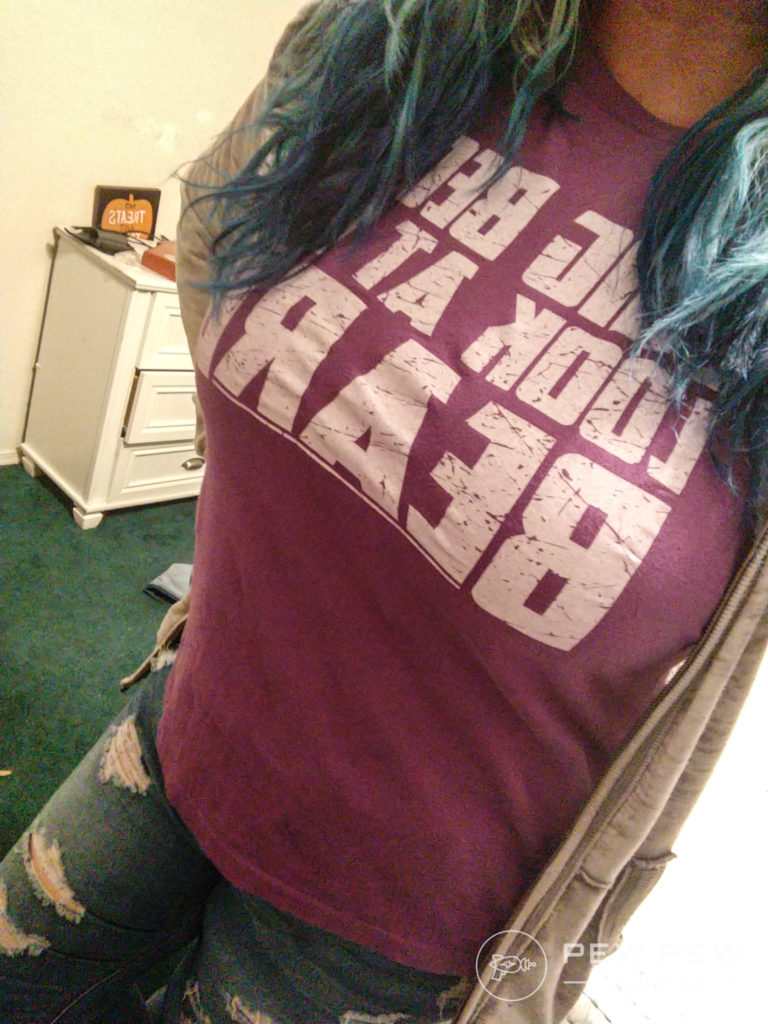 If you're thinking you only own one handgun so it is not an option, well, you can have one handgun and multiple holsters. In fact, it is smarter to invest money into quality training and gear for your one handgun than it is to buy a second handgun without proper training or good holsters and belts.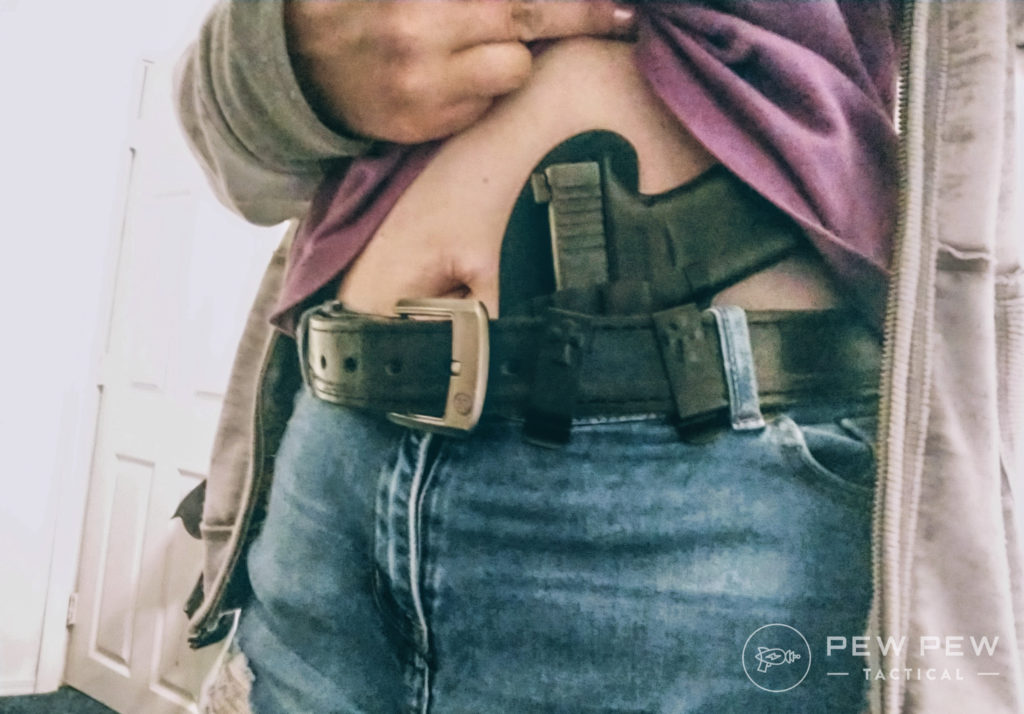 I cannot stress this enough: know how to run your gun–and that includes drawing from your EDC holster.
Concealed carry does not negate your responsibility to train and use quality gear.
The right holster and belt can make or break carry; I've lost track of the number of people I've heard claim they cannot carry one way or another when it's really a matter of finding a proper holster (or wearing a gun belt that actually holds up your gear).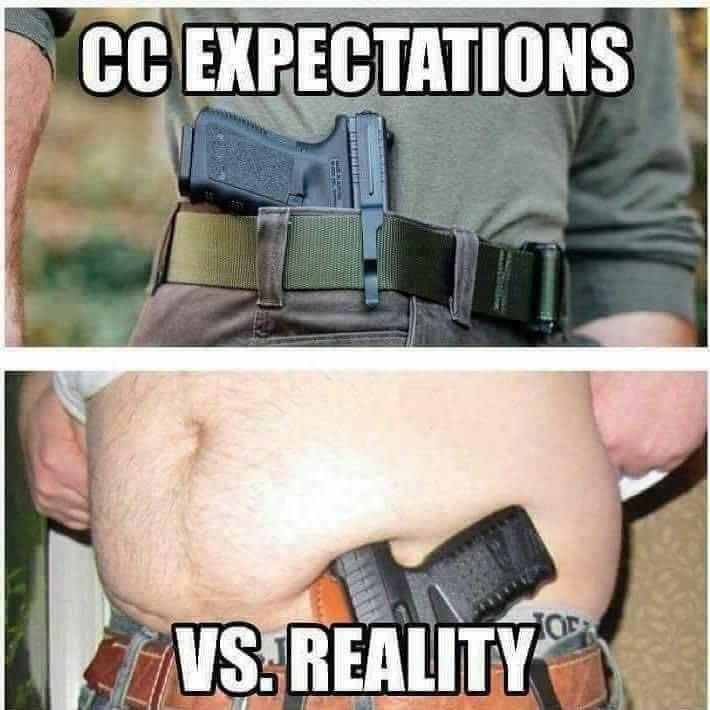 That does not mean everyone out there can or should carry AIWB, by the way. I can hear the comments on that topic before you even type them out.
It just means every successful concealed carry guy has a box–or an entire closet, ahem–full of discarded holsters. We all have a learning curve and our bodies are different. Our needs are different.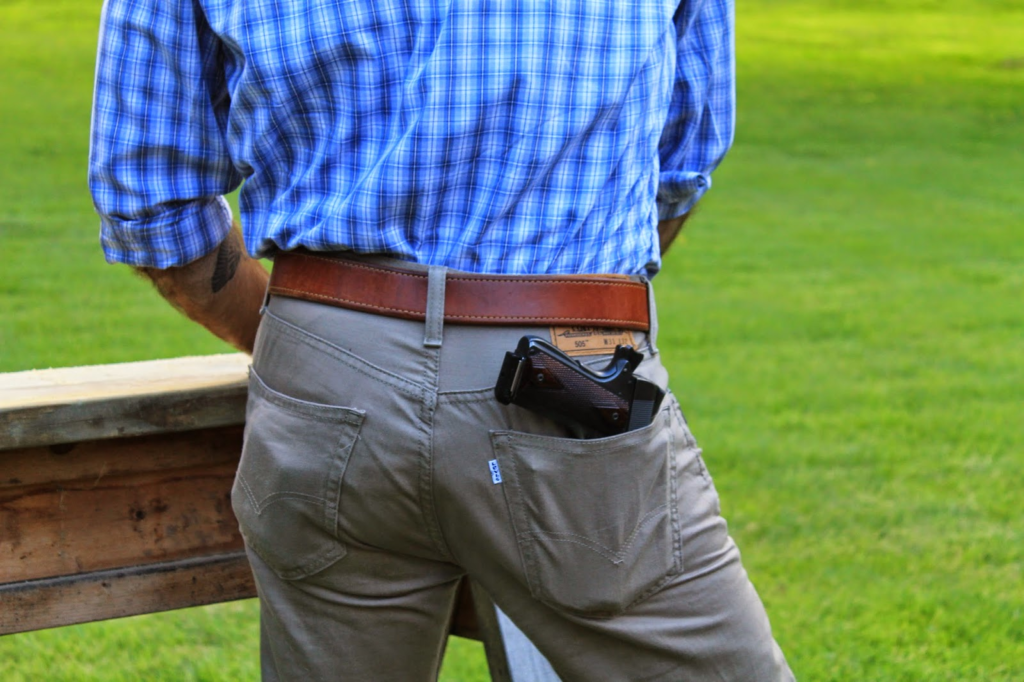 Learn to dress around your gun according to your needs not the preaching of some dude on Facebook.
Does CC slow your draw?
Sort of.
Yes, it is technically slightly slower than an OC draw, but you can train for significant speed. I've seen half-ass, lousy drawstrokes from OWB, IWB, and AIWB holsters. It isn't about the holster, it's about you and the work you put into your skills.
How about printing, is that a serious problem? Yes and no. From a legal standpoint, the significance of printing depends on where you live.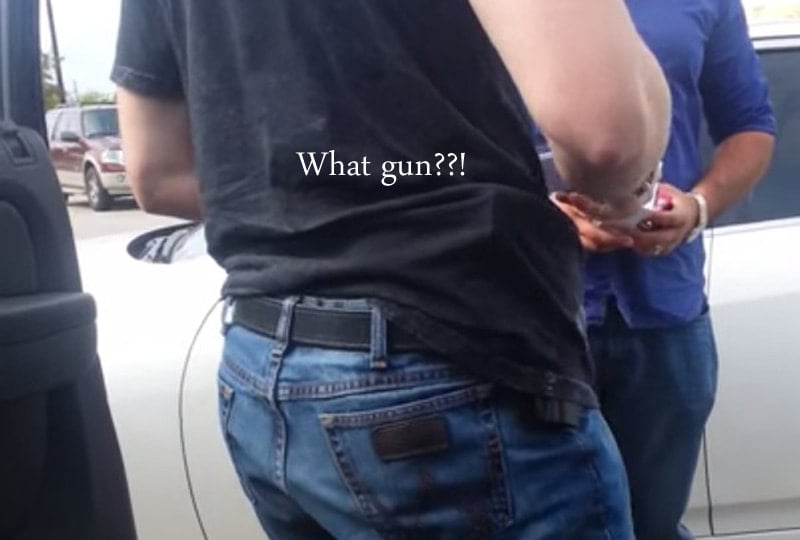 From a professional and responsible standpoint, you should do your best not to print. It kind of ruins the point of CC if the outline of a gun is clearly visible.
Conclusion
Pros of OC include the gun being more readily accessible and greater comfort than having a gun inside your waistband. Cons of OC include the gun being visible for anyone and everyone to see which does make it easier and faster for a criminal to grab it (or target you).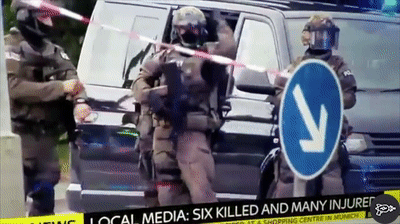 Pros of CC include the obvious–concealment–giving you privacy, the element of surprise, and subtlety in unfriendly environments. Cons of CC include that it does take some getting used to, you may need to adjust your wardrobe to make it work, and it fractionally slows draw time.
If you are going to open carry, do it for the right reasons. Ego and shoving your gun rights down the opposing side's throat are not reasons to open carry. Quite the opposite.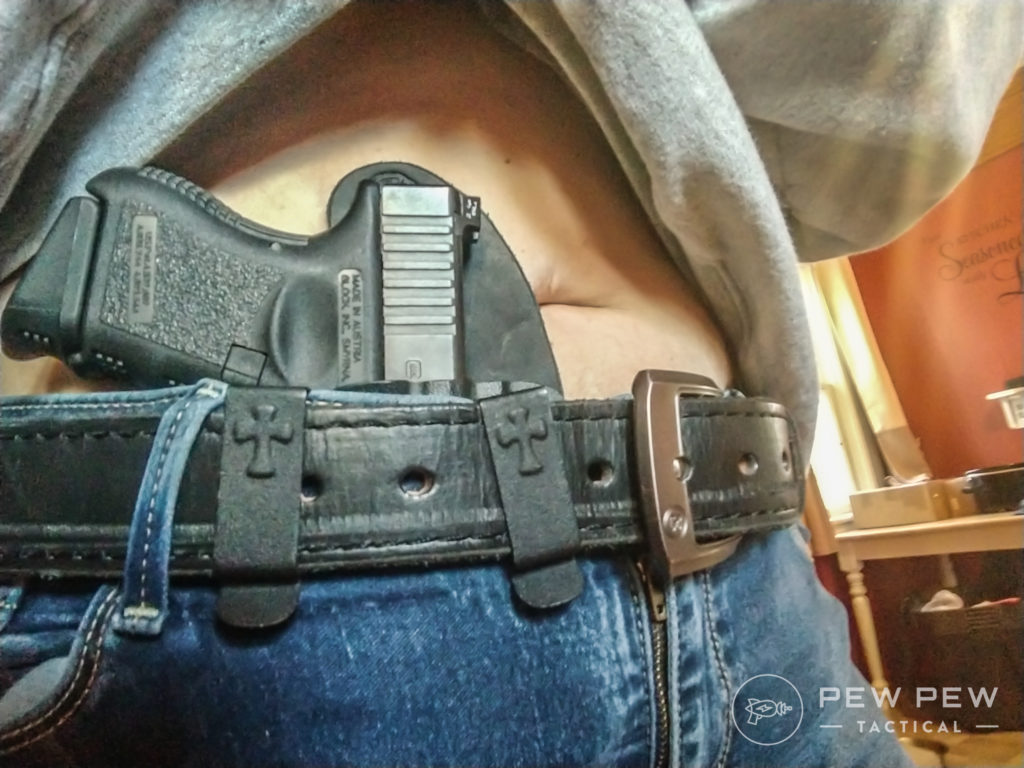 Of course, if you're going to carry concealed, do it properly by minimizing printing and practicing your drawstroke from your chosen holster.
Both OC and CC have a time and place. I do fall on the side of believing CC is usually the correct method but there are certainly times OC works well.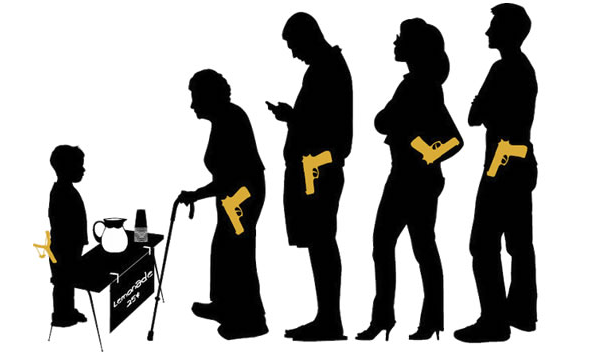 Find what works for you, know the laws in every area you intend to carry, and use good gear. That includes training.
Self-defense handgun skills are perishable and require work. Be a responsible gun owner and do the work. End of story.
We want to hear from you–do you prefer open or concealed carry? Have a favorite holster or position? Let us know about it in the comments below. If you want to learn more, check out our Best Holsters Guide.