Looking for a tactical watch? Something that looks cool and has withstood hard military use?
I shamelessly admit that I've done that Google search…and bought a couple of them throughout the years.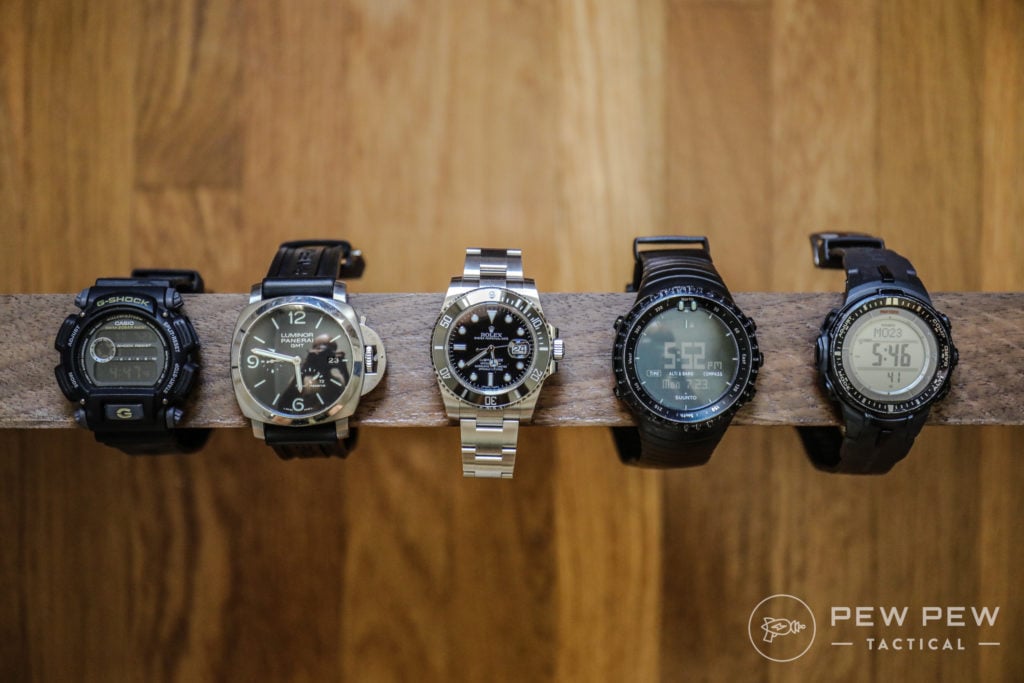 Though I didn't wear mine into battle…they've spent long days and nights with me on backpacking trips, range shoots, and keyboard warrior-ing.
Here are my picks of the best tactical watches…across a couple different budgets. Plus some honorable mentions.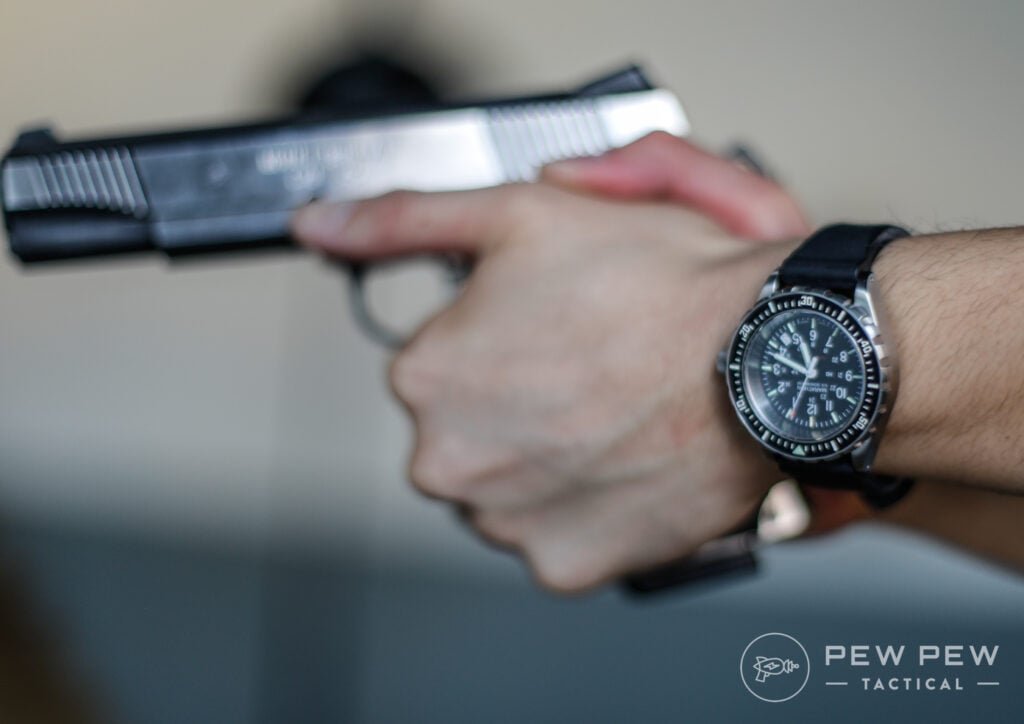 By the end I hope you'll know which one to get for boot camp, real missions, or for the office.
1. Casio G-Shock
No surprise here…the Casio G-Shock ($43) is the watch that is mentioned the most.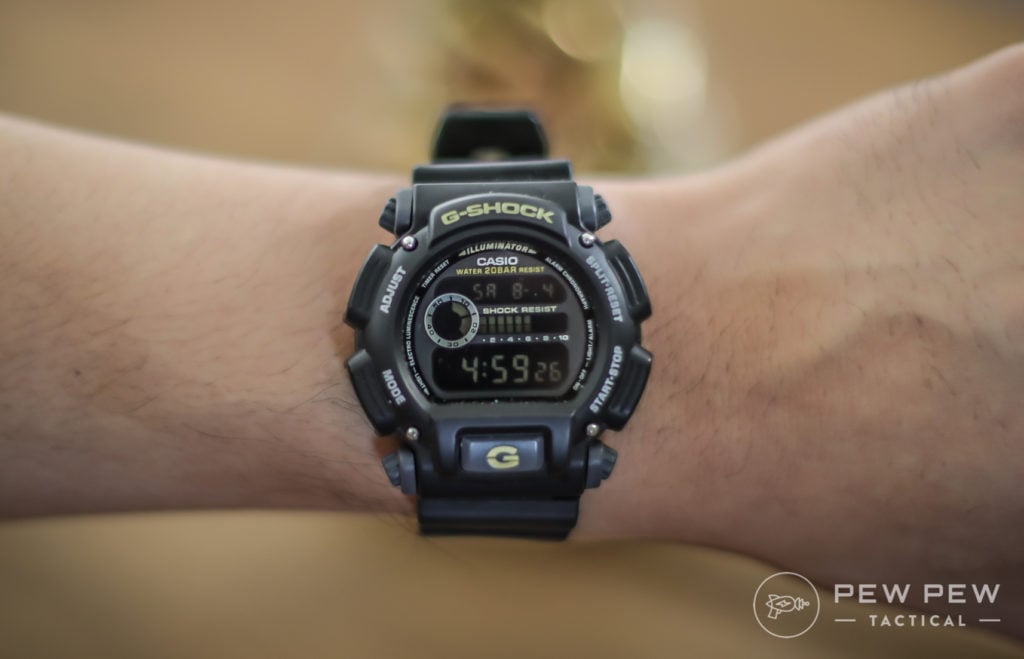 It has everything you need…can survive almost anything…and costs less than $50 bucks.
However, it's the one I wear the least.
But that is my bad…I went with the coolest looking black on black. And you CANNOT see any useful info unless the room is brightly lit and you're at the right angle.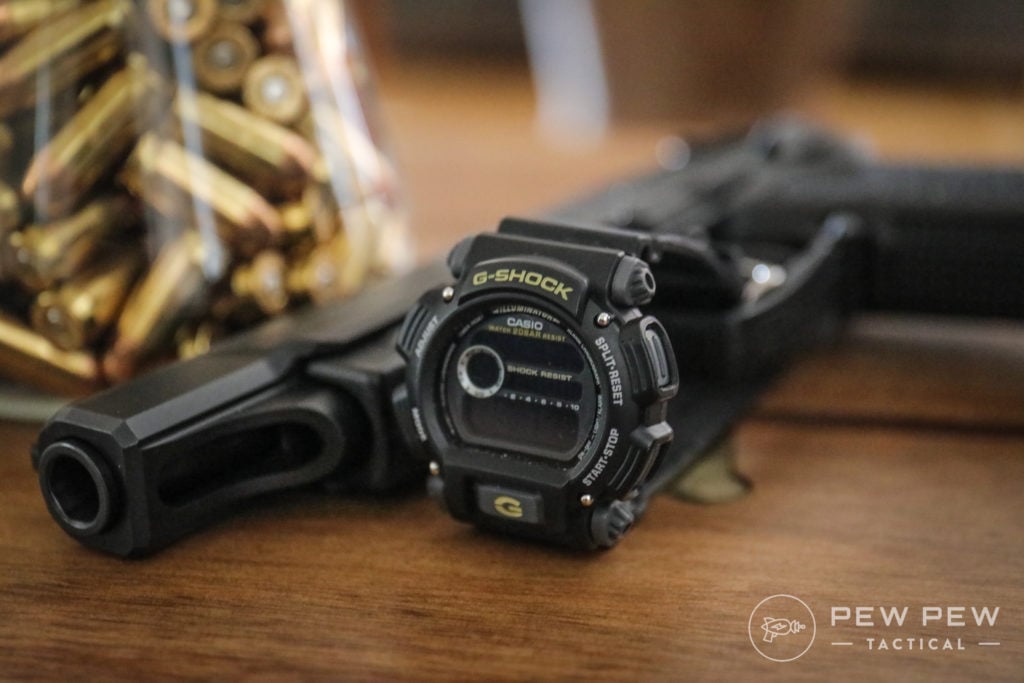 I found myself having to use the illumination button to see it every time.
Besides that…it rocks:
Shock resistant
200 meters water resistant
Great backlight
Stopwatch, alarm, and tons of other features
Battery life of 2+ years
My only nit-picky thing is that the metal clasp is too shiny in that "cheap" kind of way. But there's always replacement bands if it bothers you too much.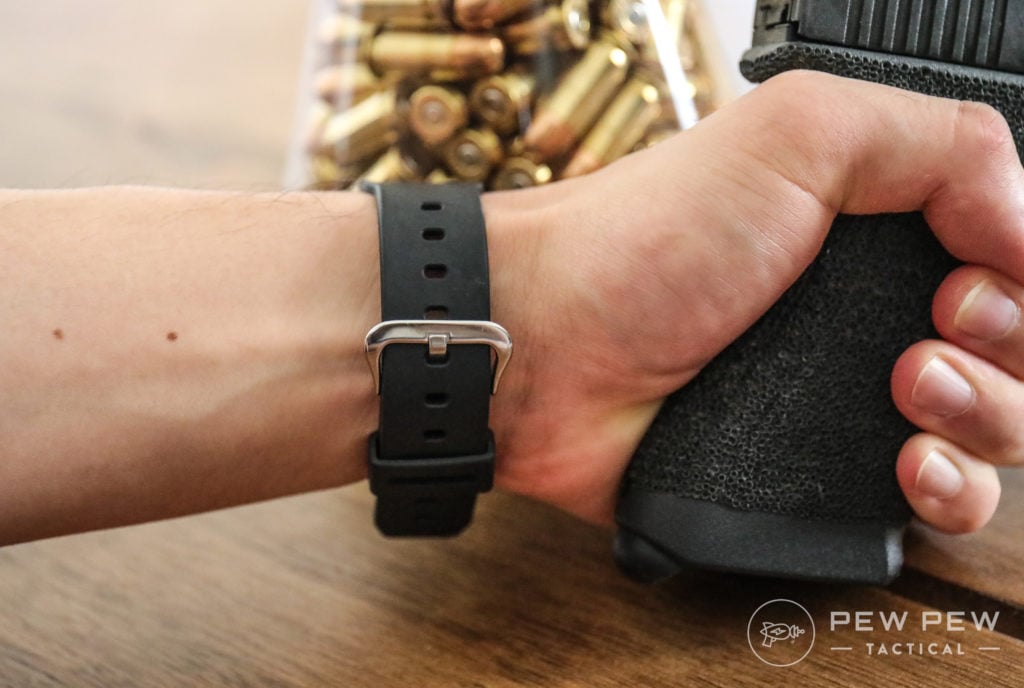 If you're looking for a functional watch that has everything you need…but might be a little common…the G-Shock is the way to go. Plus the price is so good you won't feel too bad if you lose or manage to break it.
My advice is not getting the Black on Black…if I could choose again I'd go with the Matte Black (screen) on Black.
43.99
at Amazon
Prices accurate at time of writing
Prices accurate at time of writing
2. Pro-Trek PRW-3000-1CR
I've been rocking the Pro-Trek ($221) for almost 3 years. It's a jump in price but you get a lot too.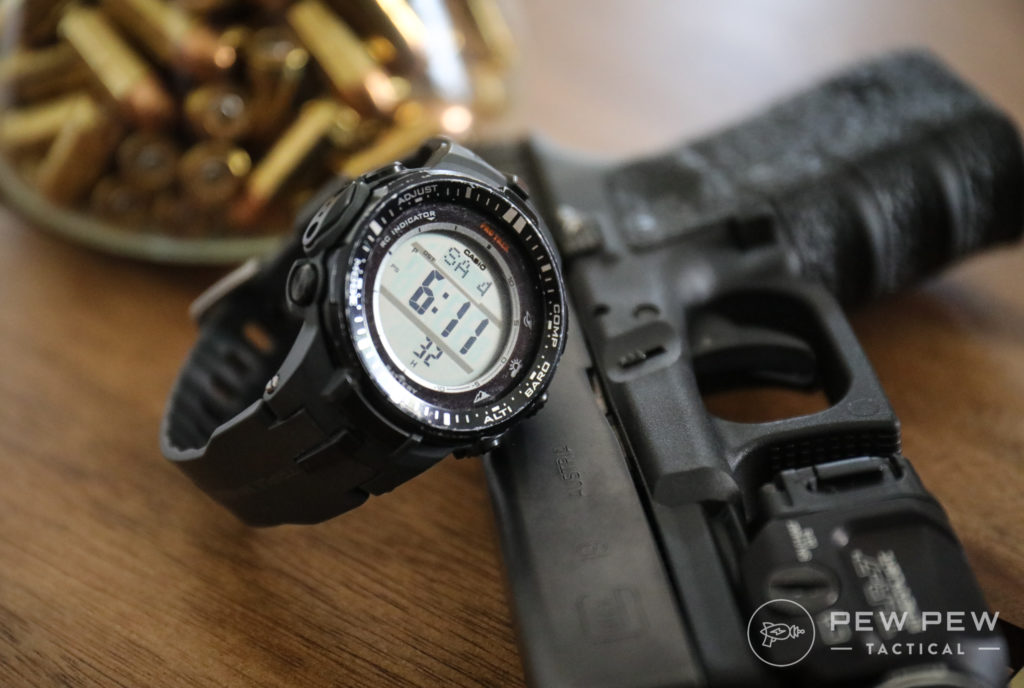 It's also not overly tactical so you can use it as a part of your everyday carry.
The "triple sensor" part of it means that it has an altimeter, compass, and barometer. Plus it measures temperature too.
It's served me well on long hikes where I had to orient myself and also check on altitude.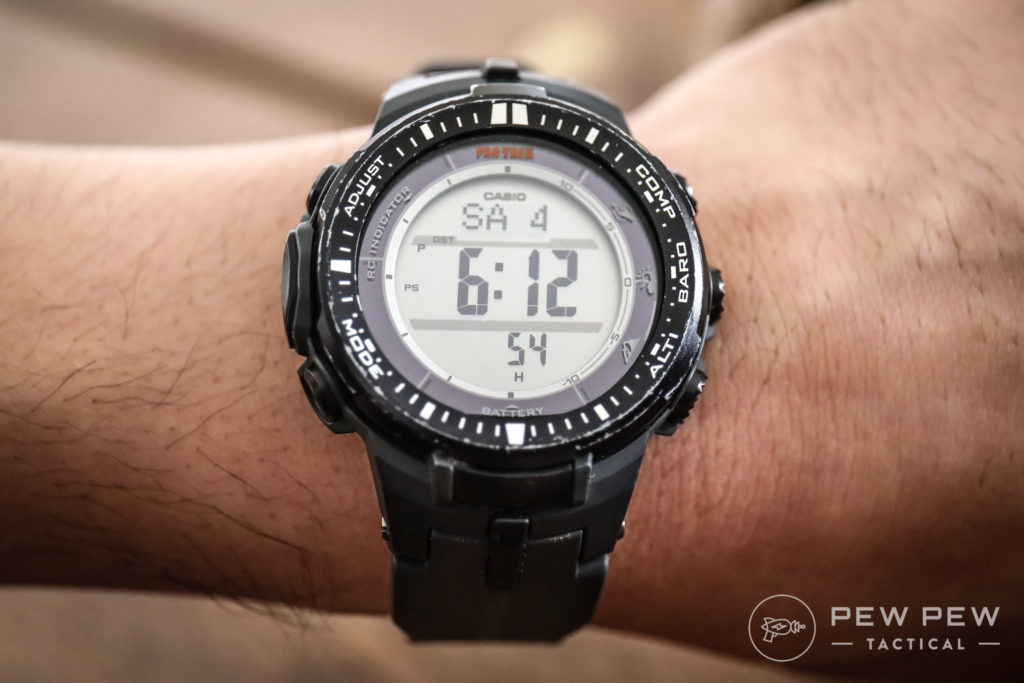 It's showing its wear a little on the outside bezel but the band, clasp, screen, and buttons have been top-notch.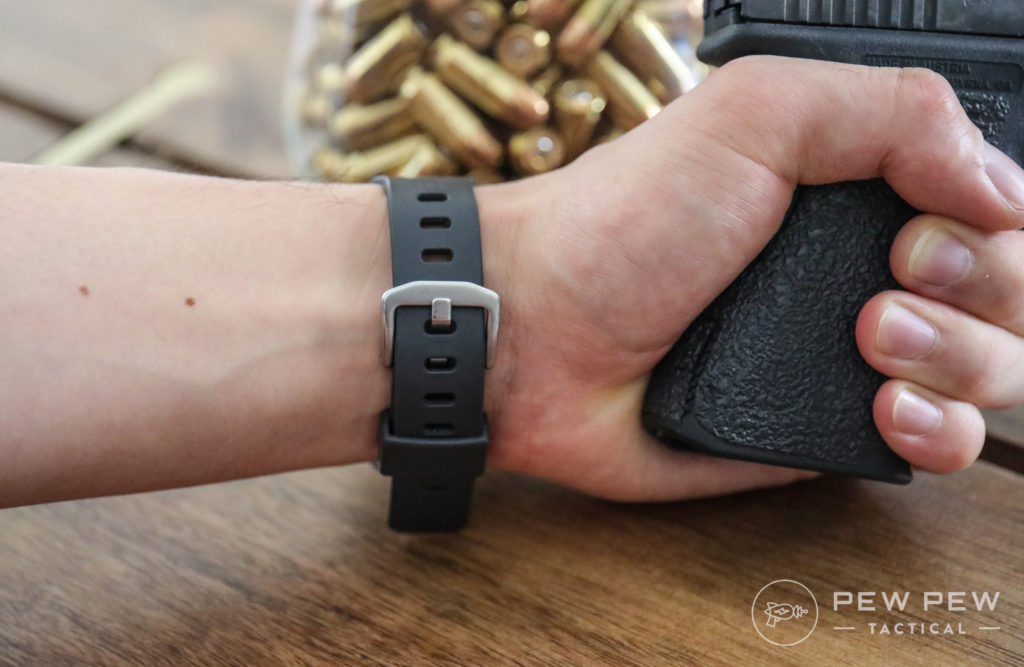 My main complaint is that there's no "lockout" feature for a screen so there's been some times where something accidentally touches one of the buttons and I get moved away from my home time screen.
Otherwise it has all the sensors…plus the regular alarms, 100 m water resistance, Atomic timekeeping, and solar battery.
I haven't had to change the battery in 3 years.
It's my choice for a more discreet watch that still has everything AND the kitchen sink.
221
at Amazon
Prices accurate at time of writing
Prices accurate at time of writing
3. Suunto Core
The Suunto Core ($155) comes up a lot too and is my top choice that I've been wearing for 3+ years.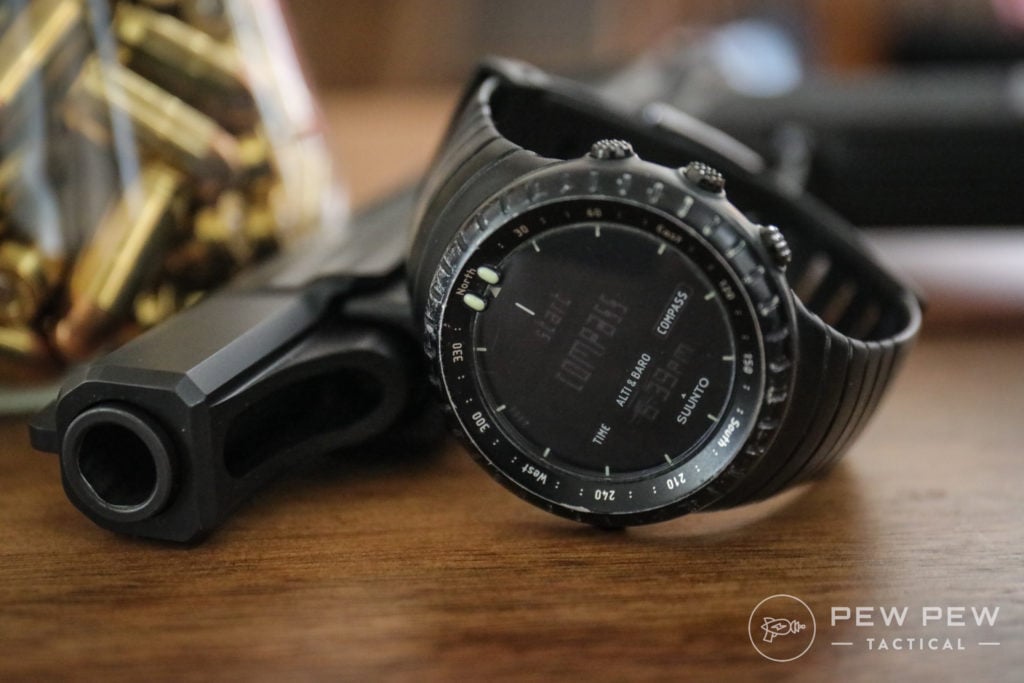 It looks super cool especially in the "Military" black on black model. And no, it's not like my G-Shock…you can actually read everything still.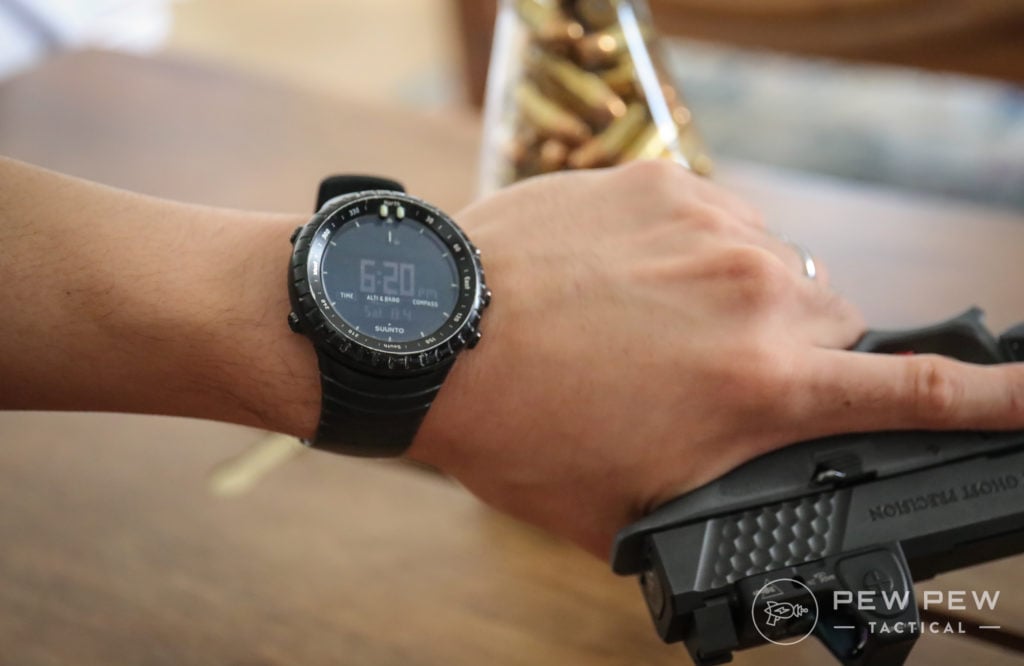 It also comes with an altimeter, barometer, compass, and thermometer.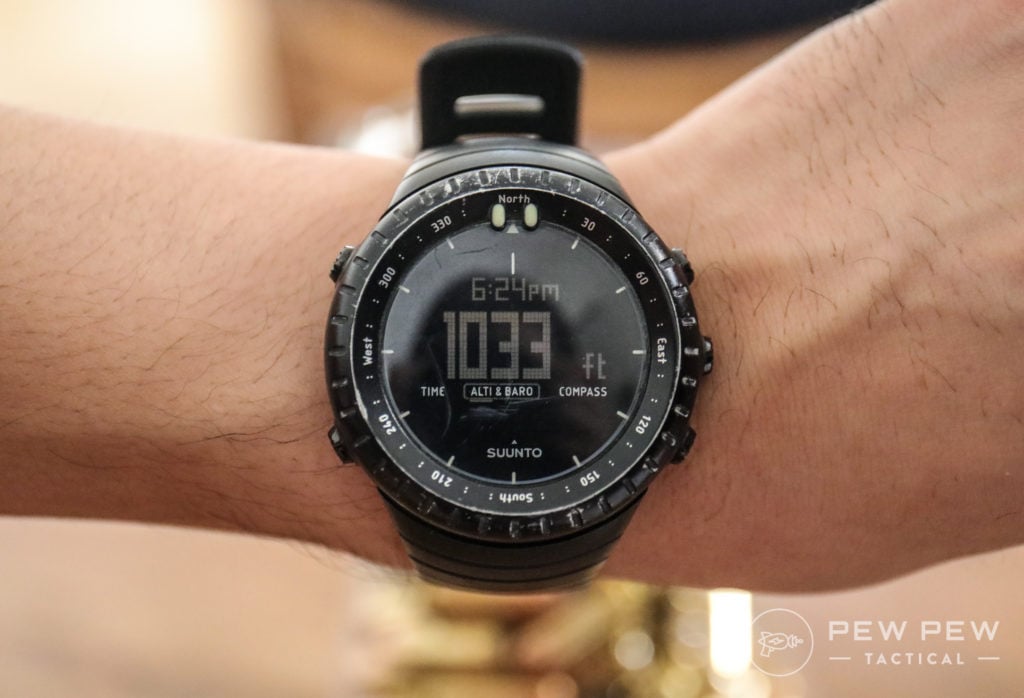 Which work pretty well…but the compass tends to eat a lot of juice.
It helped a lot during my longer hikes and it's what I wore to train and summit Mt. Whitney (tallest peak in the continental US).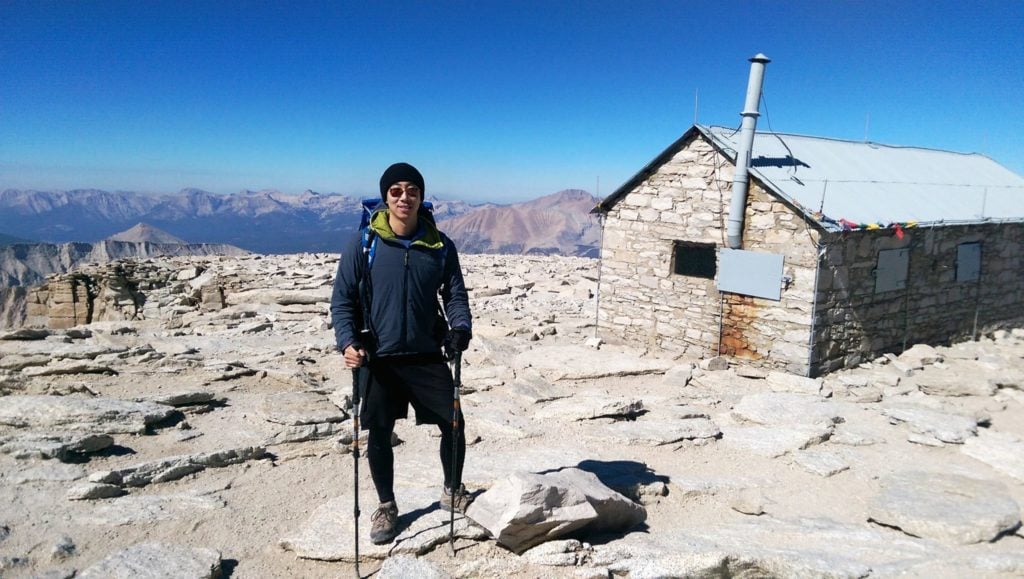 I also love how it has the "lockout" feature so you stay on whatever mode/screen you like. Plus it has a rolling trend for barometric pressure so you can spot some inclement weather heading your way.
One negative I mentioned was that the compass sucks up a lot of battery. I found with a hike or two a month and using the compass sparingly…I still had to swap out batteries every year.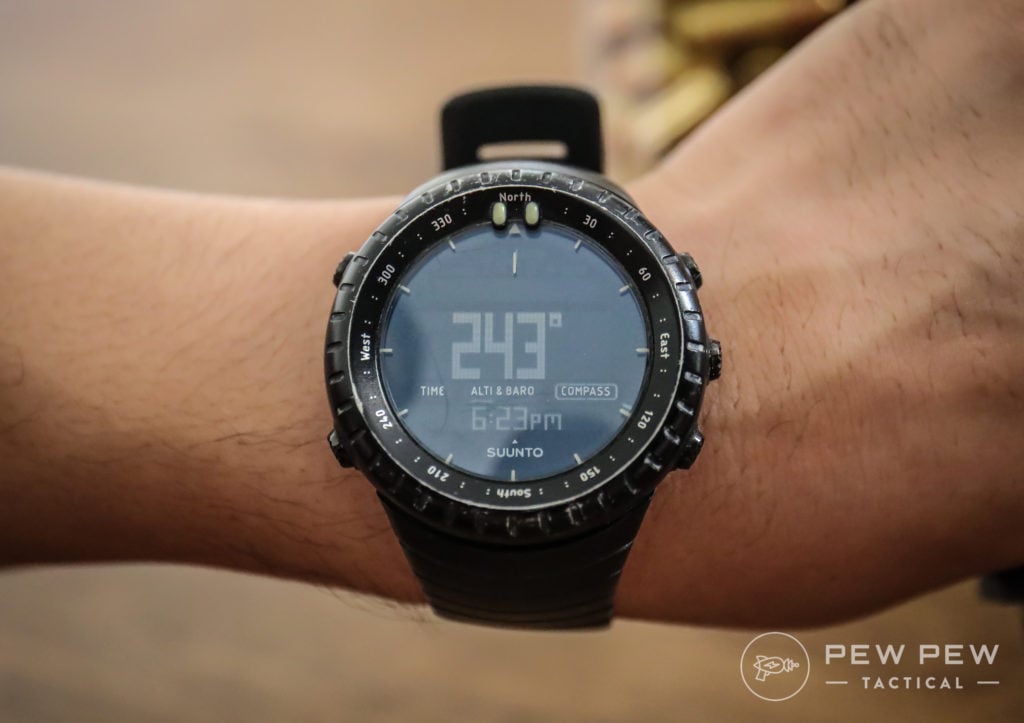 Not terrible…but I would have expected more.
Another negative is that the strap has started to break after 3 years. It's been through a lot and I did spray it with some 95% DEET while in the Amazon that scuffed it up pretty good.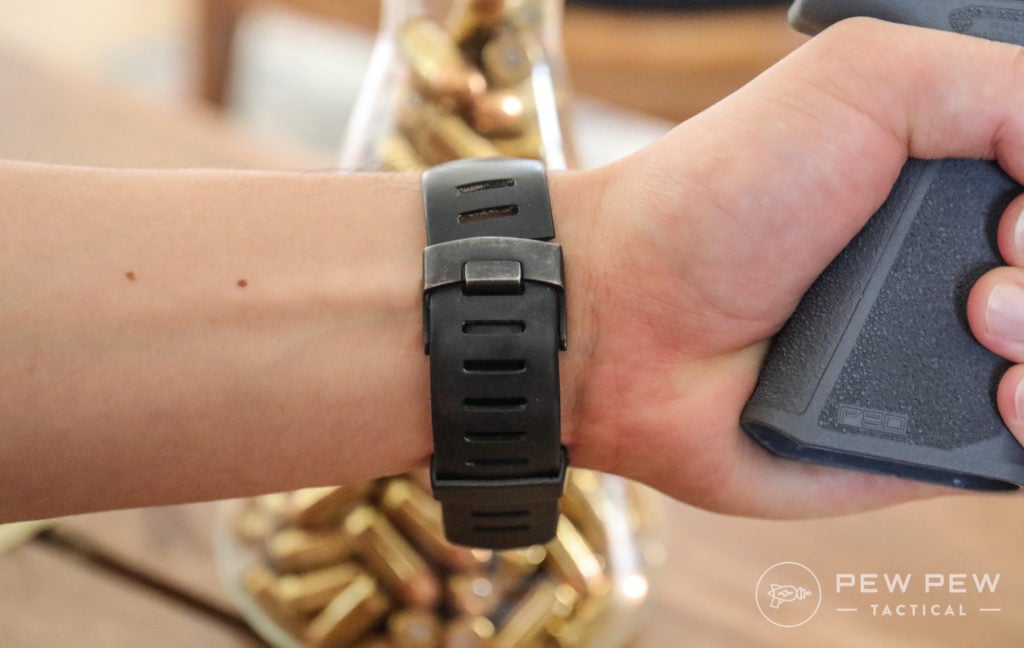 So it's not THAT big of a deal…especially since there's a lot of replacement options too.
Otherwise overall it's my favorite pick and it comes in at a reasonable $150 too.
155
at Amazon
Prices accurate at time of writing
Prices accurate at time of writing
What's your take on the Suunto Core?
4. Rolex Submariner Date
Ok…let's ball it up a little bit with the Rolex Submariner Date ($8550).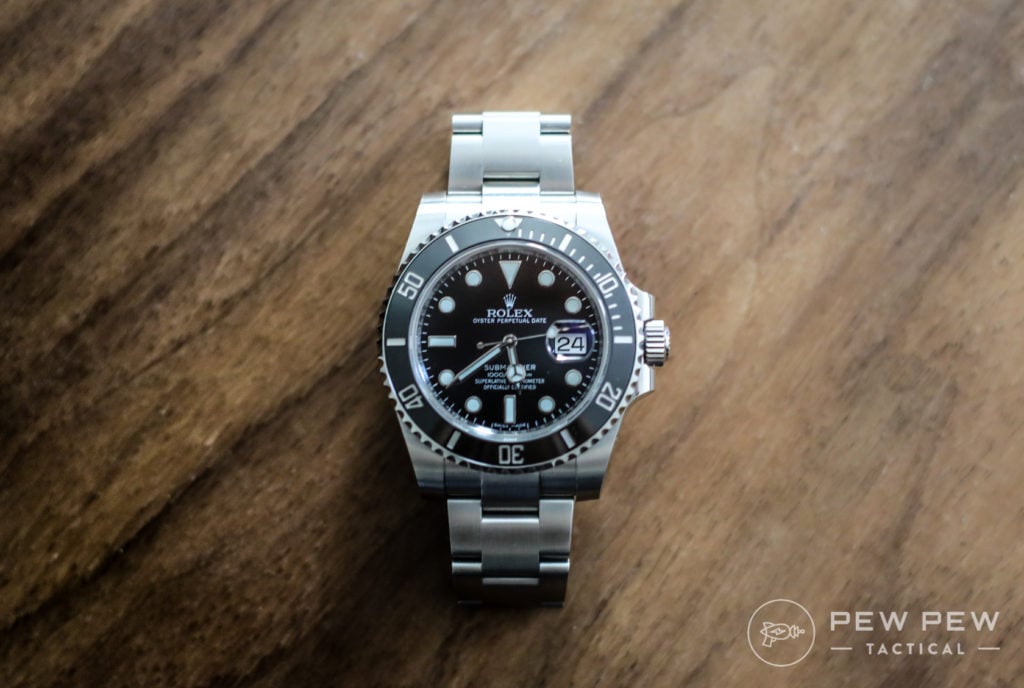 Rolex might be the most recognizable luxury watch brand out there…but it has its military roots when it was issued to British Ministry of Defense (Milsub), US Airforce (Turn-O-Graph), and more.
It's robust, submersible to 300 m, non-electronic, and holds value.
Plus it looks classy with a suit or out in the field.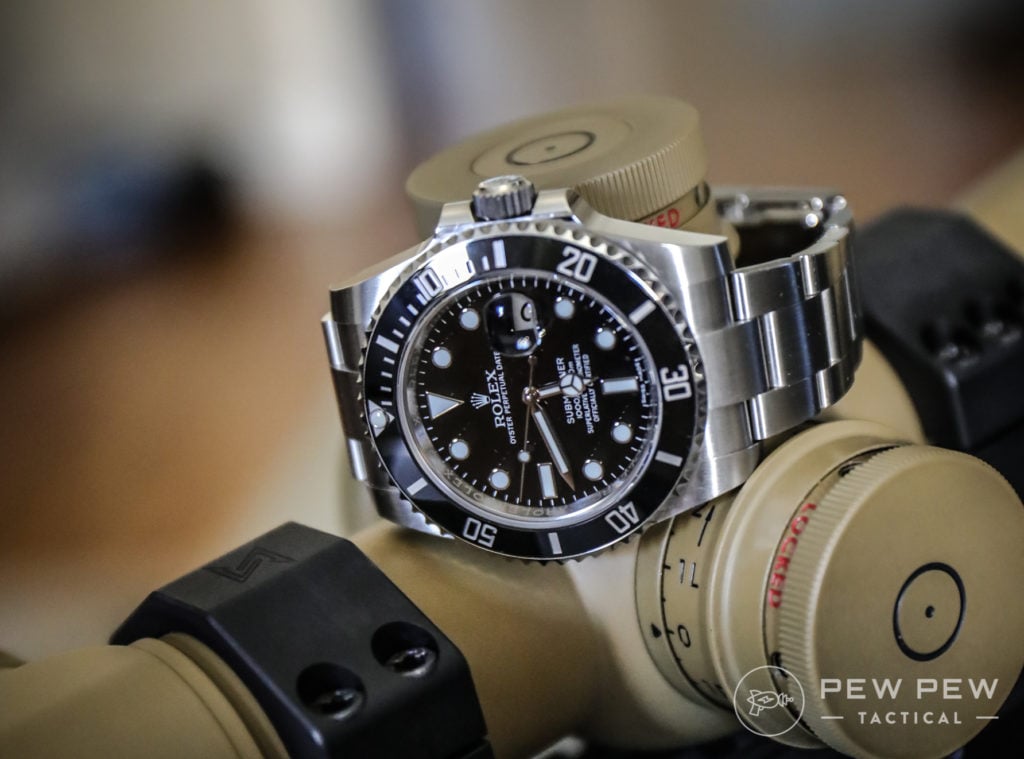 One of my favorites for something that will turn heads AND do its job as a timepiece.
8550
at Rolex
Prices accurate at time of writing
Prices accurate at time of writing
5. Panerai Luminor
My favorite luxury tactical watch is the Panerai Luminor ($9100).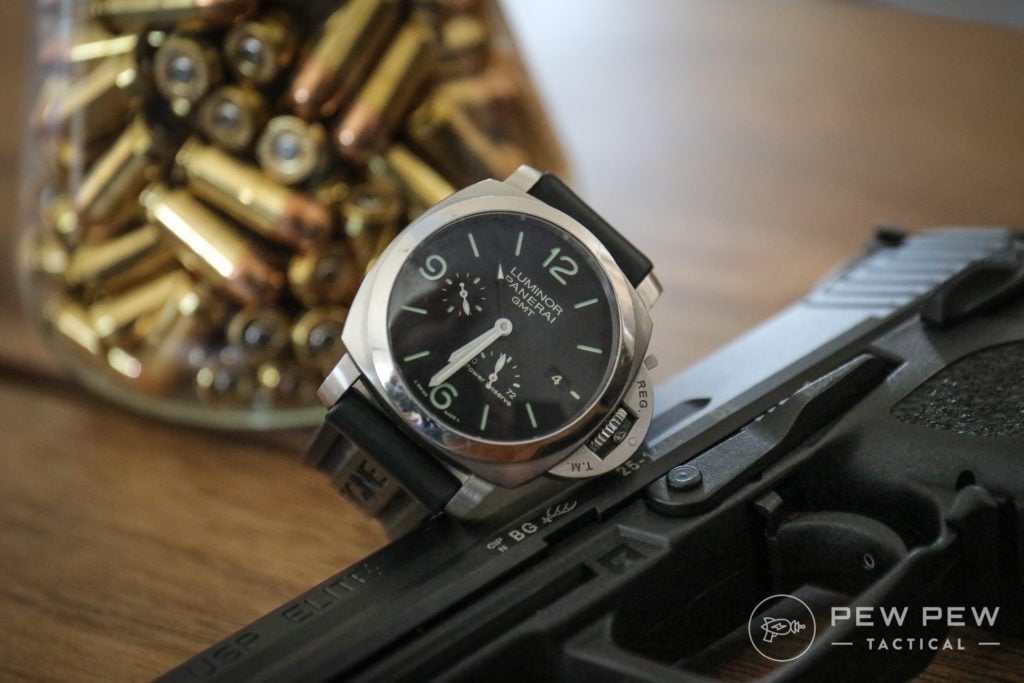 Born from Italian frogmen way back when…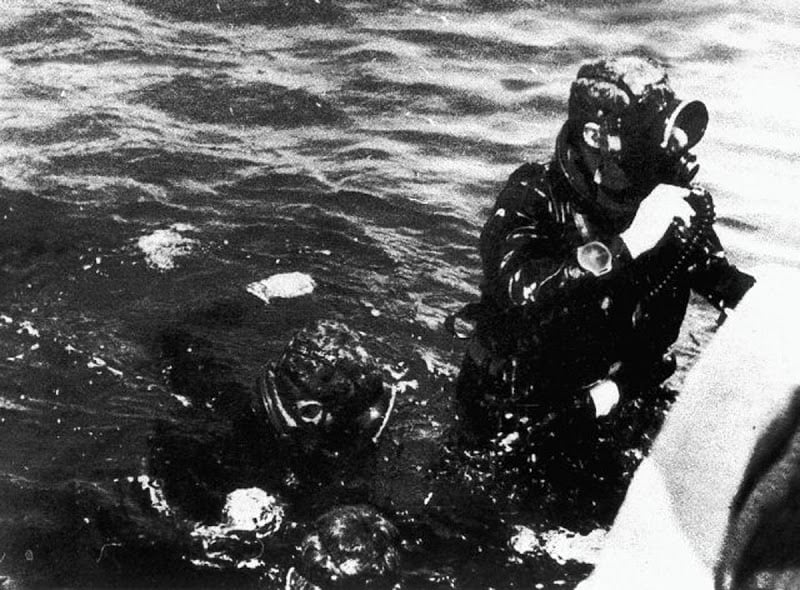 It's still popular in watch circles but isn't overtly recognizable unless you're in the know with its famous crown guard and lever device.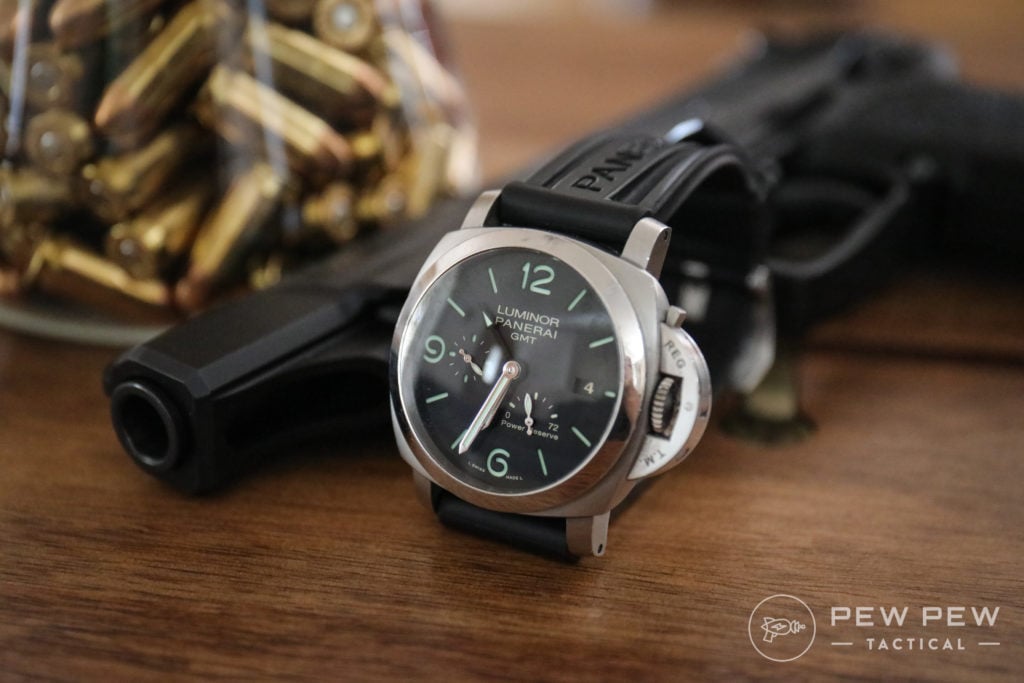 It's chunky but not TOO big even for my average wrists.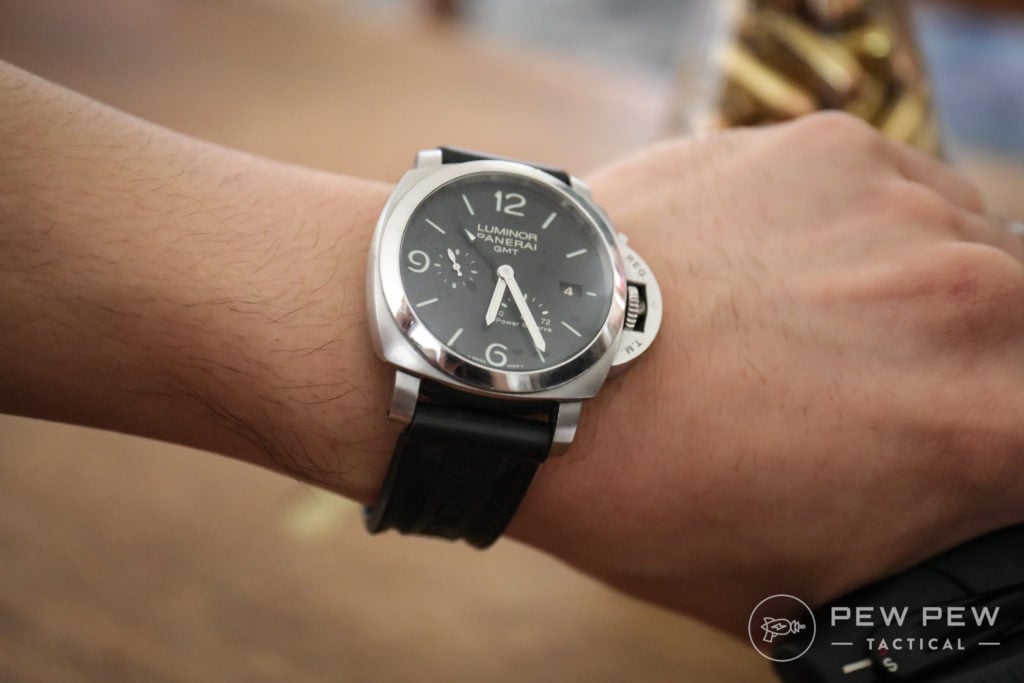 It's what I wear when day shooting becomes night drinking on the town.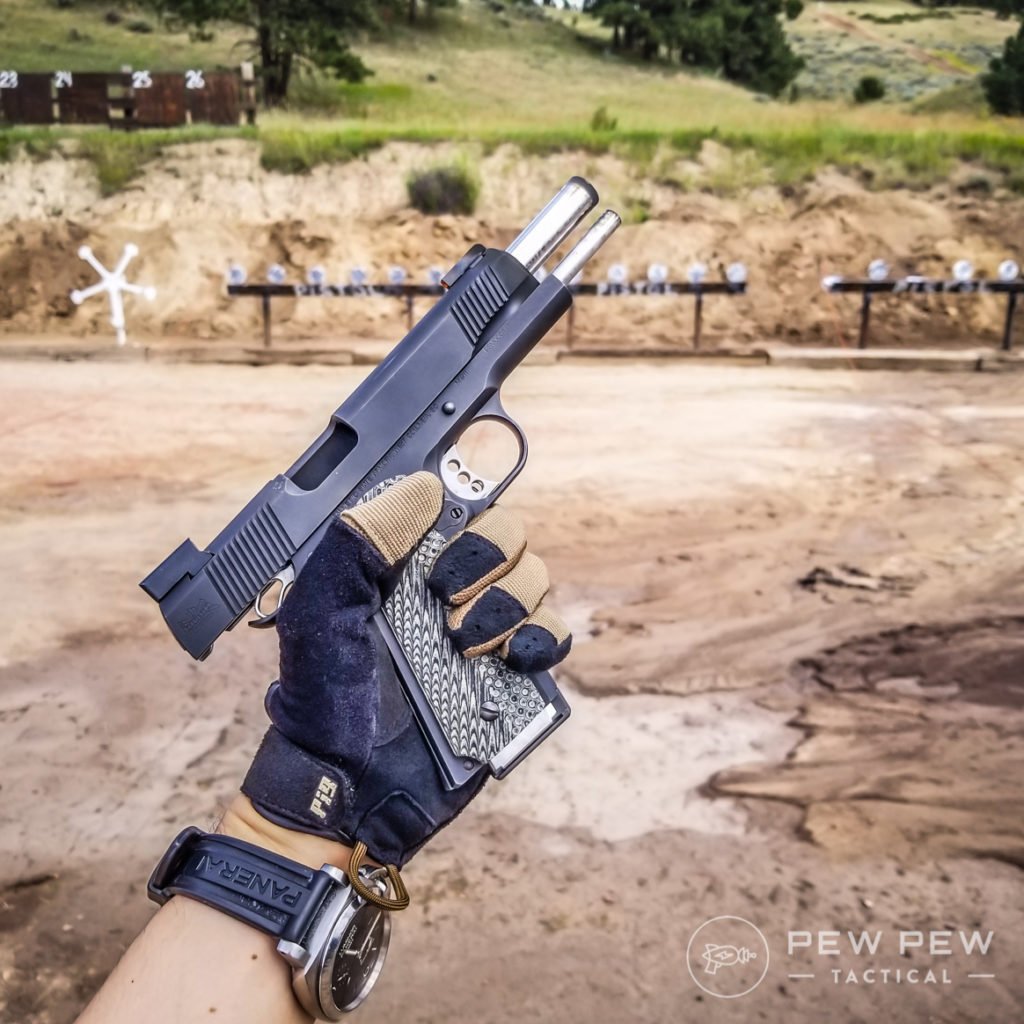 Plus…it has a clear back so you can look at the gorgeous movement.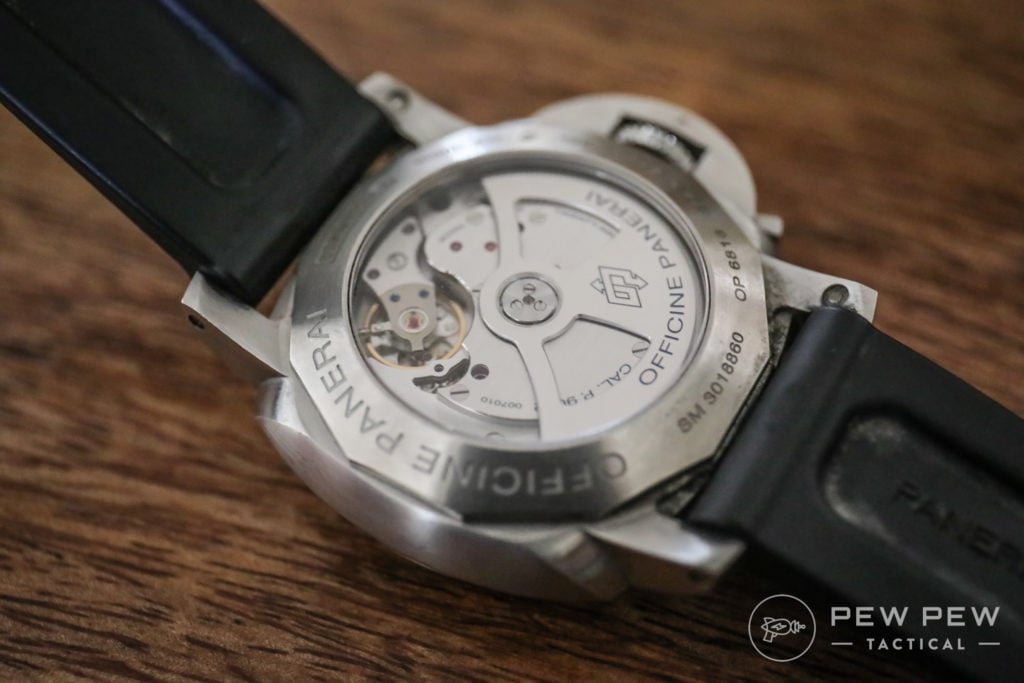 If you've got the coin…you can't go wrong with Panerai.
But my luxury watch days are over…now that I'm into firearms (RIP wallet also). Because these watches can't shoot bullets!
9100
at Panerai
Prices accurate at time of writing
Prices accurate at time of writing
6. Marathon TSAR
My latest addition and current non-electronic favorite for everyday wear goes to the Marathon TSAR 41mm.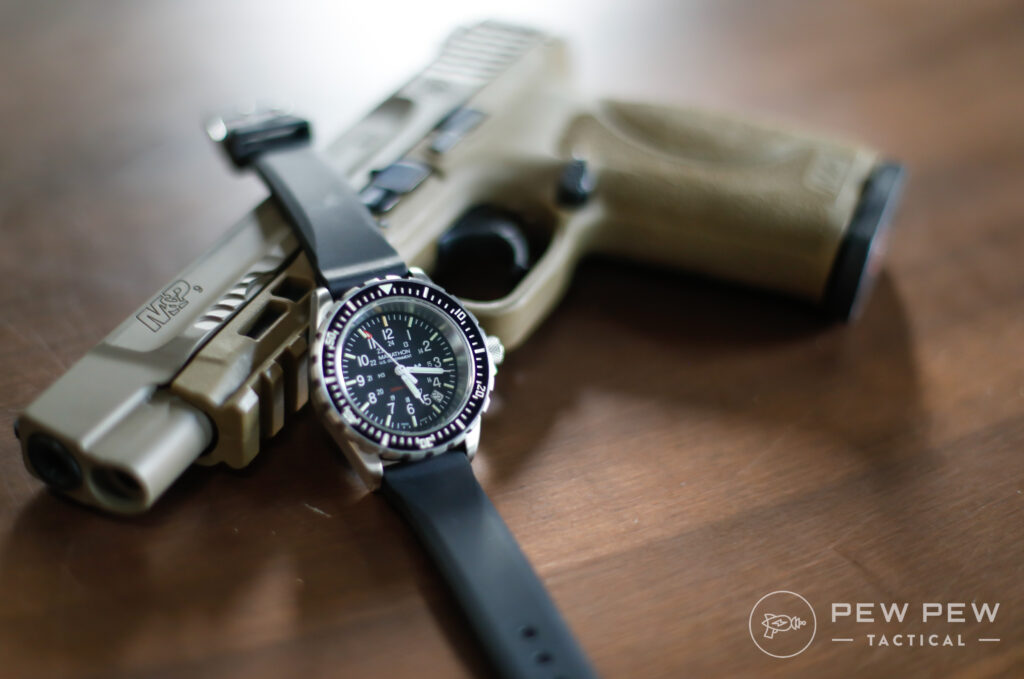 Mil-spec and built for diving…the TSAR stands for "Tritium Search And Rescue," it straddles the perfect line of a little military but still appropriate for a dress shirt.
There's a couple different sizes and for me (and most) the 41mm is perfect. There's a 36mm version but it's definitely on the smaller side.
The tritium vials are bright and the 12 o'clock marker is an extra bright Maraglo.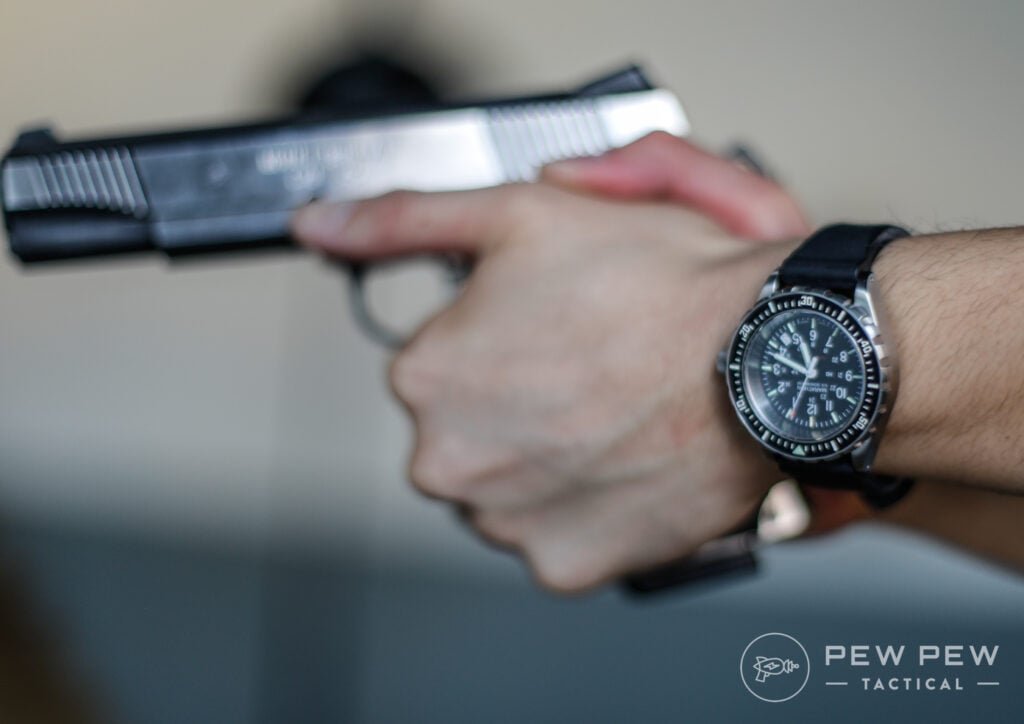 So far no scratches on its sapphire glass…but I'll update with more range trips!
900
at Amazon
Prices accurate at time of writing
Prices accurate at time of writing
Or to check out the other versions (size, movement, no government markings, etc)…click here.
7. 5.11 Pathfinder
The Pathfinder is at it's core simple. And in the best ways possible.
This is a no nonsense watch that delivers exactly what you need in a good time piece and nothing else. From the 22mm NATO band to the watch face, it's goal is to be utilitarian and functional.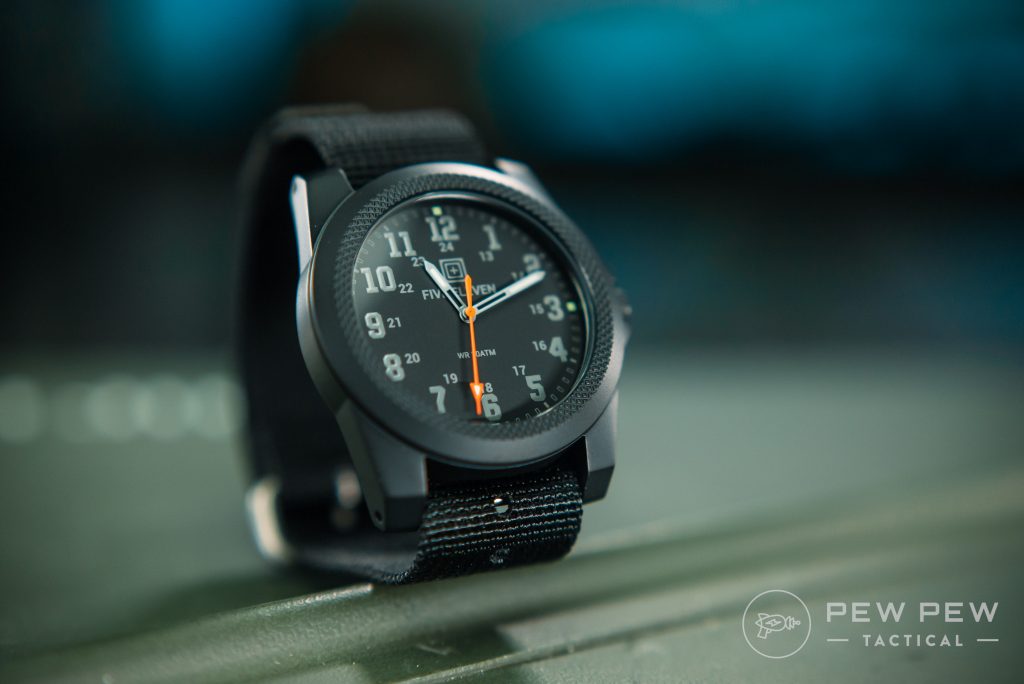 Luminous markers make it fairly easy to see and read in the dark, but deep inky blackness kind of dark makes it a challenge to read.
A stainless steel body, Japanese movement, and mineral crystal display all lend to this being a pretty robust unit that can take a fair amount of abuse and still look and work great.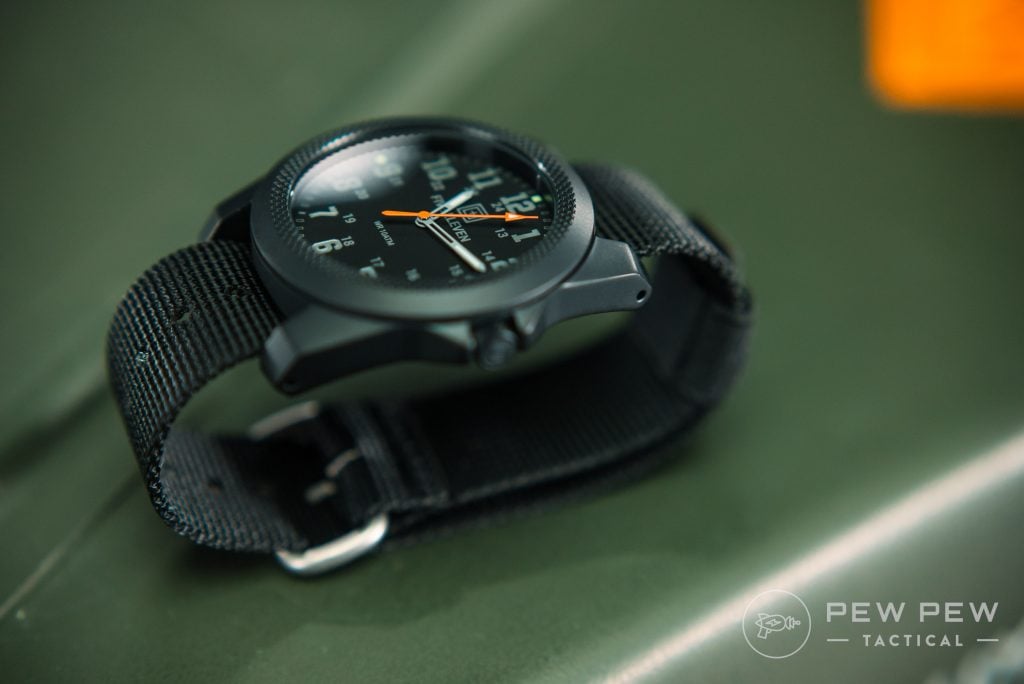 Plus, it's rated for 100 meters/330 feet of water. More than enough for the average user.
90
at 5.11
Prices accurate at time of writing
Prices accurate at time of writing
8. 5.11 Field Watch 2.0
One of our editors has been testing the Field Watch 2.0 for a while now and it quickly became his go-to EDC watch. Why? Because it's basically the Pathfinder but plused up in almost every way.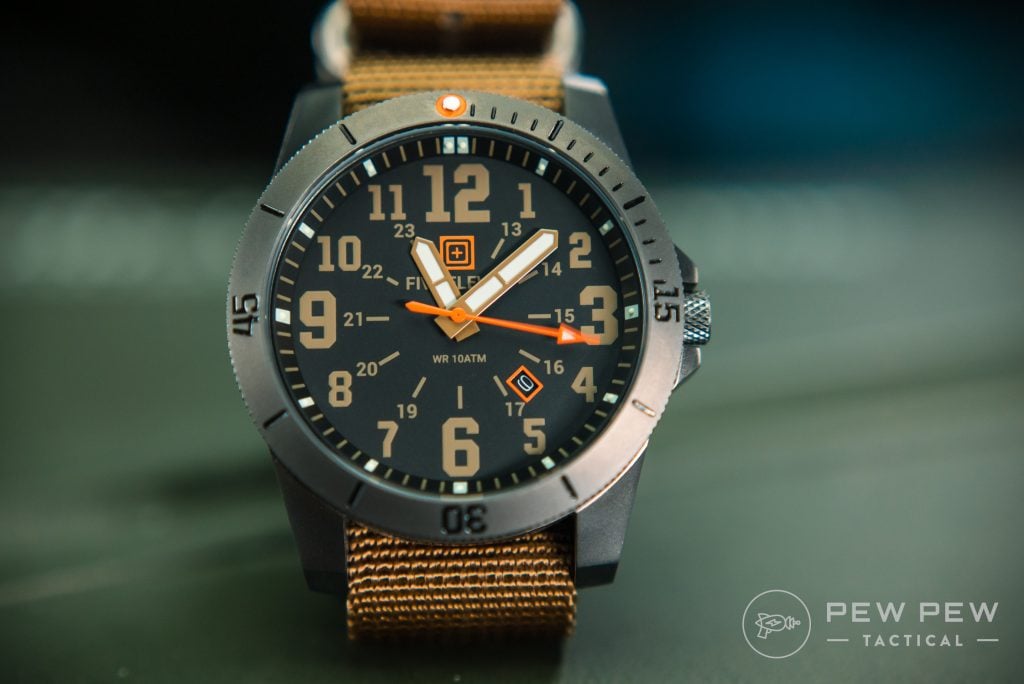 The case is slightly larger at 44mm, the Field Watch retains the stainless steel body and Japanese movement, and even the 22mm NATO band — but it also adds a date window, ratcheting unidirectional dive bezel, and more easier to read and brighter dial face.
Everything about it makes it just a little better than the Pathfinder and really helps make the Field Watch a great EDC choice for when you need a good watch without a lot of frills, but don't want to blow rent money on a time teller.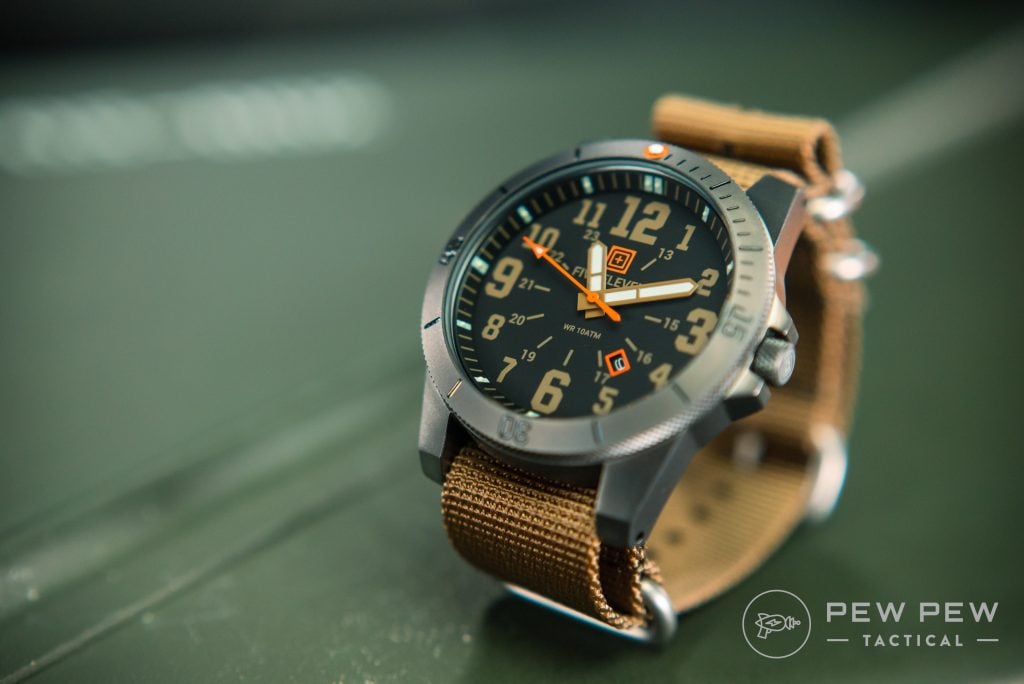 Another nice thing about both the Pathfinder and the Field Watch is that 5.11 really kept their branding down to a minimum. One complaint we've had with 5.11 gear in the past is that often anything made by 5.11 just screams "Made by 5.11".
We joke that the easiest way of spotting an plain clothes cop or a CCW carrier is by the fact they are wearing 5.11 pants, shoes, and hat.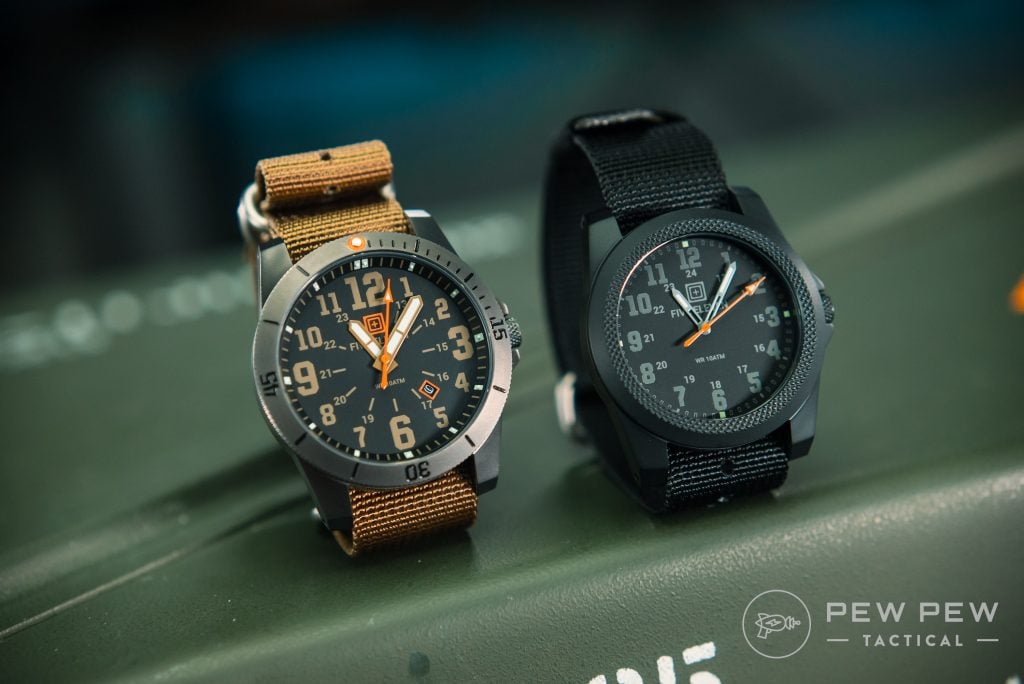 Seeing that signature branding really toned down for these watches is nice. If you replace the band with something a little more classy, both watches could easily pass as something much higher-end and be perfectly at home with a suit and tie.
170
at 5.11
Prices accurate at time of writing
Prices accurate at time of writing
We dig that a lot.
Honorable Mentions
There's a lot of other great tactical watches out there. Here are some popular affordable ones that I've seen and handled…but don't currently own.
But I want to pick up some time!
9. Luminox 3051 EVO Navy SEAL
Ok…it has Navy SEAL in the name but the Luminox 3051 EVO ($178) it isn't some gimmick.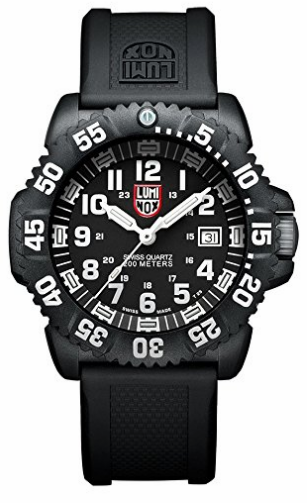 It's super visible during the day and has colored dials that really glow in the dark for low-light situations. Plus 200 m water resistance.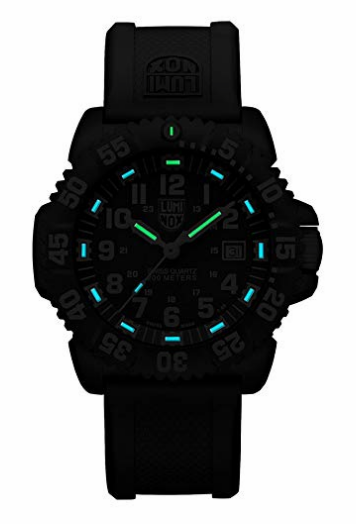 10. Marathon Navigator
Mil-spec and really popular before and now. The Marathon Navigator ($300) was designed for pilots and paratroopers.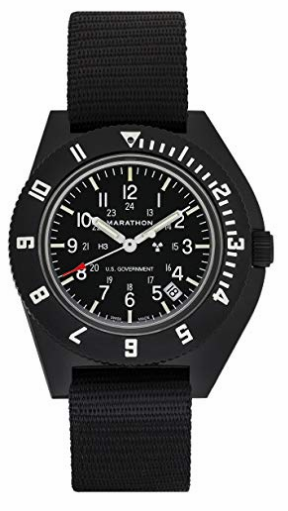 Comes with date function, tritrium gas illumination tubes, and water resistant up to 200 feet.
Conclusion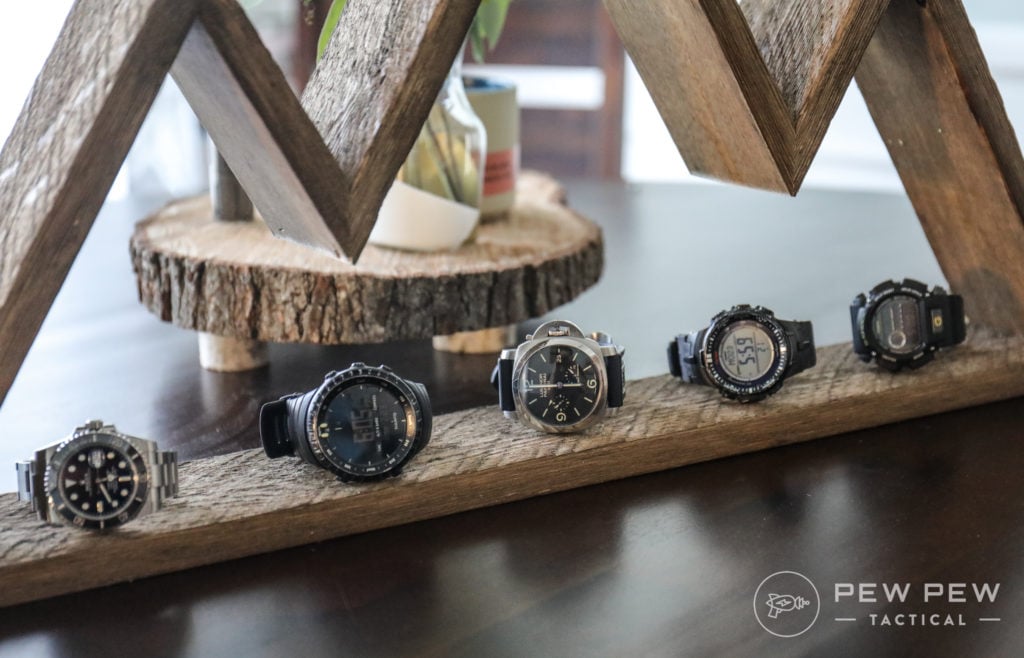 There we have it…if you're looking for the most economical and popular…you can't go wrong with the G-Shock.
43.99
at Amazon
Prices accurate at time of writing
Prices accurate at time of writing
And if you want a little bit more features…I recommend the Suunto Core.
155
at Amazon
Prices accurate at time of writing
Prices accurate at time of writing
As for the luxury ones…it's more a matter of personal taste. But my heart goes out to my Luminor 1950.
How did I do? Any other ones I should check out and add to Honorable Mentions? If you're looking at other EDC gear…check out our other hands-on articles: Best EDC Flashlights and Best EDC Knives.