The AA-12 is an iconic shotgun with a strong media presence, appearing in video games, movies, and tv shows.
In fact, it just got nerfed in Call of Duty. Talk about popular!
Despite the love, not many people know the actual story behind this well-known firearm.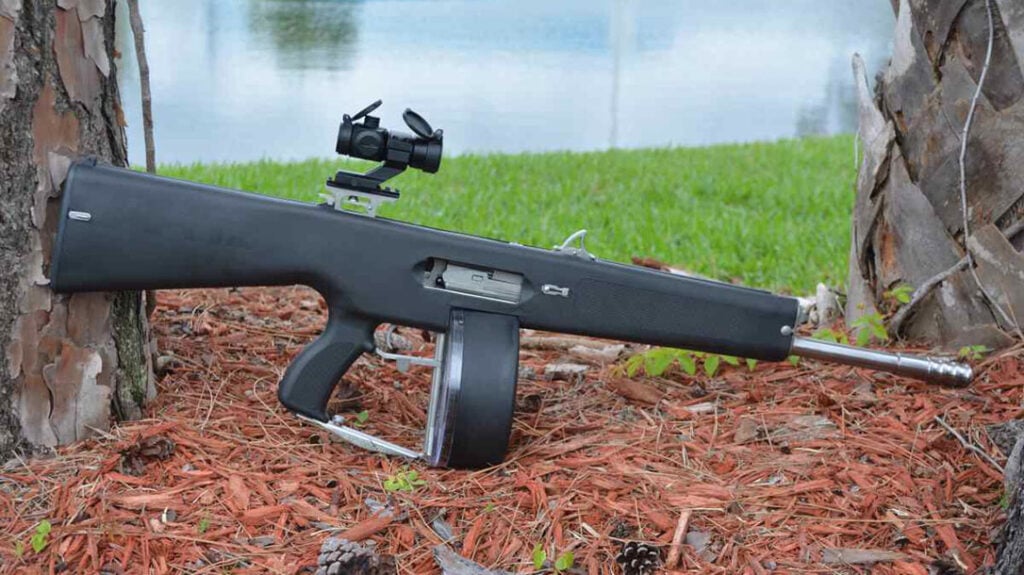 Well, we're going to change that.
In celebration of such a freakin' cool gun, we wanted to take a close look at its development.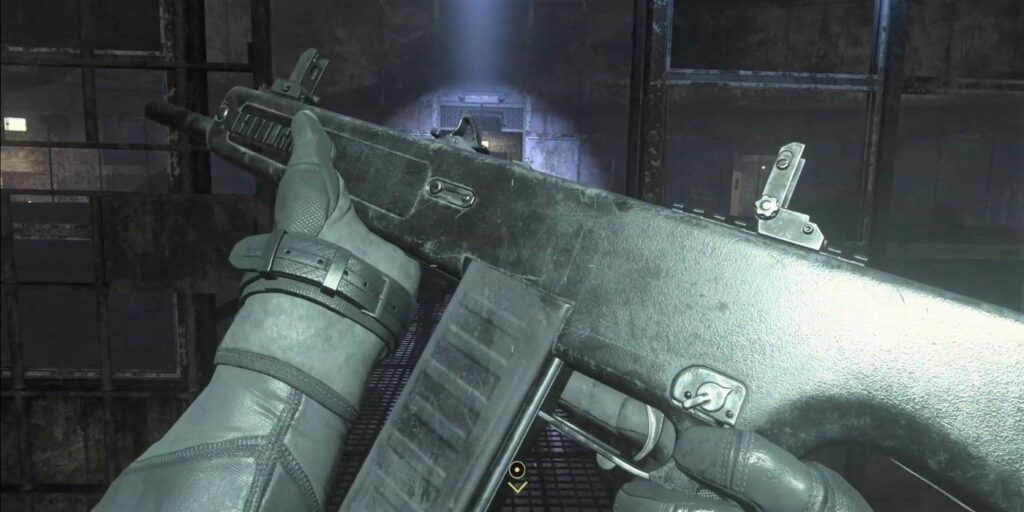 So, we dove into some of its iconic moments in history — yes, we're gonna talk about the scene in Expendables.
And we'll look at some of the potential applications for this legendary scattergun in some truly futuristic weapons systems.
Let's get to it!
Table of Contents
Loading...
The Birth of a Legend: Creating the AA-12
Back in the 1970s when music was funkier and chest hair…hairy-er, the Auto Assault 12 was born.
Developed by Maxwell Atchisson in 1972 it was originally called the Atchisson Assault Shotgun.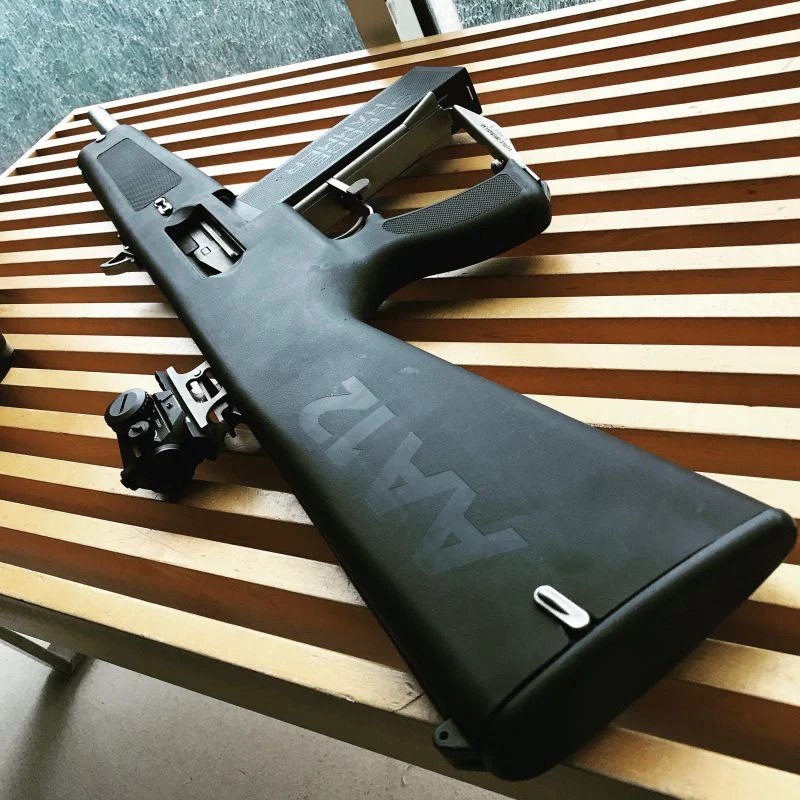 Developed for the military by Atchisson himself, he later sold the patent in 1987 to Military Police Systems out of Tennessee.
From here, MPS refined and renamed the design to the Auto Assault-12.
Over the next 18 years, the design underwent tweaks and modifications until MPS ended up with the AA-12 we know today.
What Recoil?
One of the most notable changes was a shift from a simple blowback-operated action to a more refined gas-operated system.
That gas system is actually what enables the AA-12's number one party trick…an almost total lack of recoil.
The gas system absorbs as much as 80% of the 12 gauge's recoil while the recoil spring soaks up around 10% more.
What's that math add up to?
Basically, you get the full power of 12-gauge with only 10% of the typical recoil.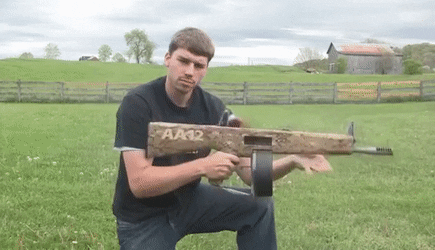 The gun's 10-pound weight soaks up much of that leftover recoil, leaving you with a fully-automatic 12-gauge shotgun that you can fire accurately with one hand.
It offers a fairly low cyclic rate of just 300-rounds a minute — about a third of what you'd get with an M4.
This means it can fire on semi-auto by squeezing and releasing the trigger quickly. Or you can go full-on Terry Crews and empty that big drum mag without even the slightest inconvenience!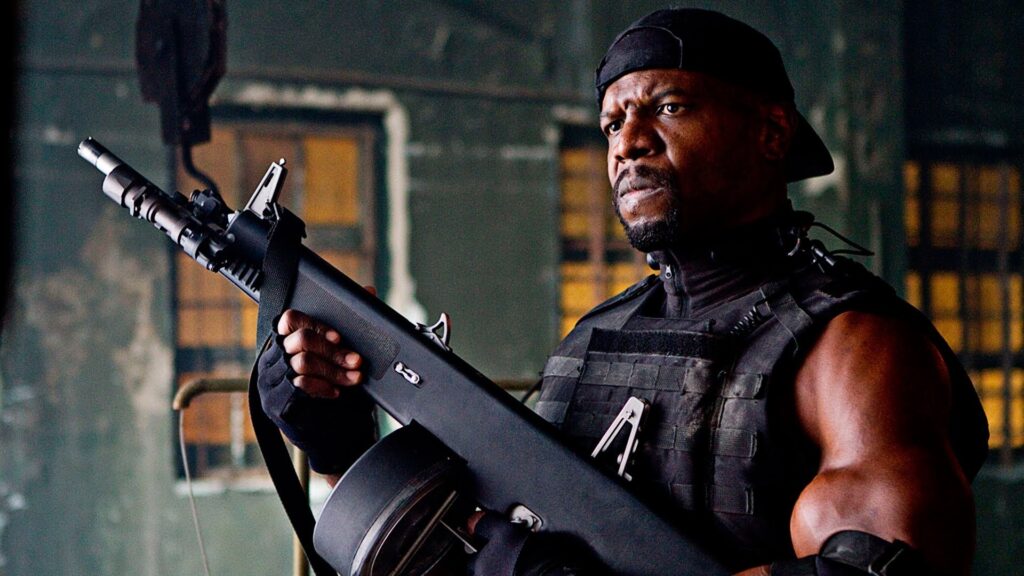 Reliability Is a Bonus
MPS also made some internal tweaks for reliability, including a new open-bolt firing system and some stainless steel internals.
All this goes a long way towards making the gun cycle more consistently.
Anyone who's ever owned a semi-automatic 12-gauge, particularly a Saiga, will tell you this is no easy feat.
Unfortunately, as cool as it is to dump 20-rounds of buckshot downrange in just a few seconds, the AA-12 never really caught on with the US military.
Both the Army and USMC vetted the platform at various points during its development, but it didn't quite catch on…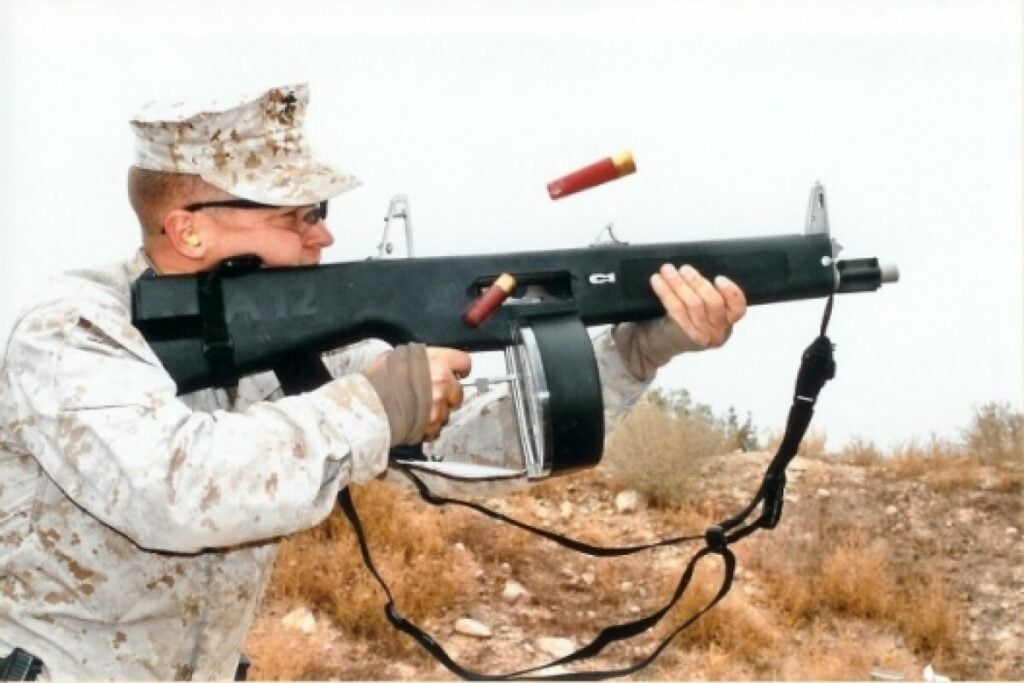 At least with brass anyway. Word is grunts loved it.
I can't imagine why.
The AA-12's Film, TV, and Video Game Legacy
While the AA-12 was never adopted by the US military, it did become incredibly popular with screenwriters.
Since its public debut back in the late '70s, it's been a staple in action-oriented TV and movies from Predators to Justified.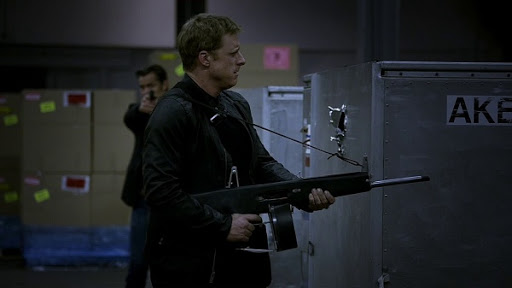 It also saw action on Future Weapons and Lock 'N Load, hosted by the late, great Richard "Mack" Machowics and R. Lee Ermey, respectively.
And of course, it's Hale Ceasar's weapon of choice in all three Expendables movies.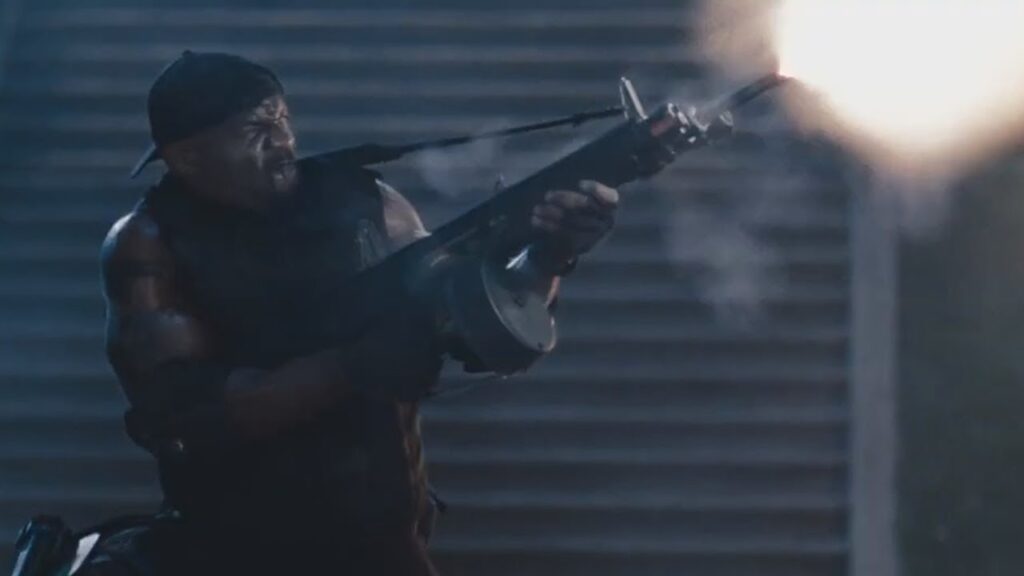 Beyond that, you can find it in just about every Call of Duty game… particularly the ones about warfare in the modern era.
It sucks in Warzone, though — don't use it.
The AA-12 also pops up in Medal of Honor: Warfighter, Spec Ops: The Line, Watch Dogs, State of Decay, Rainbow Six Siege, The Division, and Ghost Recon: Wildlands.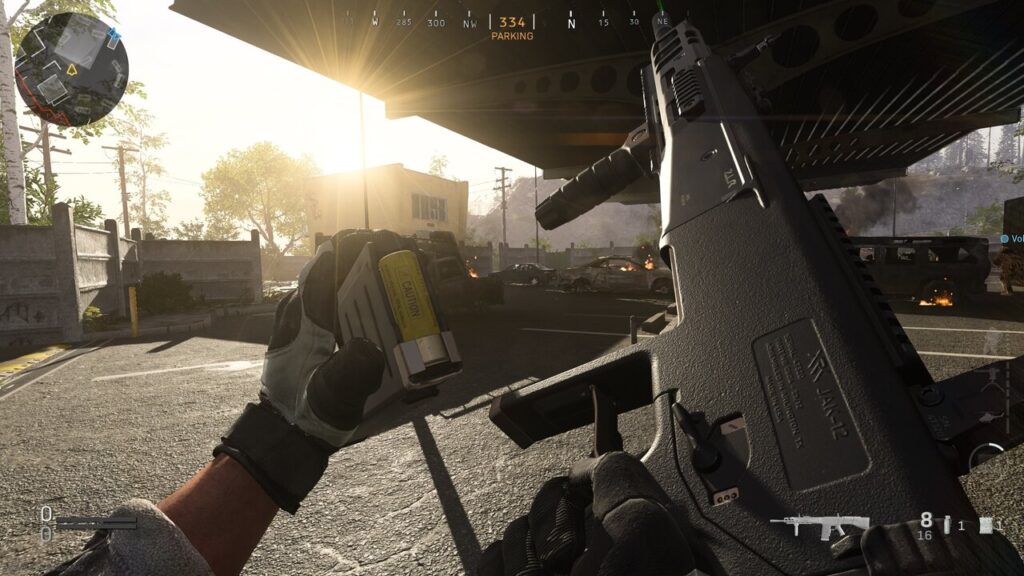 It's pretty safe to say that the AA-12 has done a lot more damage on the digital battlefield than in real life.
But I'm sure I'm not alone when I say that is still a "Holy Grail" gun to own — along with things like a full-auto MP5 and a Barret M82A1.
(For civilian legal versions of military-only guns, check out our guide here.)
The AA-12 Today: Wanna Buy One?
I wish I could include a link here where you could buy a civilian-legal AA-12 or show you a video of me shooting my own.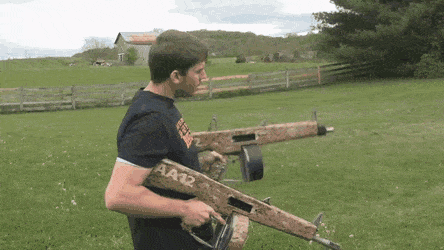 Sadly, the road to a civilian-legal AA-12 is littered with roadblocks in the form of multiple corporate buyouts and some dodgy rulings by the ATF.
BC Engineering, neighbors of Military Police Systems, licensed the rights to the gun and came up with a semi-auto version called the BC Jaeger.
In May 2016, they started shopping around the rights to manufacture that gun.
Since then, the rights to the AA-12, as well as all the tooling and molds, have been sold to Sol Invictus Arms down in Florida,.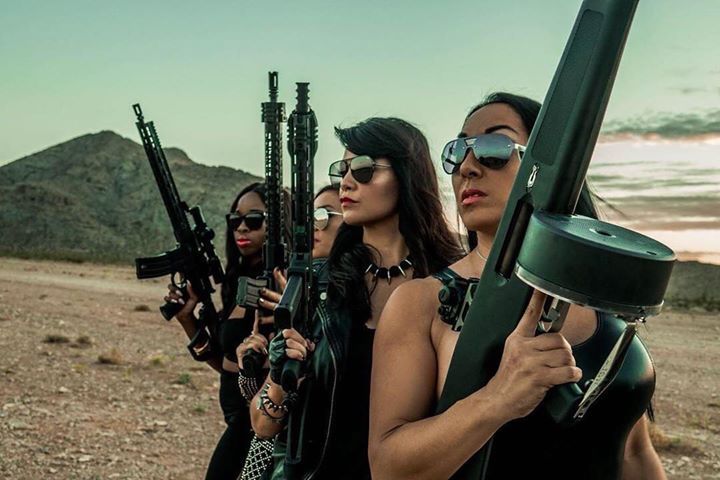 They're currently hard at work on a semi-automatic AA-12 priced at an affordable $1,200.
Sounds great, but there's an issue…
An ATF issue.
While the new Sol Invictus AA-12 debuted at SHOT Show 2019, the ATF decided the design was too easy to convert to full-auto.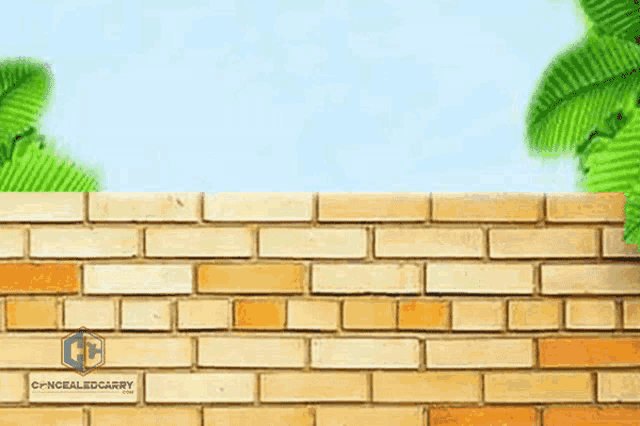 Whether that's true or not, production is currently on hold.
Sol Invictus continues to work with the ATF to find a design that is reliable but also unable to convert to full-auto.
The Future of the AA-12
Given that the AA-12 is so firmly rooted in popular culture, it seems unlikely that it's going anywhere anytime soon.
It's certainly going to be with us at least through the end of the Expendables franchise. I'm also willing to bet it's in the inevitable Modern Warfare sequel.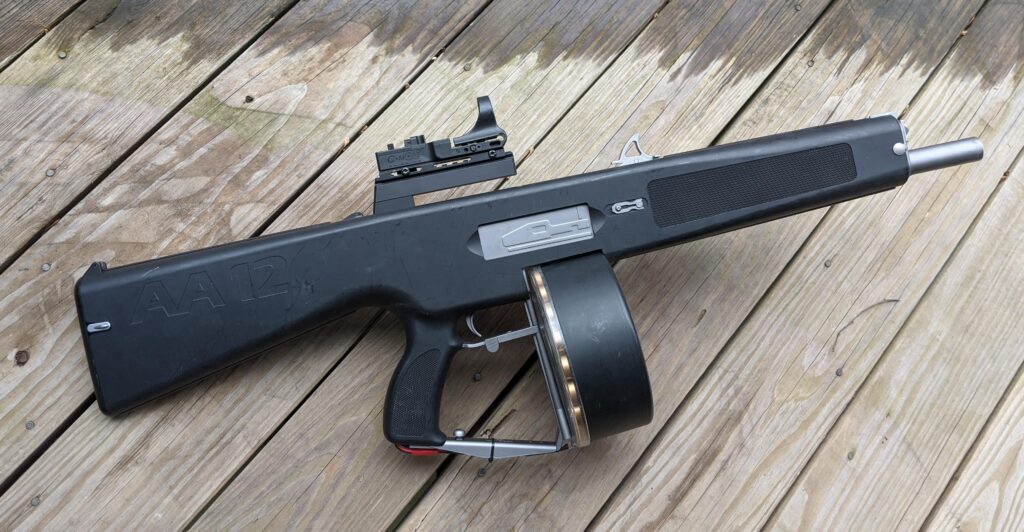 As far as owning one…who's to say?
I for one will be watching developments over at Sol Invictus carefully. I would love to get my hands on an AA-12 of my very own.
Conclusion
The AA-12 is a beast of a gun, with a lot of cool history behind it. It's left an indelible mark on gun culture as one of the most recognizable firearms in the world.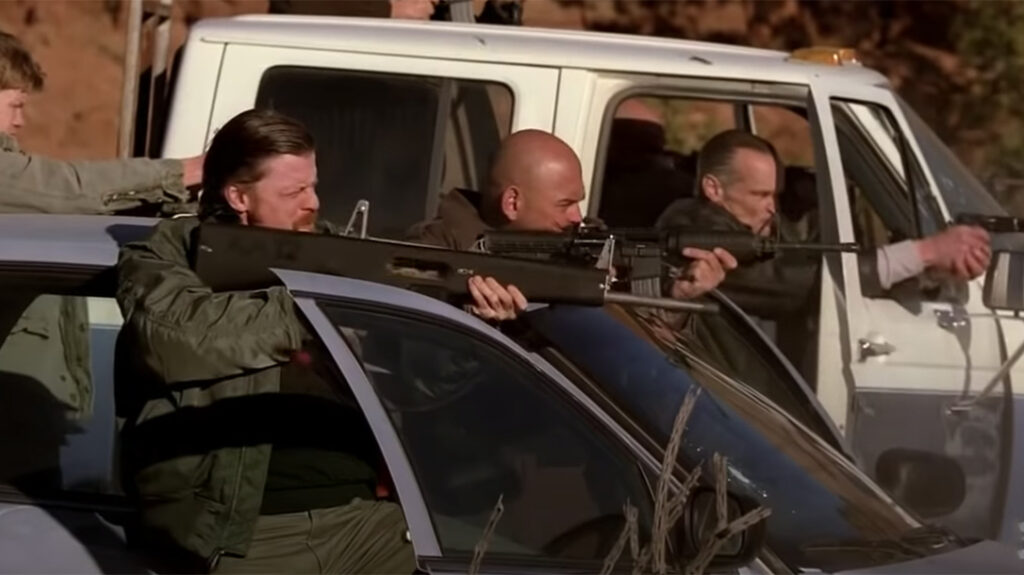 This legendary gun deserves its time in the spotlight, and we're more than happy to shine a little light on its history, and hopefully, the future as well.
Any chance you'd pick up the semi-auto AA-12 if/when it hits store shelves? What's your favorite AA-12 moment in pop culture? Let me know below! To drool over more full-auto goodness, check out our article on the Glock 18!