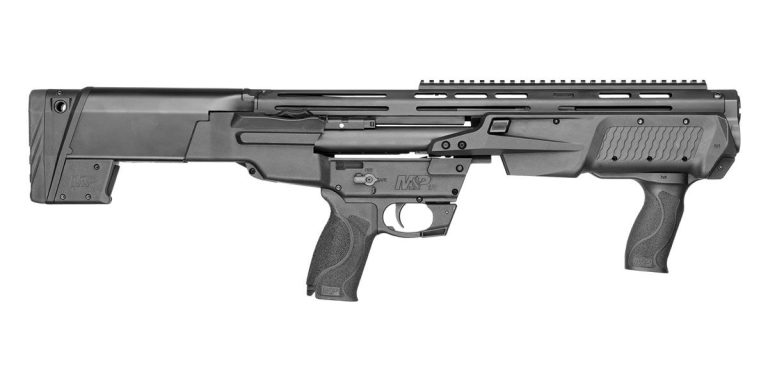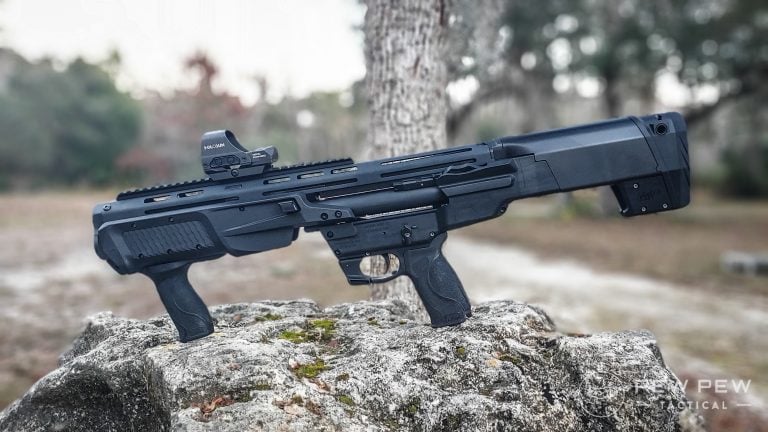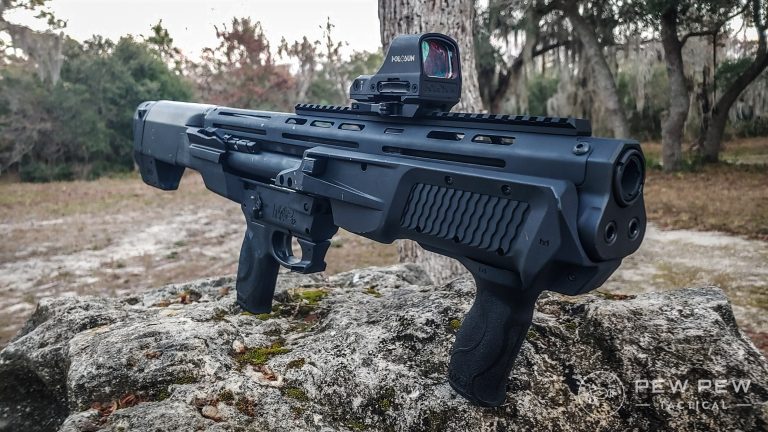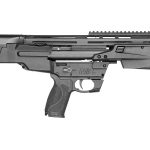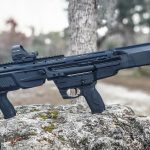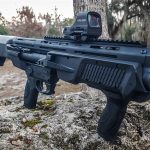 4
Bullpup design

High capacity

Interchangeable, Remington-pattern chokes

Large, ambidextrous controls

Manageable recoil

Picatinny rail
Long length of pull

Some features aren't totally intuitive

A bit heavy
Editor's Note:
The Smith & Wesson M&P12 utilizes a bullpup design to deliver high capacity in a short, maneuverable package. Its dual magazine tubes are able to accept six 3-inch shells or seven 2 3/4-inch shells each and also have the ability to use mini-shells. This shotgun also features the ergonomic M&P grip, which includes interchangeable backstraps. Large, ambidextrous controls and downward ejection make this shotgun suitable for both left and right-handed users.
Read full review
Smith & Wesson M&P12 For Sale - Compare Prices
Smith & Wesson M&P12 Specs
Smith & Wesson M&P12 Features

14+1 capacity

Push-button magazine selector

Tactile loaded chamber indicator

M&P grip with interchangeable grip inserts

Picatinny rail

M-LOK barrel shroud

Ambi safety selector

Modified and cylinder interchangeable chokes
By The Numbers - Smith & Wesson M&P12
Accuracy
It's a shotgun. The interchangeable choke tubes help with overall patterning though.
Reliability
It's a pump shotgun, and it's tough to mess up. The gun cycles exceptionally well and does so with gusto. I couldn't get it to malfunction and had to set one up to get test fixing malfunctions.
Customization
It's a new gun on the market, so customization is scant. We can toss on optics and lights, and that's about it.
Ergonomics
Ergonomically a lot of the gun is well made and well thought out — a lot of the controls are ambidextrous and very easy to reach and use. The two significant downsides come from the length of pull and how tough it is to reload.
Overall
Hands-On Reviews & Related Post
Smith & Wesson M&P12 Variations & Comparables
4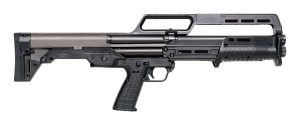 VIEW DETAILS
The KelTec KS7 utilizes a bullpup configuration to give users an 18.5-inch barrel while keeping an astonishingly short 26.1-inch overall length. Capacity remains a solid 7+1 despite how short this shotgun is, and at 5.9 pounds, it feels as light as it looks. The KS7 is a great option for home defense or any other roles that may require a compact, but controllable shotgun.
Read More
Smith & Wesson M&P12 Upgrades & Accessories
final verdict
"The S&W M&P 12 gauge is a powerhouse of a shotgun. It brings the bullpup shotgun from a fantastic concept to a professional-grade firearm — cycling, firing, ejecting, and performs admirably. Plus, you get an SBS-sized package without the pesky stamps and low capacity of an SBS. What's not to love?" – Sean Curtis
Community reviews
There are no reviews for this product yet.
Add your own rating and help other Pew Pew users pick the right guns