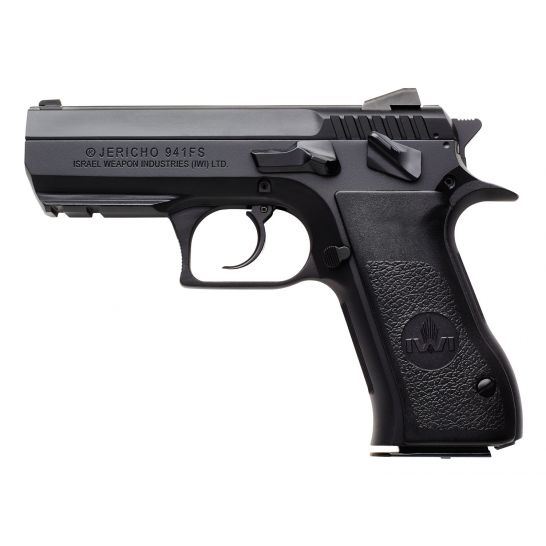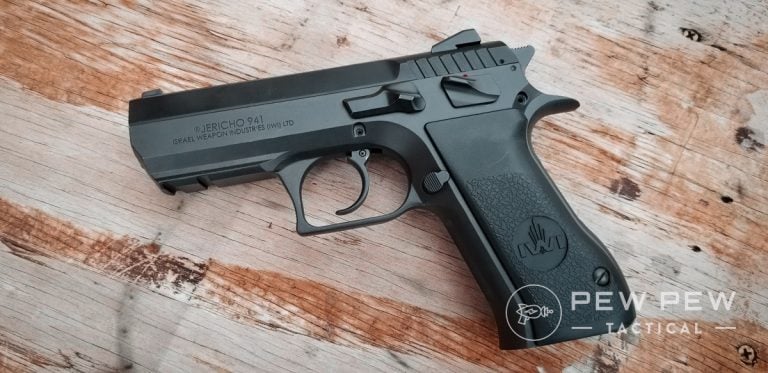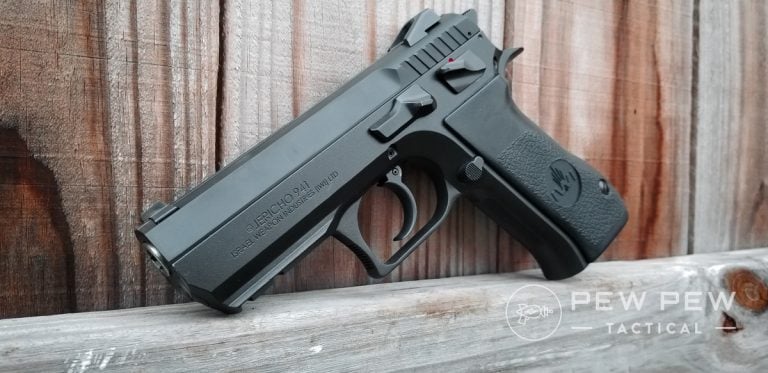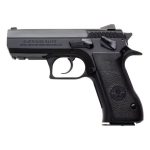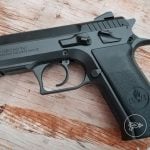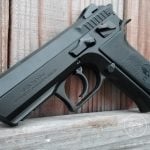 4.5
Affordable

Extremely low recoil

Accurate
Heavy

Lack of aftermarket
Editor's Note:
The IWI Jericho is built on a reliable CZ-75 design and is made by a reputable company in IWI. These guns are a reminder that quality all-steel pistols don't have to break the bank.
Read full review
Product Description
The IWI Jericho 941 FS9 uses a CZ-75 design combined with an all-steel frame to create an exceptional duty pistol that has been in use since 1990. With a compact 3.8-inch barrel and full-size 16-round grip, the FS9 is an easy-to-maneuver and easy-to-shoot gun that boasts exceptional reliability. It features a frame-mounted safety, integral Picatinny rail, double-action/single-action trigger, and a cold hammer-forged barrel.
IWI Jericho 941 FS9 For Sale - Compare Prices
IWI Jericho 941 FS9 Specs
IWI Jericho 941 FS9 Features

16-round capacity

3.8-inch barrel

Frame-mounted safety

Slide-in-frame design

Compatible with CZ-75 magazines

All-steel frame
By The Numbers - IWI Jericho 941 FS9
Accuracy
With a steady hand, you can squeeze some great groups out of these guns thanks to the CZ-inspired design.
Reliability
The Jericho has proven to be a supremely reliable pistol.
Customization
Aside from grip panels, sights, and potential trigger work, there isn't much out there for these guns.
Ergonomics
The grip shape is very comfortable, and the controls are intuitive. The lack of front grip checkering and forward serrations takes a point off here.
Overall
Hands-On Reviews & Related Post
IWI Jericho 941 FS9 Variations & Comparables
final verdict
"It is a bit heavy for those looking for an everyday carry gun, but man is it pretty darned good at everything else. Whether you are newer to the game, or a seasoned shooter, you can have a lot of fun with these guns. If you are looking for a classic hammer-fired DA/SA gun or are even mildly interested in a CZ-style gun, I highly recommend checking the Jericho out." – Wyatt Sloan
Community reviews
There are no reviews for this product yet.
Add your own rating and help other Pew Pew users pick the right guns