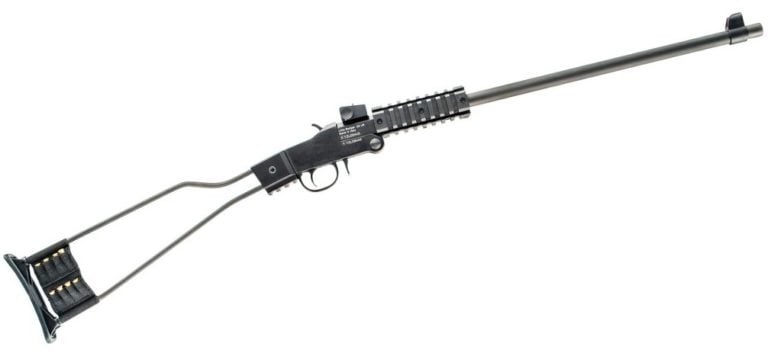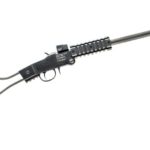 5
Lightweight

Affordable

Great as a survival rifle
Single shot

Plastic attachment doesn't hold extra rounds well

Not the best trigger
Editor's Note:
"Chiappa's Little Badger is a single-shot rifle with a wire stock and hardly anything but a small barrel, receiver, and wire stock. It weighs 2.9 pounds and comes with four short rails to attach accessories to. It's very easy to operate — all you have to do is load the gun, close it up, cock the hammer, and pull the trigger. The gun folds in half to be only roughly 17 inches long. It's super thin and fits in a backpack with hardly any room taken up." — Travis Pike
Product Description
The Chiappa Little Badger is a lightweight, minimalistic survival rifle perfect for stowing in your camping bag while you head into nature. It comes chambered in either .22 LR, .22 Magnum, or .17 HMR and features four short rails for accessories. It folds in half, measuring 17-inches when folded.
Chiappa Little Badger For Sale - Compare Prices
Palmetto State Armory
Save $100
Chiappa Little Badger Specs
Caliber
17 HMR / 22 LR / 22 WMR
Chiappa Little Badger Features

Available in .22 LR, .22 Magnum, or .17 HMR

Wire stock

Weighs 2.9 lbs
By The Numbers - Chiappa Little Badger
Accuracy
Those .22 LR rounds hit where you want so long as you're realistic about .22
Reliability
It's a single shot..there's not much to go wrong here
Customization
It's begging to be modded
Ergonomics
It's pretty simple and ergos are okay
Overall
It's an enjoyable gun
Hands-On Reviews & Related Post
final verdict
"The gun is just begging to be modded, and you can add a means to carry ammo, a knife, paracord, or whatever you want. Even outside of a survival rifle, it's a cool toy to play with. Also, the threaded barrel makes it very easy to suppress." — Travis Pike
Community reviews
There are no reviews for this product yet.
Add your own rating and help other Pew Pew users pick the right guns