Maybe you had a BB gun as a kid.
Maybe your parents were cool with you learning the ins and outs of guns (mine weren't).
And maybe you're just A Christmas Story junkie (I am).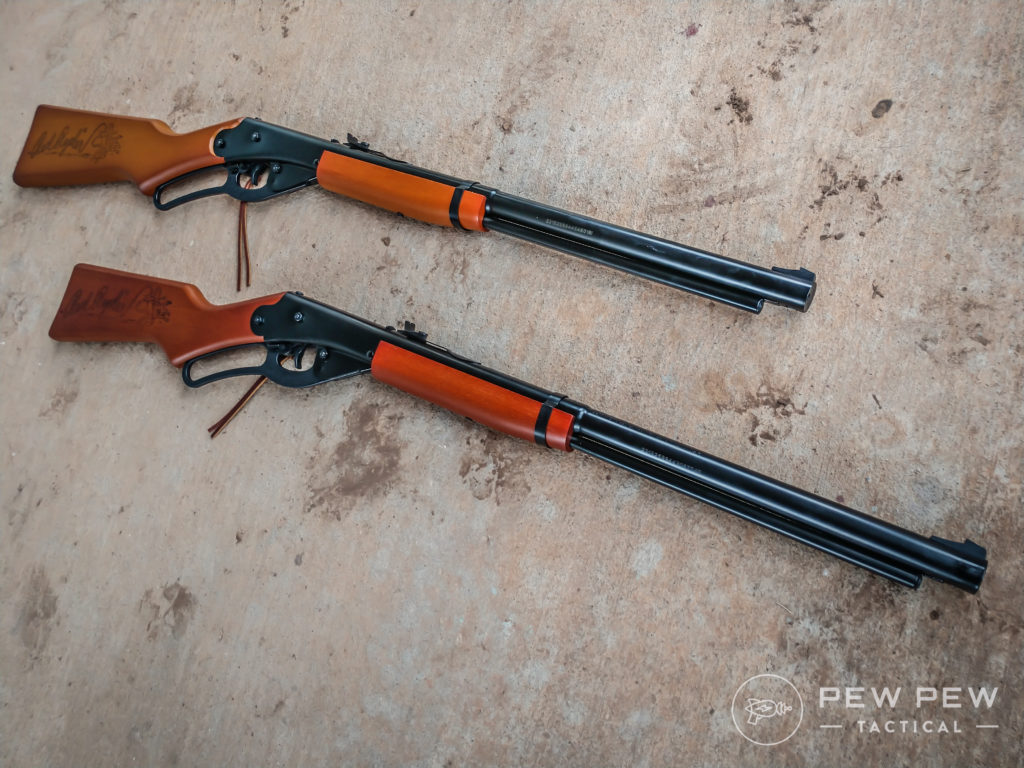 Whatever the case, Daisy's Red Ryder BB gun is probably on your radar.
Sometimes you just need to sling tiny metal balls for funsies, so check out our review of two options from Daisy and prepare to relive your childhood.
Or, if you're like me and never had one as a kid, prepare to create adulthood memories.
Worth it.
Table of Contents
Loading...
Daisy The Company
Daisy Outdoor is located in Rogers, Arkansas and is the oldest, biggest air gun manufacturer not only in the United States but in the world!
If you trace the company's roots all the way back you find yourself back in 1880 at the Plymouth Iron Windmill Co. In 1880 a guy called Clarence Hamilton started a watch repair business in Plymouth, Michigan, but he was quite the tinkerer, too.
Hamilton ended up patenting an all-metal, vaneless windmill. Long story short the windmill didn't exactly go well but his next product, an air rifle, was a seriously big hit. Enter the toy BB gun.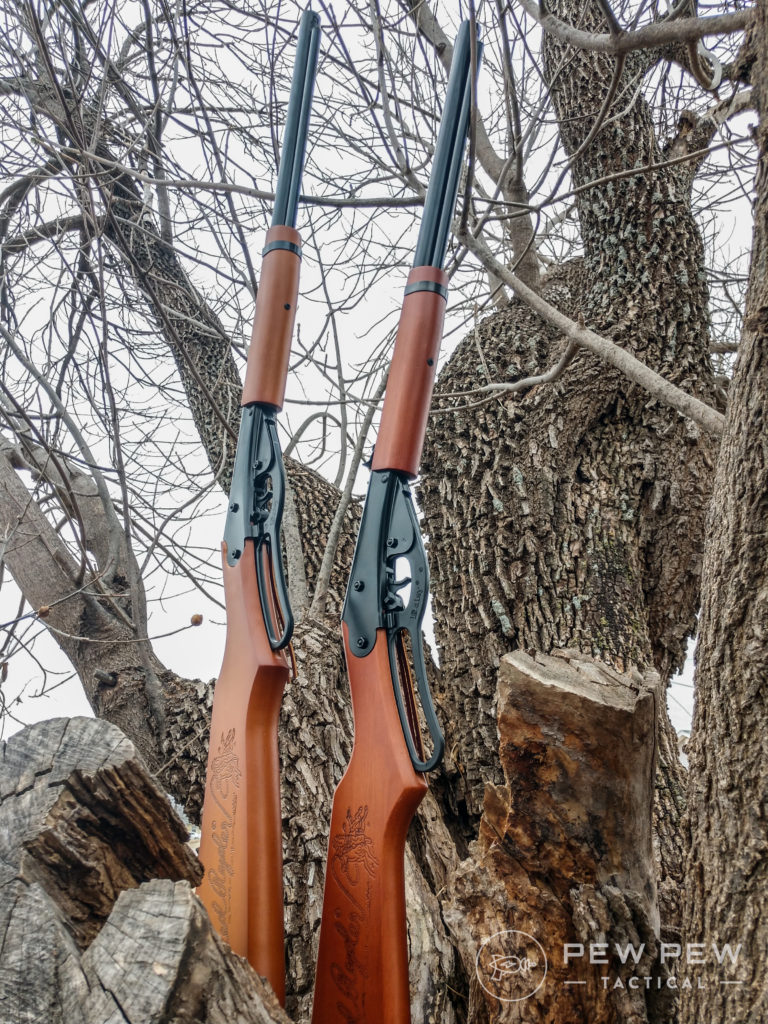 Fun fact: the guy who made the first air rifle did so ten years before Hamilton created his and made it out of wood. Hamilton's was made with metal, of course, making it unique.
When Hamilton presented his new creation to the board member named Hough said "Boy, Clarence, that's a daisy!" and that's where the Daisy Outdoors name originated. Or so the story goes.
In 1889 the Plymouth Iron Windmill Co. decided to make the Daisy air rifle their main product.
They didn't change the name of the company until 1895 but by then they'd already done such a successful switch from windmills to air rifles that business schools use their turnaround as an example to this day (really).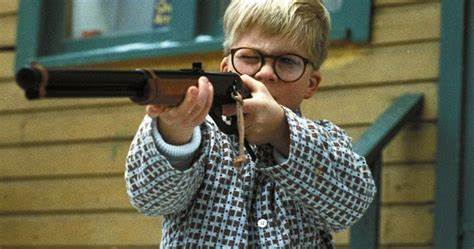 Jump forward to 1938. That's when Daisy signed the Red Ryder licensing agreement. It's generally agreed in the business world that the Red Ryder agreement is the oldest constantly-in-force licensing agreement in the United States business world.
Over the years Daisy survived the Depression – far better than most companies managed – entered into marketing agreements with other air rifle companies, and basically kicked ass. Without Daisy the BB gun world wouldn't be what it is today.
Safety First
We all know the four golden rules of gun safety. For Daisy, safety has always been paramount and they've been pushing it in the ad campaigns since their inception.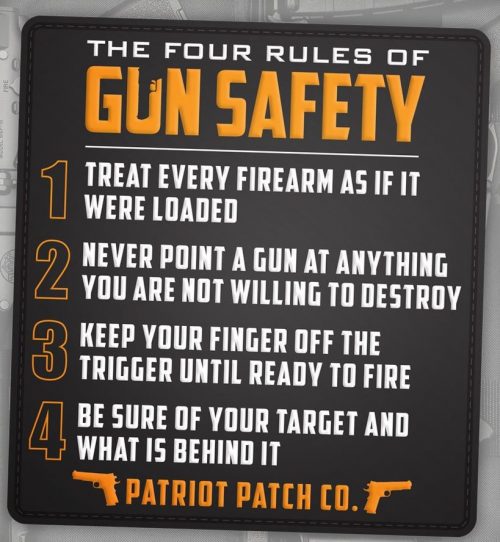 Today they're one of the industry leaders in shooting safety and education. In fact, Daisy started working with local schools in 1948 to push safety and training.
By 1956 they'd started the Training Services Department which worked alongside the American Alliance for Health, Physical Education, and Recreation to put BB guns into the phys ed curriculum at schools. You know, back when schools were reasonable about gun education.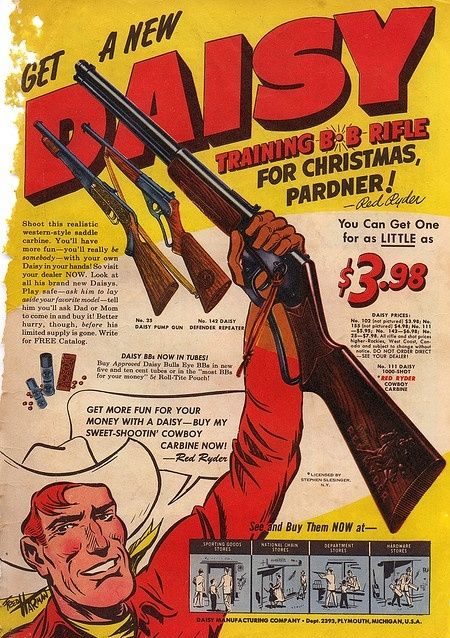 In the 1960s Daisy worked with U.S. Junior Chambers and started a nationwide youth shooting education program.
Daisy published a Ten Lesson Curriculum for Shooting Education to help instructors teach kids gun safety. The curriculum covers safety, shooting goals, range time – everything.
It can be downloaded on their website.
Youth Red Ryder Model 1938
For more than eight decades this has been the classic Daisy Red Ryder BB gun. The Model 1938 is a lever-action style air rifle that I was, quite frankly, ecstatic to get my hands on.
It's a better fit for the kids than it is for me – so yes, it's theirs – but it still brought a smile to my face. This year Daisy put it out in the classic, out-of-print packaging, too, making it even better.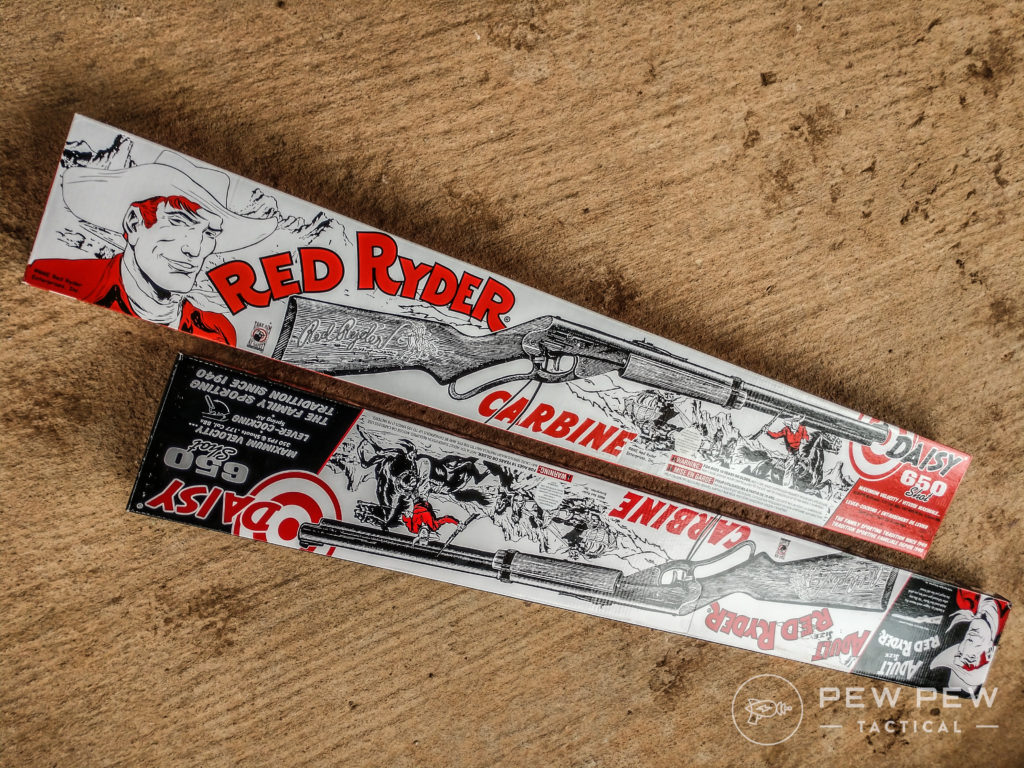 The Red Ryder Model 1938 has measures 35.4-inches overall and weighs 2.2 pounds, empty. It's lightweight enough even petite four-year-old Lyla can handle it with no problem so your kids should be good to go.
The Model 1938 has a Red Ryder branded wood stock, wood forearm complete with forearm brand, and a smooth bore steel barrel. The cocking lever is as expected because this is, after all, a lever-action design. Factory sights are blade and ramp front sights and an adjustable rear sight.
This model has a 650-BB capacity – those are .177-caliber BBs – with a maximum velocity of 350 feet per second and maximum shooting distance of 195 yards. It has a limited one-year warranty and a cross-bolt trigger block safety.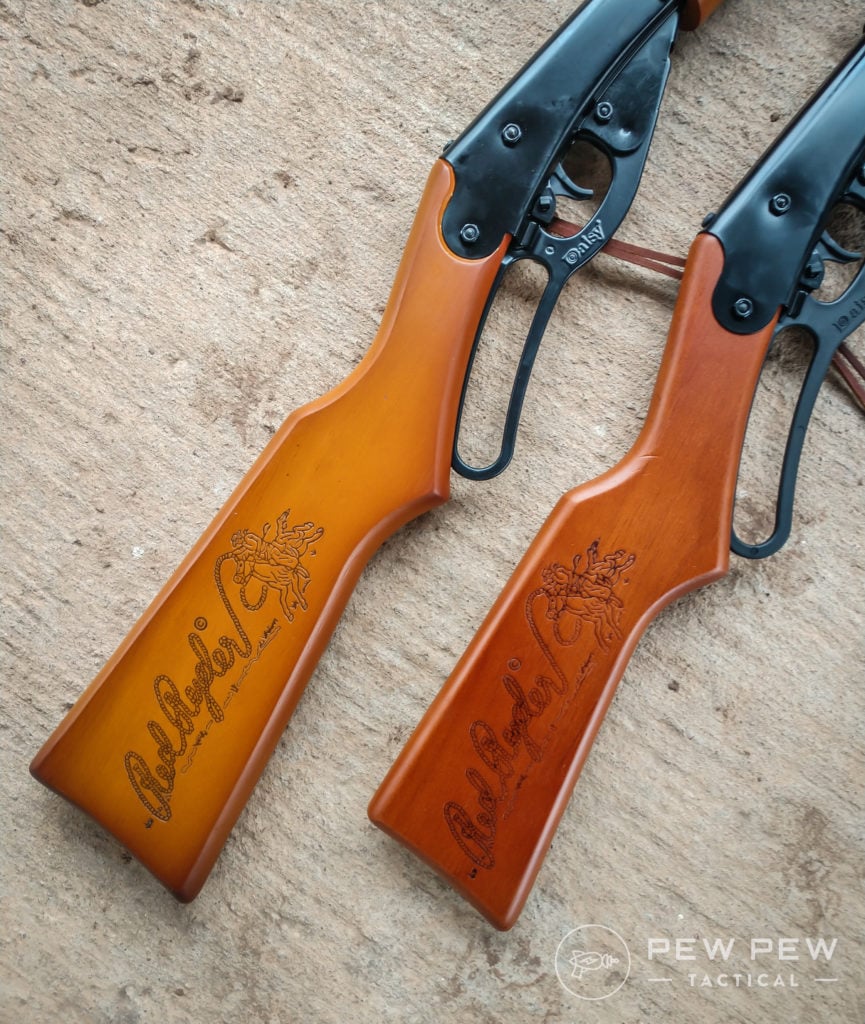 Here's the great thing about the Red Ryder. Because it's an air rifle it's legal to shoot in most areas – make sure you check your local regs before you start shooting – meaning it can be fired in places you can't shoot firearms like your beloved AR-15.
This is fantastic for kids because it means you can set up in your backyard to start teaching them the fundamentals of gun safety. Just remember you do have to adhere to safety rules; just because this is a BB gun doesn't mean you can or should be irresponsible or reckless.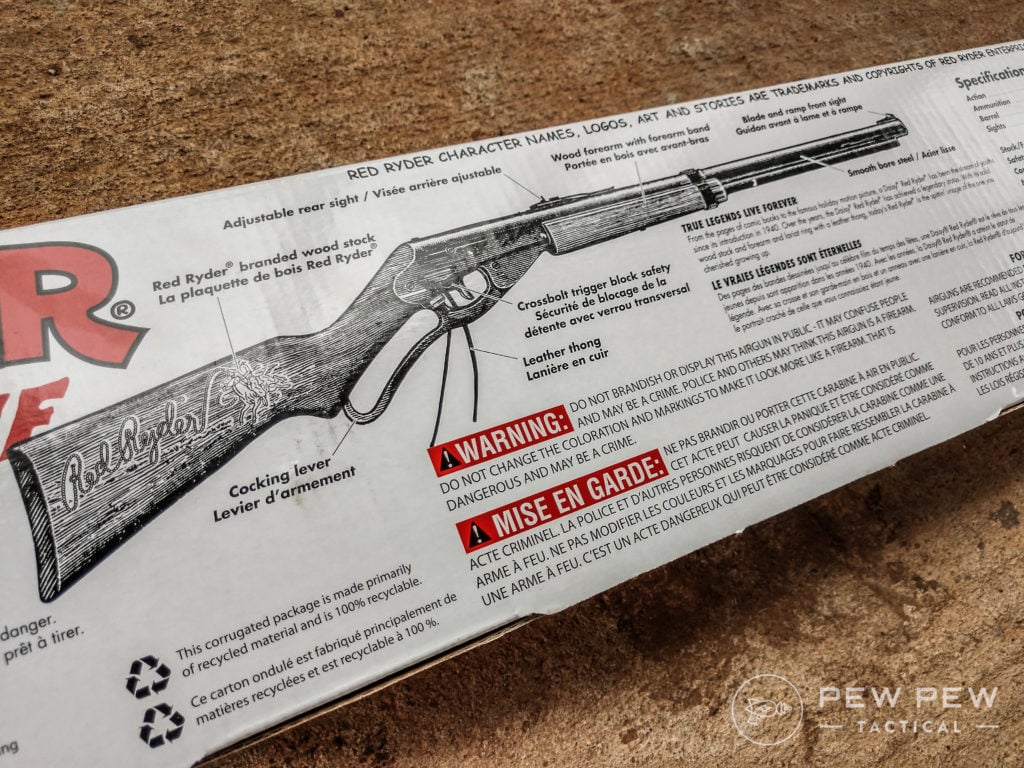 Daisy recommends the Model 1938 for kids age ten and up. That doesn't mean it can't be used by littles – like I said, four-year-old Lyla and six-year-old Ethan are the ones learning the ropes with this Model 1938 – it just means the younger the kids, the more supervision and assistance needed.
Of course, just because your kid is ten doesn't mean they don't need to be watched or helped.
How it works: the Model 1938 is an air rifle with a spring-powered cocking lever. Cocking the lever pulls the internal piston back which, in turn, compresses a small coiled spring and locks the piston into the sear.
So yes, usual trigger action. Pulling the trigger releases the piston and propels it forward which triggers compressed air sending the BB through the barrel.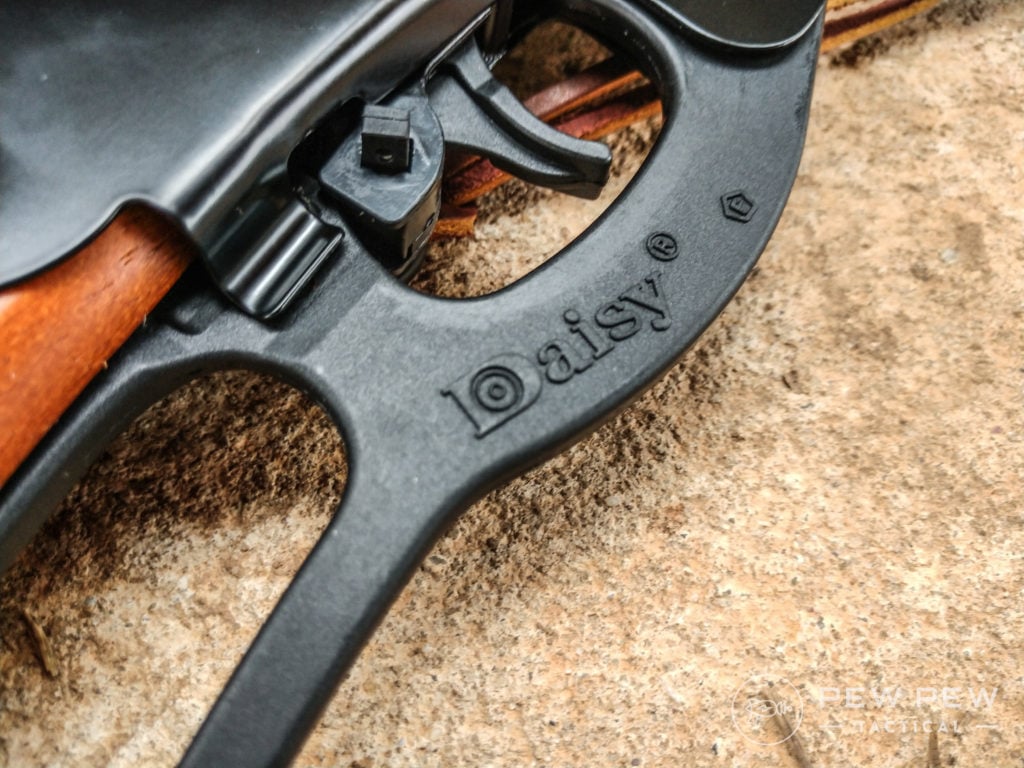 Loading the rifle is straightforward. One of the greatest things about the Red Ryder is that you don't need to mess with C02 cartridges.
You just push open the loading gate of the air rifle and pour BBs in – up to 650 .177-caliber BBs -and close it. Only one pump per shot is necessary.
This isn't a precision rifle but it doesn't need to be (it is, however, relatively accurate). The purpose of Red Ryders is to give kids a platform to learn the basics of gun safety and use that's simple and safe.
46
at Amazon
Prices accurate at time of writing
Prices accurate at time of writing
That doesn't mean you should let your kids shoot each other with a BB gun – please don't – just that BBs give you greater flexibility than, say, an AR-15 or handgun.
One of the coolest things I have for the kids is the Rocket Shot Target Launcher that works with empty cans and lets them take shots at the cans as they launch into the air.
It's ridiculously fun.
Adult Red Ryder Model 1938
It's true. I was stupid excited when Daisy put out a Red Ryder with an adult-sized stock. This is the same air rifle as the Model 1938 the kids have only it has a stock designed to fit adults.
That's a good thing because I've spent time shooting the youth model and let's just say I'm a bit big for it (or it's a little small for me, one or the other).
The adult stock is 36.75-inches in length meaning there are a couple of extra inches on the stock. It's still small-ish but it's big enough to make shooting it easier.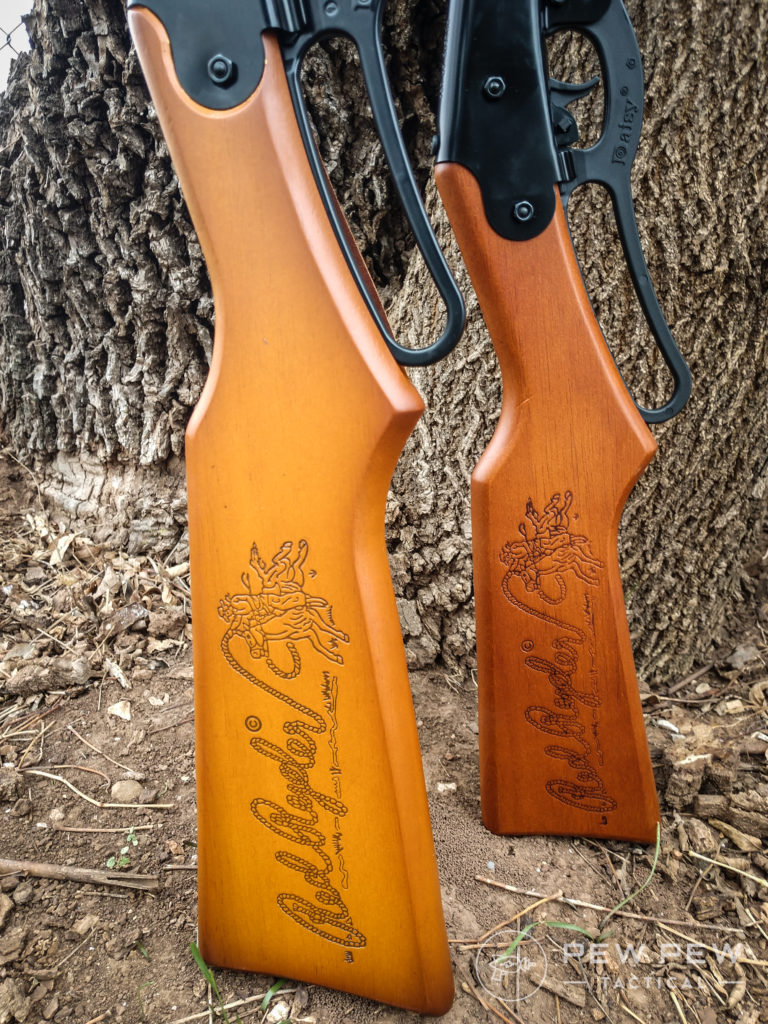 And anyway who doesn't want an excuse to get one of these for themselves? Now that there's an adult Model 1938 you don't have any reason not to go get one.
48
at Amazon
Prices accurate at time of writing
Prices accurate at time of writing
You Want This
Remember in A Christmas Story when Ralphie announces his desire for a BB gun?
"I want an official Red Ryder, carbine-action, two-hundred shot range model air rifle!" Not only his mother but Santa Claus tell him he'll shoot his eye out.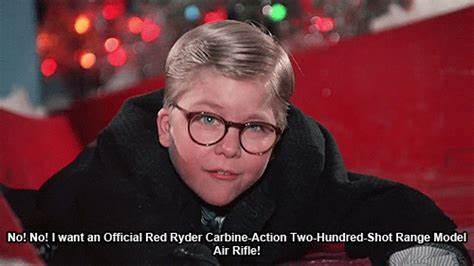 Imagine Ralphie's uncontained glee today at this 650-round, 350 feet-per-second Model 1938.
He'd be in BB gun heaven.
The Daisy Red Ryder Model 1938 isn't only for Christmas, so get that out of your head. Teaching kids to shoot and have fun with BBs is a year-round deal. BBs are an excellent way to introduce your kids to firearms and it's affordable, too.
It only costs a couple dollars to load the Model 1938 with BBs and if you want the company's official targets packs are only $2.99. Read the manual, use a good backstop, and have fun.
8
at Amazon
Prices accurate at time of writing
Prices accurate at time of writing
10/10 recommend getting one or more of these for your house, kids or no kids. We may have awesome rifles, shotguns, and handguns but we all have a Ralphie inside us secretly thrilled to shoot a Red Ryder BB gun.
Go get one and let your inner child set free.
By The Numbers
Reliability: 5/5
Totally reliable. End of story.
Ergonomics: 4/5
This isn't an air rifle I'd expect to be ergonomically perfect. It does have the basics down, though, and fits most kids just fine. The adult model is still small enough it isn't going to fit most adults as well as an actual rifle will but it is a lot more comfortable for us to use than the youth model.
Accuracy: 4/5
It's a BB gun. It isn't meant to be precise. The Model 1938 is accurate enough for its purposes, especially if you stay around ten yards from your target.
Remember, it only has a maximum velocity of 350 feet-per-second and those are little steel balls you're slinging down-range. Precision isn't the name of the game but you can easily stay on paper or shoot flying cans off the Rocket Shot Target Launcher.
This air rifle is solid for learning the basics of marksmanship or just having a good time.
Customization: 3/5
I dropped customization points to three because there isn't much you can do to customize the Model 1938…but why would you? It's fine as is and a nice addition to a gun collection.
Really, it is. BB guns have a place of importance on firearms history you might not realize they hold and having at least one around is a good idea.
Value: 5/5
What you get and what you spend depends on what exact model and package you look at, but every incarnation of the Red Ryder I've seen is a steal of a price.
46
at Amazon
Prices accurate at time of writing
Prices accurate at time of writing
Both adult models and youth models are very cheap at around $35 for just the rifle, but packages are available that include things like ammo, shooting glasses, targets, and more for around $50 to $60.
48
at Amazon
Prices accurate at time of writing
Prices accurate at time of writing
It's a seriously good deal. Fantastic value.
Plus, don't forget that feeding these rifles is CHEAP. I mean, like really cheap.
8
at Amazon
Prices accurate at time of writing
Prices accurate at time of writing
6,000 pellets will run you about $8, that's 0.0013 cents per round. Even the cheapest .22LR is normally around 4 cents per round at least.
Overall: 5/5
Conclusion
There's almost no complaints about the Red Ryder Model 1938. Utter reliability, decent accuracy, and great bang-for-the-buck pricing. Ergonomics could be better and there's not really any upgrade potential, but who cares? It does exactly what it should and it's fun for both kids and adults.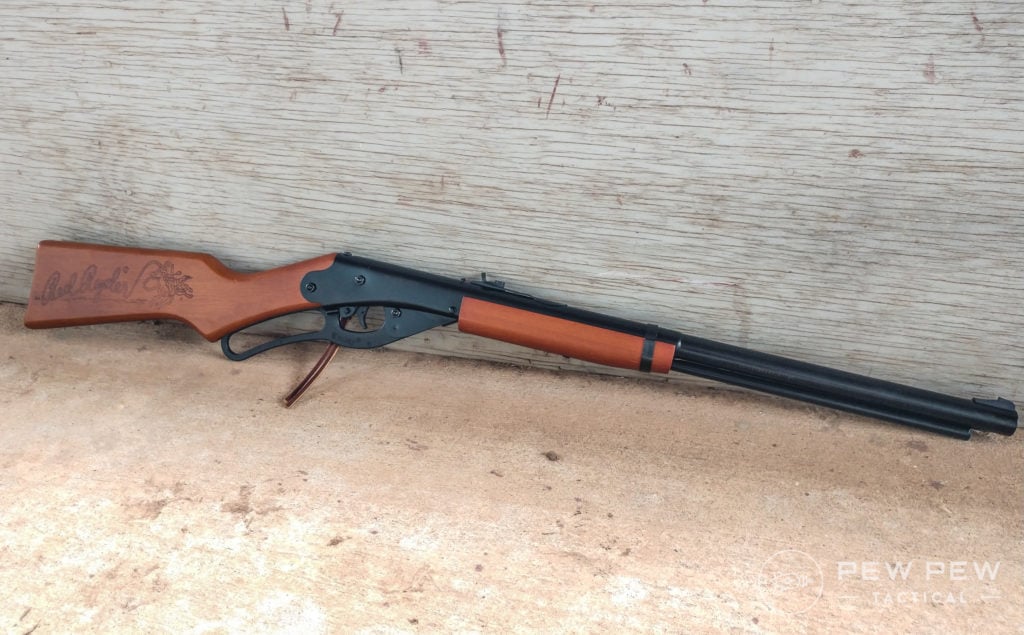 Daisy has been making these for 80 years and they definitely know their air guns. I love that this year's air rifles come in the out-of-print packaging for an added level of nostalgia but the rifles are cool no matter what packaging they arrive in.
These aren't just for kids, either. This is just some good clean fun. But don't forget your safety glasses!
Did you have a BB gun as a kid? Getting one for your kids soon? Let us know in the comments! For some of the best safety equipment around, take a look at the Best Shooting Glasses and some Essential Shooting Range Gear!